April 14th Birthdays
If you were born on April 14th you share a birthday with these famous people:
Loretta Lynn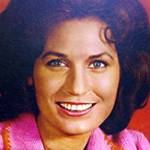 is 88 (nee Loretta Webb)
Grammy Award-winning American Country Music Hall of Fame singer & songwriter (I'm a Honky Tonk Girl; Coal Miner's Daughter; The Pill; You're Lookin' at Country; Here I Am Again; You Ain't Woman Enough to Take My Man) born April 14, 1932. (Loretta Lynn 1966 Photo: MCA Records)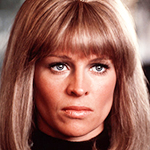 Julie Christie is 80
English Academy Award-winning actress of stage, TV, and movies (Darling; Doctor Zhivago; Far from the Madding Crowd; Petulia; McCabe & Mrs. Miller; Don't Look Now; Shampoo; Heaven Can Wait; Away from Her; Afterglow; Darling; Billy Liar), born April 14, 1940.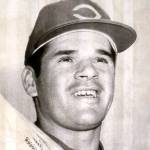 Pete Rose is 79 (nee Peter Edward Rose Sr.; "Charlie Hustle")
Septuagenarian American retired MLB outfielder, 1975 World Series MVP baseball player & manager (Cincinnati Reds, Philadelphia Phillies, Montreal Expos), 17-time All-Star (1960s-1980s), NL 1963 Rookie of the Year & 1975 MVP, born April 14, 1941. (Pete Rose 1970 Photo: AP Wirephoto)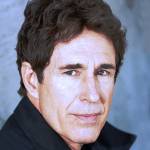 John Shea is 71 (nee John Victor Shea III)
Emmy Award-winning American actor of TV (Adam Kane on Mutant X; Gossip Girl; Kennedy; WIOU; Lois & Clark: The New Adventures of Superman) & movies (Missing; A New Life; Stealing Home; Nowhere to Go; Southie), born April 14, 1949. (John Shea 2009 Photo: Michael Calas Photography)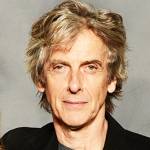 Peter Capaldi is 62

Acacdemy Award-winning 60+ Scottish screenwriter & director (Franz Kafka's It's a Wonderful Life; Strictly Sinatra) and actor of TV (Doctor Who; The Thick of It; The Musketeers; Torchwood) and movies (Local Hero; Paddington), born April 14, 1958. (Peter Capaldi 2017 Photo: Supercon Conventions)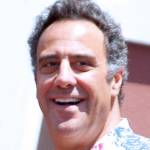 Brad Garrett is 60 (nee Brad H. Gerstenfeld)
Emmy Award-winning American comedian, character & voice over actor of stage, TV (Robert Barone on Everybody Loves Raymond; Eddie Stark on 'Til Death; Single Parents; Fargo), and movies (Postal Worker; Music and Lyrics; Finding Dory), born April 14, 1960. (Brad Garrett 2012 Photo: Angela George)
Robert Carlyle is 58
Scottish actor of TV (Mr. Gold / Rumplestiltskin / Weaver on Once Upon a Time; Dr. Nicholas Rush on SGU Stargate Universe) and movies (The Full Monty; The World is Not Enough; Trainspotting; Plunkett & Macleane; Ravenous; The Beach; Being Human), born April 14, 1961. (Robert Carlyle 2011 Photo: sean.koo)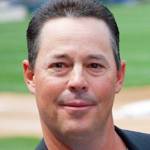 Greg Maddux is 54 (nee Gregory Alan Maddux; "Mad Dog"; "The Professor")

Baseball Hall of Fame 50+ American MLB pitcher (Chicago Cubs; Atlanta Braves; Los Angeles Dodgers; San Diego Padres), 1995 World Series champion, with 4 Cy Young Awards (1992-1995), 18 All-Star and Gold Gloves, born April 14, 1966. (Greg Maddux 2009 Photo: Scott RAnselmo)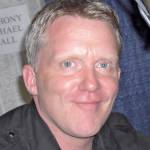 Anthony Michael Hall is 52 (nee Michael Anthony Hall)
50+ American actor of TV (Johnny Smith on The Dead Zone; Saturday Night Live; 61*) & movies (Sixteen Candles; Out of Bounds; Weird Science; Johnny Be Good; Hail Caesar; Edward Scissorhands; Into the Sun; Funny Valentine), born April 14, 1968. (Anthony Michael Hall 2009 Photo: Shannon Thier)
(Kittens Photo: Hang Niu via Unsplash)
Happy Birthday to everyone celebrating their birthday on April 14th!
And remembering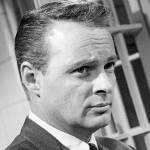 John Clarke
Daytime Emmy Award-winning American actor of TV (Mickey Horton on Days of Our Lives 1965-2004; Joe Huddleston on The New Breed; Gunsmoke; Death Valley Days; The Loretta Young Show) & movies (Gun Street; The Satan Bug), born April 14, 1931– died Oct. 16, 2019; age 88). John Clarke died of pneumonia complications. (John Clarke 1967 Days of Our Lives Photo: NBC TV)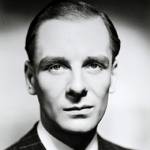 John Gielgud (aka Sir Arthur John Gielgud)

Emmy, Grammy, Tony, and Academy Award-winning English actor of stage, TV, & movies (Arthur; Becket; Gandhi; Elizabeth; Julius Caesar; Romeo & Juliet; Lost Horizon; 11 Harrowhouse; The Elephant Man; First Knight; Shining Through) (born Apr. 14, 1904 – died May 21, 2000; age 96). Cause of death for John Gielgud is unknown. (John Gielgud 1936 Secret Agent Photo)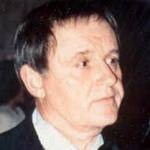 Rod Steiger (nee Rodney Stephen Steiger)
American Academy Award-winning movie actor (On The Waterfront; In the Heat of the Night; Doctor Zhivago; No Way to Treat a Lady; The Sergeant; Happy Birthday, Wanda June; The January Man; The Amityville Horror) (born Apr. 14, 1925 – died July 9, 2002; age 77). Rod Steiger died of pneumonia and kidney failure after gall bladder surgery. (Rod Steiger 1978 Photo: Alan Light)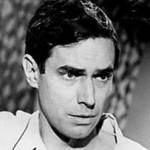 Bradford Dillman
American actor of movies (Compulsion; Crack in the Mirror; Francis of Assisi; The Resurrection of Zachary Wheeler; The Iceman Cometh; The Enforcer; The Way We Were) and TV (Dr. Kildare; The F.B.I.; Barnaby Jones; Falcon Crest), (born Apr. 14, 1930 – died Jan. 16, 2018; age 87). Bradford Dillman died of pneumonia complications. (Bradford Dillman 1966 The F.B.I. Photo: ABC TV)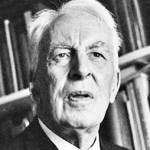 Arnold Toynbee

British economic historian, international history research professor (London School of Economics, University of London), and author (A Study of History; Lectures on the Industrial Revolution in England) (born Apr. 14, 1889 – died Oct. 22, 1975; age 86). Cause of death for Arnold Toynbee is unknown. (Arnold Toynbee Photo: Atyyahesir)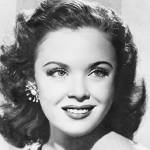 Gloria Jean (nee Gloria Jean Schoonover)
American singer & actress of movies (The Under-Pup; Never Give a Sucker an Even Break; Destiny; If I Had My Way; Get Hep to Love; Mister Big; A Little Bit of Heaven; Air Strike; Wonder Valley; There's a Girl in My Heart; Manhattan Angel; Copacabana) (born Apr. 14, 1926 – died Aug. 21, 2018; age 92). Gloria Jean died of pneumonia and heart failure. (Gloria Jean 1947 Photo: Keystone Photo)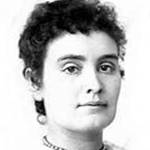 Anne Sullivan (nee Johanna Mansfield Sullivan; aka Anne Sullivan Macy)
Blind American teacher, lifelong companion and friend of Helen Keller who taught her the Braille system, and inspiration for the movie The Miracle Worker (born Apr. 14, 1866 – died Oct. 20, 1936; age 70). Cause of death for Anne Sullivan was a coronary thrombosis. (Anne Sullivan 1887 Photo)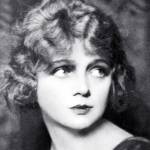 Ann Forrest (nee Anna Kromann; aka Ann Kroman & Ann Kornan)
Danish-American silent movie actress (The Midnight Man; The Rainbow Trail; Her Decision; Love's Prisoner; The Grim Game; The Prince Chap; A Splendid Hazard; Behold My Wife!; The Faith Healer; Love's Boomerang; Marriage Morals) (born Apr. 14, 1895 – died Oct. 25, 1985; age 90). Cause of death for Ann Forrest is unknown. (Ann Forrest 1924 Photo: Nickolas Muray / Stars of the Photoplay)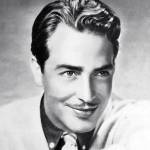 John Howard (nee John Richard Cox Jr.)
American actor of TV (Dr. Hudson's Secret Journal) & films (The Invisible Woman; A Tragedy at Midnight; Bulldog Drummond Comes Back; The Philadelphia Story; Lost Horizon; Border Flight; Let Them Live; What a Life;  Soak the Rich; Easy to Take; Disputed Passage) (born Apr. 14, 1913 – died Feb. 9, 1995; age 81). John Howard died of heart failure. (John Howard 1937 Photo: William Walling)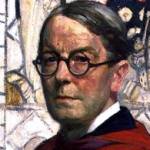 R.A. Bell (Robert Anning Bell)
British artist, painter (La belle dame sans merci), illustrator of magazines (Ladies' Home Journal) & books (A Flight of Fairies ), designer of mosaics (Westminster Cathedral; Palace of Westminster) & stained glass church windows (St. Michael's; St. Matthew's) (born Apr. 14, 1862 – died Nov. 27, 1933; age 71). Cause of death for R. A. Bell is unknown. (Robert Anning Bell c. 1910 Self Portrait)
*Images are public domain or Creative Commons licensed & sourced via Wikimedia Commons, Vimeo, or Flickr, unless otherwise noted*