Country Music Queen Loretta Lynn
Country Music Hall of Famer Loretta Lynn died October 4, 2022 at the age of 90. She'll be remembered for her contributions to country music, and these vintage performances and music videos: I'm A Honky Tonk Girl, Don't Come Home A-Drinkin' (With Lovin' on Your Mind), Fist City, Coal Miner's Daughter, and Lay Me Down (with Willie Nelson).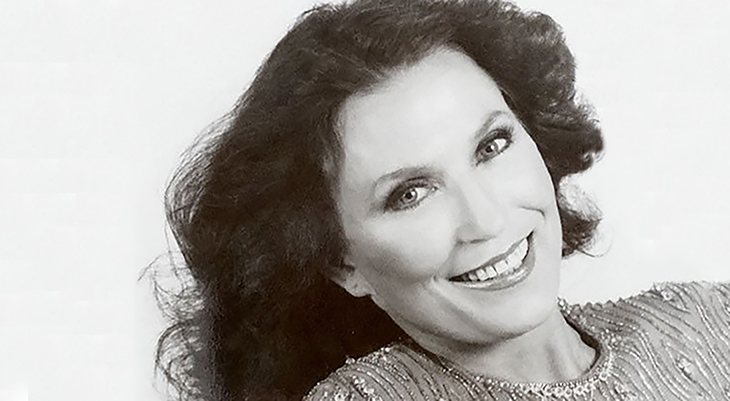 (Loretta Lynn c. 1980s Photo)
Grammy Award-winning country music recording star Loretta Lynn was born a coal miner's daughter in Butcher Hollow, Kentucky. Lynn was the 2nd of 8 children for Ted and Clary Webb; her youngest sister Brenda Gail Webb (Crystal Gail) is also a successful country music artist.
In her autobiographies Loretta Lynn: Coal Miner's Daughter (1976) by Loretta Lynn and George Vecsey and Still Woman Enough (2002) by Loretta Lynn and Patsi Bale Cox, Lynn shared details from her childhood, marriage and career. Lynn has never given her exact birthdate, but said she had married when she was 13; in 2012, a birth certificate came to light that indicated her birth date was April 14, 1932, making her 2 years older than she claimed in her first autobiography.
As a child, Loretta sang hymns at church and in local Butcher Hollow concerts. She met 21-year-old Oliver Lynn (whom Loretta called Doolittle, Doo, or Mooney) when she was just 15 years old in December 1947; he bought the pie she'd baked and he walked her home. They married a month later in January 1948.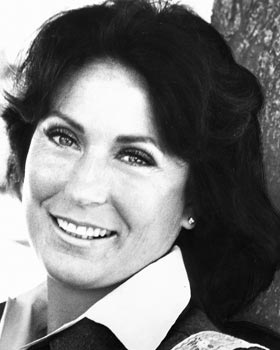 (Loretta Lynn 1980 Photo: MCA Records)
The young couple moved to Custer, Washington, and started their family; Loretta gave birth to their first four children before she was 20 years old. Their oldest child, daughter Betty Sue Lynn (b. 1948) died at age 64 in 2013; 2nd oldest, son Jack Benny Lynn (b. 1949) drowned in 1984 when he was 34 years old. Son Ernest Ray Lynn (b. 1951) and daughter Clara (Cissie) Marie Lynn (b. 1952) are both still alive as of 2022.
Loretta Lynn's husband Doo bought her a guitar in 1953 and she taught herself to play. With her brother Jay Lee playing lead guitar, Lynn started her own band, Loretta and the Trailblazers; they performed in bars in Washington.
After seeing Loretta Lynn win a televised talent contest held in Tacoma, Washington hosted by country music star Buck Owens, Canadians Norm Burley and Don Grashey co-founded Zero Records based in Vancouver, British Columbia. Zero Records recorded 4 of Loretta Lynn's songs in Hollywood, one of which was her debut single. I'm a Honky Tonk Girl (1960). I'm a Honky Tonk Girl made it to 14 on the Country Music charts. Loretta and her husband began touring to promote her songs.
When she arrived in Nashville in 1960 at age 27, Loretta Lynn was signed by Decca Records and made her first appearance on the Grand Ole Opry. Forty years later an older Loretta Lynn revisited the Grand Ole Opry stage and sang her first hit once again, I'm A Honky Tonk Girl. Below, Loretta Lynn singing I'm a Honkytonk Girl.
Loretta Lynn met country music legend and fellow Decca Records recording artist Patsy Cline shortly after Cline's devastating car accident in June 1961. Lynn has said Cline was her mentor and encouraged her to speak out and become more assertive personally (with her husband) and professionally; this came out in Lynn's songwriting as well. Loretta Lynn and Patsy Cline were best friends until Cline's 1963 death in an airplane crash. By then Lynn had joined Cline as a member of the Grand Ole Opry, in September 1962.
Doolittle and Loretta Lynn settled on a small ranch just outside Nashville, and their twin daughters Peggy Jean and Patsy Eileen Lynn were born in August 1964. Loretta Lynn became a grandmother for the first time at the young age of 34 in 1966, when her oldest daughter Betty Sue married and had a child.
In 1966 Loretta and her husband Mooney bought and moved to a 1200 acre plantation outside Hurricane Mills, Tennessee. Loretta Lynn continued to perform on the Grand Ole Opry, writing songs, recording and performing country music, and appearing regularly in the Top 10 Country Music charts. 
Her first #1 Country Music Hit was Don't Come Home A-Drinkin' (With Lovin' on Your Mind) (1967). Don't Come Home A-Drinkin' (With Lovin' on Your Mind) likely paralleled her own stance, as Lynn outlined in her biographies that her husband was an alcoholic throughout their marriage, had a temper and cheated on her frequently. Below, vintage Loretta Lynn singing Don't Come Home A-Drinkin' (With Lovin' on Your Mind).
Before the 1960's ended, Lynn had acquired a new best friend in fellow country singer Tammy Wynette. They first met during Tammy Wynette's brief marriage to second husband Don Chapel (m. 1967-1968), and remained friends until Tammy Wynette's death in 1998 from a blood clot.
Loretta Lynn also had two more #1 Country Music chart hits under her belt – Fist City (1968) from the album of the same name, and Woman of the World (Leave My World Alone) (1969).
Below, Loretta Lynn singing Fist City:
From 1971-1988, Loretta Lynn and Conway Twitty recorded 11 studio albums together and released 13 singles, 12 of which were Top 10 Country chart hit singles. Five of Loretta Lynn and Conway Twitty's duets were #1 Country Music chart hits during the 1970's- After the Fire is Gone (1971), Lead Me On (1971), Louisiana Woman, Mississippi Man (1973), As Soon as I Hang Up the Phone (1974), and Feelins' (1975).
At the same time, Loretta Lynn continued recording her own songs as a solo artist. Coal Miner's Daughter (1970) from the Coal Miner's Daughter album was her first crossover Top 100 hit.
Lynn wrote her autobiography Loretta Lynn: Coal Miner's Daughter (1976) with the help of George Vecsey. The movie Coal Miner's Daughter (1980) starring Sissy Spacek as Loretta and Tommy Lee Jones as her husband "Doolittle", with Levon Helm as her father Ted Webb, was released. Below, Loretta Lynn singing one of her signature songs, Coal Miner's Daughter.
Other #1 Country Music chart songs for Loretta Lynn were One's on the Way (1971), Rated X (1972), Love is the Foundation (1973), Trouble in Paradise (1974), Somebody Somewhere (Don't Know What He's Missin' Tonight) (1976), She's Got You (1977), Out of My Head and Back in My Bed (1977).
By the end of the 1970's, Oliver "Doolittle" and Loretta Lynn had expanded their plantation home property, opened a dude ranch called the Double L, and bought the town of Hurricane Mills complete with post office.
Loretta Lynn's hit singles began to decline in the 1980's, although she did have a #1 Country Music chart hit – I Lie (1982) from the I Lie album, the year she turned 50. She turned her hand to acting in a 1982 episode of Fantasy Island, co-starring with regular Ricardo Montalban and fellow guest stars Heather Locklear, Anne Jeffreys, Ted McGinley, and Nita Talbot.
From 1984-1988, Loretta Lynn, now in her 50+ years, was a Crisco spokeswoman in commercials. Lynn appeared in television and print commercials, sometimes with husband Mooney and their twin daughters.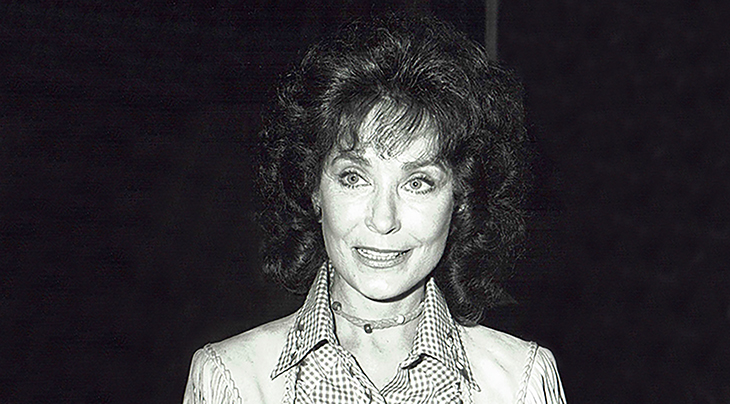 (Loretta Lynn 1985 Photo: Monitor Syndication)
During the late 1980's/early 1990's, Lynn's husband Doolittle Lynn was having problems with his feet, then started having heart trouble. Loretta cut back on her touring and recording schedule in order to spend time more time with him. Mooney Lynn had quadruple bypass heart surgery in 1992, which was followed by complications from diabetes. Their plans to build an entertainment complex in Branson, Missouri in 1993 were scrapped, although Lynn's music video with friends Dolly Parton and Tammy Wynette, Silver Threads and Golden Needles (1993) was released that year.
Oliver (Doolittle) Lynn died from congestive heart failure in August 1996, just a few months before Loretta Lynn became a senior citizen. Loretta and he had been married for over 48 years.
By the end of 2004, septuagenarian senior citizen Loretta Lynn had moved to a smaller house on the ranch property that had been built before her husband's death, and her second autobiography had been published.
Singer and musician Jack White of the White Stripes rock band was a fan of Lynn's, and had recorded a cover of her song Rated X. When she heard it, Loretta invited White and his wife Meg (then masquerading as his sister) out to the ranch. A friendship was struck and Jack White ended up producing Loretta Lynn's new album Van Lear Rose (2004). Jack White performed on all the album's songs as a musician, co-wrote the song Little Red Shoes with Lynn, and they sang a duet on the single Portland, Oregon (2004). The Van Lear Rose album won the Grammy Award for Best Country Album of the Year.
In June 2006, Loretta Lynn broke her shoulder in a fall at her home in Tennessee; falls for seniors are serious, and this proved to be the case with Lynn. She almost died on the operating table during the subsequent shoulder replacement surgery, and had to be revived by doctors before they were able to successfully complete the procedure.
Loretta Lynn was given the Grammy Lifetime Achievement Award in 2010, recognizing her milestone of 50 years in country music.
Octogenarian senior citizen Loretta Lynn was presented with the Presidential Medal of Freedom in November 2013 by President Barack Obama. She's a grandmother to over 20 grandchildren, and a great-grandmother as well.
In 2016 her duet with Willie Nelson Lay Me Down (2016) was released as a music video, and if you want to see her in concert, in addition to some performances at her Hurricane Mills, Tennessee ranch complex, she has a few tour dates this spring/summer in the United States. Below, the music video for Loretta Lynn and Willie Nelson's duet, Lay Me Down:
Note: This article was first published in 2016 as Celebrating Seniors – Loretta Lynn is 84. It has been updated with current information.
*Images are public domain or Creative Commons licensed & sourced via Wikimedia Commons, Vimeo, or Flickr, unless otherwise noted*