Celebrating Seniors - Topper's Anne Jeffreys is 94
Update: Anne Jeffreys died on September 27, 2017 at the age of  94.
American singer and actress Anne Jeffreys was born January 26, 1923 in Goldsboro, North Carolina.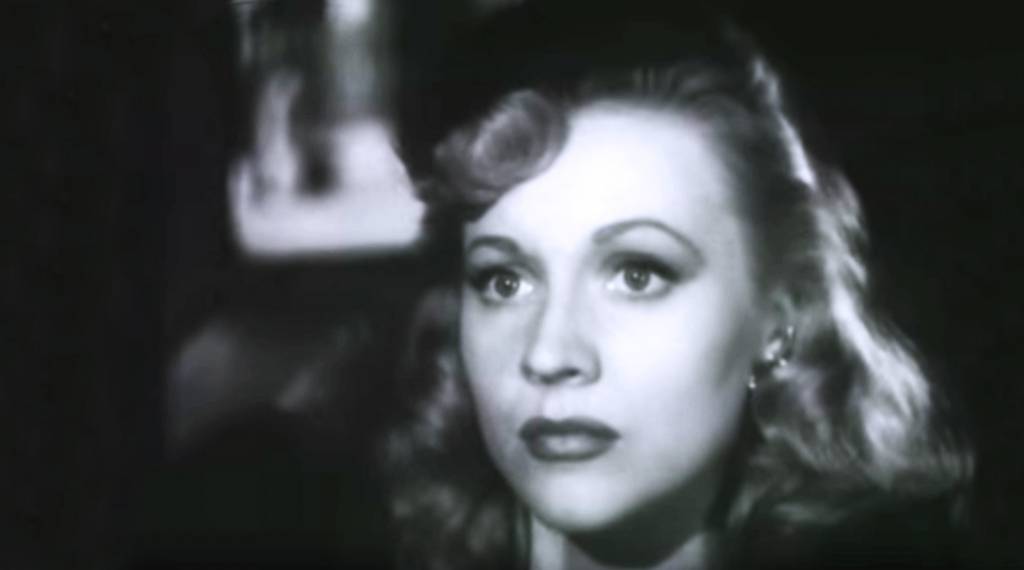 (Anne Jeffreys 1945 Dick Tracy)
Her birth name was Annie Jeffreys Carmichael; in an audio interview with The Midnight Palace, Anne said her parents divorced when she was 6 months old and her father was never in her life. Anne dropped the Carmichael and used her middle name Jeffreys as a surname. She said in numerous interviews that her mother was responsible for her career choices; her mother encouraged her singing and getting her in front of an audience from the age of 5. 
Jeffreys told Vic Boesen that she was a trained soprano opera singer and won a scholarship to join the New York Municipal Opera Company as a teenager. She later signed as a junior model with the John Robert Powers agency at the age of 15 to support her opera studies.
Anne Jeffreys caught the eye of Hollywood while appearing on stage in the stage musical Fun for the Money in 1941 at the age of 17. By the time her first movie – an uncredited role in the Jeanette MacDonald-Nelson Eddy musical I Married an Angel – was released in July 1942, she was firmly ensconsed in Hollywood and under contract to Republic Studios.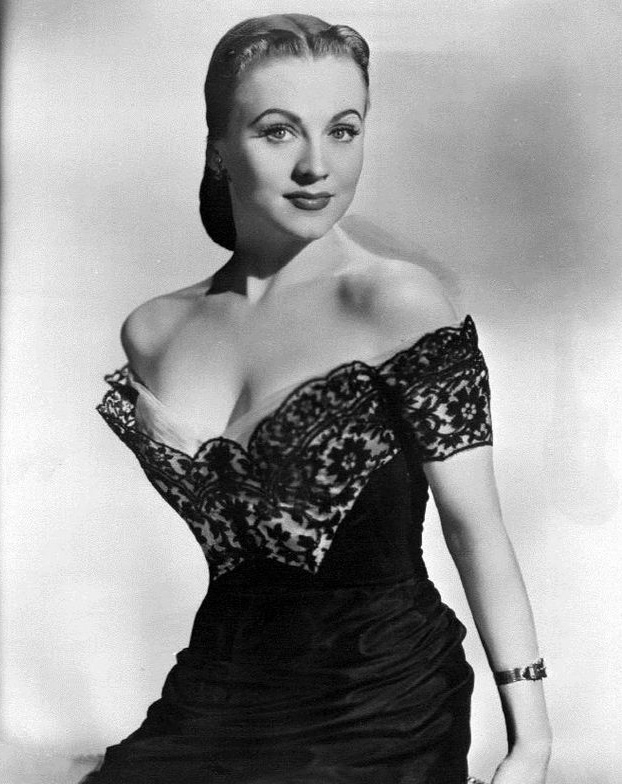 (Anne Jeffreys 1956 Star Stage Photo: J. Walter Thompson)
Anne Jeffreys appeared in 16 movies for Republic Studios (12 under contract), including:
Billy the Kid Trapped (1942) starring Buster Crabbe. Billy The Kid Trapped was her first official movie credit "Sally", as it was released in February 1942, 4 months before I Married an Angel.
Flying Tigers (1942) starring John Wayne and future General Hospital co-star Anna Lee. Anne Jeffreys was uncredited as a nurse in Flying Tigers.
She made two movies starring the duo of Joe. E. Brown and Judy Canova – the musical comedy Joan of Ozark (1942), and Chatterbox (1943). Character actor Jason Robards Sr. appeared in an uncredited role in Joan of Ozark, the first of 9 movies he'd be in starring Anne Jeffreys.
She was the female leading lady in 8 western movies with Bill Elliott and George "Gabby" Hayes – Calling Wild Bill Elliott (1943), The Man from Thunder River (1943), Bordertown Gun Fighters (1943), Wagon Tracks West (1943), Overland Mail Robbery (1943), Death Valley Manhunt (1943), Mojave Firebrand (1944), and Hidden Valley Outlaws (1944). Jeffreys said Gabby Hayes became a dear friend.
Anne Jeffreys told Where Are They Now? columnist Jess L. Hoaglin that RKO bought out her contract from Republic Studios so she could co-star with Frank Sinatra, Adolphe Menjou, Gloria DeHaven, Alan Carney, Dorothy Malone and Wally Brown in the musical Step Lively (1944). She continued to sing offscreen as well, with the Los Angeles Opera Company and Ford Symphony. 
If you're a 1940's movie buff, you may recall seeing Anne Jeffreys in co-starring/leading lady roles in Nevada (1944), a western with Robert Mitchum in his first leading man role. She was Tess Trueheart in Dick Tracy (1945) and Dick Tracy vs. Cueball (1946), both co-starring Morgan Conway as Dick Tracy, and with character actor Jason Robards Sr. in uncredited roles.
Vacation in Reno (1946) was Ann Jeffrey's last movie with Morgan Conway, and co-starred Jack Haley in his last role as a leading man. Also in the cast of Vacation in Reno were her frequent costars and character actors Jason Robards Sr., Alan Carney, and Wally Brown.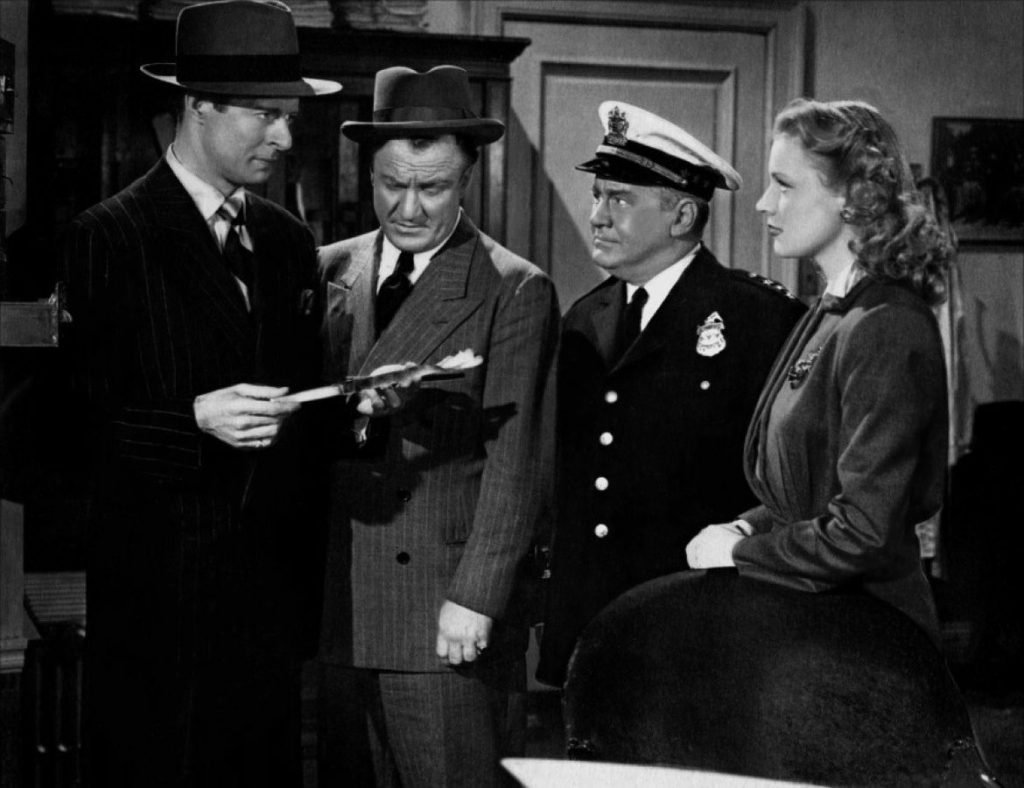 (Morgan Conway, Lyle Latell, Joseph Crehan, and Anne Jeffreys 1945 Dick Tracy Photo)
Other Jason Robards, Sr. movies during the 1940's for Anne Jeffreys were:
Step by Step (1946), a crime drama co-starring Lawrence Tierney, with Jason Robards Sr. in the cast. Lawrence Tierney and Ann Jeffreys had been co-stars in the biographical crime drama Dillinger (1945), and the comedy Those Endearing Young Charms (1945). 
Zombies on Broadway (1945) with Bela Lugosi, Alan Carney, Jason Robards Sr., and Wally Brown. Bela Lugosi, Alan Carney, Wally Brown and Anne Jeffreys also co-starred in Genius at Work (1946).
Jason Robards Sr. and Ann Jeffreys also appeared in the movies Ding Dong Williams (1946), and Riff-Raff (1947) with Pat O'Brien.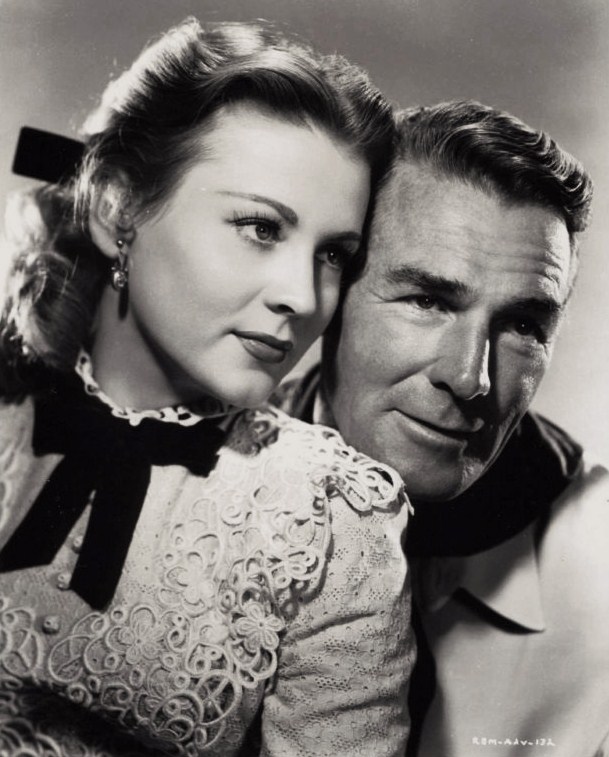 (Anne Jeffreys and Randolph Scott 1948 Return of the Bad Men)
The westerns Trail Street (1947) and Return of the Bad Men (1948) had Anne Jeffreys co-starring with leading man Randolph Scott, along with Robert Ryan, and George "Gabby Hayes" (her former co-star from the Bill Elliot/Gabby Hayes westerns at Republic Studios). Jason Robards Sr. made an appearance in Return of the Bad Men, his 9th movie with Anne Jeffreys. 
Los Angeles AP reported in 1949 that Anne Jeffrey's marriage to Army officer Joseph Serena in Los Angeles in 1945, had ended in annullment. Jeffreys had stated in her filing that they had separated after 6 months of marriage, and had no children.
By 1949, Anne Jeffreys had relocated to New York City. She appeared on Broadway in Street Scene (1947), and told Los Angeles AP writer Jerry Buck in 1980 that she returned to RKO pictures and was offered a role in a western movie starring Robert Sterling (Roughshod, 1949). Discovering she would not be "the" leading lady but one of several in the movie, Jeffreys turned down the movie role and went back to Broadway. 
Jeffreys replaced actress Patricia Morison in Kiss Me Kate in 1949, at the request of Cole Porter. She'd go on to appear in 887 consecutive performances of Kiss Me Kate on Broadway over the next 2 years. 
A year after Anne Jeffreys had turned down the co-starring role in his movie, Robert Sterling (who was divorced from first wife Ann Sothern in 1949) came to see Jeffreys backstage after a show in New York. As told to Jerry Buck by Anne:
"Went out for a sandwich…We double-dated, then I didn't see him for another year. By that time I was in 'Kiss Me Kate' and he was starring in another Broadway show (Robert Sterling's Broadway debut, in Gramercy Ghost, at the theatre adjoining hers). He asked me to supper one night. I had a devoted beau back in California who called me every night and flew in once month. Robert kept coming by my dressing room and finally one night we went to the Stork Club. I got home at 6 a.m. At the door he kissed me and said 'From now on I'm taking over'." 
Robert Sterling and Anne Jeffreys were married in November 1951, and she became a stepmother to his daughter Tisha Sterling (from his marriage to ex-wife Ann Sothern). Anne and Robert Sterling had 3 sons, Jeffreys Hart Sterling (b. Aug 1954), Robert Dana Sterling (b. 1958), and Tyler Marcus Sterling (b. 1959). Tisha Sterling is an actress as well.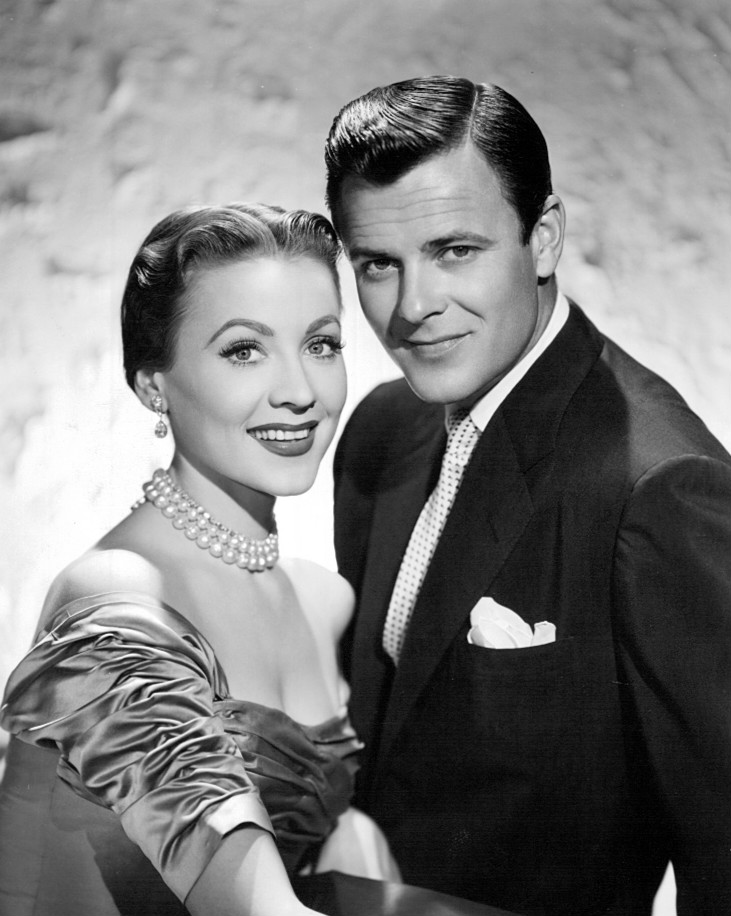 (Anne Jeffreys and husband Robert Sterling in Topper)
Anne Jeffreys and Robert Sterling would go on to work together on Broadway in the musical Three Wishes for Jamie (1952).
They were co-stars again in the fantasy comedy TV series Topper from 1953-1955.
In Topper, Jeffreys and her husband played Marion and George Kerby, a high-spirited couple of ghosts who have returned to haunt their family home and it's inhabitant, banker Cosmo Topper (Leo G. Carroll). 
The musical comedy TV movies Max Liebman Presents: The Merry Widow (1955) and Max Liebman Presents: Dearest Enemy (1955) both starred Anne Jeffreys.
Her husband Robert Sterling was in the cast of Max Liebman Presents: Dearest Enemy with her.
The couple were guest-stars in episodes of Lux Video Theatre and Star Stage in 1956, and again in an episode of Telephone Time in 1957. In 1957, Anne Jeffreys and Robert Sterling played a couple onscreen as well, in a guest-starring appearance on Wagon Train; it was the first of 2 appearances on Wagon Train for Jeffreys.
Newspapers reported that an accident in the driveway of the home of Robert Sterling and Anne Jeffreys in July 1956 claimed the life of Anne's beloved mother, Kate Jeffreys Carmichael. Kate Carmichael was taking books out of the trunk of her car when the emergency brake slipped and the car rolled down the driveway, dragging her with it.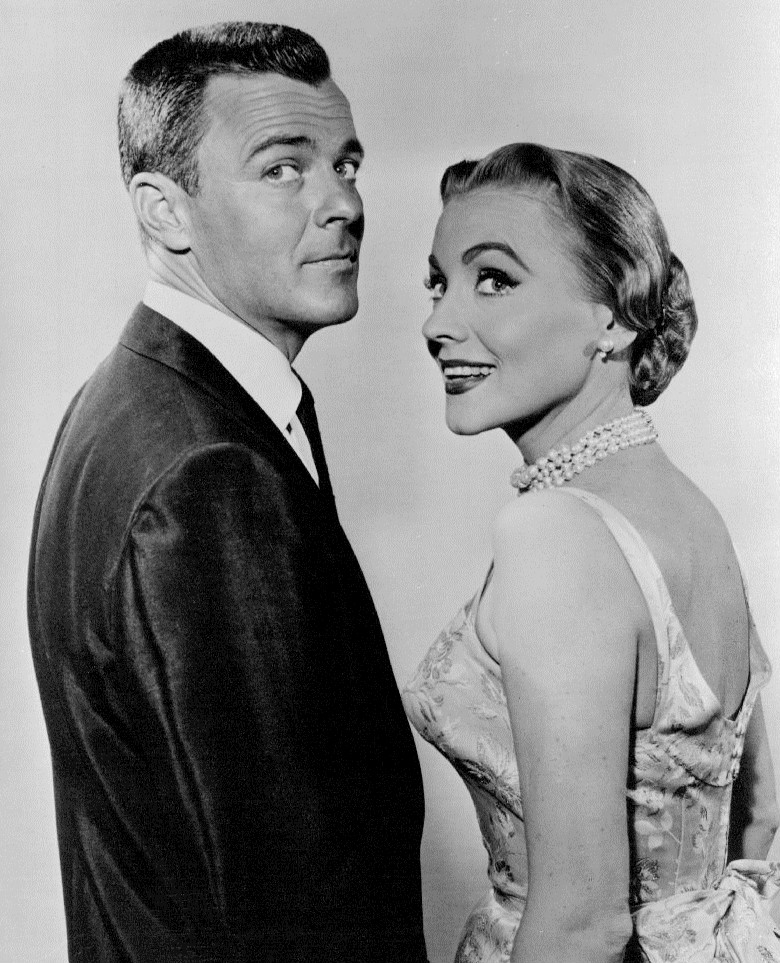 (Robert Sterling and Anne Jeffreys 1958 Love That Jill)
The short-lived TV comedy series Love That Jill (1958) starred Anne Jeffreys and Robert Sterling. Jeffreys played modeling agency owner Jill Johnson, while Sterling was head of the rival modeling agency and her romantic interest, Jack Gibson. Love That Jill lasted 13 episodes before being cancelled.
By the 1960's Anne was no longer the leading lady in feature films.
She was a supporting actress in the movie Boy's Night Out (1962), a comedy starring Kim Novak, James Garner, Tony Randall, Patti Page, and Zsa Zsa Gábor.
Jeffreys appeared in the sci-fi thriller Panic in the City (1968) starring Howard Duff, with Nehemiah Persoff and Dennis Hopper.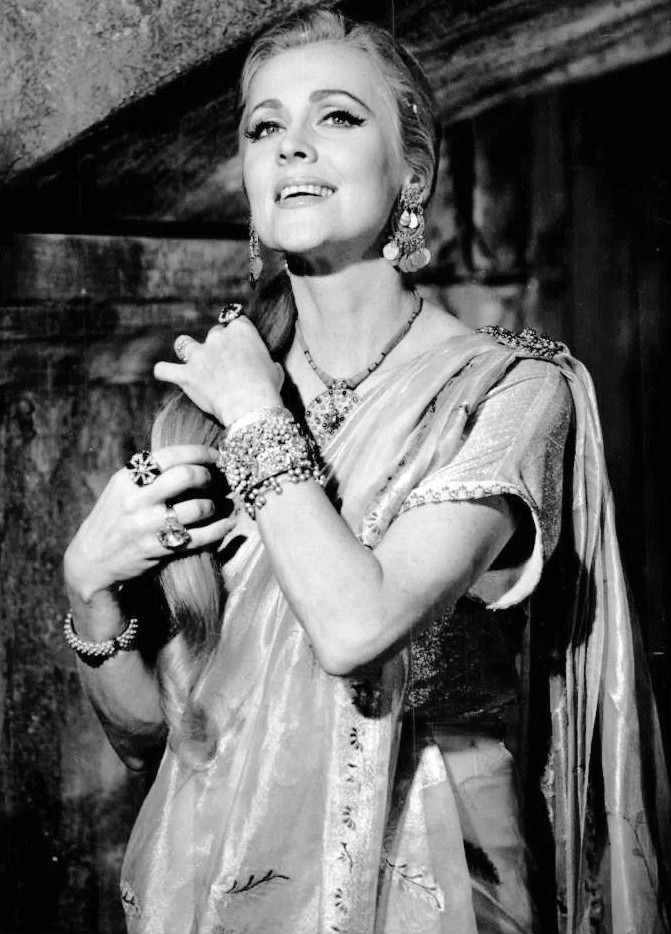 (Anne Jeffreys 1966 The Man From Uncle)
Television was her stomping ground, and Anne Jeffreys appeared in the TV movies Two's Company (1965) starring Marlo Thomas and Paul Lynde, and Ghostbreakers (1967) with Richard Anderson and Michael Constantine.
In addition to her TV movies Anne Jeffreys guest-starred in episodes of popular TV series such as My Three Sons, Tarzan (starring Ron Ely), Bonanza, Dr. Kildare (starring Richard Chamberlain), and The Man From U.N.C.L.E. in 1966, with Robert Vaughn, David McCallum, and Leo G. Carroll (her co-star from Topper).
During the 1970's, Anne Jeffreys originated the character of Sylvia Bancroft on the TV soap Bright Promise (set in the town of Bancroft) in 1971.
The cast of Bright Promise in 1971 included John Considine, Susan Brown, Dabney Coleman, Robert Hogan, and two future General Hospital co-stars – Anthony Geary and David Lewis.
Jeffreys was part of the all star cast in the TV movie Beggarman, Thief (1979), a sequel to the Rich Man, Poor Man mini-series. Beggarman, Thief starred Jean Simmons, Glenn Ford, Lynn Redgrave, Tovah Feldshuh, Bo Hopkins, and Alex Cord. 
Baby boomers may also remember seeing Anne Jeffreys guest-starring on 1970's series Police Story starring Angie Dickinson, as well as these popular TV shows during her 50+ years in the 1970's and 1980's:
Flying High in the 1970's, starring Connie Sellecca, in an episode with John Carradine, Mercedes McCambridge, Craig Stevens (Peter Gunn), and Ray Walston (My Favorite Martian). Anne Jeffreys and her husband Robert Sterling later guest-starred on Connie Selleca's series with James Brolin, Hotel. Fellow guest-stars on Hotel with them were Adrienne Barbeau, Emma Samms, George Lazenby, and Sachi Parker.
Battlestar Galactica starring Richard Hatch, Dirk Benedict, and Lorne Greene; she played the love interest of fellow guest star Fred Astaire.
Buck Rogers in the 25th Century starring Gil Gerard, Erin Gray, and Tim O'Connor.
Fantasy Island starring Ricardo Montalban, appearing 3 times from 1978-1982, in episodes with Lucie Arnaz, Ronny Cox, Michele Lee, Barbi Benton, Arte Johnson, Audrey Landers, Heather Locklear, Loretta Lynn, Ted McGinley, and Nita Talbot. Anne Jeffreys and Robert Sterling would later guest-star with Audrey Landers again, in an episode of Murder, She Wrote starring Angela Lansbury.
Matt Houston, starring Lee Horsley, Pamela Hensley, John Aprea, in an episode with Ernest Borgnine.
Anne Jeffreys had a recurring role as Amanda Croft on prime-time soap opera Falcon Crest between 1982-1983. She appeared in episodes of Falcon Crest with series regulars Jane Wyman, Robert Foxworth, Lorenzo Lamas, David Selby, Willliam R. Moses, Jamie Rose, Abby Dalton, Ana Alicia, Susan Sullivan, Roy Thinnes, Bradford Dillman, Shannon Tweed, and Lana Turner. 
After her stint on Falcon Crest ended, Jeffreys became a regular as Rita Hargrove on Finder of Lost Loves (1984-1985). Finder of Lost Loves starred Anthony Franciosa, with Deborah Adair and Anne Jeffreys as a wealthy woman helping him reunite old lovers.
While still appearing on Finder of Lost Loves, 50+ Anne Jeffreys took on the recurring role of wealthy Amanda Barrington on daytime soap opera General Hospital in 1984. Jeffreys' character Amanda Barrington was a board member of ELQ and General Hospital on the series from 1984-2004, a 20-year run. By the time her turn on General Hospital ended in 2004, Anne Jeffreys was an octogenarian senior. General Hospital was a reunion on-screen for Anne Jeffreys and Anna Lee (Lila Quartermaine), more than 40 years after their turn in the John Wayne movie Flying Tigers (1942).
In semi-retirement, but still appearing on General Hospital during the 1990's, Jeffreys made a guest-starring appearance on popular baby boomer series L. A. Law, and co-starred in the TV movie A Message From Holly (1992) starring Lindsay Wagner, Shelley Long, and Cotter Smith. 
Septuagenarian Anne Jeffreys was in the cast of the feature film comedy Clifford (1994). Clifford starred Martin Short, Charles Grodin, Mary Steenburgen, Dabney Coleman, and Richard Kind. 
On television, Jeffreys continued her recurring character of Amanda Barrington on General Hospital during the 1990's. When General Hospital spin-off Port Charles aired, Anne Jeffreys had recurring role on it as Amanda Barrington as well, from 1999-2003.
Below, a video tribute to the always beautiful and stylish Anne Jeffrey,s from her early days in film to more recent years. 
Baywatch and Anne Jeffreys' baby boomer and senior fans may recall seeing her as the recurring character of Baywatch star David Hasselhoff's mother, Irene Buchannon; veteran actor Joseph Campanella played Al Buchannon. Jeffreys appeared in Baywatch episodes with regulars Pamela Anderson, David Charvet, Yasmine Bleeth, and Nicole Eggert.
In addition to her career in movies and television, businesswoman Anne Jeffreys developed and sold her Now and Always line of perfumes and skin care products on the Homeshopping Network, according to Where Are They Now?.
Anne Jeffreys' husband Robert Sterling died of natural causes on May 30, 2006 at the age of 88. Robert Sterling had been a businessman since retiring from acting in the 1960's, only very occasionally appearing on screen, usually in projects with his wife. Sterling's obituary in The New York Times referenced wife Anne Jeffreys, his daughter (actress Tisha Sterling), and their three sons and six grandchildren. Anne Jeffreys and Robert Sterling had been married for 54 years.
Although she's was mostly retired since 2004, Anne Jeffreys appeared in a few projects as an octogenarian senior citizen.
She co-starred in the movie Richard III (2007) playing the Duchess of York. Richard III starred David Carradine as Buckingham, Sally Kirkland as Queen Margaret, and Maria Conchita Alonso as Queen Elizabeth.
In The Empire State Building Murders (2008), a documentary crime-drama TV movie, Jeffreys was Betty Clark. Her co-stars in The Empire State Building Murders were Ben Gazzara, Kirk Douglas, Mickey Rooney, Cyd Charisse, and Marsha Hunt. 
The thriller Sins Expiation (2012) starring Steven Bauer, Danny Glover, and Michael Madsen, was Anne Jeffrey's most recent big-screen appearance.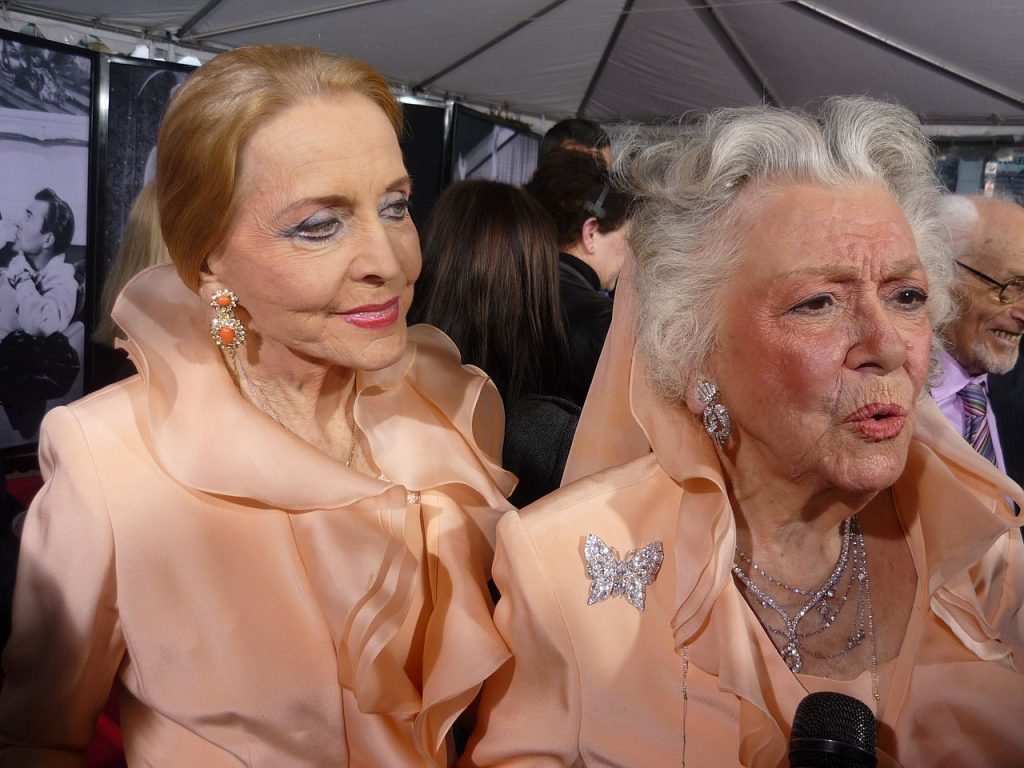 (Longtime close friends and glamorous seniors Anne Jeffreys and Ann Rutherford in 2010)
Jeffreys told Los Angeles AP that she was at good friend Ann Rutherford's side when she died in June 2012 at the age of 94. Jeffreys' advice to Huell Howser in 2014?
"Live each day at it's fullest, because we don't know what tomorrow brings."
Below, Anne Jeffreys from younger (c. 1954) to older (c. 1972).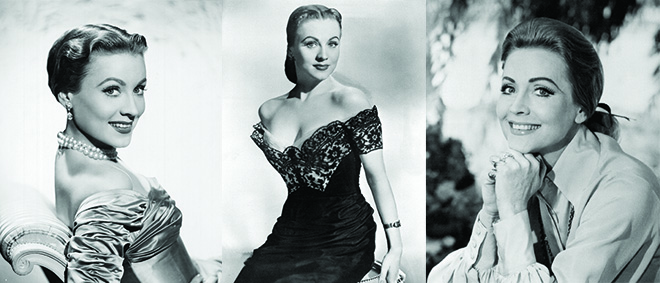 *Images are public domain or Creative Commons licensed & sourced via Wikimedia Commons, Vimeo, YouTube, or Flickr, unless otherwise noted*