School's Not Out For Alice Cooper
The shock-rock singer-songwriter who gave generations of schoolchildren and teenagers the end-of-year anthem School's Out (1972) didn't start life as Alice Cooper.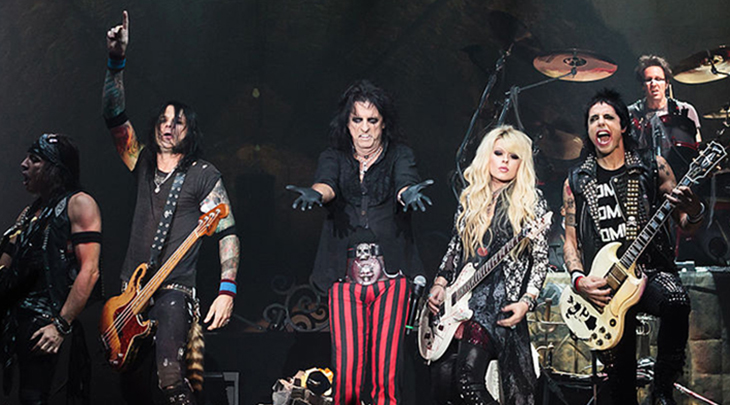 (Alice Cooper Band 2012 Photo: Kreepin Deth)
Vincent Damon Furnier was born on February 4th, 1948 in Detroit and didn't change his name to Alice Cooper until 1975, when he embarked on a solo artist career.
Previously he'd performed as lead singer of The Alice Cooper Group, and it was with this band that he first charted with several of the songs that his fans love(d) him for – the afore-mentioned School's Out, I'm Eighteen (1970), No More Mr. Nice Guy (1973), and rock hits.
Alice Cooper sings I'm Eighteen in a rare performance with minimal makeup live in concert, below.
Although known for his horror/shock rock style onstage, and trademark dark eyeliner makeup ringing his eyes (inspired by Bette Davis in the film Whatever Happened to Baby Jane?), offstage today Alice Cooper is an eloquent and charming philanthropist and born-again Christian. He's been married for over 40 years and is the father to 3 children.
Alice Cooper started performing at age 16 with a group of band mates in 1964; by 1970 "Alice Cooper" the band had achieved Top 35 success on Billboard with their third album Love it to Death. Their live performance theatrics included a boa constrictor, electric chairs, and outrageous costumes.
Cooper told Enough Rope's Andrew Denton in 2005, that mistakes are often the best part of his concerts. 
"Out of all the things that are supposed to happen, a lot of times your mistakes end up being the best things in the show. I've always told the band, 'There's no such thing as a mistake. If you fall over your amp, wait five minutes and then fall over it again and they think it's part of the show'."
Below, Alice Cooper sings School's Out. live on Top of the Pops in 1972.
The Alice Cooper Group's #1 single Schools Out debuted in 1972 and has since been a June favourite of elementary and high school students at the end of the school year, for decades. By 1974 The Alice Cooper Group's aggressive touring schedule and demanding on-stage antics took their toll and the bandmembers agreed to take a hiatus from the band and each other.
Soon after, Vincent aka Alice Cooper moved to LA, took up acting – an extension, after all of what he does on stage and in his music videos – in the 1970s, and could be seen in feature films such as Sextette (1977) and Sgt. Pepper's Lonely Hearts Club Band (1978).
He guest-starred on TV's The Snoop Sisters series starring Helen Hayes and Mildred Natwick in 1974. Alice Cooper as the witch "Prince" is featured in "The Devil Made Me Do It!" episode of The Snoop Sisters, along with Lou Antonio, Bert Convy, Joan Blondell, Greg Morris (Mission: Impossible), and George Maharis (Route 66). 
In 1975 with his name now legally changed to Alice Cooper (to avoid issues over ownership of the band name), Welcome to My Nightmare was released as his first solo album. That same year, after a brief relationship with girlfriend Raquel Welch, Alice Cooper fell for Sheryl Goddard, a performer in his show. They married in 1976 and although Sheryl filed for divorce in 1983, they reconciled and are still together 40+ years later. Cooper has proudly said he's never cheated on his wife, a rarity in the world of rock & roll where the opposite of fidelity is the norm.
Fully recovered today after being hospitalized in 1977 for treatment for alcoholism, and again in 1983 for cocaine addiction, Alice Cooper continues to perform on tour, write and record music. His radio show Nights with Alice Cooper debuted in 2005 and is widely broadcast in North America and round the world.
Today he's also a baseball fan, talented celebrity golfer, and philanthropist. He's hosted The Alice Cooper Celebrity AM Golf Tournament (proceeds go to his charity, The Solid Rock Foundation) since 1997. He shared some stories about his conversion to dedicated golf addict with European Tour in 2014.
In his 2007 autobiography Alice Cooper, Golf Monster: A Rock 'n' Roller's 12 Steps to Becoming a Golf Addict, Cooper credits golf with helping him get clean.
"I traded one bad habit (drugs & alcohol addictions) for another habit, only this habit was a lot healthier."
In this 2007 CBC interview with George Stromboulopoulos, a relaxed Alice Cooper shares his views on religion, sex, and keeping his private live separate from his public persona.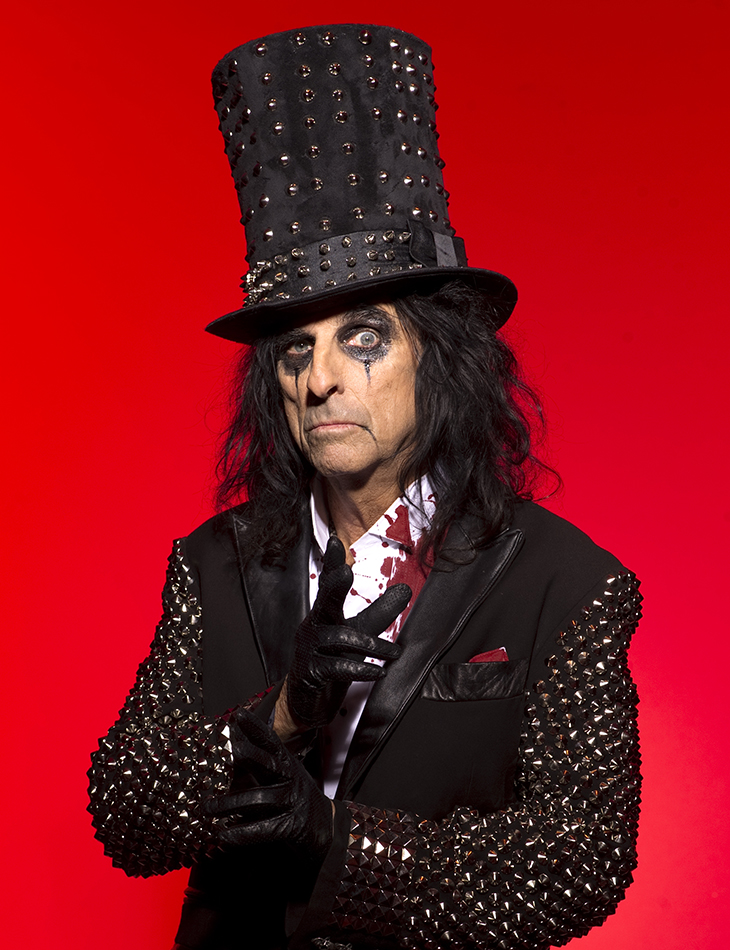 (Alice Cooper 2011 Photo: Ross Halfin) 
So far, Alice Cooper is still in the running to achieve a life goal he made clear to Andrew Denton back in 2005, of besting Mick Jagger: 
"He's six years older than me, so when he retires, I have six more years. I will not let him beat me when it comes to longevity."
He's on tour again this summer of 2019, and according to his Alice Cooper Instagram page, he's "booked through 2028".
For now-septuagenarian rocker Alice Cooper, school may never be out for the summer.
*Images are public domain or Creative Commons licensed & sourced via Wikimedia Commons or Flickr, unless otherwise noted*