Fascinating Facts from December 1940
News Headlines & Entertainment Trivia from December, 1940:  Classic movie premiere – The Philadelphia Story, starring Katharine Hepburn, Cary Grant & James Stewart; Artie Shaw's Frenesi is the #1 hit song; Bette Davis elopes with Arthur Farnsworth; Death of F. Scott Fitzgerald.
Classic Movie Premiere – The Philadelphia Story
Katharine Hepburn, Cary Grant, and James Stewart star in the Academy Award-winning classic film The Philadelphia Story, which premiered in December 1940.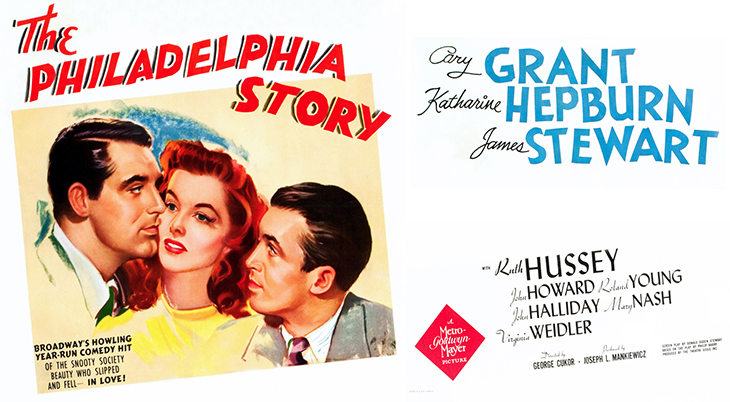 (The Philadelphia Story Poster: MGM)
Producer Joseph L. Mankiewicz selected George Cukor to direct The Philadelphia Story movie, which was adapted by screenwriter Donald Ogden Stewart (and an uncredited Waldo Scott) from Philip Barry's 1939 hit Broadway play.
(James Stewart 1941 Best Actor Academy Award Photo: Boxoffice)
The Philadelphia Story was a hit with movie-goers and film critics, garnering six Academy Award nominations, and winning two. Screenwriter Donald Ogden Stewart won Best Adapted Screenplay, and leading man James Stewart won Best Actor, beating out pal Henry Fonda (The Grapes of Wrath), Charlie Chaplin (The Great Dictator), Raymond Massey (Abe Lincoln in Illinois), and Laurence Olivier (Rebecca).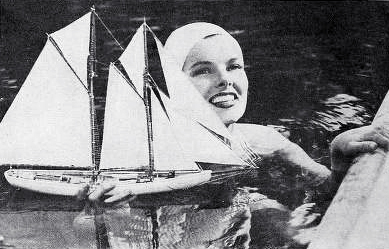 (Katharine Hepburn 1940 The Philadelphia Story Photo: Screenland)
This romantic comedy has wealthy, divorced Philadelphia socialite Tracy Lord (Katharine Hepburn) living at home at her parents home with her mother Margaret Lord (Mary Nash) and teenage sister Dinah Lord (Virginia Weidler).
Tracy's parents are currently separated because her father Seth Lord (John Halliday) had an affair. Tracy divorced her husband C. K. Dexter Haven (Cary Grant) because of his drinking, and she is now engaged to George Kittredge (John Howard).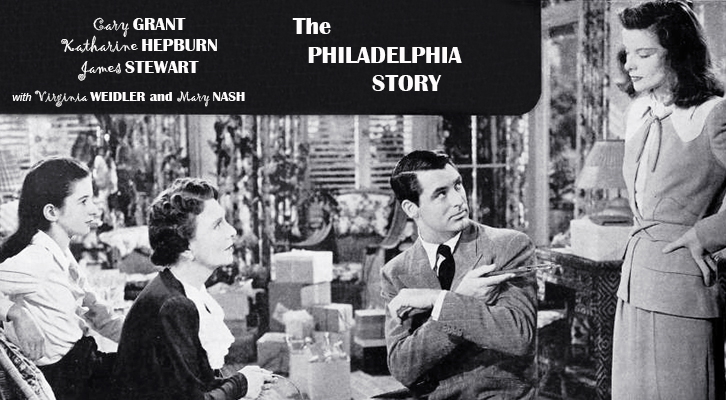 (Virginia Weidler, Mary Nash, Cary Grant, Catharine Hepburn 1940 The Philadelphia Story Photo: Photoplay)
The upcoming wedding of Tracy and George has caught the attention of Spy Magazine, and publisher Sidney Kidd (Henry Daniell) dispatches reporter Macauley "Mike" Connor (James Stewart) and photographer Liz Imbrie (Ruth Hussey), who has a crush on the oblivious Mike, to cover the wedding.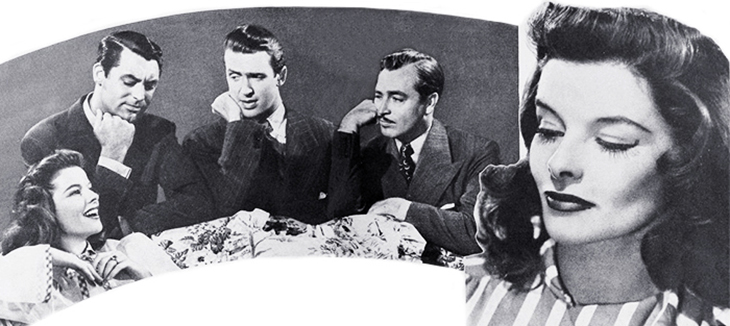 (Katharine Hepburn, Cary Grant, James Stewart, John Howard 1940 The Philadelphia Story Photo: Screenland)
Dexter (who is now working for Spy Magazine) introduces Sidney and Liz and tells a suspicious Tracy that the magazine plans to expose her father's affair unless they cooperate. The cover-up begins…
Complications include Tracy's Uncle Willie (Roland Young), and her attraction to both Mike and Dexter while engaged to George. Also in The Philadelphia Story in minor roles are Rex Evans, Lionel Pape, Hillary Brooke, and former silent film star-director King Baggott as a wedding guest.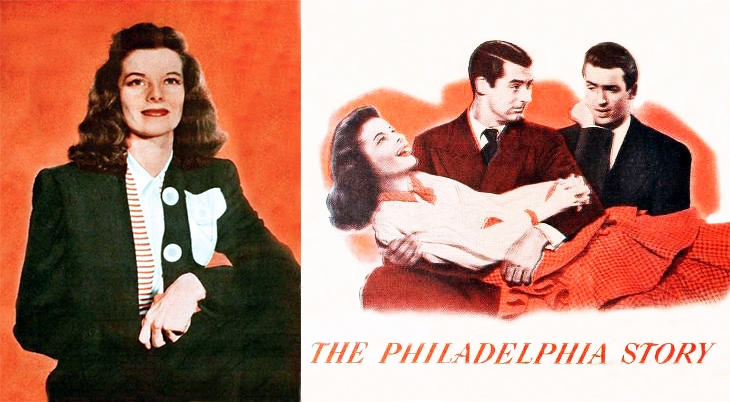 (Katharine Hepburn, Cary Grant, James Stewart 1940 Photos: Screenland / Photoplay)
Playwright Philip Barry had written The Philadelphia Story with Katharine Hepburn in mind as Tracy Lord, and she originated the role to great acclaim on Broadway in 1939. Her leading men in the Broadway production included Joseph Cotten as Dexter, Van Heflin as Macauley Connor, and Frank Fenton as George Kittredge. Also in the stage production were Lenore Lonergan as Dinah Lord, Shirley Booth as Elizabeth Imbrie, Dan Tobin as Alexander Lord (a character not in the film), and Hayden Rorke as Mac. Hepburn financed the Broadway play, and with the help of her sometime boyfriend Howard Hughes, bought the film rights from Barry before selling them to MGM.
The MGM musical High Society (1956) starring Grace Kelly, Bing Crosby, Frank Sinatra, Celeste Holm, and Louis Armstrong, is an adaptation of The Philadelphia Story.
This clip from The Philadelphia Story features Cary Grant, Katharine Hepburn, and James Stewart.
Other Oscar Nominations for The Philadelphia Story:
Best Actress – Katharine Hepburn. Ginger Rogers won the Academy Award Best Actress for her performance in Kitty Foyle, leaving Hepburn and the other nominees (Bette Davis, The Letter; Joan Fontaine, Rebecca; and Martha Scott, Our Town) empty-handed.
Outstanding Production – Joseph L. Mankiewicz. The Academy Award was won by David O. Selznick (Rebecca), amongst stiff competition that included Jack Warner, Hal Wallis & David Lewis (All This, and Heaven Too); Walter Wanger (Foreign Correspondent); John Ford (The Long Voyage Home); Sol Lesser (Our Town); and 4 other films.
Best Director – George Cukor. The Oscar went to John Ford for The Grapes of Wrath, with Sam Wood (Kitty Foyle), William Wyler (The Letter), and Alfred Hitchcock (Rebecca) as the other runners-up.
Best Supporting Actress – Ruth Hussey. Jane Darwell, who excelled as Ma Joad in The Grapes of Wrath, took home the Oscar. Other nominees were Judith Anderson (Rebecca), Barbara O'Neil (All This, and Heaven Too), and Marjorie Rambeau (Primrose Path).
Artie Shaw's Frenesi is #1 Hit Song
Frenesi by Artie Shaw and his Orchestra, hit the #1 spot on the music charts on December 21, 1940 and stayed on the charts for 13 weeks.  
Frenesi (Frenzy in English) began as a marimba instrumental by Spanish composer Alberto Dominguez, and was later adapted by Leonard Whitecup for jazz. 
Artie Shaw's version of Frenesi was arranged by William Grant Still. Shaw's recording was inducted into the Grammy Hall of Fame in 1982.
Other artists who recorded Frenesi include Dave Brubeck, Natalie Cole, Bing Crosby, Ray Charles, Eydie Gorme, Steve Lawrence, Les Brown, Tommy Dorsey, Woody Herman, Harry James, Ben E. King, Glenn Miller, Linda Ronstadt, and Frank Sinatra.
Bette Davis Marries Arthur Farnsworth
On December 31, 1940, Academy Award-winning actress (Dangerous, 1935; Jezebel, 1938) Bette Davis eloped with New England hotel manager and pilot Arthur Farnsworth.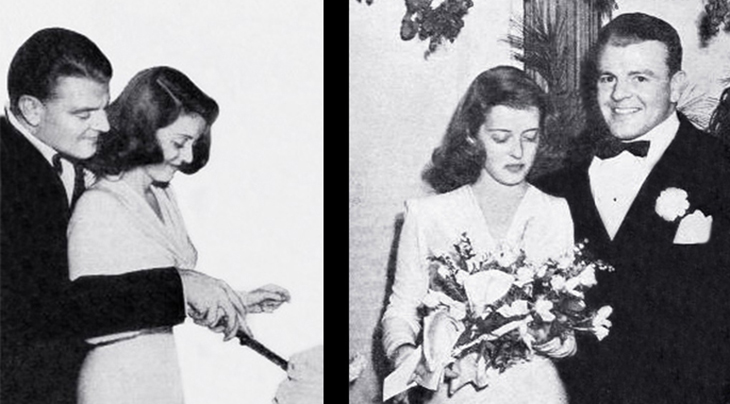 (Bette Davis & Arthur Farnsworth December 31, 1940 Wedding: Motion Picture Daily & Modern Screen)
Ruth Elizabeth "Bette" Davis married Arthur Farnsworth "Farny" at the Beaver Creek Ranch home of Mr. and Mrs. Justin Dart in Rim Rock, Arizona. According to Modern Screen, Mrs. Dart was the former actress Jane Bryan, a friend and protege of Bette's. Jane Bryan Dart had retired from acting when she married Justin Dart (later head of Rexall Drugs) the previous New Year's Eve. 
Bette drove 500 miles from her Glendale home (with her agent and dog, along with her wedding flowers, dress, and trousseau) to the Dart ranch in Arizona. It was the second marriage for both the 32-year-old Davis (m. orchestra leader Harmon Nelson 1932 – div. 1938) and 34-year-old Arthur Farnsworth (divorced from first wife Betty Jane Adeylotte c. 1938).
Photoplay editor Helen Gilmore recalled in 1943 that Davis had purchased her New Hampshire ranch house "Butternut Lodge" from Bostonian Arthur Farnsworth, who had bought it as an investment property. Arthur had been a concert violinist, and was an assistant hotel manager for the summer at nearby Peckett's On Sugar Hill (Franconia). New Hampshire magazine says that Davis purchased Butternut Lodge from the Peckett family, and Bette often stayed at Peckett's inn while in New Hampshire.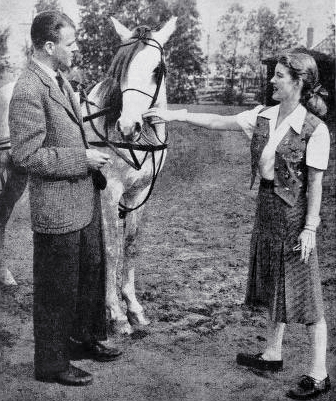 (Bette Davis Arthur Farnsworth Photo: 1943 Photoplay)
Regardless of who owned Butternut Lodge before Bette Davis, she connected with Arthur Farnsworth while she was vacationing in New Hampshire. By the end of 1939 she had bought Butternut Lodge as well as a home in Glendale, California. Davis was fresh out of relationships with her frequent co-star, actor George Brent (they appeared in 11 movies together), and her Jezebel (1938) director William Wyler.
It must have been difficult for Bette Davis and Arthur Farnsworth to maintain a relationship when she returned to work, given the distance between their day jobs (hers in Hollywood filming All This and Heaven, Too; his in New Hampshire), but they took turns going East/West.
Arthur visited Bette at her Glendale home, and Davis went to New Hampshire to rest between filming movies (she made seven films released in 1939-1940 alone, including The Private Lives of Elizabeth and Essex co-starring Errol Flynn; Dark Victory with Humphrey Bogart and George Brent; The Old Maid with Miriam Hopkins and George Brent; Juarez co-starring Paul Muni & Brian Aherne; All This, and Heaven Too with Charles Boyer and Jeffrey Lynn; and The Letter, with Herbert Marshall and James Stephenson).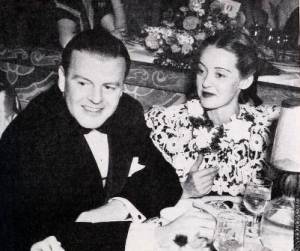 (Bette Davis & Arthur Farnsworth 1940 Charles Rhodes)
"Bette Davis has arrived at Butternut Lodge, her Sugar Hill farmhouse, for a two-month sojourn while Granite Staters are getting their first look at her latest film, All This, and Heaven Too. The film star will remain here until October 1 when she will return to Hollywood to make another Warner Bros. picture. She was welcomed at her farmhouse by her mother and Arthur Farnsworth, local inn official, whose name was linked with Bette's in romance rumors last spring." – August 1940, Boxoffice
By the time they married in December 1940, Arthur was a pilot for a firm in Boston and already owned his own plane. The couple promptly returned to California after the wedding so Bette Davis could film The Great Lie (1941) with George Brent. Arthur planned to obtain his instructor's license and pursue a career in aviation in California when they were married. 
(Arthur Farnsworth 1941 & Bette Davis 1940 Photos: Cine-Mundial)
In early August 1943 while the couple were at their Buttercup Lodge in New Hampshire, Arthur Farnsworth fell down a flight of stairs. Two months later, back in California so Bette Davis could film Mr. Skeffington (1944), Arthur collapsed on Hollywood Boulevard and was taken to the Hollywood Hospital. An undiagnosed skull fracture and blood clot after the fall had resulted in this later collapse. Sadly, Arthur Farnsworth died in hospital a couple of days later at the age of 36, leaving Bette Davis a widow. 
Bette Davis kept Butternut Lodge for a few years, and even had a plaque put on a rock in the nearby woods to honor Arthur's memory.
"In Memoriam to Arthur Farnsworth 'The Keeper of Stray Ladies' Pecketts – 1939. Presented by a Grateful One"
Butternut Lodge could no longer have been the same refuge for Davis, and she eventually sold it. She later married (& divorced) William Grant Sherry (1945 – 1950), followed by her All About Eve co-star Gary Merrill (1950 – 1960). Bette Davis died in 1989 at the age of 81, eight months after walking off the set of Wicked Stepmother (1989) after just one week of filming (she was disgusted with the script). Her legacy of film includes over 80 classic movies, ten Academy Award nominations (including her two wins), and numerous television appearances. 
Notable December 1940 Deaths
Greek-American actor George Regas (The Mark of Zorro; Daniel Boone;  The Cat and the Canary) died on December 13, 1940 at the age of 50, after an operation for a throat infection.
American Jazz-age author F. Scott Fitzgerald (The Great Gatsby; Tender is the Night) was only 44 when he died on December 21, 1940, from a heart attack.
Former silent film star beauty Agnes Ayres, who played Lady Diana Mayo in The Sheik opposite Rudolph Valentino, died on December 25, 1940 at the age of 48 from a cerebral hemorrhage.
Additional Resources: 
Bette Davis Faces Sorrow by Helen Gilmore 1943 November Photoplay
Hollywood, 1940
*Images are believed to be in the public domain or Creative Commons licensed & sourced via Wikimedia Commons, Vimeo, YouTube, or Flickr, unless otherwise noted*