Wicked Errol Flynn
Wickedly handsome Tasmanian-born actor Errol Flynn ruled at the 1930s and 1940s box office, usually in films that played to his off-screen reputation as a romancing adventurer.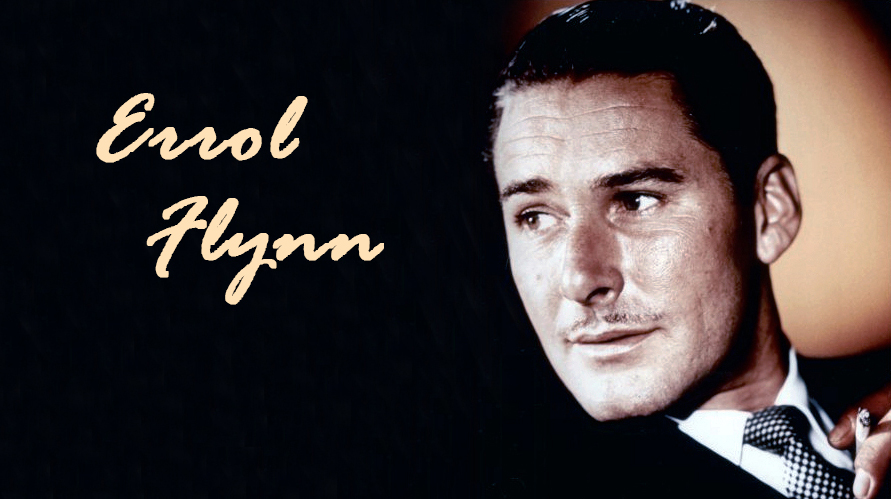 (Errol Flynn 1940)
Before Fame and In The Wake of the Bounty
According to researcher and biographer John Hammond Moore in The Young Errol – Flynn Before Hollywood (2011), Errol Leslie Thomson Flynn's family were residents of New South Wales in Australia for several generations before moving to Tasmania shortly before he was born on June 20, 1909 in Hobart, Tasmania.
Errol's father Theodore Flynn was a biologist and his mother (Lily Mary / Marelle, Young) was the daughter of a master mariner related in previous generations and centuries, to Midshipman Edward Young. Edward Young had sailed on HMAV Bounty to Pitcairn Island with Fletcher Christian after the famous April 1789 mutiny against Captain Bligh. One of Mary's brothers (and Errol's Uncles) Leslie Young married Ethel Christian, a descendant of Fletcher Christian; another brother, marine engineer Harry Young, acquired a rum keg from the Bounty during his sailings, that was passed down to his own son. John Hammond Moore writes that Errol Flynn bears a remarkable resemblance to his Uncle Harry's photos in profile.
Flynn's own claims to be related to descendants of the Bounty crew lacked credibility, as he so often embellished the truth to make a story more exciting.
What's the truth? In Young Blood: The Making of Errol Flynn (2009), biographer Debra Fasano claims that Flynn's relationship to Midshipman Ned Young is just another story. 
What's not disputed is that there was a Fletcher Christian, there was a Midshipman Edward (Ned) Young, and they both had children with their Tahitian wives on Pitcairn Island. Fletcher's son Thursday October Christian was the first of their children to be born on Pitcairn Island. Thursday October Christian II (Fletcher's grandson), married Mary Young (granddaughter of Ned Young) in 1839 – and they had 17 children, 10 of whom survived childhood. The descendants of the Christian and Young families often married (it was a small island, after all), according to The Peerage. Family histories / genealogy records are not always as complete or accurate as we'd like.
Whatever you choose to believe, most accounts of Errol Flynn of his early pre-movie fame years in Tasmania, Papua New Guinea, and Australia, including his own memoirs and semi-fictional autobiography My Wicked, Wicked Ways (1959, are agreed on these basic truths: Errol Flynn grew up to become an exceptionally handsome young man very well aware of his own good looks; full of charm and athletic ability (tennis and boxing in particular); sexually precocious, hedonistic, and reckless with women, the truth, and his pursuit of adventure. 
After several years spent sailing his own yacht with pals, a long list of jobs in the South Pacific, at the age of 24 Errol Flynn was eventually cast in his first movie In the Wake of the Bounty (1933), an Australian docu-drama.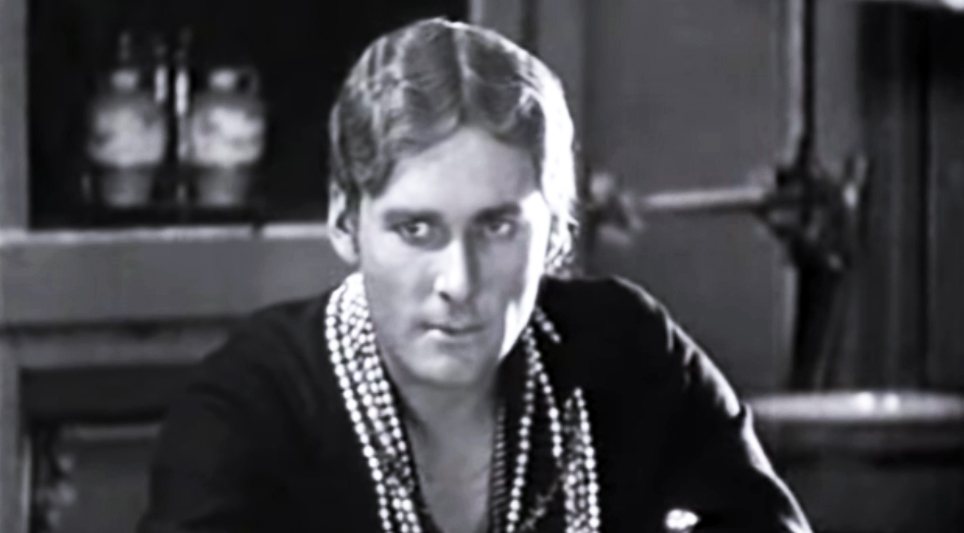 (Errol Flynn 1933 In The Wake of the Bounty)
Given his own possible family ties to Fletcher Christian and the Bounty mutiny, it's eerie that playing Fletcher Christian on film would be Errol Flynn's first movie role. By the time In the Wake of the Bounty was released to very little acclaim, Flynn had made the journey to England and begun pursuing a career in acting. 
He made several movie shorts and had bit parts in a few British murder-mystery films, before he caught the attention of Hollywood and left for America.
Errol Flynn and Olivia de Havilland Movies
Errol Flynn made a total of 9 movies with leading lady Olivia de Havilland, beginning with the pirate film Captain Blood. Flynn, of course, played pirate Captain Peter Blood who captures a feisty damsel (de Havilland). He credited movie mogul Jack Warner with discovering him and casting him with de Havilland in Captain Blood. He also said in his autobiography that he was sure he was in love with de Havilland by the time they made their second film together – but he was married, so was she, and so like a schoolboy, he contented himself with playing tricks on her.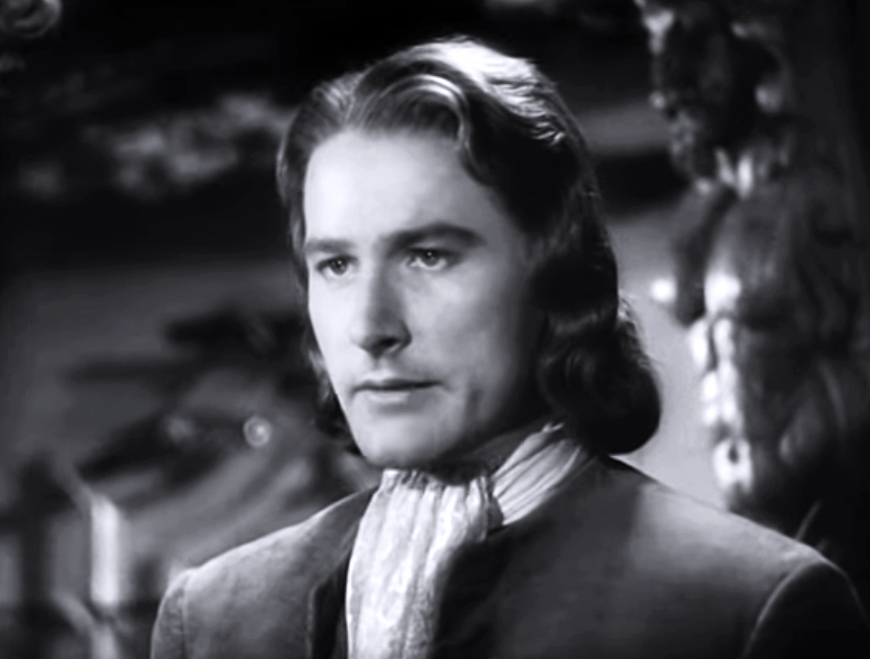 (Errol Flynn 1935 Captain Blood Trailer)
Olivia de Havilland and Errol Flynn were paired again in these films:
The Charge of the Light Brigade (1936), with Henry Stephenson, Nigel Bruce, Donald Crisp, David Niven, and J. Carrol Naish. Flynn plays a British officer in the 27th Lancers, in 1956 India. Patric Knowles is his brother, also in the Lancers with him. They're in love with the same woman (de Havilland). An Indian uprising decimates the British forces and a slaughter ensues. David Niven and Errol Flynn were pals offscreen as well, so much so that when Flynn separated from his wife, he and Niven shared a house for a while, that one or the other of them has been credited with calling "Cirrhosis by the Sea".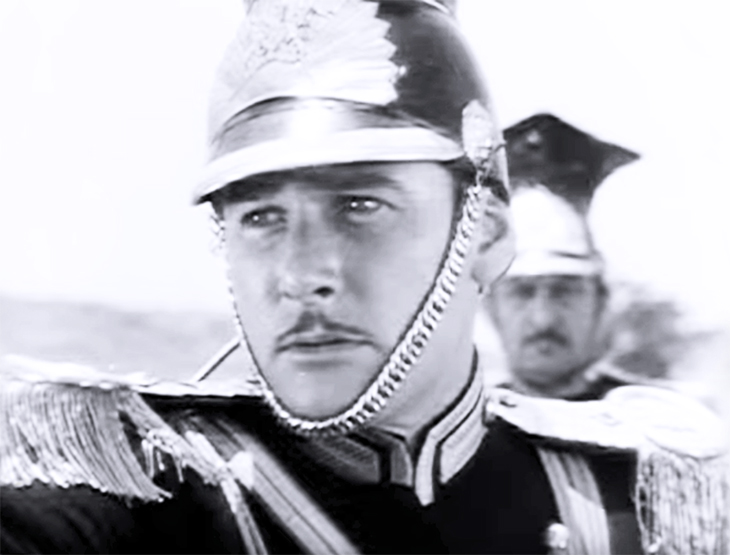 (Errol Flynn 1936 The Charge of the Light Brigade)
The Adventures of Robin Hood (1938), with Flynn as the legendary outlaw and de Havilland as Maid Marian. Shot in colour, with Claude Rains as Prince John, Patrick Knowles as Will Scarlett, Alan Hale as Little John, Ian Hunter as King Richard the Lion-Heart, and Melville Cooper as the Sheriff of Nottingham. In this and his earlier film roles, Flynn's hair was lighter brown in color and he was clean-shaven. Errol had sported a pencil-thin moustache in the Pacific before filming his first movie, and he remained clean-shaven onscreen for several years after.
Four's a Crowd (1938), a romantic comedy about a PR agent (Flynn) who tangles with a newspaper woman (Olivia de Havilland). Rosalind Russell, Patric Knowles, Melville Cooper, Margaret Hamilton, and Carole Landis in a bit part as a secretary. By 1938 Errol had added back his trademark thin moustache in life and the movies.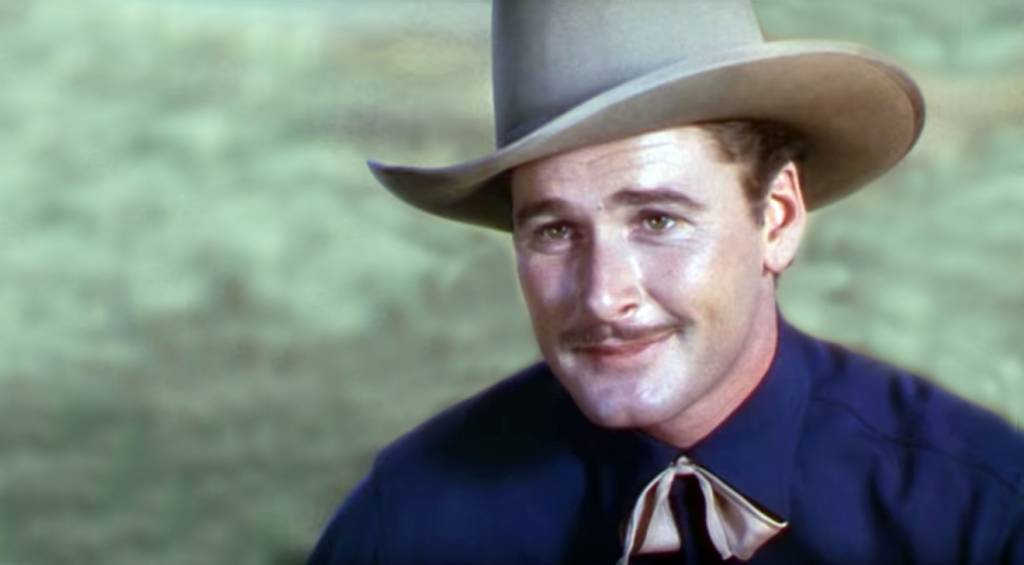 (Errol Flynn 1939 Dodge City Trailer)
Dodge City (1939), a western featuring actor Bruce Cabot as the resident baddie, and Errol Flynn as a newly appointed marshal who cleans up the town. Olivia de Havilland, Ann Sheridan, Alan Hale, Victor Jory, Guinn "Big Boy" Williams, and others. Bruce Cabot and Flynn were on good terms, until their friendship disintegrated along with investments in a 1950s William Tell film project.
In Virginia City (1940), Flynn is a Union officer who escapes from a Confederate prison and heads to Virginia City with some comrades, running across a love interest (Olivia de Havilland) and a Confederate captain (Randolph Scott). With Humphrey Bogart, Alan Hale, Guinn "Big Boy" Williams, and other familiar faces.
Santa Fe Trail (1940), a historically inaccurate portrayal of Confederate Major General Jeb Stuart (Flynn). With de Havilland, Ronald Reagan, Raymond Massey, Alan Hale, William Lundigan, Van Heflin, and Guinn "Big Boy" Williams.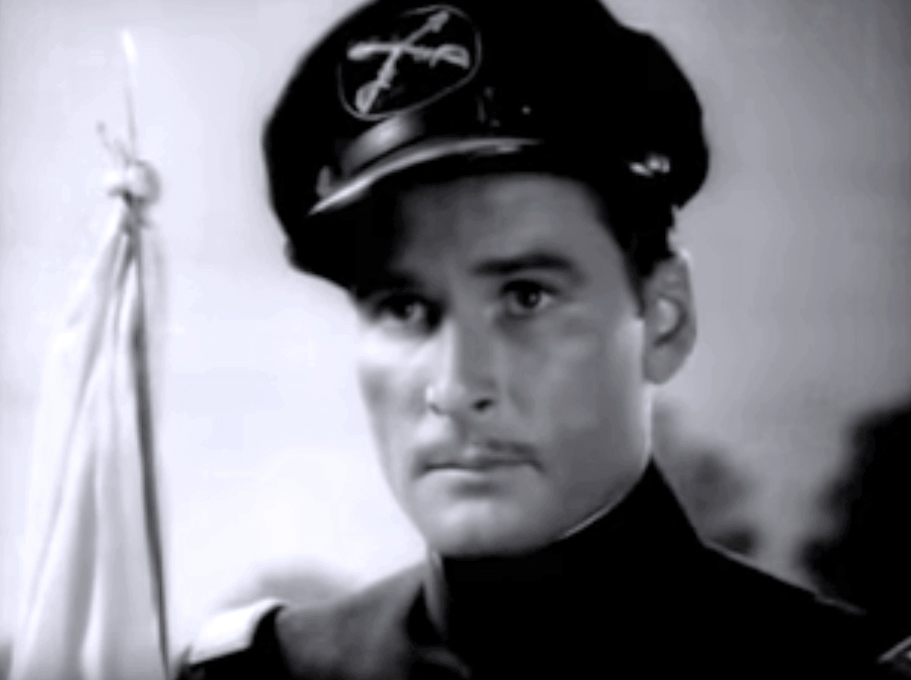 Errol Flynn 1940 Santa Fe Trail)
They Died with Their Boots On (1941), another historically inaccurate film about General George Armstrong Custer. In addition to Olivia de Havilland, Arthur Kennedy, Gene Lockhart, Anthony Quinn, Sydney Greenstreet, Hattie McDaniel, and others were in a large cast. Anthony Quinn and Errol Flynn were both on the periphery of a group of hard-drinking and living artists, writers, actors, and poet-philosophers that called themselves The Olympiads (aka, The Hellfire Club, or The Bundy Street Boys).
Thank Your Lucky Stars (1943), a musical comedy with a star-studded cast – Eddie Cantor, Dennis Morgan, Humphrey Bogart, Errol Flynn, Olivia de Havilland, Bette Davis, John Garfield, Ida Lupino, Dinah Shore, Ann Sheridan, Alan Hale, and many others.
Errol Flynn's Leading Ladies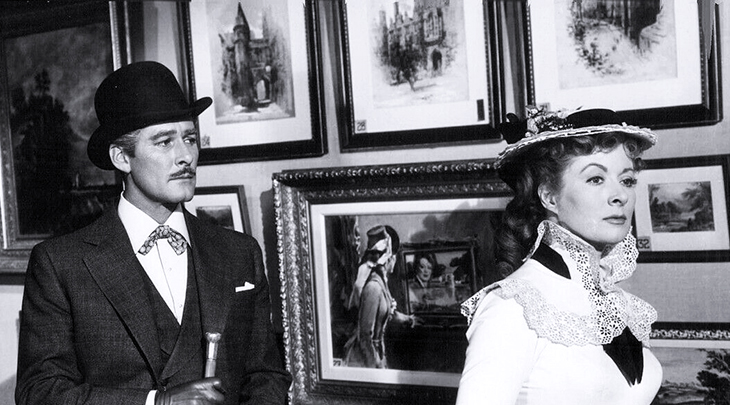 (Greer Garson 1949 That Forsyte Woman Photo: M-G-M)
Although no actress came close to matching the quantity of films Olivia de Havilland co-starred in with Errol Flynn, Flynn counted co-star Greer Garson in the drama That Forsyte Woman (1949), as one of his best experiences and movies. Garson plays Flynn's wife in That Forsyte Woman, and supporting cast members include Walter Pidgeon, Robert Young, and Janet Leigh.
Thank Your Lucky Stars was the last of 3 movies that had both Bette Davis and Errol Flynn in the cast. Flynn didn't reference their co-starring role in The Sisters (1938) in his My Wicked, Wicked Ways memoir – but it's clear a rift developed after he turned the tables on Davis during filming of The Private Lives of Elizabeth and Essex (1939). In addition to Davis, Flynn, and Olivia de Havilland, actors Donald Crisp, Alan Hale, Vincent Price, Nanette Fabray, Leo G. Carroll, and Henry Daniell were in The Private Lives of Elizabeth and Essex.
Apparently Bette Davis thought Errol Flynn was attractive but untalented/skilled as an actor, and according to Flynn, alternated between asking him for drinks and trying to dominate him on set. Errol relates a story of Bette Davis hitting him so hard in rehearsal for a scene that his jaw clicked during the filming of The Private Lives of Elizabeth and Essex, and Davis claimed she couldn't possibly pull her punch or do the scene another way. Flynn was so furious he threw up several times because he knew he would hit her back if she did it again..but on a retake, Bette did the scene differently without making contact. Flynn later pulled the same "trick" on Davis, hitting her on the rump harder than she expected in rehearsal, and claiming he couldn't possibly do it any other way. Flynn concludes the anecdote with these comments:
"It wasn't a very pleasant picture to make, for me, that is…Since that day I have seen Miss Davis many times. When I do she turns her head away."
After their cameos in Thank Your Lucky Stars, Alexis Smith was the leading lady in another four Errol Flynn movies:
Dive Bomber (1941), a WWII drama shot in color, starring Flynn as a naval flight surgeon and Fred MacMurray as a flight commander. Alexis Smith is their love interest. Ralph Bellamy, Regis Toomey, and Craig Stevens were also in the cast.
Gentleman Jim (1942), a biopic of 1890s boxer Gentleman Jim Corbett. With Alan Hale, Alexis Smith, Jack Carson, John Loder, William Frawley, and Ward Bond. Like Alan Hale, John Loder was a friend of Flynn's.
The western San Antonio (1945) with Victor Francen and John Litel, which didn't make much of a splash. 
Their last film together was the technicolor western adventure film Montana (1950)
Eleanor Parker and Errol Flynn co-starred in the romantic comedy Never Say Goodbye (1946), and the romantic drama Escape Me Never (1947), set in Venice and the Dolomites. Ida Lupino, Gig Young, Reginald Denny, and Ludwig Stossel were their co-stars in Escape Me Never, while Forrest Tucker, Hattie McDaniel, S. Z. Sakall and Donald Woods were among their supporting cast in Never Say Goodbye.
Alan Hale Sr. and Errol Flynn Movies
Eclipsing his record of 9 films with leading lady Olivia de Havilland, was the 13 movies in which Errol Flynn starred and character actor Alan Hale Sr. played a supporting role. Flynn counted Alan Hale and Guinn "Big Boy" Williams among his closest friends after he arrived in Hollywood, and he made sure they were cast when possible in his movies.
In addition to The Adventures of Robin Hood (1938), The Sisters (1938) Dodge City (1939), The Private Lives of Elizabeth and Essex (1939), Santa Fe Trail (1940), Virginia City (1940), The Sea Hawk (1940), Gentleman Jim (1942), Thank Your Lucky Stars (1943), The Adventures of Don Juan (1948), were these other notable films: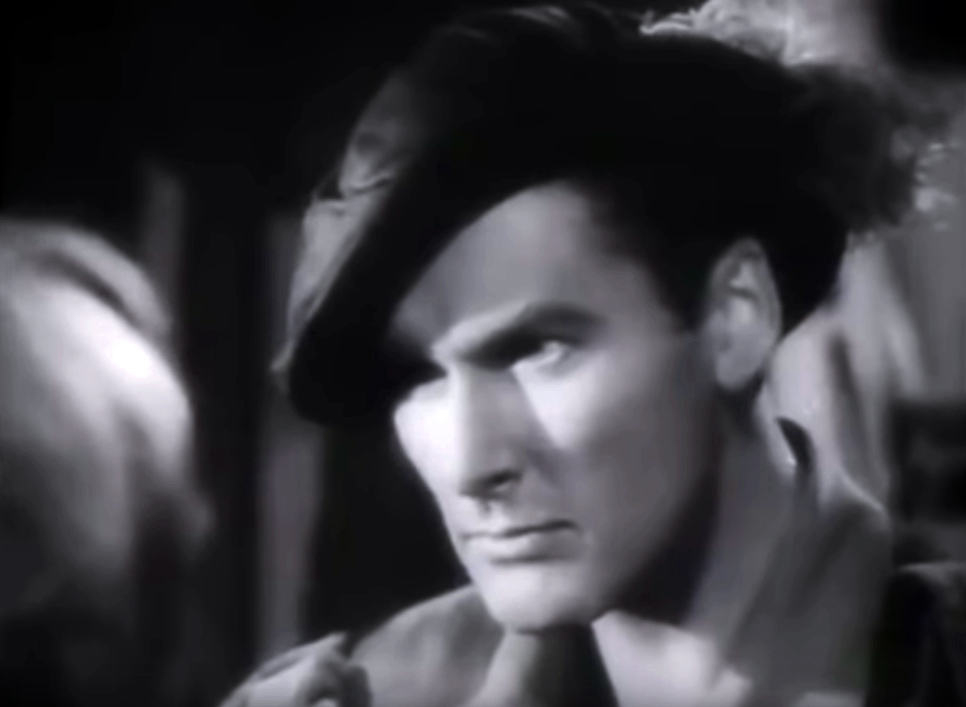 (Errol Flynn 1937 The Prince and the Pauper Trailer)
The Prince and the Pauper (1937), based on Mark Twain's classic tale about look-alike boys from different walks of life crossing paths, is the first movie to star Errol Flynn (as the protector of the young prince) and have Alan Hale in a supporting role (as the Captain of the Guard). Claude Rains is the evil Earl of Hertford, and Barton MacLane and Ian Wolfe are also in the film.
Footsteps in the Dark (1941), with Errol Flynn as a murder mystery writer who writes under an assumed name and helps out the police. Brenda Marshall is his clueless wife, and Ralph Bellamy, Alan Hale, Lee Patrick, William Frawley, Roscoe Karns, Jack La Rue, and Turhan Bey round out the cast of Footsteps in the Dark.
Desperate Journey (1942) is another WWII drama with Ronald Reagan & Raymond Massey (in their second movie with Errol Flynn, after Santa Fe Trail). Arthur Kenney and Alan Hale have supporting roles.
Errol Flynn's "Manly Men" Movies
Flynn set the bar for "manly men", for men and women alike. Former child actor Dean Stockwell said he looked up to Errol Flynn as a model of manhood when they worked together in the movie Kim (1950). 
In The Dawn Patrol (1938), Flynn plays a WWI ace pilot who clashes with his commanding officer, played by Basil Rathbone. With David Niven, Donald Crisp, Melville Cooper, and Barry Fitzgerald. This was Niven and Flynn's second film together.
Northern Pursuit (1943) has the unlikely plot of a Canadian Mountie (Flynn) capturing a German spy. 
Flynn played a French criminal in another WWII Nazi-themed film, Uncertain Glory (1944). Paul Lukas, Faye Emerson, James Flavin, Douglass Dumbrille and Sheldon Leonard are also in Uncertain Glory.
Objective, Burma! (1945) is a WWII adventure film set in (of course), Burma! With Henry Hull, Warner Anderson, Richard Erdman, George Tobias, and Mark Stevens.
Cry Wolf (1947), a crime drama co-starring Barbara Stanwyck, with Geraldine Brooks, Richard Basehart, and Jerome Cowan.
Against All Flags (1952), a historical naval adventure film set in Madagascar of 1700, with Flynn doing a reversal of his usual pirate role, and playing a naval officer. Maureen O'Hara, Anthony Quinn, and Mildred Natwick are also in Against All Flags.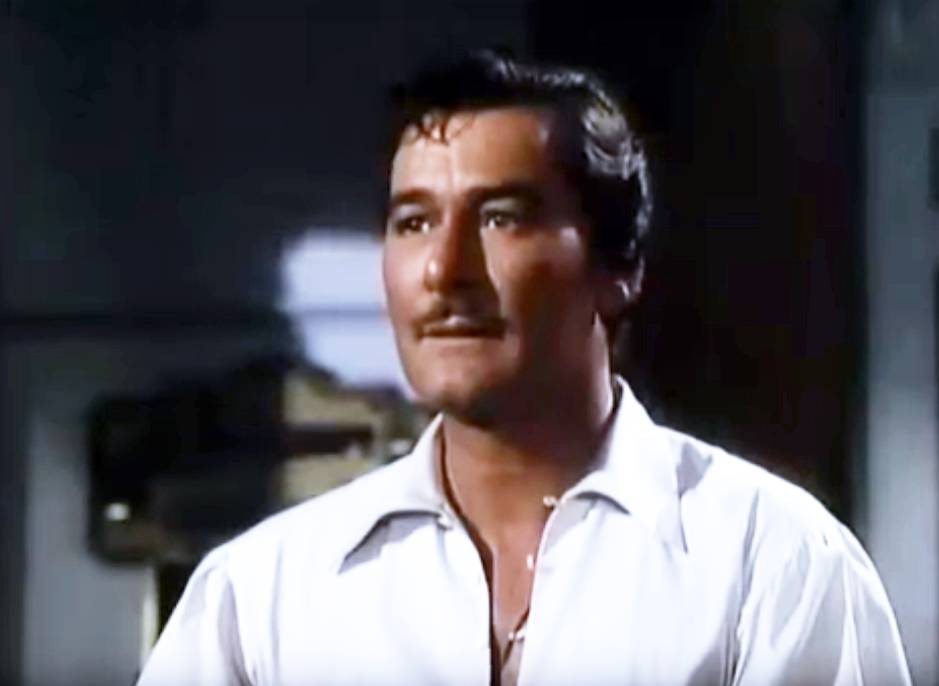 (Errol Flynn 1952 Against All Flags Trailer)
Although Against All Flags did well at the box office, Warner Bros. ended his contract the following year. Flynn's antics with drugs, alcohol and underage women generated the kind of on-set behavior and bad press that studios shied away from.
In his last few film roles, Flynn was looking noticeably tired and heavier onscreen; years of smoking and drinking were taking their toll on his liver (cirrhosis of the liver was named as a contributing factor in his death). 
A short stint as the host of a television anthology series The Errol Flynn Theatre (1956-1957) produced 24 episodes introduced by Errol Flynn. Occasionally he also took a starring role in an episode, and his wife Patrice Wymore appeared in 5 episodes. Guest actors Christopher Lee, Glynis Johns, June Havoc, Sheldon Lawrence, and Herbert Lom each appeared in more than one episode of The Errol Flynn Theatre.
Around this same time Errol Flynn appeared twice on the popular TV game show What's My Line, as a mystery guest and again as a guest panelist. In this episode of What's My Line, Errol Flynn is the guest panelist, along with regulars Arlene Francis, Dorothy Kilgallen, Bennet Cerf, and host John Daly; the celebrity mystery guest is Sammy Davis, Jr.
Errol played a character close to his real-life type in the film version of Hemingway's The Sun Also Rises (1957), as part of a dissolute gang of writers in 1920s Paris. Reflecting his loss of stature in moviedom by this point in time, Flynn is a supporting character (as are Mel Ferrer, Eddie Albert) for stars Tyrone Power and Ava Gardner in The Sun Also Rises. Some have said he should have won an Academy Award for this performance, but sadly, he did not.
Errol Flynn was back to leading man status, playing John Barrymore opposite Dorothy Malone as Barrymore's daughter Diana, in the biopic Too Much, Too Soon (1958), with Efrem Zimbalist Jr. Murray Hamilton, and Martin Milner also in the cast. Eddie Albert and Errol Flynn were co-stars in another movie released that same year, The Roots of Heaven (1958); this time Flynn was supported by Trevor Howard, Orson Welles, Paul Lukas, and Herbert Lom. 
Friends, Marriages, Lawsuits & Love Affairs
In Hollywood, Errol was part of a circle of hard-drinking and living friends he referred to as "The Olympiads" that liked to entertain and tell (tall) tales. The group was comprised of other Bohemian artists (John Decker), writers (Gene Fowler, Ben Hecht), and several actors (Anthony Quinn, John Barrymore, John Carradine, Alan Mowbray), and others. Flynn attended parties of Hollywood elite such as Hedy Lamarr and her husband John Loder, Reginald Gardner, and rubbed elbows with pals Clark Gable, Paulette Goddard, Ida Lupino, and the comedy duo Bud Abbott and Lou Costello.
Errol Flynn married 3 times, although he was quite adamant in his memoirs that he was "an incorrigibly polygamous man".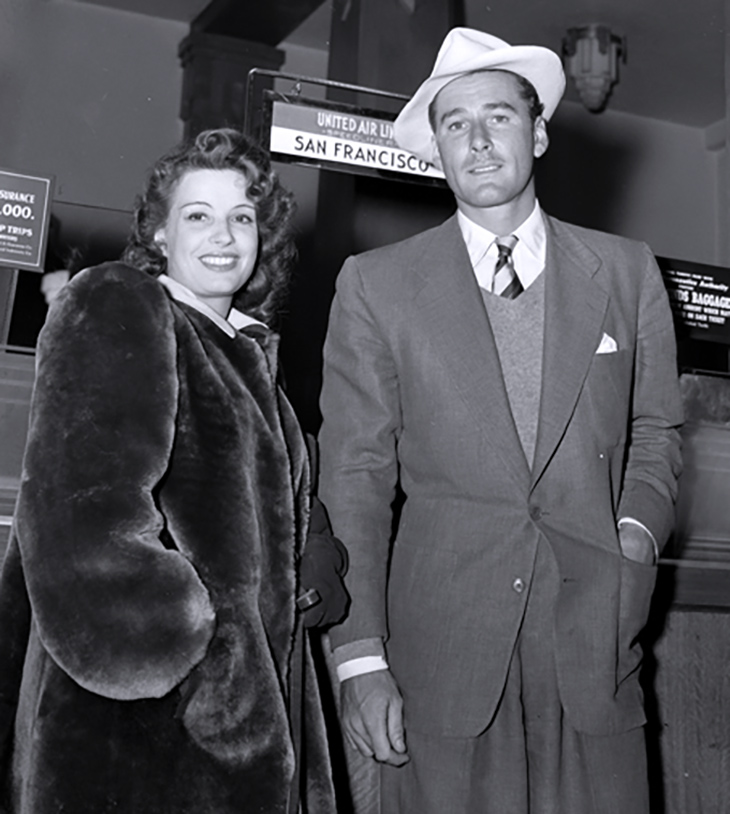 (Errol Flynn and Wife Lili Damita 1940 Photo: Los Angeles Times)
In My Wicked, Wicked Ways, Flynn says he from England to America on board the same ship as fellow film newcomers Merle Oberon, Louis Hayward (who would become a friend), and already established actress Lili Damita. The couple began living together and fraternized with friends like Dolores del Rio, Lupe Velez. Flynn and Damita married in 1935, but they fought bitterly and often; an episode of gonorrhoea (his) didn't help their marriage. When he traveled to Paris, France and then Barcelona, Spain in 1938, Lili followed, but they then separate.
Before their marriage ended in divorce in 1942, Lili and Errol had their only child, son Sean Flynn, in 1941. Sean Flynn accrued 11 film credits as an actor before becoming a big game hunting guide in Africa, and a freelance photojournalist. Sean and fellow journalist Dana Stone disappeared while on an assignment in Cambodia in 1970 when Sean was 28; his mother had him declared dead in 1984. The unhappiness of this marriage would carry on for another 17 years after it ended, right until Errol's death.
In 1943 Errol Flynn married 18-year-old Nora Eddington after meeting her at the courthouse while he was on trial for the statutory rape of wanna-be movie starlets, 17-year-olds Betty Hansen and Peggy Satterlee. Flynn was acquitted by a jury (that had 9 women on it, no co-incidence thanks to his lawyer). It was after this trial that the phrase "In like Flynn" became suggestive of Errol Flynn's sexual endeavors. This wasn't the only time he was charged with statutory rape, but he was acquitted each time.
Errol and Nora had two daughters, Deidre (b. 1945), and Rory (b. 1947). Errol Flynn and Nora Eddington's divorce was finalized in 1949; she went on to write the memoir Errol and Me (1960), and he spoke well of her in his final memoir. Rory Flynn became a model and photographer, and has several still film credits; she has two sons, Rory, and Luke. 
Errol Flynn's last marriage to actress Patrice Wymore in 1950 was ended by his premature death at the age of 50 in 1959. Prior to his death, Flynn had announced he would marry 17-year-old Beverly Aadland (whom he'd been having an affair with for 2 years) when his divorce was finalized.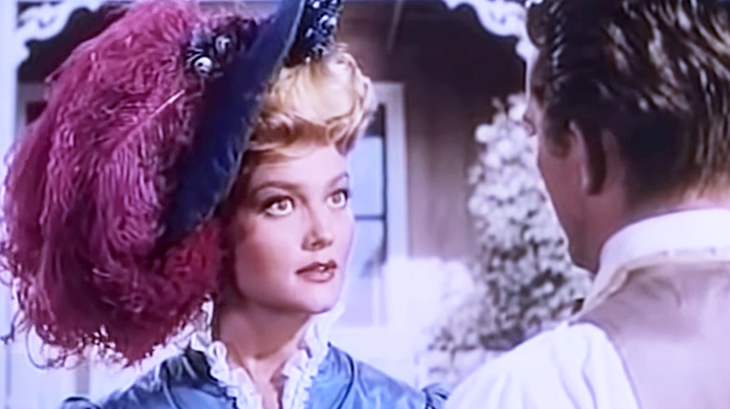 (Patrice Wymore 1952 The Big Trees)
His wife Patrice Wymore was his co-star in the western Civil War adventure film Rocky Mountain (1950); Wymore's second movie and her first starring role. Flynn cast his pal Guinn "Big Boy" Williams in the movie too; it was Williams' fourth and final film with Errol Flynn. This trailer for Rocky Mountain features Errol Flynn & Patrice Wymore.
Flynn and Patrice Wymore made another film together, the musical romance King's Rhapsody (1955). Anna Neagle makes an appearance in King's Rhapsody, her second film with Flynn, after the romantic comedy/fantasy Let's Make Up / Lilacs in the Spring (1954). 
Errol Flynn's last film was the (awful) adventure Cuban Rebel Girls (1959), in which he narrates and plays a war correspondent for the Hearst Press. In real life, during the 1930s and 1940s Flynn counted Marion Davies among his good friends, and had frequented parties thrown by Davies and William Randolph Hearst at Hearst Castle. Errol Flynn wrote the screenplay for Cuban Rebel Girls, and was able to film part of the movie in Cuba after spending time with Fidel Castro. Cuban Rebel Girls has Flynn's girlfriend Beverly Aadland in her first and last starring role in a film. 
His autobiography My Wicked, Wicked Ways, was completed just before Errol Flynn died. He voiced regrets about the trajectory of his career and being typecast into lighter fare as a swashbuckler. The toll that his statutory rape trials and first marriage to Lili Damita – with the subsequent aftermath of bitterness and ongoing money woes – took on him is clear. Of his life and claims to fame, Errol said,
"The wives I have had, the mistresses I've kept, the pictures I've made, the brawls I've been in, the bounces I've taken, my made and lost fortunes, my wicked ways – these are not me. I could not live and believe that these things were really me. Who could live with himself believing himself to be a symbol of sex and nothing more?" 
He retreated to his Jamaica properties whenever possible, despite battling with his mother (and father) who also lived there for a great part of the time.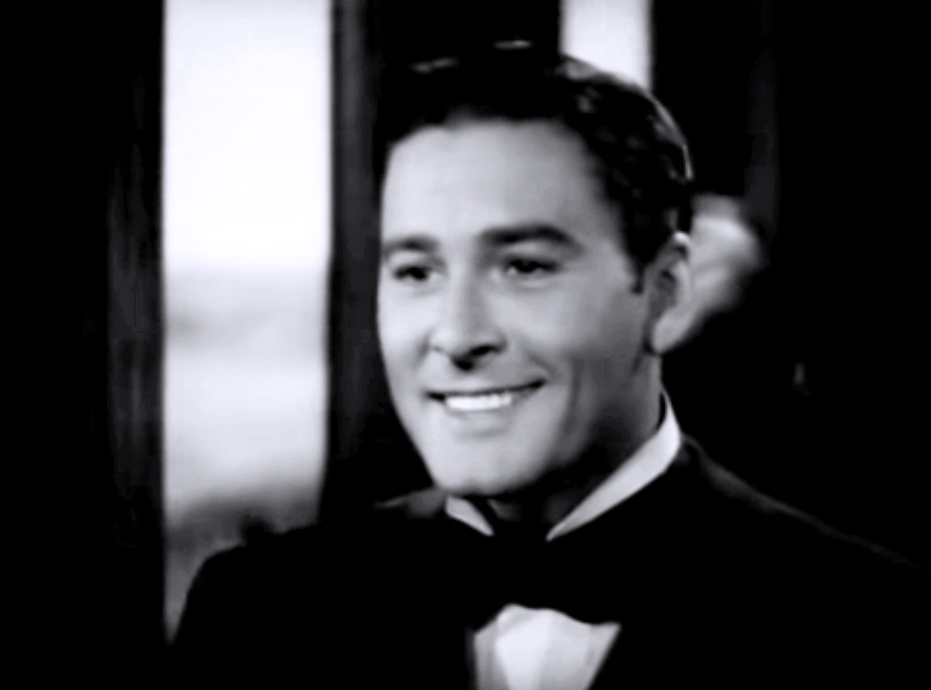 (Errol Flynn 1940 Santa Fe Trail)
Wicked Errol Flynn died before before Cuban Rebel Girls was completed, before he could grow old or withered in front of our eyes – and so he will forever live on film and in our memory as a handsome daredevil, a rake, an adventurer, a lover, and a "man's man".
*This article is for informational purposes only. Images are believed to be in the public domain and/or Creative Commons licensed & sourced via Wikimedia Commons or Flickr, unless otherwise noted*