The Heartbeat of Hearst Castle
During his lifetime, William Randolph Hearst's La Cuesta Encantada (The Enchanted Hill) was called the Hearst Ranch. Filmmaker Orson Welles' Citizen Kane (1941) – based on Hearst's life and his live-in love Marion Davies – featured a fairytale hilltop estate "Xanadu". It was only after Hearst's death when it was turned into a museum and opened to the public, that it became known as Hearst Castle.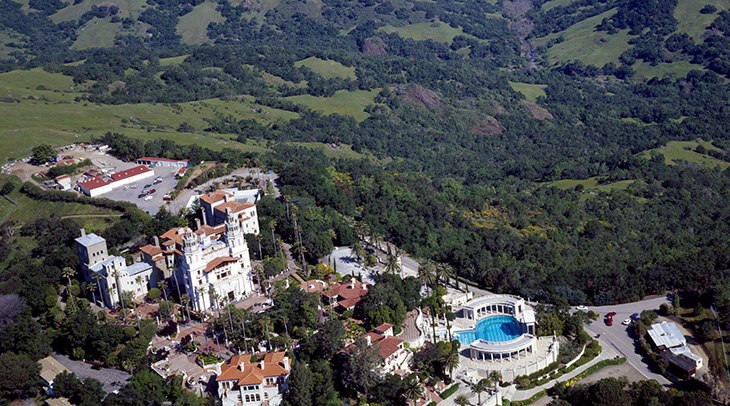 (Hearst Castle Estate c 1980-2006 Photo: Carol M. Highsmith)
Media mogul William Randolph Hearst began construction on Hearst Castle near San Simeon, California in 1919, after his mother Phoebe Apperson Hearst died and he inherited the estate. He was 56 years of age and already a millionaire many times over. Why did he begin a project that would take virtually the rest of his life to complete?
"In Pop's own words to me: ' I just wanted to. Period. I loved the place.' The endless project became a magnificent obsession…It was…his heartbeat." – The Hearsts: Father and Son (1991) by William Randolph Hearst, Jr. with Jack Casserly.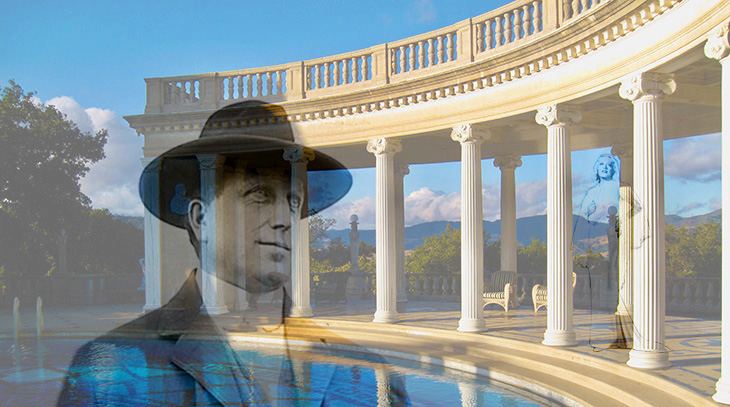 (Photo Blend of William Randolph Hearst, Hearst Castle Pool [by Don Stouder] & Marion Davies: A. Hamilton)
Hearst Castle would be where W.R. Hearst would spend many years with his live-in-love and party hostess extraordinaire, silent movie actress and film star Marion Davies.
Hearst Castle Architect Julia Morgan
Pioneering California architect and engineer Julia Morgan's creative vision is associated with over 700 structures in a variety of styles and sizes across the state. Among her most noteworthy buildings are the Los Angeles Examiner Building (owned by William Randolph Hearst), the Fairmont Hotel in San Francisco, and the "King" of them all, Hearst Castle.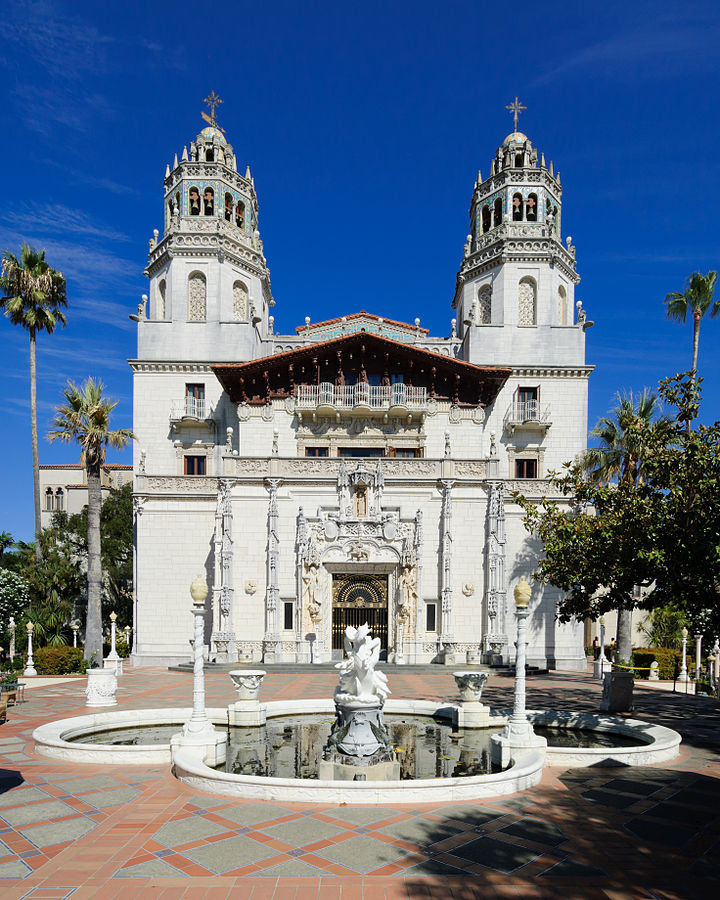 (Casa Grande of Hearst Castle 2012 Photo: King of Hearts)
Julia Morgan graduated from Berkeley's University of California with a degree in civil engineering in 1894, the first woman to do so. After an additional three years of studying, mentoring, and work with architect Bernard Maybeck, she was accepted into the prestigious École nationale supérieure des Beaux-Arts in Paris, France. In another first, in 1902 she became the first woman to receive a certificate in architecture from that institution.
Morgan received her architecture license from the State of California in 1904 (you guessed it, the first woman to do so!!) and opened an office in San Francisco. She was the architect for several buildings at Mills College in Oakland, including the Carnegie library funded by Andrew Carnegie, and the El Campanil bell tower. This last structure was built before the devastating San Francisco earthquake of 1906, and was one of the few buildings to survive. This secured her business reputation and financial future; she was involved in the extensive re-design and re-building of San Francisco residential and commercial properties required in the earthquake aftermath.
Julia worked on the fortifications and design for the new San Francisco Fairmont Hotel on Nob Hill in 1906. Wealthy Phoebe Hearst (a supporter of suffragism and feminist issues) admired Morgan's accomplishments, and she became the Hearst family's preferred architect from that point on.
Julia Morgan enjoyed a lifetime association and partnership with 3 generations of the Hearst family, working on residential, University of California at Berkeley, and other commercial buildings for the Hearst's, as well as other clients. 
Hearst Ranch History
In 1865, William Randolph Hearst's father, mining millionaire George Hearst, had bought almost 50,000 acres of the Piedra Blanca Rancho. The Piedra Blanca extended south along the Pacific coast from Rugged Point to San Simeon, California. George Hearst later bought the adjoining Rancho Santa Rosa and Rancho San Simeon. He bred and raised thoroughbred horses and cattle on the ranch, which was also home to abundant fish and wildlife in it's streams, fields, and forests. Today, more than 150 years later, Hearst cattle still roam the vast acres of the Hearst Ranch.
It wasn't until 1878 that George and his wife Phoebe Apperson Hearst built an 18-room Victorian ranch house on the property, with a wharf and attached warehouse.
"Thanks to the energy and enterprise of Mr. Geo. Hearst, we now have a new wharf and warehouse second to none on the whole southern coast….Vessels can lie in 26 feet of water at the end of the wharf, and find no trouble in entering the Bay at any season of the year. – San Luis Obispo Tribune, August 17, 1878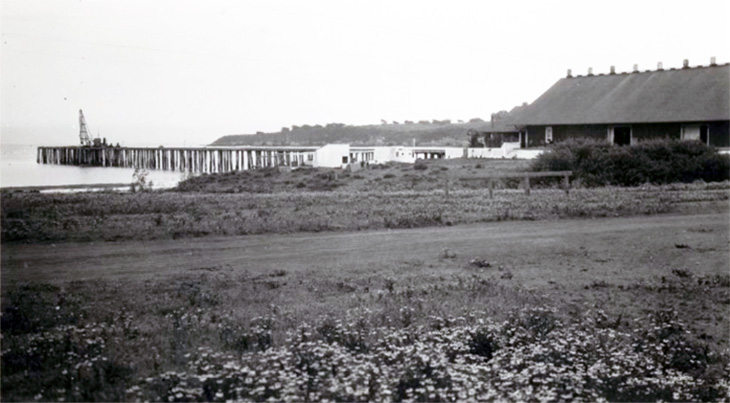 (San Simeon Pier & Warehouse c. 1920-1929: San Luis Obispo County Regional Photograph Collection, Special Collections and Archives, California Polytechnic State University)
Note: The original wharf above was later torn down. A a new pier was erected at San Simeon in the 1950s.
When George Hearst died in 1891, the Piedra Blanca Ranch house and lands passed to his widow Phoebe. Phoebe, and their son William Randolph Hearst, continued where George had left off, buying more adjoining ranch lands. Phoebe purchased 3/4 of the Peter Gillis dairy ranch in 1905, putting the Hearst Ranch land holding in the area of 53,000 acres; W.R. acquired the Van Gorden ranch in 1913, and the Muma ranch in 1914. By 1917 when Hearst agent J.C. McGovern purchased two more adjoining ranches from B.F. Martin Ranch & Charles Watson, different newspapers speculated that the Hearst Ranch at San Simeon was now between 70,000 – 100,000 acres.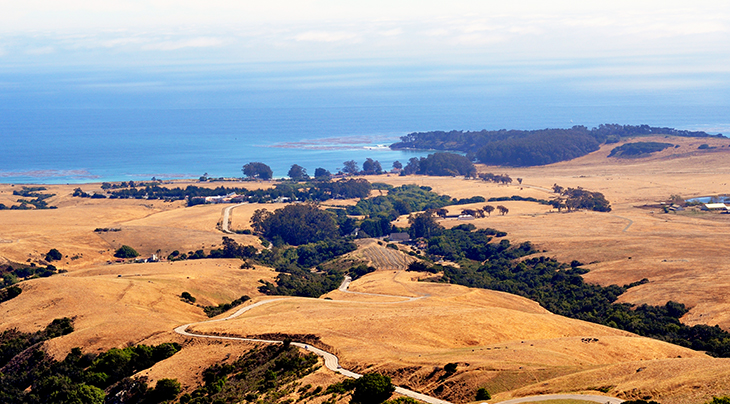 (Piedra Blanca Rancho / Hearst Ranch 2010 Photo: Don Ramey Logan Wikimedia CC-BY-SA 3.0)
From childhood through to adult years, William Randolph Hearst spent summers at the ranch. In the 1900s-1910s he often brought his wife and children, as well as other family and friends to stay for weeks at a time, to hunt and fish and enjoy luxury camping atop "Camp Hill". 
"William Randolph Hearst, Mrs. Hearst and Geo. L. Willson…will visit the famous Hearst rancho near San Simeon where deer hunting will be the pastime. The party is attended by a special steward and a retinue of servants. It required three of Sanders' autos to transport the hunters, servants and equipage. Portable houses have been erected on the ranch in various sections for the use of the hunters, who will remain two weeks….W.R. Hearst is an interesting man. He looks like a big boy and has large, clear, blue eyes that look straight at you. He smiles a good deal and is exceedingly affable. Speaking in a general way he stated that he had had a lot of fun with newspapers and liked the work. He called it absorbing – both as to funds and energy, and laughed." –  San Luis Obispo Daily Telegram, July 19, 1913
. In 1917 William had the ranch house and buildings wired for electricity; he also had permanent structures built where he camped in the mountains on the ranch. 
"A hydro-electric plant will be installed for furnishing the 'juice' on the ranch, on the creek about two miles from the ranch house, where there is an abundance of water." – San Luis Obispo Tribune, October 12, 1917
After his mother Phoebe died in April 1919, William Randolph Hearst decided to build a hilltop mansion at San Simeon on the site where he had loved camping. He called upon the family architect Julia Morgan to work on it with him.
"W.R. Hearst and party, who have spent the past six weeks at the Piedra Blanca ranch, left Tuesday. It is reported that Mr. Hearst has made plans for building a mansion at his camp on the ranch. – San Luis Obispo Daily Telegram, September 12, 1919
Marion Davies and Hearst Castle
Hearst's mistress Marion Davies' autobiographical memoir The Times We Had: Life With William Randolph Hearst (1975) – edited by Pamela Peau and Kenneth S. Marx – was published more than ten years after her death. Marion's memories of the ranch at San Simeon are scattered throughout the book.
"At San Simeon, W.R. built a castle. It soon became known throughout the world for its extravagance and splendor, and for enhancing a barren part of California's coast that up until that time had disdained civilization's progress. W.R. would insist that it was a ranch, not a castle…
When W.R. decided to build San Simeon, he said he wanted to pick out a spot with a good view. His father had left him the property. His mother had a house there in which a cousin, Randolph Apperson, lived. Apperson was the overseer. While the house was being built, W.R. would go up to the site and stay in a tent. The work proceeded so slowly that Constance Talmadge said, 'A brick a day keeps the bricklayer in pay.' And yet it was awfully hard for them to get the material up that hill…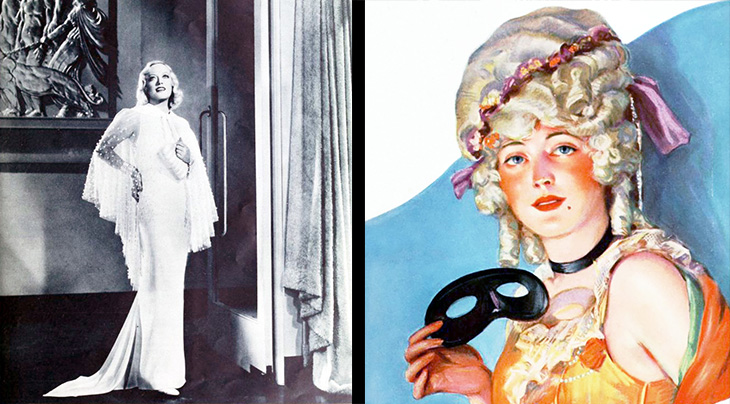 (Marion Davies in a 1936 Orry Kelly designer gown | Photoplay 1926 Cover Painting: Carl Van Buskirk)
I started working at MGM about 1924, and that was the first time I ever went to San Simeon. I think Bebe Daniels and Ben Lyon were along, and Connie Talmadge. The reason I didn't go earlier was that W.R. said, 'It isn't finished yet." Of course it's not finished even now; the back of it will never be finished. But when I was young, the place didn't interest me at all. I'm glad I got old so I could appreciate the beauty of things. It's a gorgeous place…
George Hearst [W.R.'s oldest son] and Blanche, his first wife, were the first of W.R.'s family to come up to the ranch. I had a profound affection for both of them. They asked W.R. if they could meet me, and I was tremendously flattered. We got to be friends from then on in…
At the house there were three butlers and God knows how many maids…There were sculptors and artists to paint the ceilings and to do the rooms over, and over again."  – The Times We Had: Life With William Randolph Hearst (1975) by Marion Davies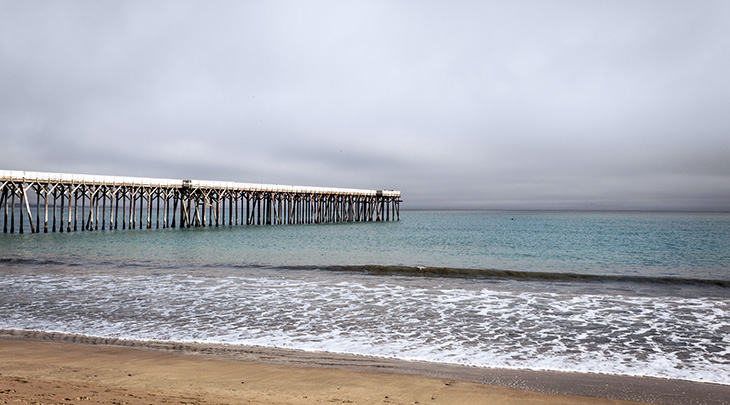 (William Randolph Hearst Memorial Beach Pier, San Simeon, California 2021 Photo: Gabriel Soto via Unsplash)
"The meals were really wonderful. There were three chefs, and at least one of them was bound not to miss. We'd have picnics down at the beach, about five miles up the coast toward San Francisco, or we'd go on camping trips over at Mel Peters's ranch. We'd go on horses for about eight hours. If you didn't want to ride horseback, there were about twelve cars and drivers…
I think W.R. liked House A better than any of the other houses. And he liked the Gothic Suite, way upstairs in the main house, underneath the Celestial Suite, right over the library. There was an enormous oak tree near House A. One day as W.R. came out of the house the tree knocked his hat off. So he called the caretaker and said he wanted the tree moved about ten feet over. He was told it would cost a thousand dollars a foot to move it. He wouldn't let them destroy that tree, although it took months to move it. It was fascinating just to watch it being moved." – The Times We Had: Life With William Randolph Hearst (1975) by Marion Davies
Actress turned gossip columnist Hedda Hopper was a frequent guest at the castle.
"A visit to the Hearst ranch was a ticket to never-never land. Never has there been such a place, and never will we see it's like again. From the time you left home until you returned your expenses were paid. The castle which W.R. insisted on calling a ranch was…surrounded by three guesthouses of marble, called 'bungalows'. Each had 22 rooms. Mr. Hearst lived in one of them; on my first visit I was housed in the same one….[after hearing Hearst telling the gardener one night the flowers near the bungalow this year weren't as fragrant as the lilies the previous year] The following morning thousands of auratum lilies in full bloom were around the bungalow in a bed six feet wide….The bed I occupied once belonged to a De' Medici." – Hedda Hopper, From Under My Hat (1952)
This footage from Huntley film archives c. 1930s, shows Marion Davies, William Randolph Hearst, Bebe Daniels & husband Ben Lyon, and others enjoying the grounds and amenities of Hearst Castle – complete with a dachshund dog (likely Hearst's favorite, Helen), and zoo animals.
Despite the development atop the former Camp Hill, the route to get to the castle was still not an easy one during the 1920s-1930s – but the destination was worth the journey:
"When we went to San Simeon we'd take the train and then a car from San Luis Obispo. Sometimes we went by plane. W.R. had three planes, and if I was working late on a Saturday, I would fly up. When I wasn't working I'd stay at San Simeon, and then I'd wish I were working because there were so many people there and the routine got tiresome – laying the place cards and meeting the visiting characters…
I'd go up on weekends, and there'd be twenty or thirty guests, possibly forty or fifty. The train would leave Los Angeles at eight-fifteen and arrive in San Luis about three in the morning, and we'd motor on up. We'd come back on Sunday to be at work Monday. Pete was the man who owned the limousines in San Luis. Several cars were needed, and it was about an hour and a half's drive. W.R. would pay for the train and for the cars. When we arrived we'd have breakfast and a rest. Luncheon was about two-thirty and dinner about half past eight at night. Saturday night we'd watch a movie. Before breakfast on Sunday we'd play tennis or go horseback riding – the usual things, the sporting life routine. Or we'd swim….W.R. had his office in a separate building, House A. There was a House B and a C…[he'd] come out and join the guests and go swimming. And he played tennis and went horseback riding. He was excellent at riding." – The Times We Had: Life With William Randolph Hearst (1975) by Marion Davies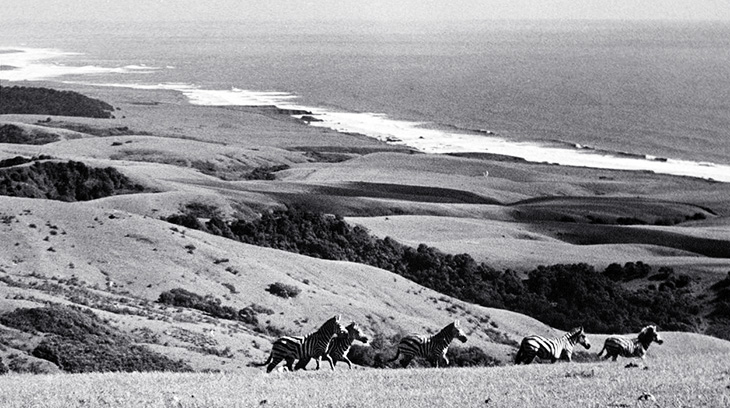 (Escaped Hearst Castle zoo zebras roaming Hearst Ranch grounds c. 1958)
"There were lions and tigers; leopards and bears of all kinds; honey bears and spider monkeys; camels, deer, water buffalo, zebras and elk; emus and ostriches. W.R. thought it was picturesque. There was an elephant named after me. I was insulted…W.R. never allowed hunting. He'd inspect the animals regularly, and he had fifty or sixty cowboys looking after them, and the cattle." – The Times We Had: Life With William Randolph Hearst (1975) by Marion Davies
Hearst Castle Guests, Parties & Weddings
W.R. Hearst lived at the castle on and off throughout construction (which lasted from 1919 until the late 1940s). Lavish parties with Marion as hostess were held at there throughout the 1920's and 30's, often attended by political and Hollywood celebrities including Clark Gable, Carole Lombard, Charlie Chaplin, and others.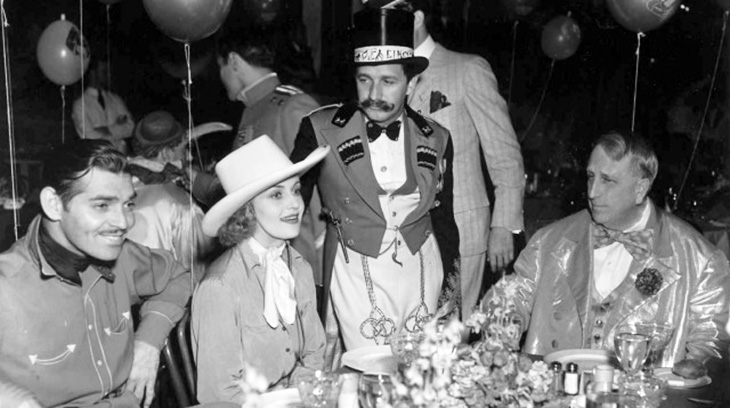 (Clark Gable, Carole Lombard, director Mervyn LeRoy, & William Randolph Hearst 1938)
When British politician and author Winston Churchill visited Hearst Ranch in 1929 with his son Randolph Churchill, Hearst's estranged wife Millicent came to act as his hostess. Below, William Randolph Hearst, Winston Churchill, and MGM studio head Louis B. Mayer.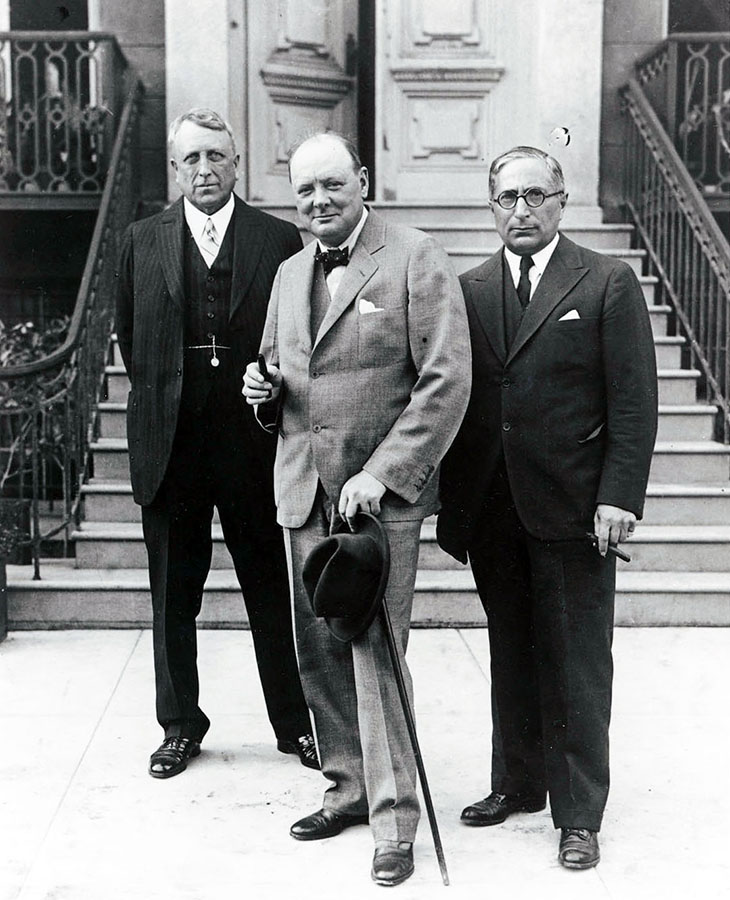 Marion was tactfully nowhere in evidence during Churchill's visit. 
"The Hearst ranch is a weekend hotel for invited guests. Frequently there are from 75 to 100. Every one receives perfect hotel service from valets to saddle horses. In a ranch of 50,000 acres, more or less, with nothing missing from wild animals to croquet, there is not a golf course. Hearst characteristically explains its absence by remarking: 'I don't play golf.' – Variety, April 1932
"If you happened to be visiting the ranch on your birthday, you were given a party. It happened to me once. There was a cake with my name on it. I was toasted in my favorite pink champagne and received a small Cartier diamond bracelet [the go-to gift from Hearst/Marion], a fitted traveling case, and a huge bottle of perfume….a huge closet was kept filled with appropriate presents." – Hedda Hopper, From Under My Hat (1952)
"Among the guests, somebody was always having a birthday, and I'd whip up a party. We'd send for the musicians and even the presents. I'd get gifts for the other guests to give, because they wouldn't know we were having a party…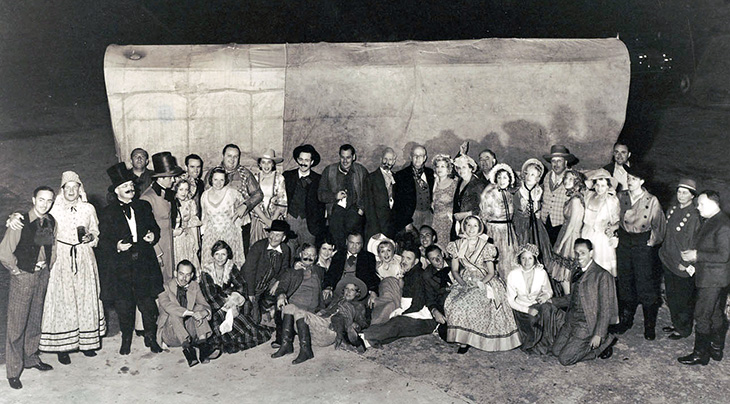 The covered-wagon costume party [April 29, 1933 for W.R.'s 70th birthday] was the biggest party we ever had at San Simeon. With well over a hundred people coming, it was most everybody in the motion picture industry: the Gary Coopers and the Thalbergs and the Warners and Gable and Bill Powell, and a lot of the newspapermen, publishers and editors." – The Times We Had: Life With William Randolph Hearst (1975) by Marion Davies
Over the years, Hearst hosted virtually everyone who was anyone at Hearst Castle. Silent film star Colleen Moore and her First National Pictures film producer husband John McCormick visited. Hearst newspapers gossip columnist Louella Parsons and her third husband Harry W. Martin were guests after their wedding. U.S. Ambassador to the U.K. Joseph P. Kennedy came in 1940, movie stars Bebe Daniels and her husband Ben Lyon were guests more than once, and actor Cary Grant visited in 1946.
Even during the early years of the Great Depression, life at the ranch was lived on a large scale. Former President Calvin Coolidge and his wife stayed for 6 days in 1930. When George Bernard Shaw made a rare visit to the U.S. and to Southern California in 1933, he made a point of visiting the Hearst ranch.
"Swank is still hopefully carried on at San Simeon where Marion Davies presides, and there are comparatively few week-ends that do not find a throng of guests…A round of enjoyments, which have ranged from turtle races to indoor repartee with George Bernard Shaw. Parties are still reputedly very expensive in that locale, but for the rest, filmdom is moderately conservative now." – Picture Play, October, 1933
Given the remote location, elaborate furnishings, and fairytale-like setting of Hearst Castle, it's no wonder that several couples chose to tie the knot at San Simeon during the residency of William Randolph Hearst and Marion Davies. When Hearst's middle son John Randolph Hearst married for a second time (to Gretchen Wilson Smith in March 1933), it was at San Simeon.
We had at least four weddings there…George Hearst married Lorna [Velle; on June 25, 1933], his second wife, at San Simeon, and Patricia [Douris Van Cleve, Marion's niece] and Arthur Lake got married there [July 25, 1937]. The ceremonies were held in the living room. We'd have flowers and decorations, and bridesmaids. But nobody ever spent their honeymoon there. I had to order the dresses for Mary and Bill Curley's wedding. Doris Duke, Mary Sanford and I were the three bridesmaids and Mrs. Hal Roach was the matron of honor. I rang up Orry Kelly and said I needed the gowns in just two days; and he produced the stuff. Everything arrived all right, even the wedding ring." – The Times We Had: Life With William Randolph Hearst (1975) by Marion Davies
Sadly, not all visits to the ranch/castle ended well. 
"The Hearst plane which crashed Thursday Night at San Simeon, killing Lord and Lady Plunkett and Pilot Tex Phillips, had carried E.B. Hatrick, of Cosmopolitan, and his aide, Billie Williams, from the Hearst ranch to attend the Mayer dinner just prior to the crash. The plane was on its way back from Los Angeles after Hatrick and Miss Williams debarked for the Mayer fete." – Motion Picture Daily, Feb. 26, 1938
Hearst Castle Highlights
William Randolph Hearst spent $37 million on the castle buildings, and another $50 million on acquiring the largest art collection ever owned by one person. He collected so much that even Hearst Castle and his other mansions combined, could not hold it all…several warehouses stored the excess pieces of furniture, artifacts, paintings, tapestries, and more. William Hearst never let his senior years keep him from collecting art, running businesses, and making (and spending) money.
There are 2 pools at Hearst Castle…below, the outdoor Neptune Pool many years later, in 2009, taken from above with the countryside beyond in the background.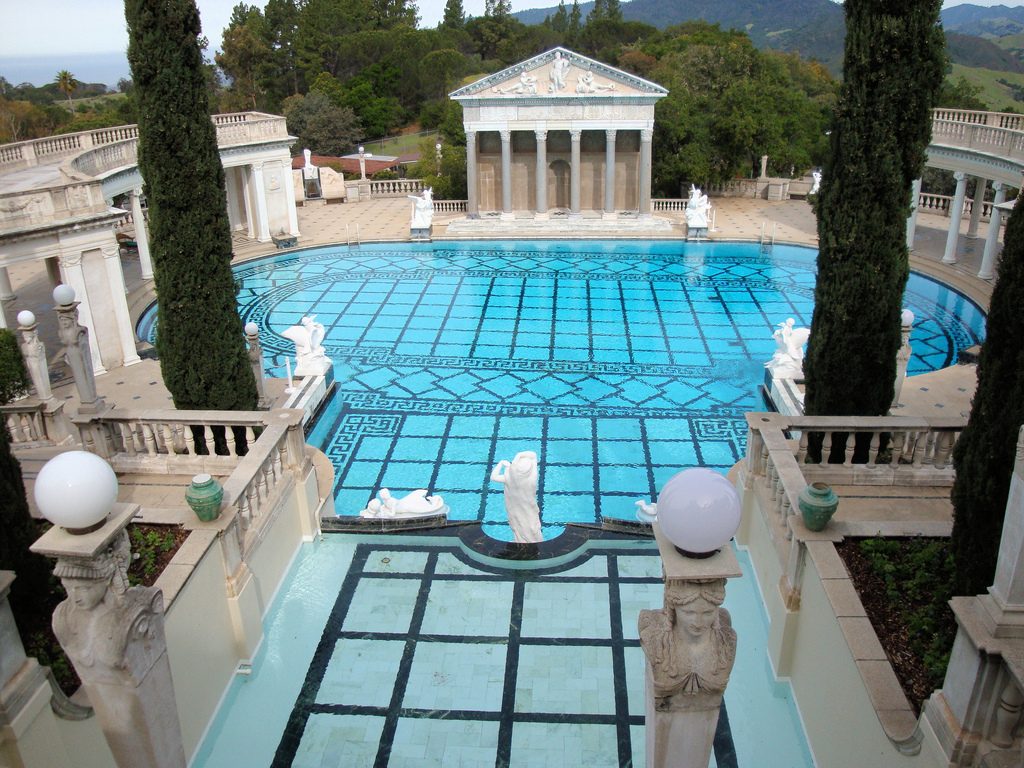 (Hearst Castle Neptune Pool Photo: Jim G)
Initial plans were for an ornamental pool and temple, until Hearst requested of architect Julia Morgan,
"Make the pool longer than it is, as long as a swimming pool. Mrs. Hearst and the children are extremely anxious to have a swimming pool!"
Construction for the first version of the Neptune Pool was completed in 1924. The second version of the pool, a substantial enlargement, was created between 1926-1927. The current version of the pool (built between 1934-1936) is 104 feet long, 58 feet wide and 95 feet wide at the alcove end. It features colonnades, statues, an oil-burning heating system, Vermont marble, and on the sides of the colonnades, four 17-century Italian bas-reliefs.
The indoor, tiled Roman Pool at Hearst Castle (below) was part of the Roman Pool Complex, which also included sweat baths, a handball court, exercise and dressing rooms. It was built from 1927-1934 and is decorated with eight marble statues of Roman gods, goddesses and heroes carved in Italy starting in 1930, and shipped to California.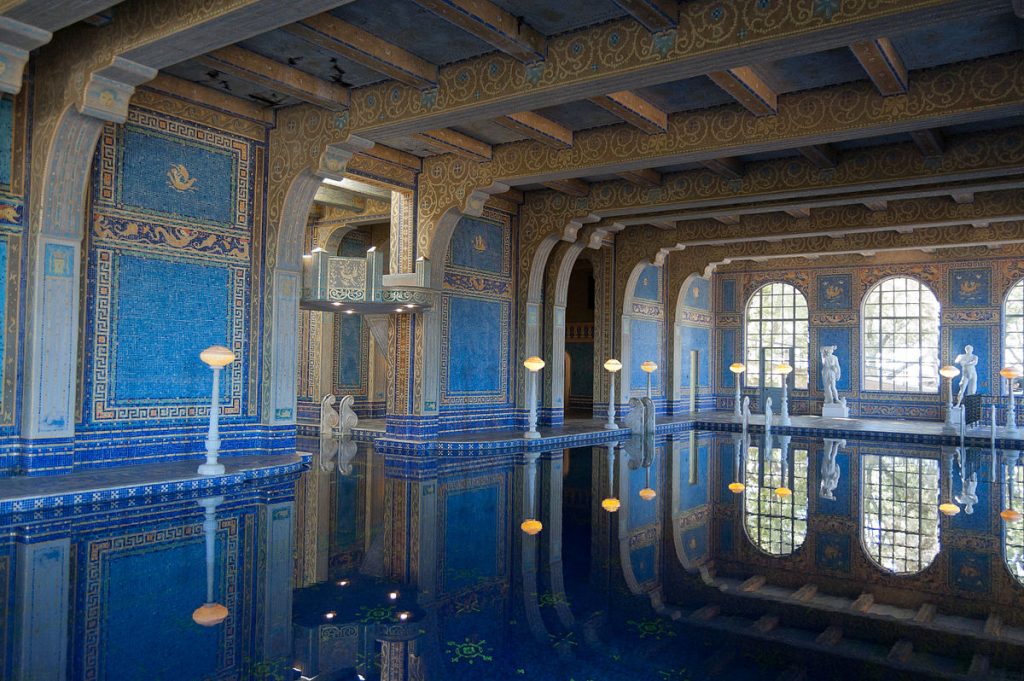 (Hearst Castle Roman Pool 2012 Photo: King of Hearts)
The walls of this mausoleum are marble, with vaulted arches of blue and gold mosaic tiles; the roofs and dome are covered in dark blue tiles, and a star pattern inspired by the 5th Century Mausoleum of Galla Placidia. 
William Randolph Hearst had also acquired $50 million in New York City real estate (as well as other properties in Mexico, Ireland, and elsewhere). However, he suffered a heart attack in January 1933 and was confined to his San Simeon ranch.
By the mid-1930's, the Great Depression had hit hard. As the Depression ground on, the tone of reports about Hearst's lifestyle and his San Simeon hilltop fortress began to be less admiring. The film industry was as hard hit as anywhere, and there was a walk out at Columbia Pictures in response to a cut in pay for union members.
"William Randolph Hearst, from behind his barbed wire and gunmen at San Simeon, himself a producer of pictures, roars at the national government, telling the President how to run the Government – and totally ignores the misery of 30,000 studio workers, out of employment because of the strike." – Moving Movie Throng, by John Hall, Hollywood Filmograph, July 1933
The Hearst news empire (never his biggest money maker) was on shaky ground. Hearst Corporation underwent a reorganization ordered by the courts in 1937, and from then on W.R.'s power in that organization was minimized. Newspapers, other properties, and companies were liquidated, and Hearst began to sell off much of his art collection – $11 million dollars worth that first year alone. Another 20,000 pieces were put up for sale in 1941 (all this put only a small dent in his art collection and other holdings). 
Meanwhile, construction on Hearst Castle continued on. Declining health finally forced a now 84-year-old senior citizen William Hearst to move with Marion Davies to a more urban setting in 1947. He passed away at Marion's Beverly Hills home in August 1951 at the age of 88.
In 1957 Hearst Castle was donated to the state of California by the Hearst Corporation. Since then Hearst Castle has been an operating museum open to the public with daily tours, a State Historical Monument, and National Historic Landmark.
If you can't go in person, take this aerial tour courtesy of the Smithsonian Channel.
Breathtaking Hearst Castle overlooks the Hearst ranch (still a huge enterprise on it's own), surrounding countryside, and the Pacific Ocean. Visit Hearst Castle at 750 Hearst Castle Rd., San Simeon California – but check visiting hours etc., which may have changed during the pandemic.
Movies Filmed at Hearst Castle
Several movies and videos have had scenes set and/or filmed at Hearst Castle. Orson Welles' masterpiece Citizen Kane has no footage from San Simeon (not surprising, as he was persona non grata with Hearst at the time). It's surprising that more movies haven't been filmed on location at the castle / ranch, given the unique buildings, furnishings, and countryside. 
Mank (2020), an Academy Award-winning drama based on screenwriter Herman J. Mankiewicz, during the writing of Citizen Kane with Orson Welles. Gary Oldman is Mankiewicz, Hearst is played by Charles Dance, Amanda Seyfriend is Marion Davies, and Arliss Howard as Louis B. Mayer. California locales of Malibu, Pasadena, and the Huntington Library and Botanical Gardens in San Marino, are stand-ins for Hearst Castle and grounds.
Spartacus (1960), producer-director-star Kirk Douglas filmed some scenes of his historic epic at San Simeon, with the castle standing in for Crassus' (Laurence Olivier) villa. 
The Hearst and Davies Affair (1985) starring Robert Mitchum and Virginia Madsen as the title characters. This made-for-TV movie was filmed in London (England), Toronto and London, Ontario in Canada, and the Hearst Castle in San Simeon.
Hollywood Without Make-Up (1963), hosted by Ken Murray. Murray's "home movies" of Hollywood stars and their homes, includes a significant segment devoted to Hearst Castle at San Simeon. This segment starts off at San Simeon with clips of New York Mayor Jimmy Walker, Hedda Hopper, John Gilbert and his wife Virginia Bruce, Claire Windsor and Dolores Del Rio, and Charlie Chaplin playing tennis with Bill Tilden.
Other guests in this clip include Carole Lombard, and W.R. Hearst talking first to architect Julia Morgan (misidentified as his secretary), then Charles Lindbergh. The Hearst zoo animals are not forgotten…there's a polar bear, tiger cubs, white fallow deer, kangaroos, buffalo, zebras, African antelope, and camels. Actor Arthur Lake handles an Arabian horse, and the segment ends with Arthur's wife Pat (nee Patricia Van Cleve), Hearst, and Marion Davies.
Secrets of San Simeon with Patricia Hearst (2001), a tour hosted by Hearst's granddaughter Patricia, complete with details about the artworks and architecture.
Additional Resources:
*Mrs. Hearst Buys Big Dairy Ranch, Oct. 21, 1905, The San Francisco Call
The New Movie Magazine, April 1930
You may also like Remembering William Randolph Hearst, Part 3 of 3: Marion Davies
Note: This article was first published in 2015 as Remembering William Randolph Hearst, Part 2 of 3. It has been updated with new & additional content.
*Images are believed to be in the public domain, used by permission, or Creative Commons licensed & sourced via Wikimedia Commons, Vimeo, YouTube, or Flickr, unless otherwise noted*