Vintage 1930s-1940s Film Star Valentines
Modified vintage photos, portraits, and advertisements featuring celebrities from the era of silent movies and Old Hollywood, as shareable vintage Valentine's Day greeting cards
Nancy Carroll
American Broadway musical dancer-actress Nancy Carroll entered films as talking movies ended the era of silent films. She earned an Academy Award nomination for her leading role in The Devil's Holiday, opposite co-stars Phillips Holmes and James Kirkwood.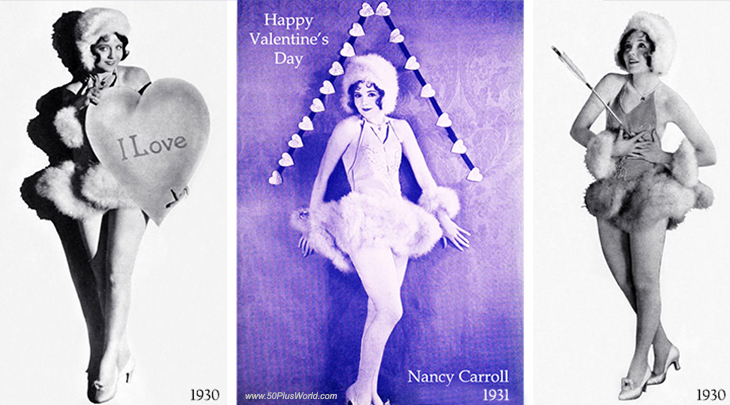 (Nancy Carroll 1930 & 1931 Happy Valentine's Day: Paramount Pep)
Ever a popular pin-up model whatever the season (Christmas, Hallowe'en, etc.), Nancy Carroll posed for multiple Valentine's Day pics for the movie fan magazines.
Carroll's career in movies lasted from 1927 through 1938. After a hiatus of 10 years from the screen (she continued acting on stage), Nancy began working again on television (The  Aldrich Family, 1950-1951). Her last TV appearances were in 1963.
Nancy Carroll married 3 times; her first two marriages ended in divorce (screenwriter Jack Kirkland m. 1925 – div. 1931; Life magazine editor Francis Bolton Mallory m. July 1931 – div. 1935). She married for the third and final time to Dutch business C.H. Jappe Groen in Djakarta (Indonesia), in November 1953 . Carroll left him a widower when she died of an aneurysm in August 1965 at the age of 61.
In between her earlier marriages and divorces, Carroll was linked with politician, businessman and movie producer Joseph P. Kennedy Sr.; multi-millionaire asbestos heir Tommy Manville; multi-millionaire aviator, inventor and film producer Howard Hughes; and her Under-Cover Man (1932) co-star George Raft.
Clark Gable
"The King of Hollywood", Academy Award-winning actor Clark Gable (It Happened One Night, 1934) was a major movie heart-throb for ladies beginning in the early 1930s.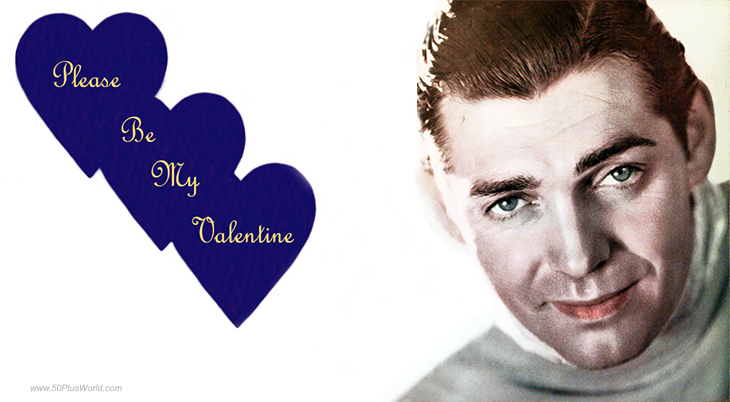 (Please Be My Valentine c. 1931 Clark Gable)
Gable had actually gotten his start on stage and in 1920s silent films, even supporting Strongheart the dog in one movie. His first two marriages to Josephine Dillon (1924-1930) and Maria Langham (1931 – 1939) ended in divorce. These two ladies deserved to get Valentines from Gable, as they helped shape his appearance and abilities as an actor. 
The love of Clark Gable's life was former co-star Carole Lombard, whom he married in 1939. Their love affair ended when Lombard was killed in a January 1942 plane crash, but his love for her never ended.
A stricken Gable signed up and began serving overseas in WWII. He eventually remarried, in December 1949 to 4th wife Lady Sylvia Ashley (widowed when Douglas Fairbanks died in 1939, she had married the 6th Baron Stanley of Alderly, and divorced him in 1948). This marriage didn't last either, with Sylvia filing for divorce in May 1951. The divorce was finalized in April 1952. 
A fifth and final marriage to Kay Williams in 1955 produced his only child, son John Clark Gable, born 5 months after Clark's death from a heart attack in November 1960, age 59. Gable is interred next to his forever Valentine, third wife Carole Lombard.
Clark Gable enjoyed great chemistry onscreen (and sometimes off) with his frequent leading ladies Jean Harlow, Joan Crawford, and Myrna Loy, co-starring in multiple films with each. Other notable romantic relationships for Gable included actresses Virginia Grey, Elizabeth Allen, and Loretta Young. It was revealed after both Young and Gable were deceased, that Young had told her "adopted" daughter Judy Lewis that she was her natural daughter, born after Young was "date raped" by Clark Gable.
Tyrone Power
Handsome Tyrone Power became the third actor to bear the family name when he was born on May 5, 1914 to his parents, stage actor Tyrone Power Sr. and Patia Reaume. His Irish great-grandfather was the first Tyrone Power to tread the boards, back in the first half of the 1800s.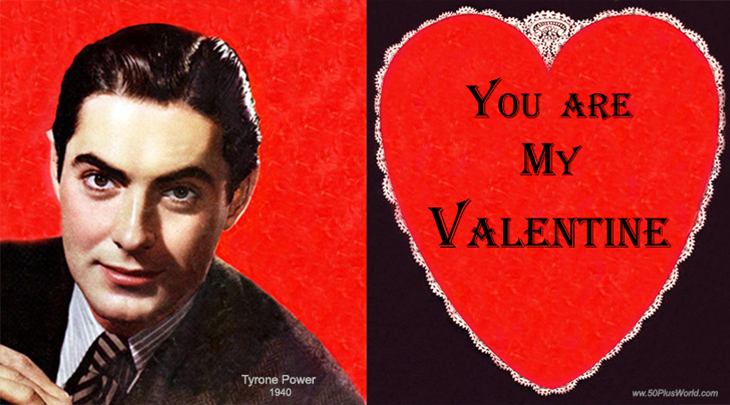 (Tyrone Power 1940: Paul Hesse | You Are My Valentine)
Tyrone Power grew up in Cincinnati and attended the Schuster Martin Dramatic School with actress friend Virginia Payne (radio's Ma Perkins). He worked for a while on radio in Chicago with Payne's encouragement, then moved on to the stage in New York City. 
By the mid 1930s, Power had gotten his break in films and graduated to romantic leading man roles in films such as Lloyds of London (1936) opposite Madeleine Carroll, Love is News (1937) with Loretta Young, and Thin Ice (1937) opposite Olympic skating sensation Sonja Henie. Henie and Power's off-screen romance was fine tabloid fodder for a year or so before the both moved on to other loves.
Power met and married first wife Annabella in July 1939. The Annabella-Tyrone Power marriage began to fall apart during WWII. Power enlisted and served in the Marine Corps, flying out Marines wounded in the battles of Iwo Jima and Okinawa. The couple separated, and Power had affairs with  film stars Judy Garland and Lana Turner. 
Tyrone Power and Linda Christian were married in January 1948, the year after his affair with Lana Turner ended and his divorce from Annabella was finalized. Linda and Tyrone had two children before that marriage also began to disintegrate; both Christian and Power had affairs (Powers with Anita Ekberg). Linda Christian divorced Tyrone Power in May 1955.
Cupid struck Tyrone several more times…after relationships with actresses Mai Zetterling and Thelma Ruby, he married for a third and final time, to Deborah Jean Minardos (nee Smith) in May 1958. Deborah was pregnant with their son when Tyrone Power died of a massive heart attack at the age of 44 in November 1958. His son Tyrone Power Jr. was born in January 1959.
Sonja Henie
Norwegian National and Olympic champion figure skater Sonja Henie's transition from ice queen to movie queen was natural. After winning 10 Olympic gold medals between 1928-1936, Darryl F. Zanuck signed her to a film contract and she skated into the hears of movie fans and her male co-stars.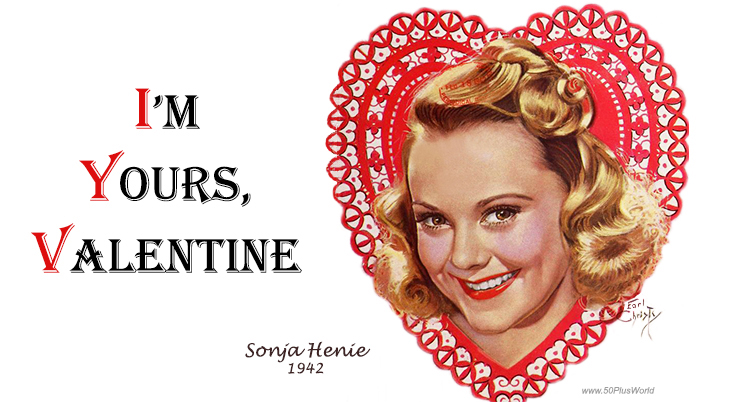 (Sonja Henie 1942 I'm Yours, Valentine)
Her off-screen Valentines included actors Alan Curtis, Tyrone Power (her co-star in Thin Ice & Second Fiddle, 1939), and Richard Greene (her co-star in My Lucky Star, 1938).
Sonja Henie's July 1940 wedding to New York millionaire sportsman Dan Topping was her first (the groom's third). Like Tyrone Power, Dan Topping also served in the Marines during WWII; and as with the Annabella-Tyrone Power marriage, absence did not make the heart grow fonder. Topping and Henie were divorced in February 1946. 
Henie married again, in September 1949 to Winthrop Gardiner Jr., but that marriage also ended in divorce in April 1956. Her third marriage, to Norwegian businessman Niels Onstand in June 1956, was her most enduring. They were still each other's Valentine when Sonja Henie died of leukemia in 1969 at the age of 57.
Greer Garson
English movie star Greer Garson received 7 Academy Award nominations for Best Actress, winning for her performance as the title character in the timeless WWII classic movie, Mrs. Miniver (1942).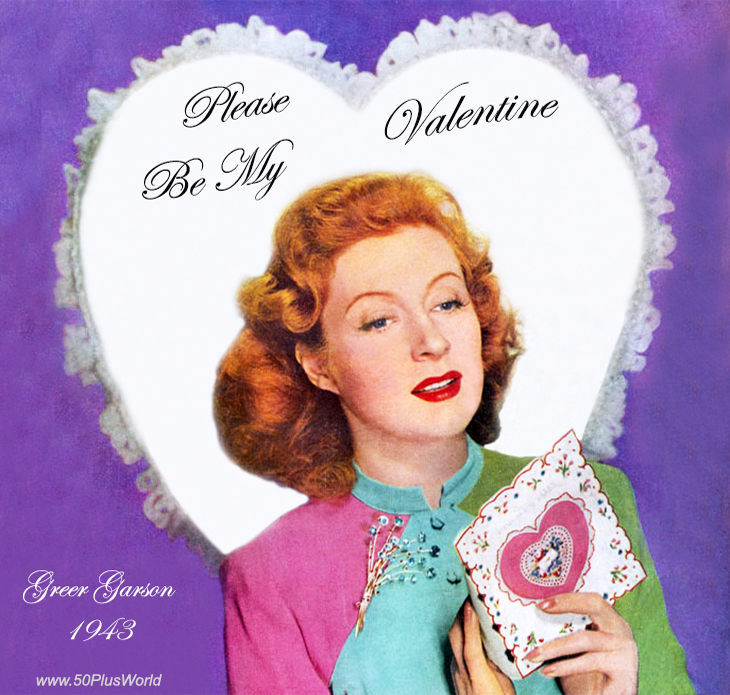 (Greer Garson 1943 Please Be My Valentine: Woman's Home Companion)
Greer Garson's first marriage was over almost as soon as it began in September 1933, with the groom (Edward Snelsona) going back to his job in India when the honeymoon ended, and the bride returning to live with her mother and go on the stage. 
Mrs. Miniver fans were surprised when Greer Garson's co-star Richard Ney (12 years younger) who played her son in the film, married Garson in July 1943. Wedded bliss eluded Garson again, and the Ney-Garson marriage also ended in divorce in September 1947.
Her lasting Valentine was Buddy Fogelson, a millionaire Texas horse breeder. Greer Garson and Buddy Fogelson were married in Santa Fe, New Mexico in July 1949 and Garson retired to live with Fogelson on his New Mexico Ranch. Buddy Fogelson died in 1987, and Greer Garson followed suit in April 1996, dying of heart failure at the age of 91.
Shirley Temple
Everyone's favorite child actress of the 1930s, Shirley Temple began acting in films in 1931, becoming a major star with the 1934 movie Bright Eyes.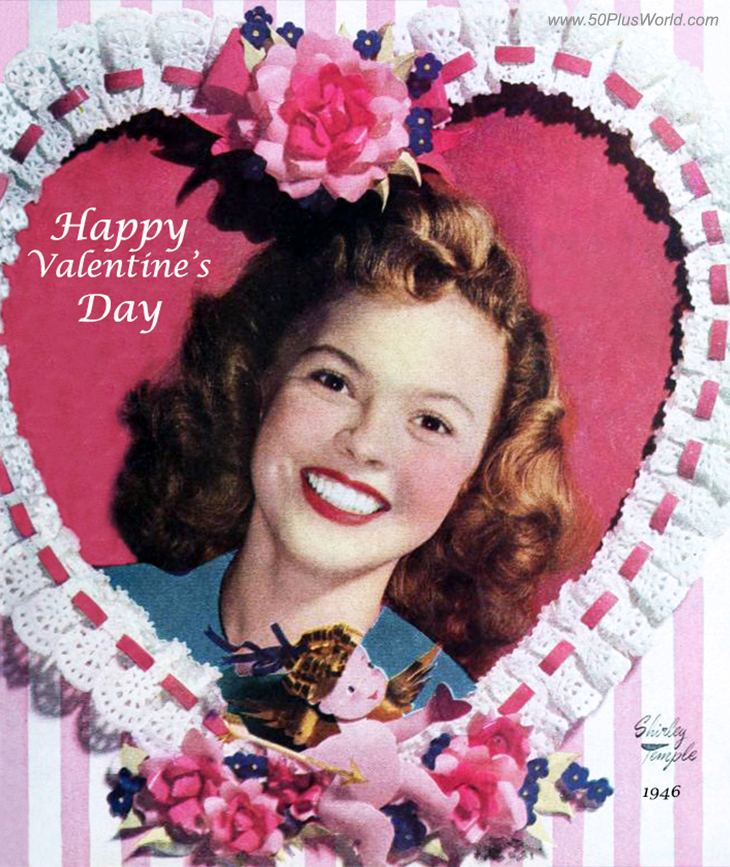 (Shirley Temple 1946 Happy Valentine's Day)
Temple grew up in front of the world under intense scrutiny. Small wonder that her first serious romance, with WWII Army Air Corps sergeant John Agar, was newsworthy. Their 500-guest wedding in September 1945 seemed a fitting story book ending to their love story. Temple gave birth to their daughter Linda Susan in January 1948. The end of the fairy tale romance actually came almost 2 years later in December 1949, when Shirley Temple divorced John Agar.
Her heartbreak was soon mended, for Temple met her lasting Valentine and true love Charles Black in January 1950. Their relationship was kept quiet while the newly divorced Shirley waited to be sure. Shirley Temple married Charles Black in December 1950. The happy couple had two more children and remained married (54 years!) until Charles Black died in August 2005.
During their marriage, Temple served as the U.S. Ambassador to Czechoslovakia (1989-1992), and survived breast cancer, undergoing a mastectomy (1972). Shirley Temple died of COPD (chronic obstructive pulmonary disease) in February 2014.
More Vintage Film Star Valentines
Vintage Silent Film Stars Valentine's Day Cards
1950s-1960s Vintage Celebrity Valentines
More Valentine's Day & Other Romantic Stuff!
Best Romance Films With Older Actors
When Valentine's Day Traditions Began
Surviving Valentine's Day: Tips for 50+ Singles