Done in May 1951
News, Headlines, History, Entertainment & Trivia From May 1951: Count Turf Wins Kentucky Derby & Arcaro rides Bold to victory in the Preakness; Restaurant segregation is ruled illegal;  Operation Greenhouse
1951 Kentucky Derby & Preakness: Count Turf, and Eddie Arcaro Aboard Bold
On May 5, 1951, underdog longshot race horse Count Turf beat 19 other horses to the finish line to win the 77th running of the Kentucky Derby by four lengths. It was an upset for the favorites Battle Morn (owned by philanthropist Harry Guggenheim and ridden by Eddie Arcaro), and Counterpoint (a half brother to Count Turf, he was owned by Cornelius Vanderbilt Whitney), who would go on to win the Belmont Stakes and be crowned Horse of the Year.
Among the celebrities in the crowd for 1951 Derby Day in the video above, are the Duke and Duchess of Windsor, actresses Greer Garson (with U.S. Senator Clinton P. Anderson of New Mexico) and Ann Sheridan (with publicist boyfriend Steve Hannagan). The colt's owner was New York City restaurateur Jack Amiel (Turf Restaurant; Jack Dempsey's Broadway Restaurant), who must have been happy with the record Derby payday purse, especially if he bet on his own horse (Count Turf was a 15-1 shot). Count Turf's jockey Conn McCreary had previously won the Kentucky Derby in 1941 aboard Pensive, and wound up in the U.S. National Racing Hall of Fame.
Despite Count Turf's Kentucky Derby win and his distinguished lineage (his sire was 1943 Triple Crown winner Count Fleet, and his grandsire Reigh Count was the 1928 Kentucky Derby winner), his 1951 Derby triumph proved to be a flash in the pan. Count Turf was retired when he came up lame after winning a race in 1953; his stud career was undistinguished, and he died in 1966. 
Ten days after Count Turf's Derby Win, jockey Eddie Arcaro steered the dark bay stallion Bold to a 7 length win over Counterpoint in the 76th Preakness Stakes on May 19, 1951.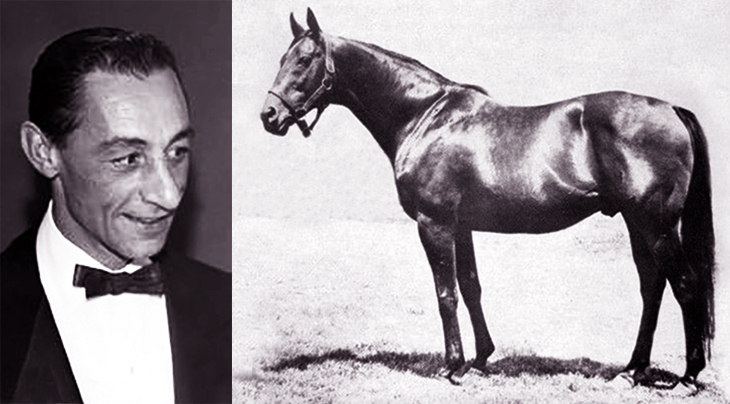 (Eddie Arcaro & Bold)
A great-grandson of Man o' War and great-great-grandson of Fair Play and Mahuba on his dam's side, Bold showed promise early as a three year old. He won his first race – only 10 days before the Preakness – and placed second in the next, before winning the second leg of the Triple Crown in 1951.
Bold was owned by socialite and Dodge Automobile heiress Isabel Dodge Sloane, founder of Brookmeade Stable. The Preakness was jockey Eddie Arcaro's first ride on Bold, and Arcaro's fourth win of the Preakness Stakes. Bucked shins suffered during the Preakness affected Bold's ability to run in subsequent races as a 3 and 4-year-old, and he was withdrawn from the Belmont Stakes. In July 1952, while he was resting between races in a training paddock, 4-year-old Bold was killed by a strike of lightning. 
Nee George Edward Arcaro when he was born on prematurely on February 19, 1916 in Ohio, Arcaro weighed only 3 lbs at birth. This diminutive size served him well when he began a career as a jockey at the age of 16 in 1932. Eddie Arcaro won a total of 4,779 thoroughbred horse races, including a record-setting two Triple Crown wins, riding Whirlaway in 1941 and Citation in 1948. Winner of the George Woolf Memorial Jockey Award in 1953, Arcaro was inducted into the National Museum of Racing and Hall of Fame in 1958 before he retired in 1962. He died in 1997 at the age of 81. 
Racial Segregation is Ruled Illegal
On May 24, 1951 the Washington D. C. Municipal Court of Appeals ruled that racial segregation in Washington restaurants was illegal.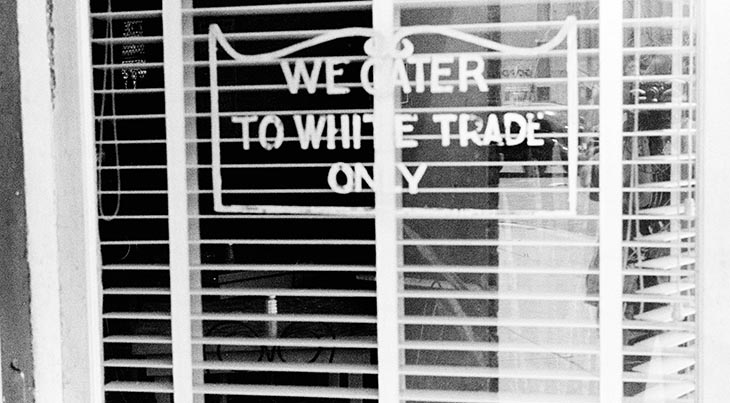 (Segregation – We Cater to White Trade Only sign, Ohio 1938 Photo: Ben Shahn)
After the American Civil War, the Civil Rights Act of 1875 guaranteed that everyone, regardless of race or color, was entitled to the same treatment in public accommodations (inns, public transportation, theaters, etc.). When the Civil War Reconstruction period ended in 1877, the Federal Government withdrew the last soldiers from the southern states.By this time, white Democrats had the political power in southern states and it was these state and municipal governments that enacted "Jim Crow" laws to segregate the blacks and white populations. In 1883 the Civil Rights Act of 1875 was ruled unconstitutional by the Supreme Court.
It wasn't until after World War II that the Civil Rights Movement began to grow and the Jim Crow laws were challenged. The baby boomer generation and their parents would lead protests against Jim Crow laws during the 1950's and 1960's. 
Operation Greenhouse Nuclear Testing
On May 9, 1951, as part of Operation Greenhouse, the world's first thermonuclear bomb (aka hydrogen or h-bomb) test "George", was exploded by the U.S. on the Enewetak Atoll in the Pacific Ocean.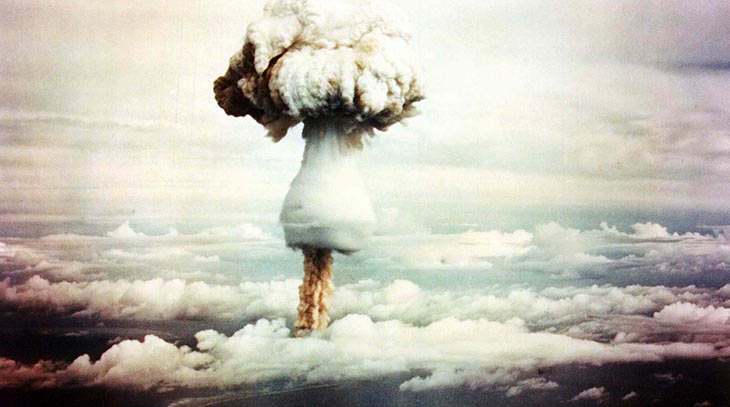 (Operation Greenhouse "George" Explosion May 9, 1951 Photo: U.S. Federal Government)
A few months after the telecast of an atomic bomb test near Nevada, the United States had begun conducting a fifth round of nuclear tests called Operation Greenhouse. Operation Greenhouse testing took place on the Enewetak Atoll, part of the Marshall Islands, in the spring of 1951. On May 24th, the Item test bomb from Operation Greenhouse, was the first boosted fission weapon, almost double that of a non-boosted weapon.  
Hungarian-American theoretical physicist Edward Teller and Polish-American mathematician Stanislaw Ulam were both members of the World War II Manhattan Project to develop the first atomic bomb. The George bomb from Operation Greenhouse was an early test of the "Teller-Ulam configuration" used in all modern U.S. thermonuclear bombs today. Teller has been called "the father of the H-Bomb".
Note: This article was first published in 2016. It has been updated with new / additional content.
*Images are assumed to be in the public domain and/or Creative Commons licensed & sourced via Wikimedia Commons, Vimeo, YouTube, or Flickr, unless otherwise noted*