Celebrating Seniors - Loni Anderson Turns 70
Blonde bombshell baby boomer Loni Anderson was born in Saint Paul, Minnesota on August 5, 1945 – and she becomes a septuagenarian senior citizen today, in 2015.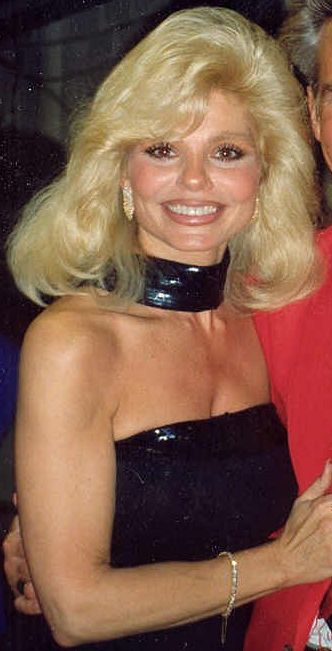 (Loni Anderson 1992 Photo: Alan Light)
When Loni was a child, both her parents were heavy 4-pack-a-day smokers (they had started smoking before age 15) and as a result, she would wake up every day to the sound of coughing. Her parents were both diagnosed with chronic bronchitis as they got older, and both died from cancer in their 50's.
A natural brunette, Loni began doing musical theater at age 10 and wanted to study acting. She met musician Bob Flick of the Brothers Four band at a movie premiere photo opp in 1963, and they began dating. 
Anderson was a contestant in the Miss Minnesota beauty pageant and still dating Bob in 1964 when she met future businessman Bruce Hasselberg. Hasselberg proposed the first night he met her and they married 5 weeks later, resulting in Loni becoming a teen mom to daughter Deidra in 1965. Bruce Hasselberg and Loni Anderson's romance only lasted 3 months, but it wasn't until 1966 that their divorce was finalized. Anderson enrolled at the University of Minnesota and partially financed her degree in education with local beauty pageant wins and teaching jobs. 
Shortly after graduating from university, Loni Anderson scored her first professional acting role in the movie Nevada Smith (1966) starring Steve McQueen.
The acting job offers didn't come pouring in, but she did eventually start landing roles in local Minnesota stage plays and commercials. Loni Anderson married second husband and fellow actor Ross Bickell in 1973, and the couple moved to Los Angeles with Loni's daughter Deidra, to pursue their acting careers. Anderson became a blonde and started landing small roles in the movies and guest appearances on television shows. 
When producers were casting for the new sitcom WKRP in Cincinnati (1978-1982) and saw a poster of Loni Anderson in a red bikini, she was offered the role of sexy receptionist Jennifer Marlowe.
Jennifer Marlowe quickly became one of the most popular characters on WKRP in Cincinnati. Loni Anderson used that popularity to renegotiate her contract during the 1980 summer hiatus, by walking off the show. 
During her time off from WKRP in Cincinnati, Loni Anderson starred as Jayne Mansfield in the made-for-television movie The Jayne Mansfield Story; ironic, considering that WKRP in Cincinnati producer Hugh Wilson has said the reason she got the role of Jennifer Marlowe was because of Anderson's body similarity to that of Mansfield. Below, CBS movie promo for The Jayne Mansfield Story.
Loni Anderson's contract demands were met and she returned to WKRP in Cincinnati, remaining until the show was cancelled. Anderson was nominated for two Emmy Awards and three Golden Globes during her tenure on the show. WKRP in Cincinnati went into syndication and has played in re-runs frequently since ending it's prime-time run in 1982. Loni Anderson's role as Jennifer Marlowe on WKRP in Cincinnati remains her longest-running acting job to date, and the role she is recognized for today. Although WKRP in Cincinnati's instant success helped Loni's acting career, her marriage didn't survive the fame – she and Ross Bickell divorced in 1981. 
During an appearance on The Merv Griffin Show in 1981, Loni met actor Burt Reynolds, who was then at the height of his movie career and near the end of his 5 year on-off relationship with actress Sally Field.
By 1982 Reynolds had asked her on a date; she co-starred with him in the movie Stroker Ace in 1983, and they moved in together in 1984. Loni Anderson and Burt Reynolds finally married on Burt Reynold's ranch in Jupiter, Florida in April 1988. After trying unsuccessfully to conceive naturally, Loni and Burt adopted an infant son, Quinton Anderson Reynolds, born in August 1988. 
Their marriage suffered as they juggled separate careers on two coasts, Burt's health issues and subsequent addiction/recovery from prescription pain and anti-depressant medication, and rumours of infidelity. By 1993 the romance was over; Burt Reynolds filed for divorce and announced he was in love with Florida waitress Pam Seals. The settlements from their acrimonious divorce took 20 years to finalize. Below Loni Anderson talked to Entertainment Tonight in 2014 about their marriage and selling her memorabilia. 

Loni Anderson's acting roles continued during the 1980's and 1990's but her acting career was never robust. She appeared in 7 movies from 1983-1998, including a role in The Lonely Guy (1984) with Steve Martin, Aside from a 22-episode stint on the television series Nurses (1993-1994), Anderson's television appearances since have been limited to made-for-television movies such as Coins in the Fountain (1990) and White Hot: The Mysterious Murder of Thelma Todd (1991).  Below, the trailer for White Hot: The Mysterious Murder of Thelma Todd features Loni Anderson.
Since entering her 50+ years in 1995, Loni Anderson has published her autobiography, My Life in High Heels (1997), and appeared in 1998's movies A Night at the Roxbury and 3 Ninjas: High Noon at Mega Mountain, and a couple of guest-starring television series roles, most recently playing Tori Spelling's mom on So NoTORIous, in 2006.
She became a grandmother to two granddaughters – McKenzie & Megan in 1992 and 1996. In different People Magazine interviews over the years, Loni Anderson has revealed that she's had an eyelift and two breast-reduction surgeries, and kept in shape with 5x weekly personal trainer work-outs.
Although Loni Anderson had a long-term (1994-2005ish) live-in relationship with her divorce lawyer Geoff Brown after her relationship with Burt Reynolds ended, they didn't marry.
Loni Anderson re-connected with former boyfriend Bob Flick, and the couple have been married since May 17, 2008 (they married 45 years after first meeting!).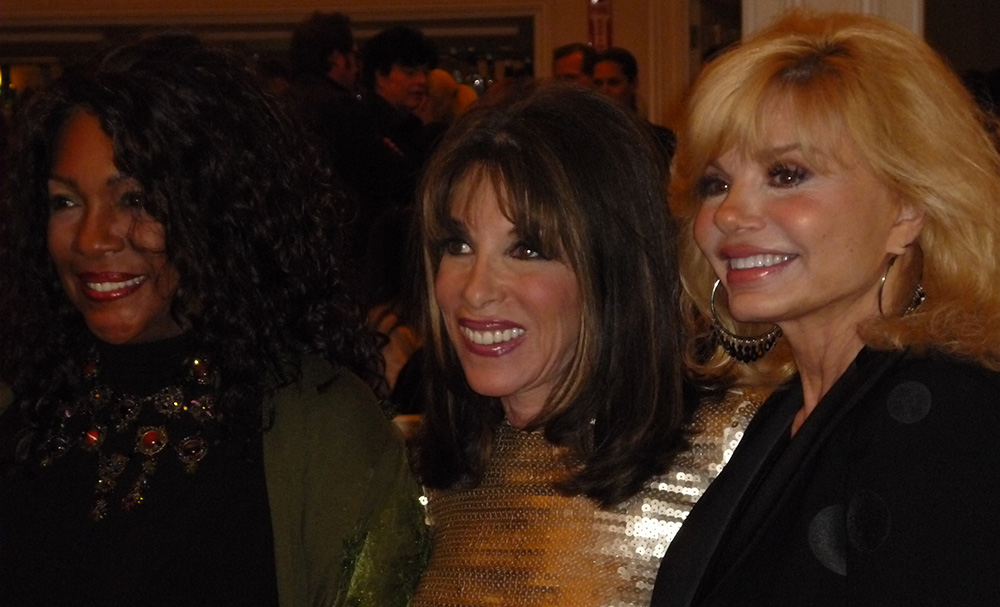 (Mary Wilson, Kate Linder, Loni Anderson 2010 Photo: Greg Hernandez | Flickr Some rights reserved)
About aging parents, in a 2006 dailycollegian.com interview, Anderson, on the cusp of turning 60, had this to say:
"My parents dying so young made me very aware – they both died when I was in my 30s. I realized you really have to enjoy every moment. All the people my age who are dealing with aging parents, I don't have that. My parents are already gone, but I would trade it in a second, deal with all the problems of an aging parent, just to have had them for the last 20 years."
Anderson became a spokeswoman for the National Lung Health Education Program and toured for several years to educate and inform. In an interview with Chet Cooper and Gillian Friedman, MD for Ability magazine, she talked about the impacts for baby boomers from smoking and second-hand smoke.
"My sister and I are both diagnosed with second-hand smoke syndromes. We have never smoked, but we grew up with second-hand smoke our entire lives, so in our 40's we developed asthmatic symptoms where we need inhalers on occasion, or we can't get rid of a cold. I think a lot of people our age, the baby boomers who grew up with parents smoking, are going to find that more and more."
Below, senior citizen and grandmother Loni Anderson is interviewed in 2012.
Although Loni Anderson has been fairly low-profile since becoming a senior citizen, she did surface in 2014 to support daughter Deidra Hoffman in announcing Deidra's battle with MS. 
*Images are public domain or Creative Commons licensed & sourced via Wikimedia Commons, Vimeo, YouTube, or Flickr, unless otherwise noted*