A Visit to America's Birthplace: Jamestown, Virginia
Since this writer's name is John Smith, I've often considered visiting Jamestown, Virginia, the birthplace of America. A previous John Smith (no relation) was very important in the establishment of this first permanent English settlement in North America. That John had arrived here back in 1607, and James Fort was soon built on this site.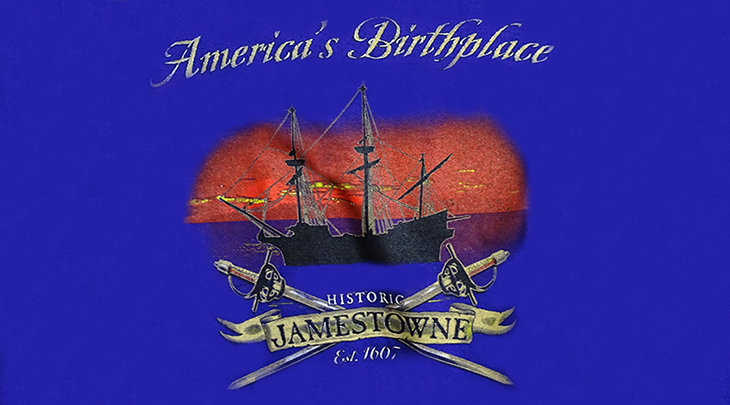 (Jamestown, Virginia T-Shirts)
Well, my wife and I finally decided that this was the year for that trip. We hit the road and took the I-81 and I-64 to travel to the Colonial National Historic Park (Jamestown, Williamsburg, and Yorktown) destination in Virginia on America's East Coast. 
Arriving at Jamestown
Upon our arrival, we participated in a walking tour of Historic Jamestowne with a living history interpreter, and we gained a lot of information about this fascinating area. For example, the ongoing excavations are continuing to reveal more about what life was like back in the 1600s. 
Many of the excavation finds are displayed in the Archaearium Museum, which is now located on site, and it's definitely worth a visit.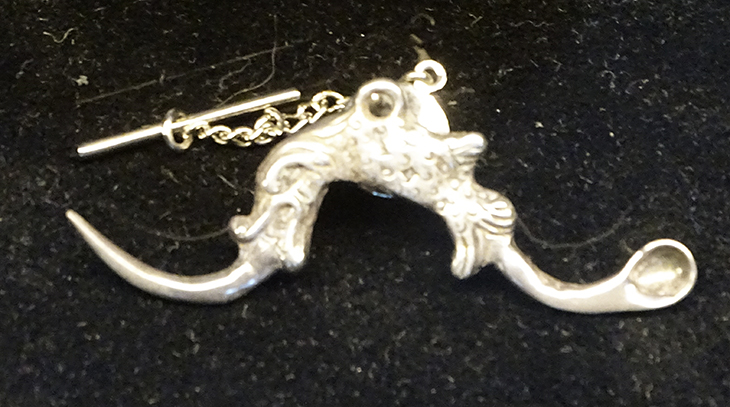 (Toothpick and Ear Cleaner, Archaearium Museum, Historic Jamestowne, Virginia)
Among the incredible artifacts are ancient utensils that were used to pick one's teeth and ears, an ornate halbard with engraved designs on its iron head, a 17th century Roman flintlock pistol, an iron visor, a pocket sundial, brigandine armour, animal bones, tools, and an extensive ceramics collection.
Discoveries and Restoration
The original Jamestown fort and church are long gone, for fire consumed this area, and the capital of Virginia was moved from Jamestown to Williamsburg by 1699. However, this first birthplace of America is of tremendous historical significance, and plans are now underway to rebuild the James Fort palisade walls, to aid visitors and researchers alike to get a better understanding of the fort's impression on the landscape.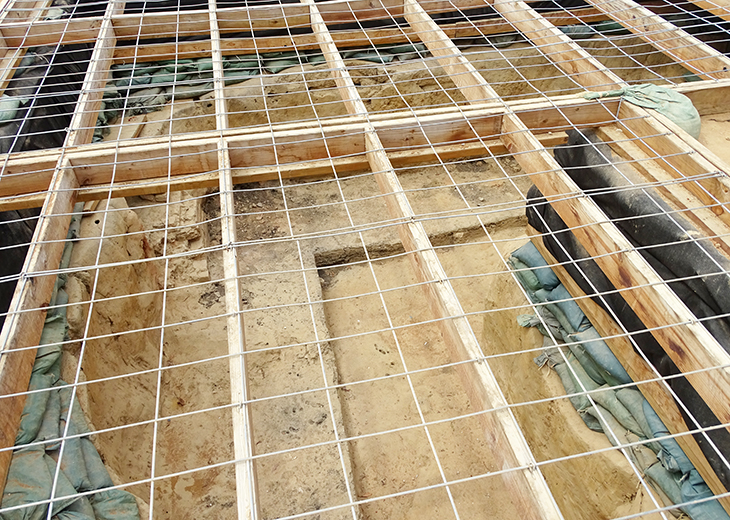 (Below The Archaeological Excavations at Jamestown, Virginia)
As we walked around the site, there were many examples of the on-going excavations and restoration attempts. A 17th century church tower is the only surviving above-ground structure from those days when Jamestown was the capital of Virginia.
The newer Memorial Church was erected in 1907 for the 300th anniversary of the Jamestown settlement. As we walked on its floor, we discovered that glass panels allowed us a glimpse down at the brick foundations of the original 17th century church where the colonists had met back in 1619 for the first representative assembly in English North America.
We were also able to walk by a series of re-created foundations on the grounds, and through the restored iron gates that now serve as an entrance to the site. At a nearby Glasshouse we observed artisans producing glass by hand, just as the original Jamestown colonists had done over 400 years ago.
Powhatan, John, and Pocahontas
The Powhatans were the indigenous people of this area, and they were distrusting of the new "trespassers" when they arrived in 1607. After a series of negotiations, the Powhatans provided the English with maize (corn) in exchange for beads and copper.
Their leader, also known as Powhatan, was particularly wary of these new arrivals. He eventually captured Captain John Smith and planned to execute him. However, this never happened, and a nice myth developed about Powhatan's daughter falling in love with John and asking her dad to spare his life.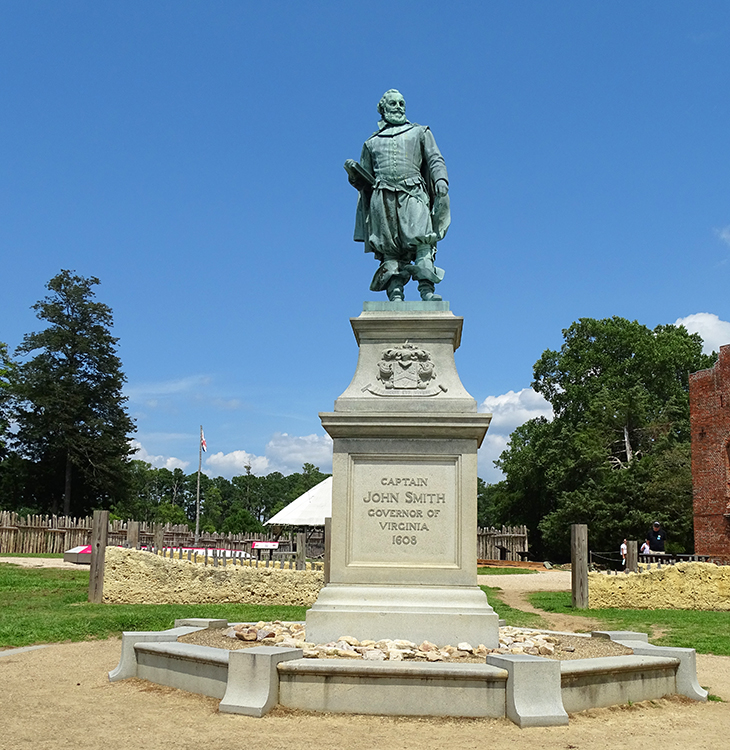 (Captain John Smith Statue, Jamestown, Virginia)
The reality is somewhat different, for although John Smith didn't die at this time, Pocahontas did not marry him either. In fact, Pocahontas ended up marrying another Englishman, John Rolfe, who was here to introduce tobacco farming to the area. They married in the Jamestown Church and then went to England. It was expected that they would eventually return to Jamestown, but Pocahontas became very ill and died in England at the age of 21. There are now statues of both John Smith and Pocahontas on site in Jamestown.
John Smith and Anas Todkill
While exploring this fascinating historic site, I met up with the Director of Living History and Historic Trades, Willie Balderson. He was dressed in costume to portray Anas Todkill, a compatriot of that other, earlier John Smith. He admitted that John had serious problems, for he had even been imprisoned on the boat for part of the voyage to Jamestown; however, upon arrival, he had become a leader.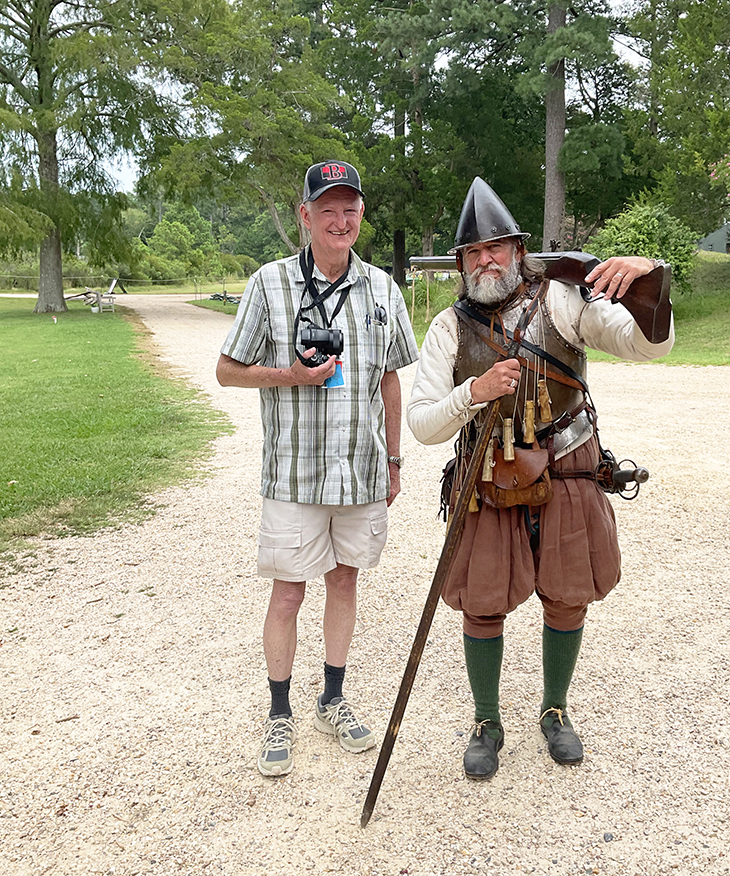 (Article Author John Smith Meets Anas Todkill, aka Willie Balderson)
Anas Todkill (Willie Balderson) said that Smith "represented the best and the worst", but that "he was the glue that saved this place". He concluded that John Smith was an integral factor in the creation and success of Jamestown.
John was, indeed, known to be rather strict at times, and he expected the immigrants to do the necessary work.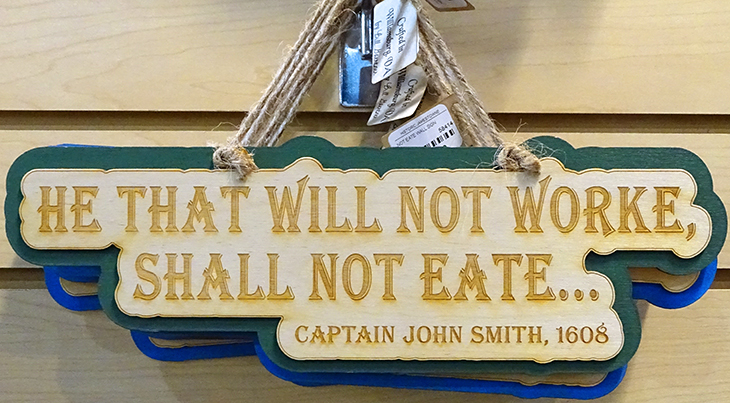 (Captain John Smith's Famous Quotation – He That Will Not Worke, Shall Not Eate)
One of Captain John Smith's most famous sayings, now available on t-shirts in Jamestown, is "He that will not worke, shall not eate."
Colonial National Historical Park
Jamestown is an integral part of the Colonial National Historical Park, but this park also encompasses both Williamsburg and Yorktown, and all three are connected by the 23-mile Colonial Parkway. While in this historic area, it's important to visit all three destinations, for we were able to not only walk in a 17th century archaeological dig site, but also visit 18th century costumed interpreters in Colonial Williamsburg and proceed to Yorktown's Revolutionary War battle sites.
At Williamsburg
Here we saw many 18th century costumed historical interpreters representing the period of the American Revolution, working away at their trades in Colonial Williamsburg. Such trades as apothecary, blacksmith, silversmith, wigmaker, and shoemaker were there.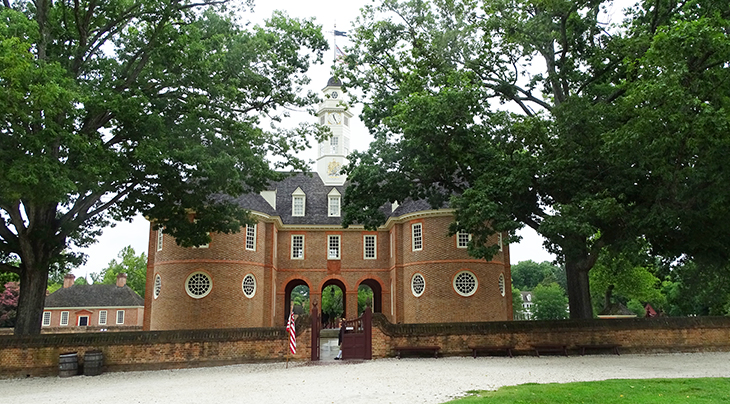 (Governor's Palace, Colonial Williamsburg, Virginia)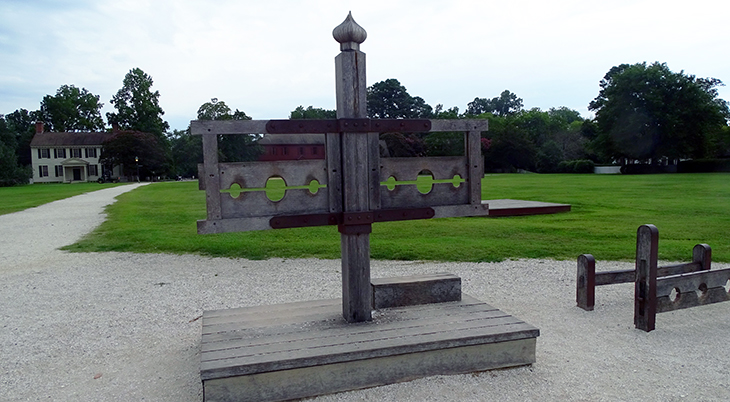 (Pillory and Sitting Stocks Near Colonial Williamsburg's Market Square)
We passed many taverns and historic sites, including Merchants Square, the Public Gaol, the Governor's Palace, Bruton Parish Church, the Capitol, the Courthouse, and Raleigh Tavern Bakery.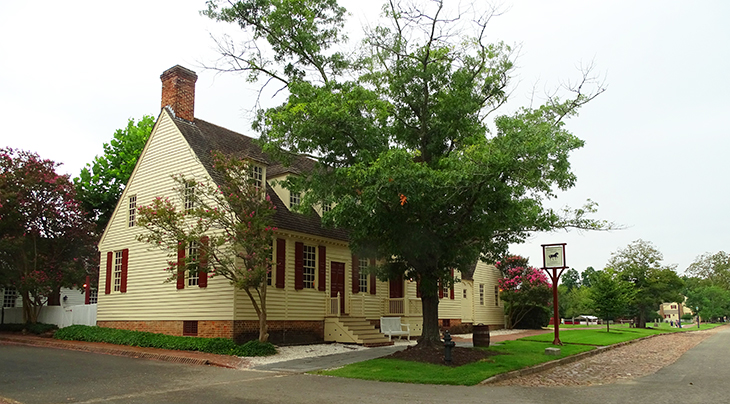 (Raleigh Tavern Bakery, Colonial Williamsburg, Virginia)
Carriage rides were available, however we decided on a walking tour of this area.
We learned that many ghost tours are available in the evening, so we decided to check out one of these, too. As we sauntered through the Duke of Gloucester Street in the dark of night, we stopped at particular houses along the route to learn about their spooky pasts and unusual events.
One such stop was at the Ludwell house, where it's said that the wife's ghost still wanders the upper halls – and the sounds of her footsteps and running water are often heard (she apparently walks the halls and then still takes baths). 
At Burton Parish Church, people have heard the wailing cries of Rev. Jones' dead wife – and some have reported hearing her at the church organ or seen her wandering the graveyard that's next to the church.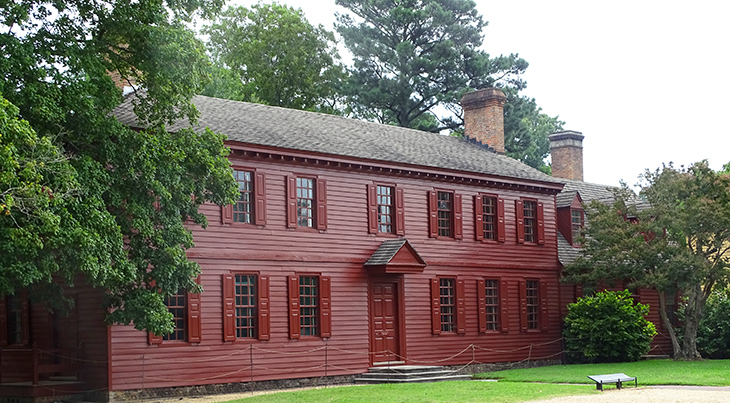 (Peyton Randolph House, Colonial Williamsburg, Virginia)
Yet another macabre stop was at the place that's considered to be the most haunted of all: the Peyton Randolph House. It's certainly one of Williamsburg's most infamous structures, for war, murders, mysterious natural illnesses, and freak accidents have claimed more than 30 lives here.
On to Yorktown
My wife's maiden name was Yorke, so it seemed rather fitting that she'd learn more about Yorktown on the same trip that I was finding out more about this John Smith character.
We soon learned that the 1781 Battle of Yorktown was, basically, the dramatic conclusion to the Revolutionary War. America would soon gain its freedom from the British.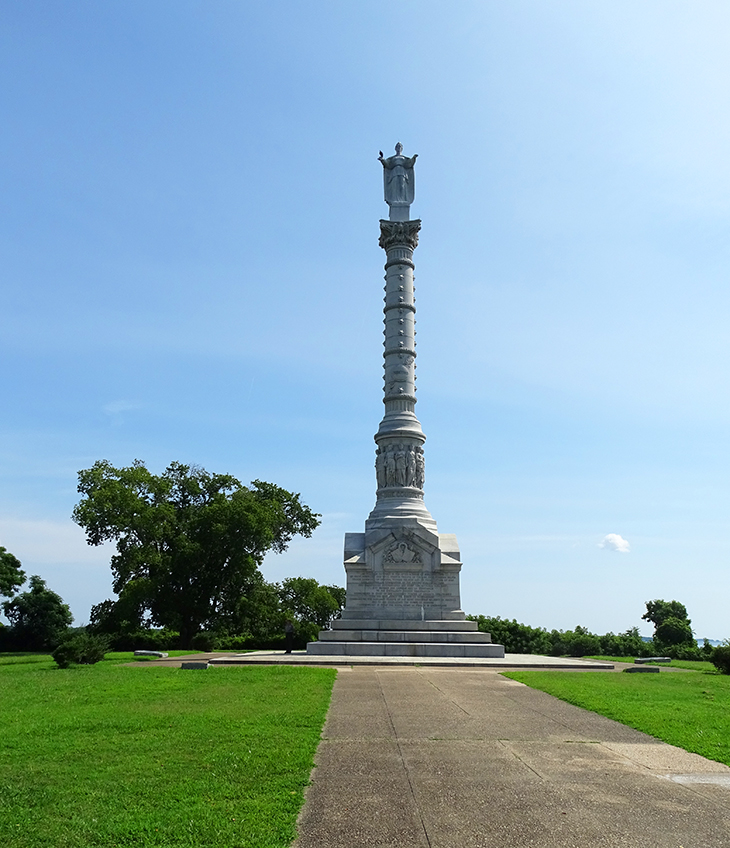 (Yorktown Victory Monument, Yorktown, Virginia)
Therefore, we wanted to visit the Yorktown Battlefield, including Surrender Field, and we also checked out the Victory Monument and Yorktown's American Revolution Museum.
Food and Lodging
Williamsburg is relatively small, but it offers tourists a plethora of choices for delectable food and comfortable lodging.
One of the many interesting restaurants that I'd recommend trying is Christiana Campbell's Tavern, for it apparently was George Washington's favourite – and its offerings are based on Thomas Jefferson's personal cookbook. Try the green pea soup without meat, the roasted lobster, the crab cakes, or the butter crabs.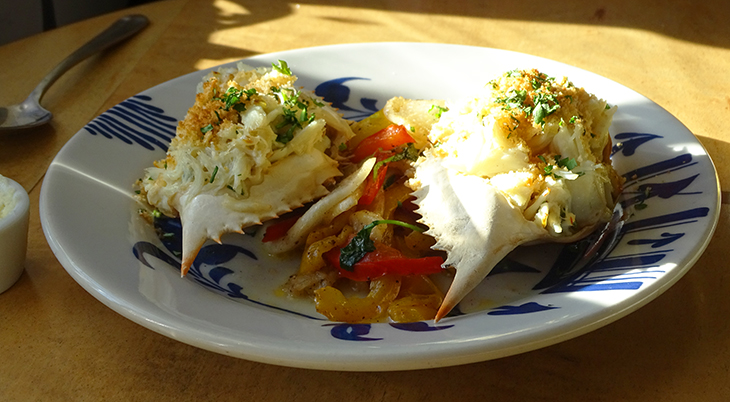 (Butter Crabs at Christiana Campbell's Tavern, Williamsburg, Virginia)
Since I was on this trip specifically to write about this tourist destination, I had the good fortune to stay in the prestigious Williamsburg Inn. It's both stunning and luxurious – and it's in a great location, within walking distance of Colonial Williamsburg's main points of interest.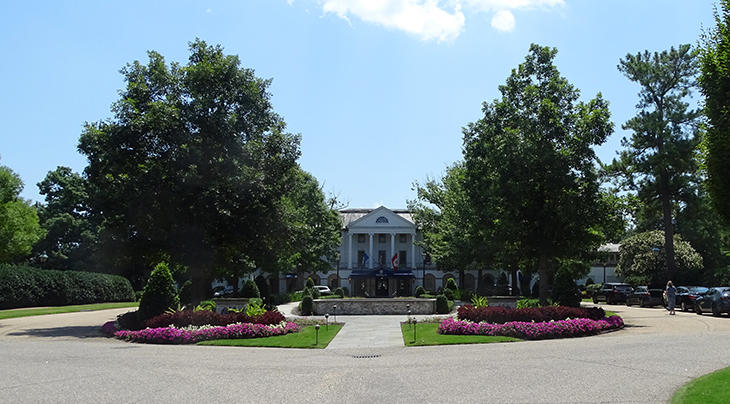 (Williamsburg Inn, Colonial Williamsburg, Virginia)
The Williamsburg Inn has had many presidents and celebrities as guests, so it was a very pleasant and interesting place for my wife and I to stay.
For More Information: www.VisitWilliamsburg.com
*Photos © 2023 John Smith, all rights reserved. Do not use or reproduce without written permission.*