Cataraqui Trail Cycling Adventure
Although 2020 has been "the pits" for avid travelers, exploring closer to home on foot or bicycle can be a healthy and fun alternative. The Cataraqui Trail in Eastern Ontario (Canada) is a great route for adventurous hikers and cyclists.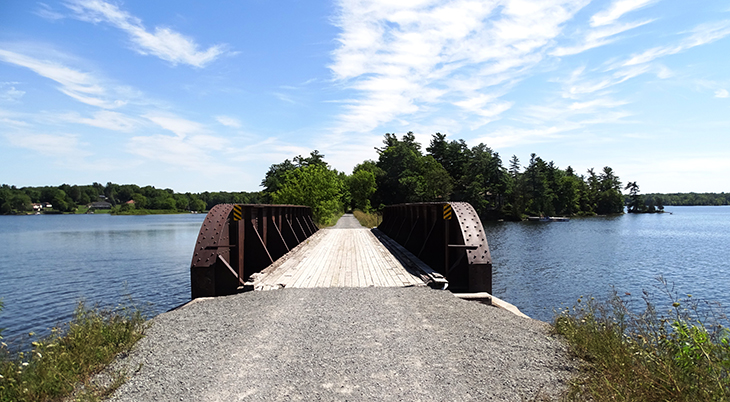 (Cataraqui Trail Bridge Near Sydenham)
Back in January, when my wife and I visited the Caribbean Island of Antigua, we certainly didn't know that the arrival of COVID-19 was about to shut down our travels for 2020. However, the lockdown certainly soon became our new reality.
As a travel writer and photographer, this sudden change was very difficult, so I had to find a way to adjust. The answer, for me, was to return to cycling adventures, for I'd at least be getting out in the fresh air, away from crowds, and enjoying some healthy exercise.
I used to write a regular cycling column, featuring many specific road routes and off-road rail trails (abandoned rail lines), so I thought that this would be the perfect summer to get back on the saddle (bike seat) and do some more exploring closer to home. Apparently many of you thought the same thing, for it has been a great year for the sale of bicycles and for bicycle repairs. Indeed, bicycle travel is on the rise!
Since I'd already had the good fortune to ride and write about many of the best trails in North America, I decided that I'd now include some of the more rugged, less groomed trails in my new endeavours.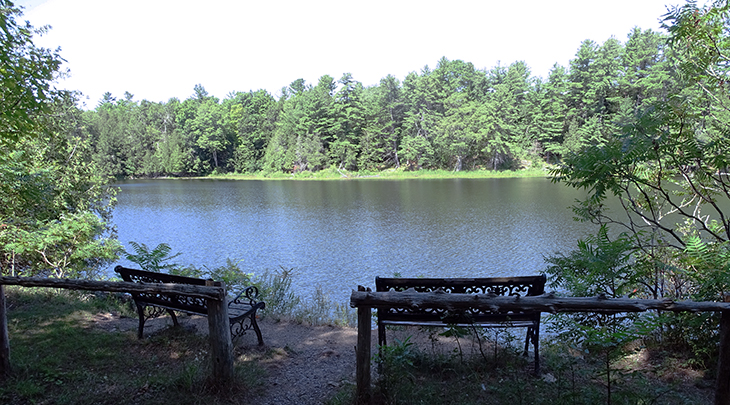 (A few benches are found along the Cataraqui Trail)
I ultimately chose to include Eastern Ontario's Cataraqui Trail; it's near my home, and would take me along the old roadbed of the former Canadian National Railway route between Strathcona (near Napanee) and Smiths Falls.
Cataraqui Trail History
The Canadian National Railway steel rails and wooden ties were removed back in 1989, and were replaced by a gravel surface.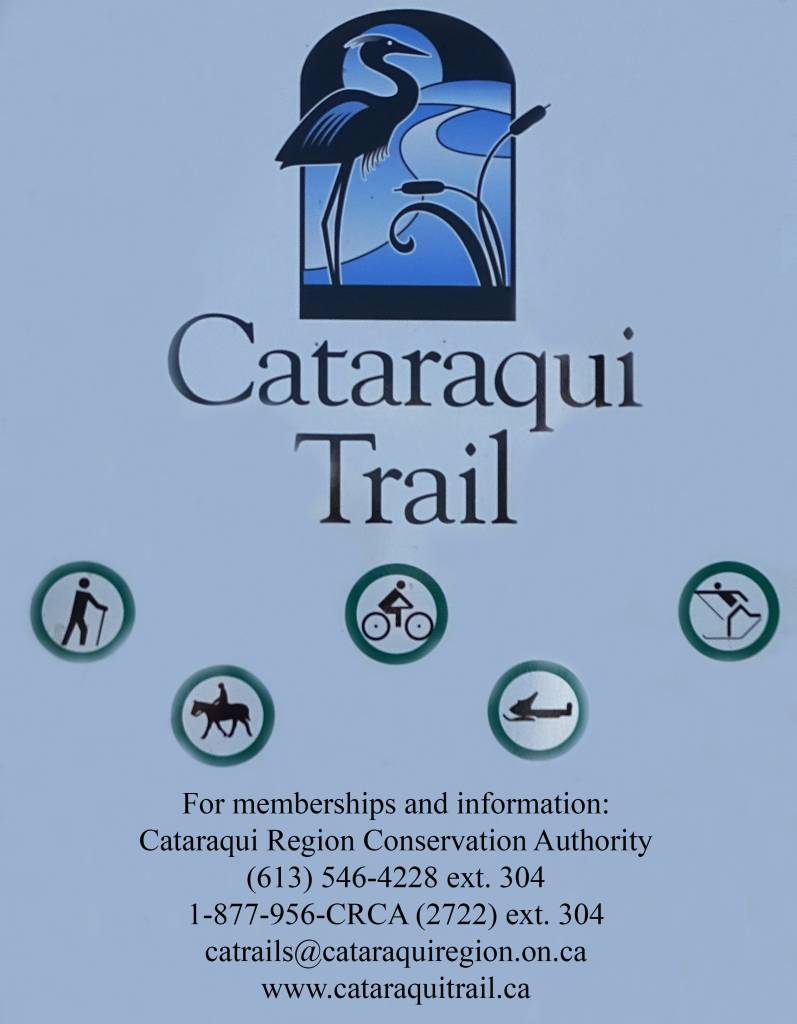 (Cataraqui Trail Usage Sign)
This former CNR rail line was eventually donated to the Cataraqui Region Conservation Authority in 1997, and subsequently developed and managed by the Cataraqui Trail Management Board.
In September of 2000, the multi-use linear recreational trail was officially opened. Some sections of the trail are privately owned by local landowners, so an arrangement was made about the acceptable recreational uses of the trail.
It was determined that there would be no motorized vehicles on this route during the summer season except for emergency and maintenance vehicles (no four-wheelers or dirt bikes).
However, the trail is open for cycling, hiking, and horseback riding. During the winter season, the Cataraqui Trail is used by cross-county skiers and snowmobilers.
Cycling the Trail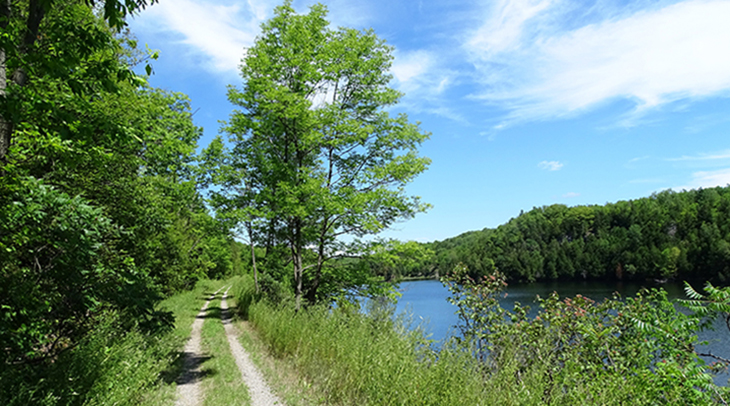 (Cataraqui Trail Near Chaffey's Locks)
This particular recreational trail is more rugged and remote than many I've previously visited. Some sections consist of crushed gravel or well-packed dirt, but other sections are more like a farmer's old laneway, with two tracks surrounded by tall weeds and grass.
I'd recommend using a fat tire or hybrid bike for this ride, and although I did this as a solo ride, I suggest traveling with someone – and carrying lots of water. Flat tires or mechanical problems could be a serious issue in some of the remote areas, and there are sections where cellular service is unreliable or non-existent (particularly between Chaffey's Lock and Perth Road Village).
Since this is an old rail line, you'll find the route to be relatively flat. If you decide to ride the entire trail, I'd begin in Strathcona and ride west, to have the wind at your back.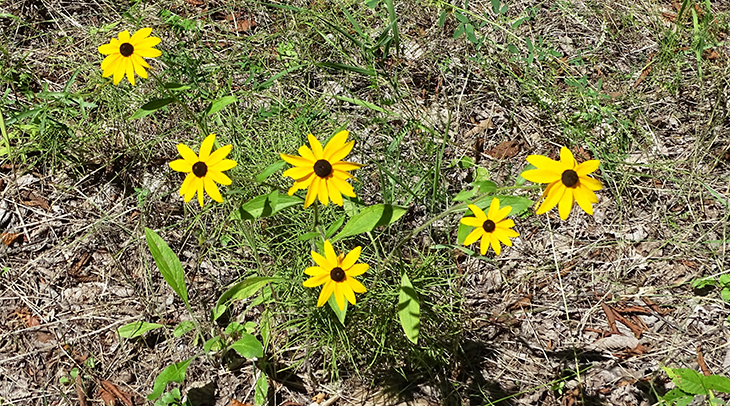 (Cataraqui Trail Wildflowers: Black-Eyed Susans)
If you decide to just ride a section of the trail, I'd especially recommend the 30 km portion between Sydenham and Chaffey's Lock, for I found it to be the most picturesque, with its marshland, limestone cliffs, plethora of lakes, and many colorful wildflowers.
If you're traveling as a pair, with two vehicles, one could be parked at the grocery store in Sydenham and the other could be parked near the intersection of Indian Lake Road and Opinicon Lake Road, about 1 km west of Chaffey's Lock. Then you could simply ride from point to point.
I'd also recommend heading east for about an extra 1 km to cross the old iron bridge at Chaffey's Lock, built for the rail line in 1912.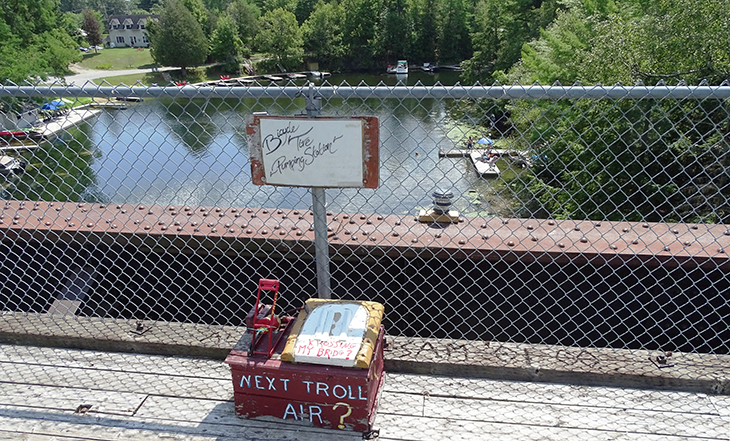 (Bicycle Tire Pumping Station)
It provides a great view of the area cottages, and you'll even find a Bicycle Tire Pumping Station in place on the centre of the bridge, supposedly compliments of the "Reformed Troll Living Under the Bridge".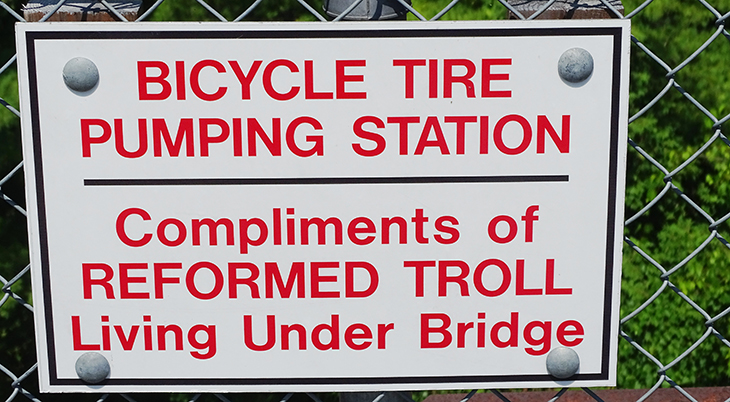 (Reformed Troll Living Under the Bridge Sign)
A slight detour from the actual trail will take you to Chaffey's Lock itself, on the Rideau Canal, where a hand-operated lock is still in use.
At the Beginning – Kilometre / Mile 0
The Cataraqui Trail begins in Smiths Falls at the end of Ferrara Drive, just south of Highway 15 (Lombard St.). Surprisingly, there was no large parking lot here for the trail user. I merely parked along the street. However, there was a large sign indicating that I was, indeed, at the beginning of the 104 km. recreational trail, and there was a a "0 km." sign posted nearby. This particular summer, there was also a sign posted about the reality of the Coronavirus – and that users were to keep a proper distance apart.
There was also a sign "Trail Rules" that included the designated hours of trail use: 7am to 9pm from Apr. 1 to Nov. 30; 7am to 11pm from Dec. 1 to Mar. 21. As I began my ride west, I found more km. markers along the route, and I soon passed a golf course and encountered farmland, wetlands, lakes, and wooded areas.
At Strathcona
The west end of the Cataraqui Trail is located near the Strathcona Paper factory, at the south end of Finlay Street. There's no large parking lot at this end either, but parking along the road is possible.
At Harrowsmith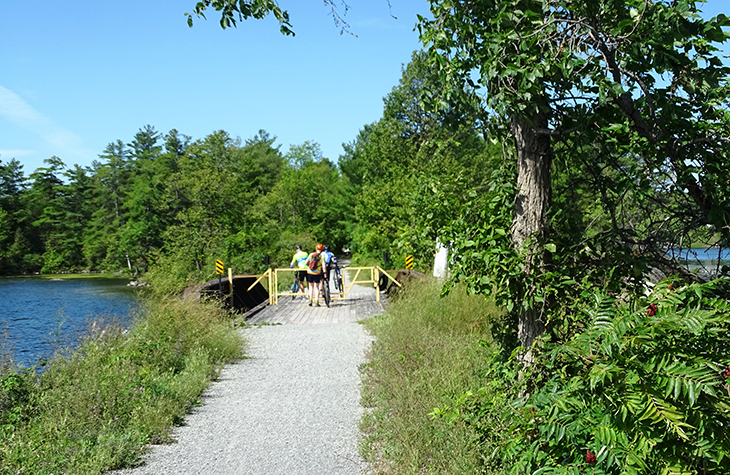 (Cyclists lift bicycles over a gate meant to deter vehicles, near Sydenham)
The section of the Cataraqui Trail from Harrowsmith to Smiths Falls is designated as part of the Trans Canada Trail. The Cataraqui Trail and the K&P Trail link together at Harrowsmith for a couple of kilometres; the latter trail, which runs along the old Kingston and Pembroke railroad bed, then runs north and south, between Kingston and Tichborne. There's a parking lot here and a map, so the cyclist or hiker can sample both routes from here.
My Ride
Back in the day when I was doing a lot of cycling, I could have biked the entire route in a day, but that certainly isn't the case in 2020. I'm now more interested in simply getting some exercise and exploring a new trail. Therefore, I was very pleased to ride a few kilometres out and back. Instead of doing the trail all at once, I was now content to do it in sections, over several cycling days. That being said, the end result was that I eventually rode the entire route this summer – in both directions – for I always had to return to my car after my ride.
I found that there were several convenient designated parking areas along the route, which made it easy to park and ride. I also downloaded and carried with me a one-page map marked with the Cataraqui Trail Access Points.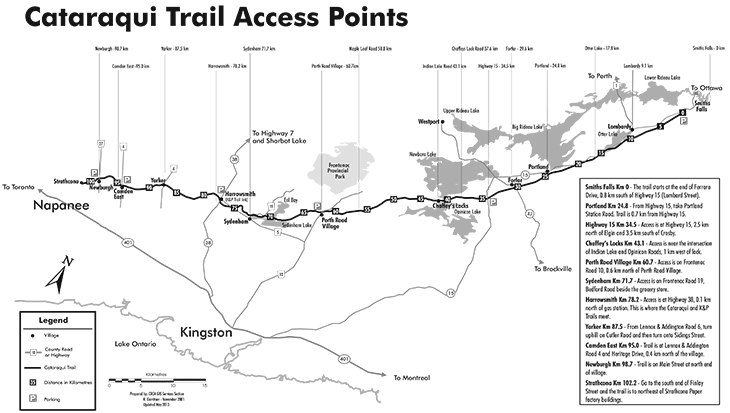 (Cataraqui Trail Access Points Map: www.cataraquitrail.ca)
Some particularly useful access points / parking lots are located at Camden East, Harrowsmith, Perth Road Village, and Highway 15 (near Elgin), and I used all of these.
An Autumn Challenge
If you're looking for a workout in the near future, try cycling the Cataraqui Trail, for the colourful autumn leaves will add to the ride – and the mosquitoes and blackflies will be less of a problem at that time of year. You might even see a deer or fox as you ride along.
*This article is for general informational purposes only. All photographs & text in this article are © 2020 John M. Smith. All rights reserved. Do not download or reproduce without written permission.*