Elvis in Memphis and Nashville - Graceland, Sun Studios & RCA Records
Fans who enjoy Elvis Presley's songs and movies can tour some of the places that were important in his personal history in Memphis and Nashville, Tennessee.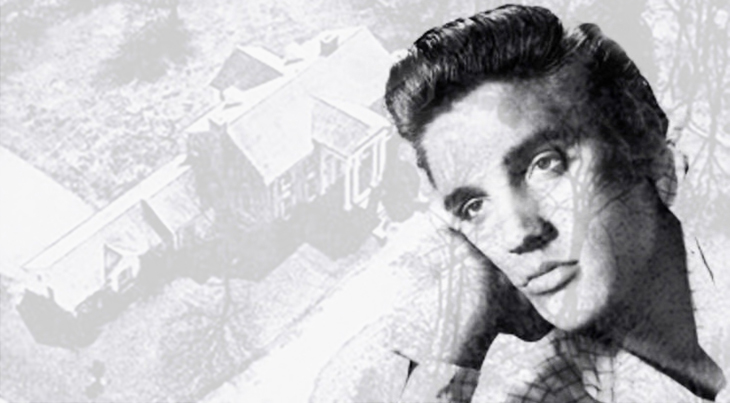 (Elvis Presley 1956 & Graceland 1957 Photo Blend: © 2021 A. Hamilton)
Graceland
Graceland today is known as Elvis' mansion where he lived with wife Priscilla and daughter Lisa Marie Presley, at 3764 Elvis Presley Boulevard in Memphis, Tennessee.
1800s Memphis printer Stephen C. Toof named the 13-acre property Graceland Farms and left it to his daughter Grace when he died in 1894. Ruth Moore and her husband Thomas Moore inherited it from her aunt Grace, and had architects Furbringer and Ehrman design a Colonial Revival mansion built 1939.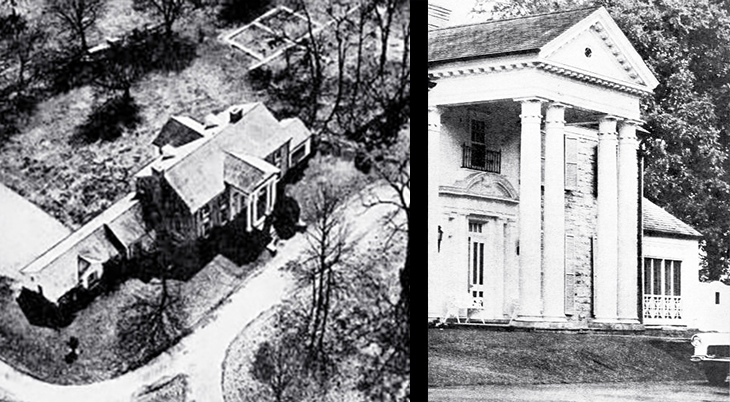 (Graceland 1957 & 1960)
Rock singer Elvis Presley bought Graceland in 1957 and lived there with his parents Gladys and Vernon Presley. After his mother died, Vernon remarried and soon moved with his new wife Dee to a nearby home.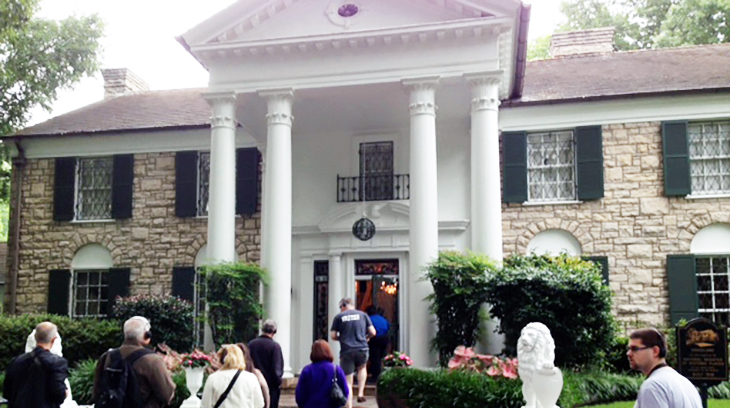 (Graceland 2015 Photo: © 2021 A. Hamilton)
The Graceland mansion seems small compared to today's megahouse standards, but the furnishings inside are exactly as they were when Elvis lived there – complete with olive green colour schemes.
Plastic covers all the furniture to preserve it's mint condition c. August 16, 1977 – the day that Elvis died at Graceland.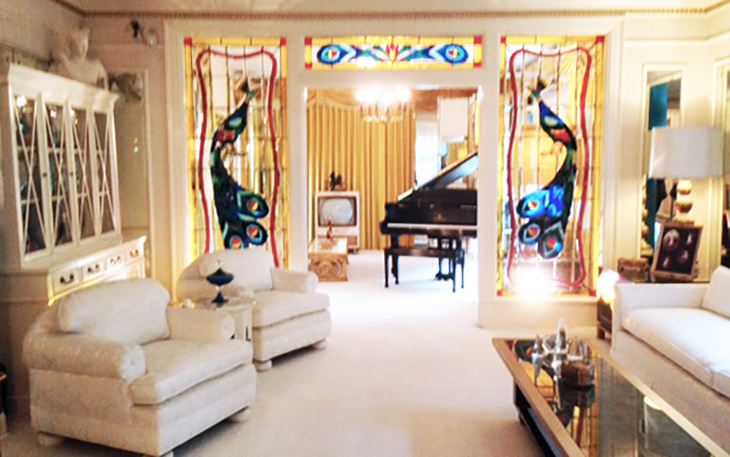 (Graceland 2015 Photo: © 2021 A. Hamilton)
Horses run in the paddocks on the property, as they did when Elvis Presley lived there.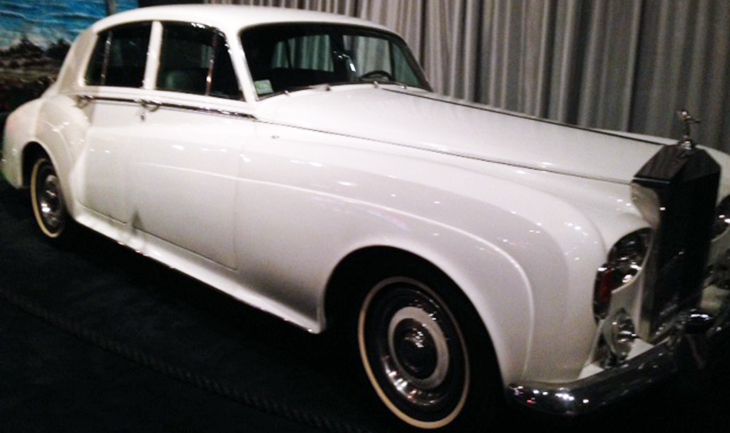 (Elvis Presley White Cadillac at Graceland 2015 Photo: © 2021 A. Hamilton)
Presley's private automobile collection and two airplanes are on display at Graceland and can be toured, along with other buildings on the property.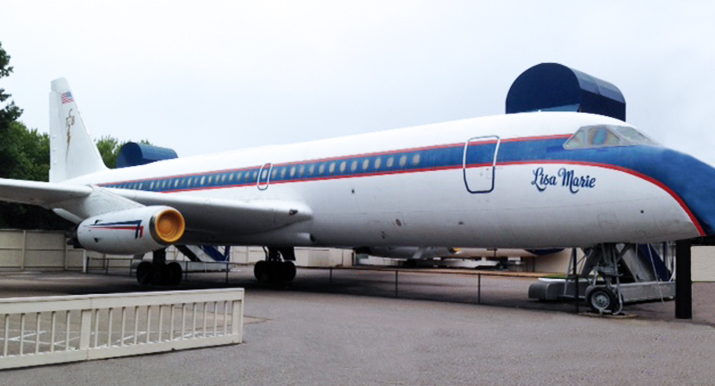 (Elvis Presley's Private Airplane "Lisa Marie" at Graceland 2015 Photo: © 2021 A. Hamilton)   
Elvis Presley's custom ironwork gates still guard the entrance to Graceland.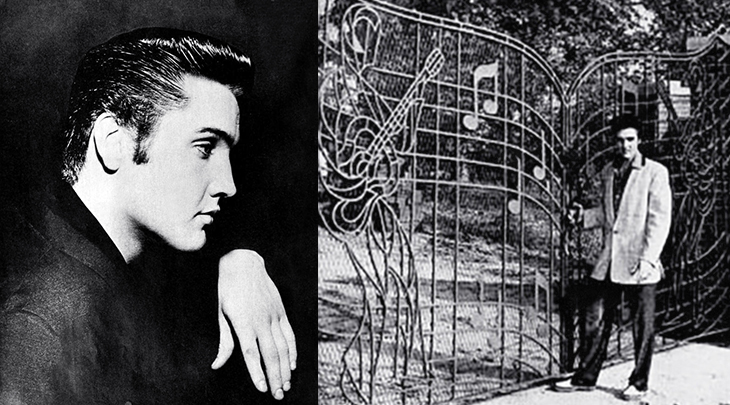 (Elvis Presley & Graceland's Music Themed Iron Gates 1957)   
Graceland's memorial Meditation Garden near the pool is where Elvis Presley, his grandmother, and parents Gladys and Vernon Presley, are buried.
Note: Some sources speculate that due to fears of vandalism and/or theft, their bodies were moved elsewhere on the grounds to a private location, and only their headstones/grave markers are in the Meditation Garden.
Sun Studios & Beale St. in Memphis
If you travel to Memphis, Tennessee then you should also check out Sun Studios (right), where Sam Phillips "discovered" Elvis Presley and recorded his first singles.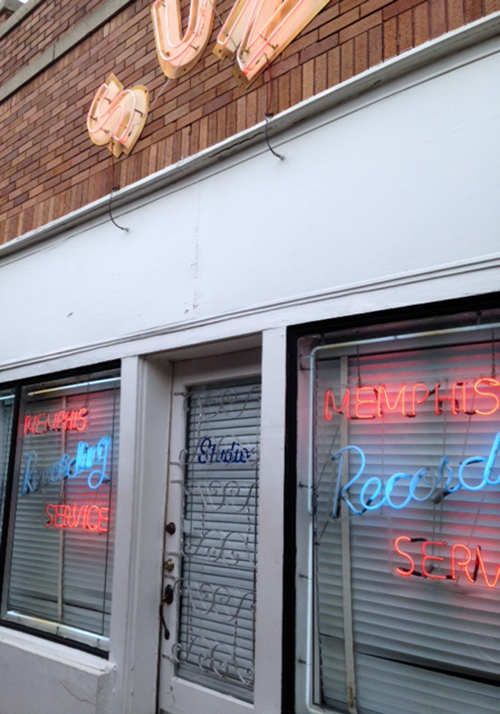 (Sun Records Studio 2015 Photo: © 2021 Anita Hamilton)
Actually it was Sam's secretary Marion Keisker that first heard and recorded Elvis, in the space Sam rented that was first called Memphis Recording Service and then Sun Records.
It took Marion a year to talk Sam into bringing Elvis back into the studio to record another song; the rest is history (that you can see and hear about on the guided tour of Sun Studios).
Sam Phillips also recorded rock and soul artists such as Howlin' Wolf, Jerry Lee Lewis, Roy Orbison, Johnny Cash, and Carl Perkins. Phillips caught lightning in a bottle at Sun Records with the "Million Dollar Quartet", a legendary recording of an informal jam session with Orbison, Cash, Perkins, and Presley in 1956.
A true rock 'n' roll pioneer, Phillips also launched the first all-female radio station in America in 1955 – WHER. With his family he owned other radio stations in Alabama and Florida.
After Sam sold Elvis Presley's contract to RCA, he invested the funds in the new motel chain Holiday Inn, and made a fortune with the franchise. He retired from recording artists and sold Sun Records to Shelby Singleton in 1969.
Sam Phillips was inducted into several notable Halls of Fame – Blues, Rockabilly, Country Music, and Rock and Roll Hall of Fame. He died in July 2003 
Today Sun Records in Memphis is a museum during the day, and a recording studio at night.
While in Memphis, be sure to also visit Beale St. where you can listen to live music (of all kinds) all day and evening in almost any bar or restaurant, including the great BB King's Blues club. When BB King died in 2015, his body was flown to Memphis and a brass band led his funeral procession down Beale St. Coincidentally, BB King's early recordings in LA starting (1949) were produced by Sam Phillips, before he started Sun Studios in Memphis.
RCA Records in Nashville
When Sam Phillips got pressed for money he "sold" Elvis' contract to RCA Records – the sum is disputed depending on which tour you take, but is estimated between $30,000-$40,000. Elvis would go on to accumulate almost 150 Billboard Hot 100 hit singles, 18 #1 songs, and U.S. sales in the neighborhood of $134 million.
Nashville, Tennessee is about a 3.5 hour drive from Memphis and deserves it's reputation as  "Music City".
In addition to visiting Broadway Street where you can listen to live music all day and evening, most bars and restaurants in Nashville will have live music acts at some point during the day. This is not counting the many concert halls where big name performers appear nightly.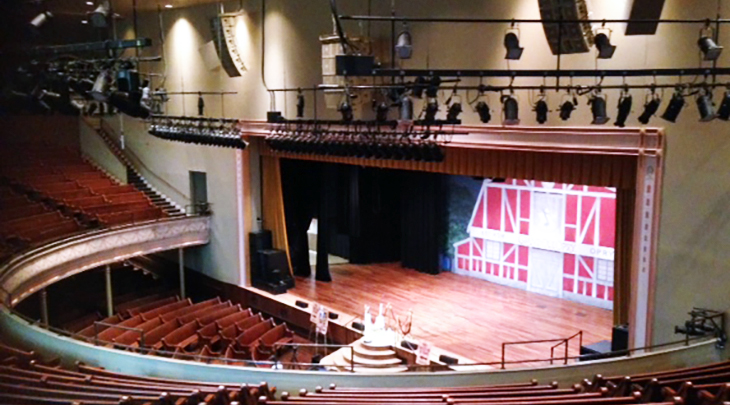 (Nashville's Grand Ole Opry House 2015 Photo: © 2021 A. Hamilton)
Visit the Country Music Hall of Fame and the original Grand Ole Opry house (above) where Elvis Presley performed once in 1954 – and was discouraged from returning.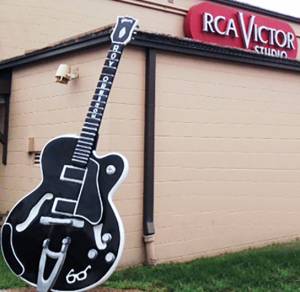 (RCA Studio B, Nashville 2015 Photo: © 2021 A. Hamilton)
A highlight will be a tour of RCA Studio B, where Elvis Presley and many other great artists recorded countless hit songs. The tour is dynamic, the acoustics are still amazing, and the space is preserved intact today. In fact, as with Sun Studios, Studio B is still used to record music after tour/museum hours.
Would Elvis Presley still be the legend he is today, if he hadn't died at such a young age? Or would his legend have faded as his abilities aged over time?
Hard to say now, but one thing is sure, the generations that remember seeing Elvis perform live on stage, in the movies or on television, are not his only fans today. Tours for Graceland, Sun Studios, and RCA Studio B are busy all day long with new and old fans of all ages.
More Elvis Presley
The Musical Legacy of Elvis Presley to 1956
Best of Elvis Presley 1957-1960
Elvis Presley The Music & Movies 1961 to 1967
Elvis Presley's I'll Be Home for Christmas
Note: This article was first published in 2015. It has been updated with new & additional content.
*Photographs & text in this article are © 2015 Anita Hamilton. All rights reserved. Do not download or reproduce without written permission.*