Elvis Presley: The Music & Movies 1961 to 1967
9 vintage music videos and Elvis Presley's story from 1961 to 1967:  Can't Help Falling in Love, Blue Hawaii, Good Luck Charm, Return to Sender, You're the Devil in Disguise, Bossa Nova Baby, Blue Christmas, Puppet on a String, Crying in the Chapel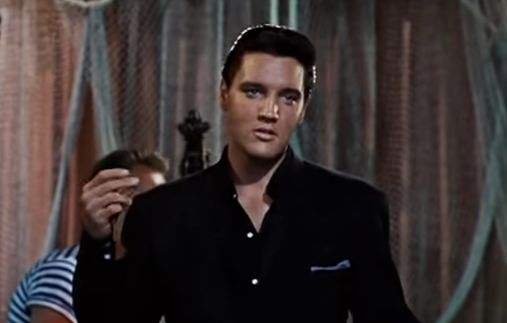 Elvis Presley in the movie Girls! Girls! Girls! (1962) (Photo: Youtube)
The single Flaming Star, the title track of Elvis Presley's 1960 movie of the same name, was a #14 US hit for him in 1961. The other movie Elvis had completed filming and recording tracks for in 1960 was the drama Wild in the Country (1961), which was released in June 1961. These were the last dramatic roles for Elvis Presley.
Filming and sound recording for the big budget musical romantic comedy Blue Hawaii (1961) began in March 1961 in Hawaii on the islands of Oahu and Kauai. Blue Hawaii was a #2 hit movie when it was released in November 1961. 26-year-old Elvis played rich boy tour operator Chadwick Hack, and 36-year old Angela Lansbury played his mother. Elvis's female lead/love interest in Blue Hawaii was Joan Blackman, in the first of two movies they would make together – they also co-starred in the Presley boxing movie Kid Galahad in 1962.
In the movie Blue Hawaii (1961), Elvis Presley sings his #2 hit single, Can't Help Falling in Love (1961), written by Hugh Peretti, Luigi Creatore, and George David Weiss. The soundtrack from the movie Blue Hawaii went to #1 on the Billboard Pop Album charts for 20 weeks, and was nominated for a 1961 Grammy for Best Sound Track  Album or Recording of Original Cast from a Motion Picture or Television. 
Presley began filming the movie Follow That Dream on location in Florida during the summer of 1961. Florida native and future recording artist Tom Petty remembers meeting Elvis on the set when he was a child, and being inspired to become a rock and roll singer. The movie Follow That Dream was released the following year, in April 1962. In the film, Elvis croons Angel to Anne Helm.
Elvis Presley's hit single Good Luck Charm (1962) written by Aaron Schroeder & Wally Gold. was released in February 1962 and made it to #1.
In the summer of 1963 Elvis arranged for his 17-year-old girlfriend Priscilla Beaulieu to visit him in Los Angeles without her parents. The couple went to Las Vegas, where Priscilla resorted took amphetamines and sleeping pills, as Elvis did. She returned to visit him at Graceland in December of that year.
Return to Sender (1962) written by Winfield Scott & Otis Blackwell, was a #2 hit single when Elvis Presley's recording was released in September 1962. Below, Elvis Presley performing Return to Sender in his second of three movies set in Hawaii, 1962's Girls! Girls! Girls!
In January 1963, Priscilla Beaulieu persuaded her parents to let her move into Presley's Graceland home in Memphis, Tennessee to finish high school. In her autobiography Elvis and Me (1985), Priscilla recounted how Elvis Presley schooled her in everything – from hair, makeup, clothing, and walking. The schooling continued in the bedroom, with role-playing in sex fantasies, without "consummating our love in the usual way"; Elvis refused to have intercourse with her, wanting to save it for their wedding night. He also refused to take Priscilla with him when he went to California to film, telling her he was too busy and she had to stay in Memphis; in reality, he was engaging in affairs with many of his co-stars.
(You're The) Devil in Disguise (1963) was written by Bill Giant, Bernie Baum, Florence Kaye. When Elvis Presley recorded and released the song in June 1963, it went to #3 in the US (#1 in the UK). Below, Elvis singing (You're The) Devil in Disguise over a montage of his movie clips.
The movie musical It Happened at the World's Fair (1963) featured Elvis Presley, Joan O'Brien as his female lead. Child actor Kurt Russell appears in one of his first big-screen movies. The city of Seattle, Washington and it's 1962 World's Fair were showcased in the movie.
Filming for the musical comedy Fun in Acapulco began on location in January 1963 in Acapulco, Mexico – but Elvis Presley wasn't there. Presley's songs had previously been banned from radio in Mexico when riots broke out, and he had to film all his scenes at the Paramount studios in California. His female leads in Fun in Acapulco were former Bond Girl Ursula Andress, and Elsa Cárdenas. Fun in Acapulco was released in November 1963, and the song Bossa Nova Baby (1963) written by Jerry Leiber and Mike Stoller, was a #8 hit single for Elvis. Below, Elvis Presley sings Bossa Nova Baby in a scene from his movie Fun in Acapulco (1963).
The movie Kissin' Cousins was also filmed in 1963 and featured Elvis in a dual role as "twin" cousins – dark-haired Air Force lieutenant Josh Morgan, and blond-haired hillbilly Jodie Tatum. Kissin' Cousins was released in March 1964 and title track single Kissin' Cousins made it to #12 on the Billboard charts.
Presley's third movie filmed in 1963 was Viva Las Vegas, which saw Elvis Presley paired with bombshell Ann-Margret, the "female Elvis". Their on-screen chemistry and romance was mirrored off-screen during filming and after. Elvis refused to let Priscilla Beaulieu come visit him in Los Angeles, so she wouldn't see the newspaper accounts about his affair with Ann-Margret. Despite this attempt to block the publicity from reaching her in Graceland, Priscilla did find out and braced him with it; Presley denied it, and his affair with Ann-Margret ended after British gossip columnists reported they were engaged. 
Viva Las Vegas was a box office success when it was released in 1964, and received critical acclaim (Laurel Awards), including Elvis Presley's performance. The singles from the movie, including the title track Viva Las Vegas, stalled in the Top 30.  
Roustabout (1964)  featured veteran actress Barbara Stanwyck as carnival owner Maggie Morgan, and actress Joan Freeman as love interest Cathy Lean. Both actresses Teri Garr and Raquel Welch are both "College Girls" in Roustabout. The movie was released in November 1964 and made it to #8 at the box office in 1964.
Elvis Presley's recording of Blue Christmas (1964), written by Billy Hayes and Jay W. Johnson, went to #1 on the Billboard Christmas Chart that year. The song had been included on Elvis' Christmas Album (1957), but wasn't released as a single until 1964. Below, Elvis Presley sings his classic Christmas song, Blue Christmas, during his televised 1968 Comeback Special; he's joined by country singer Martina McBride.
Elvis continued filming movies at the rate of 3 a year through the 1960's. The musical romantic comedy Girl Happy (1965) was the first of three Elvis Presley movies with Shelley Fabares as his love interest. Bing Crosby's son Gary Crosby had a role in the movie as a member of Presley's band, and actress Mary Ann Mobley also appeared in Girl Happy. Mobley would co-star with Elvis again in another movie that year, Harum Scarum (1965). Although Girl Happy is set in Fort Lauderdale, Florida, it was filmed in California at the MGM studios, with some beach scenes done on location elsewhere in California. Released in April 1965, the movie won recognition as one of the top musicals in 1965. The film's single Puppet on a String made it to #14 on the Hot 100 charts. B
When the IRS came after Elvis, Colonel Tom Parker arranged for him to star in the movie Tickle Me (1965) to pay his debts. Filmed in just 23 days, Tickle Me saw Elvis appearing as a rodeo star, and made much-needed money at the box office for both Presley and the studio when released in June 1965.
The song Crying in the Chapel (1965) was originally written by Artie Glenn in 1953 for his son Darrell Glenn, who had a hit with it that year. It had been recorded by many other artists before Elvis Presley covered it in 1960. Presley's recording of Crying in the Chapel was not released as a single until April, 1965, where it went to #3 on the Billboard Hot 100 charts.
The movie Frankie and Johnny (1965) saw The Beverly Hillbillies star Donna Douglas (Elly May Clampett). The movie was shot on location in New Orleans and in Hollywood; the filming budget for Frankie and Johnny was almost double the box office proceeds. Once again the movie was critically panned.
The musical comedy Paradise, Hawaiian Style (1966) featured Elvis Presley as helicopter pilot Rick Richards, Suzanna Leigh as the female lead Judy Hudson, and James Shigeta as Presley's on-screen buddy Danny Kohanna.
Spinout (1966) was Shelley Fabares' second Elvis Presley film, and Gidget Goes Hawaiian (1961) star Deborah Walley was another female lead. Spinout was one of the few Elvis films where he remained happily single at the end of the move.
Elvis Presley's biggest hit single that year was the song If Every Day Was Like Christmas (1966), which made it to #2 on the Billboard Christmas chart. Under pressure from Priscilla Beaulieu, her father, and Colonel Tom Parker, Elvis gave Priscilla a diamond ring that December.
Elvis Presley (age 32) married 21-year-old Priscilla Beaulieu on May 1, 1967 wedding in Las Vegas; and Priscilla immediately got pregnant. 
The musical comedy Easy Come, Easy Go (1967) was originally intended as a vehicle for recording stars Jan and Dean, but after Jan Berry and some of the film crew were in a train wreck in 1965, the movie was put on the shelf. Easy Come, Easy Go was the last Elvis Presley movie that Hal Wallis produced, and when the finished product was released in March 1967, it was not a financial success.
Another Elvis Presley movie – a musical crime caper comedy Double Trouble, was released a few weeks later in April 1967, and also did poorly at the box office.
With the movie Clambake (1967), Elvis was paired again with Shelley Fabares as his love interest and Bill Bixby as his romantic rival. Actress Teri Garr appeared as a dancer in Clambake, her second Elvis Presley film. Clambake seems to have been an unfortunate experience for Presley; after filming began in March 1967, he suffered a concussion when he fell and hit his head at the home he was living in; he was ordered to lose 30 lbs (excessive weight he'd gained due to depression over the declining quality of his movies) and began adding diet pills into his daily medical cocktail. After Clambake's October 1967 release the critics panned the movie, although it did reach #15 on the box office charts.
Presley's biggest hit single in 1967 was Indescribably Blue (1967), which only made it to #33. Elvis was more than ready for a comeback.
More Elvis Presley:
The Musical Legacy of Elvis Presley to 1956
Best of Elvis Presley: 1957-1960
Elvis Presley's I'll Be Home for Christmas
Elvis in Memphis and Nashville: Graceland, Sun Studios, RCA Records