Making "This is Francis X. Bushman"
In 1972, 13-year-old Lon Davis met 78-year-old former silent film star Beverly Bayne (ex-wife of early movie idol Francis X. Bushman), and an unlikely friendship ensued. Bayne was vitriolic on the subject of her "terrible" ex-husband, rousing Lon's curiosity to find out more about the man.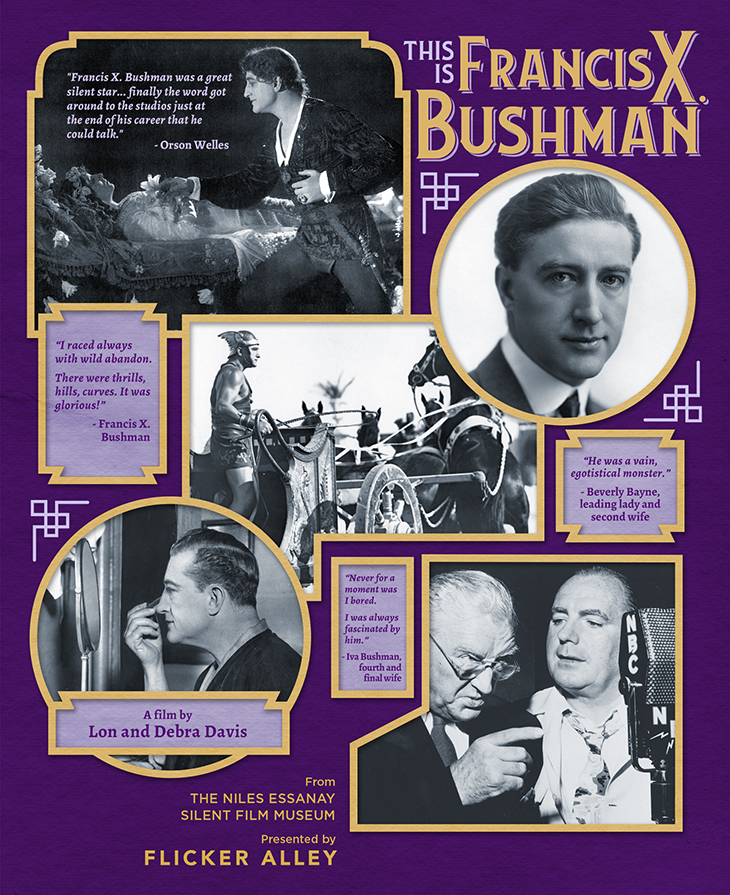 (This is Francis X Bushman Poster: © Lon Davis & Debra Davis)
Fast forward to 1978. Silent film buff Lon is now in college, and meets fellow student Debra LaCoe.
"When Deb and I had our first official date in 1978, we bonded over two topics: animals, and film. We were each a big fan of both. Two years into our relationship, we decided to collaborate on a biography of Francis X. Bushman."
Over the next two years, they dive into research – at the Library of Congress in Washington, D.C., the University of California at San Diego's microfilm archives, and at Metro-Goldwyn-Mayer's Culver City studios, for exclusive viewings of Bushman's few surviving films. 
Perhaps more importantly, they connect with Bushman's fourth wife and his surviving widow, Iva Richardson Bushman. Iva idolized her spouse and wanted the world to know what a great man he was…
Between 1912-1918, Francis X. Bushman and his Essanay/Metro co-star Beverly Bayne had been the silent movie equivalent of "Brangelina" (Brad Pitt and Angelina Jolie). Their marriage ended in 1926 when Beverly sued him for divorce on the grounds of desertion, and they never saw each other again.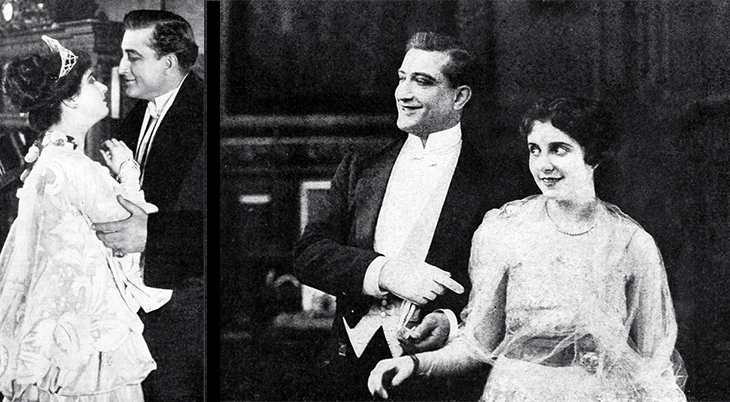 (Bushman & Bayne: 1916 A Million a Minute | 1918 A Pair of Cupids)
When Lon Davis met Bayne almost 50 years later, Beverly still had nothing good to say about Francis; while Iva thought he was the greatest thing since sliced bread. A slight difference of opinion. 
Lon and Debra LaCoe began collaborating their research efforts on a book about Bushman. In addition to Beverly Bayne's recollections shared with Davis, Debra Lacoe purchased a collection of Bayne's memorabilia.
"Iva, a flamboyant and outspoken lady in her eighties, lived at 740 Hartzell Street, Pacific Palisades – the exact address at which Bushman had been living when the two first met in 1956…in her dusty, crowded unattached garage were stacks of photographs, scripts, annotated notes, and reel upon reel of half-inch audio tape containing hours of her late husband's colorfully told anecdotes." – Behind the Throne of King of the Movies: Francis X. Bushman, by Lon Davis 
Between Iva and Beverly, Debra and Lon have had unprecedented access to the memories and personal archives (photographs, memoirs, audio recordings, etc.) of Francis X. Bushman, of these two women who knew the man intimately for many years, at different stages of his life.
Their book is completed by 1983, but no publisher can be found…it languishes on the shelf for 35 years.
Meanwhile, Debra and Lon have fallen in love while working on their Bushman biography, and they get married in 1984. Over the next three decades they each work in different fields, and continue to indulge their love of research and silent films. 
What happened between that initial meeting in 1972 and the making of a documentary almost 50 years later? Aside from the huge task of tracking down the few surviving Bushman films in archives around the world, there were numerous other obstacles to overcome.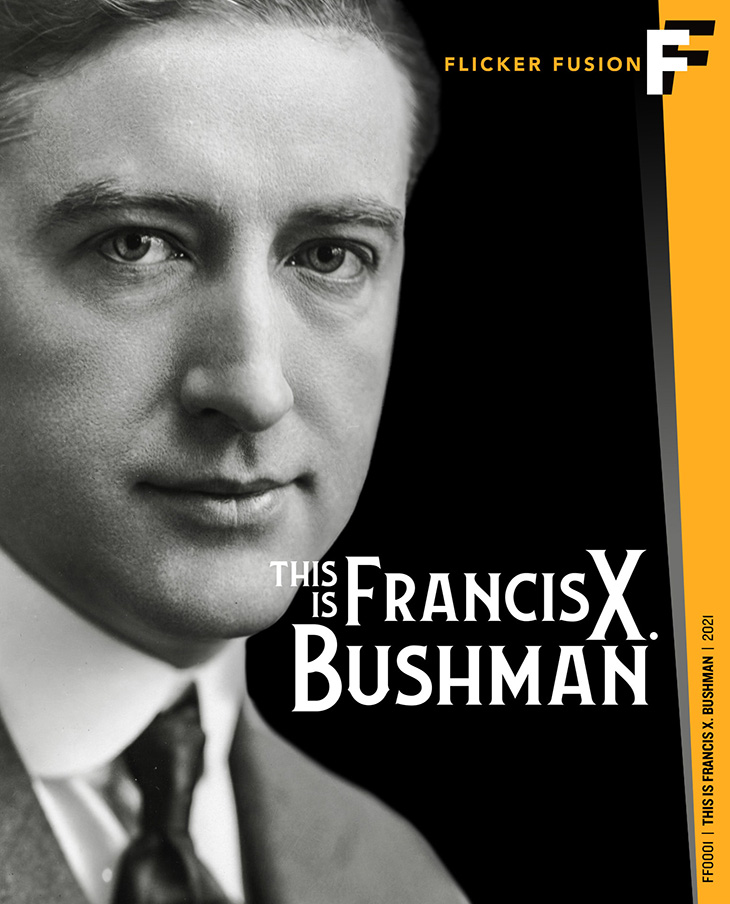 (This is Francis X Bushman Flicker Fusion DVD Cover: © Lon Davis & Debra Davis)
Debra and Lon Davis' biography King of the Moves: Francis X. Bushman was finally published in 2009 by BearManor Media, and their documentary This is Francis X. Bushman, will premiere at Cinecon and on Turner Classic Movies' Silent Sunday Nights! in the fall of 2021.
I recently asked Debra and Lon to fill in the blanks…
August 2021 Q & A with Debra and Lon Davis
Q. How/when did each of you first become interested in silent movies? And in researching and writing about silent films/stars?
"To begin with, Deb and I were both brought up on silent films. Deb's dad, for instance, used to rent 16mm prints of classic silents and show them at family parties. My father, a professional photographer, spent a lot of time in camera shops — and he would insist that I accompany him. In the 1960s it was common for camera stores to stock 8mm clips of silent films, including Felix the Cat, the Keystone Cops, Laurel and Hardy, and Charlie Chaplin. Known as 'Kiddie Films', those colorful boxes saved me from supreme boredom. It also started my avocation as a film collector.
Because my great-uncle, Ted Edlin, had been an extra in hundreds of Hollywood films (beginning in 1915), I began corresponding with him (I was then living in Phoenix, Arizona; he was a longtime patient at the Motion Picture and Television Country House and Hospital in Woodland Hills, California). During family trips to California, we would make a point of stopping by to visit Uncle Ted. Unfortunately, he was a deeply depressed man with little to say.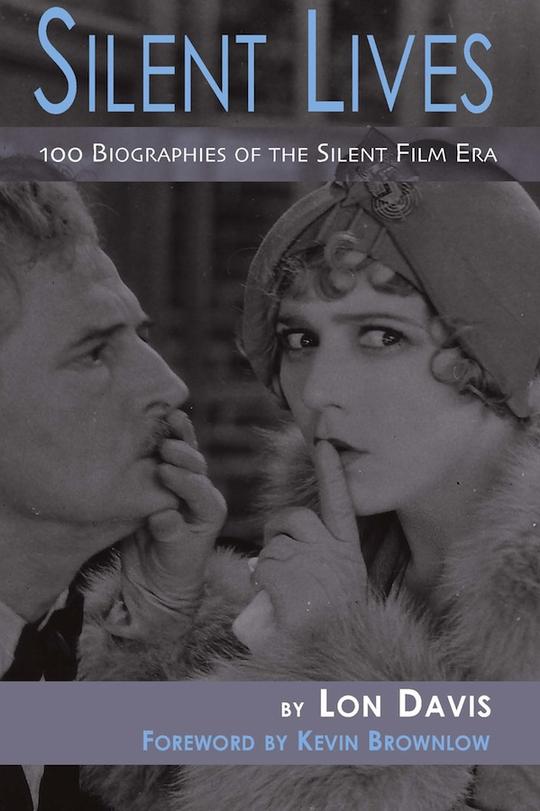 (Silent Lives Cover: © Lon Davis & Debra Davis)
Instead of staying with him during my allotted time on the campus, I would go from room to room of the hospital, talking with the elderly residents about their particular contribution to the motion picture industry. Whether they were stills photographers, makeup artists, or secretaries, they each had something to say. I was learning film history by those who had made it. What I didn't glean from my interviews I found in the many film books in the local library.
Beginning at age ten, I showed silent films to my classmates during school hours. My instructors were grateful not to have to teach for an hour or so. It was a long process to writing my first book, Silent Lives: 100 Biographies of the Silent Film Era. You can read about it at Giving Birth to Silent Lives."
Q: What approach do you take when co-writing a book?
"For our first book, King of the Movies, we wrote in tandem. Although the results were said to be highly effective, it was not an approach that worked for us in the long run: it's a bit like two people standing in the exact spot. Since then, one of us will take a first draft, and the other will do a rewrite."
Q: What was the impetus to make a documentary?
"In addition to documenting Mr. Bushman's life in book form, we were determined to preserve and restore his few surviving silent films. We also had a lot of additional material, including audio tapes, photographs, etc. Another goal was to have some of his few surviving silent films preserved and restored. We did this by working in tandem with such archives as the Library of Congress in Washington, D.C., the Eye Institute in the Netherlands, the British Film Institute in London, and La Cineteca del Friuli in Italy. The Niles Essanay Silent Film Museum, with its vast archive of silent films, contributed some valuable footage as well. At one point we realized we had enough material to assemble an hour-long retrospective on one of cinema's first multi-media stars.
Q: Are there any documentaries you saw that inspired you to attempt this yourself? Did you have any mentors/guidance helping you along the path to creating/producing the documentary?
"The most comprehensive documentary on the subject is Hollywood: A Celebration of The American Silent Film, a thirteen-part series originally broadcast on PBS in 1980. The series co-producers, Kevin Brownlow and David Gill, had traveled from London, England, to Los Angeles to film interviews with the surviving actors, directors, stunt men, and technicians of the silent era.
I was mesmerized by this fine series, just as I was by Brownlow and Gill's subsequent documentaries on Charlie Chaplin, Harold Lloyd, Buster Keaton, and D.W. Griffith. When I began work on my book Silent Lives: 100 Biographies of the Silent Film Era, Kevin Brownlow acted as an advisor on the project; he also generously provided the book's insightful foreword. For twenty years Kevin and I have maintained a steady correspondence, and he is always willing to share the wisdom and knowledge he has gained throughout his remarkable career.
Throughout the production of our Bushman documentary, Kevin Brownlow came through time and again for us, from critiquing the script to using his considerable influence in the silent film community to help us procure ultra-rare (and vigorously protected) Bushman footage from the European archives."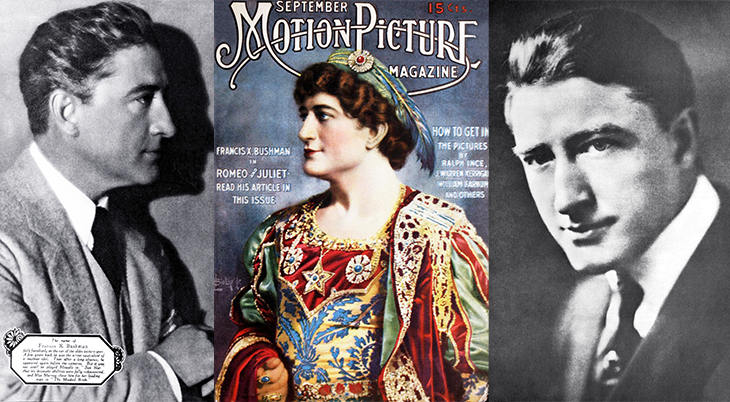 (Francis X. Bushman c. 1928 | 1916 Portrait: Leo Sielke Jr. | 1910s)
Q: You started to write the Francis X. Bushman book in the 1980s, and it was published in 2009…how long has the documentary been in the works?
"In truth, we only spent about two years researching and writing the book. It sat on a shelf in our office for thirty years before we found a willing publisher. (Please see the article, Behind the Throne of King of the Movies). We first conceived of the documentary in 2018. The year before I had been diagnosed with a rare form of neck cancer. Although I successfully beat it (through surgery and radiation), it made me realize that if I desired to accomplish a specific task, there was no time like the glorious present. Debra, being the perfect partner for me for more than forty years, was completely supportive of the endeavor from the outset. There followed some additional challenges: in 2019, I underwent a quadruple bypass, and in 2020, of course, Covid-19 reared its ugly head, although Deb and I were both spared, thank God. Nevertheless, the pandemic brought our dealings with the archives and other contributors to a sudden, and prolonged, halt."
Q: Who/What was the first person/organization to express interest in airing or distribution of the documentary?
"That would be the Niles Essanay Silent Film Museum in Fremont, California, a non-profit (501c3) establishment. The museum is on the site of one of the earliest West Coast movie studios. Broncho Billy Anderson (the screen's first cowboy star) made hundreds of short westerns there, beginning in 1912. Charlie Chaplin was signed by the studio a few years later, and became the most famous, most highly paid comedy star in the world.
Currently, the museum's staff is working to restore the on-site nickelodeon that dates to 1913. Before the pandemic, this little theater was the only location in the world where silent films were shown on a regular basis. Their archive holds something like 30,000 film prints, in both 16mm and 35 mm.
David Kiehn, the museum's resident historian, was excited when I told him that we were planning to do a documentary on one of Essanay's most important stars. He suggested that the museum produce the film, covering the cost of the digital transfers and other expenses. He also volunteered the services of the museum's highly skilled editor Zack Sutherland. Niles had only recently purchased state-of-the-art editing software called Final Cut and Davinci Resolve; their digital restoration software is called Diamant.
Q: What's the starting point for creating a documentary, i.e., drafting a timeline / storyline? Or trying to put together an archive of material and then sorting out the best bits?
"In our case, it started with the film clips. Because there would be no "talking heads", we were able to draft an entire script. Separately listed was every image, every clip, every audio entry we planned on using to illustrate each point in our film."
Q: Did you work with a group of individual freelancers (cameramen, film editors, etc.), or with an established film/production crew(s), to put the documentary together?
"In addition to having Zack at the control panel, we benefitted from the transfer services of Blackhawk Films in Los Angeles. We were especially fortunate to have Nate Sutton on our team; he's an editor for the Los Angeles-based film distributor Flicker Alley. Jeffrey Masino, Flicker Alley's CEO, has guided the company, earning a vaunted reputation for their stunning restorations of European and American silent films. From the outset, Flicker Alley was the outfit I wanted to distribute our film."
Q: Will you / Debra be appearing in the documentary yourselves?
"Not in the documentary, per se, but in the Blu-ray's bonus features. Specifically, there is a seven-minute-long introduction to the film that was shot by my good friend, news videographer Barry Thompson. While overlooking the rugged Willamette River in Eugene, Oregon, I talk about my fifty-year fascination for Francis X. Bushman."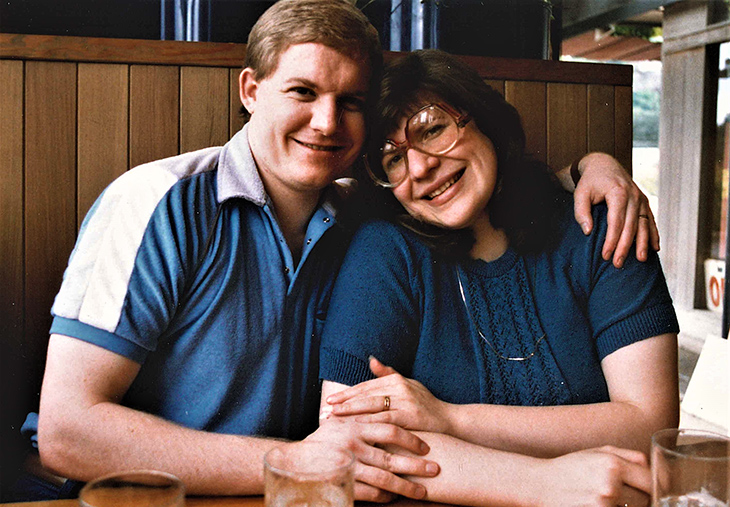 (Lon Davis & Debra LaCoe c. early 1980s Photo: © Lon Davis)
Q: What Bushman family members can we expect to see being interviewed in the documentary, if any?
"Francis X.'s only living grandson, Chris Bushman, who is an Academy Award-winning film technician, is the documentary's narrator. Also providing first-hand commentary is Francis X. Bushman himself! This was made possible by Iva's supplying us with several hours of a taped interview, made in the couple's living room in 1957.
The tapes have since been meticulously remastered for optimal sound quality. We are also fortunate to have obtained the service of Frederick Hodges, a world-renowned concert pianist who has personally scored numerous silent films. His playing blended perfectly with violin virtuoso Richard Cohn. Because of the pandemic, these two skillful musicians had to record their duets  separately. The results are authentic – and beautiful!"
Q. Whatever happened to Beverly Bayne after she married to Charles T. Hvass in 1937, and what became of the Romeo and Juliet film she co-starred in with Francis? 
"Apparently, his [Hvass'] income was such that Beverly stopped seeking out stage roles, She devoted her time to community projects and made some appearances on New York radio, offering beauty tips to listeners. With the United States' involvement in World War II, Beverly worked diligently on fundraising events for the American Theatre Wing.
When asked about the state of her marriage, she said that it was an even bigger mistake than marrying Mr. Bushman (which is how she always curtly referred to him). They received their divorce papers in Reno, Nevada, in November 1944. Mr. Hvass died in 1953.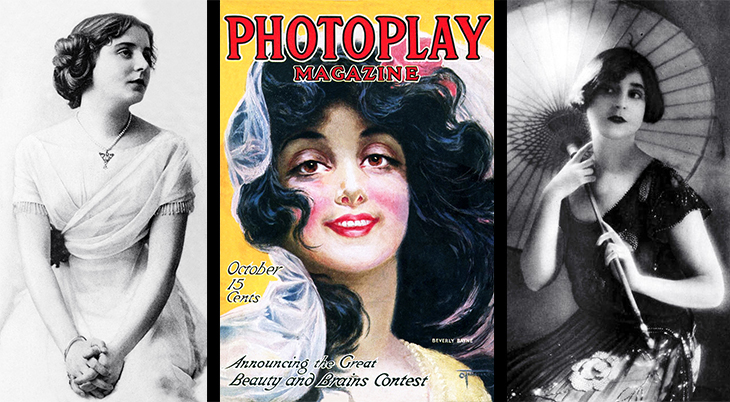 (Beverly Bayne 1912: Essanay | 1915: Photoplay | 1924: Hoover)
Beverly experienced many tragedies in her life, the greatest of which was the 1967 suicide of her only son, Richard Stansbury Bayne (he had changed his last name from Bushman in deference to his mother in 1942).
Note: There are several anecdotes about Richard Bayne in the Lon and Debra Davis biography, King of the Movies: Francis X. Bushman. Richard was 47 when he died by suicide,  the year after his father passed away.
Of her professional life, one of her sorrows involved the irrevocable loss of her greatest motion picture, Romeo and Juliet (Metro, 1916). Like almost eighty percent of all silent films, the film crumbled into dust due to nitrate decomposition. She kept a photo album of original stills from that picture, as well as the cloak she had worn as Juliet. With barely an encouragement, she would don the cloak and recite (beautifully) the balcony soliloquy. Beverly intentionally never saw another version of Shakespeare's tragedy; she said she didn't wish to spoil her memories."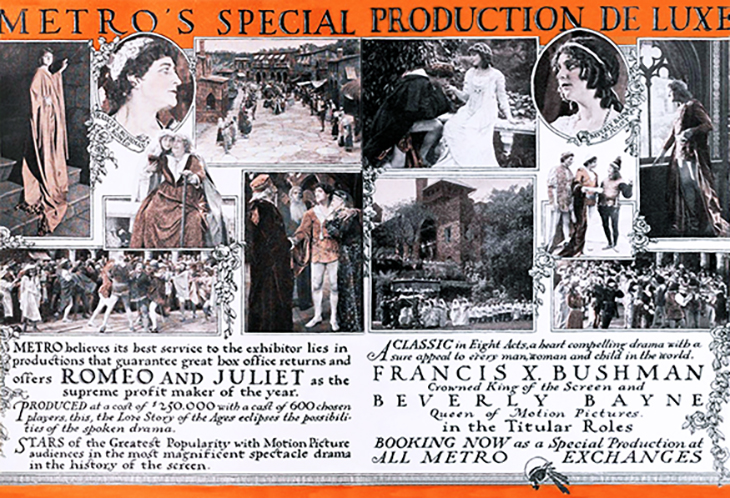 (Beverly Bayne, Francis X. Bushman 1916 Romeo and Juliet Ad: Metro Pictures)
Q: This is Francis X. Bushman, will premiere at Cinecon and on Turner Classic Movies in the fall of 2021. Are you/Debra working on any other projects now / what's next for you after the documentary airs on TCM?
"Our next book will be a biography of the delightful character actor Edward Everett Horton. All of our books are published by BearManor Media. The company's founder and owner, Ben Ohmart, is passionate about publishing books on forgotten members of the entertainment business. He also gives us full control over the editing and design of our books. (We come by our skills honestly: Deb and I have personally edited hundreds of academic books on the performing arts).
This is Francis X. Bushman Documentary Trailer
Take a sneak peek at the documentary, below.
Order the Blu-Ray at Flicker Alley. 
Related Articles, Books & DVD's by Debra and Lon Davis