Silent Film Idol Francis X. Bushman
Before Francis X. Bushman achieved fame as a silent movie star billed as "The Handsomest Man in the World", he had already won a measure of success as a nude artist's model and a wrestler. He went on to star in Romeo and Juliet, and drove a four-horse chariot to perfection as Messala in Ben-Hur.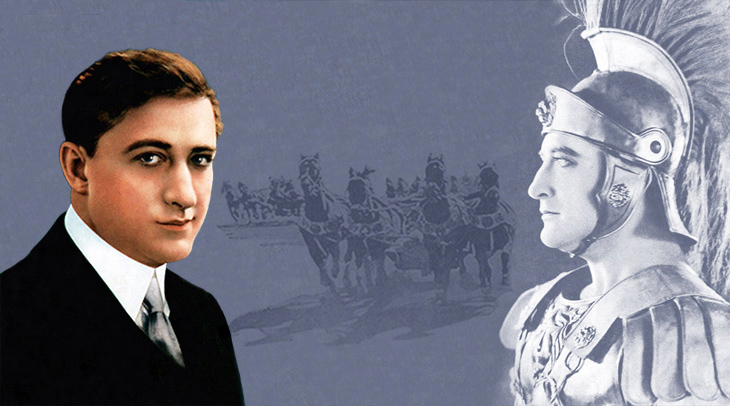 (Francis X. Bushman 1917: Leo Sielke Jr. | 1925: Olmstead Key | Photoblend: © 2021 A. Hamilton)
A Beautiful Baby Grows Up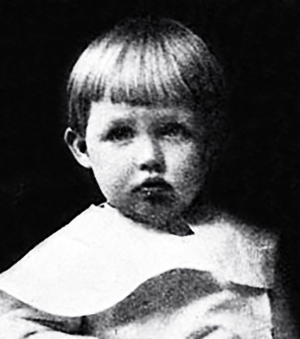 (Francis X. Bushman c. 1883-84)
Born on January 10, 1883 in Baltimore, Maryland to parents John and Mary (nee Norbeck) Bushman, Francis Xavier Bushman was the 9th of 12 children (4 sisters and 7 brothers). From an early age his mother impressed upon him that he should strive for achievement, and his good looks were praised. His older sister Bernie would walk him around the neighborhood to garner attention.
"My people left my curls on because I was so beautiful and everyone raved over me." Francis X. Bushman, King of the Movies: Francis X. Bushman (2009), by Lon and Debra Davis.
Young Francis had loved animals, reptiles, insects, and birds of all kinds, and became a collectors. He funded the feeding of his huge menagerie by running errands for neighbors, and scavenging for food scraps from Baltimore's Lafayette Market merchants.
By the age of 13, Francis X. Bushman stood 5 feet 10 inches and was a veteran of drinking, smoking, and neighborhood battles. He and his pals would get into fights with other neighborhood gangs.
"And…because I was a beautiful baby and a beautiful child, they said I looked like a girl – and then I'd fight again!" – Francis X. Bushman, King of the Movies: Francis X. Bushman (2009), by Lon and Debra Davis.
He'd also already made his stage debut – at the age of 9 – and had been firmly bitten by the acting bug. Francis would sneak out of the house at night to head for the local theatres and try to get work as an extra on stage. His adventures also included running away from home to join a circus, and running away to sea. 
Francis got 37 clerical jobs in quick succession, and hated them all.  Fueled by his mother's mantra of achievement and the established knowledge of his superior "beauty", he wanted to be a hero and achieve greatness on stage.
Becoming convinced that his slim frame was holding him back from acting success, he began a fitness regimen of diet, exercise, and weightlifting – inspired by "physical culture" early exercise guru Bernarr MacFadden (founder of MacFadden Publishing).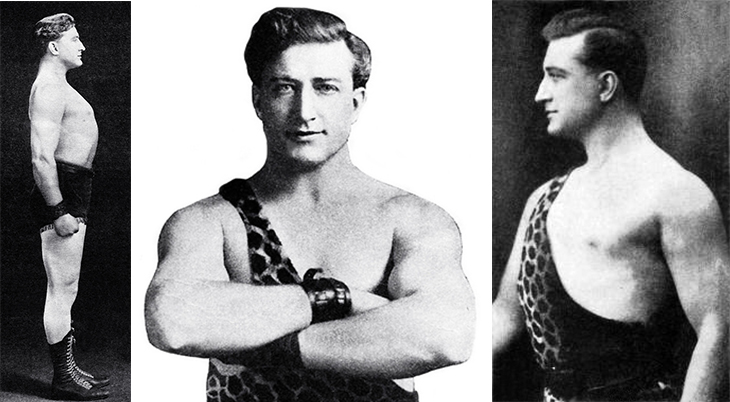 (Francis X. Bushman, Strongman / Wrestler 1915 Photos: Photoplay)
Bushman was soon winning strongman competitions and wrestling matches against older, bigger men. At 18 years of age, he was a nude model for Baltimore art students. All while working at a jewelry store and finding parts in plays when he could.
Josephine and Family
Francis Xavier Bushman married department store dress designer Josephine Fladune on June 2, 1902. The groom was 19 years old, and his bride had been touted by the Governor as "Maryland's fairest daughter."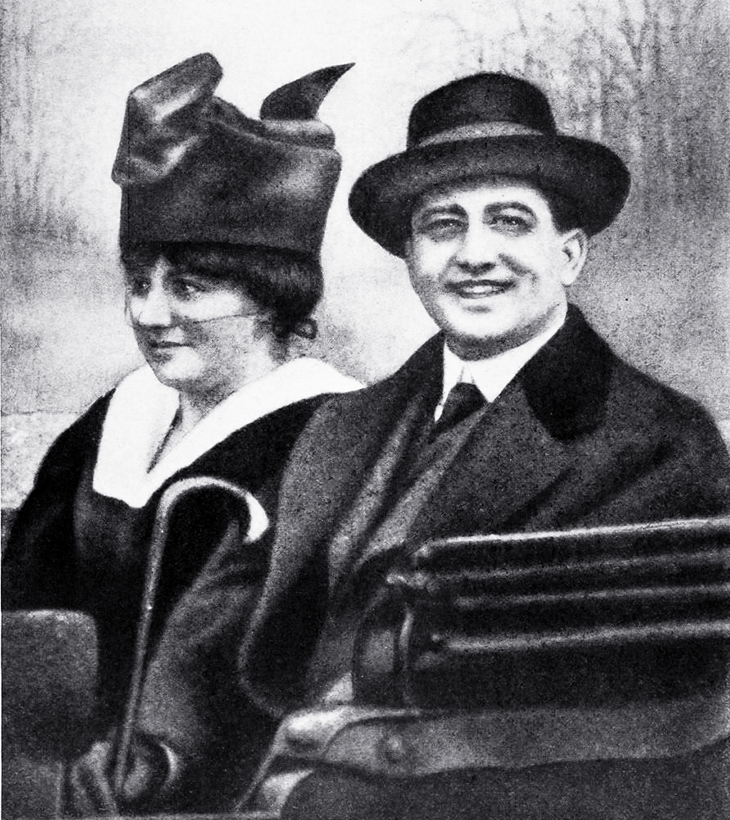 (Josephine and Francis X. Bushman, 1917)
Francis promptly gave up his day job to seek more acting work, not great timing as Josephine was soon pregnant and also had to quit working. Their son Ralph Everly Bushman (later billed as Francis X. Bushman Jr.) was born on May 1, 1903, followed by daughter Josephine Bushman Jr. (born on April 16, 1905). 
In the midst of beginning a family and struggling to make ends meet, 22-year-old Francis X. Bushman finally landed his first paying acting job in a touring stock company. Daughter Virginia Bushman was born on August 9, 1906 while he was on the road. 
Bushman's stage role took him to New York, where Josephine and the children soon joined him in a small apartment. Francis kept busy working as a model for sculptor Isidor Konti and other artists in between more paid acting jobs. Their fourth child, daughter Lenore Konti Bushman, was born on October 13, 1909. Their fifth child, son Francis X. Bruce Bushman (aka Bruce Bushman), was born on April 20, 1911.
Gradually Francis was finding more and more work on stage, and was able to support his family. He initially resisted the lure of the emerging movie industry, which was scorned by "serious" stage actors. Until finally he'd had enough…the prospect of bigger pay and less grueling hours enticed him to accept an offer with Essanay Studios in Chicago, in 1911. 
Essanay Days
Silent film star G.M. "Broncho Billy" Anderson and movie producer George K. Spoor had co-founded Essanay in 1907, one of the biggest film studios in America at that time. The movie industry was entrenched on the East Coast; it wasn't until late in the 1910s that most of the motion picture companies moved their base of operations west to California and Hollywood.
That first year at Essanay, Francis X. Bushman was paired most frequently onscreen with Dorothy Phillips as his leading lady.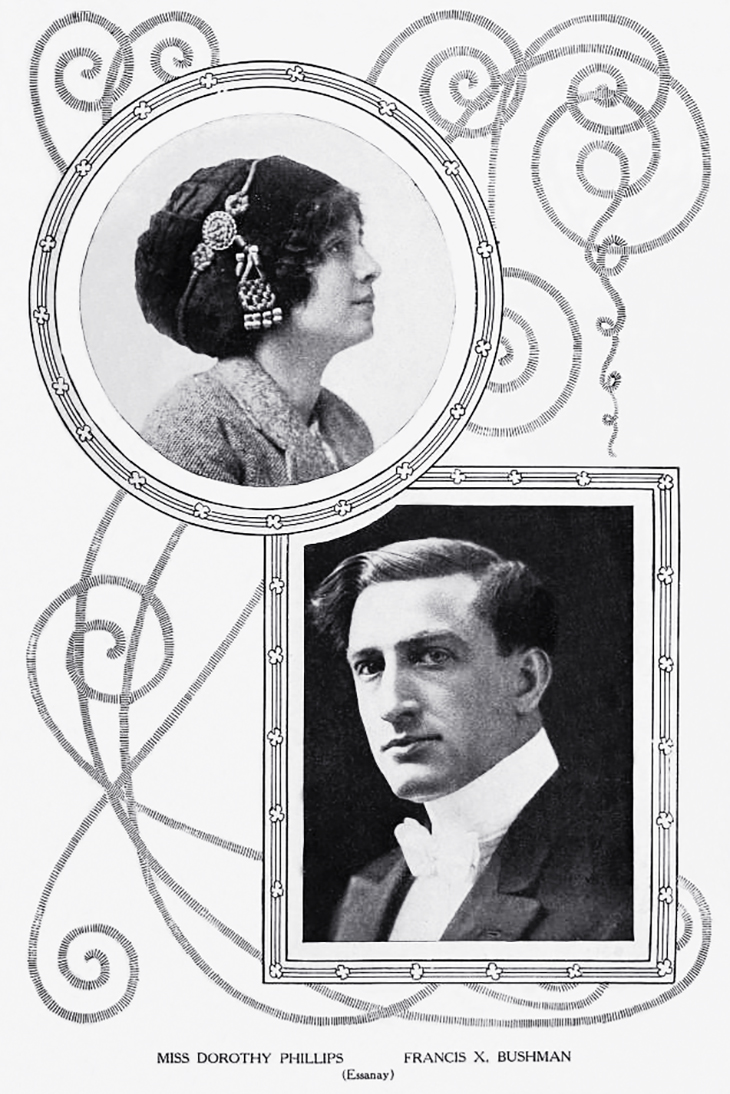 (Dorothy Phillips & Francis X. Bushman 1911 Photos: Essanay)
Essanay's Eastern studio stock company of notable actors and actresses that year included Dorothy, Lottie Briscoe, Bryant Washburn, Dolores Cassinelli, Frank Dayton, Harry Cashman, Lenore Ulric, child actress Eva Prout, and of course their new star, Francis X. Bushman.
Essanay directors that Bushman worked with were Harry McRae Webster, Richard Foster "Daddy" Baker (aka R.F. Baker), and Theodore Whartoton. Francis developed a good relationship with the latter two. R.F. Baker had a gift with directing Bushman in comedies, such as The Burglarized Burglar (1911).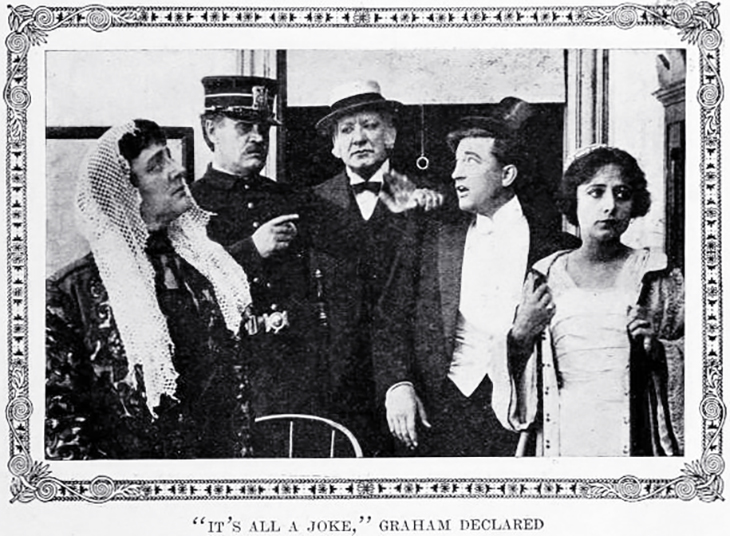 (Bryant Washburn, William Walters, Harry Cashman, Francis X. Bushman & Dorothy Phillips 1911: The Burglarized Burglar)
However, it was in more dramatic fare that Bushman truly shone. One of those 1911 movies included the drama The Madman, starring Francis X. Bushman in the titular role. Bushman's character is confined to an insane asylum and blames his father for keeping him from becoming a great actor. He's humored by the asylum staff and warden (Harry Cashman), who indulge his fantasy with stage makeup and costumes. The madman escapes and is chased by guards first to his father's house, and then to a hot air balloon camp.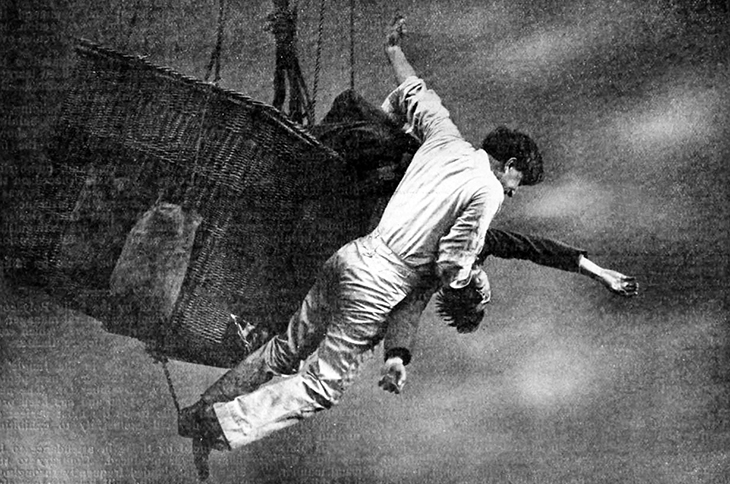 (Francis X. Bushman & Bryant Washburn 1911 The Madman)
A thrilling hot air balloon ride and struggle ensues, with the balloonist (Bryant Washburn) finally tossing the madman over the edge to the rocks below. Although doubtless this scene wasn't as harrowing as it looks, the early days of filmmaking didn't have safety as their first and foremost thought. Francis X. Bushman did almost all of his own stunts, a common scenario for the pioneering actors and actresses of silent movies. 
G.M. Anderson, whose western films were a staple of the franchise, formed an Essanay-West location in Niles, California (just south of San Francisco). Bushman remained with the Eastern stock company of Essanay, which had an impressive stable of stars, of which he shone the brightest.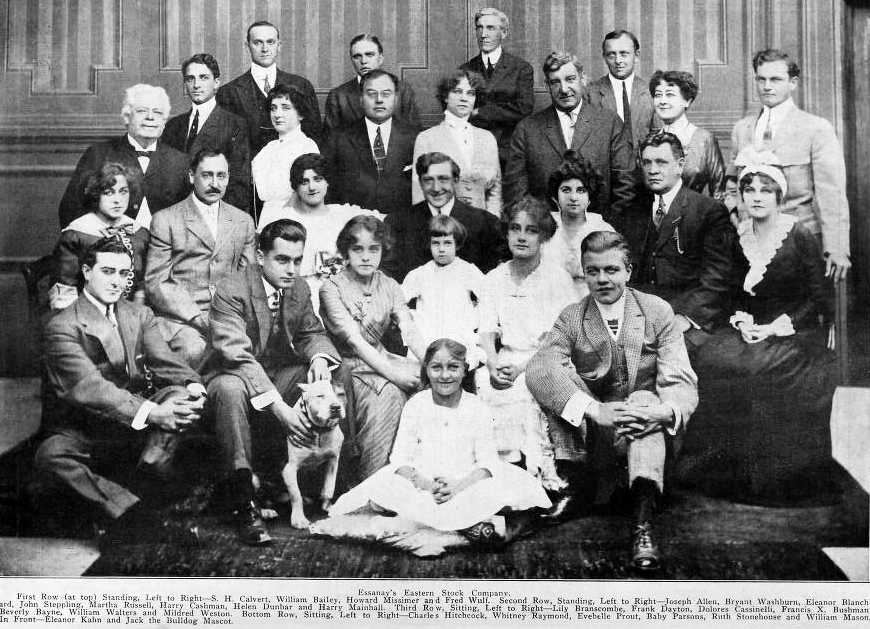 (Essanay Film Studios 1912 Eastern Stock Company)
Other Essanay leading ladies who were often paired in films with Bushman during his time at Essanay included Martha Russell, and Dolores Cassinelli.
(Martha Russell & Francis X. Bushman 1912 Neptune's Daughter)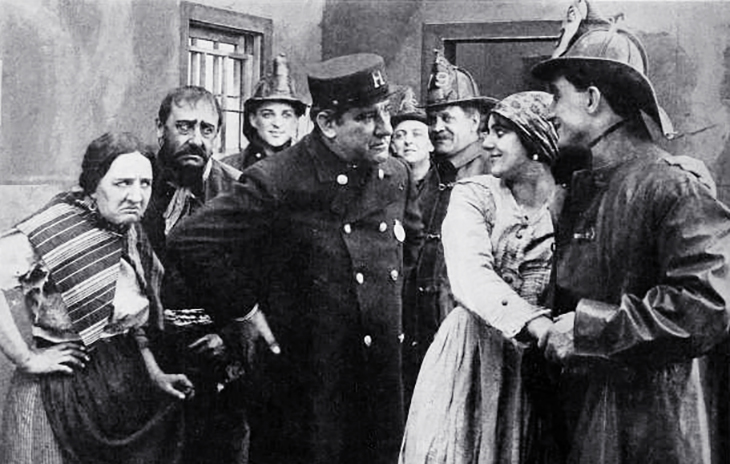 (Harry Cashman, Dolores Cassinelli & Francis X. Bushman 1912 Napatia, the Greek Singer)
When new actress Beverly Bayne (nee Pearl Beverly Bain, born on November 22, 1893) joined the Essanay eastern company in 1912,  Bushman insisted on working with her. One of their first films together was the comedy A Good Catch (1912)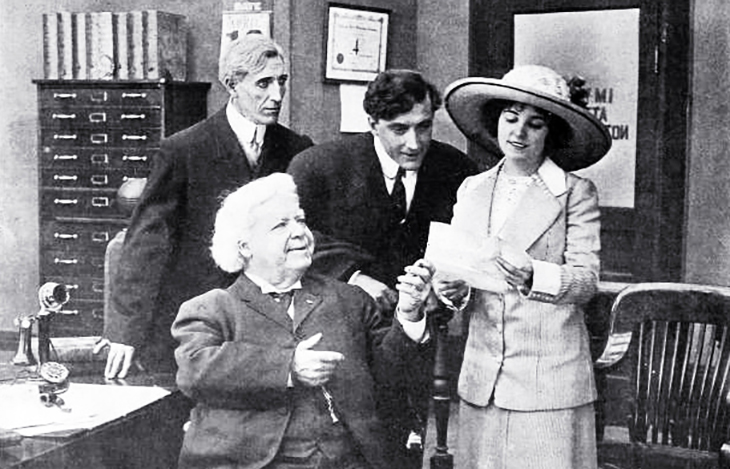 (Howard Missimer, Joseph Allen Sr., Francis X. Bushman, Beverly Bayne 1912 A Good Catch)
By mid-1912, Francis X. Bushman and Beverly Bayne were firmly ensconced as the reigning onscreen romantic couple of Essanay films. Publicly, Francis was a busy man, what with a burgeoning film career, and keeping up his strength through a devoted fitness regimen.
"Francis X. Bushman, who is with the Essanay Company at Bayfield, Wis., recently added another feather to his much-feathered cap by defeating John Pederson, the champion wrestler of Buck McCarthy's Lumber Camp No. 9.- The Motion Picture Story Magazine, August 1912
Privately, he was even busier, with wife Josephine and 5 growing children – all kept secret from the public, so as not to discourage his female fans. The older Bushman children didn't even live at home much of this time; they lived in a convent, according to Francis' grandson Michael Conway.
"My family and I were set up in a house only a stone's throw from the studio. Our neighbors were Essanay employees, and our servant was a Hungarian who couldn't gossip – at least in English. And I, of course, was under strict orders never to set foot outside my house in the company of Josephine and the children." – Francis X. Bushman, King of the Movies: Francis X. Bushman (2009), by Lon and Debra Davis.
For the next couple of years, things continued in this fashion. As Bushman's fame grew, fan mail and marriage proposals poured into the Essanay offices for him. A staff of three, headed by future William Randolph Hearst newspaper journalist and gossip columnist Louella Parsons, was eventually needed to answer all his love letters. Their responses faithfully kept up the fiction that Bushman was a single, eligible man (a position which the movie fan magazines also adhered to), and included photos of Bushman. A few damsels arrived at the studio prepared to marry him on the spot, and Bushman had to get creative in avoiding them – and sometimes their angry boyfriends or husbands, too!.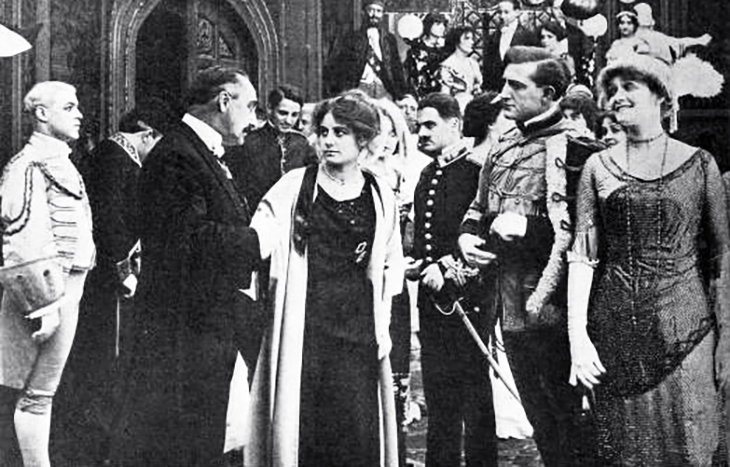 (Frank Dayton, Ruth Stonehouse, Francis X. Bushman 1913 The Spy's Defeat)
Some of the other actors and actresses Francis X. Bushman met and/or worked with during his time at Essanay, were Ruth Stonehouse (a frequent leading lady), Wallace Beery, and Ben Turpin. Essanay lured Charlie Chaplin away from Mack Sennett's Keystone Studios in 1914, and hired a new actress called Gloria Swanson (of later Sunset Boulevard fame) that showed some promise. 
Quality Picture Corporation / Metro Pictures
Francis X. Bushman and Beverly Bayne left Essanay for the greener pastures of "Bushman" Quality Picture Corporation, released through the newly formed Metro Pictures, in mid-1915. Metro's board included Louis B. Mayer (secretary), Richard A. Rowland (President), and George Grombacher (Vice-President).
"Francis X. Bushman has just signed a contract as leading man of the Metro Features corporation. He ended his Essanay service – an affiliation which has been historic in picturedom – April 30….Mr. Bushman will remove to Los Angeles, where the Metro studio will be located. During the actor's recent visit to the Panama-Pacific Exposition in San Francisco, he made a brief excursion to Los Angeles, and was a guest of the studios there. Miss Beverly Bayne, who has been Mr. Bushman's very effective as well as beautiful leading woman in the Essanay studios, will probably accompany him in his Western progress." – Photoplay, June 1915
Beverly and Francis were in good company with the other silent film stars signed by Metro over the next couple 4 years – Olga Petrova, Mary Miles Minter, Harold Lockwood and May Allison, Viola Dana; Ethel Barrymore, her brother Lionel, and their uncle Sidney Drew; Emmy Wehlen, Alla Nazimova, Bert Lytell, and Marguerite Snow. When former Méliès Star Film and Vitagraph actress Edith Story returned to filmmaking after serving as an ambulance driver in WWI, she too joined the Metro company of actors.
The action movie Pennington's Choice (1915) with Helen Dunbar and boxer James "Jim" Jeffries, was filmed partly on location at Big Bear in the San Bernardino National Forest, California. After only 5 months in Hollywood filming movies, Francis and Beverly returned east with Metro. 
(Francis X. Bushman, Beverly Bayne & James J. "Jim" Jeffries 1915 Pennington's Choice)
"Quality-Metro Will Produce Features in the East – Bushman, Beverly Bayne and Marguerite Snow Leave California Studios for New York City, Permanent Headquarters of the Trio From Now On -…Mr. Bushman arrived in New York from the Quality-Metro studios in Hollywood, Cal., last Saturday, bringing with him the first print to reach this city of Pennington's Choice." – Motion Picture News, October 23, 1915
Francis X. Bushman made some 16 films for Metro between 1915-1918, most with Beverly Bayne as his leading lady. Frequent supporting actors in his Metro movies included Lester Cuneo, William Clifford, and Marguerite Snow.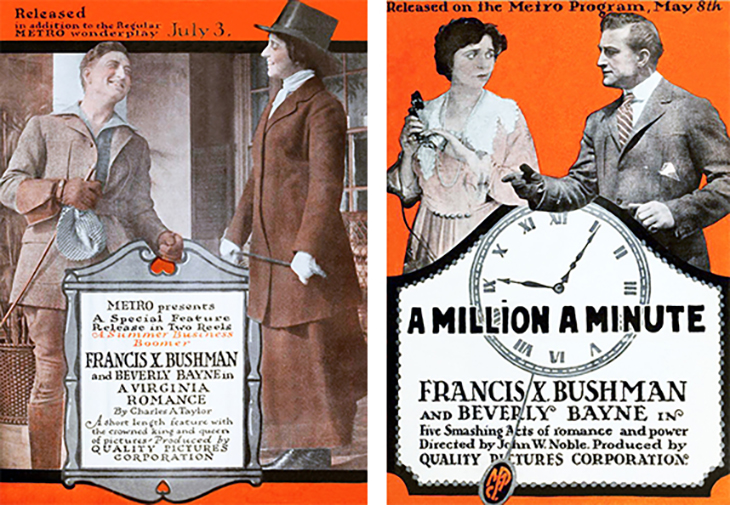 (Francis X. Bushman & Beverly Bayne 1916 Metro Pictures – A Virginia Romance | A Million a Minute)
Bushmanor
On his return east, Bushman bought the former Riderwood estate in Maryland and renamed it Bushmanor. He'd spend weekends there relaxing with Josephine, their children, and movie pals Beverly Bayne et al.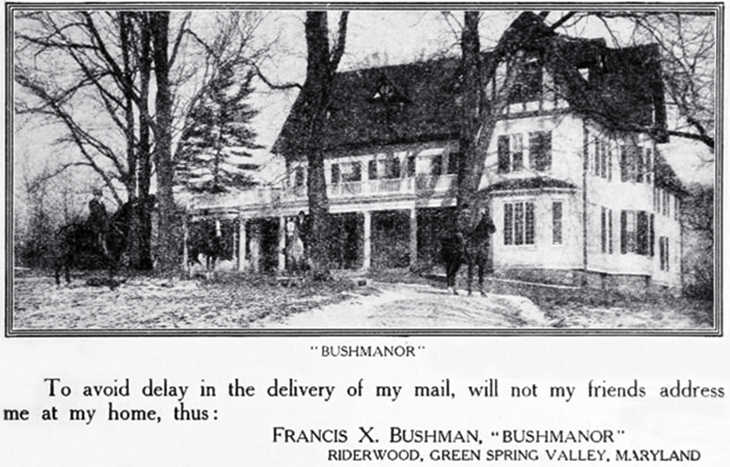 (Bushmanor 1917 Photo: Motion Picture Magazine)
"The three-story mansion required at least eight indoor servants; maids, cooks, butlers and footmen all uniformed in lavender [his favorite color]…Surrounding orchards, the large vegetable gardens, and a profusion of richly shaded flowers were maintained by twenty groundskeepers. Bushmanor's overhead was $100,000 a year." – King of the Movies: Francis X. Bushman (2009), by Lon and Debra Davis.
Bushmanor was also home to Francis' ever-growing menagerie. He'd begun breeding and showing prize-winning Great Danes (he's credited with helping to popularize the breed in America).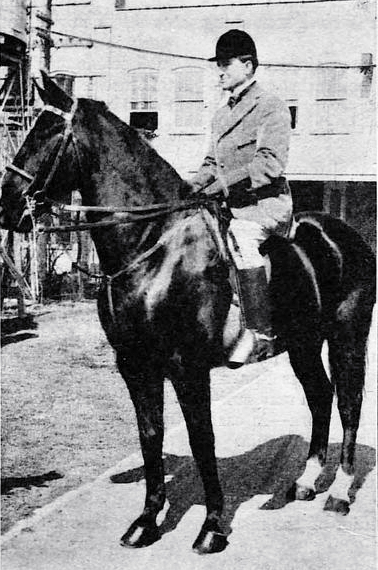 (Francis X. Bushman & Horse 1915)
"[Bushmanor had] several kennels that housed, at various times, up to three hundred Great Danes….Seven cows were needed to supply milk for the puppies and one cow provided milk for the Bushman family. The aviary held Japanese robins, thrushes, nightingales, finches, and linnets. Special pens were constructed for a few pigs, pheasants, turkeys, and dozens of White Leghorns and Rhode Island Reds [chickens]. There were also stables of thoroughbreds, each member of the family having his or her own horse. Bushman's favorite was a black stallion named Nubian King." –  King of the Movies: Francis X. Bushman (2009), by Lon and Debra Davis.
Bushman told Groucho Marx on This is Your Life in 1958, that at the height of his fame as a silent movie star, he drove a purple Marmon automobile trimmed in gold with his name on the side.
(1928 Lavender Marmon Convertible)
Francis' marriage to Josephine was on the rocks, and they separated in 1916. He moved into an expansive 10-room apartment in New York at 435 Riverside Drive, overlooking the Hudson River. In addition to two maids and a valet, he stuffed it full of pets.
"Sixteen Great Danes, five hundred caged finches, three huge incubators full of eggs in one of the bathrooms, and fifteen hundred exotic birds that flew throughout the rooms. 'I had a gardener come in and plant big trees in the corner of the living room'." – Francis X. Bushman, King of the Movies: Francis X. Bushman (2009), by Lon and Debra Davis.
Bushman wasn't the only silent film star with pet birds, but he may have been the most compulsive about it.
Romeo and Juliet
Meanwhile, Francis and Beverly had taken their on-screen romance to heart off-screen as well. How fitting that they would star in what was touted as the greatest film adaptation of William Shakespeare to date, Romeo and Juliet (1916).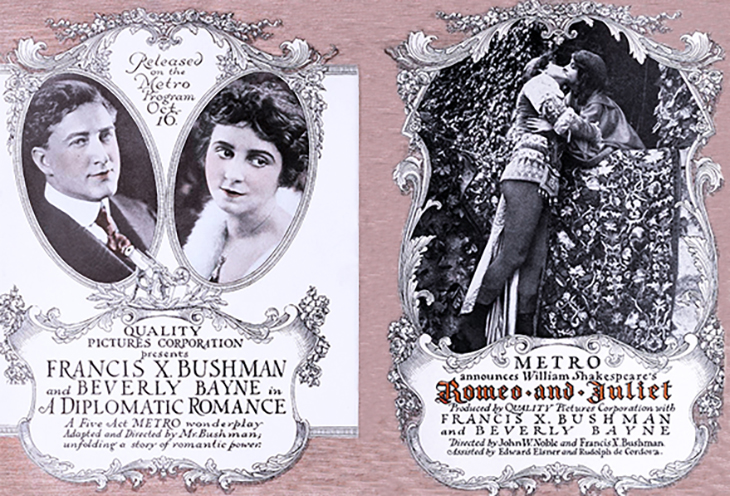 (Francis X. Bushman & Beverly Bayne 1916 Romeo and Juliet)
Co-directed by John W. Noble and Francis X. Bushman, Romeo and Juliet had lavish sets, costumes, and a large cast that included Horace Vinton, Helen Dunbar, Robert Cummings. Fans and critics alike praised the movie, which represented the pinnacle of Bushman and Bayne's respective film careers thus far.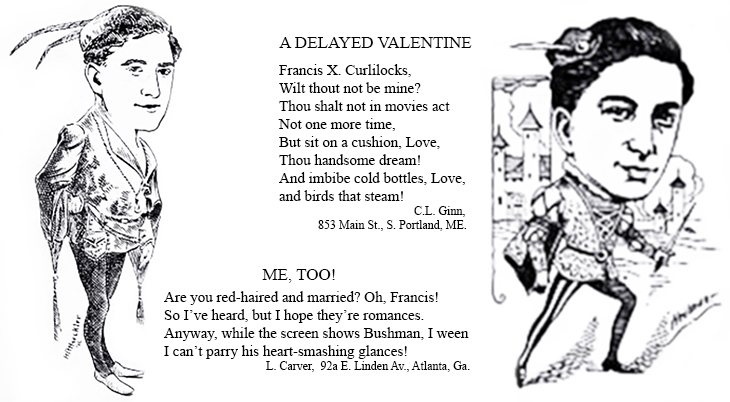 (Francis X. Bushman / Romeo Caricatures & Fan Limericks 1917: Motion Picture Magazine)
When American declared war on Germany in 1917 and joined WWI, Bushman toured with other film stars (Mary Pickford, Mary Miles Minter) to sell war bonds.

(Francis X. Bushman w. Great Dane Dogs 1917 Tobacco Fund WWI Ad)
He also advertised other efforts to support the war, one of which was his "Tobacco Fund" to send cigarettes and tobacco to the brave boys at the front.
His 1917 films included The Voice of Conscience, a scenario by June Mathis and directed by Edwin Carewe, that was filmed on location in Ithaca, New York.
Despite warnings from Metro executives that knowledge of his marriage, let alone the scandal of a divorce, could ruin his career, Francis finally decided to proceed with divorcing Josephine in 1918. Three days after his divorce, Francis X. Bushman married Beverly Bayne, on July 29, 1918. 
Almost immediately, Bushman's film career hit the skids. Although his fans had wanted him to marry Beverly, they hadn't known he was already a married father of five! They were unforgiving, and Metro was quick to tell Bushman his contract would not be renewed with a promised salary increase, but under the old terms. Francis promptly quit.
One of his last films for Metro was Cyclone Higgins, D.D. (1918), directed and written by Christy Cabanne, with Jack Prescott, Helen Dunbar, Charles Fang and Baby Ivy Ward in the cast.
Having spent lavishly, secure in the knowledge that he was "King of the Movies", Francis had never been one to save money. He was broke, and being sued by creditors that included Bushmanor staff. World events conspired against him as well; thanks to the ending of WWI and the onset of the Spanish Flu epidemic, movie production was cut back and studios were going bankrupt.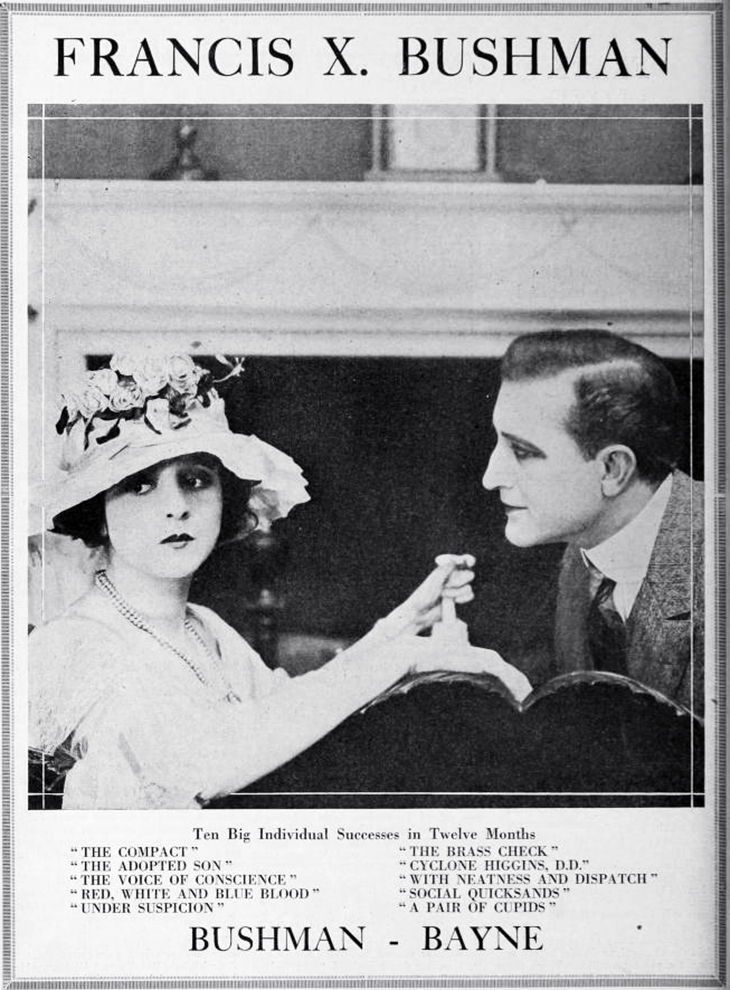 (Francis X. Bushman & Beverly Bayne 1918 Photo)
In all of 1919, he had only one new movie released, for Vitagraph, called Daring Hearts. With a story by Vitagraph co-founder Albert E. Smith, and co-starring Beverly Bayne and Jean Paige (future wife of Smith), the movie initially showed promise. However, poor timing for a WWI story and extensive cuts resulted in Daring Hearts being a flop.
History repeated itself, and while he was broke and looking for work, Beverly became pregnant. Beverly and Francis Bushman sold their apartment contents and moved to Los Angeles, the new centre of filmmaking. Their son Richard Stansbury Bushman was born on June 19, 1919.
Bushmanor and it's contents were sold in order to fulfill his financial obligations to Josephine and his creditors. What came next were several years of sporadic film and stage work. 
Messala in Ben Hur
A triumphant, albeit brief, return to the heights of filmdom would come with his co-starring role as the villain Messala in Ben Hur: A Tale of the Christ (1925). This star-studded Metro-Goldwyn-Mayer spectacle featured a scenario by June Mathis and Carey Wilson, and was directed by Fred Niblo, Charles Brabin, and Christy Cabanne. In the cast were Ramon Novarro as Ben Hur, May McAvoy as Esther, Betty Bronson as Mary, and Carmel Myers as Iras.
Francis X. Bushman was noted for his  fitness and equestrian abilities, and he practiced driving a chariot and team of horses diligently, as seen in Ben Hur; Ben Hur star Ramon Novarro had no such skills or commanding screen presence. Louis B. Mayer accused Francis of upstaging Novarro in their scenes together, and threatened to cut Bushman's role.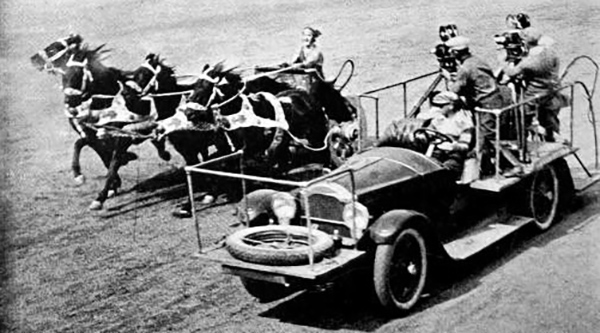 (Filming Francis X. Bushman 1925 Ben Hur Photo: A History of the Movies)
Extended filming of Ben-Hur on location in Italy (before budget brought it back to California for completion) beginning in December 1923, could be partially blamed for the end of the Romeo and Juliet romance. Fed up with being left alone in California while Bushman toured the continent during breaks in filming Ben Hur, by the time the film premiered in December 1925, Beverly Bayne had sued for divorce, charging Bushman with desertion.
Ben-Hur also effectively ended the film career of Francis X. Bushman. Irate that he wasn't being paid a raise promised by MGM's Arthur Loew during filming, Francis angrily confronted Louis B. Mayer in front of a crowd of executives. Mayer promised Bushman that he'd never work at a major film studio again, and he made good on his word. If Bushman was a dinosaur, then Louis B. Mayer was his Ice Age.
The stock market crash wiped out Bushman's personal fortune, and the 1920s saw an end to his Hollywood lifestyle, and friendly neighbors like Rudolph Valentino.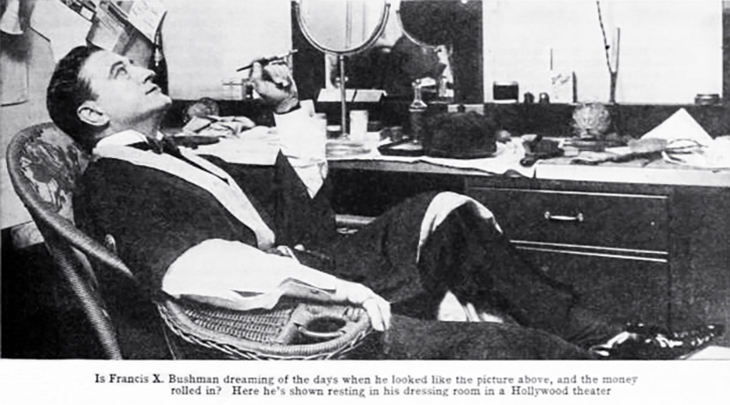 (Francis X. Bushman 1931 Photo: Photoplay)
Bushman's career was eventually resurrected with some minor film roles, radio gigs, and television spots from the 1930s through the first half of the 1960s. He had a small supporting role as a eulogist in MGM's The Bad and the Beautiful (1952) starring Kirk Douglas, Lana Turner, Dick Powell, Walter Pidgeon, Gloria Grahame, Barry Sullivan, and Gilbert Roland. This was made possible by Louis B. Mayer having resigned as head of the studio the year before. 
In Sabrina (1954), starring Humphrey Bogart, Audrey Hepburn, and William Holden, Bushman is "Mr. Tyson" the father of Martha Hyer's character.
But roles in plum films like these were few and far between. His final film was the sub-par beach comedy The Ghost in the Invisible Bikini (1966), starring Tommy Kirk, Deborah Walley, with Nancy Sinatra Jr., and Jesse White. A couple of other legendary actors who started in silent films also have cameos in this movie – Basil Rathbone, and Boris Karloff.
The Francis X. Bushman Legacy
Sadly, many of of Bushman's silent films have been lost to the ravages of time over the last 8 decades. Of his two biggest successes, Ben Hur lives on, while Romeo and Juliet is now dust.
Francis X. Bushman married twice more after his divorce from Beverly Bayne. He was married to Norma Emily Atkin (m. 1932 – her death in 1956), and then to Iva Millicent Richardson from 1956 until his death from a heart attack in 1966 at the age of 83 (Iva died in 1988, age 94). 
His first wife Josephine Fladune Bushman never remarried. She pre-deceased Francis when she died in May 1964 at the age of 82. Beverly Bayne married New York businessman Charles T. Hvass in 1937, and she told biographer Lon Davis it was "an even bigger mistake than marrying Mr. Bushman"; they divorced in 1944. Beverly died in 1982, age 88.
In addition to his own 225+ career film credits, several of Francis X. Bushman's children and grandchildren spent some time in front of or behind the cameras, leaving an impressive Bushman family legacy in filmdom. 
Oldest son Ralph Everly Bushman took up acting and was a minor movie star in his own right, with supporting or starring roles in about 30 feature films from 1920-1934. The studio paid Francis Sr. $50,000 so that Ralph could be billed as Francis X. Bushman Jr.  From the latter part of 1934 until 1943, he was an actor in another 30 or so movies. Ralph died in 1978, age 74. Ralph / Francis X. Bushman Jr.'s daughter Barbara Bushman was also very briefly an actress; she was married to actor Richard Quine from 1951-1960, and to M*A*S*H actor Harry Morgan from 1986 until his death in 2011.
Youngest daughters Virginia Bushman and Lenore Bushman both had short film careers before getting married and leaving the biz. Lenore (who was a good friend of actress Marion Davies) married Beverly Hills doctor W.L. Marxer. Virginia married divorced director Jack Conway in 1926; their younger son Pat Conway became an actor as well, starring on TV's Tombstone Territory. Jack's daughter from his first marriage, Rosemary Conway (aka Rosemary Foster), was a writer for film and television in the 1940s-1960s. 
Francis and Josephine's youngest son Frank (Francis) Bruce Bushman (aka Bruce Bushman) became a layout artist and art director best known for his work on MGM, Hanna Barbera and Walt Disney television series and films (20,000 Leagues Under the Sea [Nautilus design and more]; Fantasia; Bambi; Pinocchio; Alice in Wonderland). He helped design Disneyland's Tomorrowland and Fantasyland (Sleeping Beauty Castle, etc.), before he died in 1972 at the age of 60. Bruce's son Chris Bushman is known for his technical work on restoration of visual effects for Star Wars Trilogy; he won an Academy Award in 2007 for creating digital YCM archival masters for digital film restoration.
Resources: 
Fan magazines –  Photoplay, The Motion Picture Story Magazine (later Motion Picture Magazine), Shadowland, Cine-Mundial, Motography, etc.
Film industry magazines – Motion Picture News, The Moving Picture World, Wid's Weekly, etc.
King of the Movies: Francis X. Bushman (2009), by Lon and Debra Davis. Insights and behind-the-scenes explanations and anecdotes of the film star's personal life and career – highlights and lowlights – on stage, in movies, on radio, and television. Their documentary This is Francis X. Bushman will premiere at Cinecon (an online event in 2021) on Monday, September 6th (Labour Day), and will be released on Blu-ray September 21, 2021. For a sneak peek, check it out on YouTube. Pre-order the Blu-Ray and receive a 20% discount, here at Flicker Alley. And on October 3, 2021, the documentary will be aired on TCM's Silent Sunday Nights. Read a Q & A with Debra & Lon Davis about the making of the documentary.
Giving Birth to Silent Lives (2007), by Lon Davis. An article about the DVD and book Silent Lives: 100 Biographies of the Silent Film Era (2007) by Lon Davis.
Chris Bushman
*Images are believed to be in the public domain, used by permission, or Creative Commons licensed & sourced via Wikimedia Commons, Vimeo, YouTube, or Flickr, unless otherwise noted*