Remembering Rosamunde Pilcher
I was saddened to hear of the death of The Shell Seekers author, British novelist Rosamunde Pilcher (nee Scott) on February 6, 2019. Her family saga / romantic fiction novels were usually set in Cornwall or Scotland, where she lived and wrote for most of her life.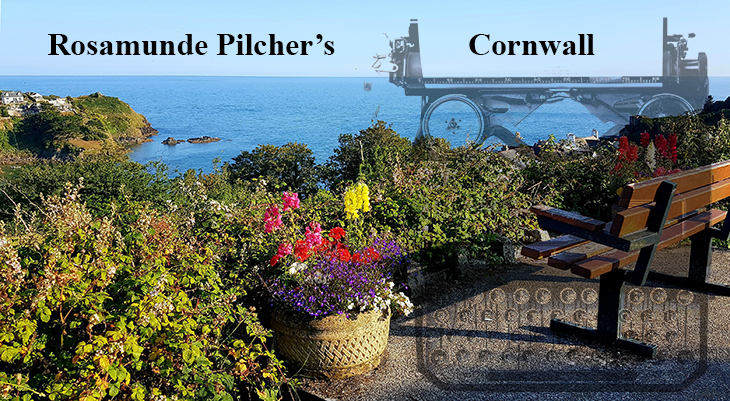 (Rosamunde Pilcher / Cornwall Photo Blend: A. Hamilton; Source Photos: T Z P & Florian Klauer)
Rosamunde Pilcher  was born on September 22, 1924 in Lelant, Cornwall (U.K.). She told Living Cornwall /Western Morning News that her father gave her a notebook to pass the time on a long car ride when she was 7 years old, and she began writing a play. Rosamunde attended school in Cornwall until World War II broke out in 1939; her father returned from Burma to rejoin the Royal Navy and the Scott family moved to Cardiff, Wales. Cornwall was the setting for many of Pilcher's novels. 
At the age of 16, Rosamunde Scott dropped out of school and after learning shorthand and typing, joined the Foreign Office in 1940. She spent two years at Portsmouth in the Royal Navy Gunnery with the Women's Royal Naval Service, before applying to go to France with the Wrens. Instead, her troop ship headed to Asia, and she landed in Sri Lanka. Her life experiences in Cornwall, the Navy, and the Far East gave her rich fodder to write about, and while she was in Ceylon she sent a short story to her father. He submitted the story to Woman and Home magazine and it was published – she was now an author. 
With World War II over, 21-year-old Rosamunde Scott returned to Cornwall in September 1946 and met Military Cross war hero Graham Pilcher while he was recuperating with his grandmother in St. Ives, Cornwall. Pilcher had been severely wounded in battle two weeks before V-E Day (May 1945) the year before, and had resigned his commission. Rosamunde Scott and Graham Pilcher married a few months after meeting, in December 1946. 
The couple moved to Dundee, Scotland (north of Edinburgh) and Graham Pilcher returned to work at Jute Industries Ltd., his family's business. Rosamunde began writing short love stories on a typewriter at home. Her stories were serialised in women's magazines, and when daughter Fiona was born in 1948, and Pilcher has said that as she raised her family and wrote at home, she loved the feeling of independence that came with being a published writer. 
Soon she was writing romance novels for Mills and Boon (Harlequin Romances) under the pen name Jane Fraser. Her first Mills and Boon romance Half-Way to the Moon (1949) under, was followed by more 9 more romance novels for Mills and Boon (and one general fiction novel) under the name Jane Fraser. 
In 1955, Rosamunde Pilcher wrote her first fiction novel under her own name, A Secret to Tell (1955). Meanwhile, Graham and Rosamunde Pilcher's family grew while she typed away at Mills and Boon romances and read her dialogue out loud at home….son Robin was born in August 1950, followed by daughter Philippa (b. circa 1953) and son Mark (b. circa 1958). Pilcher's last Mills and Boon romance novel under the pen name Jane Fraser was A Long Way From Home (1963).
Ten years after writing A Secret to Tell under her own name, Pilcher wrote her second fiction book On My Own (1965); from that point on, all of her books were written under her real name of Rosamunde Pilcher.  
During the 1970's and as she entered her 50+ years, Pilcher wrote another 6 novels; some of which were serialised in women's magazines: 
The End of Summer (1971)
Snow in April (1972)
The Empty House (1973)
The Day of the Storm (1975)
Under Gemini (1976)
Wild Mountain Thyme (1978)
During the early 1980's, Rosamunde Pilcher wrote The Carousel (1982) and Voices in Summer (1984). At age 60, she was looking forward to retiring and collecting old age pension, when her American publisher Tom Dunn came to visit her. Dunn told her to write a "big, fat family saga for women", in order to get on the best-seller lists, and Pilcher was inspired to write The Shell Seekers (1987). 
The Shell Seekers was a best seller within three weeks and stayed on the New York Times best seller lists for 2 years. It's been translated into over 20 languages and sold more than 5 million copies. As with all of her works, Rosamunde Pilcher wrote from her own knowledge and experience. The Shell Seekers narrator is an older British woman (Penelope Keeling) who served in the Women's Royal Naval Service, telling her family story in flashbacks, with a trio of plotlines set in her native Cornwall, London, and Gloucestershire, and covering the era of World War II. The Shell Seekers has been adapted for the stage and was made into a 1993 TV movie starring Angela Lansbury,and again as a 2006 TV movie starring Vanessa Redgrave as  Penelope Keeling. The Shell Seekers was a game-changer for Rosamunde Pilcher, and she was consistently on the best seller list with her new books from that point on.  
By the time she wrote her next book September (1990), Pilcher was a senior citizen and told People that she liked to spend her days gardening, walking, and visiting with her nearby grandchildren. September was made into a 1996 TV movie starring Jacqueline Bisset, Edward Fox, Michael York, and Mariel Hemingway.
In addition to her previous 23 novels and several collections of short stories published in the 1980's and 1990's, Rosamunde Pilcher wrote another 4 novels over the next 10 years as she entered her septuagenarian senior citizen years, before retiring: Coming Home (1995), The Key (1996), Shadows (1999) and Winter Solstice (2000). 
Coming Home won the Romantic Novel of the Year Award by the Romantic Novelists' Association and was made into two-part TV movie in 1998 starring Peter O'Toole, Keira Knightley, Joanna Lumley, and Paul Bettany. Pilcher's novels have been hugely popular in Germany with over 100 of her stories being produced for TV by national TV station ZDF (Zweites Deutsches Fernsehen). 
Rosamunde Pilcher was created an Officer of the Order of the British Empire (OBE) in 2002. She was an octogenarian herself when her husband of 63 years, Graham Pilcher, died in March 2009 at the age of 92.
Her son Robin Pilcher, told The Guardian that his mother had been ill with bronchitis before succumbing to a stroke. She had been living in Dundee, Scotland at the time of her death. Rosamunde Pilcher had 14 grandchildren and several great-grandchildren, and her son Robin became a published novelist himself in 1999. 
Note: This article was first published in 2016 with the title Celebrating Seniors – Rosamunde Pilcher Turns 92. It has been updated with new content.