Walk With My Father Again
Do you wish you had one more chance to talk to your Dad…to tell him what's new, that you realize now what you didn't know then, and how much you loved him?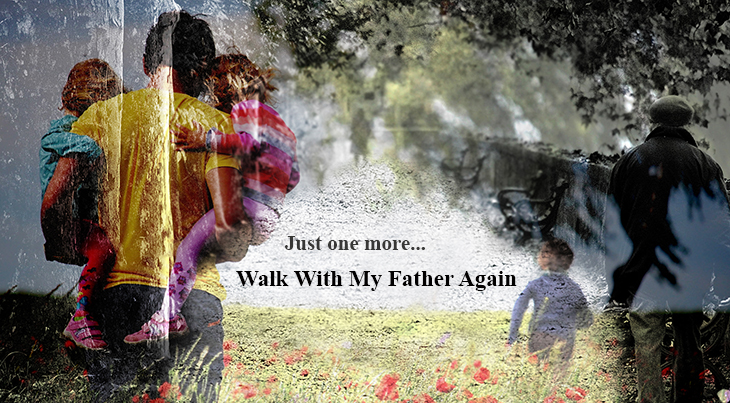 (Source Photos: Juliane Liebermann, Adriano Cantarell via Unsplash | Photo Blend: A. Hamilton) 
If the loss of a parent or other loved one has left you grieving, you are not alone. It's one of the hardest corners to turn in the cycle of life. 
As we get older, it seems like that spinning wheel speeds up, often before we're ready to turn around the next corner. But time keeps on ticking into the future (to paraphrase Steve Miller), and new loves and joys enter our lives.
The sadness fades eventually and we are left with the good memories of those who have left us before we wanted them to.
In the days, weeks, months and years that follow a loss, memories will catch us unaware sometimes. It's at times like that, that I want to 
Walk With My Father Again
Yesterday I was a child, holding tight to my father's hand, 
Learning from him to enjoy the wonders of books, the challenge of puzzles, the peace of fishing, the fun of softball, and laughter.
Finding my path to walk and seeds to sow – a job, a partner, children, a home of my own. 
Discovering the wonders of the world again through a grandchild's eyes, I realize
I look older on the outside, but I'm always a child inside, 
Wishing I could hold his hand and walk with my father again.
In loving memory of my father Wendall.
If you're having difficulty coping with the loss of a loved one, these resources may be able to help today or in the future:
Canadian Mental Health Association – Understanding and Coping with Loss and Grief
American Psychological Association – Grief – Coping with the loss of your loved one
Mental Health America – Coping With Loss: Bereavement and Grief