May 28th Birthdays
If you were born on May 28th you share a celebrity birthday with these famous people: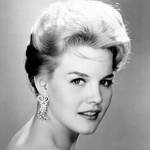 Carroll Baker (married Donald Burton; ex of Jack Garfein)
American actress of TV (L. A. Law; Grand) and movies (Baby Doll; Harlow; Giant; The Carpetbaggers; Something Wild; How the West Was Won; Star 80; Kindergarten Cop; The Game; The Big Country; But Not For Me; The Miracle; Mister Moses; Sylvia), born May 28, 1931. (Carroll Baker 1961 Photo: MGM)
Annette and Cécile Dionne (Dionne Quintuplets) 
The surviving Canadian Dionne quintuplets (Yvonne d. 2001 age 67; Émilie: d. 1954 age 20; Marie d. 1970 age 35), were born 2 months premature; the Dionne quintuplets were the first quintuplets to outlive infancy and grow to adulthood, born May 28, 1934. (Dionne Quintuplets 1937 Photo)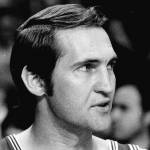 Jerry West ("Mr. Clutch"; "The Logo"; "Mr. Outside")
Naismith Memorial Basketball Hall of Fame American NBA coach, executive, & player for the Los Angeles Lakers (1972 NBA Champions, 1969 NBA Finals MVP, 14-time NBA All-Star), born May 28, 1938. (Jerry West 1974 Photo: Malcolm W. Emmons / Sporting News)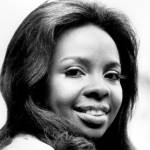 Gladys Knight 
Grammy Award-winning Rock & Roll Hall of Fame American singer-songwriter (Midnight Train to Georgia; Neither One of Us; That's What Friends are For) and actress of TV (Charlie & Co; Dancing With the Stars) & movies (Hollywood Homicide), born May 28, 1944. (Gladys Knight 1974 Photo: CBS)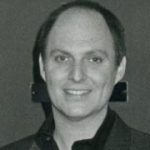 Billy Vera (nee William Patrick McCord)
Grammy Award-winning American singer & songwriter of Billy Vera & the Beaters (At This Moment; I Really Got The Feeling; I've Been Loving You Too Long; Empty Nest theme song), actor (Beverly Hills, 90210), born May 28, 1944. (Billy Vera 1987 Photo: Courtesy Billy Vera)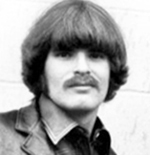 John Fogerty 
American singer-songwriter solo (The Old Man Down the Road; Centerfield) & with Rock & Roll Hall of Fame band CCR (Suzie Q; Proud Mary; Bad Moon Rising; Fortunate Son; Who'll Stop the Rain; Lookin' Out My Back Door), born May 28, 1945. (John Fogerty 1968 Photo: Fantasy Records / Billboard)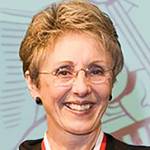 Lynn Johnston (nee Lynn Ridgway)
National Cartoon Museum Hall of Fame Canadian syndicated newspaper cartoonist (For Better or Worse), illustrator, and author (David We're Pregnant; Do They Ever Grow Up? Leaving Home; Hi Mom! Hi Dad!), born May 28, 1947. (Lynn Johnston 2008 Photo: mackbrad)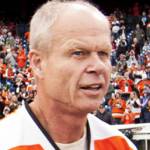 Mark Howe (son of Gordie Howe; brother of Marty Howe)

Hockey Hall of Fame retired American pro hockey player, NHL (Hartford Whalers; Philadelphia Flyers; Detroit Red Wings) and WHA (Houston Aeros; New England Whalers) left winger & defenseman, 1974 WHA Rookie of the Year, born May 28, 1955. (Mark Howe 2011 Photo: Centpacrr at en.wikipedia)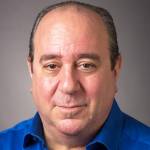 Louis Mustillo 
American actor of TV (Vince on Mike & Molly; High Incident; The Young and the Restless; The Sopranos; Strange Angel; Law & Order: Special Victims Unit; Joan of Arcadia; L. A. Law) and films (Inside Out; Dancer and the Dame; City Island), born May 28, 1958. (Louis Mustillo 2019 Photo: Geffen Playhouse)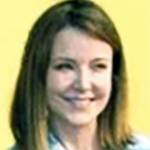 Christa Miller (niece of Susan Saint James, Dick Ebersol)
American actress of TV (Kate O'Brien Carey on The Drew Carey Show; Ellie Torres on Cougar Town; Jordan on Scrubs; The Andromeda Strain; Kate & Allie; Seinfeld) & films (Breaking In; Hot Air; Love and Happiness; Kiss & Tell), born May 28, 1964. Married Bill Lawrence. (Christa Miller 2008: articlebio.com)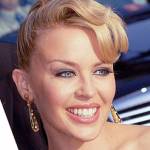 Kylie Minogue (ex-partner of Olivier Martinez, Michael Hutchence)

Australian-British actress of TV (Charlene Mitchell Robinson on Neighbours), movies (Street Fighter), & singer (Can't Get You Out of My Head; The Loco-Motion; Confide in Me; Where the Wild Roses Grow), born May 28, 1968. Sister of Danni Minogue. (Kylie Minogue 2007: Georges Biard)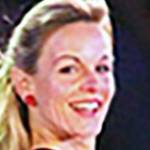 Ekaterina Gordeeva ("Katia"; married Sergei Grinkov, David Pelletier)
World Figure Skating Hall of Fame Russian pairs skater with partner Sergei Grinkov, 4X World Figure Skating (1986-1990) & 2X Olympic Winter Games Figure Skating Champion (1988 Calgary; 1994 Lillehammer), & Stars on Ice skater, born May 28, 1971. (Ekaterina Gordeeva 2012: David W. Carmichael)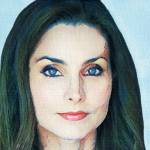 Alicia Minshew
American actress of TV (Kendall Hart Slater on All My Children & One Life to Live; Tainted Dreams; Beacon Hill; Quarantine) & films (Desires of the Heart; Lies I Told My Little Sister; Game Day; The Funeral Guest; The Caprice; This Is Now), born May 28, 1974. (Alicia Minshew Painting: A. Hamilton)
(Carroll Baker 1957 | Gladys Knight 1974: CBS Television [colorized])
Happy Birthday to everyone celebrating their birthday on May 28th!
Remember These May 28th Famous Birthdays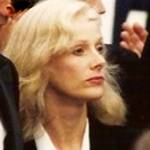 Sondra Locke (nee Sandra Louise Smith; ex-partner of Clint Eastwood)
American actress of movies (The Heart is a Lonely Hunter; Willard; The Outlaw Josey Wales; The Gauntlet; Every Which Way But Loose; Bronco Billy; Sudden Impact; Any Which Way You Can; A Reflection of Fear) and TV (Cannon) (born May 28, 1944 – died Nov. 3, 2018; age 74). Sondra Locke died of bone and breast cancer complications.(Sondra Locke 1988 Photo: Georges Biard)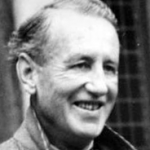 Ian Fleming
WW II British naval intelligence officer (Operation Goldeneye) and author of the James Bond spy thriller novels (Casino Royale; Live and Let Die; Moonraker; Diamonds Are Forever; Dr. No; Goldfinger; Thunderball; You Only Live Twice) (born May 28, 1908 – died Aug. 12, 1964; age 56). Ian Fleming died of a heart attack. (Ian Fleming 1963 Photo: Central Press Photos Ltd.)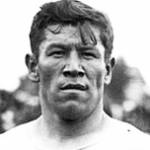 Jim Thorpe ("The World's Greatest Athlete")

Native American athlete, winner of 2 1912 Olympic gold medals (pentathlon & decathlon), Pro Football Hall of Fame APFA football player, and MLB baseball player (New York Giants; Cincinnati Reds), inspiration for Jim Thorpe – All-American (1951) (born May 28, 1887 – died July 17, 1953; age 65). Jim Thorpe died of heart failure. (Jim Thorpe 1912 Photo: Agence Rol)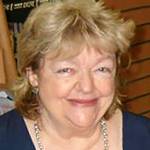 Maeve Binchy (nee Anne Maeve Binchy; aka Maeve Binchy Snell)
Irish short story writer, columnist, and novelist (Light a Penny Candle; Circle of Friends; The Lilac Bus; Evening Class; Tara Road; Whitethorn Woods; Minding Frankie; Heart and Soul; Quentins; A Week in Winter; Echoes; Firefly Summer) (born May 28, 1939 – died July 30, 2012; age 73). Maeve Binchy had osteoarthritis and died of a heart attack. (Maeve Binchy 2006 Photo: Jon Kay)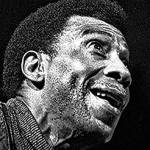 T-Bone Walker (nee Aaron Thibeaux Walker)
Grammy Award-winning American Rock & Roll Hall of Fame electric & jump blues musician, guitarist, singer, & songwriter (Bobby Sox Blues; Call it Stormy Monday [But Tuesday is Just as Bad]; Mean Old World; Every Day I Have the Blues) (born May 28, 1911 – died Mar. 16, 1975; age 64). T-Bone Walker died of pneumonia after a stroke. (T-Bone Walker 1972 Photo: Heinrich Klaffs) 
Short 4'3″ American character actress of movies (Poltergeist films; Mama Dolly; Frances; Sixteen Candles; Guilty As Charged; Little Witches) and TV (Ginny Weedon on Picket Fences; Santa Barbara; Scariest Places on Earth) (born May 28, 1933 – died Jan. 27, 2010; age 76). Zelda Rubinstein had a heart attack some months before she died. (Zelda Rubinstein 2007 Photo: Bev Sykes)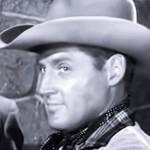 Marshall Reed
American actor of stage, TV (Inspector Fred Asher on The Lineup; The Red Skelton Hour; The Cisco Kid; Perry Mason; Cheyenne; Bonanza; Wagon Train), and movies (Mysterious Island; Riding With Buffalo Bill; The Texas Kid; Angel and the Badman) (born May 28, 1917 – died Apr. 15, 1980; age 62). Marshall Reed had a brain tumor before he died. (Marshall Reed 1952 The Lone Ranger)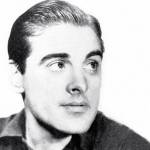 Phil Regan (nee Philip Joseph Christopher Aloysius Regan)
American NYPD detective, singer & actor of radio ("The Romantic Singer of Romantic Songs"; "The Singing Cop") and films (The Hit Parade; Sweetheart of Sigma Chi; Sweet Rosie O'Grady; Three Little Words; Sunbonnet Sue; We're in the Money; Dames; Manhattan Merry-Go-Round; She Married a Cop; Las Vegas Nights) (born May 28, 1906 – died Feb. 11, 1996; age 89). (Phil Regan 1935) 
Clement Von Franckenstein 
Austrian-British singer and actor of TV (Count Guy du Pres on All My Children; QB VII; Titans; Blackbeard; All My Children; Falcon Crest) and movies (The Invisible Maniac; Death Becomes Her; Live Wire; The Matadors; Lepke; The Gypsy Warriors; Transylvania Twist; Starf*cker) (born May 28, 1944 – died May 9, 2019; age 74). (Clement Von Franckenstein Painting: A. Hamilton)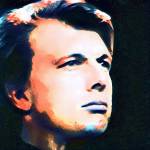 John Karlen (nee John Adam Karlewicz)
American actor of TV (Willie Loomis on Dark Shadows; Harvey Lacey on Cagney & Lacey; Love is a Many Splendored Thing; Hidden Faces; The Doctors; Another World; From These Roots; Barnaby Jones; Quincy M.E.; The Streets of San Francisco; Murder, She Wrote) & movies (Daughters of Darkness; Impulse) (born May 28, 1933 – died Jan. 22, 2020; age 86). (John Karlen Painting: A. Hamilton)
*Images are original creations ©2023 A. Hamilton, used by permission, public domain, and / or Creative Commons licensed, unless otherwise noted*