This Was Nifty in April 1950
News Headlines & Entertainment Trivia from April, 1950: Classic Film-Noir Movie Releases – Stage Fright, and D.O.A.; 1st ever NBA Championship won by George Mikan & Minneapolis Lakers.
Alfred Hitchcock's Stage Fright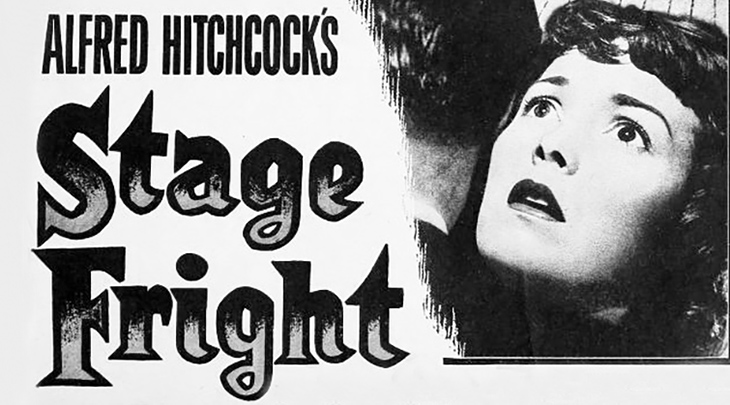 (Jane Wyman April 1950 Stage Fright Ad: Screenland)
Suspense film producer-director Alfred Hitchcock's classic film-noir Stage Fright was released in the USA on Apr 15, 1950. The film had premiered earlier in New York City in February 1950, but went into wide release across the US in April, and other countries later in the year.

(Jane Wyman 1950 Photo: Screenland)
Set in London, the plot & players of Stage Fright unfolds with Academy Award-winning actress Jane Wyman playing student actress Eve Gill, who has a crush on fellow aspiring thespian Jonathan Cooper (Richard Todd). Jonathan has been having an affair with the theatre's leading lady Charlotte Inwood (Marlene Dietrich). 
Jonathan comes to Eve with a request for help; Charlotte came to see him wearing a bloodstained dress, and told him she'd killed her husband. While trying to help Charlotte by getting another dress from her house, Jonathan is seen by her maid Nellie (Kay Walsh). 
Eve takes Jonathan to her father's house (Alastair Sim plays retired Commodore Gill) to hide out, where Eve and the Commodore come to the conclusion that Jonathan is being framed by Charlotte, to Jonathan's anger and denial; he throws the dress in the fire. 
Eve tries to help Jonathan by going back to London to continue rehearsals for the play and investigate on her own. She pretends to be a reporter and later a maid, and discovers that Charlotte is having an affair with another man, in addition to Jonathan. Eve meets friendly Detective Inspector Wilfred O. Smith (Michael Wilding) by chance at a bar, and of course, he's in charge of the police investigation of the murder.
Photoplay critic Elsa Branden lauded the performances of Jane Wyman and Alastair Sim, and called Stage Fright the best new film of the month.
Legendary German singer-actress Marlene Dietrich is glamorous in Christian Dior fashions in the film. By the time Stage Fright was made, Dietrich's movie career – which had begun in the era of silent films – was nearing it's end.
Marlene Dietrich made only 6 more films in the 1950s after Stage Fright (one of them was 1957s Witness for the Prosecution), appeared as a witness again in Judgment at Nuremberg (1961), and then didn't have another credited film role until her final movie Just a Gigolo (1978).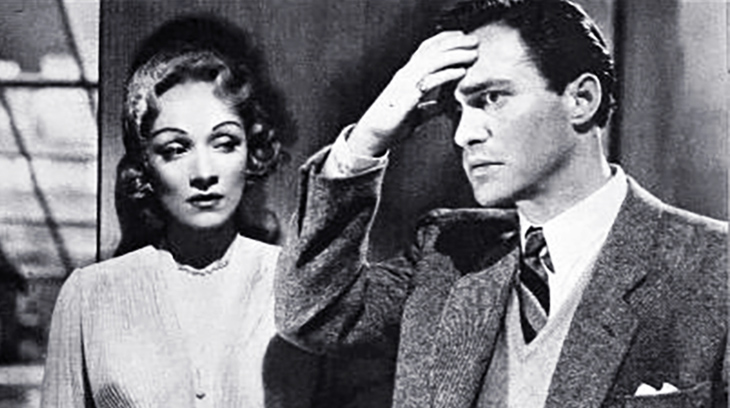 (Marlene Dietrich & Richard Todd 1950 Stage Fright Photo: Photoplay)
British actor Richard Todd's career was just beginning when Stage Fright was released. He'd come to the attention of audiences and critics alike the year before, in the WWII movie The Hasty Heart (1949), starring Ronald Reagan (his Stage Fright co-star Jane Wyman's ex-husband), and Patricia Neal. Todd had earned an Academy Award Best Actor nomination for his performance in The Hasty Heart. He proceeded to enjoy many decades of acting on film in the movies and on television after Stage Fright was released.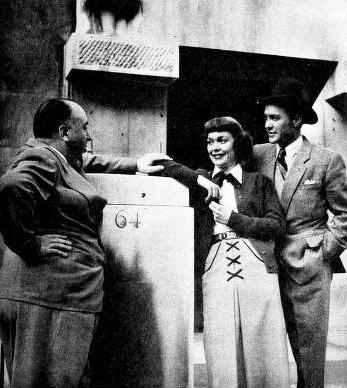 (Alfred Hitchcock, Jane Wyman & Richard Todd on the set of Stage Fright, 1950: Photoplay)
Alfred Hitchcock's expertise at creating suspense is evident in Stage Fright, and the tension builds nicely to the final scene at the end of the movie. Hitchcock can be seen in a cameo, and his daughter, actress Patricia Hitchcock, plays acting student Chubby Bannister in the film, a friend of Eve's.
Jane Wyman, Alastair Sim, and Michael Wilding were at the height of their film careers in 1950, having already achieved critical acclaim and box office success; they were kept busy acting in television and movies for years after Stage Fright.
Stage Fright was the second Alfred Hitchcock movie for Michael Wilding, having co-starred the previous year in Under Capricorn (1949) with Ingrid Bergman and Joseph Cotten.
George Mikan & Minneapolis Lakers Win 1st NBA Championship
On April 23, 1950, The Minneapolis Lakers beat the Syracuse Nationals to win the first ever NBA Championship.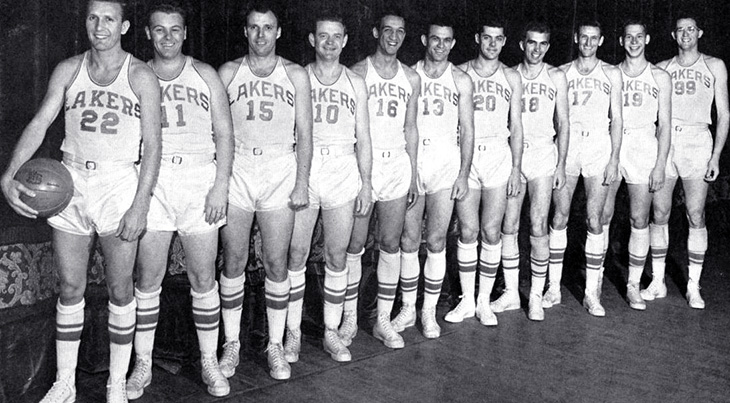 (Minneapolis Lakers 1950 NBA Champions Photo)
Above from left: Slater Martin; Billy Hassett, Don Carlson, Herm Schaefer, Bob Harrison, Tony Jaros, Bud Grant, Arnie Ferrin, Jim Pollard, Vern Mikkelsen, George Mikan. Missing; Joe Hutton, Ed Beach.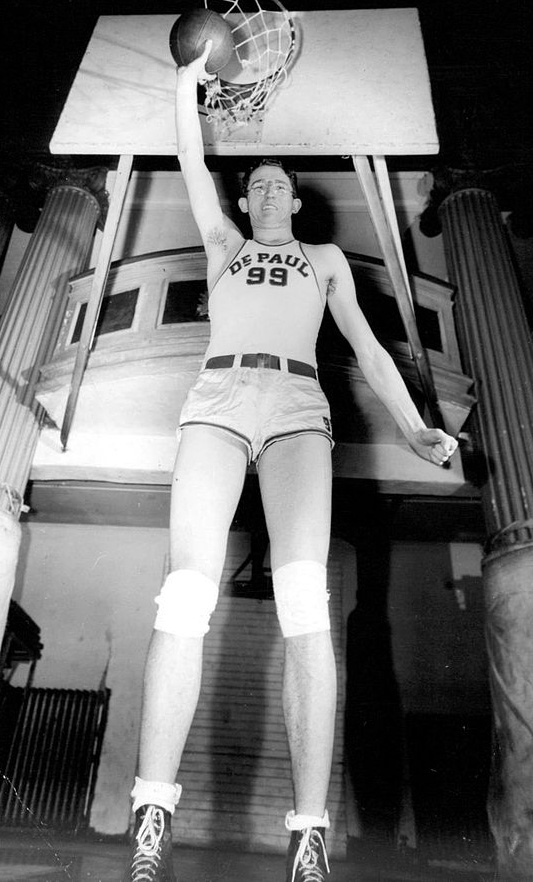 (George Mikan 1945 Photo)
Coached by John Kundla and led by their towering 6′ 10″ captain George Mikan, the Minneapolis Lakers defeated the Syracuse Nationals to win the first official NBA championship in six games. Mikan accounted for 376 points for the Lakers in the 1950 NBA Championship series, followed by Vern Mikkelsen (156) and Jim Pollard (144). 
Often cited as the 4th NBA Championship by some sources who count the previous 3 BAA (Basketball Association of America), the 1949-1950 season was the first for the new NBA, which combined the former BAA and NBL (National Basketball League) teams into one league. 
George Mikan's height and skills with the hook shot, rebounds, and shot blocking, made him a dominant basketball player in the NBA. His younger, shorter (6′ 8″) brother Ed Mikan also became a professional basketball player in the NBA.
Rule changes implemented by the NBA specifically to offset his influence include the shot clock, and "The Mikan Rule", which widened the foul lane to 12 feet (from the previous 6 feet). He was a 4-time NBA All-Star (1951-1954) and inducted into the Naismith Memorial Basketball Hall of Fame in 1959. 
When he retired as an NBA player at the end of the 1954 season, he began a successful career in real estate and corporate law, before becoming the first ABA (American Basketball Association) Commissioner in 1967. George Mikan died on June 1, 2005 from diabetes and other complications. 
D.O.A. Film Release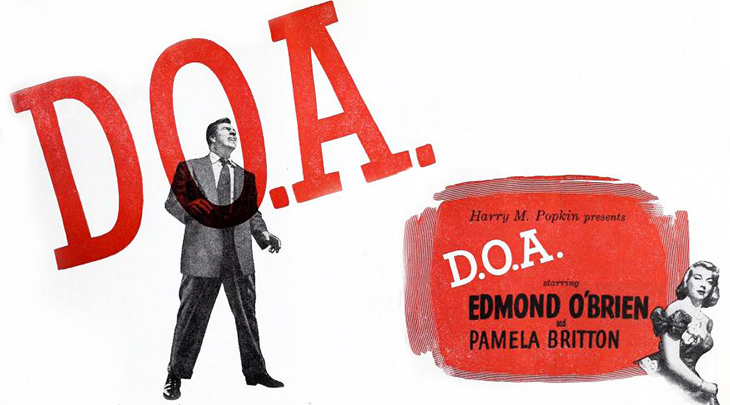 (Edmond O'Brien & Pamela Britton April 1950 D.O.A. Ad)
Although the film-noir crime thriller D.O.A. premiered in December of 1949, it wasn't released across the USA until April 21, 1950. In addition to featuring stars Edmond O'Brien, Pamela Britton, Luther Adler, and Neville Brand, it heralded the film debuts of two new actresses – Beverly Garland (billed in her maiden name, Beverly Campbell), and Laurette Luez.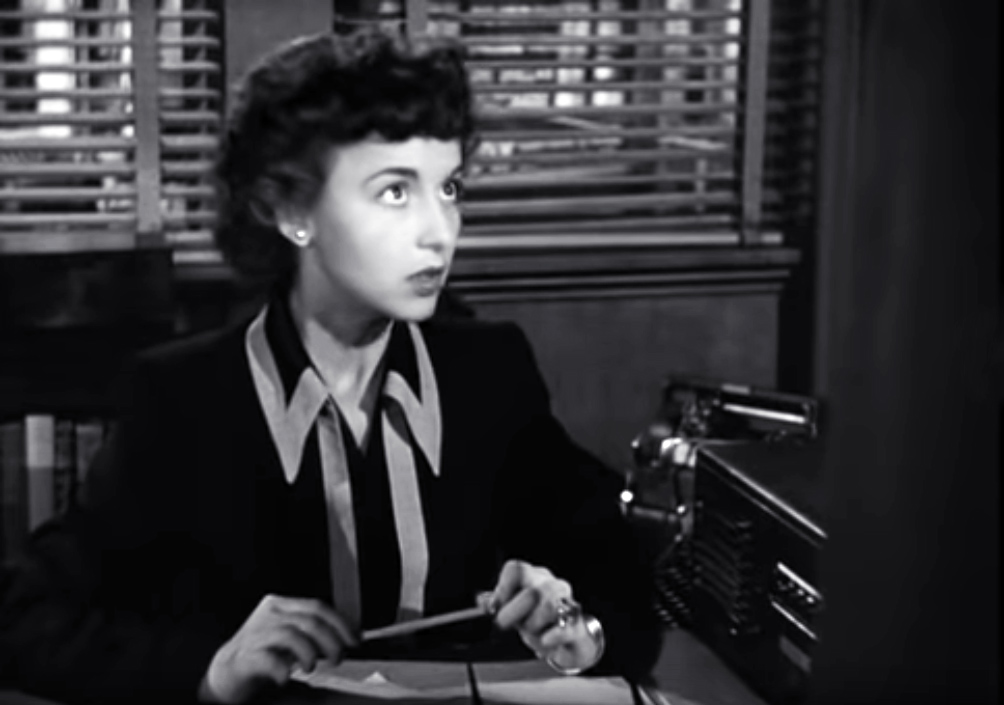 (Beverly Garland 1949 D.O.A.)
D.O.A. begins with a long shot of Edmond O'Brien (as accountant and notary public Frank Bigelow) walking in to report his upcoming murder at a police station. Frank recalls in a flashback that while on vacation without his girlfriend-cum-secretary Paula Gibson (Pamela Britton), his drink was switched without him noticing.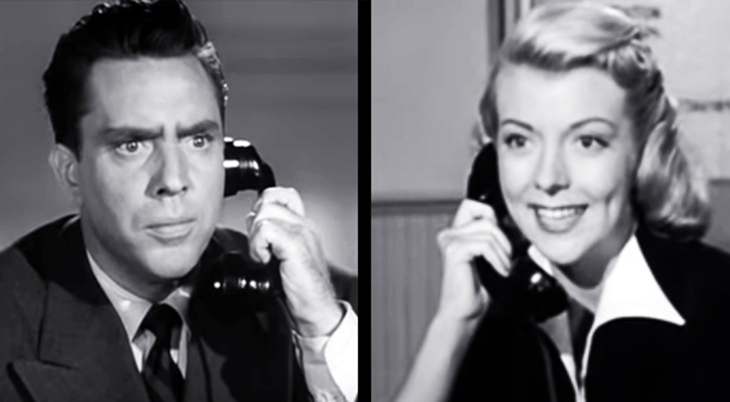 (Edmond O'Brien & Pamela Britton 1949 D.O.A.)
The next day Frank doesn't feel well, and some tests at a Dr.'s office reveal that he's been poisoned with a toxin that has no cure. 
While trying to solve his own murder, Frank discovers that importer-exporter Eugene Phillips, who had been trying to reach him at his office, has died suddenly. He goes to Phillips' office, and meets with Eugene's secretary Miss Foster (Beverly Garland) and comptroller Mr. Halliday (actor William Ching).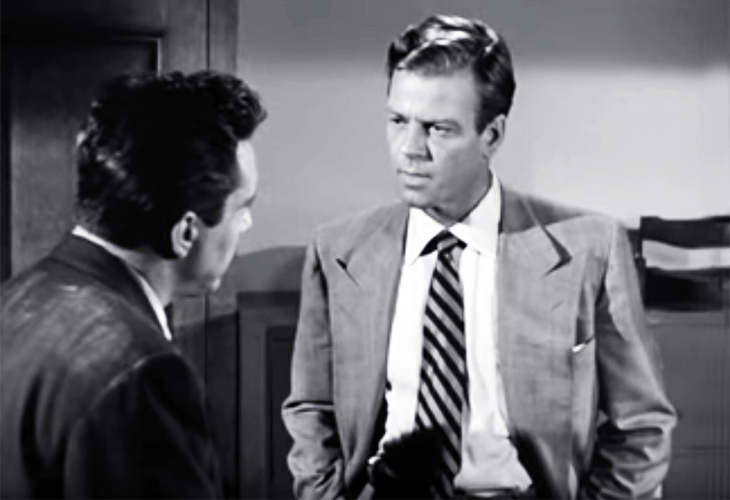 (Edmond O'Brien & William Ching 1949 D.O.A.)
His next stop is to Eugene's widow; actress Lynn Baggett is Mrs. Phillips.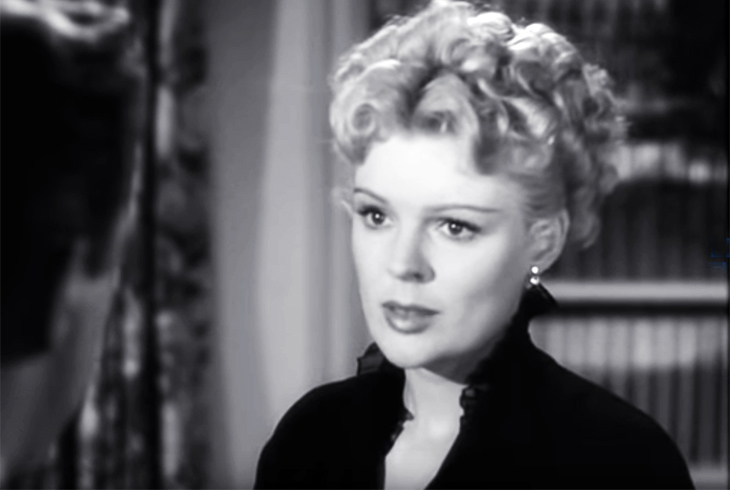 (Lynn Baggett 1949 D.O.A.)
Young actress Laurette Luez is Phillips' mistress Marla Rakubian, and Luther Adler is gangster Majak.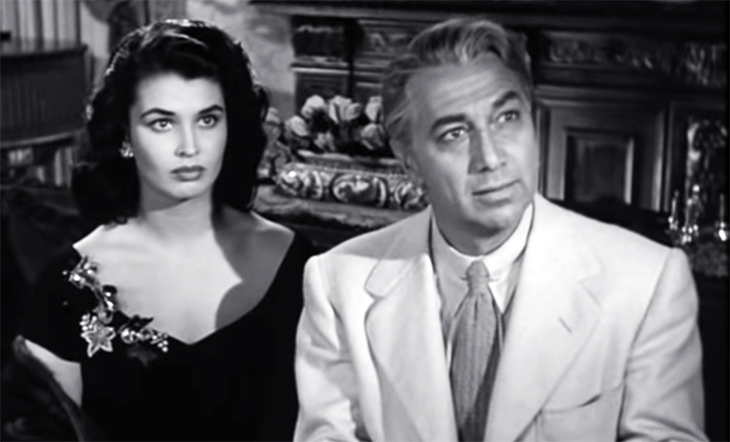 (Laurette Luez & Luther Adler 1949 D.O.A.)
Laurette Luez' career as an actress never really took off, although she was the female lead in 3 other films in 1950 – the adventure flicks Killer Shark with Roddy McDowall and Roland Winters, Prehistoric Women with Allan Nixon, and Kim, starring Errol Flynn and Dean Stockwell. Luez was more successful as a model, and in later films was often cast in small roles as an exotic type. In the short-lived 1956 TV series The Adventures of Dr. Fu Manchu, she played a slave girl. She was married and divorced four times between 1947-1983, and had three children. Laurette Luez was 71 years old when she died in 1999 at the age of 71. 
Based on an original script by screenwriters Russell Rouse and Clarence Greene, Screenland film reviewer Helen Hendricks rated D.O.A. in 1950 as a "top-notch murder-mystery". Although other reviews were mixed, over time the original D.O.A. has held up well, and was selected for preservation in the U.S. National Film Registry. 
Later remakes of D.O.A. include: 
D.O.A. (1988) starring Dennis Quaid, with Meg Ryan, Charlotte Rampling, Daniel Stern, and Jane Kaczmarek. Names and other elements are changed, but the basic plot premise remains the same. This time around, the main character is English Professor Dexter Cornell (Quaid), and his love interest is his student (Ryan). D.O.A. did well with audiences, although critical reception was mixed.
Color Me Dead (1969) set and filmed in 1960s Australia, but an almost identical remake of the 1949 original D.O.A. Tom Tryon plays Frank Bigelow, Carolyn Jones is his girlfriend/secretary, and Bradley Taylor (played by Rick Jason) is a new character, taking the place of Majak the gangster in the first film. Pat Connolly is Marla Rukubian, Tony Ward is Halliday, Penny Sugg is Miss Foster, and Margot Reid is Mrs. Phillips. Color Me Dead was a critical and commercial bomb.
*Images are believed to be in the public domain or Creative Commons licensed & sourced via Wikimedia Commons, Vimeo, YouTube, or Flickr, unless otherwise noted*