Folks, Facts & Fun from July 1931
News, Headlines, Entertainment & Trivia from July 1931: Two weddings and a song – Actor Stuart Erwin marries actress June Collyer; Singer Rudy Vallée records As Time Goes By, and marries dancer Fay Webb.
Rudy Vallée Records As Time Goes By
American crooner Rudy Vallée recorded the classic love song As Time Goes By on July 25, 1931. 
Songwriter Herman Hupfield had written As Time Goes By it for the Broadway musical Everybody's Welcome, which didn't open until October 1931. Although the song wasn't a big hit in 1931, it was recorded by other artists of the day. 
You may remember it best from the Humphrey Bogart-Ingrid Bergman classic movie Casablanca (1942), when piano player "Sam" (Dooley Wilson) sings it…and plays it again, as it was the film's theme song (Bogart actually says, "Play it, once, Sam" in the movie). Because of a two-year-long musician's strike, Dooley Wilson wasn't able to record his own, new version of the song, so RCA re-issued Rudy Vallée's 1931 version, which became a hit 11 years after it was first recorded.
The re-release of Rudy Vallée's 1931 recording of As Time Goes By in 1941 was his last hit record. 
Rudy Vallée Marries Fay Webb
Crooner Rudy Vallée married 23-year-old actress Fay Webb on July 6, 1931 in West Orange, New Jersey. Rudy's business manager Edwin Scheuing was best man and Mrs. Herbert Schmidt was bridesmaid. Also present were Rudy's younger brother William Vallee and his lawyer Hyman Bushel.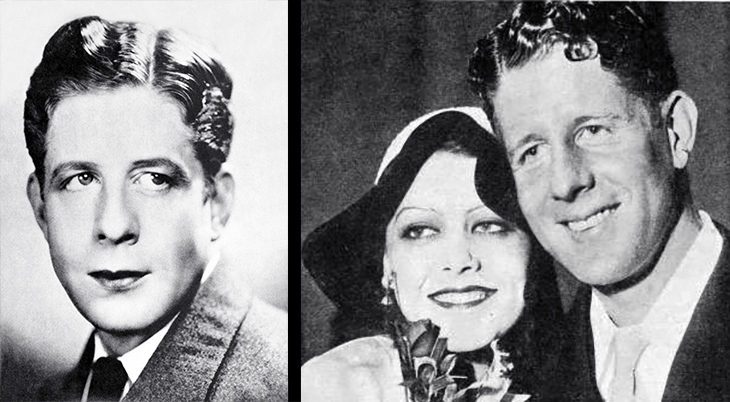 (Rudy Vallee 1931: Broadway and Hollywood | With Fay Webb: Photoplay)
"The Vagabond Lover" Groom
Nee Hubert Prior Vallée when he was born on July 28, 1901 in Vermont, Rudy Vallée's paternal grandparents were French Canadians. A talented musician (drums, clarinet, and saxophone), Rudy grew up on the East Coast. He joined the U.S. Army in 1917 during WWI, lasting over a month until it was discovered he was underage. 
Vallée graduated from high school and then Yale University before forming the Rudy Vallée and His Connecticut Yankees orchestra in 1928.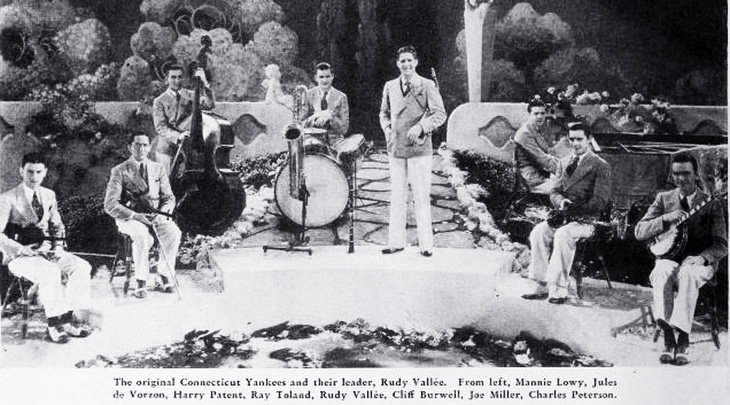 (Rudy Vallée and His Connecticut Yankees 1931 Photo: Radio Digest)
"Rudy got off to his first unfortunate start in love when he in 1928 he married Leonie Cauchois McCoy, divorced wife of Frank McCoy and heir to the Cauchois coffee millions." – Hollywood, 1934 April
Although his marriage to Leonie Cauchois ended in an annulment after only three months, Vallée was still singing her praises years later:
"My first wife was a brunette and one of the finest women I can ever hope to meet. She had every characteristic that I admire in a woman. I doubt if there are many women like her. She was older than I was, and had a child two years old (by a former marriage) when we were married in 1928. The marriage lasted only four days. It was annulled the same year. Since then Leona Cauchois – that was her name – has married a naval officer. And I sincerely hope that she is as happy as she deserves to be." – Rudy Vallee, Movie Classic, 1934
Rudy's popularity with fans – already significant thanks to his recordings and radio broadcasts – had received a boost when he starred as The Vagabond Lover (1929) opposite Sally Blane and Marie Dressler. His fame came with drawbacks. The Brownsville Herald reported in late 1929 that Broadway showgirl Agnes O'Loughlin was suing Vallée for breach of promise – to the tune of $200,000. O'Loughlin claimed Vallée had promised to marry her. Vallée denied all knowledge, saying marriage was never offered.
By July 1931 Vallée had signed lucrative long-term contracts for recordings and live performances, which necessitated working long hours rehearsing and performing. He'd had a big hit song earlier that year with Life is Just a Bowl of Cherries. To top it off, he co-starred on Broadway in George White's Scandals (styled after theatre impresario Florenz Ziegfeld's Follies) with Ray Bolger, Ethel Barrymore Colt, Ethel Merman, and pretty starlet Alice Faye.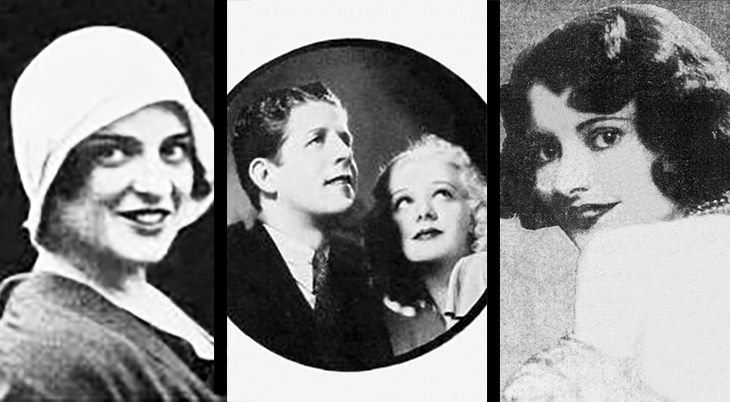 (Leonie Cauchois McCoy; Rudy Vallee & Alice Faye: 1934 Photoplay | Agnes O'Loughlin: 1929 CP)
The Bride
Fay Webb was a California girl whose father Clarence E. Webb served as a long-time Police Chief of Santa Monica (1921-1936, and 1940–1945). Fay had been trying unsuccessfully to break into acting in movies since she'd been signed to an MGM contract in 1927, right out of high school.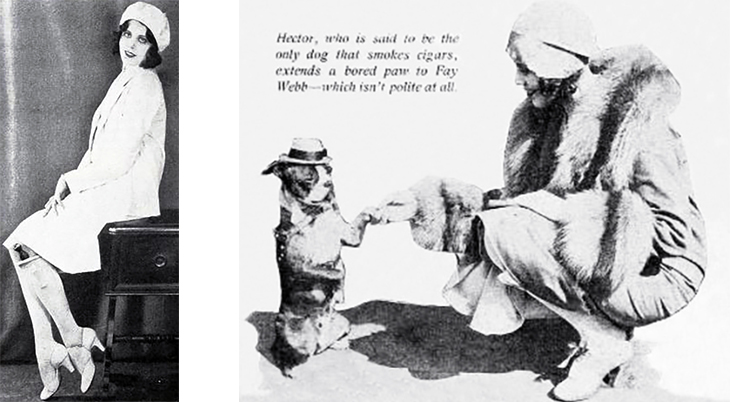 (Fay Webb 1927 Dagger Lipstick: Exhibitors Herald | 1928 Hector the Dog: Picture-Play)
She posed with a lipstick in a dagger holder tucked in her stocking, and with Hector the dog. In fact, Fay Webb's entire film career consisted of posing for publicity shots on movie lots.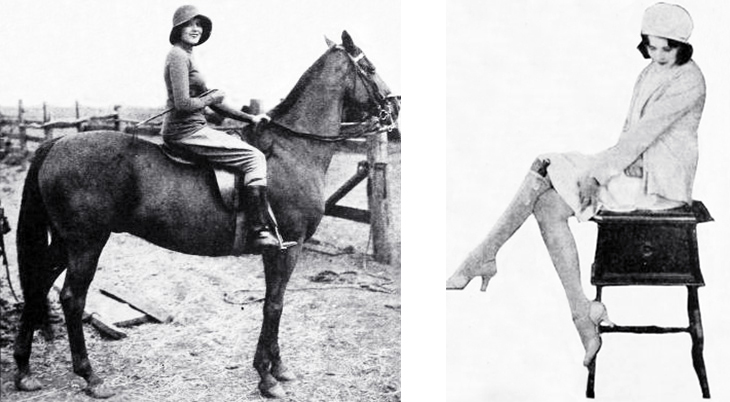 (Fay Webb on horse Nero 1928: Screenland | 1928 Dagger Lipstick: Picture-Play)
One columnist even mused that Fay may have been given an MGM contract by Louis B. Mayer so that her Police Chief father would ensure the MGM film stars wouldn't get speeding tickets when they raced through Santa Monica.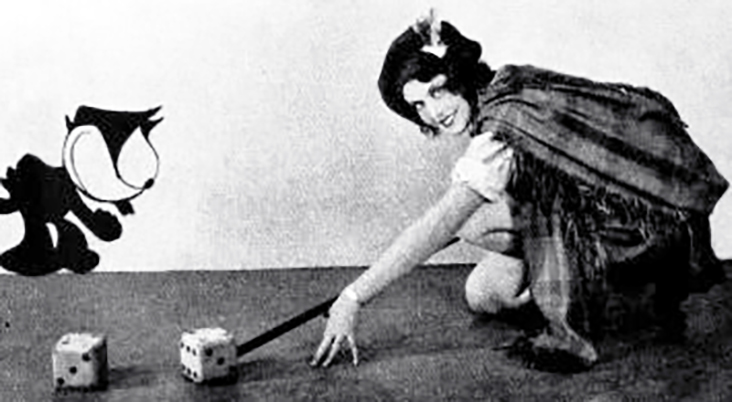 (Fay Webb & Felix the Cat 1928: Film Fun)
Her sister Mary Webb was a pilot and crowned "Queen of National Women's Air Derby" in 1931.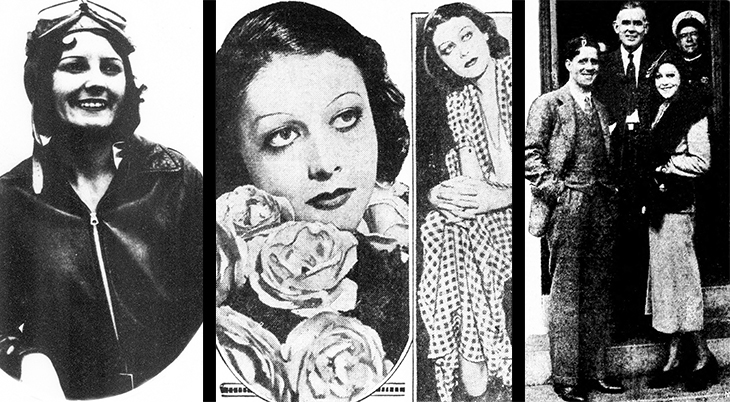 (Mary Webb 1931: Wide World Photo | Fay Webb 1934; Rudy Vallee, Fay & Clarence E. Webb 1932: NEA)
Although neither Mary Webb nor her parents were present at her wedding to Rudy Vallee, Fay remained very close to her family. 
The Marriage
The couple met for the first time at the Roosevelt Hotel while Vallee was in Hollywood filming The Vagabond Lover (1929), but The Waterbury Democrat revealed that their mothers had been childhood schoolmates in Canada. Fay's father praised his new son-in-law and said of the couple after their July 1931 wedding,
"They've been engaged for two years. We took Fay to the train last Wednesday and she arrived in New York Sunday. She and Rudy called us up Monday night and told us they were married." 
Immediately after their wedding, Vallée and his bride lived in a $10,000 a year, 14-room apartment at 55 Central Park West. 
July 1931 was an eventful month for the Rudy Vallee; his mother Katharine L. Vallée died a week after his wedding, on July 15, 1931 at the age of 61. A week after that, he was in the news again:
"Two women fainted in a crush of more than 1,000 persons who yesterday struggled to see Rudy Vallee crowned 'king' in a newspaper popularity contest." – The Evening Star, July 23, 1931
Rudy continued appearing nightly with his orchestra on the rooftop of the Pennsylvania Hotel in New York, and broadcasting on NBC radio radio with the Sunshine Hour. He was also acquiring a reputation as an egotistic perfectionist who liked to get into fights (physical and verbal), which often made the news.
Fay must have found time long on her hands, with Rudy either in town but working long hours, or out of town for days or weeks at at time touring with the band, leaving the new Mrs. Vallée to amuse herself.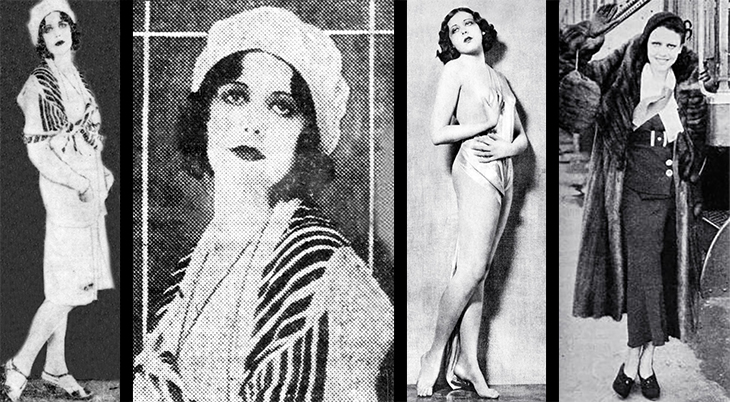 (Fay Webb Photos: 1931 NEA / Broadway and Hollywood Movies | 1932: Keystone)
She loved California and it's mild weather, and in the months after the wedding Fay traveled alone across-country by train several times to visit her parents. The press variously reported these trips as being due to her poor health, or a rift with Vallée. 
There may have been something to those rumours of ill health. Vallée's friend Dick English shared his personal perspective and knowledge of Fay in a 1937 article for Hollywood. He cited her exotic beauty, vital charm, and love of the Hollywood lifestyle and night life, before commenting,
"A word about Fay's recurrent illness. Even as a high school girl she had been subject to nervous ailments. She had much of the same fatal, exotic charm, as Barbara La Marr*; was victim to the same neurotic ills. She was young, loved life."
The House
Before 1931 ended, Rudy Vallee had bought Fay a huge, new hilltop mansion on Sunset Boulevard in the Bel Air area of Beverly Hills, which was at the time a brand-new suburb of Los Angeles/Hollywood. The home sat on 3.5 acres and was variously reported as having between 14-25 rooms and costing the singer in the range of $80-$100,000, a lot of money at the beginning of the Great Depression.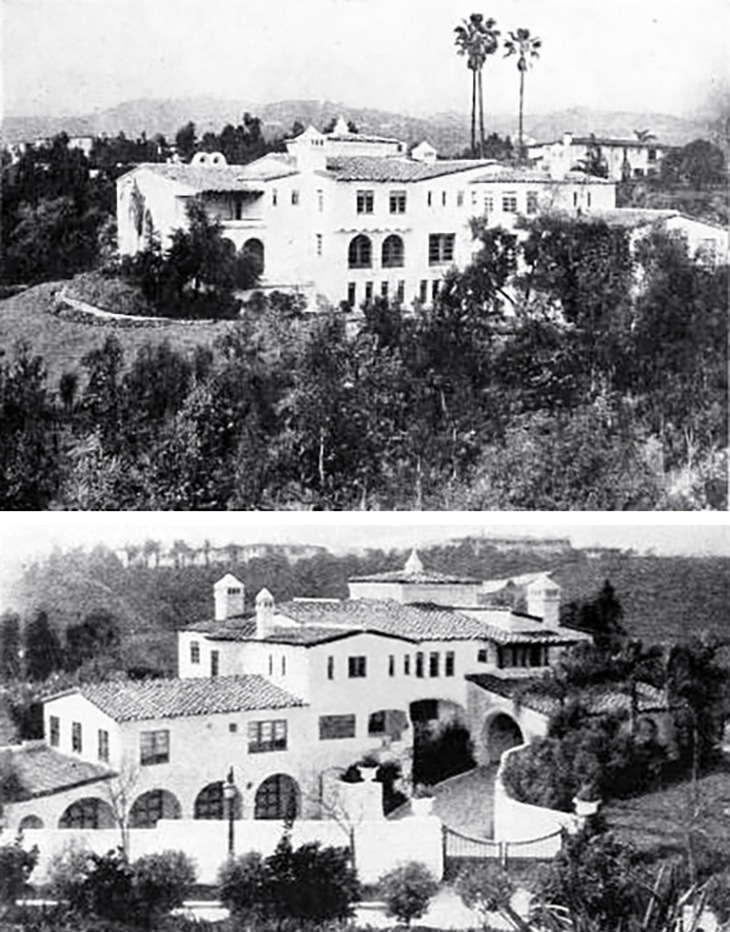 (Rudy Vallee & Fay Webb's Bel Air / Beverly Hills Mansion c 1932: ACME / Wide World Photo)
"He [Rudy Vallee] always lets me do what I want. That was how we happened to buy that twenty-five room Beverly Hills house. We were just out for a drive and happened to see it, and I fell in love with it. I said, 'Oh, let's buy it!' and Rudy said, 'All right' – so we took it then and there. And we didn't need a California home at all! As long as Rudy has his radio work, we'll have to live in New York." – Fay Webb Vallee to Movie Classic, November 1932
The couple never did live in that house together, although Vallée stayed there for a few weeks while he was filming George White's Scandals (1934) with Alice Faye, Jimmy Durante, and Adrienne Ames. He later sold the house for what was said to be the bargain basement price of $20,000 in 1936.
In 1958, Jayne Mansfield and Mickey Hargitay (actress Mariska Hargitay of Law & Order: SVU is their daughter) purchased the home for $76,000 and repainted it in pink with a corresponding pink surrounding wall. Hargitay installed a heart-shaped swimming pool completed with gold-leaf mosaic spelling out "I love you Jaynie". The landmark house was known from that time on as The Pink Palace. It has changed hands several times, belonging a one point to Ringo Starr. It sold for for $19.7 million in 1976. In 2002 Engelbert Humperdinck sold it and it was torn down; the home built in it's place sold in 2020 for $31 million.
The End
Variety reported in August 1932 that Fay Webb was going to Reno to establish residency as a preliminary step to filing for divorce. A reconciliation soon happened, but ultimately the couple parted ways and were permanently separated in early April 1933.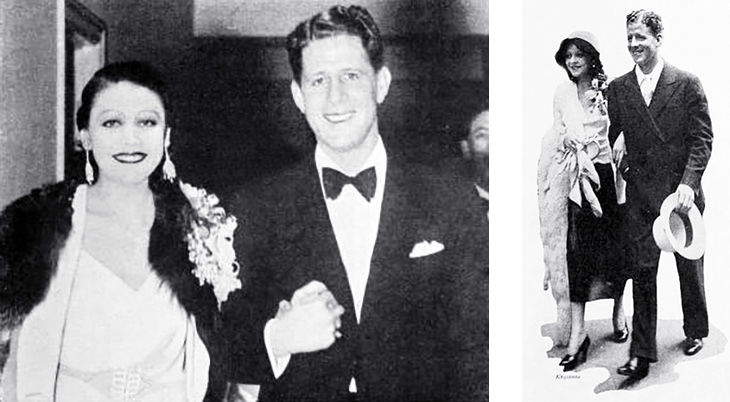 (Fay Webb & Rudy Vallee After Their 1932 Reconciliation: Keystone)
During their final separation and drawn-out divorce proceedings, each accused the other of infidelity. Fay accused Rudy of committing adultery with actress Alice Faye and two other women in her divorce suit. Her own name was linked in the press with actor Johnny Weissmuller, and more damningly, a married dancer…
"Mrs. Katherine Leon…filed suit in supreme court asking $100,000 for alienation of of Garfield Leon's affections. By offers of money and otherwise, Mrs. Vallée induced Leon to leave his wife and go with her to Santa Monica, Cal., early this year." – The Indianapolis Times, April 27, 1933
"Rudy Vallée and his wife, Fay Webb, are definitely separated. A property settlement has been arranged. Fay may live in California. The separation came as something of a surprise for it is only a few months ago that Fay's father had succeeded in bringing the two together after their first rift. Alice Faye, the soloist in Rudy's band, is being picked by the wiseacres as the next in line for the title of Mrs. Rudy Vallée." – The Hollywood Times, May 1933, Modern Screen
Although Rudy resolutely stayed on the East Coast so as not to be vulnerable to being charged under California community property law during their divorce, he did co-star with Stuart Erwin, W.C. Fields, Peggy Hopkins Joyce, George Burns, and Gracie Allen in the 1933 musical comedy International House. Cab Calloway, Baby Rose Marie, Bela Lugosi, and Sterling Holloway also appear in the film.
Sadly, Fay Webb's life was cut short in November 1936, when she died of peritonitis after abdominal surgery. Despite their acrimonious divorce having been finalized in May 1935, Rudy kept in touch with his ex-wife.
"Dark-eyed Fay Webb, whom Rudy Vallee called 'my dream girl' in the days before their divorce, died last night at the age of 29. The orchestra leader laid down his baton when the news reached him at a New York night club and retired to his home…Her father, Police Capt. Clarence E. Webb….said Vallee telephoned frequently during his ex-wife's fatal illness to learn of her condition." – The Evening Star, November 19, 1936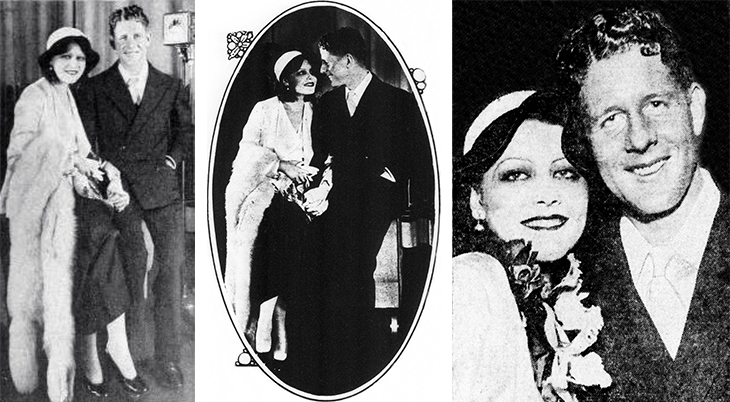 (Fay Webb & Vallée 1931 July Wedding Photos: Movie Classic; Underwood & Underwood; NEA)
Rudy Vallée went on to marry again (to actress Jane Greer from 1943-1944; and to Eleanor Norris in 1946). He enjoyed a long career as a recording artist, performer, actor, and host of radio, television, and movies. Vallée was 84 when he died in 1986, leaving his fourth wife Eleanor a widow. 
Movie Stars Stuart Erwin & June Collyer Marry
New York society debutante and 1928 WAMPAS Baby Star June Collyer (nee Dorothea Collyer Heermance) eloped with actor Stuart Erwin and got married on July 22, 1931 in Yuma, Arizona.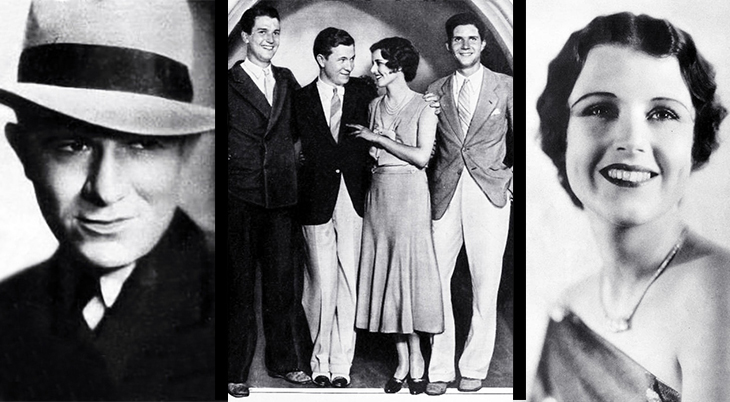 (1931 Photos: Stuart Erwin | Bud Collyer, Stuart Erwin, June Collyer, Richard Heermance | June Collyer)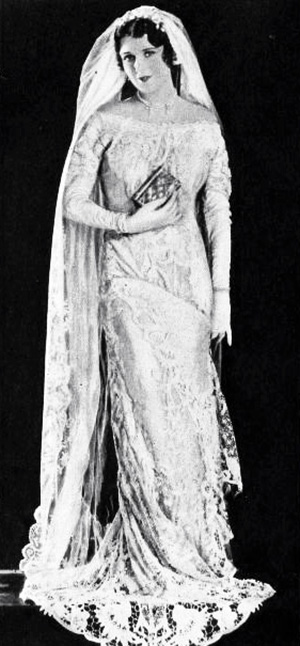 (June Collyer wearing her mother's wedding dress for a 1930 bridal fashion shoot in The New Movie Magazine)
The only people at the wedding of June Collyer and Stuart Erwin were the couple, their officiant (Judge Henry Kelly), and the bride's two brothers, actor Bud Collyer and future film & TV editor & producer Richard V. Heermance. 
Before their wedding, June Collyer was a model and rising actress for studios, while Stuart Erwin had begun making a name for himself as having a flair for comedy.
They met on the Paramount set of the western comedy Dude Ranch (1931), which co-starred Erwin and Collyer, along with Jack Oakie, Eugene Pallette, and Mitzi Green.
Collyer had broken into silent movies in 1927 and successfully transitioned to sound films.
When Britain's Prince George visited America in 1928, June was as much in the news for often being seen on his arm during his 3-day visit, as she was for having been selected as a WAMPAS Baby Star that year.
Actor Russell Gleason also dated the actress before she settled down with Stuart Erwin.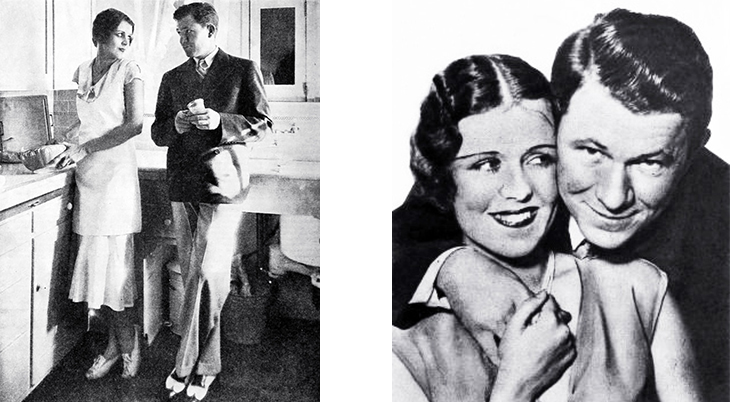 (June Collyer & Stuart Erwin 1931 Photo: Stagg | 1932 Photo: Wide World)
After their surprise elopement, both June and Stuart Erwin continued acting in movies. By the mid-1930s they had two young children – Stuart Erwin Jr. (b. 1932) and Judy Dorothea Erwin (b. 1935).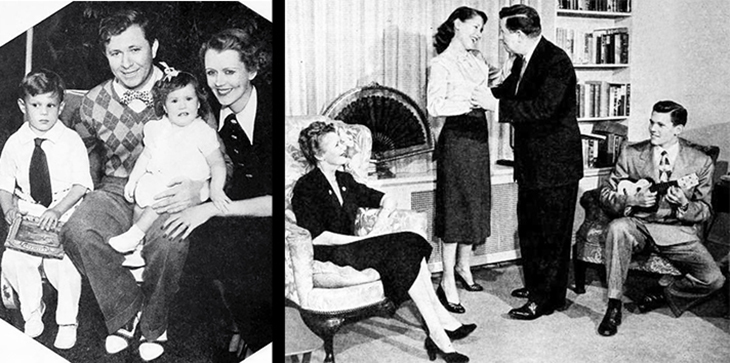 (June Collyer, Stuart Erwin, Judy & Stu Jr. 1937 and 1951)
Post-wedding feature articles in fan magazines revealed a very happy, stable couple, unusual in Hollywood. After co-starring with Lloyd Hughes and Lawrence Gray in the thriller A Face in the Fog (1936), June Collyer virtually retired from acting to be a stay at home mom and housewife.
Stuart Erwin continued to work steadily in films throughout the 1930s. Among his movies are star turns in Under the Tonto Rim (1933) with Fred Kohler and Raymond Hatton; and Checkers (1937) with Jane Withers and Una Merkel. He had strong supporting roles in films like Going Hollywood (1933) starring Marion Davies, Bing Crosby, and Fifi d'Orsay; Viva Villa! (1934) with Wallace Beery and Fay Wray; and Three Blind Mice (1938) starring Loretta Young, Joel McCrea, and David Niven.
During the 1940s Stuart Erwin could be seen in 17 feature films. Some of his more noteworthy 1940s movies are Our Town (1940) starring William Holden, Martha Scott, Fay Bainter, and Beulah Bondi; The Bride Came C.O.D. (1941), in which he co-starred with Bette Davis and James Cagney; and Strike It Rich (1948) with Rod Cameron and Bonita Granville.
When June Collyer finally returned to acting on camera, it was to co-star with her husband in the 1950-1955 Hal Roach Jr. sitcom for ABC TV, Trouble With Father / aka The Stu Erwin Show.
In the series, Erwin is a high school principal and June is his wife. Actress Sheila James Kuehl played daughter Jackie Erwin for the series run, while Ann. E. Todd initiated the role of Joyce Erwin from 1950-1953 and was replaced by Merry Anders in 1954. Black actor Willie Best was a regular as Willie, and Martin Milner appeared in 12 episodes of The Stu Erwin Show as well.
For the remainder of the 1950s and into the 1960s, Stuart Erwin returned to making movies, in between guest-starring gigs on popular TV series like The Greatest Show on Earth and Perry Mason. One of his last starring roles was in For The Love of Mike (1960) a family drama which co-starred Richard Basehart and Arthur Shields.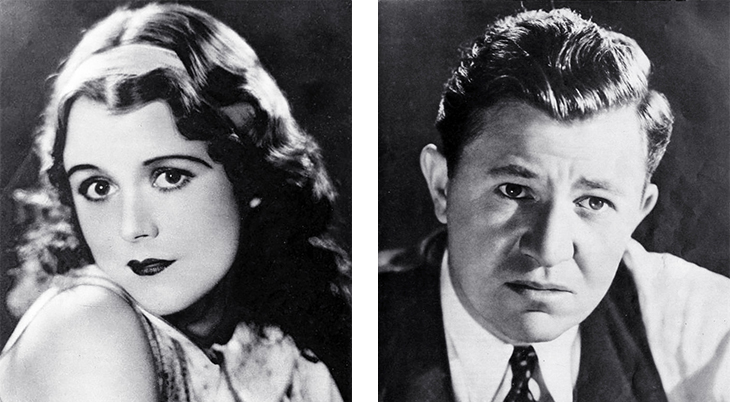 (June Collyer 1930 Photo: Lansing Brown | Stuart Erwin 1934)
June Collyer and Stuart Erwin remained happily married until his death from a heart attack in December 1967 at the age of 64. June was 61 when she died of bronchial pneumonia in March 1968, just three months after Stuart passed away.
*Actress & movie star Barbara La Marr was known for her hectic lifestyle, excessive drinking, and crash dieting. She died of pulmonary tuberculosis and nephritis at the age of 29 in 1926. 
**Images are believed to be in the public domain or Creative Commons licensed & sourced via Wikimedia Commons, Vimeo, YouTube, or Flickr, unless otherwise noted**