Celebrating Seniors - Rose Marie is 93
Update: Rose Marie Mazzetta has died today, December 28, 2017 at the age of 94. Farewell, Rose Marie. 
Nonagenarian senior citizen, singer and Emmy Award-nominated actress Rose Marie Mazetta was born on August 15, 1923 in New York City, New York. 
Below, Rose Marie on The Dick Van Dyke Show.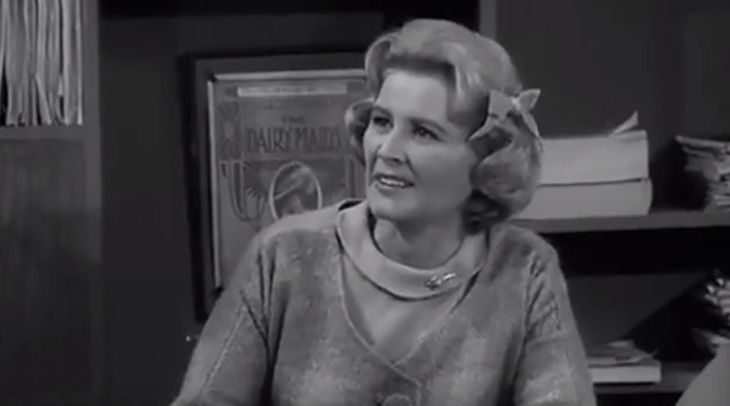 (Rose Marie 1962 Dick Van Dyke "Never Name A Duck" Episode Screenshot)
In her autobiography Hold The Roses (2002), Rose Marie explains that her single mother Stella Gluscak and her father Frank Mazzetta never married, because Frank was already married to someone else. He was a father of two and his wife refused to give him a divorce. At first, Rose Marie lived with her mother and her mother's parents; it was Rose Marie's grandparents who took care of her while Stella worked at different jobs.
Rose Marie's mother took her to vaudeville shows and entered her in an amateur contest at the Mecca Theatre in New York City when she was 3, which she won. Frank Mazzetta took Stella and Rose Marie to Atlantic City and while in the audience listening to a singer at the Little Club, Rose Marie began singing along with performer Evelyn Nesbit, who suggested she use the professional name of "Baby Rose Marie".
Baby Rose Marie continued singing at clubs and hotels in Atlantic City, and by age four she was singing on the radio there twice a week. When they returned to New York City, Rose Marie again began singing on a local weekly radio show. She was soon earning enough money that her mother, grandmother, and father moved to a new home with her in Sunnyside, New York.
NBC Artists Bureau signed the 5-year-old Baby Rose Marie to a 7-year contract and put her in short films as well as on the radio from 1929-1938. She met Al Jolson at the premiere of one of the first "talkie" movies – The Jazz Singer, when her first short film Rose Marie The Child Wonder (1929) was played before the movie.
Rose Marie began making guest appearances on NBC shows and sang with the NBC Symphony Orchestra. Her distinctive deep voice for a young child caught on with listeners in the early days of The Great Depression, but many radio fans and those who saw her on stage or film thought she must be a grown-up midget, not a child.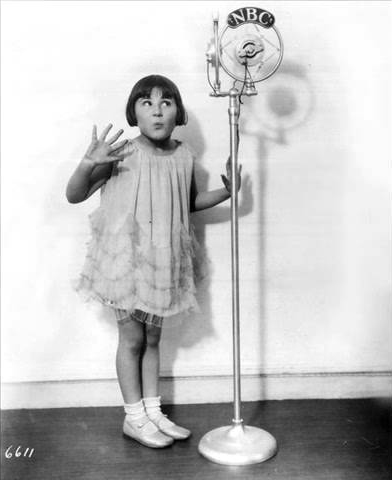 (Baby Rose Marie 1930 Photo: What's On the Air Company | Wikimedia Commons / Public Domain)
NBC gave Baby Rose Marie her own national radio show for 2 years, beginning in 1930 at the age of 7. Partly to dispel the persistent "midget" rumours, she toured and performed in RKO theaters across the U.S. for a year, accompanied by her father Frank. Young Rose Marie started making records, sang for President Roosevelt, and worked with the likes of Milton Berle, The Andrews Sisters, George Burns and Gracie Allen, Dick Powell, and Jimmy Durante, who was a mentor to her. During her tour, 9-10 year old Rose Marie did vaudeville with Edgar Bergen (Candice Bergen's father) and writer and performer Morey Amsterdam, whom she became close friends with. She also became friends with singer/actor Rudy Vallée.
She met Al Capone "Uncle Al" and his wife, as Frank and Al were on very good terms. It was Al Capone that suggested her father adopt the professional name of Frank Curley, which Stella and Rose Marie also adopted. In 2016 Rose Marie told People magazine that Frank was an arsonist for Al Capone/the mafia, although she didn't know it at the time.
When the tour took Rose Marie and her father to Hollywood, they stayed on for a while in an attempt to get a contract with one of the studios. Rose Marie attended Miss Lawlor's Professional School with Mickey Rooney (then called Joe Yule Jr.) and Judy Garland (then known as Frances Gumm). Mickey Rooney and Rose Marie would become good friends later in life. Although no Hollywood contract resulted from their stop there, when they returned to New York, NBC had a new contract for another radio show with Rose Marie.
Stella and Frank had another child, a son named Frank. Years later Rose Marie discovered that her father's two children with his wife were also named Rose and Frank; it was Rose Marie's income that supported both her own family with her mother Stella, and Frank's other family with his wife. Frank was acting as Rose Marie's manager and using her income to supplement his gambling habit and support two families.
In the comedy movie International House (1933) starring W.C. Fields, Rose Marie made her feature film debut in a cameo which was shot in Long Island; also appearing in International House were Bela Lugosi and her friend Rudy Vallée.
She continued with the new NBC radio show for three years, during which time her income allowed her family to move to a new, bigger house in New Jersey.
At age 11, Rose Marie began attending school for a while, but by the time she was 12 she had dropped out of school and her radio program ended. She was at that awkward age where she could no longer be "Baby" Rose Marie on stage, so "Miss Rose Marie" began a new phase in her career, touring and performing in family friendly roadhouses and night clubs, meeting and becoming friends with Jackie Gleason (The Honeymooners). Without the radio contract, Rose Marie's income dropped and her father resorted to borrowing money from the mafia to pay the mortgage.
A first romance for 16-year-old Rose Marie was with boyfriend Chadwick Garoni was curtailed when World War II broke out. "Chaddy" went to Chicago when he was drafted, and married another girl; Rose Marie remained friends with the couple.
Rose Marie's career picked up again when she was 17, and could perform in night clubs; often with mobsters in the audience. She worked in New York and Chicago with stars like Zero Mostel, Joe E. Lewis, Danny Thomas, Frank Sinatra, and Perry Como. Rose Marie would work with Danny Thomas several more times during her career.
Rose Marie met a 28-year-old soldier/trumpet player called Bobby Guy one night. They began dating and within a week he had proposed and asked her to go with him to California when he was discharged from the army. When Bobby was discharged on June 19, 1946, he and Rose Marie eloped and were married the same day.
Rose Marie and Bobby Guy moved to California, and although she was soon pregnant, they both continued performing.
Rose Marie performed at the opening of the Flamingo Hotel in Las Vegas, Nevada in December 1946. Once again she was in the company of mobsters, as the hotel was owned by Bugsy Siegel. 
Rose Marie and Bobby Guy's daughter Georgiana Marie Guy was born in May 1947, and the family moved into a newly built home in Van Nuys, California in 1949. They would later move to another home in the San Fernando Valley, where she still lives today.
Rose Marie began working a little, appearing on radio in guest spots with Bing Crosby and her old friend Rudy Vallee on The Rudy Vallee Show, and doing occasional appearances on stage and big night clubs. She appeared on television for the first time as herself in Cavalcade of Stars (1950) and was on The Ed Sullivan Show (1951), and The Colgate Comedy Hour (1951), among other TV guest star spots.
A Broadway stint co-starring with comedians Phil Silvers and Milton Berle in Top Banana in 1951 led to more stage roles. Rose Marie returned to the movies in the film version of Top Banana (1954) with Phil Silvers.
Her television acting debuts were as a dance teacher on an episode of The Red Skelton Hour (1955) and a small role on the baby boomer classic TV series Gunsmoke (1957). More small parts on television and the movies followed; and Rose Marie's career singing and performing on stage in nightclubs and casinos continued.
Comedy writer, comedian and former vaudeville performer Morey Amsterdam and Rose Marie were lifelong friends. They had a lot in common besides a background in vaudeville, radio and on stage….Amsterdam also had mob contacts, having worked in a Chicago speakeasy operated by Rose Marie's "Uncle Al" Capone, in the early 1920's. By 1960 Morey Amsterdam had worked with Rose Marie several times and written for her stage act.
At a picnic for daughter Virginia's school, Rose Marie met another parent – Johnny Carson – who told her that when he got his own show he'd have her on as a guest. Her first appearance (of 14) on The Tonight Show Starring Johnny Carson came in 1963.
Baby boomers may remember Rose Marie best from television in the late 1950's and 1960's. In addition to her variety and talk show guest-starring appearances – she was on The Jack Paar Tonight Show six times between 1958-1959 and on The Mike Douglas Show 9 times between 1963-1979 – Rose Marie had a recurring role as man-hunting Martha Randolph on The Bob Cummings Show (1958-1959), and as Bertha on My Sister Eileen (1960-1961), starring comedienne Elaine Stritch.
Below,  a clip from The Bob Cummings Show featuring Bob Cummings as Air Force Reserve Officer / Photographer Bob Collins, Rosemary DeCamp, as his sister Margaret, Dwayne Hickman as her son, and Ann B. Davis as his secretary. Nancy Kulp and Rose Marie guest-starred.
Rose Marie's big break came in 1961 when she took on the role of man-hunting, wise-cracking career woman Sally Rogers on The Dick Van Dyke Show (1961-1966). After Dick Van Dyke was cast, Rose Marie was hired and she suggested friend Morey Amsterdam for the part of comedy writer Buddy Sorrell. Mary Tyler Moore played Van Dyke's on-screen wife in The Dick Van Dyke Show. 
Rose Marie was nominated three times for an Emmy Award for her performances as Sally Rogers on The Dick Van Dyke Show, and remained friends with most of the cast from the show including actor Richard Deacon (Mel Cooley) until his death in 1984. Below, friends Rose Marie and Morey Amsterdam as Sally Rogers and Buddy Sorrell on The Dick Van Dyke Show.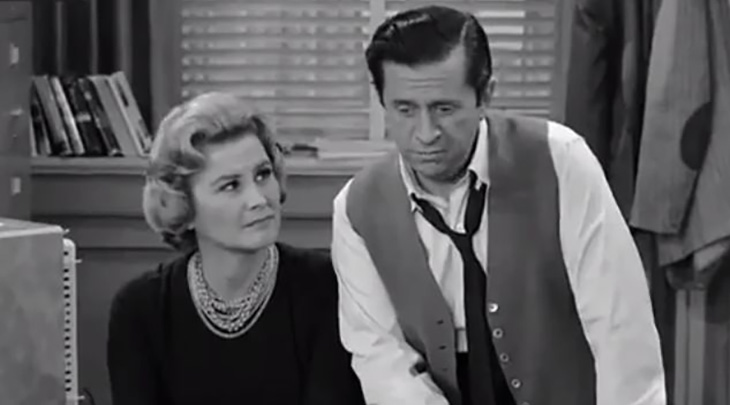 (The Dick Van Dyke Show 1962 "The Night The Roof Fell In" Screenshot)
While doing early promotional work for The Dick Van Dyke Show, Rose Marie met a young director and writer called Tom Conway. She and her husband Bobby were both impressed with how funny he was, and Bobby encouraged her to sign Tom Conway and become his manager. Soon after, Rose Marie got Tom a gig on The New Steve Allen Show (1961) and Tom changed his name to Tim Conway, to avoid confusion with movie actor George Sanders brother Tom Conway. She managed Tim Conway's career until her husband Bobby Guy got sick with liver cancer in December of 1963.
Bobby Guy died in May 1964, while Rose Marie was still working on The Dick Van Dyke Show. They had been very happily married for 18 years, and Rose Marie has never remarried in the 52 years since Bobby Guy's death, although she did have a long romance and engagement with a hotel manager identified as "Peter" in her autobiography, beginning in the late 1960's.
After The Dick Van Dyke Show ended, Rose Marie kept busy with guest-starring appearances as herself and in acting roles on television and in the movies. She co-starred with Morey Amsterdam in the comedy movie Don't Worry, We'll Think of a Title (1966), which Amsterdam co-wrote; served as hostess for a fashion segment of the beauty pageant series Dream Girl of '67, guested on The Joey Bishop Show (1967), The Dean Martin Show (1966-1967), and The Don Rickles Show (1969).
Rose Marie was a frequently recurring guest star on the new game show Hollywood Squares hosted by Peter Marshall, from the pilot episodes in 1965-1980. 
On The Doris Day Show (1969-1971), Rose Marie appeared in seasons two and three as Doris' friend and fellow secretary Myrna Gibbons. Rose Marie kept in touch with Doris Day until her death. Below, Rose Marie, Kaye Ballard, Doris Day, and Bernie Kopell appear in a clip from The Doris Day Show.
For a short time in 1972, Rose Marie had her own late-night comedy variety series Honeymoon Suite. For the remainder of the 1970's and early 1980's, a now 50+ Rose Marie continued to make recurring and guest appearances on popular baby boomer television shows. She can be seen in episodes of Adam-12 (1972-1973), Petrocelli (1974) starring Barry Newman, in an episode with Joseph Campanella, S.W.A.T. (1975), Chico and the Man (1976), The Love Boat (1978-1984), Cagney & Lacey (1985), Remington Steele (1986) and many other series.
Rose Marie began appearing as a recurring guest star on The New Hollywood Squares game show (1986-1988). On stage, she toured the U.S. in her 50+ years in the musical revue 4 Girls 4 along with singer Rosemary Clooney, from 1977-1985.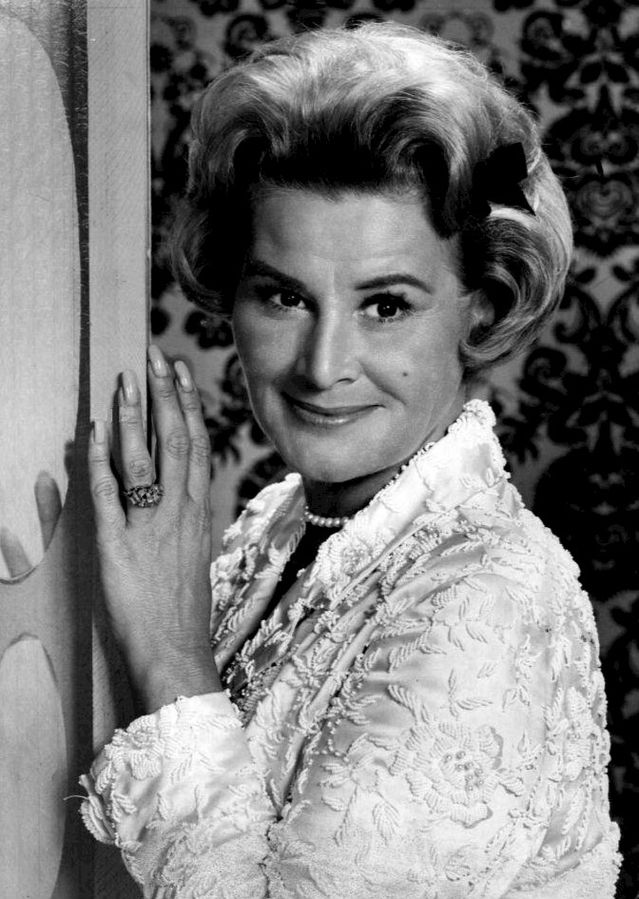 (Rose Marie 1970 The Doris Day Show Photo: CBS Television)
Even after becoming a senior citizen in 1988, Rose Marie continued to be a popular guest star on television. On Murphy Brown she was Rose Fontana, Frank's mother (1990-1991).
During her 70's, septuagenarian senior citizen Rose Marie was a regular as Mitzi Balzer on the baseball-themed sitcom Hardball (1994), starring Bruce Greenwood and Dan Florek. She worked again with Sharon Gless and Tyne Daly in the TV movie Cagney & Lacey: Together Again (1995).
Rose Marie also popped up in guest appearances on TV comedies.
In an episode of Caroline in the City (1996-1997) starring Lea Thompson, Rose Marie was joined by her old friend Morey Amsterdam, just before his death in 1996. She appeared in episodes of Wings (1997) starring Tim Daly, Steven Weber and Crystal Bernard, and Suddenly Susan (1997), starring Brooke Shields.
Rose Marie has appeared in several reunion/retrospective shows and documentaries about The Dick Van Dyke Show including The Dick Van Dyke Show Remembered (1994), Inside TV Land: The Dick Van Dyke Show (2000), and The Alan Brady Show (2003).
Septuagenarian Rose Marie found time to attend the ceremony to receive her star on the Hollywood Walk of Fame in 2001, and write her autobiography Hold the Roses (2002).
Although her appearances have been reduced since she became an octogenarian senior in 2003, Rose Marie has managed to stay in the public eye. Once again she appeared on a new Hollywood Squares TV game show in 2003, and has been kept very busy since then with appearances in documentaries as herself about the early days in radio, movies, and television.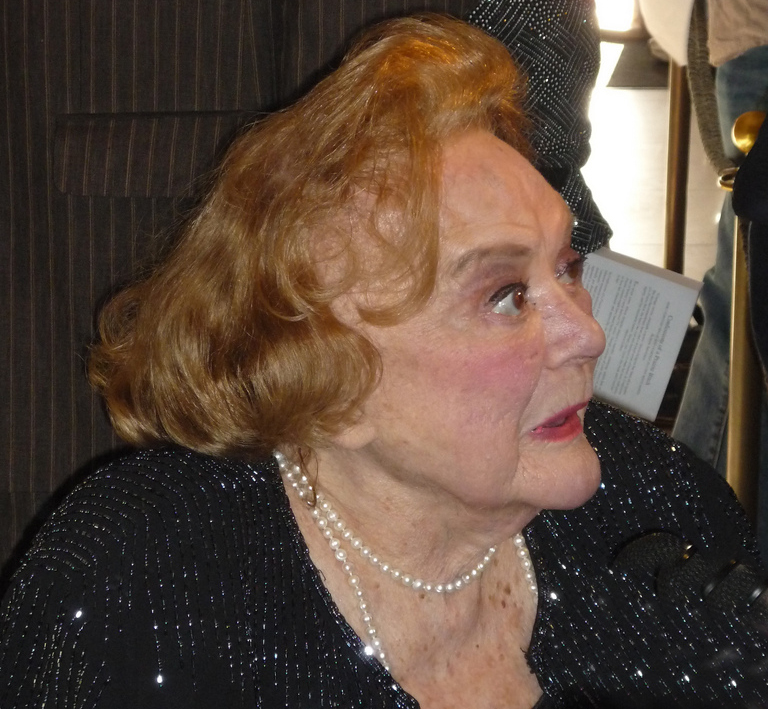 (Rose Marie 2010 Photo: Greg Hernandez)
She's not ready for retirement yet – fans can look forward to seeing nonagenarian senior citizen Rose Marie in the comedy movie Sold (2016) slated for release later this year. The feature film documentary Rose Marie is currently in pre-production and scheduled for release in 2017.