History Fix from December 1946
Baby Boomer Trivia From December 1946: UNICEF Begins, It's A Wonderful Life, Flamingo Las Vegas Opens

UNICEF Forms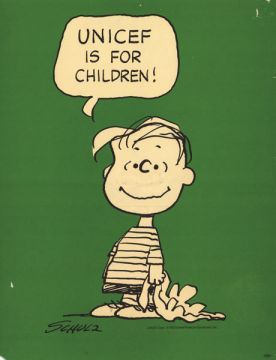 UNICEF was formed in In December 1946, when the United Nations General Assembly unanimously voted to establish an international Children's Emergency Fund.
The purpose of the new UNICEF fund was to provide relief from the famine and disease faced by European children in the aftermath of World War II.
Charlie Brown UNICEF poster circa 1946. (Photo: Pinterest)
In 2016 UNICEF celebrates 70 years of providing aid to children.
Today a major focus for UNICEF is the distribution of vaccines and other supplies, with over $2.3 billion distributed in 2013.
It's a Wonderful Life Premieres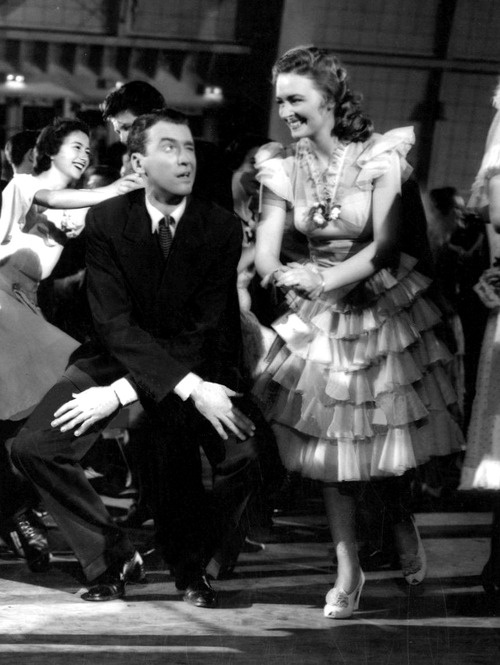 Frank Capra's classic Christmas movie It's A Wonderful Life opened on December 20, 1946 in New York City. It's A Wonderful Life was nominated for six 1946 Academy Awards, but only won one, for technical achievement (simulation of snow falling); The Best Years of Our Lives (1946) stole the Best Picture, Best Director, Best Actor, and Best Film Editing Academy Awards.
It's a Wonderful Life was shot in Culver City, California, on the RKO Radio Picture Studio, and the studio's RKO movie ranch in Encino over 3 1/2 months from April 1946-July 1946.
The swimming pool that opens up during the dance scene was and still is, located in the gymnasium of the Beverly Hills High School. James Stewart as George Bailey and Donna Reed as Mary. (Photo: Pinterest)
Reportedly Frank Capra visited Seneca Falls, New York in 1945 and the city has claimed that the movie's Bedford Falls was modeled after their town. Every December, Seneca Falls holds an annual It's a Wonderful Life Festival.

On the left, James Stewart and Donna Reed in It's A Wonderful Life. (Photo: Where is the Nomad)
It's A Wonderful Life stars (James) Jimmy Stewart as George Bailey, Donna Reed as his wife Mary Bailey, Henry Travers as George's guardian angel Clarence Odbody, Lionel Barrymore as miserly Mr. Potter, Thomas Mitchell as Uncle Billy Bailey, Ward Bond as Bert, H. B. Warner as drugstore owner Mr. Gower, Frank Albertson as Sam Wainwright, and Todd Harns as George's brother Harry Bailey.
It's a Wonderful Life cost over $3 million to make and when it was initially released, was critically praised but a financial flop; in 1947 it finished just ahead of another future Christmas classic at the box office, Miracle on 34th Street (1947). It wasn't until the 1970's that re-runs of It's a Wonderful Life on television resulted in nostalgic seniors and baby boomers making the movie a must-see Christmas staple, and it was acknowledged as a classic Christmas movie. 
Flamingo Hotel Opens in Las Vegas
When the Flamingo Las Vegas hotel opened on December 26, 1946, it was the beginning of an era. 70 years later, in December 2016 it is still open and baby boomers, their children, and their senior parents, can visit living history. Original Flamingo developer Billy Wilkerson (who had called the hotel project the Flamingo from the start) ran into financial difficulty in 1945.
When mafia "businessmen" Bugsy Siegel and partners provided an influx of funding in exchange for two-thirds ownership in the hotel (which was projected to cost $1.5 million to build), Wilkerson accepted. Mobster Bugsy Siegel then brought on more New York and Chicago mob investors, made his girlfriend Virginia Hill the project overseer, and had changes made to the construction plans that included building a secret escape ladder from the Presidential Suite down to an underground garage. The December 26, 1946 opening of the Flamingo hotel featured entertainers Rose Marie, Jimmy Durante, Clark Gable, Judy Garland and others, but it wasn't enough to make the Flamingo show a profit.
  (Photo: Pinterest)
Bugsy Siegel was not present at a major mob boss meeting in Havana Cuba in early December 1946 where his mob friends and investors (Meyer Lansky, Lucky Luciano, and others) accused him of skimming money from the Flamingo building budget, and pointed to frequent trips Siegel's girlfriend Virginia Hill was making to Switzerland, to deposit money in a bank there. The mob bosses came to an agreement to execute Bugsy Siegel, but decided to wait until after the December 26 Flamingo grand opening. Although the Flamingo hotel finally began to show a small profit in the spring of 1947, Bugsy Siegel was shot to death at his Los Angeles home in June 1947.