History Fix From February 1946
Baby Boomer Trivia From February 1946: Lucky Luciano Deported, Operation Deadlight, Juan Peron as President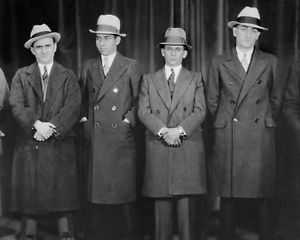 Sicilian native Charles "Lucky" Luciano – boss of the Genovese family and remembered by baby boomers as the father of organized crime in the United States – was convicted of compulsory prostitution (pandering) in 1936 and sentenced to 30-50 years in prison. Seniors may recall that during WWII a deal was struck with Luciano, the State of New York and the U.S. Navy to commute his sentence in exchange for wartime help with contacts in Sicily and dockyard intelligence for the Navy. After World War II ended, Lucky Luciano's sentence was commuted and he was deported to Italy on February 10, 1946. 
Above – Mobster pals Sylvester Agoglia, Charles Lucky Luciano, Meyer Lansky, John Senna. (Photo: sportfolioonline.com)
Charles "Lucky" Luciano died age 64 in 1962 at the Naples International Airport of a heart attack. He was finally able to return to the United States after his death, and is buried in St. John's Cemetery in Middle Village, Queens.
The United Kingdom's Royal Navy plan to sink 156 surrendered German submarines (U-boats) after World War II, known as Operation Deadlight, was completed on February 11, 1946.
Due to their poor condition and bad weather, approximately 1/3 of the U-boats sank before the Royal Navy could sink them with explosives.
The February 24, 1946 general election in Argentina saw Juan Perón of the Labour Party elected as the new President. Perón and his second wife (Maria) Eva (Evita) Duarte (photo below) were extremely popular in Argentina during his first term as president (1946–52). Eva died of cancer in 1952 at age 33, and Juan Peron was serving his second term as President when a military dictatorship took over; Peron was exiled in 1955 and Eva's body exhumed and removed from Argentina by the military in 1957. Photo: Hispanically Speaking News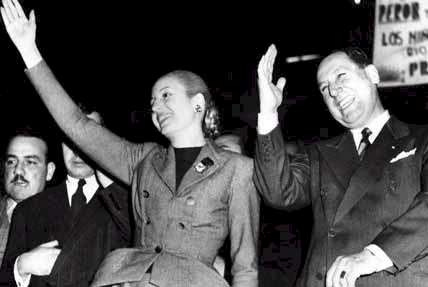 Juan Perón was a septuagenarian senior citizen when he returned to Argentina in 1973 and was elected President for a third term; he died the next year, in 1974. Eva's body was returned to Buenos Aires that same year. The Andrew Lloyd Webber musical Evita is based on Eva's life.