July 1947 Headlines
News Headlines & Baby Boomer Entertainment Trivia From July, 1947: Classic Film Noir Movie Release – Crossfire, starring 3 Roberts (Mitchum, Young, & Ryan); Classic Radio Series Debut: Escape (The Man Who Would be King); Peg O'My Heart – Billboard Hit for 5 Different Artists in 1 Month
Crossfire, starring Robert Mitchum, Robert Young, and Robert Ryan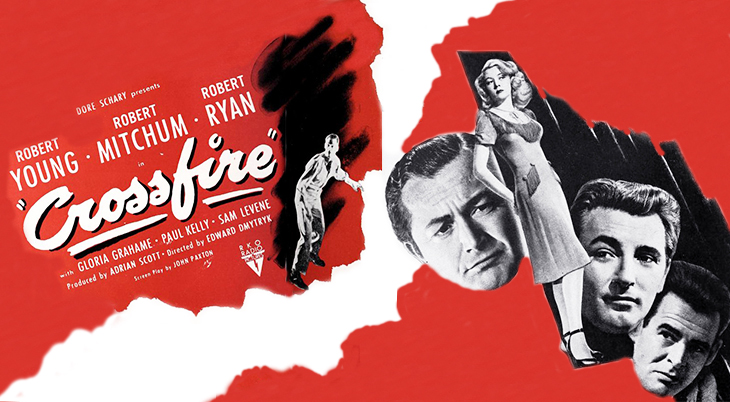 Director Edward Dmytryk's film-noir drama Crossfire premiered on July 22, 1947 in New York City. Based on Richard Brooks' novel The Brick Foxhole (1945) about a homosexual who is victimized by bigots, the screenplay of Crossfire has anti-Semitism and racism as it's core themes instead. This change was made by screenwriter John Paxton, to accommodate the restrictive rules of the moralistic Hays Code. Under the Hays Code (which was introduced in 1930 and was enforced between 1934 and the late 1950s), mentioning or portraying any sexual perversion was banned (homosexuality was considered to fall into that category).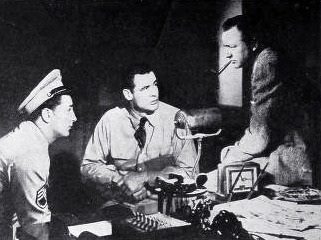 (Robert Mitchum, Robert Ryan & Robert Young 1947 Crossfire Photo: Modern Screen)
Filmed at the RKO Studios in Hollywood and at the RKO Encino Ranch earlier in 1947, Crossfire is set in post-WWII Washington, D.C. The film's plot has two policemen – Sergeant Keely (Robert Mitchum), and Detective Finlay (Robert Young) – investigating the murder of Joseph Samuels (Sam Levene), a Jewish man who was beaten to death in his apartment.
They discover that Samuels had met 3 soldiers earlier that night at a bar – Montgomery/Monty, Mitchell, and Floyd.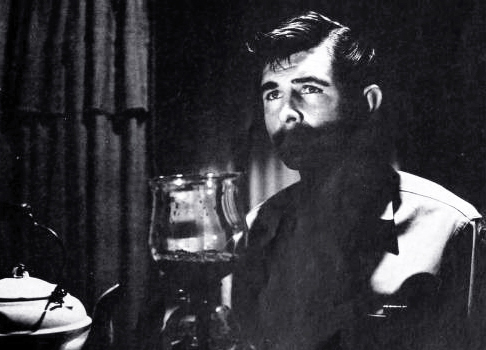 (George Cooper 1947 Crossfire Photo: Cinema)
As they question the three soldiers, the story is told through their eyes as flashbacks. Arthur Mitchell (actor George Cooper in his film debut) is nervous, Monty (Robert Ryan) is an abusive, racist bully, and Floyd Bowers (Steve Brodie) is a weak coward. When the men go back to Samuels' apartment, Samuels ends up beaten to death.
Friendly hostess Ginny Tremaine (Gloria Grahame) had given Mitchell (who is a friend of Keely's) the key to her apartment, and he goes there to hide. A trap is laid to catch the killer and the suspense builds nicely.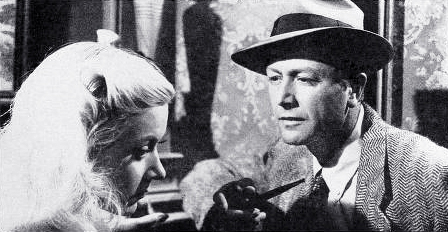 (Gloria Grahame & Robert Young 1947 Crossfire Photo: Motion Picture Herald)
Although the work of cinematographer Roy Hunt is striking in Crossfire, he was't given an Academy Award nomination. However, the film's cast and crew did receive 5 (unsuccessful) Oscar nominations – Producer Adrian Scott (Best Picture), Edward Dmytryk (Best Director), Robert Ryan (Best Supporting Actor), Gloria Grahame (Best Supporting Actress), and John Paxton (Best Adapted Screenplay). The main competitor for Crossfire that year was another film about anti-semitism, Gentleman's Agreement (1947), starring Gregory Peck – which won Best Picture, Director, and Supporting Actress (Celeste Holm). 
Crossfire won the Cannes Film Festival Award for Best Social Film. 
Escape Radio Drama Debut: The Man Who Would Be King
The Escape drama anthology series premiered on CBS radio on July 7, 1945 with the episode The Man Who Would Be King. Based Rudyard Kipling's 1888 adventure short story The Man Who Would Be King about two English explorers in British India, the tale was adapted by Les Crutchfield for the radio play and starred British-born actor Raymond Lawrence. 
The Man Who Would Be King episode was subsequently aired again on Escape starring different actors. This episode of The Man Who Could Be King features the voice-acting of Ben Wright, Wilms Herbert, John Dehner, Peggy Webber, and Jack Kruschen.
Three other episodes of Escape aired in July 1947:
Operation Fleur de Lis – starring Jack Webb, aired on July 14, 1947. Written by William N. Robson. Webb starred in another 5 episodes of Escape during the series run.
The Diamond as Big as the Ritz – starring Jack Edwards Jr., aired on July 21, 1947. Based on a story by F. Scott Fitzgerald, the radio adaptation was by Les Crutchfield.
Typhoon – starring Frank Lovejoy, aired on July 28, 1947. Once again, Les Crutchfield did the radio script based on a story by Joseph Conrad. Frank Lovejoy would later star in another 7 episodes of Escape. 
Escape was a popular radio series and stayed on the air until September 25, 1954 – in all, 230 episodes aired during it's 7 year run. It's dramatic introduction set the tone for the stories that followed:
"Tired of the everyday grind? Ever dream of a life of romantic adventure? Want to get away from it all? We offer you…Escape!"
Works by authors such as Author Conan Doyle, Robert Louis Stevenson, Edgar Allan Poe, H.G. Wells, John Collier, Ray Bradbury (Mars is Heaven), Roald Dahl, Evelyn Waugh, Somerset Maugham, Stephen Crane, Jack London, Daphne Du Maurier (The Birds), and Alexandre Dumas, were adapted by the series writers Les Crutchfield, John Dunkel, or William N. Robson. Crutchfield also wrote some original episode of Escape.
Announcers on Escape included Paul Frees ("Man of a Thousand Voices"), who also starred in 15 episodes of the series.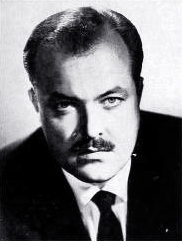 (William Conrad 1954 Photo: Radio TV Mirror)
Film and television actors William Conrad (33 episodes) and John Dehner  (19 episodes) were the most frequent voice-over stars on Escape; Dehner also wrote some episodes. Other notable film and television actors who starred more than once on episodes of Escape: Barney Phillips (5), Vincent Price (3), Parley Baer (2), Ted deCorsia (2), Jack Kruschen (2), Jeff Corey (2), 
For a few months in 1950, a short-lived parallel television series of Escape was aired, while the radio series played on.
Peg O'My Heart Billboard Hit, Times Five
Inspired by a popular Broadway play, songwriters Alfred Bryan (lyrics) and Fred Fisher (music) wrote the song Peg O' My Heart in 1913. It's been covered by countless artists in the years since then. 
There was a traffic jam when five different artists competed with their versions of the hit song Peg O' My Heart on the Billboard Charts in July 1952 – The Harmonicats, The Three Suns, Clark Dennis, Art Lund, and Buddy Clark.
The winner of this particular race was The Harmonicats, with their music-only version of Peg O' My Heart. It was released in March and spent 21 weeks on the Billboard charts in 1947, peaking at #1, and ending the year ranked #2 on the Billboard Year-End Top Singles of 1947.
The Three Suns also released a music-only version of Peg O' My Heart; theirs spent 16 weeks on the charts in 1947, peaking at #2.
Buddy Clark sang Peg O' My Heart, accompanied by an orchestra led by Mitchell Ayres. Clark's song debuted on Billboard at the end of June and spent 7 weeks on the chart, peaking at #4.
Art Lund and Clark Dennis both sang the lyrics to Peg O' My Heart accompanied by orchestras; Lund peaked at #6 during 10 weeks on the chart, while Dennis spent 1 week at the #10 spot.
The title had previously been a hit at the movie theatres, with no less than three films called Peg O' My Heart:
Peg o' My Heart (1919), a silent movie starring Wanda Hawley and Thomas Meighan.
Peg o' My Heart (1922), another silent film with Laurette Taylor, Mahlon Hamilton, Russell Simpson, and Nigel Barrie.
Peg o' My Heart (1933), a musical starring Marion Davies and Onslow Stevens, with Alan Mowbray.
*Images are believed to be in the public domain and/or Creative Commons licensed (Flickr, YouTube, Wikimedia, Vimeo) or used by permission, unless otherwise noted*