April 13th Birthdays
If you were born on April 13th you share a celebrity birthday with these famous people: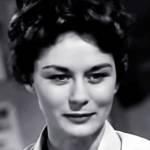 Joyce Meadows (nee Joyce Burger)
Canadian actress of TV (Two Faces West; Perry Mason; 77 Sunset Strip; Tales of Wells Fargo; Days of Our Lives; Santa Barbara; Alfred Hitchcock Presents; Bachelor Father) and movies (Walk Tall; The Girl in Lovers Lane; Frontier Gun), born April 13, 1933. (Joyce Meadows 1957 Tombstone Territory)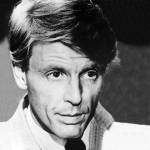 Edward Fox (married Joanna David; ex of Tracy Reed)
English actor of stage, TV (Edward & Mrs. Simpson), & films (A Bridge Too Far; The Go-Between; The Day of the Jackal; The Audience; The Dresser; The Bounty; Never Say Never Again; Force 10 from Navarone; An Ideal Husband; A Month by the Lake; The Cat and the Canary, born April 13, 1937. (Edward Fox 1976)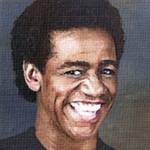 Al Green (nee Albert Leornes Greene)
Grammy Award-winning Rock & Roll Hall of Fame American singer-songwriter (Take Me to the River; I'm Still in Love With You; Let's Stay Together; You Ought to Be With Me; L-O-V-E [Love]; Livin' for You; Simply Beautiful), & ordained pastor, born April 13, 1946. (Al Green 1989 Photo: A&M Records)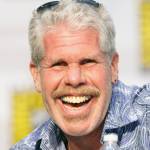 Ron Perlman (nee Ronald Francis Perlman)
American character & voice-over actor of stage, video games (Halo), TV (Sons of Anarchy; Beauty and the Beast; The Magnificent Seven), & movies (Hellboy; When the Bough Breaks; Alien: Resurrection; Quest For Fire; Outlander; Tangled), born April 13, 1950. (Ron Perlman 2010 Photo: Gage Skidmore)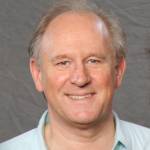 Peter Davison (nee Peter Malcolm Gordon Moffett)
English actor of radio, stage, TV (The Doctor on Doctor Who; Tristan Farnon on All Creatures Great and Small; Law & Order: UK; The Last Detective; Sink or Swim; Distant Shores), and movies (Black Beauty), born April 13, 1951. Father-in-law of David Tennant. (Peter Davison 2016: Supercon Conventions)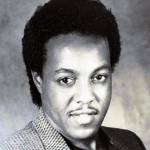 Peabo Bryson (nee Robert Peabo Bryson)
Award-winning American R&B singer-songwriter solo (If Ever You're in My Arms Again; I'm So Into You; Show and Tell; Can You Stop the Rain) and in duets (Beauty and the Beast; A Whole New World; Tonight, I Celebrate My Love), born April 13, 1951. (Peabo Bryson 1984 Photo: Robert Lynden / Elektra)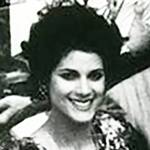 Saundra Santiago
American actress of TV (Detective Gina Calabrese on Miami Vice; Carmen Santos on Guiding Light; Carlotta Vega on One Life to Live; Damages; The Sopranos; Gang Related) & movies (The House That Jack Built; Beat Street; Nick and Jane), born April 13, 1957. (Saundra Santiago 1986 Miami Vice: NBC)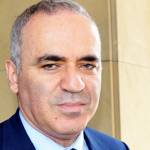 Garry Kasparov (nee Garik Kimovich Weinstein)
Russian-Croatian chess grandmaster (1980), beat Anatoly Karpov in 1985 to become the youngest-ever (age 22) World Chess Champion (1985 – 2000), author, and political activist (United Civil Front founder; Human Rights Foundation chairman), born April 13, 1963. (Garry Kasparov 2015: Fryta 73)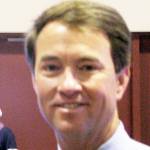 Davis Love (nee Davis Milton Love III)

World Golf Hall of Fame American professional golfer with 21 PGA Tour wins (1997 PGA Championship winner), U.S. Ryder Cup Team Captain (2012, 2016), Players Championships winner (1992, 2003), and Love Golf Design founder, born April 13, 1964. (Davis Love III 2008 Photo: Dan Perry)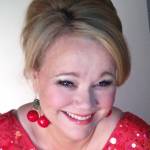 Caroline Rhea

Canadian voice artist, host, actress, & stand-up comedienne of TV (Hilda Spellman on Sabrina the Teenage Witch; Hollywood Squares; The Caroline Rhea Show; Sordid Lives: The Series; Match Game; The Biggest Loser; Phineas and Ferb), and movies, born April 13, 1968. (Caroline Rhea 2012 Photo: Mremoji)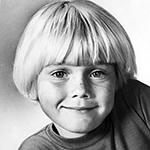 Ricky Schroder (nee Richard Bartlett Schroder)
American producer & actor of TV (Ricky Stratton on Silver Spoons; Det. Danny Sorenson on NYPD Blue; Strong Medicine; 24; Lonesome Dove; Scrubs) and movies (The Champ; The Last Flight of Noah's Ark; The Earthling; There Goes My Baby; Crimson Tide), born April 13, 1970. (Ricky Schroder 1976 Photo)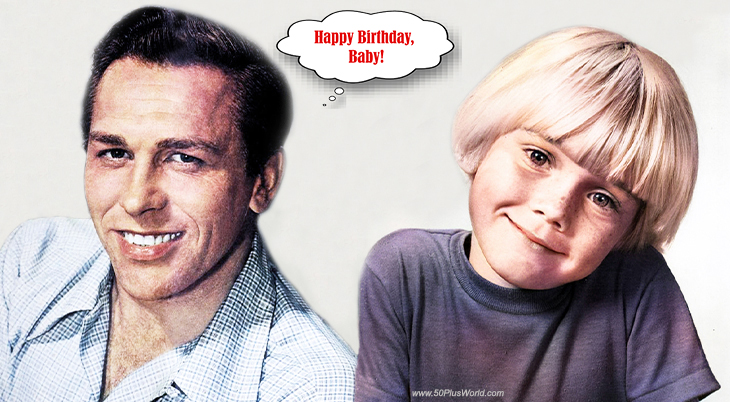 (Howard Keel 1950 | Ricky Schroder 1976 [colorized])
Happy Birthday to everyone celebrating their birthday on April 13th!
Remember These April 13th Famous Birthdays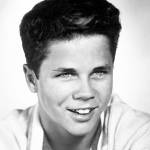 Tony Dow
American TV producer & director (Coach; The New Lassie; Harry and the Hendersons; Babylon 5) and TV actor (Wally Cleaver on Leave it to Beaver & The New Leave It to Beaver; Chet on Never Too Young; Ross Jeanelle on General Hospital; Mr. Novak; Lassie) (born Apr. 13, 1945 – died July 27, 2022; age 77). Tony Dow died of cancer. (Tony Dow 1958 Photo: Pat McDermott)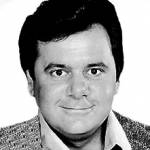 Paul Sorvino (father of Michael Sorvino & Mira Sorvino)
American actor of TV (Chiefs; Law & Order; That's Life; We'll Get By; Bert D'Angelo / Superstar) & movies (Cruising; Cover Me; Made for Each Other; Bloodbrothers; That Championship Season; A Touch of Class; The Day of the Dolphin; Goodfellas; Romeo and Juliet), and opera singer (born Apr. 13, 1939 – died July 25, 2022; age 83). (Paul Sorvino 1975 Photo: CBS) 
Lyle Waggoner
American model, actor, and comedian of TV (The Carol Burnett Show; Col. Steve Trevor on Wonder Woman; Murder, She Wrote; Happy Days; The Love Boat), movies (Love Me Deadly), producer (Consumer America), entrepreneur (Star Waggons) (born Apr. 13, 1935 – died Mar. 17, 2020; age 84). Lyle Waggoner died after a short illness. (Lyle Waggoner 1967 Photo: CBS)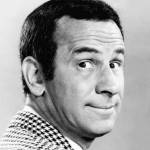 Don Adams (nee Donald James Yarmy)

Emmy Award-winning American comedian, voice over actor, host & actor of TV (Maxwell Smart on Get Smart; Check It Out; Tennessee Tuxedo and His Tales; Inspector Gadget; Don Adams' Screen Test), and movies (born Apr. 13, 1923 – died Sept. 25, 2005; age 82). Don Adams had a lung infection and lymphoma before he died. (Don Adams 1969 Get Smart Photo: CBS TV) 
Mari Blanchard (nee Mary E. Blanchard)
American actress of TV (Klondike) and films (Abbott and Costello Go to Mars; Destry; The Return of Jack Slade; The Crooked Web; Black Horse Canyon; Rails Into Laramie; The Veils of Bagdad; She Devil; Stagecoach to Fury; Twice-Told Tales; No Place to Land; Jungle Heat; The Cruel Tower; Machete) (born Apr. 13, 1923 – died May 10, 1970; age 47). (Mari Blanchard 1932)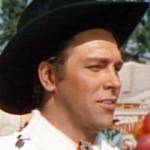 Howard Keel (nee Harry Clifford Keel)

American baritone singer & actor of Broadway, movies (Seven Brides for Seven Brothers; Kiss Me Kate; Show Boat; Kismet; Calamity Jane; Three Guys Named Mike; Deep in My Heart), and TV (Clayton Farlow on Dallas) (born Apr. 13, 1919 – died Nov. 7, 2004; age 85). Howard Keel had colon cancer before he died. (Howard Keel 1950 Photo: MGM Annie Get Your Gun Trailer) 
Terry Lester
American actor of TV series, soap operas, and movies (Ark II; Jack Abbott on The Young and the Restless; Mason Capwell on Santa Barbara; Royce Keller on As the World Turns; Once Upon a Spy; Blade in Hong Kong; In Self Defense) (born Apr. 13, 1950 – died Nov. 28, 2003; age 53). Terry Lester died of a heart attack. (Terry Lester 1982 The Young and the Restless Photo: CBS)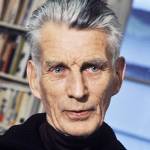 Samuel Beckett (aka Andrew Belis)
Irish winner of the 1969 Nobel Prize in Literature, poet (More Pricks Than Kicks), modernist fiction novelist (Murphy; Molloy) & playwright (Waiting for Godot; Happy Days; Footfalls; Endgame), and WWII French Resistance courier (born Apr. 13, 1906 – died Dec. 22, 1989; age 83). Samuel Beckett had emphysema before he died. (Samuel Beckett 1977 Photo: Roger Pic)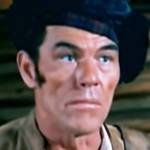 Jack Lambert
American character actor of stage, TV (Riverboat; Gunsmoke; Wagon Train; Tales of Wells Fargo; Alfred Hitchcock Presents; Death Valley Days; Bonanza), and movies (4 for Texas; The George Raft Story; Machine-Gun Kelly; Day of the Outlaw; Backlash) (born Apr. 13, 1920 – died Feb. 18, 2002; age 81). Cause of death for Jack Lambert is unknown. (Jack Lambert 1967 Daniel Boone)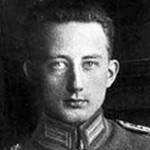 Werner Voss
German 17-year-old WWI Hussar (Iron Cross 2nd Class), Luftstreitkräfte aerobatic Fokker pilot, flying ace (Pour le Mérite award) in the Jagdstaffel 2 fighter squadron with friend Manfred von Richthofen, and flying ace with 48 aerial victories (born Apr. 13, 1897 – died Sept. 23, 1917; age 20). Werner Voss was killed in an aerial dogfight with 8 British pilots. (Werner Voss c. 1917)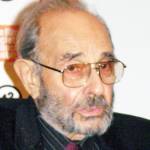 Stanley Donen (ex of Jeanne Coyne, Marion Marshall, Yvette Mimieux)
American movie producer & director (Singin' in the Rain; Seven Brides for Seven Brothers; Indiscreet; Damn Yankees; Royal Wedding; Funny Face; Charade; Two for the Road; Deep in My Heart; The Little Prince; Arabesque; Blame it on Rio) (born Apr. 13, 1924 – died Feb. 21, 2019; age 94). Partner of Elaine May; father of Joshua Donen. (Stanley Donen 2010: Adam Schartoff)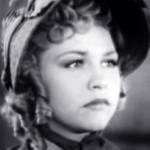 Phyllis Fraser (nee Helen Brown Nichols; married Bennett Cerf)
American movie actress (Winds of the Wasteland; Tough to Handle; Little Men; Fighting Youth; For Beauty's Sake; Lucky Devils), children's book author, Beginner Books co-founder (with Ted Geisel / Dr. Seuss), & TV personality (What's My Line?; Down You Go) (born Apr. 13, 1916 – died Nov. 24, 2006; age 90). Cousin of Ginger Rogers .(Phyllis Fraser 1936 Winds of the Wasteland)
Lowell George
American record producer, musician (harmonica; saxophone; slide guitar, flute), lead singer & songwriter of Little Feat rock band (Willing; Hate to Lose Your Lovin'; Let It Roll; Texas Twister; Dixie Chicken; Spanish Moon) (born Apr. 13, 1945 – died June 29, 1979; age 34). Lowell George died of a heart attack after abusing alcohol, drugs & food. (Lowell George 1975: Warner Brothers)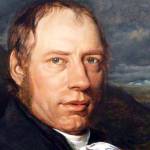 Richard Trevithick (son-in-law of John Harvey)
English wrestler, mining consultant, pioneering mining engineer & inventor (1st high-pressure steam engine; industrial stationary steam engines; Puffing Devil road steam locomotive; 1st working railway steam locomotive) (born Apr. 13, 1771 – died Apr. 22, 1833; age 62). (Richard Trevithick 1916 Portrait: John Linnell, London Science Museum)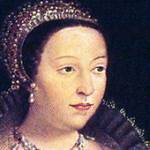 Catherine de' Medici (daughter of Lorenzo de' Medici, Duke of Urbino)
Florentine noblewoman, Queen of France by her marriage to King Henry II; Queen Regent & mother of King Francis II & King Charles IX of France; King Henry III of France and Poland; Queen Elisabeth of Spain; Queen Margaret of Navarre and France (born Apr. 13, 1519 – died Jan. 5, 1589; age 59). (Catherine de' Medici Portrait c. 1547-1559: Germain Le Mannier)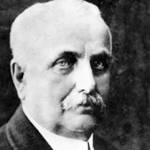 Frank Winfield Woolworth (brother of Charles S. Woolworth)
American Five-and-Dimes stores retail pioneer (Woolworth's Great Five Cent Store; F.W. Woolworth Company; Woolworths), Woolworth Building owner (world's tallest building 1913-1930) (born Apr. 13, 1852 – died Apr. 8, 1919; age 66). Cousin of Seymour H. Knox; father-in-law of Franklin Laws Hutton; grandfather of Barbara Hutton. (Frank Winfield Woolworth)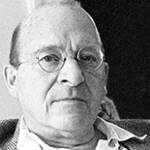 Roy Winsor
Edgar Award-winning American mystery novelist (The Corpse That Walked; Three Motives for Murder), radio writer (Have Will Gun – Will Travel), TV series creator & screenwriter (Search for Tomorrow; Love of Live; The Secret Storm; Ben Jerrod; Somerset; Another Life; Hotel Cosmopolitan) (born Apr. 13, 1913 – died May 31, 1987; age 75). (Roy Winsor c. 1985: Ricker Winsor)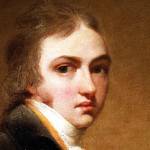 Thomas Lawrence
English Royal Academy President, Regency era portrait painter (Prince of Wales / Prince Regent; Queen Charlotte; Duchess of Devonshire; Sarah Siddons; Tsar Alexander; Duke of Wellington; Lady Caroline Lamb; Princess Charlotte Augusta; Caroline, Princess of Wales) (born Apr. 13, 1769 – died Jan. 7, 1830; age 60). (Thomas Lawrence 1788 Self-Portrait)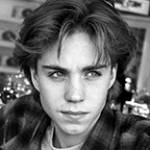 Jonathan Brandis
American child model, actor of commercials, TV series (Lucas Wolenczak on SeaQuest 2032), and films (Stepfather II: Make Room for Daddy; Outside Providence; Puerto Vallarta Squeeze; The NeverEnding Story II: The Next Chapter; Ladybugs; Sidekicks) (born Apr. 13, 1976 – died Nov. 12, 2003; age 27). Jonathan Brandis died by suicide. (Jonathan Brandis 1993: Airwolfberlin)
*Images are original creations ©2023 A. Hamilton, used by permission, public domain, and / or Creative Commons licensed, unless otherwise noted*