The Art & Business of Voice Acting
Emmy-nominated voice over actor Bob Bergen is closing in on 30 years of voicing Looney Tunes Porky Pig, and told me he doesn't foresee saying a final "That's all folks!" to his career anytime soon, if ever.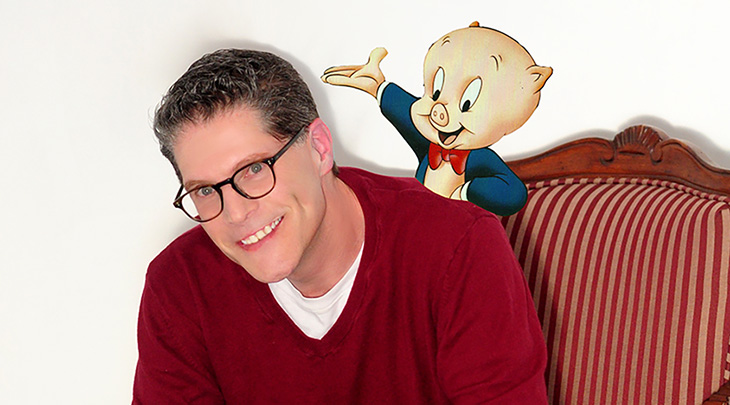 (Bob Bergen Photo: Russell Baer / Used by Permission)
Bob Bergen's resume includes a stint as a Universal Studio tour guide while he was getting started in the biz, hosting a kid's TV game show (Jep!), and hundreds of voice over acting credits.
He's worked on feature films (Cars, Gremlins, Monsters, Inc., Toy Story movies), commercials, radio, video games (Luke Skywalker in Star Wars games & specials), and of course, cartoons (Tweety Bird & Speedy Gonzales as well as Porky Pig). He landed his dream job and joined the Looney Tunes voice acting team in 1990, and has never looked back. 
Pursuing the Dream of a Voice Over Career
Bob's first step on his chosen career path was taken at the early age of five, when he told his parents he wanted to be Porky Pig.
In the ensuing years, Bergen became a student at home as well as at school – watching and taping cartoons in order to practice voices, and even creating some of his own characters. He idolized the iconic Looney Tunes voice artist Mel Blanc, and practiced diligently to perfect Porky Pig's unique stutter as voiced by Blanc in the original Porky Pig cartoons. 
Bob Bergen was 14 when his family moved to Los Angeles, and he lost no time in contacting animation studios and investigating how to break into cartoon voice over work. One thing led to another, and he began studying voice over in earnest, attending workshops and classes – learning from the best in the industry, in addition to taking improv and regular acting classes.
"I was very fortunate to have supportive parents. They paid for my voice over classes, drove me (I was 14 when I took my first classes), and encouraged me to pursue my dream. I think a solid family foundation is essential in career and life success!"
An important early acting voice acting coach and mentor was Daws Butler (voices of Yogi Bear, Elroy Jetson, and others). Bergen went so far as to sneak into a recording studio to watch his idol Mel Blanc in action. 
When a connection with Casey Kasem allowed Bergen the opportunity to send a demo of 85 of his voices to Kasem, Bob Bergen found his first voice over agent, and his career as a voice over actor began.
The Art of Voice Over Acting
Do you use any props or have visual aids when you're doing a voice over?
"Sometimes. More often than not I pantomime props. If you physically play the character the voice will follow. So using the body for emphasis helps to bring the vocal performance to life. But this has to be done while staying on the mic. And too much body movement will be picked up on the recording, so there has to be a happy medium in the physicality. An on camera actor has their face to rely on to relay emotion. The voice actor must do this with their voice.
But I do have what I call my creature prop, which is a slender flower vase I use to accentuate animal growls like lions and whatnot. I will use this in auditions and if booked will bring it with me to the session. Sometimes the producers have me use it, sometimes they don't. I recently used it to create the voice of a character possessed by a demon."
You've been really focused – and extremely successful – on voice over acting. Are you interested in other types of acting?
"I did a lot of sitcoms and some soaps in the 80s. And I hosted a game show in the '90s, which was a kid's version of Jeopardy! called Jep! on Game Show Network….I'd love to do a sitcom if there are any agents or producers out there interested….jussayin."
What are the differences between doing voice over acting for movies, TV series, or video games?
"There have been films where I've been hired to re-voice an actor because the director didn't like their performance. Often getting no screen credit, especially if this was for a celebrity or well known actor. And we are asked to keep this hush-hush. But it happens more often than people might know. Years ago I re-voiced an actor in the original Total Recall. It was the scene on Mars at the customs desk, where the customs officer is questioning a lady if she had anything to declare. Her face slits open and it's revealed she's really Arnold Schwarzenegger. The reason the producers wanted the original customs actor re-voiced was because he had an accent very close to Arnold's, and they feared his voice would give the gag away.
I re-voiced Leonardo DiCaprio for the TV version of Basketball Diaries, dubbing the bad words. However, I only voiced him when he was stoned. Another voice actor dubbed him sober. (Don't try to read into that too much….I just couldn't voice match sober Leo and the other guy couldn't voice match stoned Leo…and Leo's voice had changed too much to do any of it). This sort of work is challenging for the voice actor, as we need to be at the exact same emotional place as the original actor, often just replacing partial sentences. So we have to match the acting, the voice, and sync all at the same time. Where the on camera actor might have had the time to prepare for the scene in their dressing room, the voice actor must have it all down immediately at the mic.
Then there are films like Gremlins or other horror/fantasy movies where I'm hired to voice creatures. Love this kind of work.
For TV series animation they will have as many cast members as are available record together, which is ideal as acting is reacting.
For an animated feature often we are recorded solo, which is more challenging. For the film The Emperor's New Groove I played Bucky the squirrel, who had scenes with Eartha Kitt and Patrick Warburton. I was never in the studio with either, but with great direction and great editing we had great chemistry. I've seen Tom Hanks in interviews describe the challenges of recording the Toy Story films, with many, if not most of his scenes recorded solo. Bless him for being so honest on the challenge, as his vocal performances on these films are as brilliant as his on camera work.
Games are also recorded solo and can be a bit creatively redundant. You have to record every possible option the player might have. And you have to perform each line/option with the same enthusiasm and intent, remembering that as far as the player is concerned this is the first time they have heard these lines. This can get tedious but a good actor can make each take fresh and spontaneous."
During a 2013 interview, Emmy-nominated Bob Bergen dished on his career and demo'd his voice acting skills:
Is audiobook narration something you'd consider?
"Actually, no.  I'm not fond of the business model, which is to pay the voice actor per finished edited hour rather than the time it takes to record. And the actor is expected to do their own editing. It's just too much work for the money. Plus the idea of sitting for hours recording an audiobook just doesn't float my boat creatively. I'd rather sit and watch a grapefruit grow. But I have a lot of respect for those who voice audiobooks. I love to listen to 'em, and I know many voice actors who truly enjoy doing them."
The Business of Voice Over Acting
Bob Bergen shares his insights about acting and the entertainment industry in general, voice over work as a whole, and his unique perspective based on a long and successful voice over career.
"Today there are 24/7 animation networks. We have primetime animated television programs, streaming, web series, etc. Never have there been more opportunities for the animation voice over actor than today. This is a huge benefit to me as well as anyone else interested in breaking into voicing cartoons. Just know that it's not easy. They hold auditions every day because the business is always looking for the next big thing. But the cream floats to the top. You need to be as good or better than everyone else already working in cartoons." 
Voice Over Auditions
Voice over work and auditioning for voice over jobs varies greatly from one day or week to the next. Typically animated features are contracted for up to 8 hours, while television series animation is up to 4 hours. Other types of jobs such as commercials, games, and promos, range from 2-4 hours. Commercials make up the largest quantity of voiceover work week in, week out. 
"On those very busy weeks this is why God created the agent who, besides negotiating our deals, they do their magic scheduling multi gigs in a day…I could have a day with no auditions, and the next I could have a dozen or more."
Bergen does most of his auditions in his home studio, a significant evolution from his early days as voice over actor, when he had to go to casting offices for auditions (a rarity today). Although working from home is easier, he finds he misses people.
"My day begins anywhere between 5-7am, depending on what I need to record and when it's due…if I happen to have a job outside my home studio at 9am, then I have to be done with my auditions by 6am. And I have an agent in New York who needs their auditions in by 9am East Coast time. I'm not a night person, so I prefer doing this early in the morning….I have my coffee maker on timer and begin my day with a cup or 12, head into my office, print up my morning auditions, and hit my studio. I'm usually done with my morning auditions by 9am or so, but it's not unusual to see more auditions come my way throughout the day."
While the auditioning might take place in his home studio, that's rarely the case for jobs as special equipment is required. Bergen prefers voice acting to producing, and animation studios want the voice actors to come into their studios for the actual recording of work. 
Marketing a Voice Over Actor
On days when Bob doesn't have any auditions or jobs he spends the day in his office marketing his career.
"For an actor to say things are slow just means they haven't a clue all they can do for their career. Marketing today is vital. One of the workshops I teach is called VO Group Therapy where I work with actors exploring what they have and haven't done to promote and advance their career. It's often intense and even confrontational. But this is called show BUSINESS."
His website BobBergen.com is kept up to date and serves as both a communication & marketing vehicle. Bergen does all of his own social media and says he loves connecting and corresponding with fans and aspiring voice over actors.
"I'm finding these days it's social media like Facebook and Twitter (I'm on both!  Follow me on Twitter @bobbergen), that matters most."
Show Me the Money
Bergen says there's no 'one size fits all' when it comes to remuneration for voice over work. Every contract has a different rate of pay based on individual scale minimums, number of voices, etc. 
"Films and TV shows pay residuals as well…With the changing landscape of television programming, commercial voice over dividends have also changed. They don't pay as well as they used to. When I got into the business we had just 3 networks. If your commercial aired during prime-time television, and even network daytime, you got paid each time it aired. The majority of television today consists of cable, which doesn't pay nearly as well as the major networks."
Voice Over Acting Career Evolution and Longevity
According to Bob Bergen, evolving along with the entertainment industry is critical for actors, and has been a key to his own success and career longevity in voiceover work. 
"Often actors resist change, which is career suicide. When I got into the business, voice over demos went from reel to reel to cassette. Commercial auditions went from reading at the ad agency to the voice over agent's office recording studio. Many veteran voice over actors resisted these changes. I always embraced them and just went with the flow. But actors resisting change is nothing new. Vaudeville performers resisted and resented silent movies. Silent movie actors resented sound. The movie studios resented television, etc. So you can either be stubborn and stay stagnant or you can change along with the industry."
What personal and/or professional obstacles have you had to overcome during your career? 
"Well, I've been blessed to be a working actor for over 30 years. But no matter where you are in your career, this is always the challenge. Shows get cancelled, producers recast for reboots, etc….I think the key to voiceover success is diversity. The more genres of voice over one does, animation, games, commercials, narration, promos, etc., the better the odds you will continue to work…a smart voice actor is always aware of trends, and always looking for ways to stay relevant. No matter how successful one is, you can never coast. I teach my own voiceover students to always approach their career as if they are new and hungry."
What health regimen do you follow to ensure your voice is always up to par?
"Nothing out of the ordinary. I try to stay away from sick people. I can work feeling like crap, but I cannot work sounding like crap. When flying or staying in a hotel I scrub everything down with wipes.  And I don't like chatting on the phone throughout the day, just to save the voice for work and auditions."
What can audiences expect from your touring one-man stage show?
"It's the story of a nice Jewish boy who wanted to be Porky Pig. I take the audience on my journey from the obnoxious kid in grammar school who responded to every teacher's question like Porky Pig, to moving with his family to LA at 14, finding Mel Blanc's phone number in the phone book, crashing a session, and eventually living the dream. I also discuss the ups and downs of pursuing acting, my 5 year survival job as a tour guide at Universal Studios, etc. The show has changed quite a bit over 20 years as my life and career have changed."
Bob Bergen has recently been appointed to his 3rd term as Governor of the Television Academy, and has served on several committees. In addition to being an energetic and highly motivated performer, he's a source of information and support for others in the industry. 
Your website has a a lot of great resource links for people interested in voice acting, and you also do voice acting workshops, coaching and have even been a Big Brother. What motivates you in these areas?
"I fell into teaching. It was never a goal. For some reason I was asked to teach an animation voice over workshop years ago. I was reluctant at first but found that I really enjoyed it, and (he says modestly) was pretty good at it.  I don't mentor anyone per se, but I do make myself available to answer questions and listen/critique demos. I'm encouraging, but always honest. So if you don't want an honest assessment, look elsewhere. I was blessed in that I had many legends in the world of voice over advise and guide me. Many were blunt and direct, never sugar coating, which I know has been an asset in my career. I think it's important for all to pay it forward, no matter what your career might be.
My 8 week Los Angeles Cartoon Workshop has a good 3-4 year waitlist, so I really don't promote that. But I do teach a handful of weekend workshops around the country. And in January 2019 I'm teaching a workshop on board a California Coastal Cruise with voice over casting director Mary Lynn Wissner…covering animation, commercials, and marketing. This is for actors, not fans of voice over."
How did your involvement as a Performer's Peer Group Co-Governor of the Television Academy come about?
"I joined The Television Academy about 25 years ago with the goal to one day be on their Board of Governors. I'm a huge fan of all things television. The Television Academy celebrates the excellence, history, and legacy of television while also looking what is ahead and possible in the future of broadcasting. I was very proactive getting involved in activities and committees, eventually being asked to be on the Performers Peer Group Executive Committee, who oversees the needs of Television Academy actors and performers. This can be everything from ideas and changes regarding the actor and The Emmys, to providing career networking activities for performers. After several years on this committee I was asked to run for Governor. I'm currently on my 3rd term. Over the years I have chaired and co-chaired The Emmy Awards Committee, The Governors Award Committee, The Creative Arts Emmys, as well as served on Diversity, Activities, Membership, and The Executive Committee."
What's Next for Bob Bergen?
Is there a current or upcoming project you're excited about?
"Well, yes, and most I cannot discuss as we sign NDAs for most jobs. I am working on a new project for Warner Bros. called Looney Tunes Cartoons. We are in production on over 200 new Looney Tunes shorts. The animation and character designs are as close to the classic Looney Tunes as anything I've done for the studio. SO excited about these, and we should start seeing them sometime in 2019." 
When asked if he ever sees himself retiring, Bob's answer is an emphatic "Never!":
"If you love what you do, why retire??…I get a high at the mic, be it an audition or a job. To not experience that high would mean to not fulfill my creative side. Acting for an actor feeds their soul the way food feeds the body. I never got into acting for the money, and it's foolish to do so. If you are one of the fortunate few to be able to make a living at acting, congrats. It is very unlikely acting won't be a part of my life until my final, "That's all folks!"
With technological advancements in the industry today, not retiring doesn't have to mean he has to be stuck in a recording studio or home office all day either.
"I love to travel, and will probably travel more as I get older….I can take a (relatively inexpensive) travel studio with me. I recently came back from visiting family and friends back east and spent an afternoon at a dining room table auditioning for a character in a feature film….as I get older I might be a bit more picky in what I decide to work on. But retire???? Nope!"
He's in the process of writing a book, "Porky Dishes", which will share his industry anecdotes and Looney Tunes tales about his voice over journey. He says each chapter will feature a favorite pork recipe, and readers will quickly discover his not-so-secret quirk:
"Although I voice a pig, and I'm Jew'ish', I do love bacon! Don't judge!"
You seem like a high-energy person that brings a lot of animation to your performances. What do you do to unwind at the end of the day/week?
"I have no problems unwinding!…I do love television…My DVR is full and bloated. Gimme a couch, a remote, a nice glass of wine, and a program to binge and I'm a happy pig! Also love an occasional cigar. I also enjoy spending time chatting/advising online with new and upcoming voice over actors, with oddly relaxes me."
What's given you the greatest satisfaction personally – and professionally, thus far in life? 
"I think just being able to do what I love for a living. I think too many out there do what they think is right rather than what they love. Often they stay away from that dream for fear of failure or disappointing others. But when push comes to shove, when you're on your deathbed regret is a far worse than failure."
We can expect to hear much more from the talented Bob Bergen in future.