Julie Christie is Far From the Madding Crowd
Elusive, Academy Award-winning Best Actress Julie Christie (for 1965's Darling) lives quietly on a farm in Wales.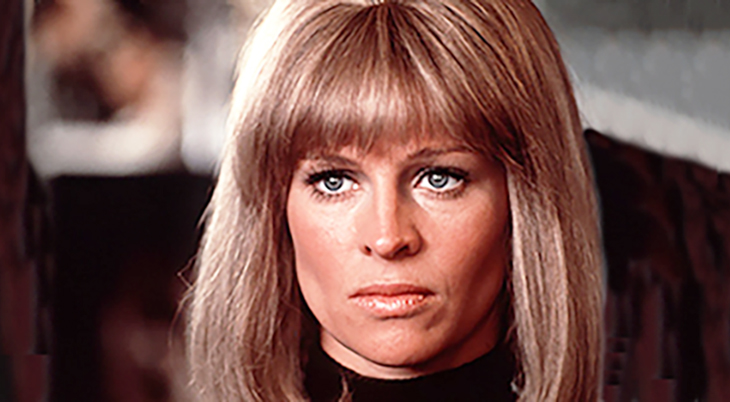 (Julie Christie Photo: A Other)
A 1960s Darling
Born April 14, 1940 in British India, Julie Christie's mother was a painter and her father ran a tea plantation. Julie was baptised by the Church of England and studied as a boarder at the Convent of Our Lady school in East Sussex.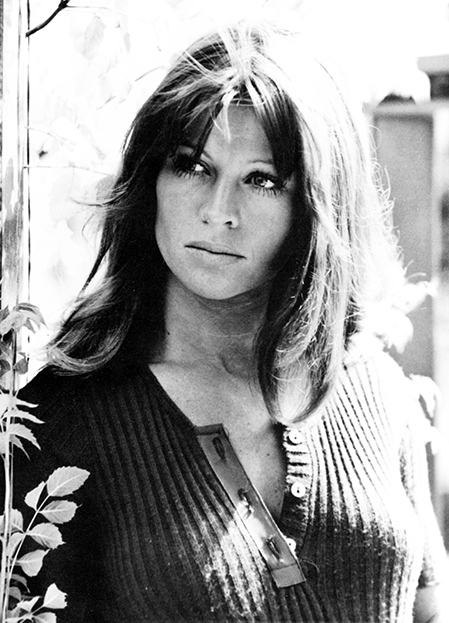 (Julie Christie Photo: kate gabrielle)
She had a rebellious side and was even expelled from another convent school for telling a risque joke. Later she studied at the Central School of Speech and Drama.  
Christie's acting career took off when she appeared in a 1957 BBC futuristic space drama serial called A for Andromeda.
She began snagging good roles in popular British films, and appeared in two 1962 comedies starring Leslie Phillips – the crime caper Crooks Anonymous with Stanley Baxter and Wilfrid Hyde-White, and The Fast Lady. 
Christie earned a BAFTA Award nomination for her co-starring performance in 1963's Billy Liar, opposite Tom Courtenay.
In 1965, Life magazine hailed the year as "The Year of Julie Christie." She pas paired with handsome leading man Rod Taylor, Maggie Smith, Michael Redgrave, Edith Evans, and Flora Robson in the biographical drama Young Cassidy.
It was Julie Christie's other two films that year cemented her as a film favorite for fans for generations to come – she starred in the Academy Award-nominated movies Darling (1965) and Doctor Zhivago (1965).
The movie trailer for Doctor Zhivago features Julie Christie, Omar Sharif, Geraldine Chaplin, Tom Courtenay, and Alec Guinness.
Julie Christie was nominated for an Academy Award Best Actress for the romantic drama Darling, facing stiff competition from fellow nominees Samantha Eggar (The Collector), Simone Signoret (Ship of Fools),  Julie Andrews (The Sound of Music), and Elizabeth Hartman (A Patch of Blue).
Filmed in England, Paris, and Italy (Florence and Rome), Christie's co-stars in Darling included Laurence Harvey and Dirk Bogarde.
Actor Rex Harrison announces a golden Julie Christie as winner of the Best Actress Oscar at the 1966 Academy Awards ceremony, 
Despite winning the award for Darling, today new generations of movie fans more closely associate Julie Christie's name with Doctor Zhivago, a modern film classic. 
Christie's feature film work in the latter half of the 60's included such movies as the sci-fi Fahrenheit 451 (1966) with Oskar Werner and Cyril Cusack; historical romantic drama Far from the Madding Crowd (1967) co-starring Peter Finch, Terence Stamp, and Alan Bates; Petulia (1968), a romantic drama with Richard Chamberlain, George C. Scott, and Shirley Knight; and the mystery-romance In Search of Gregory (1969) set in Rome and Geneva, and co-starring John Hurt and Michael Sarrazin.
1970s Movies, Romance, and Marriage
Julie Christie and on-off-on boyfriend actor Warren Beatty dated from 1967-1974, and made 3 movies together.
They co-starred in the western McCabe & Mrs. Miller (1971); actor Keith Carradine has a small supporting role.
Christie was a former lover of Beatty's hairdresser character in the romantic comedy Shampoo (1975), co-starring Lee Grant, Goldie Hawn, Jack Warden, and Carrie Fisher.
In Heaven Can Wait (1978), Julie and Warren are once again romantic interests for each other. 
The Heaven Can Wait movie trailer below features Warren Beatty, Julie Christie, James Mason, Buck Henry, Jack Warden, Dyan Cannon, and Charles Grodin. 
Among Julie Christie's other film highlights of the 1970's are director Nicholas Roeg's psychological thriller Don't Look Now (1973), based on British author Daphne Du Maurier's short story. Christie and Donald Sutherland play a married couple whose young daughter has died recently. While in Venice, they meet a psychic who has disturbing messages for them. The movie was filmed on location in Venice and includes scenes from the Grand Canal, St. Mark's Square, a Venetian Palazzo, and other historical buildings of the city.
Below, the Paramount Movies clip for Don't Look Now – which has been newly restored in 4K – features scenes with Julie Christie & her co-star Donald Sutherland.
Christie had a cameo as herself in director Robert Altman's musical comedy-drama Nashville (1976), which stars Keith Carradine and Karen Black. Ned Beatty, Geraldine Chaplin, Shelley Duval, Scott Glenn, Jeff Goldblum, and Barbara Harris.
By the late 1970's Christie had broken up with Warren Beatty for the last time, and moved back to the UK. She's lived quietly on her Welsh farm since then, emerging only occasionally for roles in movies. She has lived with journalist Duncan Campbell since 1979 (they married some years ago but Christie has kept the details and exact date private).
Mature Beauty and Performances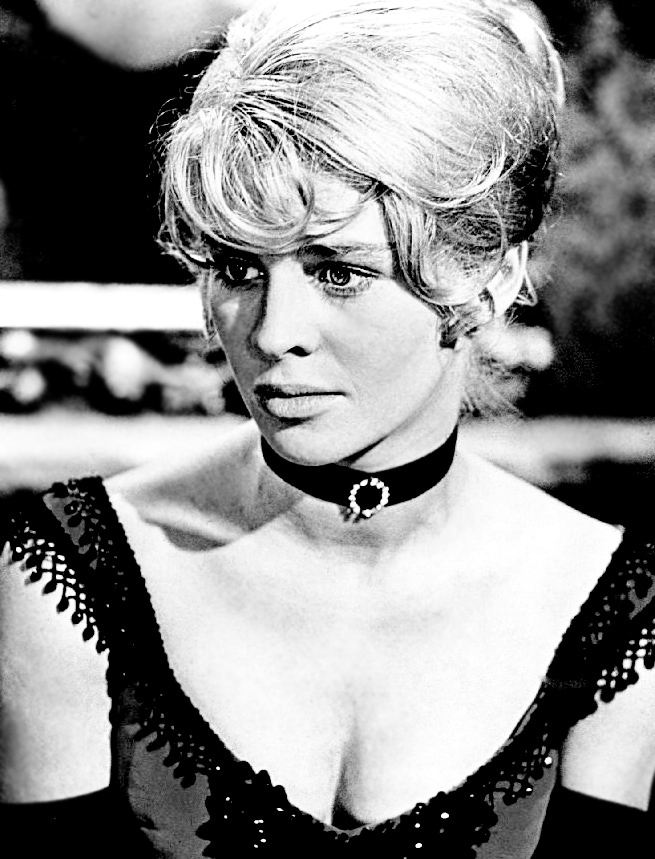 (Julie Christie 1966 Photo)
Between 1981 and 1997, Julie Christie appeared in 13 feature films. Two of the more notable of these movies include the World War I drama The Return of the Soldier (1982), co-starring Glenda Jackson, Ann-Margret, Ian Holm, and Alan Bates; and the period romantic drama Heat and Dust (1983). Heat and Dust is set in the British India of the 1920s, and stars Christopher Cazenove, Greta Scacchi, and Julian Glover. 
The political thriller Power (1986) stars Richard Gere as a political consultant, and has Julie Christie playing his ex-wife, a reporter. Gere was 37 at the time, while Christie at age 46 was 9 years his senior; a reversal of the usual trend in movie casting of male/female couples.
Actors Gene Hackman, Denzel Washington, Kate Capshaw, Michael Learned, J.T. Walsh, and E.G. Marshall are also featured in Power.
Donald Sutherland and Julie Christie were co-stars again in the romantic drama The Railway Station Man (1992), with John Lynch and Frank McCusker. The Railway Station Man was filmed on location in County Donegal, Northern Ireland. Christie plays a mature woman trying to find herself. In fact, with each role she has taken on since the 1990s, she has proved that success, beauty, and romance are not over simply because you have crossed the 50+ barrier.
Christie plays Queen Gertrude, mother of Prince Hamlet in Hamlet (1996), starring actor-director Kenneth Branagh as Hamlet. If you know the storyline of Shakespeare's classic tragedy, Gertrude's husband King Hamlet (father of the prince of the same name) was killed, and she quickly married his brother Claudius, who is the new King. Thus she is both Hamlet's mother, and his aunt, only one of the twists of this play-within-a-play. The large cast of this version of Hamlet includes Richard Attenborough, John Gielgud, Rosemary Harris, Charlton Heston, Gérard Depardieu, Jack Lemmon, Robin Williams, John Mills, Rufus Sewell, Kate Winslet, Judi Dench, and Billy Crystal. Filmed in England with Blenheim Palace standing in for Elsinore, Hamlet runs over 4 hours long. It was critically acclaimed and worth watching, even if you just want to play "spot the celebrity".
Julie Christie continued to act and receive critical acclaim for it, with another Oscar nomination for Best Actress in 1997 for Afterglow. In Afterglow, Christie and Nick Nolte play a mature married couple with issues, who meet a younger, also unhappily married couple (Jonny Lee Miller and Lara Flynn Boyle). 
Aging Well and Keeping Busy
Christie's third Academy Award nomination for Best Actress came at the age of 66, for her performance in Away from Her (2006). She plays a long-married Canadian wife and senior, who begins to suffer from Alzheimer's Disease and moves into a nursing home. In a moving portrayal of what that disease can inflict, Christie's character in Away from Her falls for another resident, while losing virtually all memory of her loving husband (Gordon Pinsent). 
This movie trailer for Away From Her features Julie Christie, Gordon Pinsent, Wendy Crewson, and Olympia Dukakis.
More light-hearted fare came with smaller roles in the romance / comedy films Snapshots (2002), starring Burt Reynolds and Carmen Chaplin; and I'm with Lucy (2002) starring Monica Potter, Craig Bierko, Gael Garcia Bernal, Anthony LaPaglia, Henry Thomas, David Boreanaz, and Harold Ramis. 
Other noteworthy movies of the 2000s for Julie Christie:
Troy (2004), an epic historical drama starring Brad Pitt, Eric Bana, Orlando Bloom, Brendan Gleeson, and Diane Kruger.
Harry Potter and the Prisoner of Azkaban (2004), a sequel in the popular adventure-fantasy film series starring Daniel Radcliffe, Emma Watson, and Rupert Grint. Christe plays Madame Rosmerta.
Finding Neverland (2004), about playwright and novelist J.M. Barrie's friendship with the family who inspired Peter Pan. Johnny Depp (as Barrie) co-stars with Kate Winslet and Julie Christie,  Dustin Hoffman, and Freddie Highmore.
New York, I Love You (2008), a romantic drama set in New York (of course!) with a large cast that tells the story of 11 different loves. Christie's segment Shekhar Kapur co-stars John Hurt and Shia LaBeouf. Other segments star Cloris Leachman, Eli Wallach, Burt Young, Bradley Cooper, Chris Cooper, Ethan Hawke, Christina Ricci, Andy Garcia, and Natalie Portman, to name a few of the other very familiar faces in this film.
Julie Christie's most recent movie roles were playing Grandmother in the fantasy-horror film Red Riding Hood (2011); and at the age of 73, playing the ex-lover of 76-year-old Robert Redford's character in the political thriller The Company You Keep (2012).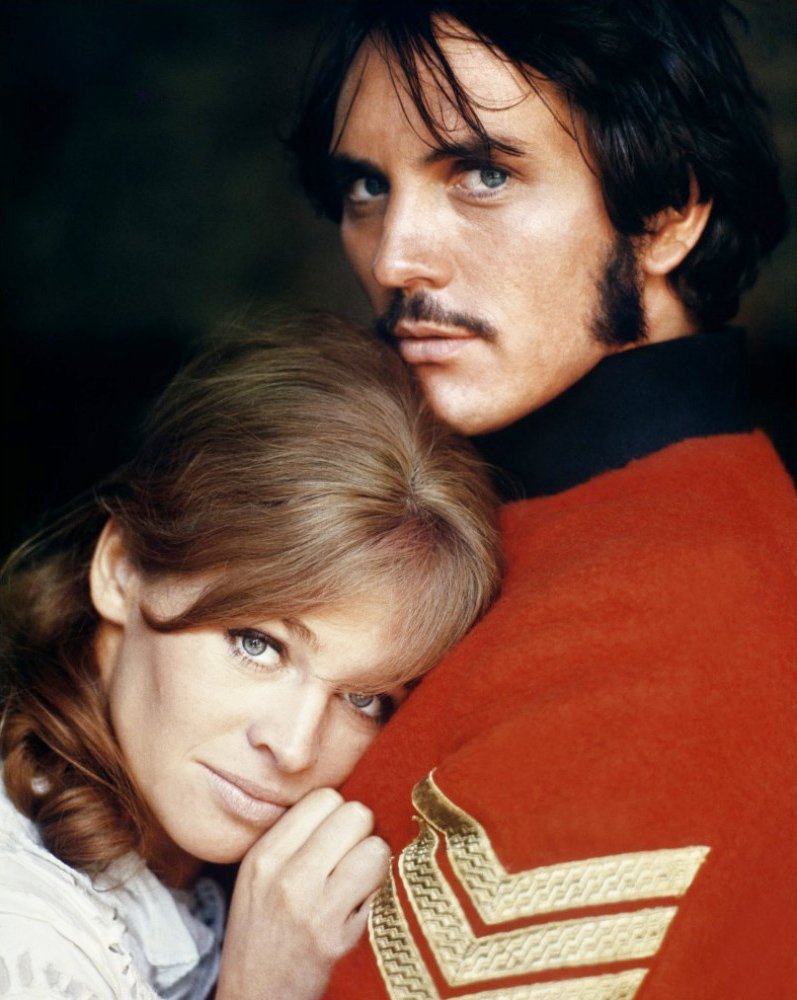 (Julie Christie & Terence Stamp 1967 Far From the Madding Crowd Photo: Film Star Vintage)
Julie Christie has been faced with challenges throughout her career; she suffers from anxiety and a rare form of memory loss called autobiographic amnesia, which sometimes makes it difficult to remember her lines.
This hasn't stopped her from leading an amazing life aside from her stellar acting career – she's been active in causes like animal rights, environmental protection, and the antinuclear power movement. 
In a 2007 interview (theguardian.com) when asked about her own thoughts on aging and what moments in her life that her memory clings to, Christie answered:
"Well, they nearly always involve a chap and nature…there is a strong sense of sexuality, always, because that is the life force, the thing that memory retains."
Let's hope that Julie Christie will emerge again from her quiet life far from the madding crowd in Wales, to mesmerize us once more onscreen.
Note: This article was first published in 2015 with the title Celebrating Seniors: Julie Christie Turns 75. It has been updated, with new & additional content.
*Images are public domain or Creative Commons licensed & sourced via Wikimedia Commons, Vimeo, or Flickr, unless otherwise noted*