Celebrating Seniors - Lee Grant is 91, Part 1
Lee Grant, Part 1:  The Detective, Blacklisted, Peyton Place and In The Heat of the Night (1925-1974)
Nonagenarian senior citizen and Emmy and Academy Award winning actress and director Lee Grant was born Lyova Rosenthal in Manhattan, October 31, 1925.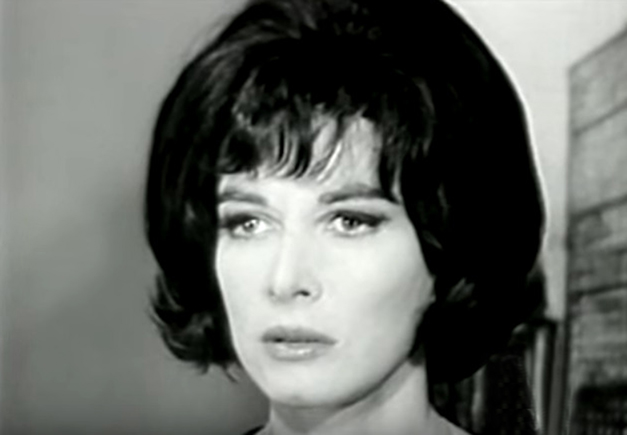 (Lee Grant 1966 Peyton Place)
In her autobiography I Said Yes to Everything (2014), by Lee Grant, she describes her Russian and Polish Jewish family life in New York City. She began taking ballet lessons age 4, and by the end of 1929 had been on stage and had a small part in the short film Mexicana (1929), written and directed by the movie's star, songwriting legend Gus Edwards. 
Lee Grant's parents separated when she was three but reunited when she was 7; until then Grant had been home schooled by her mother and Aunt Fremo. Ballet lessons at George Balanchine's new School of American Ballet when she was 8 or 9 were stopped when a friend in her class got tuberculosis.
While attending George Washington High School during World War II, young Lyova Rosenthal changed the spelling of her first name to Lyora, pronounced Leora – which became Lee. 16-year-old Lee Rosenthal attended Juillard and performed in summer theater at Tamiment, a Poconos resort, where she fell in love with dancer Buster Burnell. In her autobiography Grant recalls being woefully ignorant; she was having sex with Burnell but thought she was still a virgin. Grant attended the Neighborhood Playhouse School of the Theatre and studied Method Acting under Sanford Meisner.
At age 18, Lee Grant graduated from the Neighborhood Playhouse in 1944 and was promptly cast by Richard Rodgers as an understudy in the road company of Oklahoma at age 18. When she returned to New York, Grant lived with her parents and drove with 3 other actors to work in summer stock on Long Island. Actor John Randolph, his wife (Sally) Sarah Cunningham, and Warren Stevens would talk in the car about news of the day and communism; Grant says she didn't understand it but admired their passion.
In 1949, 20-year-old Lee Grant was recommended by Henry Fonda, for a role in the new Broadway play Detective Story; Fonda had seen her in a performance showcase. Grant was on top of the world; she landed the part on Broadway in Detective Story, was invited to join the Actors Studio, and her picture was in Vogue magazine. During the 1950 theater season, Lee Grant went out with fellow Actors Studio student Marlon Brando. She also appeared in a 1950 television episode of Actor's Studio entitled and earned her first TV screen credit.
While Lee Grant was appearing in Detective Story on stage in New York, Director Elia Kazan asked her to join his new Tennessee Williams play Camino Real, which was rehearsing at Actors Studio. Grant wasn't sure of herself in the role and quit, but Kazan kept calling. This small rift between Lee Grant and Elia Kazan got a lot bigger a few years later when Elia Kazan gave names of his fellow actors and writers to the House Un-American Activities Committee (HUAC); they didn't speak for 20 years after that.
Grant left the play Detective Story to co-star in the new play All You Need Is One Good Break, starring John Berry and written by Berry's best friend, (Arnold) Arnie Manoff. Playwright Arnold Manoff was a communist party member and was on his third marriage, with three children – 9 year old daughter Eva from his second marriage; and sons Tommy Manoff and Michael Manoff, aged 3 and 4 from his marriage to current wife (Marjorie) Marjie MacGregor. While touring with All You Need Is One Good Break, Lee Grant and Arnie Manoff fell in love.   
Director William Wyler asked 21-year-old Lee Grant to appear in the film version of Detective Story (1951) starring Kirk Douglas. While Grant was in Hollywood in 1950 to film Detective Story, Arnie Manoff visited her in L.A. and held a party at home of his friends Ruth and Arthur Birnkrant, who became lifelong friends of Lee Grant. Upon returning to New York, Lee met married actors Melanie and Darren McGavin, and another friendship began. Grant was offered the ingenue lead in the Broadway play Lo and Behold directed by Burgess Meredith, and she found a new friend in actress and co-star Cloris Leachman. Lee Grant's boyfriend Arnie Manoff broke up with her after she'd just had a nose job, saying he was going to try and make things work with his wife Margie; it was the first of a few breakups they'd have. 
In February 1950 Lee Grant's play All You Need Is One Good Break closed. Later that year, Grant learned that Arnie Manoff, John Berry, and actor J. Edward Bromberg had been named as communists by former friends in the party back in Hollywood, and were being investigated by HUAC. Until then, Grant had never heard of HUAC or the blacklist, although it had been operating in Hollywood since 1947. 
The next year, Lee Grant and J. Edward Bromberg were working in summer stock theater in the play They Knew What They Wanted in the summer of 1951. When Bromberg was called to testify before HUAC in 1951, he plead the Fifth Amendment and was blacklisted. Bromberg had heart problems and he was terrified that the American Legion would storm the stage; he moved to England to work as an actor and get away from them. Soon after J. Edward Bromberg died of a heart attack soon after he'd begun starring in a play in London. When Lee Grant was asked to speak at his memorial in New York, she said "The Un-American Activities Committee knew Joe had a bad heart and kept calling him to testify anyway. I feel the committee ultimately killed him." Playwright Clifford Odets also spoke at the memorial, as did many others. A week later Clifford Odets met with the HUAC and gave names; the next week Lee Grant was also blacklisted, which lasted for 12 years.  
Below, Lee Grant was interviewed by Scott Feinberg c. 2012 and reminisced about her childhood, the blacklisting and effect on her career and that of others.
Lee Grant and Arnold Manoff argued frequently – he didn't want her to take work in plays because he had custody of his sons and needed someone to take care of them. Manoff was controlling and would giver her books by Marx to read. A month after a final break-up, when Grant had moved out to live with her Aunt Fremo, Lee Grant and Arnie Manoff got married in 1951.  
Detective Story was released in November 1951 and Lee Grant was nominated for an Academy Award for Best Actress in a Supporting Role, for her performance as a shoplifter. 26-year-old Grant won Best Actress at the 1952 Cannes International Film Festival that year for her performance in Detective Story, but neither she nor her spouse, 38-year-old Arnie Manoff, could get more film work because they were both blacklisted.
Fortunately the actors union Equity had ensured there would be no blacklist in the theatre, so Grant continued to find work on stage, and as a teacher. Lee Grant joined the Communist Party at Arnie's suggestion, but their marriage like their courtship, continued to be rocky and they struggled financially because of the blacklisting.
Although blacklisted for the remainder of the 1950's, Lee Grant continued to work on Broadway, and did get some occasional television and even movie work. Sharp-eyed seniors and baby boomers may recall seeing Lee Grant in some of these productions, which included:
4 episodes of the TV series Danger (1950-1952), one co-starring Martin Balsam. Lee Grant's husband Arnold Manoff was an uncredited writer for the Dark as Night (1952) episode she appeared in. Martin Balsam and Lee Grant worked together again in the movie Middle of the Night (1959), a drama starring Kim Novak.
Lee Grant played Rose Peterson opposite Don Knotts (The Andy Griffith Show) as Wilbur Peterson, from 1953-1954 on the daytime soap opera Search for Tomorrow.
In an episode of The Philco-Goodyear Television Playhouse in 1955, her co-stars included Eli Wallach and Jack Warden. Grant worked again with Eli Wallach in the TV movie Where Is Thy Brother? (1958).
During 2 episodes of Kraft Theatre in 1958, Lee Grant worked with Ed Begley and Ben Gazzara. 42 years later, senior citizens Lee Grant and Ben Gazzara would co-star in the movie Poor Liza (2000).
The TV movie The World of Sholom Aleichem (1959) with Gertrude Berg, Nancy Walker (McMillan & Wife, The Mary Tyler Moore Show), Charlotte Rae (The Facts of Life), Zero Mostel and Jack Gilford.
Lee Grant and Arnold Manoff's daughter Dinah Manoff was born in January 1958 in New York City. By 1960, the Manoff-Grant marriage as on the rocks and they separated. Arnold Manoff died from a heart attack in February 1965, a year after their divorce was finalized. 
While still blacklisted in the early 1960's, Lee Grant continued to appear occasionally on television, in films and on Broadway. She had a facelift, and while touring in a production of the musical Silk Stockings with Mamie Van Doren in 1963, met Italian-American dancer and plumber Joey Fioretti. Fioretti had a crush on Grant and their initial friendship turned into a romance that Grant thought would go nowhere, because Joey was many years younger than her.
By mid-1965, Lee Grant had won the Obie Award for Distinguished Performance by an Actress for her performance onstage in The Maids, an off-Broadway play. Grant was removed from the blacklist in 1964 and began finding more acting work in films and television, and she had racked up several more television and film credits with talented co-stars, including: 
Kevin McCarthy, who appeared in the same episode of Great Ghost Tales with her in 1961, and co-starred with her in the feature film drama An Affair of the Skin (1963). In An Affair of the Skin, Grant and McCarthy play an unhappily married couple.
An appearance in an episode of popular baby boomer series The Fugitive starring David Janssen, with Barry Morse and William Conrad (Cannon). Always compulsive about her appearance, Grant said she had almost been raped by a make-up man as an excuse to do her own make-up for The Fugitive episode. She was later told by her agent that her lie had been discovered and she would never work on The Fugitive again.
In 3 different episodes of The Doctors and the Nurses between 1963-1965, Lee Grant's fellow guest stars included familiar faces Edward Asner, Williams Daniels, and Joseph Campanella. 
In the dramatic movie The Balcony (1963), Lee Grant's co-stars were Shelley Winters, Peter Falk (Columbo), fellow blacklisted actor Jeff Corey, and Leonard Nimoy (Star Trek). Peter Falk and Lee Grant also guest-starred in the same episode of Ben Casey. Below, Shelley Winters, Peter Falk, Leonard Nimoy, and Lee Grant are featured in a clip from The Balcony.
Lee Grant moved to California with Joey Fioretti and daughter Dinah Manoff in 1965 and they rented a home in Malibu Colony. Grant found steady work from mid-1965 to 1966 on Peyton Place as the hated character of Stella Chernak, who becomes romantically involved with Dr. Michael Rossi (actor Ed Nelson). Peyton Place star Ryan O'Neal played Rodney Harrington, on trial for Stella's brother Joe Chernak's murder. 
Below, Stella Chernak (Lee Grant) is questioned by D.A. John Fowler (John Kerr) and Defense Attorney Steven Cord (James Douglas) in a courtroom-focused episode of Peyton Place that takes place during a hearing for the accused murderer Rodney Harrington (actor Ryan O'Neal).
Lee Grant won the Emmy Award for Outstanding Performance by an Actress in a Supporting Role in a Drama for her performance as Stella Chernak in 1966. During her time on Peyton Place, Lee Grant appeared in episodes with fellow Peyton Place series regulars Dorothy Malone (Constance MacKenzie), Barbara Parkins (Betty Anderson), Mia Farrow (Allison MacKenzie), and Tim O'Connor (Elliot Carson). She also crossed paths in episodes of Peyton Place with Leslie Nielson as Vincent/Kenneth Markham, David Canary (Bonanza, All My Children) as Dr. Russ Gehring, Mariette Hartley as Claire Morton, and Susan Oliver as Ann Howard.
In the latter half of the 1960's, Lee Grant's television appearances included 2 episodes of ABC Stage 67 with fellow guest-stars Alan Arkin, Vera Miles, Connie Stevens, Stuart Whitman, singer-actress Pearl Bailey, and baseball's Jackie Robinson. She also guest-starred as the wife of a U.S. diplomat on an episode of popular baby boomer TV series Mission: Impossible starring Peter Graves, Martin Landau, and Barbara Bain. Lee Grant and Richard Anderson both appeared in an episode of Ironside starring Raymond Burr (Perry Mason) in 1967, and in the TV movie Partners in Crime (1973) . 
Lee Grant had several roles in movies that resonated with baby boomer audiences of the time, including the Norman Lear feature film comedy Divorce American Style (1967) starring Dick Van Dyke, Debbie Reynolds, Jason Robards, Tom Bosley (Happy Days), and Tim Matheson. Lee Grant had worked with her Divorce American Style co-star Jason Robards 12 years earlier in an episode of The Alcoa Hour, along with film legends Boris Karloff and Christopher Plummer.
In The Heat of the Night (1967) starred Rod Steiger, Sidney Poitier, Lee Grant, Warren Oates, and Matt Clark; also in the movie but uncredited, Alan Oppenheimer, Harry Dean Stanton. Lee Grant played Mrs. Leslie Colbert, wife to a murdered industrialist whose murder is investigated by local Police Chief Gillespie (Rod Steiger) and newcomer Virgil Tibbs (Sidney Poitier). In The Heat of the Night boosted Lee Grant's profile with the movie-going public and her film career continued to pick up steam.
Sidney Poitier, Lee Grant, and Rod Steiger are featured in this clip from in In The Heat of the Night. 
Lee Grant worked again with Matt Clark a few years later in an episode of The Name of the Game that also starred Susan Saint James.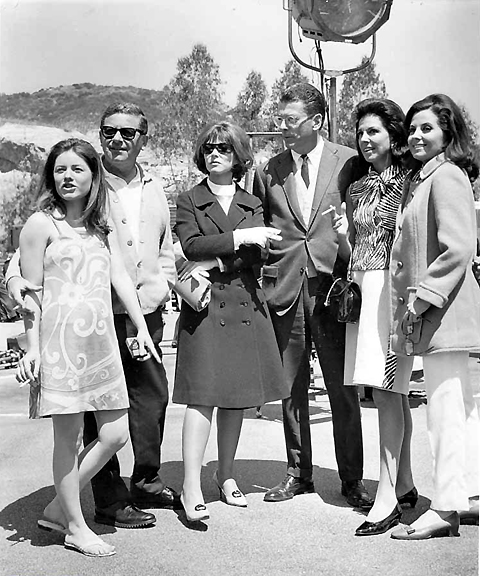 (Patty Duke, Mark Robler, Lee Grant, (unknown), Jackie Sussman, & Barbara Parkins 1967 Valley of the Dolls Photo: 20th Century Fox)
Valley of the Dolls (1967) starring Barbara Parkins (Grant's Peyton Place co-star), Patty Duke, Sharon Tate, Martin Milner, Charles Drake, Paul Burke (12 O'Clock High) and Lee Grant, was a box office hit.
Also in the cast of Valley of the Dolls, the books' author Jacqueline Susann, comedian Joey Bishop (The Joey Bishop Show), and Susan Hayward. 
The romantic comedy Buona Sera, Mrs. Campbell (1968) starring Gina Lollobrigida, Shelley Winters, Phil Silvers, Telly Savalas, and Peter Lawford, In Buona Sera, Mrs. Campbell, Lee Grant played Fritzie Braddock to Telly Savalas (Kojak) as Sgt. Walter Braddock. Buona Sera, Mrs. Campbell was a reunion for Shelley Winters and Lee Grant, who had both been in The Balcony 5 years earlier. 
Former Peyton Place co-stars Ryan O'Neal and Leigh Taylor-Young both appeared in the Vietnam vet drama The Big Bounce (1969) with Lee Grant. By this time, Ryan O'Neal and Leigh Taylor-Young were married off screen, and Leigh was O'Neal's main love interest in The Big Bounce. Lee Grant's character Joanne has a one-night stand with O'Neal's character in The Big Bounce. Character actors Van Heflin and Robert Webber were also in the cast The Big Bounce, which was less successful with baby boomer fans.
Marooned (1969), an astronaut drama starred Gregory Peck, David Janssen, Lee Grant, Mariette Hartley, Richard Crenna, James Franciscus (Longstreet), and Gene Hackman as 3 astronauts in trouble in space. Grant and Mariette Hartley played the astronaut's wives, and John Forsythe had an uncredited role as the President in Marooned. Earlier in the 1960's, Lee Grant had worked with both David Janssen and Richard Crenna when she guest-starred on their television series – Janseen's The Fugitive, and Crenna's Slattery's People.
As the 1970's began, 45+ Lee Grant's baby boomer fans saw her on stage, in the movies, and television frequently. Notable films for Lee Grant during the early 19790's included:
The Landlord (1970), a romantic comedy starring Beau Bridges as wealthy Elgar Enders, landlord for a low-rent inner-city building, with Lee Grant playing Joyce Enders. Louis Gossett Jr., Mel Stewart (Scarecrow and Mrs. King), Susan Anspach, Robert Klein, Hector Elizondo, and Pearl Bailey (who had appeared in the ABC Stage 67 episode with Grant 3 years earlier) were also in the cast of The Landlord. Lee Grant was nominated for both a Golden Globe and Academy Award for Best Actress in a Supporting Role for her performance in The Landlord.
The western movie There Was a Crooked Man… (1970) had a cast of familiar faces that included stars Kirk Douglas, Henry Fonda, Warren Oates, Burgess Meredith, Alan Hale Jr. (Gilligan's Island), Victor French (Highway to Heaven), Ann Doran, and two future stars of The Young and the Restless, Jeanne Cooper and John McCook in an uncredited role. There Was a Crooked Man reunited Lee Grant with her In The Heat of the Night co-star Warren Oates, and 3 other actors who had influenced her career 20 years earlier: Burgess Meredith had directed her in the stage play Lo and Behold; Kirk Douglas had co-starred with Grant in the film version of The Detective, and Henry Fonda had recommended her for her breakout role in The Detective on Broadway. And perhaps most significantly, fellow black-listed actor John Randolph, one of the first actors Lee Grant had heard talking about communism 25 years earlier, when they shared a drive to a play, was also in There Was a Crooked Man. Both John Randolph and his wife Sarah Cunningham had been blacklisted from 1948-1966.
After appearing in the romantic comedy play Plaza Suite in Los Angeles in 1969, Lee Grant co-starred in the 1971 movie Plaza Suite, playing the mother of the bride. Grant's co-stars in Plaza Suite the movie included Walter Matthau as the father of the bride, and actresses Barbara Harris and Louise Sorel (Days of Our Lives). 11 years later, Walter Matthau would work with Lee Grant's grown daughter, actress Dinah Manoff in I Ought to Be in Pictures (1982); and 34 years later, Lee Grant would work with Walter Matthau's son Charlie Matthau in the romantic drama Going Shopping (2005).
This clip from Plaza Suite features Lee Grant and Walter Matthau. 
On television, Lee Grant Fans could see her in episodes of their favorite series and in made-for-TV movies, such as:
In the crime movie Lieutenant Schuster's Wife (1972), Lee Grant co-starred with Jack Warden. She had co-starred with Jack Warden and Eli Wallach 17 years earlier, in an episode of The Philco-Goodyear Television Playhouse in 1955, 
The comedy What Are Best Friends For? (1973) movie with co-stars Larry Hagman (Dallas), Barbara Feldon, and Alan Oppenheimer.
On Bracken's World, starring Dennis Cole and Peter Haskell (Search for Tomorrow).
Mod Squad with series regulars Peggy Lipton, Michael Cole, Clarence Williams III, Tige Andrews, and with fellow guest-star actor Richard Dreyfuss. Three years earlier, Grant had been in productions with both her Mod Squad co-stars Richard Dreyfuss (he had a bit part in Valley of the Dolls) and Tige Andrews, when she guest-starred on an episode of Bob Hope presents Chrysler Theatre.
The Ransom for a Dead Man episode of Columbo (1971), starring Peter Falk. Lee Grant was nominated for an Emmy as Outstanding Lead Actress – Miniseries or a Movie for her performance as a brilliant lawyer and pilot who murders her husband on Columbo.
Although Grant didn't win the Emmy for her performance in Columbo, she had also been nominated for a second Emmy in the same category, for her work in The Neon Ceiling (1971), a made-for-TV movie; Lee Grant won the Emmy Award for her performance in The Neon Ceiling.  
Columbo was Lee Grant's third time working with Peter Falk, and she teamed up with Peter Falk for a fourth time on Broadway in the stage play The Prisoner of Second Avenue (1971-1973). A lonely Grant had returned to live in New York while starring in The Prisoner of Second Avenue, and forgot her lines one night on stage.
Grant saw this as a sign to make some changes in her life. Grant's daughter Dinah had grown up and moved out, and Lee and Joey decided to adopt a little girl from Thailand. They returned to Malibu to get married in 1973 to make the adoption process easier, then flew to Thailand and adopted Lindah, changing her name to the more American Belinda.   
She took a role in the British action thriller The Internecine Project (1974) co-starring with James Coburn, Harry Andrews, Ian Hendry, and Keenan Wynn. Below, the DVD trailer for The Internecine Project features James Coburn, Keenan Wynn, Lee Grant, and Harry Andrews.
Lee Grant also started directing movies and documentaries, beginning with the TV special The Shape of Things (1973). By this time, her husband Joey Fioretti had changed his name to Joseph Feury, and had become a producer of movies and documentaries. Lee Grant and Joseph Feury began making movies and documentaries together, eventually forming Feury/Grant Productions, with Grant directing the films. Their first project together was the short film The Stronger (1976), Lee Grant also wrote and which featured her daughter Dinah Manoff in the cast in her first credited role. 
As she prepared to enter her 50+ years, Lee Grant was not yet done acting in movies, with some of her greatest roles still ahead of her.
*Images are public domain or Creative Commons licensed & sourced via Wikimedia Commons, Vimeo, YouTube, or Flickr, unless otherwise noted*
Next: Lee Grant, Part 2: From Shampoo To Mulholland Drive, Directing and Documentaries (1975-2016)