DASHING, DARING, AND DEBONAIR - Norman Lear
Nonagenarian senior citizen and legendary television sitcom producer Norman Lear turns 94 on July 27, 1922. Enjoy this Norman Lear chapter excerpt below from the new book by Herbie J. Pilato (publishers Rowman & Littlefield), DASHING, DARING, AND DEBONAIR: TV's Top Male Icons from the '50s, '60s and '70s.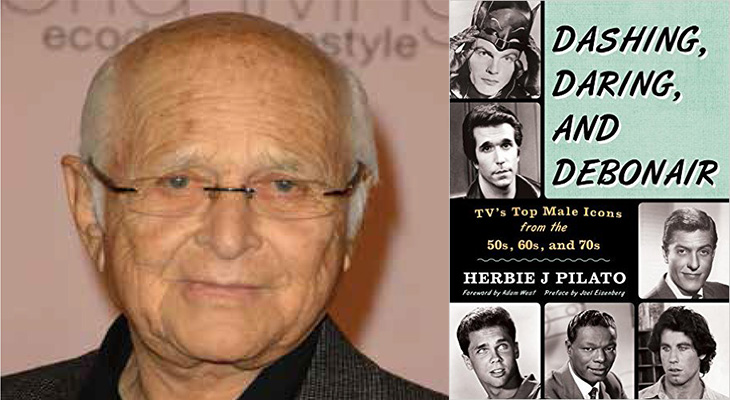 (Norman Lear Photo: Globe Photos)
Norman Lear
All in the Family/Maude/Good Times/The Jeffersons
We gravitated to issues and shows and causes that made people care.
– Norman Lear
Norman Lear has long been regarded as one of the medium's most influential producers when it comes to trend-setting, ahead-of-its-time comedy—and here are several reasons why.
Lear's "reality-based" scripted shows (as opposed to what later came to be known as unscripted "reality shows") were some of TV's most popular and groundbreaking series, specifically throughout the 70s and early 80s, beginning with All in the Family and Maude, Family's first spin-off, which begot Good Times and The Jeffersons, Family's second spin-off—all on CBS—along with One Day at a Time and NBC's Sanford & Son. Each of these programs, videotaped in front of a live audience, stretched the boundaries of what would eventually transform television programming.
Before that happened, the family of characters from All in the Family, Maude, and the rest of Lear's best engaged in credible conversations covering timely, realistic topics such as prejudice, abortion, homosexuality, and divorce. If it was controversial in the 70s and early 80s, one of Lear's shows was sure to address it.
All in the Family presented Carroll O'Connor as the bigoted Archie Bunker, and Jean Stapleton as his long-suffering, angelic, if scatterbrained wife Edith. The eclectic Sherman Hemsley was the white-man-taunting George Jefferson, who on The Jeffersons was paired with Louise (delightfully played by Isabel Sanford), his long-suffering, angelic, more clear-thinking wife. As former neighbors to the Bunkers in Queens, New York, George and Louise (aka "Weezie") "moved on up to the East Side" of Manhattan, where his drycleaning business expanded. Never one to mince words, George always had issues with Archie's ignorance, and understandably so. Once upon a better life, however, his own lack of couth became spastically evident, especially when his son Lionel (alternately played by the unrelated Michael Evans and Damon Evans, the former of whom went on to create Good Times) fell in love with girlfriend Jenny (Melinda Tolbert), the biracial daughter of her interracial parents (Franklin Cover and Roxie Roker, real-life mom to music genius Lenny Kravitz).
Shows like The Jeffersons and Maude not only helped us forget our troubles, but in many ways, reflected those troubles—sometimes, as writer Amanda Marcotte observed, in a manner that might be deemed objectionable today. In May 2009, shortly after the death of Bea Arthur, Maude's lead, Marcotte penned the essay, "No Cop-Outs: 37 Years Ago, Maude Got the Abortion Experience Right," which was published on the RH Reality Check website.
"Watching 70s-era sitcoms when you're used to a steady diet of 21st century sitcoms is a disconcerting experience," Marcotte wrote. "Old-fashioned ingredients like the three-camera sound stage set-up, the laugh track, and the three extra minutes of programming (instead of commercials) distinguish the experience from watching something like 30 Rock or The Office. But what really shocks is the humor. A character with a new and  unwanted pregnancy might tell her husband, as he makes a drink, 'Make mine a double. I'm drinking for two now.' No matter how edgy sitcoms are supposed to be in our century, I doubt anyone would dare put that joke on-screen these days.
"Of course," she clarified, "barely anyone would dare make a joke like that back then either . . . Envelope-pushing went to another level with Maude," which in 1972, aired a two-part episode, titled "Maude's Dilemma," in which Arthur's leading lady of liberty opts to terminate an unintended pregnancy.
As Marcotte went on to explain, Maude lived in New York State, where abortion was legal in 1972.
"You'd think that something that happens to over a million women a year would merit more than one portrayal in the thirty-seven years since Maude terminated her pregnancy, but in [the world of TV], abortion is rarer than coffee shop employees who can afford enormous Manhattan apartments."
For Joel Eisenberg, All in the Family
"is the single greatest sitcom of all time, along with Taxi. My words and I'm sticking to it."
Eisenberg cried when Archie cried following the death of his beloved Edith. Although All in the Family was based on a U.K. sitcom, Till Death Do Us Part, Eisenberg says,
"Lear did that show one better and scorched America with the wittiest, and most shocking, comedy ever on television. And then there was Maude, and Good Times, and The Jeffersons, and so on."
"So many spin-offs," says Eisenberg, who "loved them all," and their accompanying catchphrases.
"Eat your heart out, Arthur," Maude would say at least once per episode to her beleaguered husband, played by Bill Macy.
"Now that we're done with the birds and the bees, let's get down to some blackeyed peas, I'm starved!" once blasted Michael Evans, the character played by the energetic Ralph Carter on Good Times.
Evans was named after that show's co-creator, actor Michael Evans, who became Lear's colleague and friend via his role as Lionel on All in the Family and The Jeffersons. On Times, Carter's Michael was known as "the militant midget," a line Eisenberg then repeated around his house "for years," he says, "nearly driving my poor parents crazy. I didn't quite know why at the time, but lines
in Lear sitcoms were just so memorable."
All in the Family, in particular, proved to be "such a barrier-buster" for Eisenberg.
"The black Sammy Davis Jr. kissing the racist Archie Bunker for a photo, a tension-filled dinner conversation between a war veteran and the pacifist Michael Stivic . . . a rape, a transvestite, the Ku Klux Klan . . . not your average TV fare. Shocking and yet immensely poignant. And then Edith. Jean Stapleton. 'Dingbat.' How could anyone not love Edith? When she passed, we felt Archie's pain. Even now, just thinking about that moment, the eyes water. Still, all these years later. As for Carrol O'Connor's Archie? He was utterly authentic in that role, which for me remains my all-time favorite characterization in any sitcom ever."
"In the end," he says, "we have one man to thank for the plateau of 1970's television: Norman Lear. He was just that astounding a producer, a man with his finger firmly on the pulse of American sensitivities."  
Norman was born to Herman Lear and Jeanette Seicol on July 27, 1922, in New Haven, Connecticut. He married three times: Charlotte Lear, Frances Lear, and his present spouse, Lyn Lear, the latter of whom he wed in 1987. His children include Madeline Lear, Benjamin Lear, Maggie Lear, Kate Lear, Brianna Lear, and Ellen Lear.
Lear summarized his life this way, on the front page of his website in promotion of his memoir, Even This I Get to Experience (Penguin Press, 2014):
In my ninety-plus years I've lived a multitude of lives. In the course of all these lives, I had a front-row seat at the birth of television; wrote, produced, created or developed more than a hundred shows; had nine on the air at the same time; founded the 300,000-member liberal advocacy group People for the American Way; was labeled the "No. 1 enemy of the American family" by Jerry Falwell; made it onto Richard Nixon's "Enemies List"; was presented with the National Medal of the Arts by President Clinton; purchased an original copy of the Declaration of Independence and toured it for ten years in all fifty states; blew a fortune in a series of bad investments in failing businesses; and reached a point where I was informed we might even have to sell our home.
Having heard that we'd fallen into such dire straits, my son-in-law phoned me and asked how I was feeling. My answer was, "Terrible, of course," but then I added, "but I must be crazy, because despite all that's happened, I keep hearing this inner voice saying, 'Even this I get to experience.'"
Purchase DASHING, DARING, AND DEBONAIR: TV's Top Male Icons from the '50s, '60s and '70s in bookstores, or purchase it online here: Dashing-Daring-and-Debonair-TVs-Top-Male-Icons-from-the-50s-60s-and-70s