Were You Alive In March 1945?
March 1945 news & headlines: End of WWII British Commonwealth Air Training Plan; WWII events in Germany, Japan & Philippines; Going My Way wins 7 Academy Awards including for Best Picture; Bob Kurland is NCAA Champion & MVP

World War II British Commonwealth Air Training Plan Ends
The WWII British Commonwealth Air Training Plan ending in March 1945. Elementary air training schools for Allied pilots and air crew were established in Australia, Bermuda, Canada, South Africa, and Southern Rhodesia by mid-1940 at the start of WWII, and additional schools were later opened in New Zealand and the United States.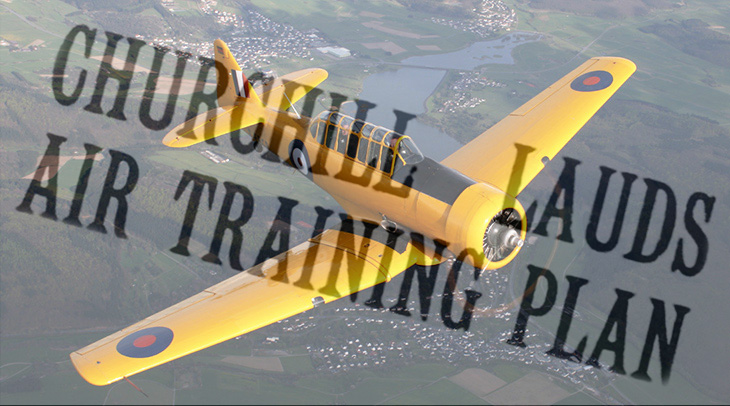 ("Trainer Yellow" Harvard T6/AT16 II British Commonwealth Air Training Plane: J. Klank CC BY-SA)
The bulk of the advanced air training was completed in Canada. Between April 1940 and the end of March 1945, over 131,000 Allied pilots and aircrew from virtually every British Commonwealth nation received training there. In excess of 250 different training schools and supporting units across the country were administered by the Royal Canadian Air Force during World War Two. The Little Norway Camp on Toronto Island was home to the exiled Royal Norwegian Air Service after Germany invaded Norway in April 1940, and served as a training ground for Norwegian pilots.
With the end of WWII in sight there was a surplus of trained pilots and aircrew, and so all of the training plan programs were discontinued in March 1945.
At the closing ceremony held at Uplands air field in Ottawa on March 29, 1945, Canadian Prime Minister William Lyon Mackenzie King noted that British Prime Minister Winston Churchill had sent a message lauding the "master plan". – The Gazette, March 31, 1945
Canadian Air Marshal Robert Leckie commented,
"The Battle of Waterloo was won on the playing fields of Eton, they say. May it not be said with equal force, and, I suggest, greater truth, that the Luftwaffe met its Waterloo on the training fields of North America!" – Colorful Scenes Mark Finale of Commonwealth Air Training Plan, Ottawa Citizen, March 30, 1945
WWII In Manila, Japan & Germany
Manila, Philippines was liberated from the Japanese by Filipino and U. S. soldiers on March 3, 1945 when the Battle of Manila ended.
General Douglas MacArthur's victory in the month-long Battle of Manila was an important turning point in the Pacific war campaign of WWII.
On March 19, 1945 Japan bombed the USS Franklin aircraft carrier, killing 800 of her crew. The Gary Cooper movie Task Force (1949) includes footage of the actual bombing attack on the USS Franklin.
In Germany, The city of Cologne fell to American First Army troops and tanks on March 6, 1945; the Rhine River bridge was taken by U. S. soldiers in Operation Plunder beginning on March 23, 1945.
"American forces fought their way through Cologne to the Rhine tonight and in the south the U.S. Third Army spurted 25 miles toward the Rhine in the Coblenz area. The American First Army tanks and troops fought their way past the famous Cologne Cathedral. A front line dispatch tonight declared that 'Cologne, to all military purposes, has fallen." – Defenders of Cologne Forced Back, The Daily Alaska Empire, March 6, 1945
By the end of March 1945, Allied armies had forced German troops well east of the Rhine, taken Frankfurt, and were positioned within 200 miles of Berlin.
The Academy Awards Ceremony Was Going My Way
The musical Going My Way (1944) wins 7 Oscars including Best Picture at the 17th Academy Awards on March 15, 1945.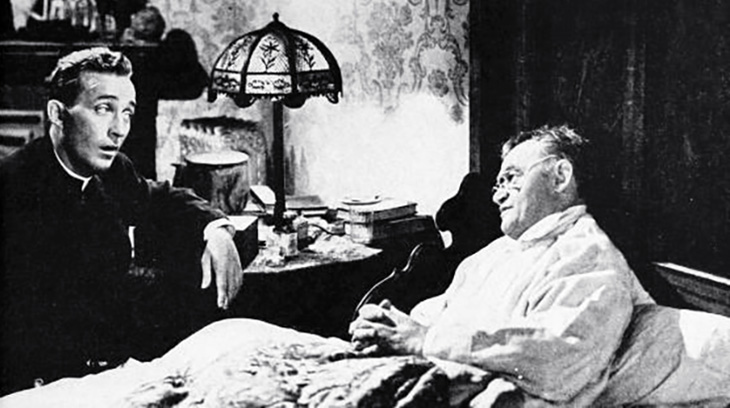 (Bing Crosby, Barry Fitzgerald 1944 Going My Way: Paramount)
Bing Crosby won Best Actor for Going My Way, winning over competing cast member Barry Fitzgerald in this category. Barry Fitzergald won Best Actor in a Supporting Role, which he had also been nominated for – a bizarre duplication of nominations for 1 role in 2 categories. Charles Boyer, Cary Grant, and Alexander Knox were also-rans in the Best Actor category, while Hume Cronyn (The Seventh Cross), Claude Rains (Mr. Skeffington), Clifton Webb (Laura), and Monty Wooley (Since You Went Away) were the supporting actor competition.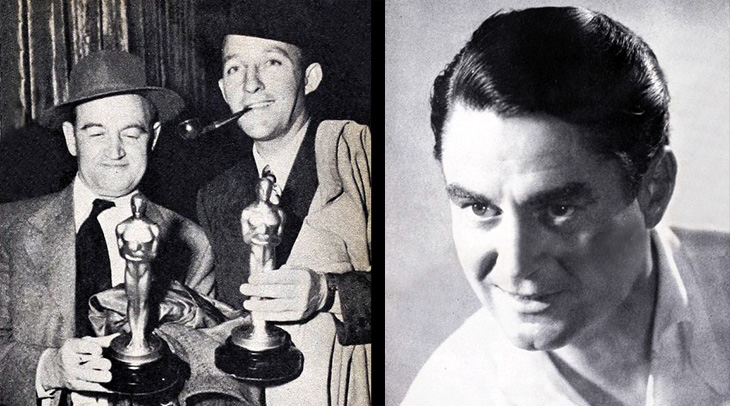 (17th Academy Awards Going My Way Oscar Winners: Bing Crosby, Barry Fitzgerald, Leo McCarey)
Going My Way won 4 more Oscars – Leo McCarey for Best Directing, and Best Writing (Original Motion Picture Story);Best Song "Swinging On a Star" (Lyrics by Johnny Burke, music by James Van Heusen); and Best Writing (Screenplay) went to Frank Butler & Frank Cavett.
At the same ceremony, Ingrid Berman won Best Actress for Gaslight, beating Claudette Colbert, Bette Davis, Greer Garson (Mrs. Parkington), and Barbara Stanwyck (Double Indemnity). Ethel Barrymore was voted Best Actress in a Supporting Role for her performance in None But the Lonely Heart. Jennifer Jones, Angela Lansbury, Aline MacMahon (Dragon Seed), and Agnes Moorehead went home empty-handed. Gaslight also won best Black and White Art Direction
Wilson won 5 Oscars – Best Original Screenplay (Lamar Trotti), Best Color Art Direction, Best Color Cinematography (Leon Shamroy), Best Film Editing (Barbara McLean), and Best Sound Recording
Laura's Joseph LaShelle won Best Black and White Cinematography. 
Bob Kurland, NCAA College Basketball Champ & MVP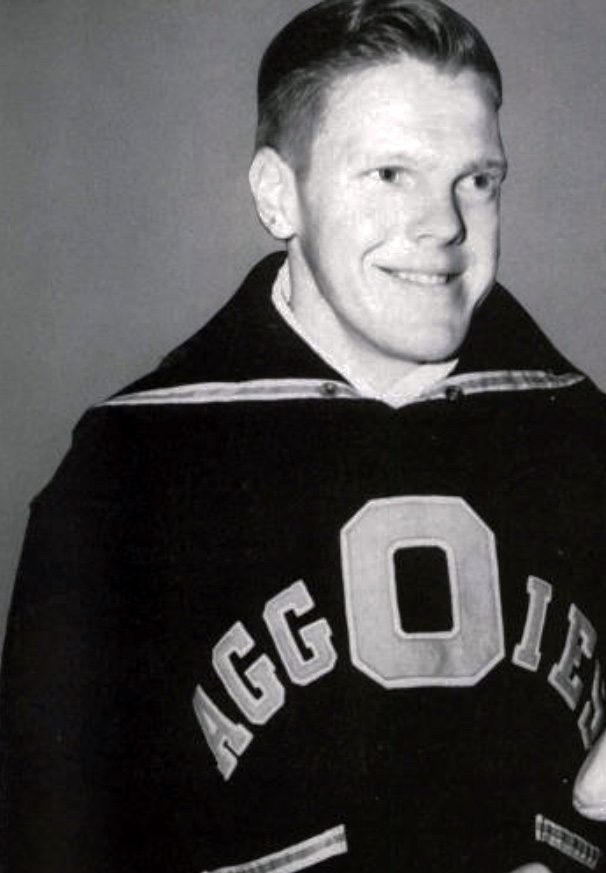 (Bob Kurland 1944-1945: Oklahoma A & M University)
NCAA college basketball stars and "giants" – 6'10" tall George Milkan of DePaul University and 7′ tall Bob (Robert) Kurland of Oklahoma State University – and their teams, competed against each other at Madison Square Gardens in New York City.
Things were "Going My Way" for Bob Kurland – Oklahoma State University won and became the 1945 NCAA College Basketball National Champions.
Bob Kurland was named Most Outstanding Player.
Born December 23, 1924, Kurland never played professional basketball, although he did help the U.S. Basketball team win gold at the 1948 Summer Olympics. He was elected to the Naismith Memorial Basketball Hall of Fame in 1961.
Bob Kurland worked for Phillips Petroleum after school, retiring in 1985. He was 88 when he died in September 2013.
Note: This article was first published in 2015. It has been updated with new & additional content.
*Images are believed to be in the public domain and/or Creative Commons licensed & sourced via Wikimedia Commons, Vimeo, YouTube, or Flickr, unless otherwise noted*