Remembering Jennifer Jones
Academy Award winning actress Jennifer Jones only made 27 movies, but her beauty and talent was bigger than her films.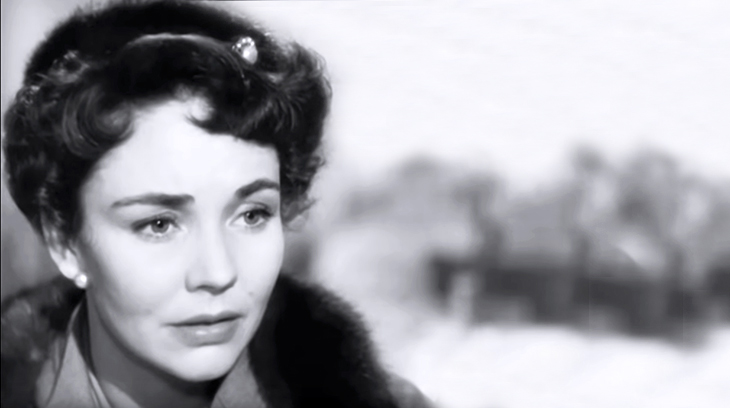 (Jennifer Jones 1953 Indiscretion of an American Wife)
Nee Phylis Lee Isley on March 2, 1919, in Tulsa, Oklahoma, Jennifer Jones was only 20 when she married first husband Robert Walker in 1939. The young couple moved to Hollywood where she landed a couple of minor roles.
When she failed a screen test for Paramount Pictures they went back to New York, and Robert Walker worked steadily in radio. Robert and Jennifer's two sons, Robert Walker Jr. (b. 1940 – d. 2019) and Michael Walker (b. 1941 – d. 2007), both became actors.
Jennifer auditioned for a role in a play for producer David O. Selznick's (Gone With the Wind) office. She didn't get the role, but Selznick had overheard the audition and signed her to a seven-year contract in 1941. David O. Selznick controlled her career for the next seven years, selecting her roles carefully, overseeing her wardrobe, grooming, and her name change to Jennifer Jones. 
The break-out movie role for Jennifer Jones was as devout Bernadette Soubirous in The Song of Bernadette (1943). Among her co-stars in The Song of Bernadette were Charles Bickford, Vincent Price, Patricia Morison, and Lee J. Cobb. 
(Jennifer Jones 1943 The Song of Bernadette)
The cast of Since You Went Away (1944) included Jennifer Jones, her husband Robert Walker, Claudette Colbert, Joseph Cotten, Shirley Temple, Hattie McDaniel, Keenan Wynn, and Agnes Moorehead (Bewitched). Since You Sent Away composer Max Steiner won the Academy Award for Best Original Score.
In 1943 while filming Since You Went Away (1944), the married David Selznick (17 years her senior) and Jennifer Jones fell in love, and began an affair – which must have been awkward on the set, with her husband Robert Walker in attendance.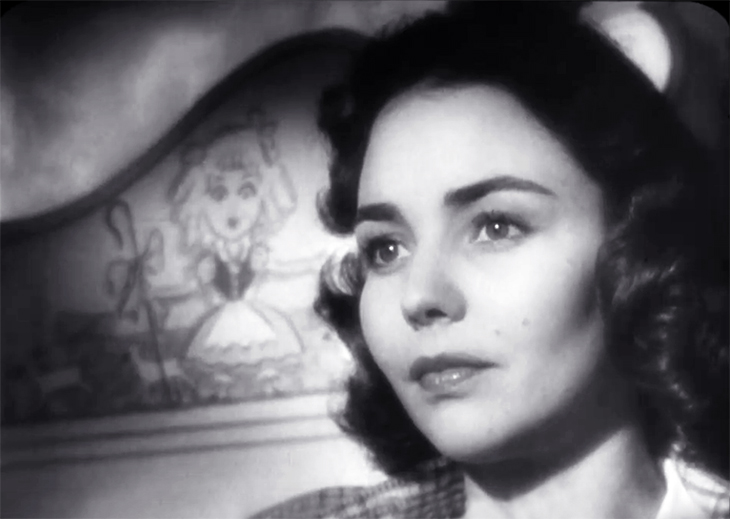 (Jennifer Jones 1944 Since You Went Away Trailer)
Jennifer Jones filed for divorce from Robert Walker the day after being presented with the Best Actress Oscar for her performance in The Song of Bernadette on her 25th birthday in 1944. 
Joseph Cotton and Jennifer Jones were co-stars in 4 movies – Since You Went Away, Love Letters (1945), Duel in the Sun (1946) with Gregory Peck, and Portrait of Jennie (1948). Both Duel in the Sun and Portrait of Jennie were produced by her manager and now lover, David O. Selznick.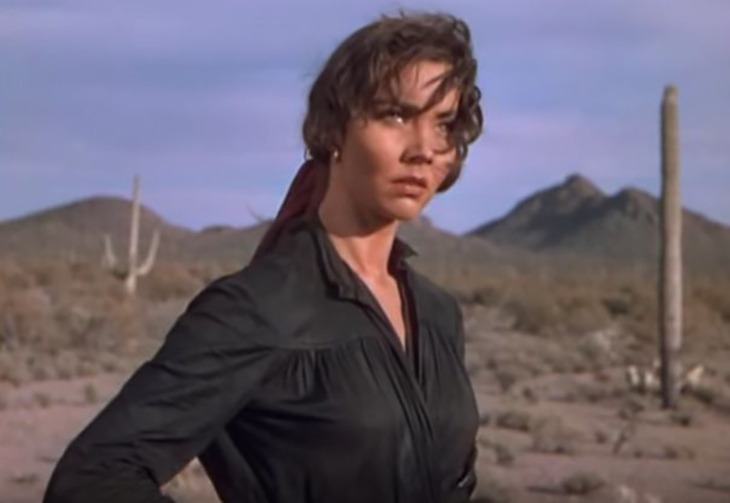 (Jennifer Jones 1946 Duel in the Sun)
Duel in the Sun has Jones playing a half-breed in love with two brothers – the ne'er do-well Lewton (Gregory Peck), and the "good" Jesse (Joseph Cotten).
Character actors Lionel Barrymore, Charles Bickford, Walter Huston, Herbert Marshall, Harry Carey, Butterfly McQueen, and Lillian Gish are among the many familiar faces in the supporting cast of Duel in the Sun. A lifelong friendship developed between Charles Bickford (he'd been in The Song of Bernadette with her as well) and Jennifer Jones. 
In the fantasy film Portrait of Jennie, Jones is a mysterious girl who befriends a struggling artist (Cotten). He paints her portrait and she becomes his muse. They meet at different times over the years and he falls in love with her. Ultimately the mystery of Jennie unfolds and a tragedy occurs. 
David Wayne, Ethel Barrymore, Lillian Gish, and Cecil Kellaway are supporting actors in Portrait of Jennie. The movie is notable for it's haunting cinematography, which earned an Academy Award nomination.  
This movie trailer for Portrait of Jennie features Jennifer Jones, Joseph Cotton, and Ethel Barrymore.
David O. Selznick and Jennifer Jones were married in 1949 after his divorce was finalized.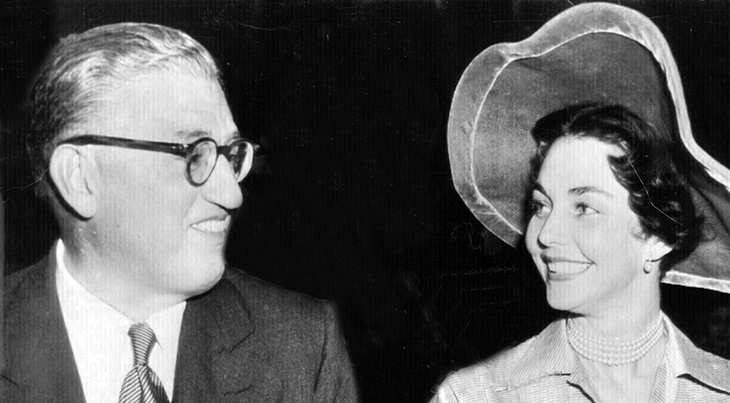 (David O. Selznik & Jennifer Jones 1949 Wedding Day Photo: Wirephoto)
They had one child together, daughter Mary Selznick (b. 1954), and remained a couple until his death in 1965.
The WWII era romantic comedy Cluny Brown (1946) has Jennifer jones co-starring with romantic interests Charles Boyer and Peter Lawford, and is a rare comedy film for the actress. She plays a plumber working as a serving girl at an estate, who befriends a shopkeeper (Richard Haydn) and a refugee professor (Boyer).
Directed by Ernst Lubitsch, veteran actors Helen Walker, Reginald Gardiner, Reginald Owen, and C. Aubrey Smith are also in the cast of Cluny Brown. This trailer for Cluny Brown features Charles Boyer, Jennifer Jones, Peter Lawford, and other supporting actors from the film.
David Selznick edited the Michael Power & Emeric Pressburger film Gone to Earth (1950) for the American market, and gave it the new title The Wild Heart (1952).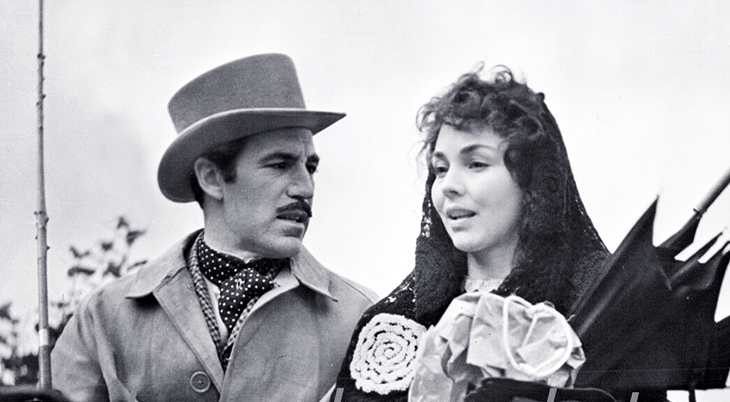 (David Farrar & Jennifer Jones 1952 The Wild Heart)
Among other changes to The Wild Heart, Selznick significantly enhanced wife Jennifer Jones' onscreen time. Jones plays a gypsy promised to the local minister (Cyril Cusack), but drawn to another man (handsome David Farrar).
Indiscretion of an American Wife (1953) was filmed in Rome, Italy in the train station, and was originally titled Terminal Station (Stazione Termini). This entire dramatic film takes place in the Rome train station.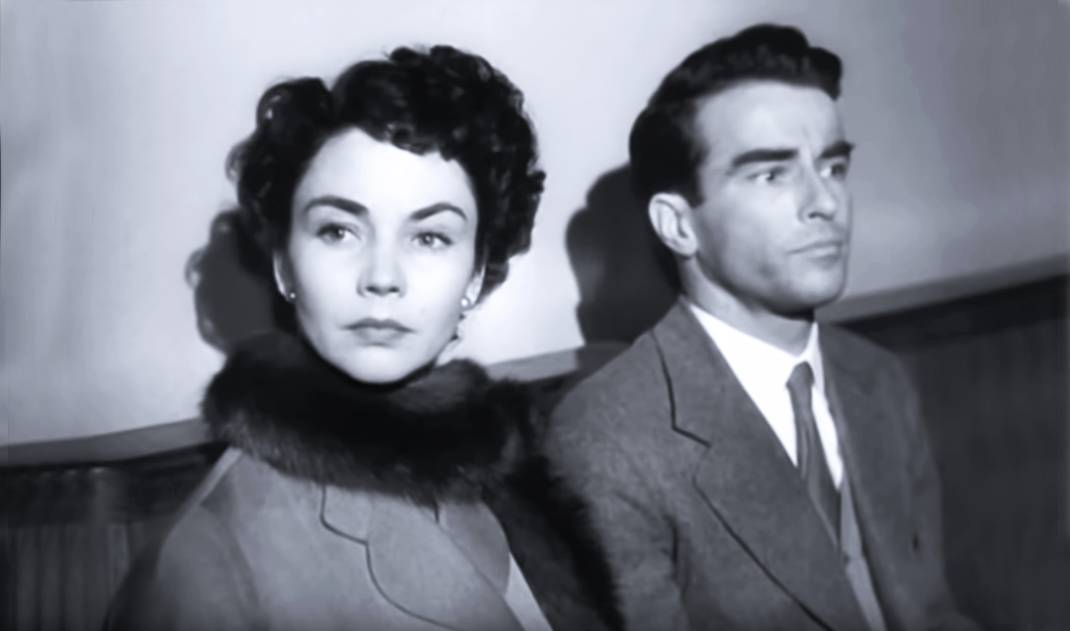 (Jennifer Jones & Montgomery Clift 1953 Indiscretion of an American Wife)
Jennifer Jones is the titular American wife, who tries to break off her vacation romance with a handsome Italian (Montgomery Clift).
A young Richard Beymer (West Side Story) plays Jones' onscreen son. Once again Selznick changed the film title of a movie after it's original release.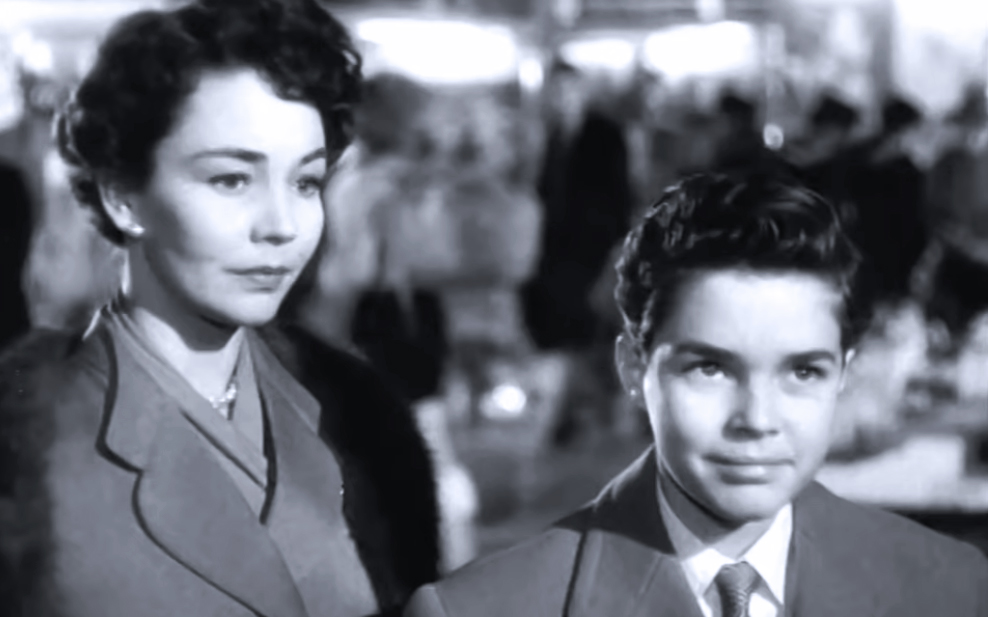 (Jennifer Jones & Richard Beymer 1953 Indiscretion of an American Wife)
Indiscretion of an American Wife was considered a commercial and critical flop at the time, although designer Christian Dior was nominated for the 1955 Academy Award for Best Costume Design in black & white.
Humphrey Bogart was the romantic interest for Jennifer Jones in the adventure comedy movie Beat the Devil (1953), filmed in Southern Italy at Ravello near the Amalfi Coast.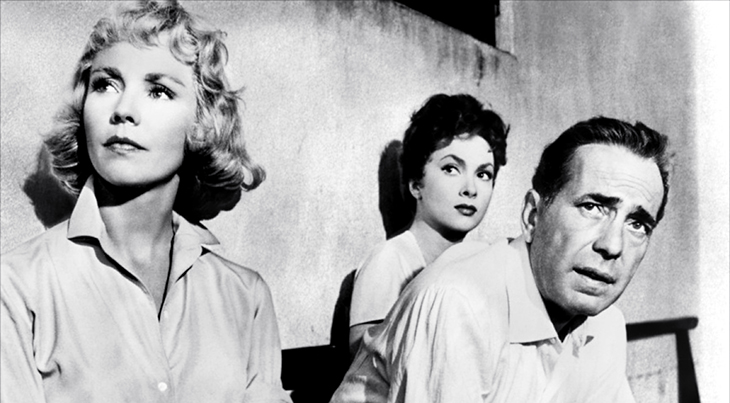 (Jennifer Jones as a blonde, with Humphrey Bogart & Gina Lollobrigida 1953 Beat the Devil)
Jones plays Mrs. Gwendolen Chelm, and character actor Edward Underdown is her husband Harry; Bogart plays Billy Dannreuther, married to Maria (Gina Lollobrigida).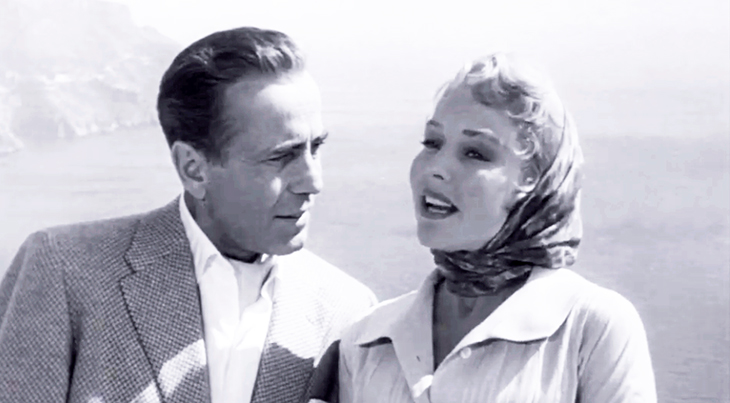 (Jennifer Jones & Humphrey Bogart 1953 Beat the Devil)
While waiting for a ship from Italy to British East Africa, the two couples meet. Gwendolen and Billy begin a love affair, while Maria and Harry flirt with each other. 
Four crooks (character actors Robert Morley, Peter Lorre, Ivor Barnard, and Marco Tulli) have enlisted Billy to help them secure property in Africa. A series of plot twists and misadventures ensue, requiring. Scotland Yard Detective Inspector Jack Clayton (Bernard Lee) to investigate a murder.
Other movies, roles, and notable co-stars for Jennifer Jones during the 1940's and 1950's included: 
Emma Bovary in the biographical movie Madame Bovary (1949). Madame Bovary cast: James Mason, Van Heflin, Louis Jourdan, Harry Morgan (M*A*S*H), and Ellen Corby (The Waltons).
We Were Strangers (1949), a romantic adventure film set in Cuba, with John Garfield, Pedro Armendariz, Gilbert Roland, and Ramon Novarro.
Carrie Meeber in the romantic drama Carrie (1952). Carrie cast: Laurence Olivier, and Eddie Albert.
Ruby Corey/Ruby Gentry in the romantic drama Ruby Gentry (1952). Ruby Gentry cast: Charlton Heston and Karl Malden (Streets of San Francisco).
Miss Dove in Good Morning, Miss Dove (1955). Good Morning, Miss Dove cast: Robert Stack, Robert Douglas, and Chuck Connors.
Betsy Rath in the war drama The Man in the Gray Flannel Suit (1956). The Man in the Gray Flannel Suit cast: Gregory Peck, Fredric March, Lee J. Cobb (her co-star in 1943's The Song of Bernadette), Keenan Wynn, and Gene Lockhart. The Man in the Gray Flannel Suit was Gregory Peck's second movie with Jennifer Jones, after their co-starring turn in 1946's Duel in the Sun.
Jennifer Jones was Dr. Han Suyin, a Eurasian doctor who falls in love with white American Mark Elliott (William Holden), in the inter-racial biographical romance, Love is a Many-Splendored Thing (1955). This trailer for Love is a Many-Splendored Thing features Jennifer Jones and William Holden.
Jones was nominated for another Academy Award for her performance in Love is Many-Splendored Thing
Jennifer Jones played Nicole Diver in the drama Tender is the Night (1962), starring Jason Robards, Joan Fontaine, Tom Ewell, Cesare Danova, Jill St. John, and Alan Napier (Batman). Below, the movie trailer for Tender is the Night features Jennifer Jones and Jason Robards. 
After hearing of close friend Charles Bickford's death in 1967 (they had both been in Duel in the Sun and The Song of Bernadette), Jennifer Jones was found unconscious on Malibu Beach (the result of combining sleeping pills and wine), and was hospitalized.
Jones married third husband Norton Simon, a millionaire art collector and philanthropist in 1971. Norton Simon's son Robert had committed suicide in 1969, and in 1976 Jennifer's daughter Mary Selznick jumped from a 20th floor window in L.A. These incidents, combined with her personal experience of depression and mental illness, led to Norton Simon and Jennifer Jones founding the Jennifer Jones Simon Foundation for Mental Health and Education in 1980.
Jennifer Jones came out of retirement in her 50-plus years to appear in the star-studded disaster movie The Towering Inferno (1974). Her co-stars in The Towering Inferno included Paul Newman, Fred Astaire, Steve McQueen, Richard Chamberlain, Faye Dunaway, Susan Blakely, Robert Vaughn, Susan Flannery, Gregory Sierra, and Dabney Coleman. The Towering Inferno was the last film for Jennifer Jones, and re-united her onscreen with William Holden – her co-star from 1955's Love is Many-Splendored Thing 20 years earlier.
In her senior years, Jennifer Jones became became more reclusive. She took over leadership of the Norton Simon museum in Pasadena in 1989 at age 70 and remained as a director until 2003 (Norton died in 1993). Jones lived with her only surviving child, actor son Robert Walker Jr. and his family, in Malibu for the last six years of her life until her death from natural causes/old age, on December 17, 2009. 
Note: This article was first published in 2015. It has been updated with new/additional content.
*Images are public domain or Creative Commons licensed & sourced via Wikimedia Commons or Flickr, unless otherwise noted*