This Was Nifty in December 1950
News Headlines & Entertainment Trivia from December, 1950: Former child star Shirley Temple marries and retires at the age of 22; 4 students steal the Stone of Scone from Westminster Abbey; premiere of the classic comedy movie Harvey starring James Stewart and Josephine Hull.
Shirley Temple Gets Married & Retires at 22
Juvenile Academy Award-winning actress Shirley Temple (age 22) married 31-year-old naval intelligence officer Charles Alden Black on December 16, 1950 at his parent's home on the Monterey Peninsula. She then announced her retirement from acting.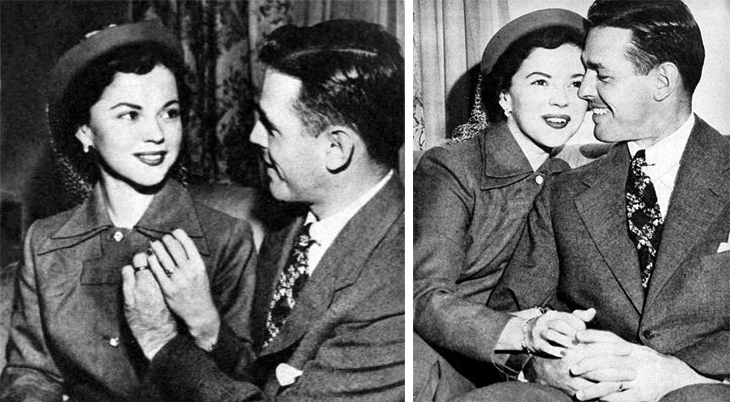 (Shirley Temple & Charles Black December 16, 1950 Wedding Photos: Modern Screen)
While 22 may seem a little young for retirement, Shirley Temple had working in movies and starring in films since she was a blonde 3-year-old tot with curly ringlets. She appeared in 55+ film shorts and full-length movies between 1932 and 1949.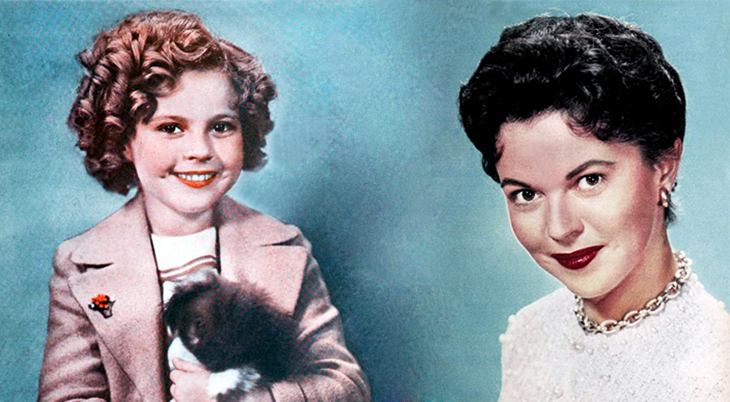 (Shirley Temple 1937 & 1958 Photos)
Shirley's new husband Charles Black came from a wealthy family; Black's father was the President of Pacific Gas and Electric. Charles was a Harvard graduate and decorated (Silver Star; Presidential Citation) WWII Navy apprentice seaman veteran, whose language abilities (English, French, Malayan, and several Tahitian dialects) made him a natural fit for intelligence service. After WWII he acquired an MBA from Stanford, and when he first met Shirley Temple, he was an executive at the Hawaiian Pineapple Company near Honolulu.
Temple's divorce from her first husband, actor John Agar, was finalized on December 5, 1950 (an interlocutory divorce had been granted the previous December). Shirley was 17 when she married John Agar in 1945 (he was 24). Their daughter Linda Susan was born in January 1948, but the marriage had rapidly gone downhill. In late 1949 Shirley's name was linked with singer-actor Johnnie Johnston (married to Kathryn Grayson) in the gossip sheets, but they both denied any romance. John Agar's preference for drinking and other women was cited as a factor in Shirley's 1949 divorce petition around the same time.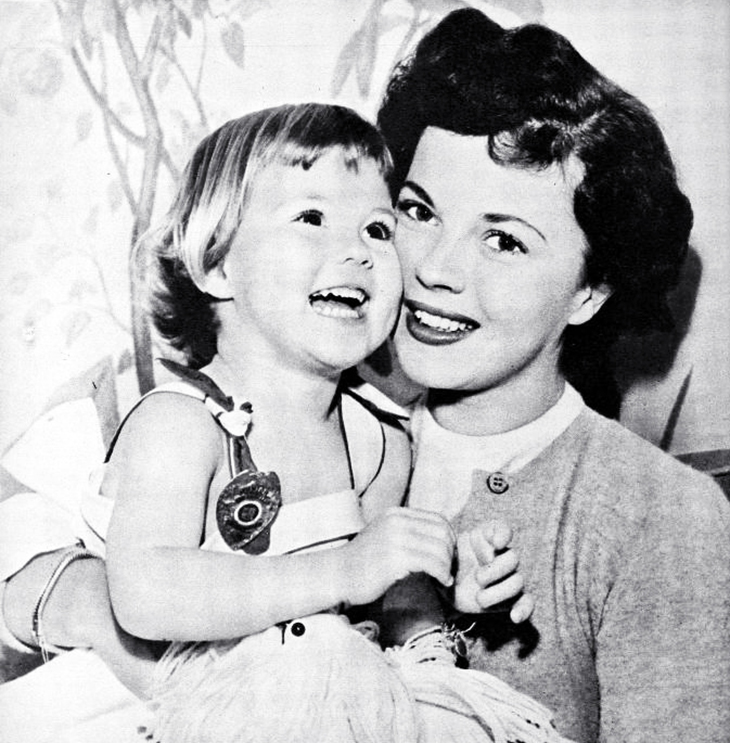 (Shirley Temple & daughter Susan 1950 Photo: Photoplay)
Filling in time during the year-long waiting period to finalize her divorce from John Agar, Shirley Temple, her daughter Susan, and her parents, went to Hawaii for a two-week vacation in January 1950. 
"A few days after her arrival she was invited by old friends to a party…she saw Charlie Black immediately…That night he saw Shirley right away…Charlie was head over heels in love with Shirley Temple and she was head over heels in love with him…in the very same hour they had met they had known they were meant for each other." – Roberta Ormiston, 1951 Photoplay
They began dating and Shirley's two week vacation turned in to six weeks. In June 1950 Photoplay gossip columnist Cal York reported that Temple had lost interest in acting since her return from Honolulu. 
Charles Black resigned his job in Hawaii and moved to San Francisco so he could take a job as an account executive at KTTV (TV) in Los Angeles. The October 1950 Photoplay issue carried an article by Sheilah Graham covering the Sunset Boulevard preview, with this observation:
"Shirley came with her new heart quickener, Charles Black. Near by sat John Agar, dateless and down in the dumps."
Shirley Temple had been gradually coming to her decision to leave acting, for several reasons. Charles Black disliked parties and publicity, and Shirley herself was spending 3-4 days a week volunteering at the Orthopedic Hospital. Motherhood and dissatisfaction over being typecast in movies also played a role in her decision.
"Some of the critics say I've done a poor job. Maybe I have. But I defy anyone to have done a better job with the vapid, spineless characters I've been handed. I don't intend to play any more of them. If a good part comes along, fine. If it never comes along, that'll be fine too. I'll have more time with Susu [daughter Linda Susan Agar)…If I marry again, I'll definitely stop pictures for good; the main reason being that you couldn't get me to marry an actor or anyone connected with motion pictures." – Shirley Temple per Ida Zeitlin, 1950 Photoplay  
Her second marriage seems to have been much happier – Shirley Temple and Charles Black were married for 54 years, until his death in 2005 at the age of 86. As a Naval Reserve officer, Charles Black was recalled to active duty when the Korean War began in June 1950.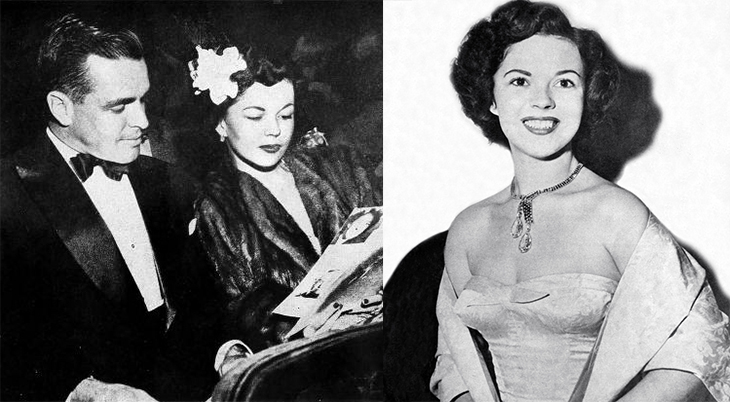 (Shirley Temple with husband Charles Black in 1951 & in 1952)
Their son Charles Black Jr. was born by C-section in 1952 when they were living in Potomac, Maryland (Lieutenant Commander Charles Black was now working in the Office of Naval Operations). When the Korean War ended in 1953, the couple moved their family back to California. Their daughter Lori Black was born in 1954.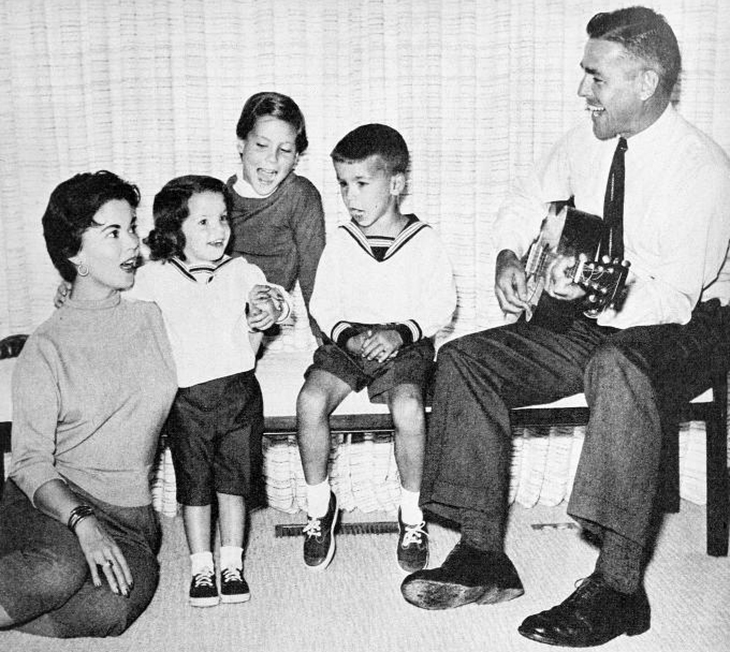 (Shirley, Lori, Susan,  Charles Jr. and Charles Black Sr. 1958 Photo: Radio TV Mirror)
Charles Black went on to found a fishery and hatchery company in the 1960s. After hosting Shirley Temple's Storybook TV series (1958-1961), Shirley became active in politics. She survived a bout of breast cancer in 1972 at the age of 44, and went on to serve as the U.S. Ambassador to Ghana (1974-1976), and Czechoslovakia (1989-1992). A cigarette smoker, Shirley Temple Black was 85 when she died in February 2014 from chronic obstructive pulmonary disease (COPD). 
The Coronation Stone of Scone is Stolen
On Christmas Day (December 25) 1950, the historic Coronation Stone was stolen from Westminster Abbey and smuggled back to Scotland. 
Also known as the Stone of Destiny, the historic red sandstone Stone of Scone has been used in the coronation ceremonies of the monarchs of England and Scotland for almost a thousand years (possibly more).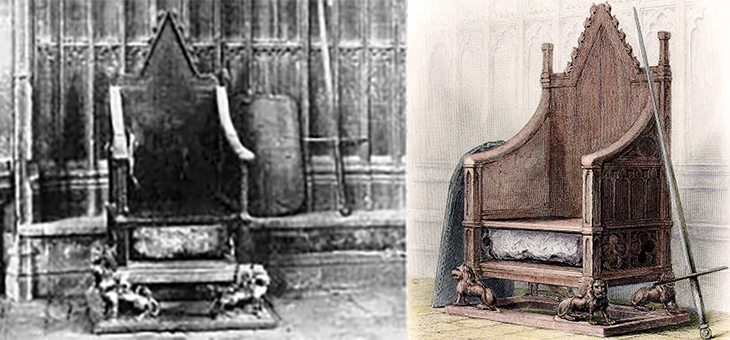 (Coronation Chair with Stone of Scone in Westminster Abbey – 1937 Photo & 1855 Illustration)
The stone is made of the red sandstone quarried in the area around Scone Abbey in Scone, Scotland. It has also been referred to as Jacob's Pillow and the Tanist Stone.
It was taken from the Monastery of Scone to Westminster Abbey in London, England by King Edward I in 1296. The stone was fitted into King Edward's Chair, which was used in most (but not all) of the subsequent coronation ceremonies for the Kings and Queens of England & Scotland.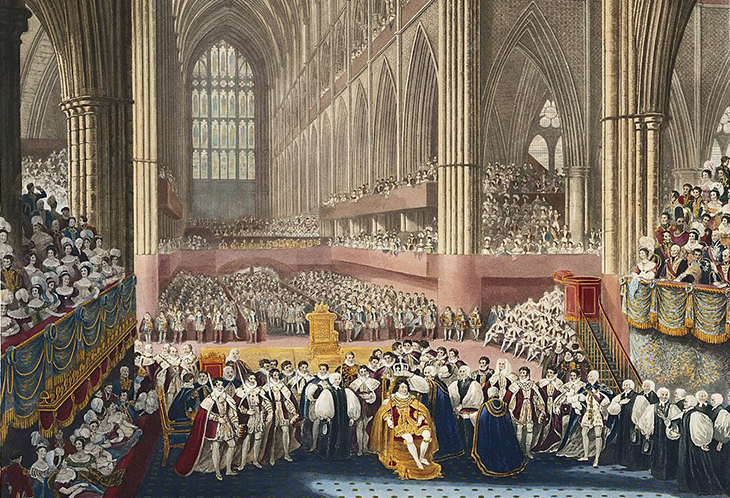 (King George IV Coronation 1821 Westminster Abbey Painting)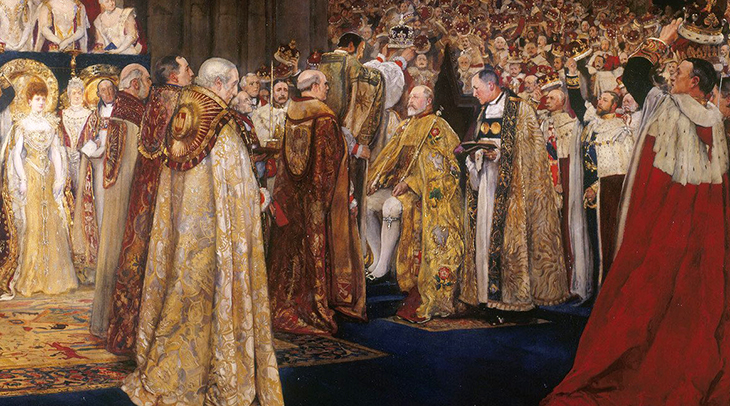 (Coronation of King Edward VII 1902 Westminster Abbey Painting: Edwin Austin Abbey)
On December 25 1950, 4 Scottish nationalist students Gavin Vernon, Kay Matheson, Ian Hamilton, and Alan Stuart took the stone from Westminster Abbey, in the process breaking it two. While they camped in a field in Kent for a few days, they hid the the larger piece of the stone by burying it. They unearthed the buried piece and with the help of a fifth student (John Josselyn), took the stone to Scotland. The stone was hidden in Scotland before they gave it to a politician who had it repaired by a stonemason. 
Four months after it was stolen, the Stone of Scone was left on the alter of Arbroath Abbey in Arbroath, Scotland (near Dundee, north of Edinburgh). During those four months, British authorities had searched for the stone to no avail. After it's discovery on April 11, 1951, it was returned to Westminster Abbey in England, where it was used during the coronation of Queen Elizabeth II in 1953.The students were charged but never prosecuted.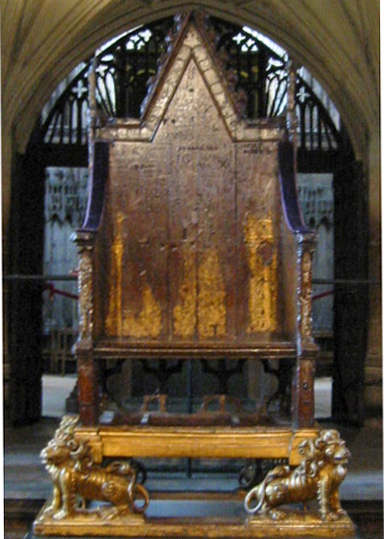 (King Edward's Chair c. 2002 Photo: Kjetil Bjornsrud)
Forty-five years later, the British Government arranged to have the Stone of Scone removed from King Edward's Chair, and transported to Scotland in 1996. It rests in the Crown Room of Edinburgh Castle until the next coronation.
There is some evidence that suggests the stone Edward took from Scone Abbey, may not be the real Stone of Scone. 
Macbeth, King of Scotland reigned from 1040-1057 AD, and Dunsinane Hill (east of Scone Abbey) was the site of his fort known as Macbeth's Castle.  An 1819 letter to the Morning Chronicle newspaper refers to excavations at the site of Macbeth's castle having exposed a six feet long by four feet wide vault, six feet underground.
"They discovered among the ruins a large stone weighing about 500lb, which is pronounced to be of the meteoric or semi-metallic kind. This stone must have lain here during the long series of ages since Macbeth's reign. Beside it were also found two round tablets, of a composition resembling bronze. On one of these two lines are engraved, which a gentleman has thus deciphered – 'The sconce (or shadow) of kingdom  come, until Slyphs in air carry me again to Bethel'"
"It is believed among us here, that unseen hands brought Jacob's pillow from Bethel and dropped it on the site where the palace of Scoon (the Palace of Scone, which dates back to the 1100s) now stands. A strong belief is also…that it was only a representation of this Jacob's pillow that Edward sent to Westminster, the sacred stone not having been found by him."
The letter states the stone unearthed in 1819 was shipped to London for further inspection; from that point on it seems to have vanished into the depths of time.
The theft of the Stone of Scone inspired and has been featured in documentaries, television episodes, and movies, notably:
Stone of Destiny (2008), an adventure-comedy starring Charlie Cox as Ian Hamilton, Kate Mara as Kay Matheson, Stephen McCole as Gavin Vernon, and Ciaron Kelly as Alan Stuart. Based on Ian Hamilton's memoir The Taking of the Stone of Destiny (2008), adapted for the screen by writer-director (and actor) Charles Martin Smith, Brenda Fricker is also in the cast of Stone of Destiny.
The King's Speech (2010) – Starring Colin Firth as the tongue-tied King George VI, with Helena Bonham Carter as his wife Queen Elizabeth, Geoffrey Rush as his speech therapist Lionel Logue. The Stone of Scone is shown in a scene that takes place before the coronation of King George VI in The King's Speech.
Premiere of Harvey Starring Jimmy Stewart
Director Henry Koster's classic movie Harvey starring James Stewart and Josephine Hull, premiered on December 20, 1950 in New York City, and on December 25th, 1950 in Toronto.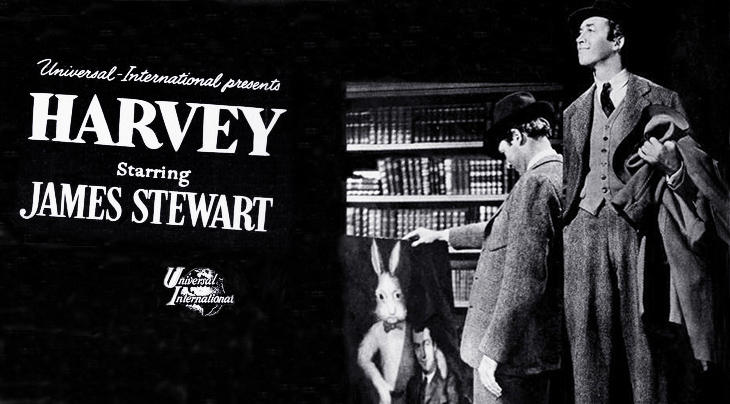 (James Stewart 1950 Harvey Photos: Photoplay)
The 1950 film was based on playwright Mary Chase's 1944 smash hit play Harvey, which enjoyed a run of over 4 years and 1775 performances on Broadway from 1944-1949. Actor Frank Fay originated the role of rabbit-seeing Elwood P. Dowd on Broadway, and Josephine Hull played his sister Veta. Chase was awarded the Pulitzer Prize for Drama for Harvey in 1945.
This Harvey trailer features James Stewart, Josephine Hull, Charles Drake, Peggy Dow, and Victoria Horne, Jesse White, with some quotes from the day's top gossip columnists – Louella Parsons, Walter Winchell, and Hedda Hopper.
In the film (as in the play), easy-going Elwood P. Dowd (James Stewart, one of the actors to play Elwood in the Broadway production after Frank Fay) has an invisible best friend called Harvey. Harvey is a 6'3″ rabbit, or as Elwood explains it to everyone he meets, a mythical Pooka. Elwood has a big house and lives there with his sister Veta Louise Dowd Simmons (Josephine Hull) and her daughter Myrtle Mae Simmons (Victoria Horne). Elwood's habit of drinking in bars and the oddity of talking to an invisible rabbit, keeps thwarting Veta and Myrtle Mae's attempts to join society. 
Elwood returns home unexpectedly early from one of his meanders, and wanders into a party arranged by Veta. His behavior causes the guests to leave quickly, and Veta is at her wit's end. She takes Elwood to a sanatorium, but ends up being admitted herself in error when she tells Psychiatrist Lyman Sanderson (Charles Drake) that she sees Elwood sometimes too. When the sanatorium head Dr. William Chumley (Cecil Kellaway) realizes the mistake, he begins searching for Elwood with the help of Veta and orderly Marvin Wilson (Jesse White).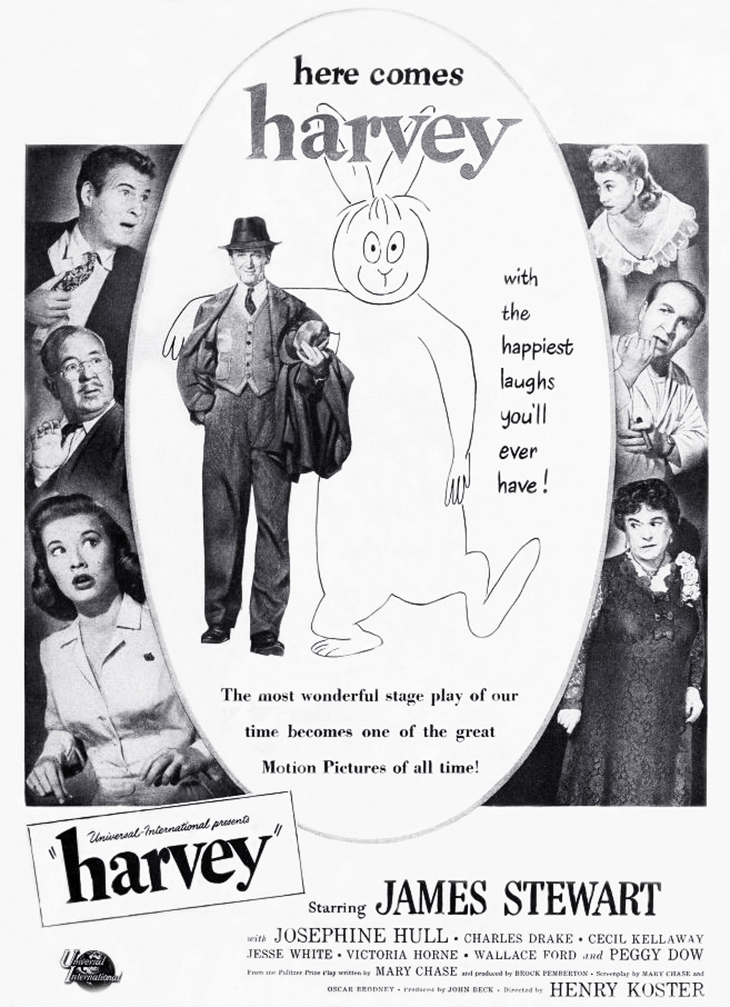 (James Stewart, Charles Drake, Cecil Kellaway, Peggy Dow, Victoria Horne, Jesse White & Josephine Hull)
Marvin leaves Dr. Chumley at a bar with Elwood and the two men begin drinking and talking about Harvey. When Dr. Chumley hasn't returned to the sanatorium hours later, Marvin goes looking for him at the bar and is told by Elwood that Chumley left with Harvey a while ago. Elwood is arrested and taken to the sanatorium again at Marvin's instigation.
Chumley soon returns, and then Veta arrives with Myrtle Mae and Judge Gaffney (William H. Lynn) in tow, primed to get Elwood committed. Dr. Sanderson says all that's needed is an injection of Formula 977 to make Harvey disappear for good. They start getting the injection ready…
With Peggy Dow as Nurse Kelly, Dick Wessel as Mr. Cracker, the bartender, and Wallace Ford as a taxi driver.
Below, James Stewart in a 1950 publicity still with Josephine Hull, and with his new wife Gloria (m. 1949-1994) and her two sons at a studio party for Harvey.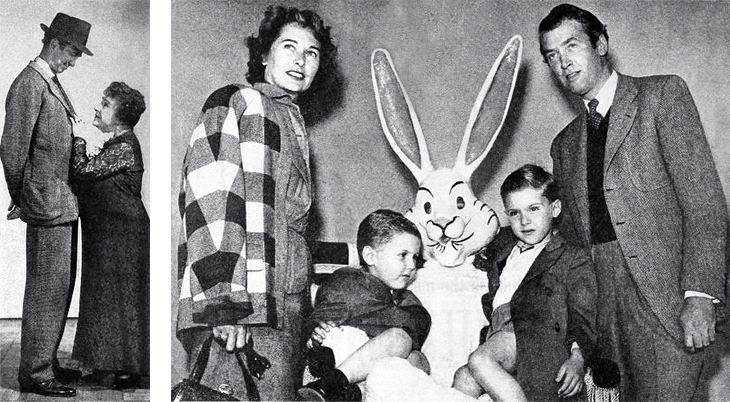 (1950 Photos: Screenland | Photoplay)
James Stewart received an Academy Award nomination for Best Actor, and he was in good company with winner Jose Ferer (Cyrano de Bergerac) and fellow nominees William Holden (Sunset Boulevard), Spencer Tracy (Father of the Bride), and Louis Calhern (The Magnificent Yankee).
Best Supporting Actress Josephine Hull
The Best Supporting Actress Academy Awards nominees included Hope Emerson (Caged), Celeste Holm & Thelma Ritter (All About Eve), and Nancy Olson (Sunset Boulevard), but the Oscar went to Harvey's Josephine Hull for her performance as Veta.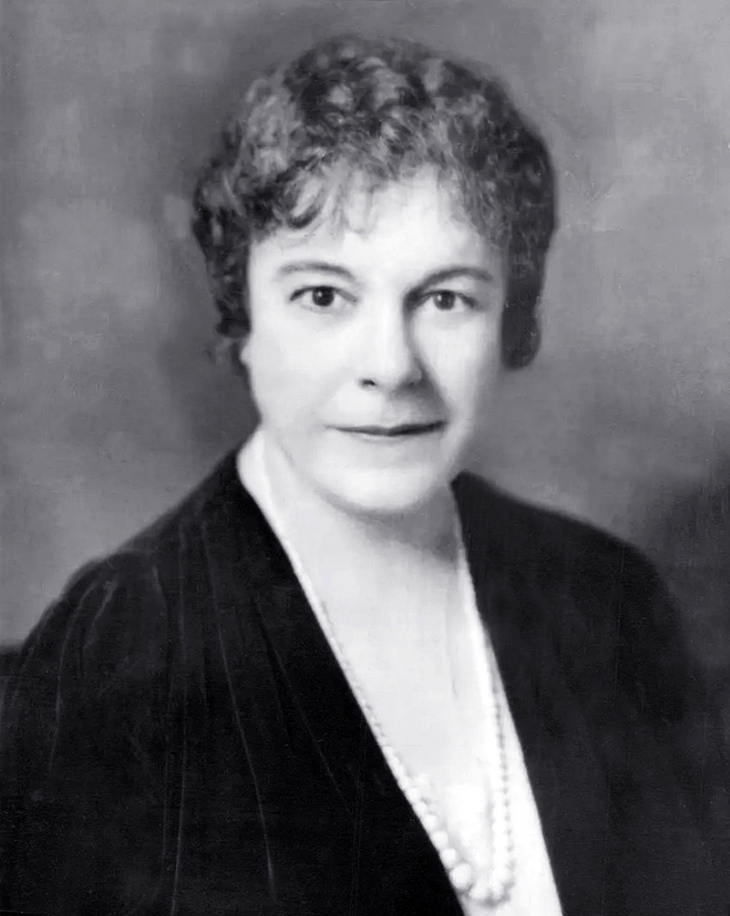 (Josephine Hull c 1940 Photo)
Actress Josephine Hull (nee Mary Josephine Sherwood January 3, 1877) retired from acting in 1910 when she married actor Shelley Hull. Shelley soon broke into the silent film industry, followed by his brother, actor Henry Hull. Shelley died young (in 1919 from the influenza pandemic at the age of 34), and Josephine made a return to stage acting in 1923. 
Josephine Hull is primarily known for her many Broadway stage successes from the 1920s through the 1950s – Craig's Wife (1926), You Can't Take it With You (1936), Arsenic and Old Lace (1941), Harvey (1944), and The Solid Gold Cadillac (1954).
Despite her stellar acting chops, and the conversion of the stage plays she appeared in being made into movies, Josephine Hull can only be seen in six feature films. That's because the plays were very long-running (years, not weeks or months), and other actresses were tapped for the movies.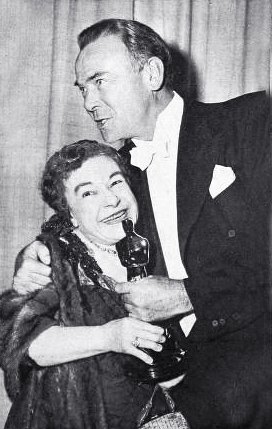 (Dean Jagger presented Josephine Hull with her Oscar at the Academy Awards ceremony in 1951)
Exceptions to this were the films Harvey (1950) and Frank Capra's Arsenic and Old Lace (1944), in which she co-starred with Cary Grant and Jean Adair in both the stage and movie versions. 
Josephine Hull died of a cerebral hemorrhage in 1957 at the age of 80.
Her movie legacy includes Get Your Man (1927) starring Clara Bow; Candlesticks (1929) with Walter Huston and Charles S. Abbe; After Tomorrow (1932) starring Charles Farrell and Marion Nixon; Careless Lady (1932) with Joan Bennett and John Boles; and The Lady from Texas (1951) starring Howard Duff & Mona Freeman.
Harvey on Stage & Television
Other actors played Elwood during the Broadway run, including Joe. W. Brown, James Dunn, Jack Buchanan, and Bert Wheeler.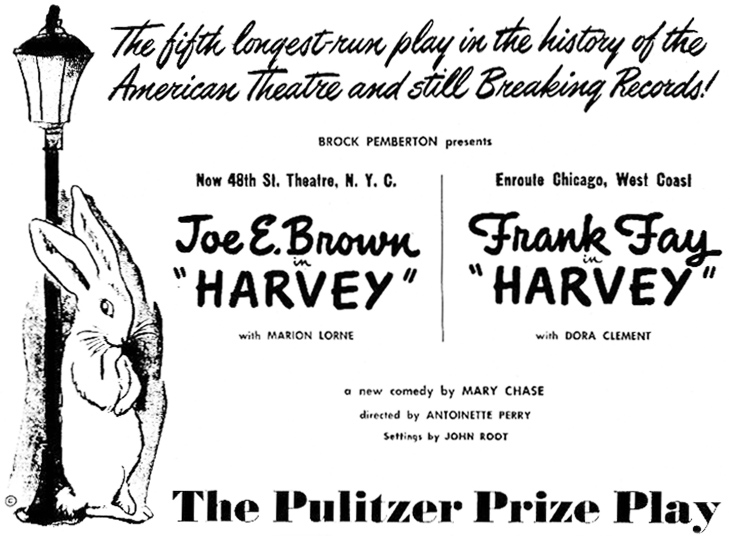 James Stewart would reprise his Elwood performance from the 1940s play and the 1950 film a few more times – first, in a 1970 Broadway revival which co-starred Helen Hayes, and a few years later, in a West End production which co-starred Mona Washbourne.
Harvey was adapted for television 3 times between 1958-1998, each time sporting a star-studded cast. 
The Dupont Show of the Month episode Harvey (1958), with Art Carney as Elwood, Marion Lorne as Veta, Larry Blyden as Dr. Sanderson, Elizabeth Montgomery as Miss Kelly, Charlotte Rae as Myrtle May, Jack Weston as Wilson, Raymond Bramley plays Judge Gaffney, and Fred Gwynne. 
Harvey (1972) TV film, with the main cast members from the 1970s revival – James Stewart as Elwood and Helen Hayes as Veta . Madeline Kahn is Ruth Kelly, Richard Mulligan is Dr. Sanderson, John McGiver is Dr. Chumley, Martin Gabel is Judge Gaffney, Fred Gwynne is a cab driver, Marian Hailey is Myrtle Mae. Jesse White and Arlene Francis also appear.
Harvey (1996) made-for-TV movie, with Harry Anderson as Elwood, Swoosie Kurtz as Veta, Leslie Nielsen as Dr. Chumley, Jessica Hecht as Ruth Kelly, William Schallert as Judge Gaffney, Lisa Akey as Myrtle Mae, Robert Wisden as Dr. Sanderson, as well as Jonathan Banks, Jim O'Heir, and Lynda Boyd.
*Images are believed to be in the public domain and/or Creative Commons licensed & sourced via Wikimedia Commons, Vimeo, YouTube, or Flickr, unless otherwise noted*