Elizabeth II, From Princess to Queen 1939-1957
If you've been enjoying Netflix's series The Crown, then you may like these vintage photos of Queen Elizabeth II, from 1939-1957. A long, long time ago, Elizabeth was just an ordinary royal princess…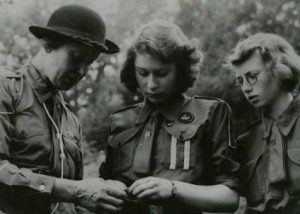 (Elizabeth ties knots for the Girl Guides 1942 Photo: Fox Photos Ltd. / Girl Guides of Canada)
In July 1939, 18-year-old naval cadet Prince Philip of Greece and Denmark was invited by his uncle "Dickie" Mountbatten, to have tea with the royal family when they visited the Royal Naval College at Dartmouth. By all reports, 13-year-old Princess Elizabeth was smitten with Prince Philip.
According to Vanity Fair, Prince Philip visited his cousins occasionally at Windsor Castle during World War II, and while he was posted overseas, Elizabeth and Philip began writing to each other.
Below, Princess Elizabeth (centre, seated) undergoing training with the Auxiliary Territorial Service in 1945.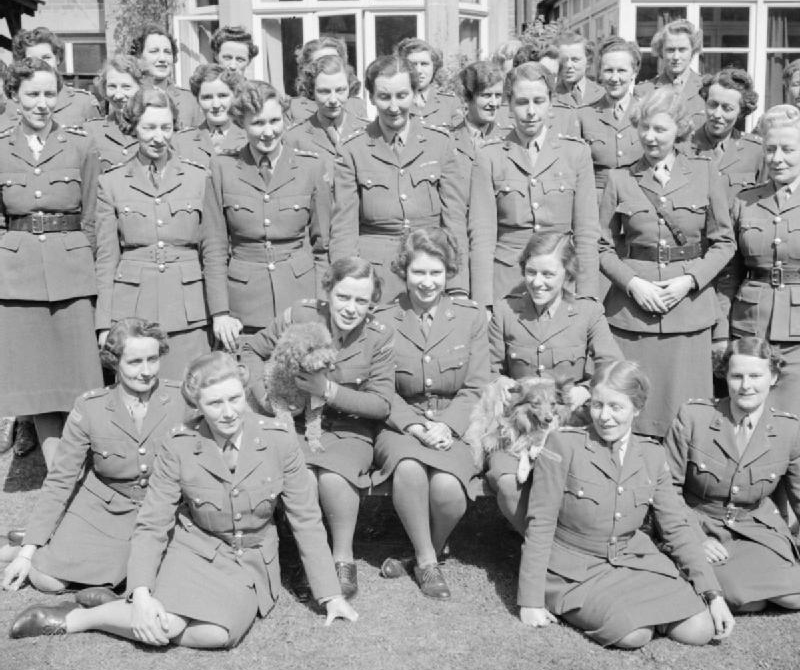 (Photo: Horton W. G. / Imperial War Museum)
By March 1946, World War II was over and Prince Philip was now a frequent visitor at Buckingham Palace. In the summer of 1946, Philip proposed to Elizabeth while they were both staying at Balmoral, and she accepted.
Princess Elizabeth on the right, and her younger sister Princess Margaret at the left, during a 1947 Royal Visit to South Africa.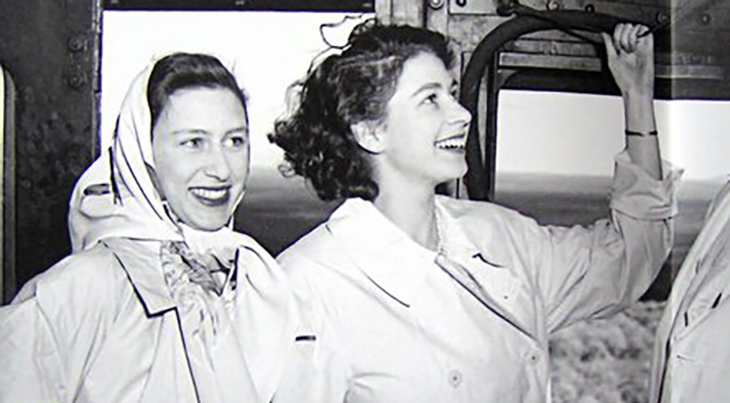 (1947 Photo: SAR&H Phoro Journal Ian Pretorius Collection)
Elizabeth's father King George VI insisted that their engagement be kept secret until after her 21st birthday in April 1947. Philip gave up his Danish and Greek royal titles in order to become a naturalised British subject, and assumed his grandparent's surname Mountbatten, before their engagement was announced.
Just before their wedding, Philip was created Duke of Edinburgh by King George VI. He also quit smoking, because of Elizabeth's (justified) concern over her father's King George VI's heavy smoking habit.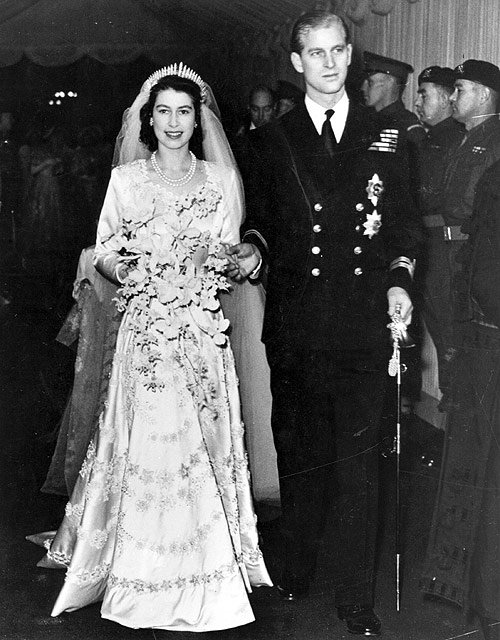 (Photo: Bridal Guide)
The 1947 wedding of Princess Elizabeth and Philip, Duke of Edinborough took place on November 20, 1947.
The photograph showcases a slim and beautiful Princess Elizabeth in her wedding dress. The dress was made of pearl-and-crystal-encrusted ivory silk satin, with a 15-foot train, and was designed by Norman Hartnell.
Elizabeth wore Queen Mary's (her grandmother's) diamond tiara over a tulle and lace veil.
Philip wore his naval uniform with the new Order of the Garter insignia pinned to it.
Princess Elizabeth and Philip's first child, their son Prince Charles was born on November 14, 1948. Prince Charles' younger sister Princess Anne was born on August 15, 1950. 
Below, Queen Elizabeth and Prince Philip, Duke of Edinburgh circa 1950.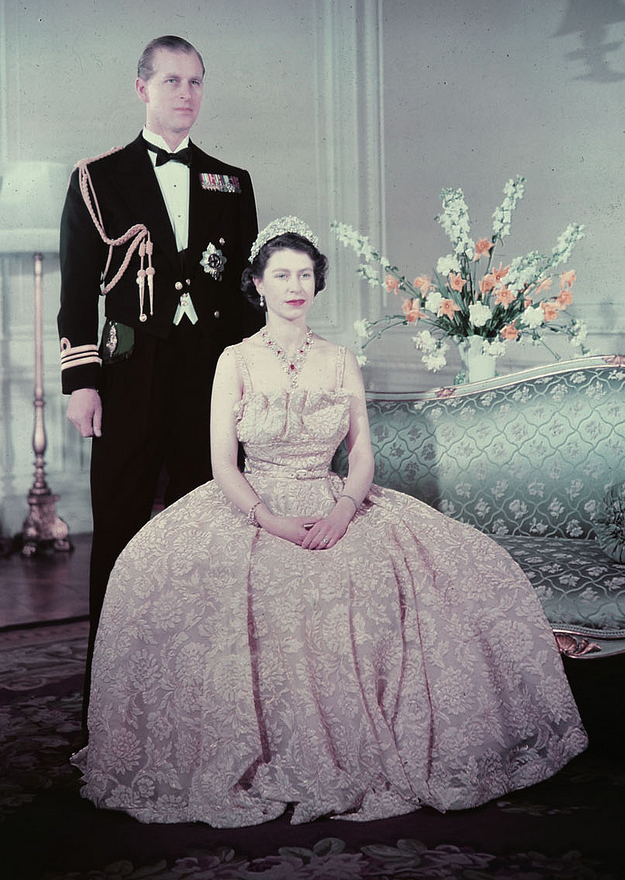 (Photo: National Film Board of Canada / Library and Archives Canada)
After King George VI's death in February 1952, Elizabeth & Philip moved their family into the cosy 775-room Buckingham Palace.
Queen Elizabeth II's coronation took place on June 2, 1953 at Westminster Abbey in London.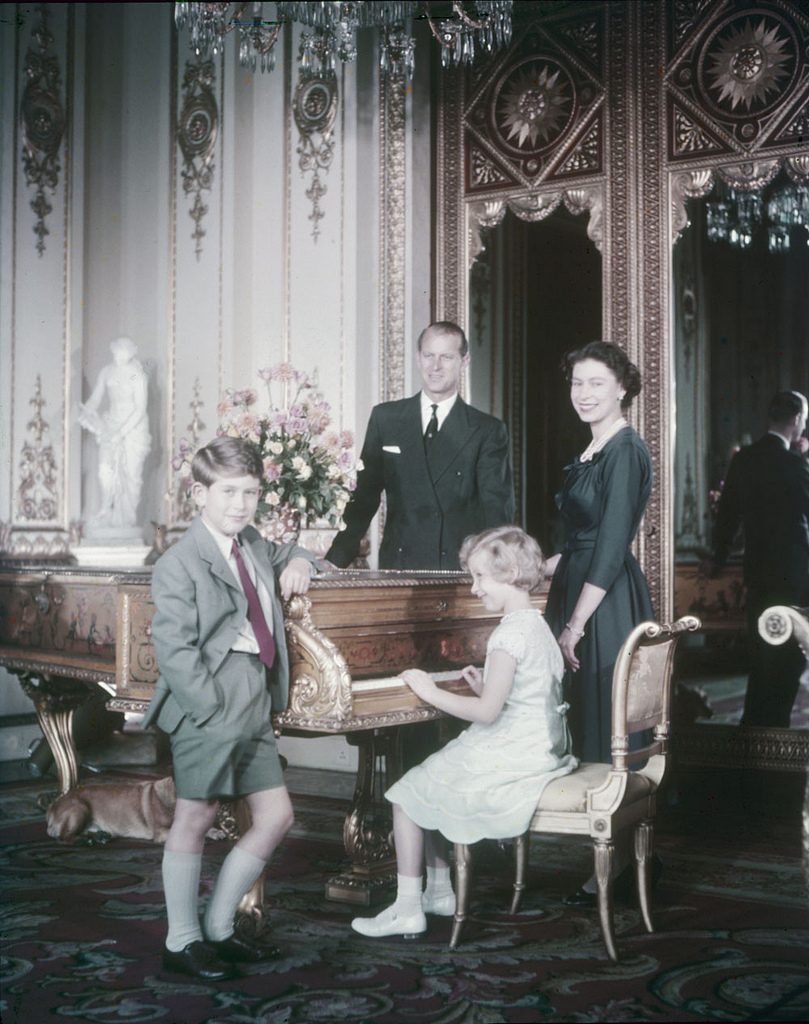 (Queen Elizabeth, Prince Philip, Prince Charles, & Princess Anne Oct. 1957 Photo: Library and Archives Canada)
Queen Elizabeth and Prince Philip visited the United States in the fall of 1957 and stayed in a special suite created for them at the historic Waldorf-Astoria Hotel.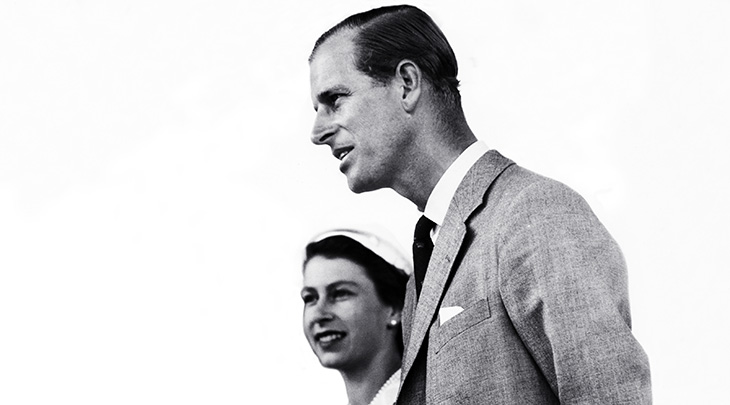 (Queen Elizabeth & Prince Philip 1954 Photo: Archives New Zealand)
Born on June 10, 1921 in Greece, Prince Philip died on April 9, 2021 at the age of 99, just a few months before his 100th birthday. He and Queen Elizabeth had been married for 74 years. 
Queen Elizabeth II died September 8, 2022 at the age of 96. Her oldest son Prince Charles succeeded her as monarch, becoming King Charles III.
*Images are believed to be in the public domain or Creative Commons licensed & sourced via Wikimedia Commons, Vimeo, YouTube, or Flickr, unless otherwise noted*