Celebrating Seniors - Jake LaMotta Turns 95
Update: Jake LaMotta died on September 19, 2017 at the age of 95.
Retired boxer "The Bronx Bull", nonagenarian senior citizen, businessman, actor, writer, and stand-up comic (Giacobbe) Jake LaMotta was born on July 10, 1921 in the Bronx, New York City, New York.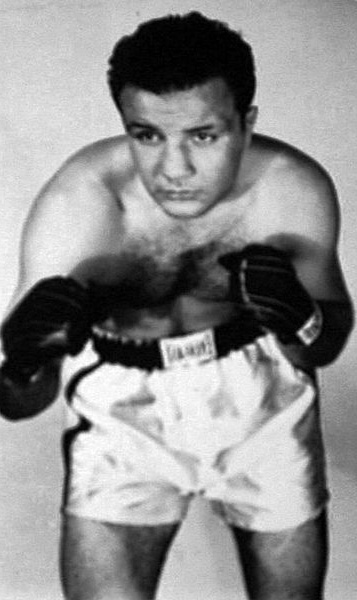 Raised in an environment of poverty and violence, LaMotta was aggressive and violent himself as he grew up. His father would urge him to fight other children for rent money.
LaMotta has said in his autobiography Raging Bull: My Story (1970) written with Joseph Carter and Peter Savage, that as a teenager, he thought he had beaten bookie Harry Gordon to death in a robbery attempt, and that the guilt from this (thinking he was a murderer), influenced his "killer in the ring" attitude.
(Jake LaMotta 1952 Postcard Photo: Unknown | Wikimedia Commons / Public Domain)
After getting out of reform school, Jake LaMotta became a professional boxer at the age of 19 in 1941. During World War II he was declared unfit for military service due to a mastoid operation on one of his ears; he suffered hearing loss that left him hard of hearing throughout his life.
A string of wins as a middleweight led LaMotta to his first tough boxing opponent, former National Golden Gloves Light Heavyweight Champion Jimmy Reeves. Jimmy Reeves won the first of three matches with Jake LaMotta in a controversial split decision in 1941, and won the second boxing match a month later more decisively; LaMotta won the third match two years later in 1943 with a technical knockout.
By the end of 1941, 20-year-old Jake LaMotta had married for the first time, to a woman he describes in his autobiography as "a barely 19 Bronx girl", with whom he had his first child, daughter Jacklyn LaMotta. LaMotta confessed that they both married too young and fought often; he beat her so badly she almost died, and the marriage lasted about a year before they separated.
In his Raging Bull autobiography, Jake LaMotta recounts raping his best friend Pete Petrella's friend, an 18-year-old virgin named Viola, while Pete was in prison. Despite this, and numerous beatings that LaMotta gave Pete, it was Peter Savage (he changed his last name from Petrella) that helped write LaMotta's autobiography. In the Martin Scorcese movie Raging Bull (1980), actor Robert DeNiro's portrayal of Jake LaMotta has several interactions with the character of Jake's brother Joey LaMotta (played by actor Joe Pesci), which is a fictionalized amalgamation of real-life events that transpired with Peter Petrella, Joey LaMotta, and another man. Below, a scene from Raging Bull with Robert DeNiro as Jake LaMotta, Joe Pesci as his brother Joey, Frank Vincent as mob connection Salvi Batts, and Lori Anne Flax as LaMotta's wife "Irma". (Warning – violence and strong language)
1942 saw boxers Jake La Motta and Sugar Ray Robinson begin what would be a long ring rivalry, in their first boxing match at Madison Square Gardens, in New York City. Their matches were like a ping pong game – Robinson decisively won the first fight in October, 1942; LaMotta handily won their second fight in February 1943, the first loss of Sugar Ray Robinson's boxing career. Two weeks later, Robinson won their third fight in the 10th round, overcoming a a 7th round knock-down by LaMotta that almost took Robinson out of the boxing match. Their fourth fight in February 1945 was again won decisively in the 10th round by Sugary Ray Robinson. The fifth boxing match between Jake LaMotta and Sugar Ray Robinson in September 1945 resulted in a very controversial split decision win for Robinson.
In early 1945, 24-year-old Jake LaMotta met 15-year-old (Beverly) Vikki Thailer; they married within 3 months, after she had turned 16. The pattern of beating his wife that had started in his first marriage continued during his marriage to Vikki LaMotta, fueled by jealousy, insecurity, and self-hatred. Despite confessing to oft-times being unable to perform, or choosing to not have sex as part of his training regiment, during their marriage Jake LaMotta often cheated on Vikki, and accused her of cheating on him.

Jake LaMotta's agreement with the Mafia to lose his November 1947 fight in a knock down by boxer Billy Fox, plus a payment of $20,000 to mob, earned him a shot at a the World Middleweight Champion title. The FBI investigated the LaMotta/Fox fight, and in 1960 Jake LaMotta was called to testify before a U.S. Senate sub-committee on the mafia in boxing, about his 1947 "loss" to Billy Fox.
Jake LaMotta won his June 1949 boxing match against reigning World Middleweight Champion Marcel Cerdan in the 10th round and claimed the World Middleweight Champion title for himself. He was taken aback to later see the man he thought he had killed, Harry Gordon – alive and well. LaMotta said that knowing he was no longer a killer took a bite out of his determination in the ring in later boxing matches. On his way back to the U.S. from his home in France so he could fight in a rematch with LaMotta, Marcel Cerdan's plane crashed and he died.
Vikki entered the 'Mrs New York City' contest in 1950, but Vikki and Jake's relationship continued to be stormy and violent.
(Jake and Vikki LaMotta 1950 Photo: Acme News Photos | Wikimedia Commons / Public Domain)
Boxer Jake LaMotta's family now included wife Vikki LaMotta and their children – youngest son Joe (b. 1949), oldest son Jack (b. approx 1947); his mother Elizabeth LaMotta; his daughter Christi LaMotta; his mother-in-law Margaret Thailer (Vikki's mother); and his brother Joey LaMotta and Joey's family. 
The clip below from Raging Bull features Robert DeNiro, Cathy Moriarty as Vikki LaMotta, Joe Pesci as his brother Joey, and Theresa Saldana as Joey's wife Lenora Lamotta. Jake LaMotta has said that after watching the movie he asked Vikki if he was really like that, and she told him that he was worse. (Warning – violence and strong language)
After defending his title in tough boxing matches with Tiberio Mitri (July, 1950) and Laurent Dauthuille (September, 1950), Jake LaMotta and Sugar Ray Robinson met for their sixth and last bout. They went 13 rounds in what has become known as the "Saint Valentine's Day Massacre", on February 14, 1951 in Chicago, Illinois; Sugar Ray Robinson won the match with a technical knockout (although LaMotta was never knocked down), and took the middleweight title from LaMotta.
Although Jake LaMotta continued to box in the light heavyweight division after losing the middleweight title to Robinson, he never earned the title. LaMotta's first (real) knockdown came in a loss from boxer Danny Narico in December 1952. This, combined with an injury that required a long recovery, and a split decision loss to Billy Kilgore, made him decide to retire from boxing at the age of 33 in 1954.
Vikki and Jake LaMotta moved their family to Miami, Florida and opened Jake LaMotta's Lounge (a strip club). LaMotta also began do diversify into writing, stand-up comedy, and acting. His drinking intensified and within a couple of years, Vikki left with the three children; they divorced the following year, in 1957. Vikki and Jake LaMotta maintained a friendly relationship after their divorce, although he didn't have much involvement with his kids.
Friends dropped away due to LaMotta's abusive behavior towards them and crude sexual overtures he made to their wives and girlfriends. As a bar owner, Jake LaMotta was convicted of contravening prostitution laws in Florida in 1958 when he introduced some men to an underage girl; he served 6 months time. Out of prison, Jake LaMotta focused on acting and stand-up comedy. Below, a scene from Raging Bull features Robert DeNiro as an older, heavier Jake LaMotta performing onstage in his lounge.
In a 1981 interview with Lakeland's The Ledger newspaper, ex-wife Vikki described LaMotta as being more mellow after his prison sentence. Although she had completed work on her autobiography in the late 1980's, at her request Knockout: The Sexy, Violent, Extraordinary Life of Vikki LaMotta was not released until after her death in January 2005 at the age of 75. 
Jake LaMotta appeared in 18 movies including a role as a bartender in The Hustler (1961) with Paul Newman and Jackie Gleason; and was in 5 episodes of the popular early 1960's baby boomer television series, Car 54, Where Are You?
LaMotta would go on to marry five more times after divorcing Vikki. His fourth child, daughter Stephanie, was born in July 1961 to Jake LaMotta and his fourth wife Dimetria (Dolly) LaMotta.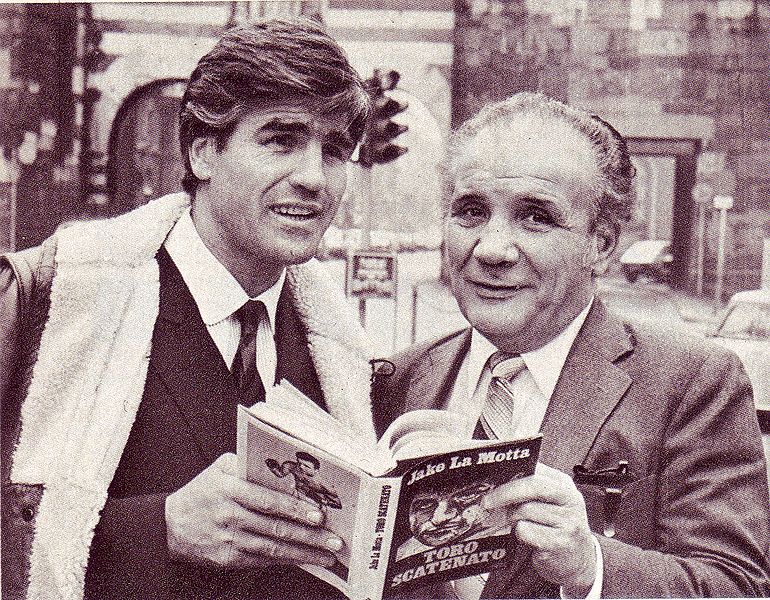 Jake LaMotta was married to fifth wife Deborah (Debra) in the late 1970's while actor Robert DeNiro was spending time with the couple, researching his role for Raging Bull. Jake and Deborah LaMotta divorced in 1980.
Right, retired boxers Nino Benvenuti (1960 Olympic welterweight gold medalist) and Jake LaMotta circa 1980, holding a copy of LaMotta's autobiography (in Italian). (Photo: Unknown | Wikimedia Commons / Public Domain)
A Sports of the Times article shows 62-year-old Jake LaMotta's sixth wife was 41-year-old Theresa Miller; they married in Las Vegas in April 1985, with LaMotta's former adversary Sugar Ray Robinson acting as his best man. Below, an older, septuagenarian Jake LaMotta with journalist Lorenzo Tartamella in 2000.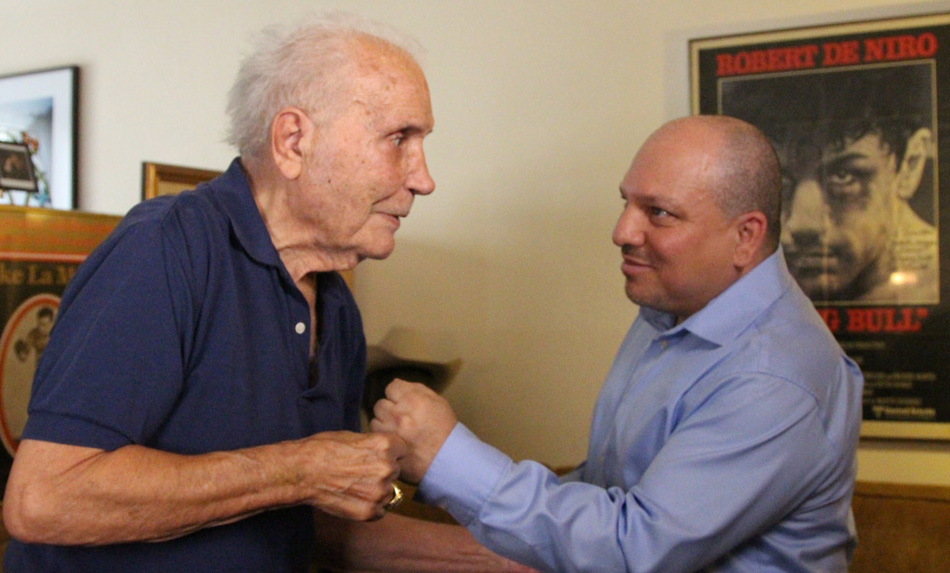 (Jake LaMotta 2000 Photo: Joeyjojo86 | Wikimedia Commons / Public Domain)
Jake LaMotta was a septuagenarian senior citizen when he lost both of his sons in the same year – Jack LaMotta died from cancer in February 1998, and later that year Joe LaMotta was killed in the September 1998 Swissair Flight 111 plane crash.
92-year-old nonagenarian senior citizen Jake LaMotta married for the seventh time, on January 4, 2013 to Denise Baker. The couple had first met in 1992 when she was a married mother of two; after her husband died they began dating. Denise is in her 60's today (almost 30 years younger than LaMotta). Below, Jake and Denise Baker appear in a video clip billed as a PSA about "Big Oil".
La Motta confirmed that he went over 1,000 practice rounds with actor Robert DeNiro to help prepare him for the movie Raging Bull; Jake says he thought Robert DeNiro became good enough to have become a professional boxer if he'd wanted to.
*Images are believed to be in the public domain or Creative Commons licensed & sourced via Wikimedia Commons, Vimeo, YouTube, or Flickr, unless otherwise noted*