Remembering Paul Newman
Remembering actor, philanthropist and race car driver (to name just a few of his accomplishments) Paul Newman. Paul Newman was a serious stage actor throughout the 1950s, but is better remembered today as a Hollywood film star in movies such as Cool Hand Luke, The Hustler, Butch Cassidy and the Sundance Kid, The Long, Hot Summer, and many more.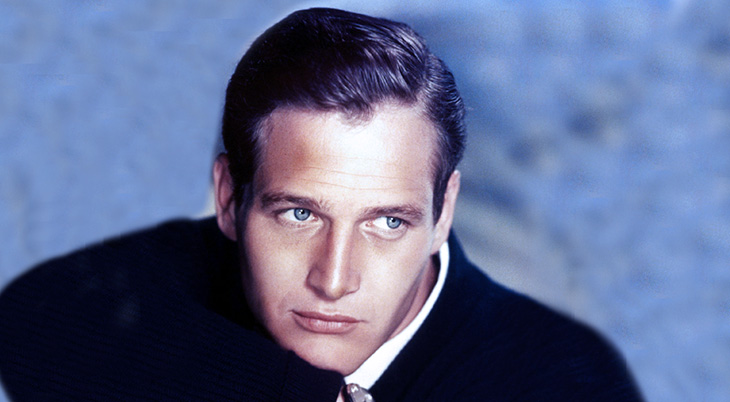 (Paul Newman 1950s-1960s Photo: Insomnia Cured Here)
Paul Newman and Joanne Woodward
Paul Newman died of lung cancer on September 26, 2008 at age 83 (he was born on January 26, 1925). He was survived by his 2nd wife (of 50 years), and the mother of 3 of his 6 children, Academy Award Winning Best Actress Joanne Woodward.
The couple were frequently onscreen partners as well, in such classic films as The Long, Hot Summer.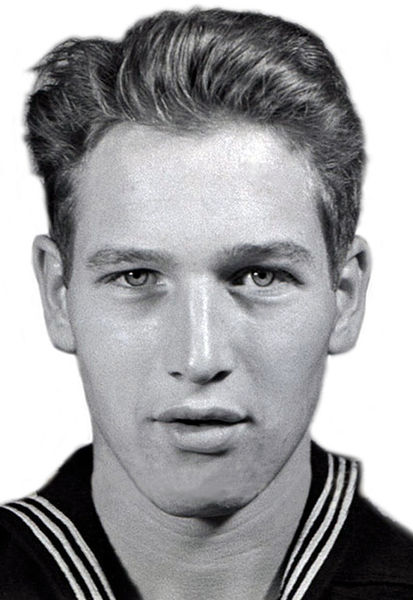 (Paul Newman 1944-1945 Photo: U.S. Navy)
Paul Newman served in the US Navy in WWII, training as a radioman and gunner and eventually seeing action as a turret gunner in a torpedo bomber.
After WWII ended he completed a B.A. in economics and drama in his home state of Ohio, before marrying first wife Jackie Witte. They moved to New York City in 1951 where Newman began his long and distinguished acting career on stage, television and in movie productions. 
During the 1950s Paul Newman was more often seen on stage than in films, although he did make a few movies and appeared in small guest-starring role on several anthology and other television series.
Blue-eyed actor Paul Newman met Joanne Woodward while they were both understudying for the leads in a New York stage play in 1953. 
Their initial friendship flourished into much more, culminating in Joanne becoming pregnant while they were starring in and filming The Long Hot Summer together in 1957. In the cast of The Long Hot Summer with them were character actors Angela Lansbury and Richard Anderson. 
After Paul's divorce was finalized, Joanne Woodward and Paul Newman got married in 1958 and went on to star in 9 more feature films together over 5 decades. Some of the best Paul Newman/Joanne Woodward movies:
Rally 'Round the Flag, Boys! (1958), a comedy with Joan Collins, Duane Hickman, and Tuesday Weld.
From the Terrace (1960), a drama with co-stars Myrna Loy, Ina Balin, Elizabeth Allen, Barbara Eden, George Grizzard, and Patrick O'Neal..
A New Kind of Love (1963), a romantic comedy with Thelma Ritter, Eva Gabor, and Robert Clary (Hogan's Heroes).
Mr. and Mrs. Bridge (1990), with co-stars Kyra Sedgwick and Blythe Danner. Mr. and Mrs. Bridge was the last movie to co-star Joanne Woodward and Paul Newman.
Below, Paul Newman and Joanne Woodward were the celebrity guests on What's My Line in 1959.
Paul Newman also directed his wife Joanne Woodward in the movie The Glass Menagerie (1987), with John Malkovich, Karen Allen, and James Naughton. 
DU2622hU
Paul Newman's 1950s & 1960s Classic Movies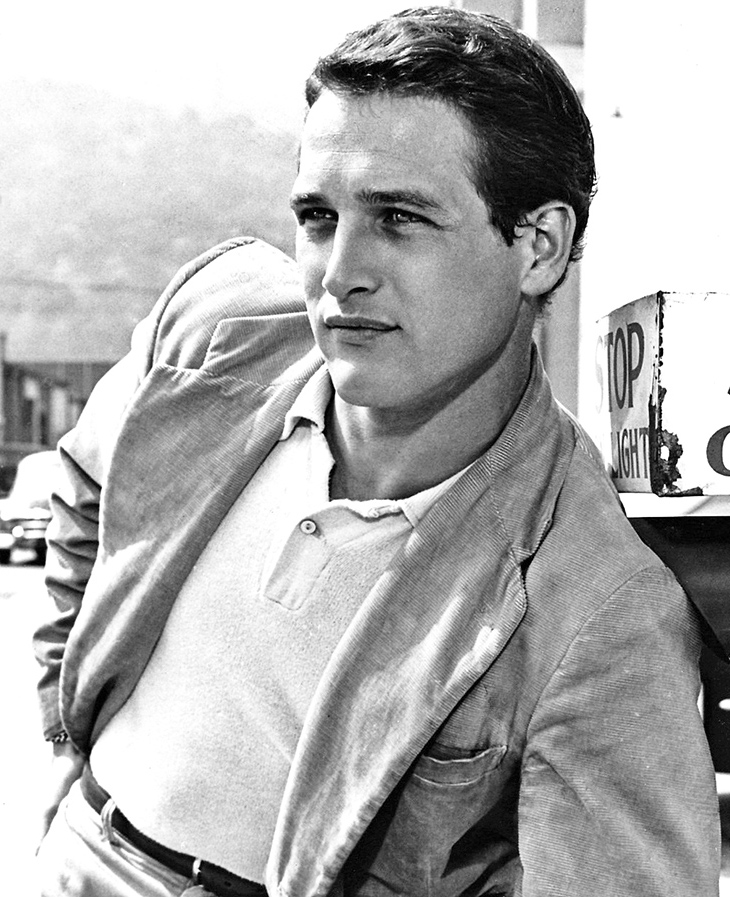 (Paul Newman 1954 The Silver Chalice Photo: Warner Bros.)
The Silver Chalice (1954) was Paul Newman's first film acting role, and reportedly he hated the movie although he won the Golden Globe Award for Most Promising Newcomer. Newman plays artist Basil, who is to make a silver chalice for the Holy Grail. His co-stars in The Silver Chalice are Jack Palance as the villain Simon Magus, with Pier Angeli and Joseph Wiseman in supporting roles. Virginia Mayo plays Helena as an adult, while a young Natalie Wood is a younger Helena. Other character and supporting players with familiar faces in the cast of The Silver Chalice include Canadian actor Lorne Greene, Herbert Rudley, E.G. Marshall, Booth Colman, Albert Dekker, and Strother Martin.
Cat on a Hot Tin Roof (1958) earned Paul Newman his first Academy Award Best Actor nomination for his performance as hot-headed, sullen Brick Politt. Elizabeth Taylor plays his wife Maggie "The Cat", and Burl Ives is his father "Big Daddy". Dame Judith Anderson is "Big Mama", while Jack Carson is his older brother and Madeleine Sherwood his sister-in-law. Newman received his first Academy Award for Best Actor nomination. Character actors Larry Gates and Vaughn Taylor were also in Cat on a Hot Tin Roof in supporting roles. This trailer for Cat on a Hot Tin Roof features Elizabeth Taylor, Paul Newman, Burl Ives, Judith Anderson, Jack Carson, and Madeleine Sherwood.
The Young Philadelphians (1959) – a widely acclaimed film starring Paul Newman as a young lawyer raised by his mother (Alexis Smith) after her husband & his presumed father (played by Adam West) dies. Actor Brian Keith plays his real father and a lifelong family friend, while Barbara Rush is his love interest and and Robert Vaughn is a friend Newman ends up defending on a murder charge. I watched this film recently and in my humble opinion, Newman shines and his character's motivations are still valid, while the decisions made by the characters played by Barbara Rush (a beautiful actress) and Alexis Smith, are kind of odd. Possibly it's a reflection of norms at the time, vs today 60 years later…
Exodus (1960) is a dramatic film based on the creation of the country of Israel in 1948, and the resulting war with neighboring Arab countries. Filmed on location in Israel, Exodus has a star-studded cast headed by Paul Newman, Eva Marie Saint, Ralph Richardson, Peter Lawford, Lee J. Cobb, Sal Mineo, John Derek, and others.
Hemingway's Adventures of a Young Man (1962) featured Richard Beymer as Ernest Hemingway's counterpart, restless world traveler and adventurer Nick Adams. Paul Newman, Fred Clark, Dan Dailey, Arthur Kennedy, Susan Strasberg, Jessica Tandy, Eli Wallach, Edward Binns, Whit Bissell, Michael J. Pollard, Sharon Tate, and others were part of a large cast. Hemingway's Adventures of a Young Man was filmed in Los Angeles & Wisconsin in the U.S., and Verona in Northern Italy.
DU2622hU
Hud (1963) featuring Newman along with co-stars Melvyn Douglas, Patricia Neal, Brandon De Wilde, Whit Bissell, and Crahan Denton. Hud is based on author Larry McMurtry's best-selling novel Horseman, Pass By. Hud focuses on the struggles between Texas rancher Homer Bannon (Melvyn Douglas) and his alcoholic son Hud Bannon (Paul Newman). Homer's grandson Lonnie (Brandon De Wilde) is caught in the middle, and Patricia Neal plays the attractive housekeeper who is attracted to Hud.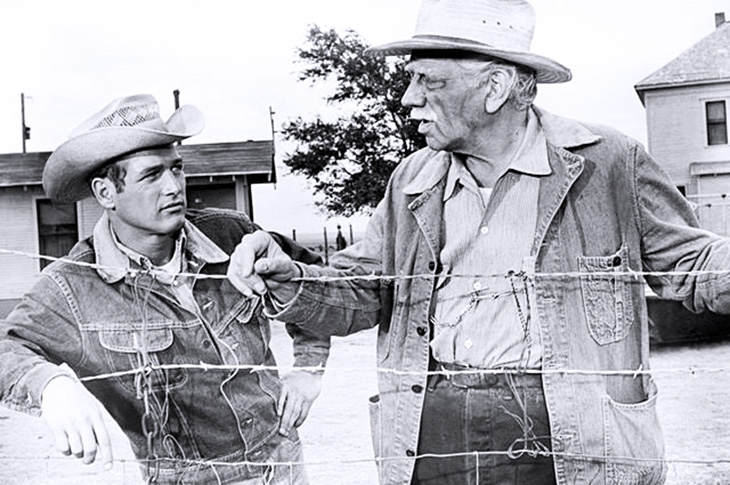 (Paul Newman & Melvyn Douglas 1963 Hud Photo: Paramount Pictures)
Both Melvyn Douglas and Patricia Neal won Academy Awards for their performances in the film, and cinematographer James How won an Oscar for best Black & White Cinematography; Newman was nominated for his third Best Actor Academy Award but didn't win.
What a Way to Go! (1964) is a comedy starring Shirley MacLaine and her costumes…just kidding! Seriously the costumes are amazing in What a Way to Go!, but so are all 6 of MacLaine's leading men in the film – Dick Van Dyke, Dean Martin, Gene Kelly, Bob Cummings, Robert Mitchum, and Paul Newman as an eccentric artist. What a Way to Go! is a rare supporting, comedy role for Newman at that stage of his career.
Torn Curtain (1966) is an Alfred Hitchcock-directed post WWII cold-war political thriller co-starring Julie Andrews and Paul Newman. Newman plays a double agent, American rocket scientist who appears to want to defect to East Germany, and Andrews is his fiancee, whom he also deceives. Apparently Hitchcock's directing and Newman's acting styles didn't mesh, as Newman questioned Hitchcock about his character's motivation and other aspects of the film – something Alfred Hitchcock, known for his controlling perfectionism on film sets, didn't appreciate.
Cool Hand Luke (1967) is a prison film with Paul Newman as the rebellious prisoner "Luke" bent on escape, Jo Van Fleet as Luke's mother, Strother Martin (in his second film with Paul Newman), Clifton James as the prison floorwalker, and George Kennedy as the leader of the other prisoners – Robert Donner, Dennis Hopper, J.D. Cannon, and Lou Antonio, among others. Newman received his fourth Academy Award Best Actor nomination for his performance in Cool Hand Luke.
This movie clip from Cool Hand Luke features Strother Martin as the warden: "What we've got here is a failure to communicate…" 
Hombre (1967), a western co-starring Martin Balsam, Fredric March, Richard Boone, Diane Cilento, Cameron Mitchell, and Barbara Rush in her second film with Paul Newman (after 1959's The Young Philadelphians). Skip Ward and David Canary were also in the cast of Hombre. Newman plays an outcast (because he was raised by Apaches on an Indian reservation) who sets out on a stagecoach with other passengers and becomes their leader when the coach is robbed. 
DU2622hU
Fast Eddie Nelson & Academy Award Recognition
In The Hustler (1961) Jackie Gleason plays legendary pool champion Minnesota Fats and Newman is hungry newcomer Eddie Felson. George C. Scott, Piper Laurie, Murray Hamilton, and Michael Constantine. Vincent Gardenia, and retired champion boxer Jake LaMotta play bartenders in the film. 
The Hustler clip below has glimpses of Michael Constantine, and features both Jackie Gleason and Paul Newman…"I dreamed about this game, Fat Man."
Newman earned his second Academy Award nomination for Best Actor for his portrayal of Fast Eddie in The Hustler. 
Twenty-five years later, Paul Newman co-starred with Tom Cruise in The Hustler sequel The Color of Money (1986), and won the Academy Award for Best Actor for playing the same character of Fast Eddie Nelson. The Color of Money was Newman's 7th Oscar nomination for Best Actor, and his first win. Actors John Turturro, Mary Elizabeth Mastrantonio, and Helen Shaver and had supporting roles in the film, but Mastrantonio was the only other actor to be nominated for an Academy Award from The Color of Money.
Paul Newman as P.I. Lew Harper
(Paul Newman 1966 Harper Photo: Warner Bros.)
In Harper (1966), Paul Newman plays ultra-cool P.I. Lew Harper, co-starring opposite Lauren Bacall, Janet Leigh, Arthur Hill, Julie Harris, Pamela Tiffin, Robert Webber, Shelley Winters, Robert Wagner, Harold Gould, and others. Veteran character actor Strother Martin appears in his first of five movies with Paul Newman (before playing his Cool Hand Luke nemesis).
Paul Newman's wife Joanne Woodward co-starred with him in a sequel to Harper, The Drowning Pool (1975), in which Paul Newman reprised his role as Detective Lew Harper. Woodward plays Harper's ex-girlfriend, and Melanie Griffith plays her onscreen daughter. Anthony Franciosa is the local police Chief Broussard and Richard Jaeckel is Lieutenant Frank; Murray Hamilton and Gail Strickland have supporting roles in The Drowning Pool. 
This movie trailer for Harper features Paul Newman, Janet Leigh, Lauren Bacall, Pamela Tiffin, Julie Harris, Shelley Winters, and Robert Wagner.
Paul Newman, Robert Redford, and George Roy Hill
Paul Newman co-starred with friend Robert Redford twice: 1969's Butch Cassidy and the Sundance Kid, and 1973's The Sting. Both films were directed by George Roy Hill, who would later direct Redford in The Great Waldo Pepper (1975), and Newman in Slap Shot (1977).
Although critics at the time were less enthusiastic, Butch Cassidy and the Sundance Kid is now considered a classic western. This first pairing of Paul Newman and Robert Redford onscreen exploded at the box office from the impact of their combined charisma. Newman is Butch Cassidy, leader of The Hole in the Wall Gang, and Redford is his friend and fellow outlaw, the Sundance Kid. The luminous Katharine Ross plays schoolteacher Etta Place, the Sundance Kid's girlfriend.When it gets too hot to remain in the area, Butch and Sundance escape to Bolivia with Etta and resume a life of crime there. This clip from Butch Cassidy and the Sundance Kid featuring Paul Newman and Robert Redford, is a scene from just before they decide to flee to Bolivia.
The large supporting cast of Butch Cassidy and the Sundance Kid has Strother Martin in his third Paul Newman film, as well as Henry Jones, Jeff Corey, George Furth, Kenneth Mars, Donnelly Rhodes, Charles Dierkop, and Cloris Leachman.
Although no Academy Awards were doled out for acting performances, Butch Cassidy and the Sundance Kid did take home 4 Oscars – Best Cinematography, Best Original Screenplay (William Goldman), Best Original Score, and Best Song (Raindrops Keep Fallin' on My Head, by Burt Bacharach and Hal David). 
The Sting was another huge commercial success and this time the critics instantly recognized the film as a classic. A tale of grifters, con men, and gambling set in the Depression era, the music of Scott Jopin's ragtime tune The Entertainer is heard throughout The Sting.
DU2622hU
Paul Newman is Henry "Shaw" Gondorff, Robert Redford is Johnny "Kelly" Hooker, and Robert Shaw is bad guy Doyle Lonnegan, the man they team up to fleece in a complex sting operation. Supporting cast players in The Sting include Robert Earl Jones, Charles Durning, Ray Walston, Eileen Brennan, Harold Gould, Dana Elcar, Jack Kehoe, James J. Sloyan, Charles Dierkop, and Sally Kirkland.
This clip from The Sting features Paul Newman playing cards with Robert Shaw, while Charles Dierkop (as Shaw's on-screen bodyguard) watches; and Larry D. Mann is the train conductor that Shaw asks for more money.
Nominated for ten Academy Awards, The Sting won 7 Oscars including Best Picture, Original Screenplay, Set Decoration, Costume Design (Edith Head), Film Editing, and Music / Original Song (Marvin Hamlisch). The Sting won director George Roy Hill his only Academy Award for Best Director, while he received his only other Best Director nomination for Butch Cassidy and the Sundance Kid. Among the cast, only Robert Redford was nominated for an Academy Award (for Best Actor).
Classic Paul Newman Films 1970s – 1990s
Paul Newman made 16 movies released between 1970-1982, most of them either huge commercial or critical successes, and in some cases, both. Some notable films during from that productive time are:
The Life and Times of Judge Roy Bean (1972), with Paul Newman as the title character, Victoria Principal as his love interest Maria, and Ava Gardner as "Lillie Langtry", the singer-actress Bean worships but never meets. Other actors appearing in The Life and Times of Judge Roy Bean are Anthony Perkins, Ned Beatty, Roddy McDowall, Jacqueline Bisset (as his daughter Rose), Tab Hunter, Richard Farnsworth, Stacy Keach, Michael Sarrazin, Anthony Zerbe, Matt Clark, Steve Kanaly…and many others. The film's director John Huston also played the character of Grizzly Adams in the movie.
The Mackintosh Man (1973), another Cold War spy thriller based on author Desmond Bagley's novel The Freedom Trap and directed by John Huston. Newman once again plays a spy, and actor James Mason is a British MP in The Mackintosh Man. 
The Towering Inferno (1975), a disaster flick set in a skyscraper. The Towering Inferno's star-studded cast is comprised of Steve McQueen, Faye Dunaway, William Holden, Susan Blakely, Jennifer Jones, Richard Chamberlain, Robert Vaughn and Robert Wagner (in their second movies with Paul Newman), Fred Astaire, Susan Flannery, Gregory Sierra, Dabney Coleman, and others. 
Fort Apache, the Bronx (1981) features Paul Newman and Ken Wahl as partner police officers Murphy & Corelli in The Bronx's violent "Fort Apache" precinct. Ed Asner is the Police Chief, and Rachel Ticotin is Newman's on-screen love interest Isabella. Actors Danny Aiello, Pam Grier, and Kathleen Beller were also in the cast of Fort Apache, the Bronx. 
Slap Shot (1977), a cult-classic comedy for hockey fans, with Michael Ontkean and Swoosie Kurtz. Supporting character actors Slap Shot include Matthew Cowles (later an All My Children star), Melinda Dillon, M. Emmet Walsh, Paul Dooley, and Strother Martin in his fifth and final Paul Newman movie (his fourth was the 1972 western comedy Pocket Money). Directed by George Roy Hill, Newman's director in earlier films Butch Cassidy and the Sundance Kid, and The Sting. In this clip from Slap Shot, Newman tries to convince the team owner (Kathryn Walker) to sell the team.
The back-to-back dramatic films Absence of Malice (1981) and The Verdict (1982) earned Paul Newman his fifth and sixth Oscar nominations for Best Actor.
In Absence of Malice Newman plays businessman Michael Gallagher who is wrongly characterized by hungry local newspaper reporter Megan Carter (Sally Field). Melinda Dillon (in her second Paul Newman film, after Slap Shot), received an Academy Award nomination for Best Actress in a Supporting Role for her performance as Gallagher's friend Theresa, who can give him an alibi. Theresa  cautions Carter not to reveal her personal details, to no avail and with tragic results. Bob Balaban, Barry Primus, Luther Adler, Josef Sommer, and Wilford Brimley are supporting actors in Absence of Malice. 
DU2622hU
The Verdict (1982) is a legal thriller starring Paul Newman as struggling lawyer Frank Galvin. Jack Warden is Frank's friend Mickey, Charlotte Rampling his shady love interest Laura, James Mason  his unscrupulous opposing counsel Milo O'Shea, and Lindsay Crouse as a nurse who can seal the deal. Other supporting players are Edward Binns, James Handy, Wesley Addy – and Bruce Willis in an uncredited role as a courtroom observer in The Verdict. 
This movie clip from The Verdict features Paul Newman and Charlotte Rampling in their first meeting as Frank and Laura.
After his Oscar nominations for The Verdict and Absence of Malice, Newman's onscreen appearances began to slow down. He did win his only Oscar, in 1986's The Color of Money, and appeared in the less successful 1989 movies Blaze (1989) with Lolita Davidovich, Jeffrey DeMunn, Richard Jenkins, and Robert Wuhl; and the WWII Manhattan Project movie Fat Man and Little Boy (1989), with Bonnie Bedelia, John Cusack, Laura Dern, Fred Thompson, John C. McGinley, and Natasha Richardson. Despite the acting chops of the collective casts, neither film connected with film critics or audiences. 
Car Racing, Newman's Own & Retirement
Although he wasn't seen as often on screen during the 1990s, Paul Newman was busy with his other interests – notably, philanthropy and car racing.
As a philanthropist, he co-founded Newman's Own line of food products (popcorn, salad dressings, etc.) in 1982, with all proceeds after taxes being donated to charities – such as establishing the Hole in the Wall Gang camp for seriously ill children, and a $10 million scholarship fund donation to his alma mater Kenyon College.
Paul Newman had become a car racing enthusiast while training as a race driver for his 1969 film Winning, which also starred his wife Joanne Woodward, Robert Wagner, Richard Thomas, David Sheiner, and Clu Gulager. Real-life race car drivers Bobby Unser, Tony Hulman are also in Winning. This movie trailer for Winning features Paul Newman, Joanne Woodward, and Robert Wagner.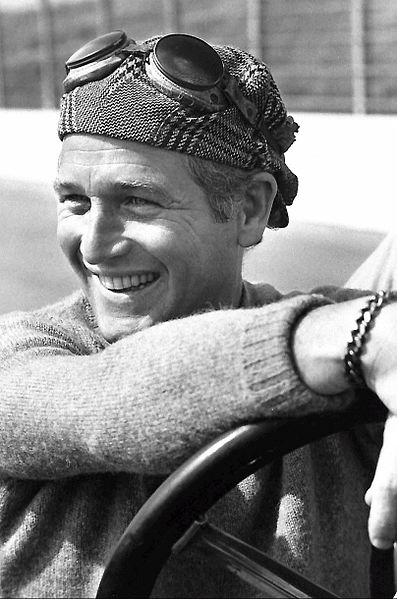 (Paul Newman 1971 Once upon a Wheel Photo: ABC Television)
Newman raced cars as a professional driver until the early 1990s as a member of the Bob Sharp racing team driving primarily Datsuns/Nissans, which cut into his time and interest for acting in films.
As a senior citizen, at age 70 in 1995 Newman became the oldest driver to be part of a winning team in the 24 Hours of Daytona race; 10 years later at age 80 he raced in it again!
With partners, Paul Newman formed other successful racing teams and was involved mostly in a management capacity (1976-1979 Newman Freeman Racing Team; 1983-until his death).
Among the few films Paul Newman could be seen in during the 1990s are these gems:
Nobody's Fool (1994), a comedy-drama with Newman as active older man Sully, living in small-town New York State and clashing with contractor Carl Roebuck (Bruce Willis) while flirting with Carl's wife (Melanie Griffith). Clive (son of Sully's landlord Miss Beryl, played by Jessica Tandy) wants to evict Sully. During all of this, Sully's son Peter (Dylan Walsh) visits with Sully's grandson, and their relationship blooms. Character actors Philip Seymour Hoffman (as a police officer), Philip Bosco (as a judge), Catherine Dent, and Margo Martindale, are also in the cast of Nobody's Fool. Paul Newman received his 8th Best Actor Academy Award nomination for his portrayal of Sully. This movie trailer for Nobody's Fool features Paul Newman, Bruce Willis, Margo Martindale, Melanie Griffith, Catherine Dent, and Jessica Tandy. 
Twilight (1998), a thriller starring Paul Newman as ex-cop P.I. Harry Ross, who tracks down runaway Mel (played by Reese Witherspoon) and her boyfriend Jeff (Liev Schreiber), and is shot for his efforts by Mel. Fast forward to a couple of years later, and Mel's parents are retired movie stars Catherine (Susan Sarandon) and Jack (Gene Hackman) who are housing Harry and have developed a friendly relationship with him (very friendly in Catherine's case). Harry is drawn into a tangled 20-year-old mystery involving the couple.
DU2622hU
Supporting actors in Twilight are Stockard Channing as a police lieutenant, Giancarlo Esposito, Margo Martindale (Newman's co-star from Nobody's Fool), John Spencer, M. Emmet Walsh (a Slap Shot co-star), Clint Howard, and James Garner.
This Twilight trailer features Paul Newman, Susan Sarandon, and Gene Hackman, with glimpses of M. Emmett Walsh, James Garner, and John Spencer. 
Message in a Bottle (1999), based on author Nicholas Sparks' romantic weeper. Newman is in a supporting role as a father in this movie, which stars Kevin Costner and Robin Wright Penn. John Savage, Illeana Douglas, and Robbie Coltrane are also in Message in a Bottle.
Paul Newman's last big on-screen movie role was in 2002's Road to Perdition, which stars Tom Hanks, Jennnifer Jason Leigh, Tyler Hoechlin, Daniel Craig, and Ciarán Hinds. Paul Newman received an Academy Award Best Supporting Actor nomination for his performance in Road to Perdition.
In a rare television appearance, Paul Newman plays truculent Max Roby in the star-studded HBO mini-series Empire Falls (2005), starring Ed Harris (Max's son Miles) & Helen Hunt (Miles' ex-wife). Supporting actors along with Newman are Danielle Panabaker, Aidan Quinn, Dennis Farina, William Fichtner, Estelle Parsons, Theresa Russell, and Larry Pine. Newman's previous co-stars Philip Seymour Hoffman (Nobody's Fool), Jeffrey DeMunn (Blaze) and Robin Wright Penn (Message in a Bottle) are also in Empire Falls, as is Newman's wife Joanne Woodward, who plays the richest woman in town.
Paul Newman received a Primetime Emmy Award for Outstanding Supporting Actor in a Miniseries or Movie for his performance as Max Roby, and it was his last on-screen acting role. He continued to do movie voice-over work, including Disney/Pixar's Cars in 2006 (at the age of 81), before retiring completely from acting in 2007.
He told McCall's in 1995 that he wasn't sure of what he'd accomplished thus far…
"I'm satisfied that I was part of my time…I just wasn't limited to a kind of hedonistic kind of life. Whether I accomplished anything, it's marginal."
Below, older couple Joanne Woodward and Paul Newman in the 2001 documentary (The Long Hot Summer), reflect back on the bed they purchased while they were filming the original movie in 1957.
Paul Newman, on being a senior:
"I'm not mellower, I'm not less angry, I'm not less self-critical, I'm not less tenacious."  (Newsweek in December 1994).
And remembering Paul Newman from his dashing youth, below.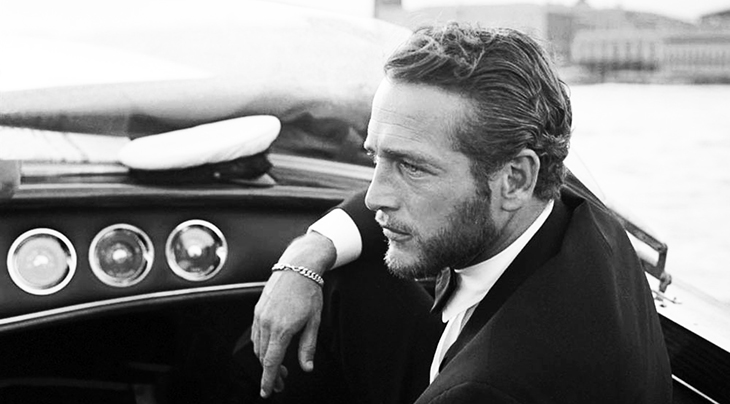 (Paul Newman 1963 Venice Photo: Lmattozz)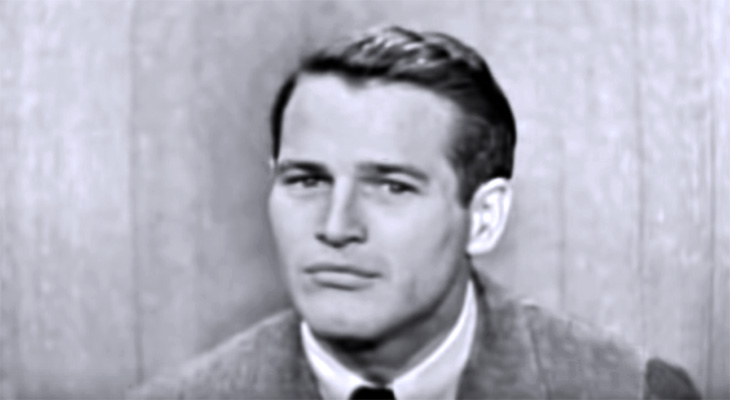 (Paul Newman 1959 What's My Line?)
DU2622hU
Note: This article was first published in January 2015. It has been updated with new & additional content.
*Images are public domain or Creative Commons licensed & sourced via Wikimedia Commons or Flickr, unless otherwise noted*