Remembering Paul Newman
Actor, philanthropist and race car driver (to name just a few of his accomplishments) Paul Newman was born 90 years ago today, on January 26, 1925.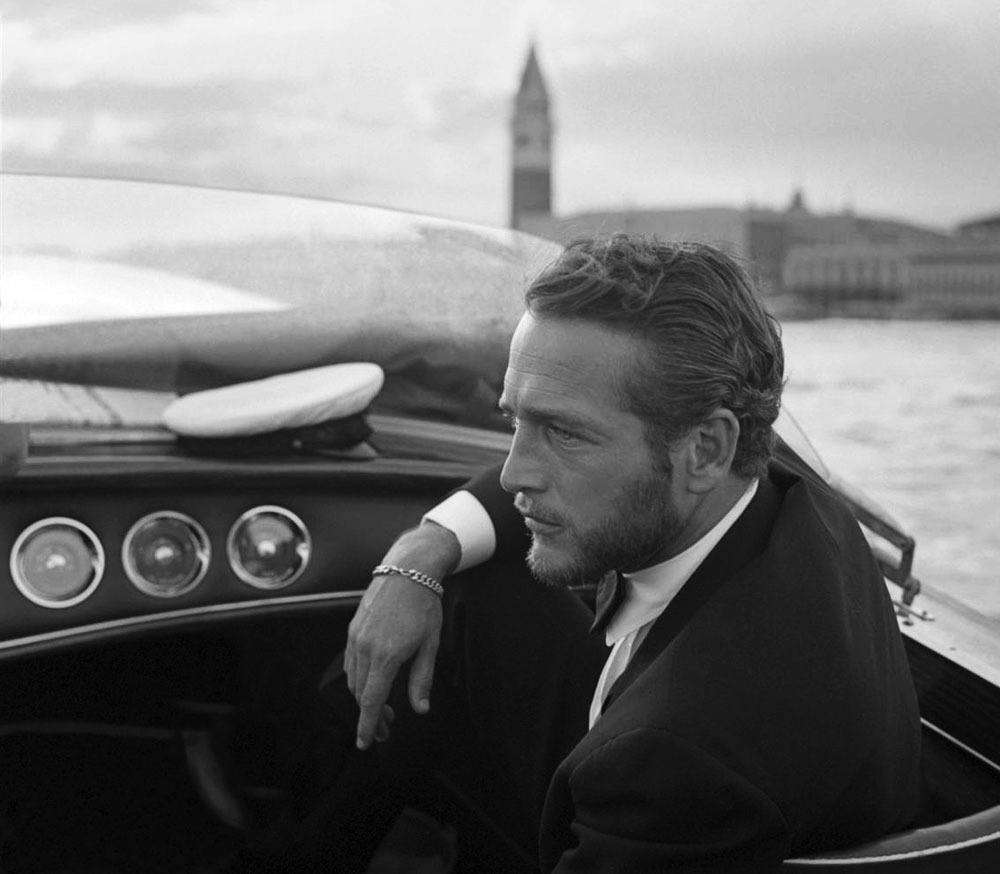 (Paul Newman 1963 Venice Photo: Lmattozz)
Paul Newman died of lung cancer on September 26, 2008 at age 83 and is survived by his 2nd wife (of 50 years), and the mother of 3 of his 6 children, Academy Award Winning Best Actress Joanne Woodward.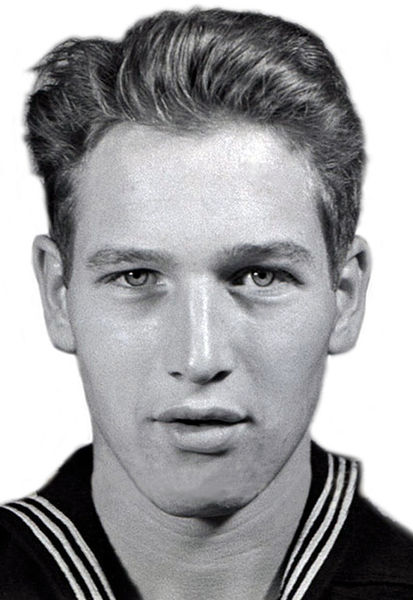 (Paul Newman 1944-1945 Photo: U.S. Navy)
Paul Newman served in the US Navy in WWII, training as a radioman and gunner and eventually seeing action as a turret gunner in a torpedo bomber.
After the war ended he completed a B.A. in economics and drama in his home state of Ohio, before marrying first wife Jackie Witte and moving to New York City in 1951, to begin his long and distinguished acting career in stage, television and movie productions.
Paul met Joanne Woodward while they were both understudying for the leads in a New York stage play in 1953. 
(Paul Newman & Joanne Woodward 1957 The Long Hot Summer Photo)
Their initial friendship flourished into much more, culminating in Joanne becoming pregnant while they were starring in and filming The Long Hot Summer together in 1957. In the cast of The Long Hot Summer with them were character actors Angela Lansbury and Richard Anderson. 
After Paul's divorce was finalized, Joanne Woodward and Paul Newman got married in 1958 and went on to star in 9 more feature films together over 5 decades. Some of the Paul Newman/Joanne Woodward movies included:
Rally 'Round the Flag, Boys! (1958), a comedy with Joan Collins, Duane Hickman, and Tuesday Weld.
A New Kind of Love (1963), a romantic comedy with Thelma Ritter, Eva Gabor (Green Acres), and Robert Clary (Hogan's Heroes).
The Drowning Pool (1975), in which Paul Newman plays Detective Lew Harper. Melanie Griffith plays Woodward's daughter in The Drowning Pool. The Drowning Pool was a follow-up with the character of Detective Lew Harper, whom Newman had first portrayed in the movie Harper (1966). His Harper co-stars were Lauren Bacall, Julie Harris, Janet Leigh, Robert Wagner, Pamela Tiffin, and Shelley Winters.
Mr. and Mrs. Bridge (1990), with co-stars Kyra Sedgwick, Blythe Danner. Mr. and Mrs. Bridge was the last movie to co-star Joanne Woodward and Paul Newman.
Below, Paul Newman and Joanne Woodward were the celebrity guests on What's My Line in 1959.
Paul Newman directed his wife Joanne Woodward in the movie The Glass Menagerie (1987), with John Malkovich, Karen Allen, and James Naughton. His first Academy Award Best Actor came for his reprisal of the role of Fast Eddie (1961's The Hustler), 25 years later in 1986's The Color of Money. 
Paul Newman's other memorable movies include the action-dramas Hud (1963), Cool Hand Luke (1967), and:
Paul Newman co-starred in the western Hombre (1967) with Martin Balsam, Fredric March, and Barbara Rush (Peyton Place). Hombre stars Barbara Rush and Paul Newman had previously co-starred in The Young Philadelphians (1959) with Robert Vaughn, Alexis Smith, Adam West, and Brian Keith.
The Towering Inferno (1975) with a star-studded cast comprised of Steve McQueen, Faye Dunaway, William Holden, Susan Blakely, Jennifer Jones, Richard Chamberlain, Robert Vaughn and Robert Wagner (in their second movies with Paul Newman), Fred Astaire, Susan Flannery, and others. 
Slap Shot (1977), a cult-classic comedy for hockey fans, with Michael Ontkean and Swoosie Kurtz.
Cat on a Hot Tin Roof (1958), for which Newman received his first Academy Award Best Actor nomination.
Paul Newman co-starred with friend Robert Redford twice: 1969's Butch Cassidy and the Sundance Kid with Katharine Ross and Cloris Leachman, and 1973's The Sting.
His last big on-screen movie role was in 2002's Road to Perdition with Tom Hanks, Jennnifer Jason Leigh, and Daniel Craig. Paul Newman received an Academy Award Best Supporting Actor nomination for his performance in Road to Perdition. He continued to do movie voice-over work, including Disney/Pixar's Cars in 2006 (age 81) before retiring from acting in 2007.
As a philanthropist, he co-founded Newman's Own line of food products (popcorn, salad dressings, etc.) in 1982, with all proceeds after taxes being donated to charities - such as establishing the Hole in the Wall Gang camp for seriously ill children, and a $10 million scholarship fund donation to his alma mater Kenyon College.
Paul Newman became a car racing enthusiast while training as a race driver for his 1969 film Winning, which also starred his wife Joanne Woodward, Robert Wagner, Richard Thomas, and Clu Gulager. Below, the movie trailer for Winning features Paul Newman, Joanne Woodward, Robert Wagner,
Newman raced cars as a professional driver until the early 1990s as a member of the Bob Sharp racing team driving primarily Datsuns/Nissans. As a senior citizen, at age 70 in 1995 Newman became the oldest driver to be part of a winning team in the 24 Hours of Daytona race; 10 years later at age 80 he raced in it again! With partners, Paul Newman formed other successful racing teams and was involved mostly in a management capacity (1976-1979 Newman Freeman Racing Team; 1983-until his death).
Paul Newman, on being a senior:
"I'm not mellower, I'm not less angry, I'm not less self-critical, I'm not less tenacious."  (Newsweek in December 1994).
Below, senior couple Joanne Woodward and Paul Newman reflect back on the bed they purchases while they were filming The Long Hot Summer.
Updated: January 2016 with additional content.
*Images are public domain or Creative Commons licensed & sourced via Wikimedia Commons or Flickr, unless otherwise noted*