Love, Sweet Love: Burt Bacharach Songs
Celebrating the life story and songs of composer and songwriter Burt Bacharach, with 7 vintage and newer hits – Only Love Can Break A Heart, Blue Velvet; I Say a Little Prayer, This Guy's in Love With You, The Look of Love, On My Own., and Live to See Another Day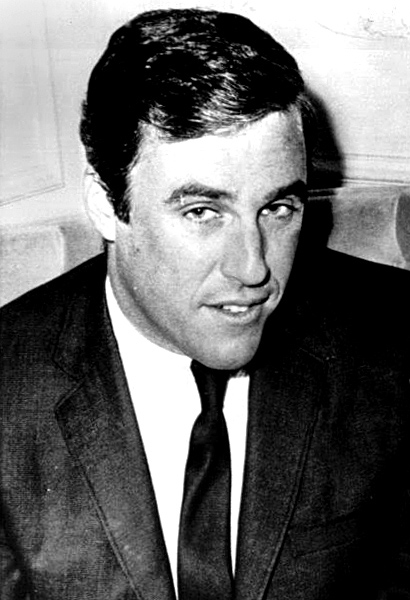 (Burt Bacharach 1965: AP Wirephoto)
Hit-making singer-songwriter and producer Burt Bacharach – with more than 70 Top 40 hit songs in his career – was born on May 12, 1928 in Kansas City, Missouri. 
In his 2013 autobiography Anyone Who Had a Heart written with Robert Greenfield, Bacharach provided insights into his career, personal life, and the difficulties coping with insomnia and obsessive-compulsive disorder (germs are a problem for him) that he's had since childhood.
Bacharach grew up in Forest Hills area of New York City and graduated from Forest Hills High School in 1946, keeping his Jewish roots on the down-low. Classical music lessons and an interest in jazz music lead him to study music at McGill University in Montreal, Quebec.
He graduated from McGill with a Bachelor of Music in 1948, and continued musical theory and composition studies in New York.
Bacharach served a tour of duty in the U.S. Army during the Korean War (1950-1952) and met singer Vic Damone for the first time in Germany. After being discharged from the army, Bacharach began to work as a solo pianist and accompanist for Vic Damone and other artists such as Steve Lawrence.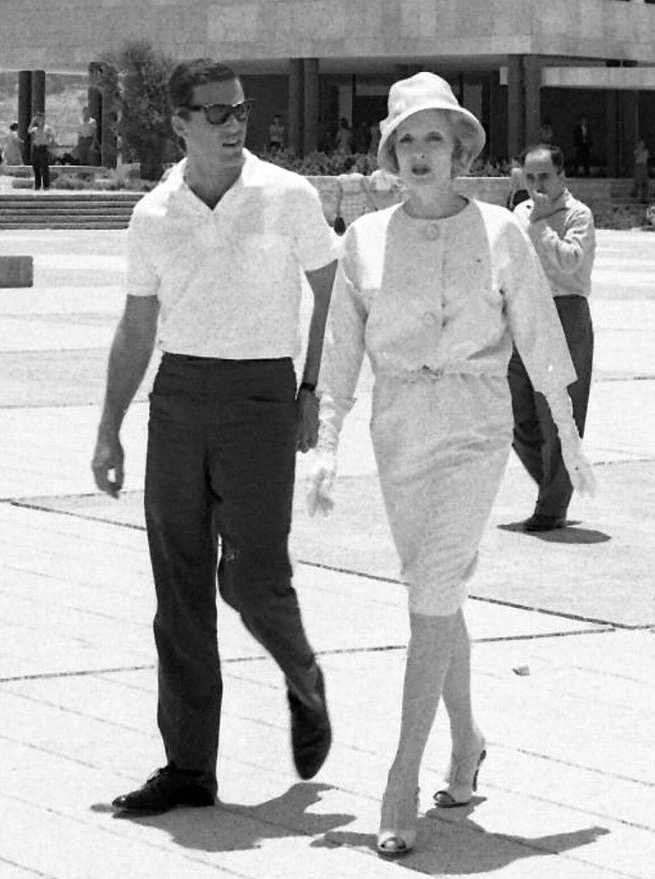 (Burt Bacharach & Marlene Dietrich 1960 in Israel Photo: Fritz Shlezingel )
Bacharach worked with actress Marlene Dietrich for four years and was her musical director on tour in America and Europe in the late 1950's.
Marlene Dietrich, almost 30 years older than Burt Bacharach, said in her autobiography that she "lived only for the performances and for him."
Bacharach said he kept the relationship professional and they never slept together.
He was accompanist and musical arranger for Broadway actress-singer Paula Stewart while she was appearing at New York's Versailles Club in 1953.
In his autobiography Bacharach confessed to being very attracted to Paula physically – but not being particularly faithful. Bacharach's friends have described him in his heyday as "the playboy of the Western world." 
Burt Bacharach and Paula Stewart got married in 1953, and amicably divorced in 1958.
By 1957 Bacharach had met lyricist Hal David at the Brill Building in New York, hub of the music business in the city and a place where songwriters congregated and churned out countless hits during the 1950's and 1960's. The Burt Bacharach-Hal David songwriting collaboration lasted until they began fighting over royalties and unmet commitments. Before they "broke up" in 1973, they wrote over 100 songs together, many of them for Dionne Warwick.
Bacharach's first big hit song came in 1957 when he co-wrote The Story of My Life with Hal David. The Story of My Life was first recorded by Marty Robbins in 1957 and went to #15 on the US Pop charts for Robbins. The Story of My Life was recorded by 4 other artists that year, all of whom had UK Top 25 chart hits. Partnering again with David, Bacharach wrote Magic Moments (1958); recorded by Perry Como, it was a #4 US Pop chart hit and Como predicted to a UK audience that Burt Bacharach would become famous.

In August 1961, while rehearsing a song called Mexican Divorce with the Drifters, Bacharach took note of a backup singer, a young girl with a high voice: Marie Dionne Warwick. A long collaboration between Warwick, David, and Bacharach produced outstanding results over the next 20+ years.
That same year, Burt Bacharach wrote Tower of Strength with another frequent songwriting partner, Bob Hilliard. Tower of Strength (1961) recorded by Gene McDaniels was a #5 US Pop chart hit.
The hits kept coming in 1964 for Burt Bacharach; he co-wrote Baby It's You with Mack David & Luther Dixon (Barney Williams). Baby It's You was first written 1960 and performed by The Beatles in their early 1960's live performances. The Shirelles 1961 recording of it was a #8 US Pop chart hit, and many other artists recorded Baby It's You as well. 
Burt Bacharach and Hal David wrote several songs for Gene Pitney, including The Man Who Shot Liberty Valance (1962) and Only Love Can Break a Heart (1962), which was a #2 US Pop Chart hit. Below, audio recording of Gene Pitney singing Only Love Can Break a Heart.

The Bacharach/David song I Just Don't Know What to Do With Myself (1962) was first recorded by Tommy Hunt, but it was Dusty Springfield's 1964 recording that resulted in a #3 UK chart hit; Dionne Warwick got to #26 in the US in 1966 with I Just Don't Know What to Do With Myself. I Just Don't Know What to Do With Myself  has also been recorded by Gary Puckett (1970) and The White Stripes (2003) – both resulting in chart hits.
Richard Chamberlain recorded (They Long to Be) Close to You written by Burt Bacharach and Hal David, in 1963 – and flopped. Seven years later, The Carpenters recorded it and (They Long to Be) Close to You became a #1 US Pop chart hit. The song has since been recorded by many other artists, and The Carpenters re-issued in 1990 as well.
Blue on Blue (1963), another Bacharach/David song, was recorded by Bobby Vinton and was a #3 US Pop chart hit for Vinton. Below, an audio recording of Bobby Vinton singing his #3 hit single, Blue on Blue.

From 1963 to 1965, some of Burt Bacharach and Hal David's most popular songs were written and recorded, becoming chart hits and perennial favourites:
Wishin' and Hopin' (1964) didn't chart when first recorded by Dionne Warwick, but Dusty Springfield's version that year was a #6 US Pop chart hit; The Merseybeats had a #13 UK hit with it as well in 1964.
(There's) Always Something There to Remind Me (1964) was recorded by several artists in 1964 and the decades after, many of them landing in the top 100 pop charts; Sandie Shaw's 1964 version was a #1 UK hit single.
What The World Needs Now is Love (1965) was a #7 US Pop chart hit for Jackie DeShannon that year; Tom Clay (1971) and Dionne Warwick (1998) also had Pop chart hits with it.
What's New Pussycat! (1965) was written by Bacharach and Hal David for the Woody Allen movie What's New Pussycat (1965), and sung by Tom Jones, the song soared to #3 on the US Pop charts. Burt Bacharach and David earned Academy Award nominations in 1966 for Best Original Song for What's New Pussycat! Below, an audio recording of Tom Jones singing What's New Pussycat! as the intro for the Woody Allen movie, What's New Pussycat.
Burt Bacharach met actress Angie Dickinson in 1964 and they married in May 1965 in Las Vegas in the wee hours of the morning, after Bacharach had been drinking for hours; it was the second marriage for both. Bacharach said he had affairs during their marriage, and had only been married to Angie Dickinson for 9 months when he started thinking about getting a divorce.
Their daughter Nikki Bacharach was born three months premature in 1966, weighing less than 2 lbs.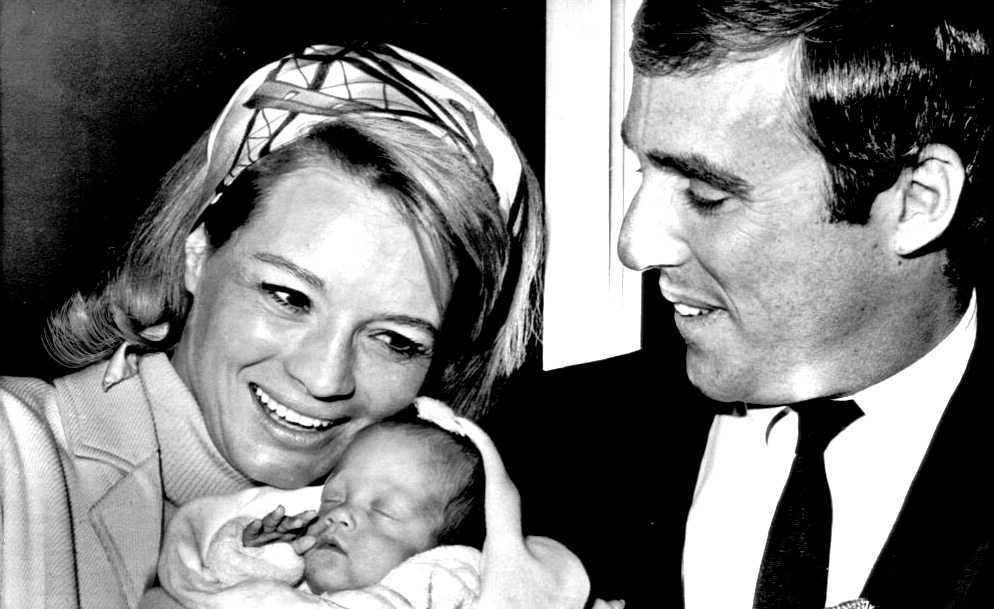 (Burt Bacharach, Angie Dickinson and daughter Nikki Bacharach 1966 Photo)
Nikki's troubling behaviour as she grew up was a contributing factor in the 1976 separation of Burt Bacharach and Angie Dickinson; something was wrong with her but they didn't know what it was or what to do about it. She was hospitalized for 10 years from her teens into her 20's, and finally diagnosed with Asperger's Syndrome in 2000 when she was 34. Nikki Bacharach died by suicide at age 40 in 2007. 
Bacharach teamed again with songwriter Hal David to write I Say A Little Prayer (1967). Dionne Warwick had a #4 US Pop chart hit with it that year, and I Say A Little Prayer would also later be recorded by artists such as Aretha Franklin (1968), Glen Campbell and Anne Murray (1971), and others. Below, Dionne Warwick sings I Say A Little Prayer:
Burt Bacharach wrote One Less Bell to Answer (1967) with Hal David, and the song was recorded by several artists beginning in 1967; it became a #2 US Pop chart hit for The 5th Dimension in 1970.
That same year another Bacharach/David song, The Look of Love, was recorded by Dusty Springfield. Although the Springfield version only made it to #22 on the US Pop charts that year, it was featured in the James Bond spoof movie Casino Royale (1967) and The Look of Love was nominated for an Academy Award Best Song. Reportedly Bacharach was inspired to write the song when he saw star Ursula Andress in an early cut of Casino Royale; he also composed and arranged the soundtrack for the movie. Below, Dusty Springfield sings The Look of Love.
In 1968 Burt Bacharach and Hal David collaborated with David Merrick on the score for the Broadway musical Promises, Promises; both the title song and I'll Never Fall in Love Again, became hits for Dionne Warwick. The soundtrack for Promises, Promises earned a Grammy nomination for Burt Bacharach and Hal David, and the Broadway score was nominated for a Tony Award.
That same year, Herb Alpert was looking for a new song and asked if Bacharach and David had anything stashed away – This Guy's in Love With You (1969) written by Burt Bacharach and Hal David, was recorded by Herb Alpert and became a #1 US Pop chart hit. Dionne Warwick would change the lyrics slightly to This Girl's in Love With You (1969) and get a #7 US Pop hit the following year. Below, the music video for Herb Alpert's This Guy's in Love With You.
The following year, the movie Butch Cassidy and The Sundance Kid (1969) starring Paul Newman, Robert Redford, and Katharine Ross, included the favorite baby boomer song by Bacharach/David, Raindrops Keep Falling on My Head, sung by B. J. Thomas. The song won the Academy Award for Best Original Song and went to #1 on the US Pop Charts. The song has since been recorded by numerous artists including country singer Bobbie Gentry. 
Bacharach wrote I'll Never Fall in Love Again (1969) with Hal David, but his own recording of it just cracked the Top 100. That same year, Bobbie Gentry recorded I'll Never Fall in Love Again and it became a #1 UK hit; Dionne Warwick's version was a #6 US hit.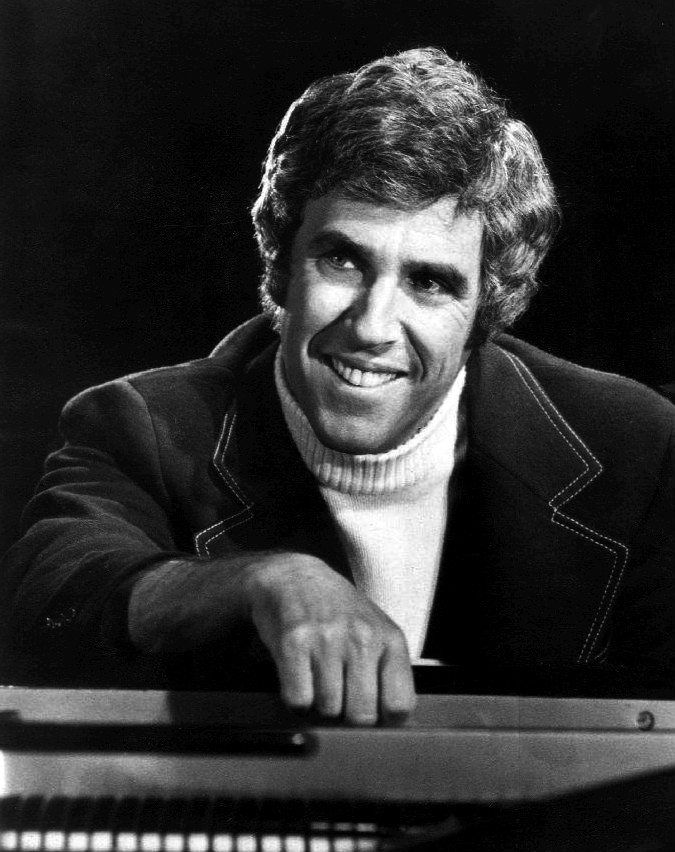 (Burt Bacharach 1972 Photo: ABC Television)
Throughout the late 1960s, 1970's, and 1980's, well into his 50+ years, Bacharach continued to write, produce, and compose songs for other recording artists, as well as for stage, TV, and film.
He also recorded and released his own albums, and performed live on stage, in concert, and in television variety specials and shows.
Bacharach and Dionne Warwick sold out their joint concert appearances.   
With then-wife Angie Dickinson, Bacharach appeared in Martini & Rossi beverage commercials during the 1970's.
Burt Bacharach had split with long-time songwriting partner Hal David in 1973, and in 1978 (according to People magazine), he asked songwriter Carole Bayer Sager, who had been professionally and personally paired with songwriting partner Marvin Hamlisch since 1975, to contribute lyrics to music he'd written.
The following year, the Bayer Sager/Hamlisch romance ended; Burt Bacharach and Carole Bayer Sager began dating after a joint TV talk show appearance and were living together by 1980 (Bacharach's divorce from Dickson wasn't finalized until the next year).
The Carole Bayer Sagner/Burt Bacharach songwriting partnership produced the #1 US Pop chart hit Arthur's Theme (Best That You Can Do) (1981) recorded by Christopher Cross (with songwriting contributions from Peter Allen and Christopher Cross.), written for the Dudley Moore movie Arthur (1981). Arthur's Theme (Best That You Can Do) won the 1981 Academy Award for Best Original Song. Below, Christopher Cross performing Arthur's Theme (Best That You Can Do).
Burt Bacharach and Carole Bayer Sager married in April 1982 at a friend's home in California. Bacharach said he was less than committed to the marriage beginning from the start, but their successful songwriting partnership continued.
They co-wrote That's What Friends Are For (1982), and in 1987 won a Grammy Award for the Dionne Warwick and Friends (Stevie Wonder, Elton John, and Gladys Knight) version, which was recorded and released in 1985 to support AIDS research.
With fellow singer-songwriter Neil Diamond, Bacharach and Bayer Sager co-wrote Heartlight (1982), which was Neil Diamond's last Top 5 US chart hit.
Burt and Carole adopted son Cristopher in 1986, the same year they wrote On My Own (1986). On My Own was recorded by Patti Labelle and Michael McDonald and became a #1 US Pop chart hit that year. Patti Labelle sings in the music video for On My Own.
While on a ski trip to Aspen in 1991, 61-year-old married Burt Bacharach met 29-year-old single ski instructor Jane Hanson, and the Bacharach/Bayer Sager romance was over. Carole Bayer Sager filed for divorce in July 1991. After his divorce from Carole was finalized, Burt Bacharach and Jane Hanson married in 1993.
Bacharach compared the difference in lifestyles between himself and the Hanson's; Jane's father was drinking a beer on his back porch after a hard day of work when Bacharach rolled up in a chauffeur-driven limo.
"Not to mention that I was old enough to be her father, Jewish and still married, and she was knocked up at the time."
Their son Oliver Bacharach was born in 1993 and daughter Raleigh Bacharach 3 years later.
After becoming a senior citizen, Burt Bacharach appeared in cameo roles in movies. His score for Casino Royale (1967), the James Bond movie spoof, is said to have inspired the Austin Powers movies, and Bacharach appeared in cameos in all 3 Austin Powers movies.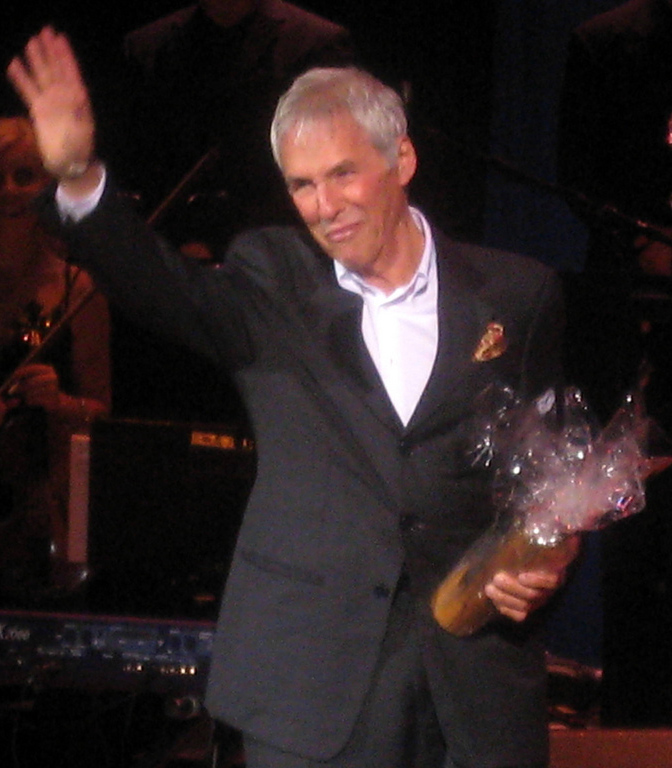 (Burt Bacharach 2009 Antwerp Concert: Eddie Janssens) 
Bacharach was a septuagenarian when he co-wrote the Elvis Costello Grammy Award-winning album Painted from Memory (1998).
In an episode of the 2006 season of American Idol, Bacharach's songs were featured and he was a guest vocal coach.
He continued to tour and perform concerts throughout the 1990's and 2000's before slowing down his pace – but not stopping – in the 2010s
Octogenarian senior citizen Burt Bacharach and nonagenarian Hal David won the 2011 Gershwin Prize for Popular Song; sadly, Hal David had suffered a stroke 6 weeks earlier, and he died in September 2012 at the age of 91.
Bacharach and his wife Jane were horse-racing fans, something Bacharach loved since he was a child. He became a thoroughbred race horse owner for the first time in the late 1960's, and in 1983 his horse Heartlight Number One (named for the 1982 Burt Bacharach/Neil Diamond song) won the Eclipse Award for top 3-year-old filly. Bacharach's horses ran in racing's top races including the prestigious Kentucky Derby and Breeder's Cup, and by 1994 he had acquired more than 30 horses at his Blue Seas Music stable.
Live to See Another Day (2018) was written by Burt Bacharach and Rudy Perez in response to the school shootings at the Marjory Stoneman Douglas High School in Parkland, Florida. The intro to the Live to See Another Day music video is "Dedicated to the survivors, victims, and families affected by school violence". 
Teenagers Haven Starr and Angelina Green sing the lyrics to Live to See Another Day, and Bacharach told Los Angeles Times interviewer George Varga that net proceeds go the the non-profit SandyHookPromise.org, which works to prevent gun violence.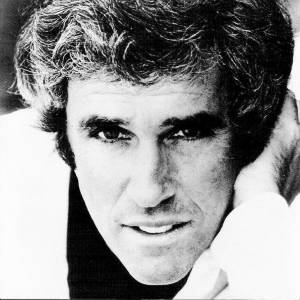 (Burt Bacharach 1973) 
In 2013 Bacharach described his fitness routine as an octogenarian senior to Telegraph: working out on his AquaJogger at his Santa Monica home with his pool trainer two mornings a week, doing cardio on the treadmill, and working out five days a week with a regular trainer in his home gymnasium.
He and wife Jane had homes in Santa Monica, California and Brookville, New York. He continued to perform in concerts around the world, spending much of July 2019 in Europe. After a break from performing live during the pandemic, Bacharach performed at a concert in Melbourne, Australia on Valentine's Day 2022.
Burt Bacharach was 94 years of age when he died February 8, 2023. He is survived his fourth wife Jane, their two children (son Oliver and daughter Raleigh), all all three of his previous wives – Carole Bayer Sager and their adopted son Cristopher, Angie Dickinson, and Paula Stewart.
I think most of his fans would agree, that what the world needs now, is more love, sweet love. Listening to more of Burt Bacharach's songs may be the answer.
Note: This article was first published in 2016 as Celebrating Seniors – Burt Bacharach is 88. It has been updated with new & additional content.
*Images are public domain or Creative Commons licensed & sourced via Wikimedia Commons, Vimeo, or Flickr, unless otherwise noted*