Soap Opera Hopper Nicolas Coster
A scuba diving instructor, philanthropist, and hard-working actor, in over 7 decades of acting, Nicolas Coster acquired over 160 film and television credits, and appeared in movies with some of the biggest names in Hollywood – but is perhaps best recognized from his many long-running stints on various daytime soap operas.
Broadway, Movies, and & Television Soaps
Nicolas Coster was  born in London, England on December 3, 1933, to New Zealand-born British drama critic and reporter Ian Coster.(Daily Mail; Evening Standard) and wife Martha (nee Harris). Born in Covington, Kentucky, Martha Harris met Ian Coster when she as a reporter in London.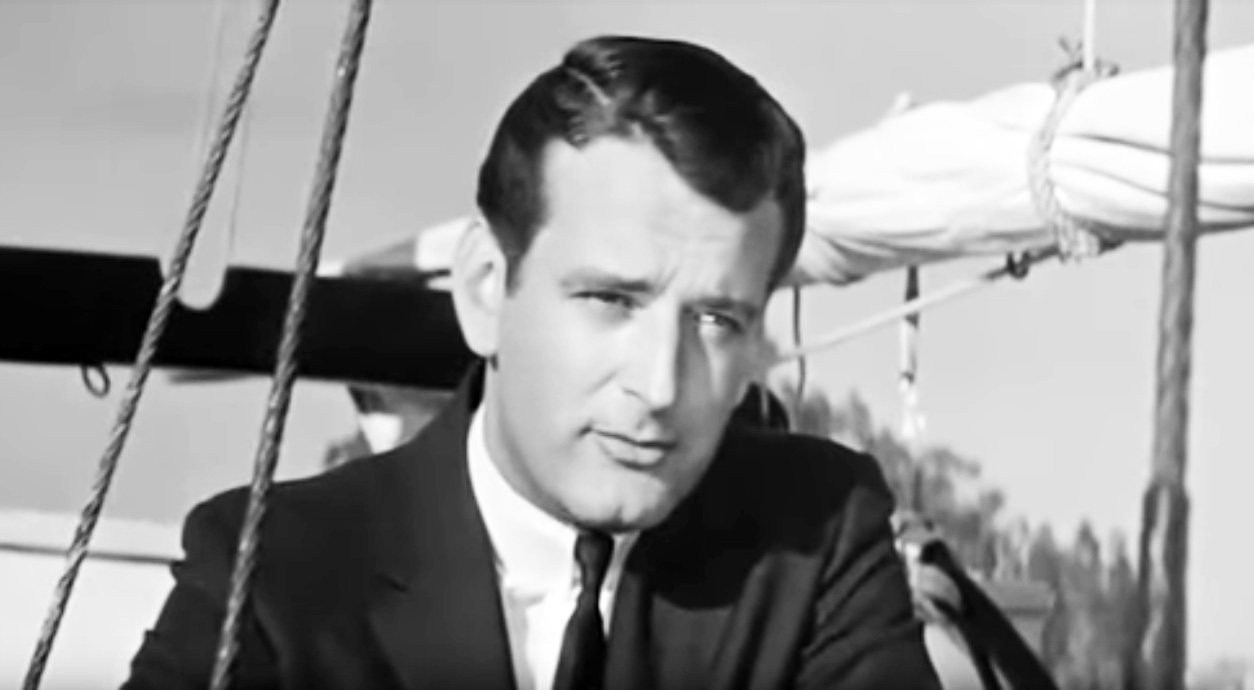 (Nicolas Coster 1965 My Blood Runs Cold)
Before World War II erupted in England, Coster attended a private school with a very young Elizabeth Taylor. He's mentioned in an article about the eighth grade graduating class of Woodland Hills [a North Hollywood, California elementary school] in June 1947. In a lengthy interview with Santa Barbara: le site Francais, Coster described how he ended up living in the U.S. and beginning a career in acting:
"I arrived as a very little boy in Canada, escaping what was to become the Second World War. My American mother brought her three children [Nicolas, older brother Ian Coster, and younger sister Georgiana Coster] then to the USA where I stayed until 16. At 16 I went back to the UK to The Royal Academy of Dramatic Art and started my acting life."

Coster's parents separated around 1948, with his mother remaining in the California and his father staying in England. A memorial notice for Ian Coster appeared in The Daily Telegraph June 15, 1955. 
In one of his first film roles, a 20-year-old Nicolas Coster appeared as an uncredited seaman on Titanic (1953) with Robert Wagner. Almost 30 years after they first appeared in Titanic, Robert Wagner had Nicolas Coster guest-star on his 1980's series Hart to Hart in 1982, along with co-star Stefanie Powers, and fellow guest stars Michael Lerner, Alan Oppenheimer, Louise Sorel, and Alana Stewart. 
Nicolas Coster appeared in the films Desert Rats (1953) starring Richard Burton, and in two early movies with John Derek – Sea of Lost Ships (1953), and The Outcast (1954), along with Jim Davis (Dallas). He'd work again with Jim Davis over 25 years later, when he guest-starred 3 times on Dallas in 1979-1980. 
Coster's acting career was put on hold for a few years while he served in the U.S. Army for two years. His training was completed at Fort Ord in 1955 before he was transferred to the 'Old Guard' regiment based in Washington, D.C., graduating from the Non-Commissioned Officer Academy at Fort Belvoir, Virginia, in early 1956.
"London-born Nicolas Coster was a member of the 'Old Guard' regiment for three months before his background became known. But the Hollywood and television actor isn't play-acting these days. he has turned out to be one of the sharpest soldiers ever trained with the crack ceremonial regiment…Nick first came to this country when he was 6, stayed until 1950, returned to London for two years at the Royal Academy of Dramatic Arts, then came back for a film career here…. " – Third Infantry Discovers It Has Actor in Its Midst, The Evening Star, March 10, 1956
Coster's brother and sister were then at University of California and UCLA respectively, and his mother Martha Harris was a story analyst for Republic Studios in Hollywood.
From Live TV (Young Doctor Malone) to Another World
By the early 1960's, Nicolas Coster was well established in New York City, appearing on stage on and off-Broadway, and finding work in movies and television based out of New York. He co-starred in the comedy sci-fi TV movie Where's Everett (1966) with Alan Alda, in Alda's first made-for-television movie.
Coster had a strong supporting role in the mystery thriller My Blood Runs Cold (1965). His My Blood Runs Cold co-stars were Troy Donahue, Joey Heatherton, Barry Sullivan, and John McCook (The Bold and the Beautiful) in his first feature film.
Below, Nicolas Coster, Joey Heatherton, Troy Donahue, John McCook and Linda Meiklejohn are featured in a clip from My Blood Runs Cold.
Dancer-actress Candace Hilligoss had met Nicolas Coster when they took acting classes with Lee Strasberg (according to Hilligoss's memoir The Odyssey and the Idiocy – Marriage to an Actor (2016). Canadace and Nicolas were both working steadily on stage by 1959.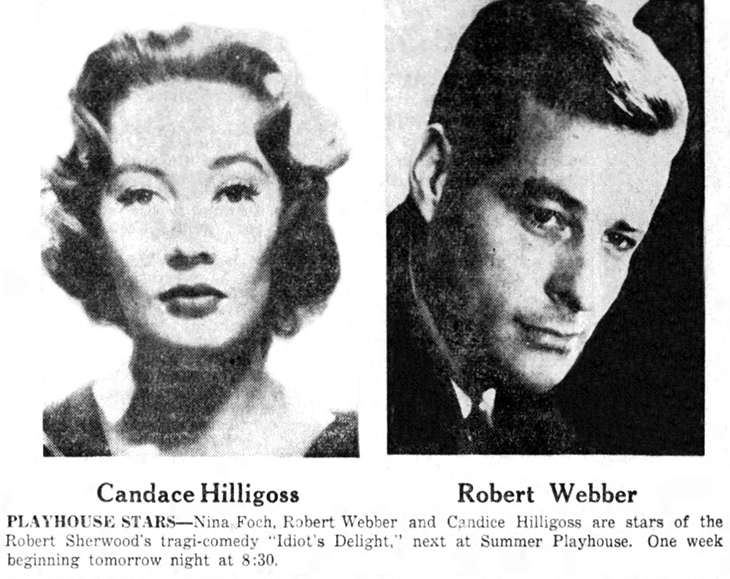 (Playhouse Stars Candace Hilligoss & Robert Webber July 1959: The Cincinnati Enquirer)
Nicolas Coster and Candace Hilligoss married around 1960. When their two daughters came along (Candace Jr., b. approx 1968 and Janine b. approx 1970), his wife Candace became a full-time homemaker, allowing Coster to pursue more acting opportunities.
Nicolas Coster did occasional television guest-starring roles during the 1960's, appearing on episodes of Wendy and Me (1965) with Connie Stevens and James T. Callahan, Occasional Wife (1966) with Michael Callan, The Green Hornet (1967) starring Van Williams. 
Coster found frequent work as part of the regular cast on several soap operas, first appearing as Dr. Matt Steele (#3) from 1962-1963 on Young Dr. Malone, the first soap opera to be televised in color. 
Next, he originated the character of Professor Paul Britton on The Secret Storm in 1964, and again from 1967-1969. Coster's young daughter Candace Jr. briefly played his daughter Lisa Britton on The Secret Storm.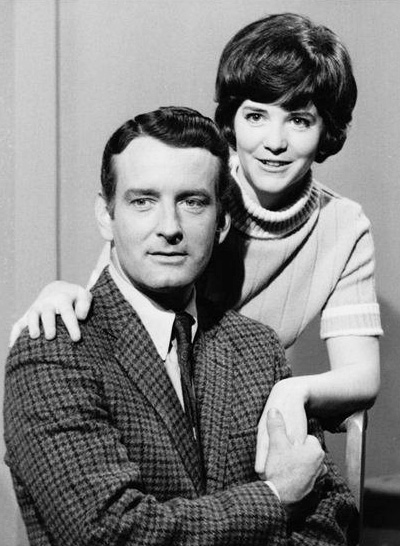 (Nicolas Coster and Jada Rowland 1968 The Secret Storm Photo: CBS)
Nicolas Coster told We Love Soaps about his time on Young Dr. Malone, The Secret Storm, and that era in television: 
"Young Dr. Malone…was out in Brooklyn. That was live TV. Jada Rowland was one of the most delicious actresses I had ever worked with. She played Amy on The Secret Storm. She was a child when she started on the show, and then she was only 19 by the time I got to her [in 1964]. I was 29, and we played the first professor and student that ever got naughty together on daytime television. We had an affair and eventually got married, but not before the U.S. Senate brought us up as an example of immorality on daytime television.
We were not even allowed to take off any article of clothing. We never did any more than hug and kiss a couple of times on a bear skin rug. That was considered immoral at the time…"
"When I was on The Secret Storm and Young Doctor Malone you couldn't be in the same bed, even if you were married. And you couldn't use the word pregnant. You had to say, 'with child.'" 
The prime-time serial Our Private World (May-Sept. 1965) was a unique spin-off from the daytime soap opera As The World Turns. As The World Turns actress Eileen Fulton brought her character of Lisa Hughes to Our Private World, to co-star with Nicolas Coster, who played her future husband John Eldridge; familiar daytime face Don Hastings also appeared on Our Private World with them. 
Coster reprised the character of John Eldridge on As The World Turns in 1966; and returned to the series from 1993-1995 as a different character, Eduardo Grimaldo (another husband for Fulton's many-times-married character of Lisa on As the World Turns). 
During the 1970's, Nicolas Coster was a regular cast member on several of the most popular daytime soap operas. He was an original cast member of the new soap Somerset, playing Robert Delaney from 1970-1972. After some conflicts with Somerset's Executive Producer Lyle Hill, Coster left to work for producer Paul Rauch. 
Paul Rauch was producing the baby boomer favorite 70's TV soap Another World. From 1970-1976, and again in 1980 and 1989, Nicolas Coster played Robert Delaney on Another World. Coster said of his co-stars and time on Another World, that almost all of the cast was hired by Paul Rauch from a Broadway or off-Broadway production:
"Oh boy did we have fun doing Another World. Susan Sullivan (Lenore) and I had more fun than a barrel of monkeys. People asked, "What is it with you two?" It's that we showed that making love can be fun, not just serious stuff… The show was the #1 daytime show in the country at the time. We had all sorts of fun."
"I got to judge Miss America contests. It was the first nationwide celebrity status I had obtained. Simultaneously I was starring in a Broadway show with Sada Thompson called "Twigs," for which she got the Tony.  I was her leading man. I represented the United States in a play in Europe celebrating our bicentennial in 1976…It was my heyday".
All The President's Men & Other Movies
Not content with full-time work on daytime soap operas and appearing in touring plays, Coster was in some of the biggest movies of the 1970's, working with Hollywood greats like Robert Redford, in All the President's Men (1976) and The Electric Horseman (1979). Their co-stars in All The President's Men included Dustin Hoffman, Jack Warden, Hal Holbrook, Jane Alexander, Meredith Baxter, Ned Beatty, Robert Walden, F. Murray Abraham, and James Karen. Jane Fonda, Willie Nelson, John Saxon, Wilford Brimley, James Sikking, and Quinn K. Redeker were also in the cast of The Electric Horseman,  
In addition to Jack Warden, several of Nicolas Coster's co-stars in All the President's Men and The Electric Horseman were in other movies or television episodes with him, notably 
Ned Beatty, in the TV Vietnam war drama  Friendly Fire (1979).
F. Murray Abraham, in the comedy The Big Fix (1978).
James Karen, in both the feature film Freedom Strike (1998) and the TV drama The Day the Bubble Burst (1982). Coster played a 1920's stock exchange trader in The Day the Bubble Burst. 
Gregory Peck starred in the WWII movie MacArthur (1977), in a cast that included Nicolas Coster and another popular soap opera star, Marj Dusay. Marj Dusay and Nicolas Coster were later co-stars in the sci-fi TV drama A Fire in the Sky (1978) with Richard Crenna, Elizabeth Ashley, and Michael Biehn. Dusay and Coster worked together again on the daytime soap opera Santa Barbara in the 1980's. 
Nicolas Coster played the Olympic team doctor in the sci-fi movie Goldengirl (1979) starring Susan Anton, Leslie Caron, James Coburn, Robert Culp, and Michael Lerner. He was George Burn's son-in-law in the film in the George Burns' comedy Just You and Me, Kid (1979). 
Other notable TV miniseries, movies and episodes on popular baby boomer series for Nicolas Coster during the 1970's included guest-starring roles on One Day at a Time, Wonder Woman, The Incredible Hulk, Little House on the Prairie, Dallas, and:
Broadway Revisited, Divorce, & Prime Time
In the spring on 1981 Nicolas Coster began co-starring in the play The Little Foxes starring Elizabeth Taylor, which made it to Broadway and toured other major U.S. cities, landing in London, England for 16 weeks in 1982.
Nicolas Coster told We Love Soaps about his history with Elizabeth Taylor: 
"We were very good chums. We had gone on to the same private school in England before the war. We went back to London, had a great time. When we got back to the L.A., she said to me, 'Nicky, come here I've been offered a soap opera (General Hospital), what do you think?' I said, 'Oh Elizabeth, you don't need to do that for God's sake.'  She said, 'They're going to give me $40,000 of clothes, I'm gonna do it.'"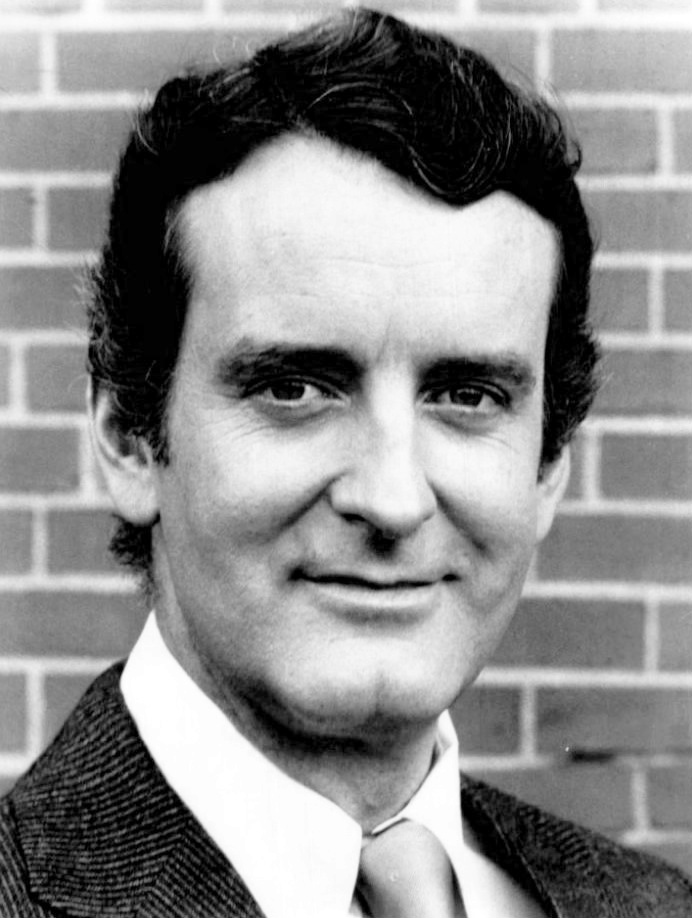 (Nicolas Coster 1975 Photo: Addison, Goldsetin & Walsh)
He had a recurring role for 15 episodes as Chief/Chief of Detectives J. E. Carson on  the prime-time series The Misadventures of Sheriff Lobo starring Claude Akins (1980-1981). Claude Akins and Nicolas Coster had both been in the TV movie Ebony, Ivory and Jade (1979) with Debbie Allen, Frankie Valli, and Ted Shackelford.
By the time Lobo was cancelled in 1981, his marriage to Candace Hilligoss had ended in an acrimonious divorce. Hilligoss' lasting bitterness was revealed in her memoir The Odyssey and the Idiocy – Marriage to an Actor (2016) 35 years later, in which she accused Coster of sexual affairs during their marriage, and trying to intimidate her during divorce proceedings. 
Coster returned from England and moved to California in 1982. He moved on, and married Beth Pantel in January 1982. Steady work on daytime TV, film cameos, and the occasional prime-time television guest-starring role came his way. 
Nicolas Coster had become an avid boat lover and scuba instructor (since 1974), telling We Love Soaps that he'd formed a scuba school while in New York and taught John F. Kennedy Jr. how to scuba dive. He became an instructor-member of the Handicapped Scuba Association and began teaching scuba diving to the disabled in 1982. 
In the early 1980's, Coster accidentally walked through a closed glass door in the dark. His arm was almost severed in the life-threatening injury, as he related to We Love Soaps:
"When I got to the emergency room, Nurse Ratchet was there. She told me to take my thumb off the wound. I said, 'Gee, I'm a scuba instructor, I think I'd better keep my thumb on the vessel.'  She said, 'Did you hear me? Take that thumb off that vessel.' I said, 'Can I repeat that? My thumb is on the blood vessel.' She told me to take it off. So I took it off and blood spurted all over her [laughs]."
His arm was paralyzed, but despite the odds given by his doctor, he regained feeling in his fingers within a year, and the use of his arm. 
Dirk Blocker and Nicolas Coster were regulars on the short-lived TV series Ryan's Four in 1983 co-starring with Tom Skerritt and Timothy Daly. 
Coster played Dr. Morris Whitford on Ryan's Four, which lasted for only 1 month before being cancelled. 
1980s Soap Opera Hopper Again
Fans of 1980s daytime TV enjoyed watching Nicolas Coster as a regular cast member on several soap operas: 
One Life to Live (1983-1984) as Anthony Makana
His producer on One Life to Live was Paul Rauch, whom Coster had first worked for on Another World during the 1970's. When Coster first began working on One Life to Live, his arm was still recovering from almost being severed, and he told the executives that he would need to keep his hand in his pocket most of the time. He formed a lifetime friendship with his One Life to Live co-star Robert S. Woods, with whom he shared a dressing room at One Life to Live. 
Santa Barbara (1984-1988) as Lionel Lockridge
Santa Barbara producers lured him away from One Life to Live, where he worked again with Paul Rauch. One of the subjects addressed on Santa Barbara (more than once) was impotency/erectile dysfunction, as Coster's character Lionel Lockridge suffered from it. Coster was successful in insisting to the Santa Barbara powers that be, that a PSA be included.
"Look, I know we're making a comedy about this, but I must tell you that millions of men suffer from this dysfunction. This was in the days before you could advertise Viagra on television. I said, "I would like to be allowed to put in a disclaimer on this show within a show, as Lionel, to tell men that if they have this condition to see a physician, or a psychotherapist, or both." 
During his time on Santa Barbara, Nicolas Coster was paired romantically on screen with several actresses, including Marcy Walker as Eden Capwell, Judith McConnell as Sophia Capwell, and actress Louise Sorel (as Augusta Wainwright). Of Louise Sorel, Coster told Santa Barbara – le site Francais, that
"Louise Sorel and I just hit it from the beginning. I had known Louise for some time before (they both guest-starred on an episode of Hart to Hart in 1982). I knew her gifts (so to speak) and we trusted each other's intelligence and wit."
He was also paired with actress Lenore Kasdorf (as Caroline Wilson Lockridge), of whom he has said he will never forget because of her "genuine and unselfish nature."
In 1987 in real life, Coster was (once again) almost fatally injured – this time from a car crash – and was briefly in a coma. He returned to work at Santa Barbara a week later and never told the producers about his accident or resulting memory loss.
"I told Lenore Kasdorf [Caroline Wilson on Santa Barbara]…I made little notes with my lines on them and left them all over the set. As I would walk to a spot, I would look down and see the note. I also asked Lenore to forgive me for looking at the teleprompter when I was off camera (the red light is on when one is ON camera, when it went off, I looked at the prompter), which is most distracting to the other actor. She was SO patient and forgiving and understanding… After a week or so my memory came back enough to not stumble so much… The producer, having no idea how seriously hurt I was, did ask whether I had been partying too much and would I get some rest? I assured her I would and somehow with the magnificent help from Lenore, I got through that awful time." 
All My Children (1988-1989) as Steve Andrews
Nicolas Coster played the romantic love interest (albeit a terrorist) of long-time All My Children actress Susan Lucci (Erica Kane). 
Other prime-time acting roles on television for Nicolas Coster during the 1980s included gigs on Magnum, P.I., Knight Rider, L. A. Law, etc. He was in an episode of T. J. Hooker, starring William Shatner, Adrian Zmed, Heather Locklear, and James Darren, and his fans could also see him in short-term recurring roles: 
Simon & Simon starring Jameson Parker and Gerald McRaney. .
As Bill Spangler on Nine to Five with series regulars Rita Moreno and Peter Bonerz.
The Facts of Life as David Warner, father of Blair Warner (Lisa Whelchel). He had scenes with The Facts of Life regulars Charlotte Rae, Kim Fields, Mindy Cohn, and Nancy McKeon. 
Among Nicolas Coster's 1980s movies were two films with actor Treat Williams – Why Would I Lie (1980), and the thriller The Pursuit of D. B. Cooper (1981) starring Robert Duvall. He had cameos / small parts in the large casts of these feature films and made-for-TV movies as well:
Little Darlings (1980) starring Tatum O'Neal, Kristy McNichol, Armand Assante, and Matt Dillon.
Stir Crazy (1980) starring Gene Wilder, Richard Pryor, Georg Stanford Brown, JoBeth Williams, Craig T. Nelson, Barry Corbin,  Nicolas Coster plays neighboring prison Warden Henry Sampson, who helps run a crooked rodeo operation.
Princess Daisy (1983), a romantic TV drama starring Lindsay Wagner, Paul Michael Glaser, Robert Urich, Claudia Cardinale, Rupert Everett, Sada Thompson, Stacy Keach, Barbara Bach, and Ringo Starr.
Beverly Hills Madam (1986), a TV drama starring Faye Dunaway, Terry Farrell, Gary Hershberger, and Louis Jourdan, 
Big Business (1988), a comedy starring Bette Midler, Lily Tomlin, Fred Ward, and Michael Gross. 
1990s – Fatherhood, Friends, & Family
Nicolas Coster and wife Beth's son Ian Russell Coster was born in July 1990. Coster had been on location in North Carolina filming the movie Betsy's Wedding (1990) with Alan Alda, Anthony LaPaglia, Catherina O'Hara, Joe Pesci, Burt Young, Molly Ringwald, and Ally Sheedy.
After Ian's birth Nicolas Coster returned to work in California, and began appearing once again as Lionel Lockridge on Santa Barbara from 1990-1993. He remained friends with many of the actors and executives associated with Santa Barbara, including Louise Sorel, A Martinez (Cruz Castillo), and John Allen Nelson (Warren Lockridge), whose wedding in France Coster officiated at. 
Off screen, life was good for the Coster's:
"With two daughters in their early 20s, Nic faces fatherhood with more assurance this time around. 'There have been some changes,' reports Coster. 'The safety pin has vanished. Diapers now come with stickum. And everybody breast feeds. I used to be in charge of bottles with  my two girls, seeing that they were sterilized, and all that.'…Surrounded by friends on the soap like John Conboy the new producer, and head writer James Lipton, who taught a daughter to ride, Coster has a full cup: friends, good job, new son and weekends on the ocean. In his 52-foot boat, 'Bagarre', Coster, a scuba expert, takes the handicapped and disabled scuba diving off Santa Barbara's Channel Islands..Nic, a Cousteau Society member, [is] an ardent protector of the sea…Think of the fun his son is going to have alongside Nic in a few years." – Lockridges Brighten Up Santa Barbara Ratings, by John N. Goudas, The Daily Oklahoman, August 5, 1990 
Feature film roles were not quite as frequent during the 1990s, although Coster was in the thriller By Dawn's Early Light (1990). By Dawn's Early Light starred Powers Boothe, Rebecca De Mornay, James Earl Jones, Martin Landau, Darren McGavin, Rip Torn, Jeffrey DeMunn, Peter MacNicol, and Daniel Benzali.
From 1993-1995, Nicolas Coster played the new character of Eduard Grimaldi on daytime soap As The World Turns, once again playing a love interest/husband for former and now current co-star Eileen Fulton (as Lisa Hughes).
Several familiar night and daytime soap stars appeared in the dramatic TV movie Hearts Adrift (1996) with Nicolas Coster: Sydney Penny (B. J. Walker of Santa Barbara), Scott Reeves (Ryan McNeil of The Young and the Restless), Kathleen Noone & Don Murray of Knots Landing fame, Ellen Shepherd Dalton of All My Children), and young actress Julie Benz (of Roswell and  Buffy the Vampire Slayer). 
Episodic television for Nicolas Coster during the 1990's, although steady, was as a slightly slower pace than previous decades. He guest-starred twice on the sitcom 3rd Rock From the Sun with John Lithgow, Kristen Johnston, and Jane Curtin, and could be seen on popular series such as Star Trek: The Next Generation, Law & Order; MacGyver, Matlock, Coach, etc., as well as 
Jake and the Fatman starring William Conrad (Cannon) and Joe Penny, in an episode with Marcia Cross. 
On Beverly Hills, 90210 Coster played George Azarian, father to Roger Azarian (Matthew Perry).
Nurses starring Loni Anderson. 
Silk Stalkings, with Patrick Wayne and Chris Potter.
Pensacola: Wings of Gold, starring James Brolin.
In 1998 Nicolas Coster became a senior citizen and co-founded the official non-profit Challenges Foundation to provide sailing and boating experiences to youth, disabled adults, and veterans who have life and/or physical challenges.
Below, Nicolas Coster explains about the founding and work of the Challenges Foundation.
Nicolas Coster had no notion of retiring from acting, and over the next 5 years would begin to shift his focus to movies vs television. 
The New Millenium
Nicolas Coster continued to act in movies and the occasional television guest-starring roles in the 200s. He starred or co-starred in several short films and full-length feature film. In the the Hallmark Channel TV romance movie Flower Girl (2009), his co-stars were Marla Sokoloff, Marion Ross, and Christina Pickles. Coster and Marion Ross had worked together 23 years previously, on an episode of You Are the Jury in 1986 hosted by Robert Vaughn, with Ken Kercheval, Peter Scolari, and Anthony Geary.
Coster was been regular on the internet series The Bay as Mayor Jack Madison from 2010-2019. His co-stars on The Bay are a who's who of former daytime stars, many of whom he worked with on their traditional TV soaps.
Some of The Bay actors and former co-stars of Nicolas Coster, from the world of daytime TV soaps:
General Hospital – Tristan Rogers, Lilly Melgar, Jacklyn Zeman, John Reilly, Mary Beth Evans, Alicia Leigh Willis, Ignacio Serricchio, Sean Kanan, Ilene Kristen.
Another World – Anna Holbrook, Sandra Dee Robinson.
Santa Barbara – Lane Davies, Jed Allan, Judith McConnell
Charles Shaugnessy, Sandra Dee Robinson, Lane Davies, Real Andrews, Mary Beth Evans, Brody Hutzler, and Nicolas Coster are in this funny blooper reel from The Bay. 
In addition to his acting career, Nicolas Coster taught Theatre and Film Studies at the University of Georgia as an Adjunct Professor from 2001-2009. He also participated in films at USC Graduate Film School at the American Film Institute (AFI). 
Coster told We Love Soaps in 2010 when asked if he ever thought of retiring, that his retirement would coincide with "When they carry me out with my toes up."  Then age 76, Coster was still regularly skin diving with no tank, and sailing weekly with the Wounded and Disabled Veterans. 
Coster's son Ian Coster passed away in 2016, but happily he and his wife Beth Pantel celebrated their 35th wedding anniversary in January 2017. 
In an videotaped interview with Victor Migalchan in 2018, an older Coster reflected on his career and offered advice for other actors. 
His last appearance on screen in the Burn Run episode of TV series The Rookie: Feds. Nicholas Coster died June 26, 2023 at the age of 89.
Note: This article was originally published in 2016 as a two-part series, titled Nicolas Coster is 83. It has been updated with new & additional content
*Images are public domain or Creative Commons licensed & sourced via Wikimedia Commons, Vimeo, YouTube, or Flickr, unless otherwise noted*