Celebrating Seniors - Alan Alda Turns 80
Alan Alda was named Alphonso Joseph D'Abruzzo when he was born on January 28, 1936 in New York City.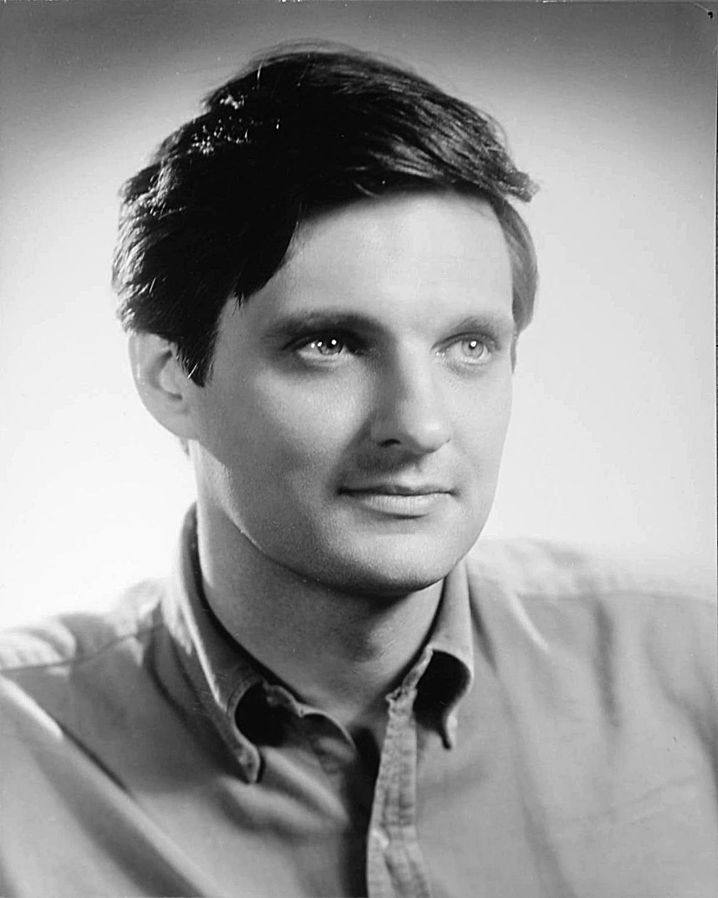 (Alan Alda early 1960's Photo: Friedman-Abeles, New York)
The multi-talented Alan Alda has won six Emmy Awards so far in a film career that has spanned 7 decades, beginning with his first appearance in a guest-starring role on The Phil Silvers Show in 1958.
Five of his Emmy Awards came courtesy of his performances for acting (Captain Hawkeye Pierce), directing and writing on M*A*S*H (1972-1983). M*A*S*H is still today, the series Alda's baby boomers and senior citizen fans most closely associate him with. Below, an older Alan Alda reflected back on his M*A*S*H experience in 2008.
 Alan Alda earned another Emmy Award for his acting on The West Wing (2002-2004), as U.S. Senator Owen Brewster.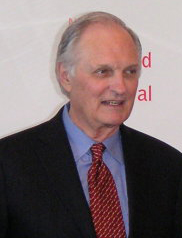 (Alan Alda 2008 World Science Festival Press Conference Photo: Markus Poessel [Mapos])
However, Alan Alda's longest-running television series gig was hosting the informational television show Scientific American Frontiers (1993-2007). Science is and has always been, a major interest of Alan Alda's. 
Alan Alda overcame polio at age 7 and received his B.A. from Fordham University in 1956. During his time there, he began his professional acting career and met his future wife Arlene Weiss.
Alda came by his acting talent honestly; both his younger half-brother Antony Alda, and his Italian father Alphonso Giuseppe Giovanni Roberto D'Abruzzo, known professionally as Robert Alda, were both actors. Alan Alda performed with his father on television in Europe while still in university, and his father Robert later guest-starred twice with him on M*A*S*H. Below, Alan Alda and Robert Alda on a 1975 episode of M*A*S*H.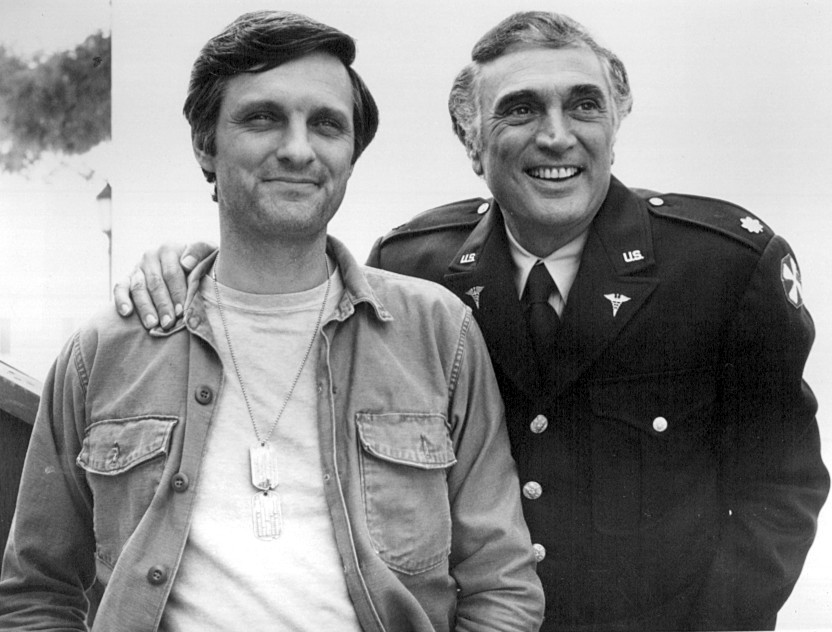 (Robert & Alan 1975 M*A*S*H Photo: CBS Television)
After graduating from university, Alan Alda served in the U.S. Army Reserve at Fort Benning, and then during a six month tour of duty in the Korean War, mostly in charge of a mess tent. He married Arlene Weiss on March 15 1957, and they were soon joined by their daughters Eve (b. 1958), Elizabeth (b. 1960), Beatrice (b. 1961).
Alda began acting on stage after getting married, making it to Broadway in The Owl and The Pussycat (1964-1965). Although his acting career since then has mostly taken place on television or in the movies, he was most recently on stage in Love Letters (2014).
Gone Are The Days (1963) was Alan Alda's first movie role, but his break-out role was in the movie Paper Lion (1968), earning him a Golden Globe nomination for New Star of the Year. Baby boomer and senior fans may be surprised to realize that despite his almost 30-year commitments to 3 major long-running television series (M*A*S*H, The West Wing, and Scientific American Frontiers), Alan Alda has also appeared in 31 feature films and many other made-for-television movies during his career. Among his many films was the TV drama The Glass House (1972), co-starring Billy Dee Williams and Clu Gulager. 
Alan Alda's episodic television work since the 1960's has included guest-starring on popular baby boomer series Route 66, in an episode with Joseph Campanella.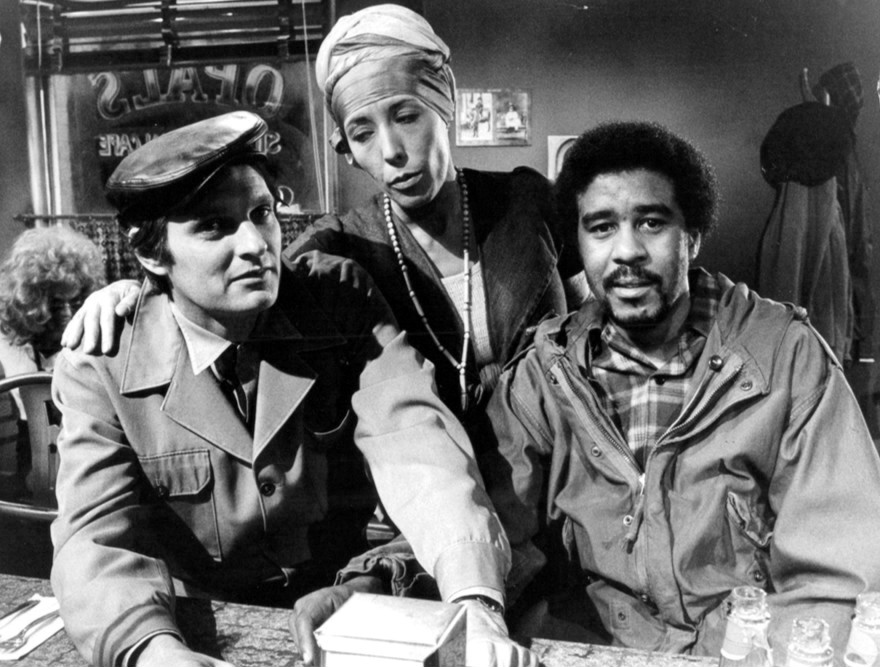 (Alan Alda, Lily Timlin, Richard Pryor 1973 Lily Photo: CBS Television)
Alan Alda played a harried father of the bride in 1990's rom-com Betsy's Wedding, starring Molly Ringwald and Dylan Walsh as the happy couple. He was in good acting company with co-stars Madeline Kahn, Ally Sheedy, Joe Pesci, Anthony LaPaglia, and Nicolas Coster.
As a 68-year-old senior citizen, Alda was nominated for an Academy Award Best Actor for his role as Senator Ralph Owen Brewster in The Aviator (2004). In 2015, the septuagenarian Alan Alda could be seen in no less than two big movies – The Longest Ride, co-starring Kyle Eastwood; and Bridge of Spies with Tom Hanks. 
Alda said in an interview with the L.A. Times in 2015 about his role as widower and septuagenarian senior citizen Ira Levinson in the movie The Longest Ride (starring Clint Eastwood's son Scott Eastwood), was
"one of the few parts I have played where…the emotions I feel in real life were as close as I ever felt to the emotions of a character."
In The Longest Ride, Ira's prized possession is a box of letters exchanged over many years with his now deceased wife Ruth. Alan Alda said what he liked about the movie was
"It is about long-term love…Most movies end when the long-term love is about to begin. Most movies deal with the excitement of new romance, which can be translated into long term, but that takes some doing. I think this is kind of a realistic look at a relationship."
The Longest Ride and Alda's performance in it, show us how love endures for long-time couples, even after the death of a spouse. Below, Alan Alda and in a clip from The Longest Ride.
Alda knows what he's talking about – he and wife Arlene Alda are grandparents many times over and have been married for 58 years.