Forever Rowdy Clint Eastwood
Academy Award-winning director, producer, composer and actor Clint Eastwood came to fame in the 1950s on TV's western series Rawhide as Rowdy Yates, a "ramrod" cattle drover who lived up to his nickname.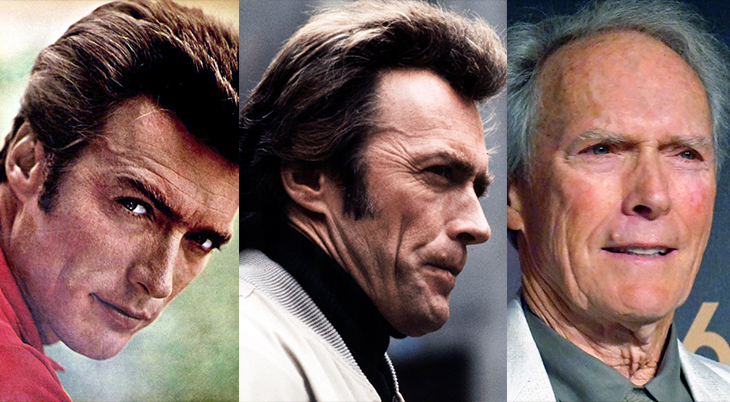 (Clint Eastwood Younger to Older: 1962 | 1974 Beat Albrecht | 2008 Fanny Bouton)
1950s TV – Rowdy Yates on Rawhide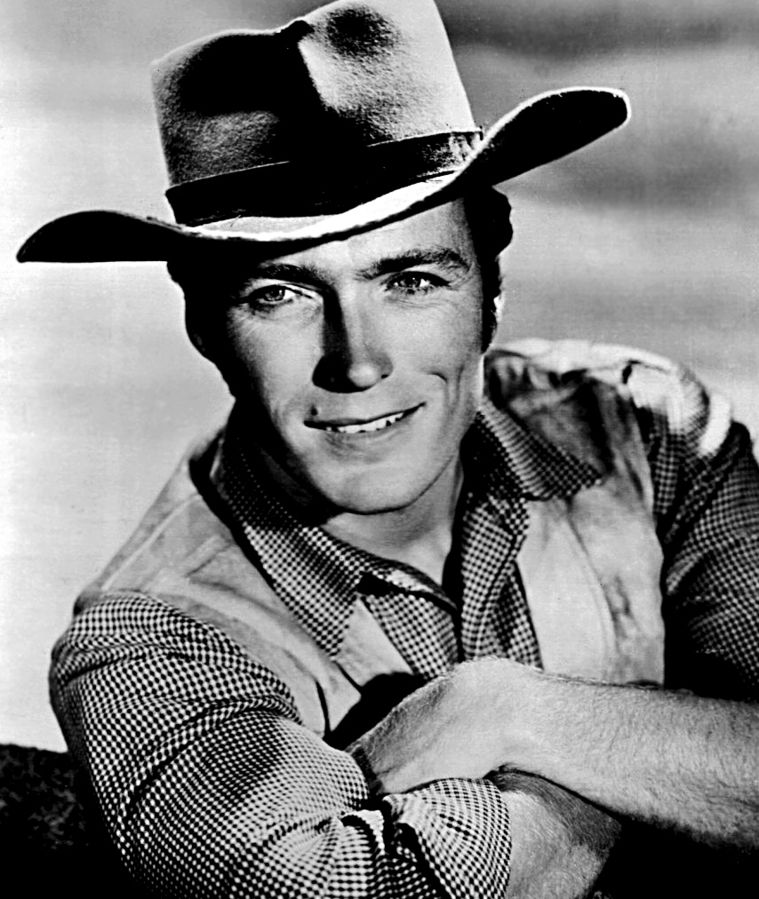 (Clint Eastwood 1961 Rawhide Photo: CBS Television)
Clinton Eastwood Jr. was born May 31, 1930 in San Francisco, California.
He was a talented piano player in his teens and had thought of studying music after attending Piedmont High School & Oakland Technical School, but drifted into working at different jobs before being drafted into the US Army in 1951.
At over 6'2″ tall, and always a good swimmer, Clint was assigned as a lifeguard and swimming instructor at Ford Ord's boot camp in Monterey County, California, where he attained the rank of Corporal before his Army tour ended in 1953.
On the way back from visiting his parents one weekend on leave, his plane crashed into the ocean; Clint and the pilot swam the 5KM (3 miles) to shore.
According to 2nd wife Dina Ruiz in a 2012 interview with carmelmagazine.com, it was while stationed at Ford Ord that Eastwood first discovered the beauty of nearby Pebble Beach, Carmel-by-the-Sea, and the Mission Ranch saloon.
Clint Eastwood met first wife Maggie Johnson on a blind date in 1952 while he was still in the army, according to Radio TV Mirror, and they married a year later, in December of 1953.
The following year, his acting career began when a Universal assistant arranged for him to meet director Al Lubin, who was shooting scenes at Fort Ord. Lubin recommended Clint take acting classes, and got him a contract with Universal in 1954. Universal didn't like his squinting and closed-teeth hissing, all traits that Eastwood would become known for in his later movies.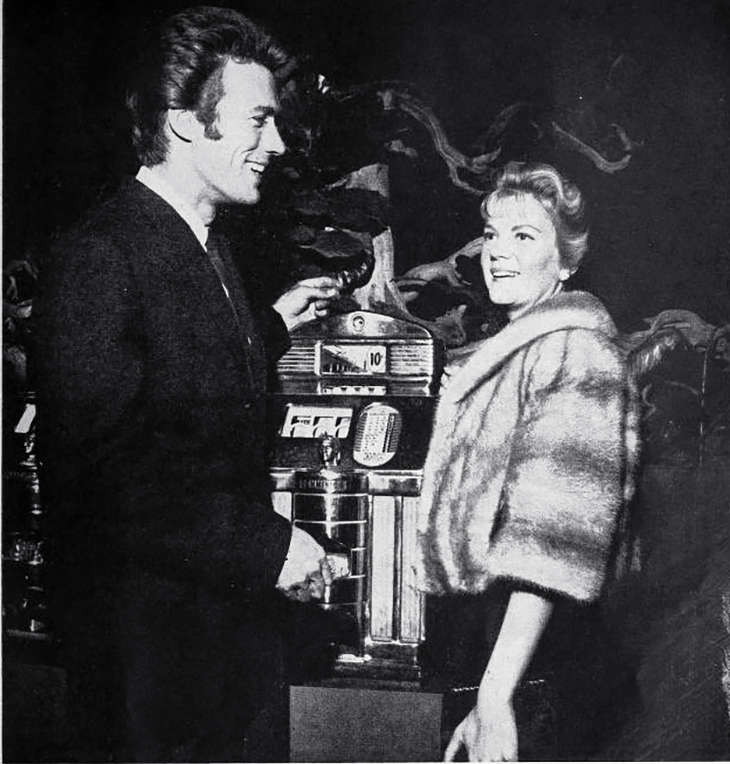 (Clint Eastwood & Wife Maggie Eastwood 1960 Radio TV Mirror)
It wasn't until 4 years later when he was cast as Rowdy Yates in the popular western television series Rawhide, a favourite baby boomer TV show, that Clint Eastwood's first significant acting role and career break came.
Clint and other western TV and film stars such as Jock Mahoney, Clint's Rawhide co-star Eric Fleming, and others, appeared at the Sahara Hotel in Las Vegas for a Fast Draw Contest; he was one of the fastest draws in the movie busines.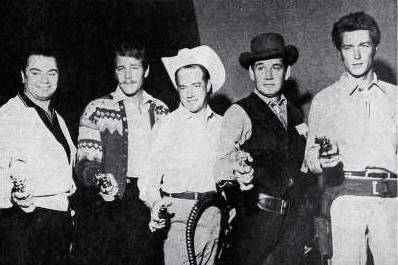 (Ernest Borgnine, Wayde Preston, Hugh Downs, Gene Barry & Clint Eastwood 1961 TV Radio Mirror)
When asked about his experience as Rowdy Yates, Rawhide, and the genre of westerns in general, Eastwood told TV Radio Mirror reporter Jim Morse in 1961 that he felt the series was
"honest…the kind of things that guys really did on the cattle drive".
He didn't underestimated the impact of Rawhide on his career, either:
"I was going nowhere fast, as an actor, until this show came along. Now they tell me I'm a star. I don't figure Rawhide will last forever, but I don't figure to walk out on it, either."
By the time Rawhide was cancelled in 1966, Clint had had the opportunity to play piano on an episode, direct some trailers, and had assumed the leading man role on Rawhide when original series star Eric Fleming quit; his starting salary rose from $750/episode in 1964 to $119,000/episode in 1965/66. 
He'd released the 1963 album, Rawhide's Clint Eastwood Sings Cowboy Favorites, with the now-defunct Cameo-Parkway Records. Below, Clint Eastwood sings the theme song for Rawhide in a Rawhide/Rowdy Yates tribute video montage.
(From left, Clint Eastwood, Paul Brinegar, and Eric Fleming 1961 Rawhide Photo: CBS Television)
By 1963 Maggie and Clint Eastwood had purchased a home in California's Carmel-by-the-Sea as their full-time residence.
Eastwood also invested in other properties in the Carmel area. 
In an interview with William Tusher for TV Radio Mirror in 1962, Tusher likened Eastwood's personality to that of the role he played on television as Rowdy Yates.
Clint Eastwood expounded on his early difficulties in adjusting to being married, and his determination to maintain his individuality, independence, and privacy during his marriage:
"I liked doing things when I wanted to do 'em…I didn't want any interference. I just didn't like to be pressed down, or having to go out of my way to cater to somebody, which I don't do. I'm not going to be that way. I never have been. You see, I'm a person who's never been gifted with a particularly easygoing temperament."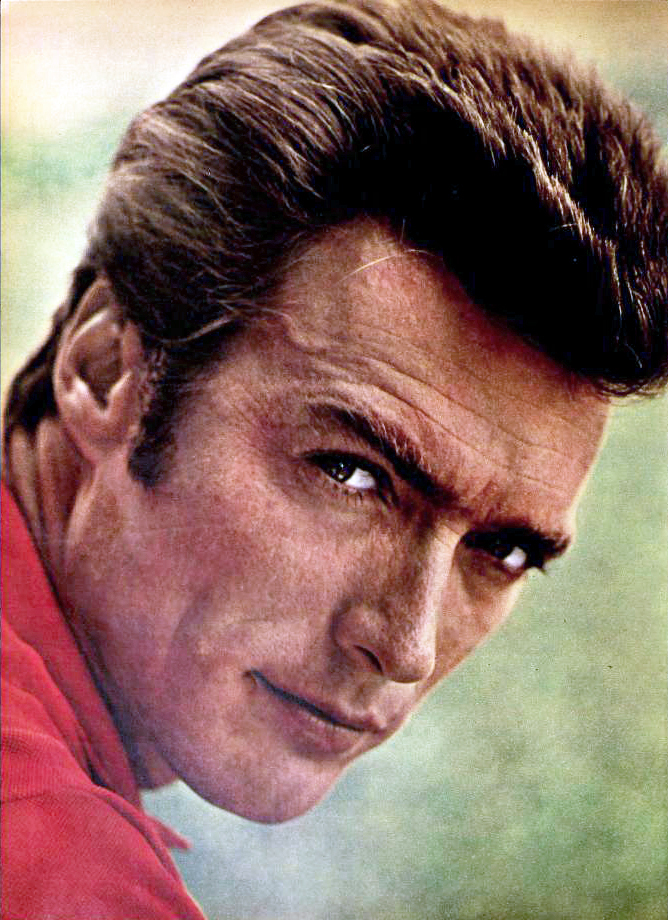 (Clint Eastwood 1962 Gene Trindl | Topix)
Some revealing statements by Eastwood included these other gems that strongly hinted that all might not be perfect in his marriage:
"Women are brought up with all these fairy tales…Everything should be the vine-covered cottage and you come home at night and sit by the fire. Well, maybe some people can settle down to this, but I never could. I'm not the type…One thing Mag had to learn about me was that I was going to do as I pleased. She had to accept that – because if she didn't, we wouldn't be married."
Eastwood went on to claim that his was the prevailing opinion whenever differences arose or decisions had to be made, and said that "women love this much more in the long run."
In his summing up of his expectation of his wife, he included this statement:
"She must not get jealous about the fact that I'm constantly exposed to a lot of feminine creatures. And she has to know enough to keep her mouth shut when I'm having troubles."
Unsurprisingly, pictures of Clint with other women and rumours of affairs were always rampant in the media, but unknown to Maggie and the world – including Eastwood himself at first – was that in 1963 during a trial separation, Clint had fathered his first child, daughter Kimber (b. 1964), with Rawhide extra Roxanne Tunis. After a brief foray into acting Kimber Eastwood became a producer and professional makeup artist for films and television (Wheel of Fortune and Dog the Bounty Hunter). 
Clint and Maggie Eastwood eventually reconciled, but he did not confess the affair or the birth of his daughter to her until years later (in 1972). The affair with Roxanne Tunis continued for years, and she appears in un-credited roles as an extra in the Eastwood-produced films Hang 'Em High (1968), Breezy (1973), and Every Which Way but Loose (1978).
A Fistful of Dollars & 1960s Westerns
Eastwood's former Rawhide co-star Eric Fleming had further helped along Clint's acting career by turning down the offer to star in Sergio Leone's spaghetti western A Fistful of Dollars, filmed during Rawhide's between-season summer hiatus. Tired of playing the "white hat" on Rawhide, Clint liked the idea of being the anti-hero and signed to star in the movie for $15,000 (and a bonus Mercedes car).
A Fistful of Dollars was released in Italy in 1964, followed by the trilogy sequels For a Few Dollars More (1965) and The Good, the Bad and the Ugly (1966). All 3 movies were released in the US in 1967 to commercial success (and critical pans), and helped to boost Clint's post-Rawhide movie career.
During the filming of The Good, the Bad and the Ugly, Clint prophetically warned co-star Eli Wallach to stay far away from the scene when special effects and explosives would be used to blow up a bridge; sure enough an unplanned-for special effects explosion happened during the scene but a forewarned Wallach was unharmed.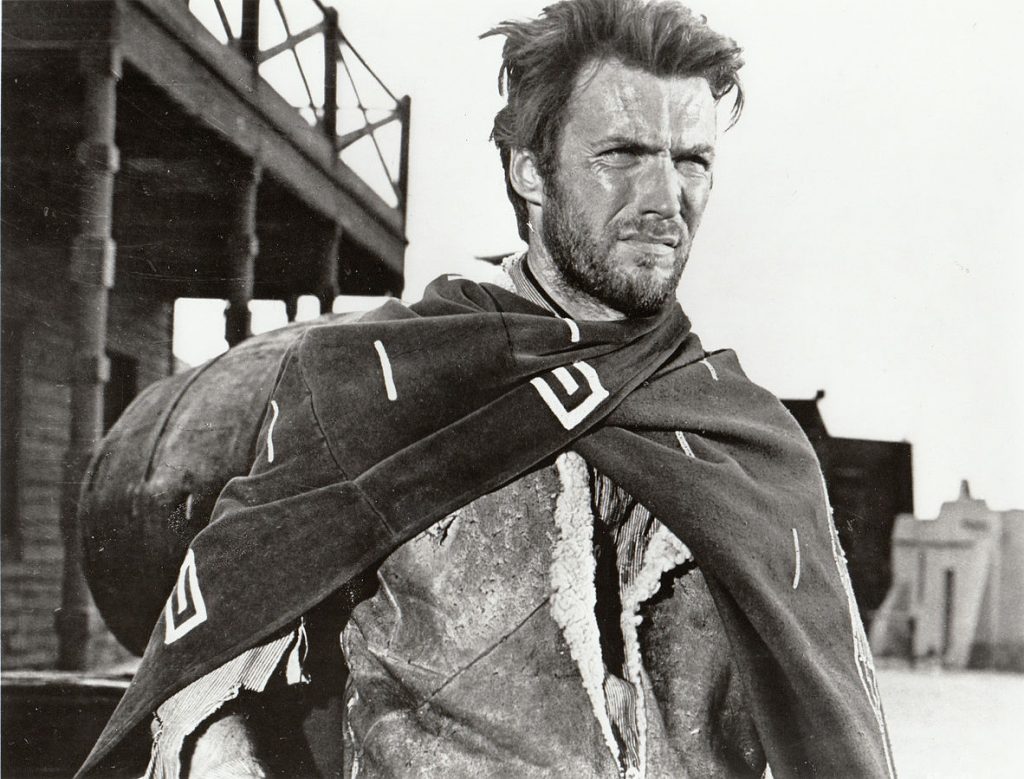 (Clint Eastwood 1964 Photo: A Fistful of Dollars)
Despite often being depicted smoking in his movies, Clint was never a smoker and has always followed a healthy lifestyle, saying he considers working out and paying attention to his nutrition and diet the keys to healthy aging. 
In 1967 Eastwood used the money from his Leone trilogy to establish Malpaso, his own film production company, and from that point on Malpaso produced almost all of his movies. Malpaso was named for the creek than ran through his property near Carmel-by-the-Sea in California. Kelly's Heroes in 1970 was the last movie Clint acted in that wasn't produced by Malpso Productions.
His next movie, 1968's western Hang 'Em High was jointly produced by United Artists and Malpaso, and was both a critical and commercial success. Co-starring with Clint Eastwood in Hang 'Em High are Inger Stevens, Ed Begley, Pat Hingle, Ben Johnson, Charles McGraw, Bruce Dern, Alan Hale Jr., Arelene Golonka, and Dennis Hopper.
In 1968 Maggie and Clint Eastwood had their first child together, son Kyle Eastwood, followed by daughter Alison Eastwood in 1972. Always a music lover, particularly jazz, Clint and Maggie were frequent attendees at the Monterey Jazz Festival during their years together. 
To the delight of his loyal baby boomer fans, over the next 20+ years Clint Eastwood went on to star in many more western, thriller, and war-themed movies. Coogan's Bluff (1968) combines the elements of a western with a (then) modern cop story; Eastwood co-stars with with Lee J. Cobb, Susan Clark, and Don Stroud.
1970s: The Dirty Harry Years
Clint's father died unexpectedly in 1970 of a heart attack at the relatively young age of 64; Eastwood, who had always been health and fitness-conscious, became even more so.
His roving eye hadn't changed, and eventually he and Maggie separated again. Meanwhile, Clint kept up a busy filming schedule as an actor in the early 1970s. Some of the movies most popular with his baby boomer and senior fans from this era: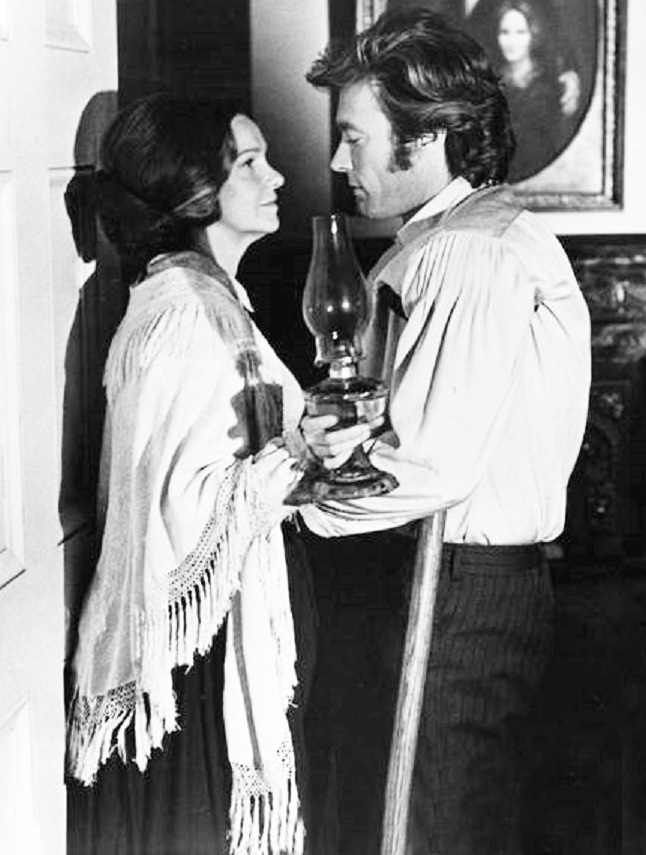 (Clint Eastwood & Geraldine Page 1971 The Beguiled Photo: Universal Studio)
The Beguiled (1971), a dark Civil War drama featuring Eastwood as an injured Union soldier being held in a Confederate girl's boarding school. Geraldine Page is the headmistress, and a young Melody Thomas Scott a student, in The Beguiled. 
Two Mules for Sister Sara (1970), a western co-starring Shirley MacLaine as a nun on the run in Mexico, rescued from some cowboys by Eastwood.
Kelly's Heroes (1970), a World War II action-comedy with Telly Savalas, Don Rickles, Carroll O'Connor, Donald Sutherland, Stuart Margolin, Gavin MacLeod, and Harry Dean Stanton. Look closely and you'll spot cameos by John Landis and Yves Montand in Kelly's Heroes.
Play Misty for Me (1971) had Clint Eastwood starring as a radio D.J. being stalked by fan/listener Evelyn (Jessica Walker). Donna Mills plays his girlfriend Tobie /Williams. Play Misty for Me was Clint Eastwood's first directorial effort for his Malpaso Productions company, and Eastwood chose to feature jazz music in the film. With Play Misty for Me, Clint Eastwood laid the foundation for the professional interests – directing and music – that would continue to inspire and engage him in the movies he made throughout the remainder of his career.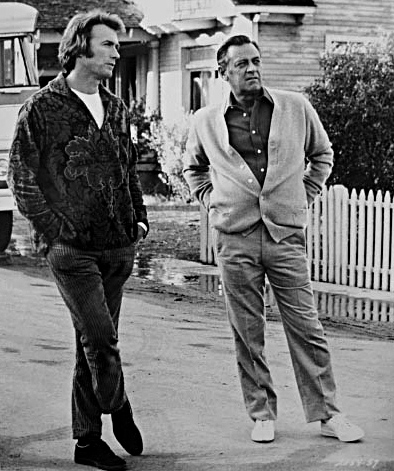 (Clint Eastwood & William Holden on the set of Breezy 1973 Photo: Malpaso Productions)
Other Clint Eastwood films of note from the early 1970s, which he also directed:
High Plains Drifter (1973), a western inspired by Clint's previous "spaghetti" westerns fro Sergio Leone. High Plains Drifter was Eastwood's second time behind the movie cameras as a director.
Clint had only a cameo role in the Malpaso Productions movie Breezy (1973) which stars William Holden and Kay Lenz. He was able to focus on directing the movie.
Perhaps Clint Eastwood's most iconic character as an actor was that of Inspector Harry Callahan of the San Francisco Police Department. The first film in the franchise was Dirty Harry (1971), which co-stars Harry Guardino, John Vernon as the mayor, John Larch as a police chief, Andrew Robinson as psycopathic killer "Scorpio", and Reni Santoni as his inexperienced new partner Chico Gonzalez. 
(Clint Eastwood 1971 Dirty Harry Photo: Warner Bros. Television Distribution)
Eastwood's delivery of his lines as the hard-bitten detective in Dirty Harry will go down in movie history, and gave birth to the catchphrase "Do you feel lucky?"
The commercial success of Dirty Harry inspired no less than 4 sequels featuring Inspector Harry Callahan / Clint Eastwood, each of which did well at the box office:
Magnum Force (1973), co-starring Hal Holbrook, David Soul, Tim Matheson, and Robert Urich.
The Enforcer (1976), with Tyne Daly, a returning Harry Guardino, and introducing Bradford Dillman as Captain Briggs. 
Sudden Impact (1983) – which Clint Eastwood also directed – co-stars Sondra Locke, Pat Hingle, and a returning Bradford Dillman. 
The Dead Pool (1988), with Patricia Clarkson and Liam Neeson. Canadian comedian Jim Carrey is a scene-stealing rock star in The Dead Pool, his 5th movie outing and first serious role.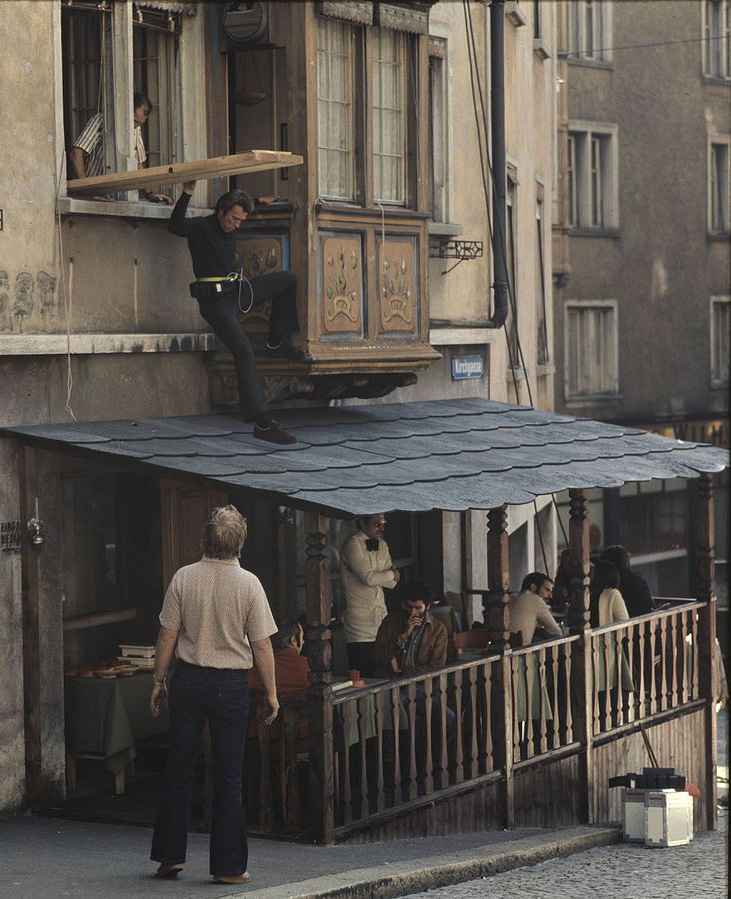 (Clint Eastwood 1974 The Eiger Sanction Set Photo: Beat Albrecht)
In 1974, Clint Eastwood travelled to Zurich, Switzerland to film the spy thriller The Eiger Sanction (1975). His co-stars in The Eiger Sanction included George Kennedy, Vonetta McGee, and Jack Cassidy.
Around this time Clint Eastwood met married actress Sondra Locke. 
By the fall of 1975 Clint and Sondra had begun an affair while filming his western movie The Outlaw Josey Wales (1976). In addition to Sondra Locke, The Outlaw Josey Wales cast has Chief Dan George, John Vernon, Sam Bottoms, Will Samson. 
Clint's son Kyle Eastwood appears in an uncredited role as the son of his character Josey Wales.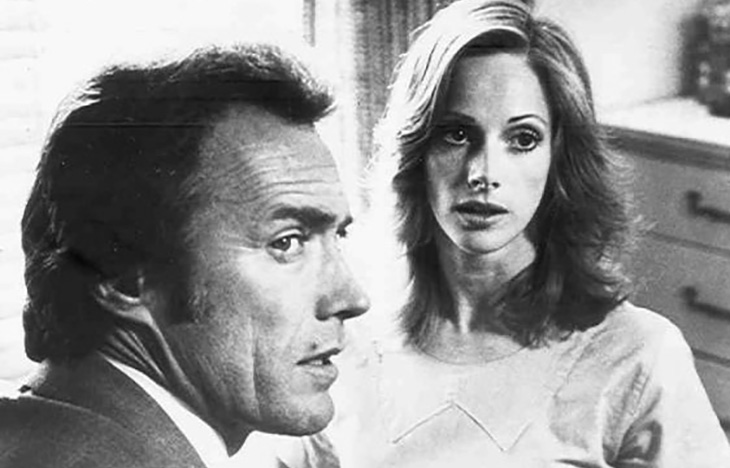 (Clint Eastwood & Sondra Locke 1977 The Gauntlet Photo: Warner Bros Inc.)
Clint Eastwood produced, starred in, and ended up directing, The Outlaw Josey Wales, after he fired Philip Kaufman and took over. This action caused a huge controversy and resulted in the "Eastwood Rule" being passed by the Director's Guild of America, preventing an actor or producer from firing the director and taking over themselves. Critics loved the move, as did audiences.
Clint and Sondra Locke began living together in a Bel-Air home he purchased in 1977. Although Maggie Eastwood and Clint were legally and amicably separated in early 1979, their divorce wasn't finalized until 1984.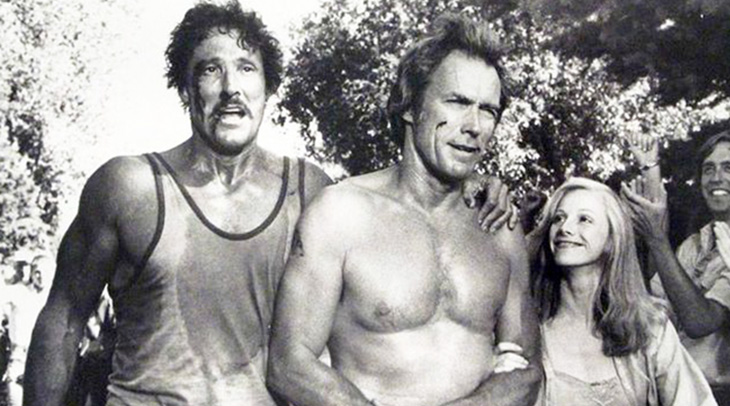 (William Smith, Clint Eastwood & Sondra Locke 1980 Any Which Way You Can Photo: CBS TV Network)
Sondra Locke and Eastwood's relationship would end up lasting through 14 years and 6 movies together – The Outlaw Josey Wales, The Gauntlet, Sudden Impact, Any Which Way You Can, Every Which Way But Loose, and Bronco Billy – throughout which she and Clint remained on friendly terms with her husband Gordon Anderson, who was openly gay. Locke later said she had 2 abortions and a subsequent tubal ligation to prevent pregnancy while they were together.
Filmmaker, Composer & Carmel Mayor in the 1980s
As Eastwood turned the corner into his 50+ years in the 1980's, he was not only producing and starring in his movies, he was now directing quite a few of them as well.
His low-budget adventure-comedy movie Bronco Billy (1980) about a traveling circus/wild west show, was made for less than $7 million and returned a modest $24 million at the box office, making it a financial success. Eastwood said of the movie that he felt it under-performed at theaters, but noted
"If, as a film director, I ever wanted to say something, you'll find it in Bronco Billy."
Bronco Billy marked the movie debut of Clint's daughter Alison Eastwood; both Alison and his son Kyle appear in cameos as orphans in the film.
 (Clint Eastwood in front of Space Shuttle Columbia 1981 Photo: NASA)
Clint Eastwood began to unleash his musical talent in more of his films, performing on 4 songs in the depression-era country-western musical Honkytonk Man (1982), including a duet with Marty Robbins on the title track, and another with his son and co-star Kyle Eastwood, on a performance of the Negro spiritual Swing Low, Sweet Chariot. Clint plays a musician who takes along his nephew (played by a then 14-year-old Kyle) on his way to an audition for the Grand Ole Opry. The cast of Honkytonk Man includes John McIntire, Matt Clark, Barry Corbin, Tim Thomerson, Joe Regalbuto, and Gary Grubbs.
The soundtrack for the 1986 movie Heartbreak Ridge (which Eastwood also produced, directed and starred in) includes the song How Much I Care, co-written by Clint Eastwood and Sammy Cahn.
Eastwood's oldest child, daughter Kimber, had her son Clinton in 1984, making him a grandfather for the first time at the age of 54.
Clint Eastwood became interested in Carmel's local politics and served as the Mayor of Carmel-by-the-Sea from 1986 to 1988. He bought the Mission Ranch in Carmel-by the-Sea in 1986 and had extensive renovations done to replicate original architectural features and turn it into today's Mission Ranch Hotel and Restaurant (he sometimes plays piano in the restaurant bar).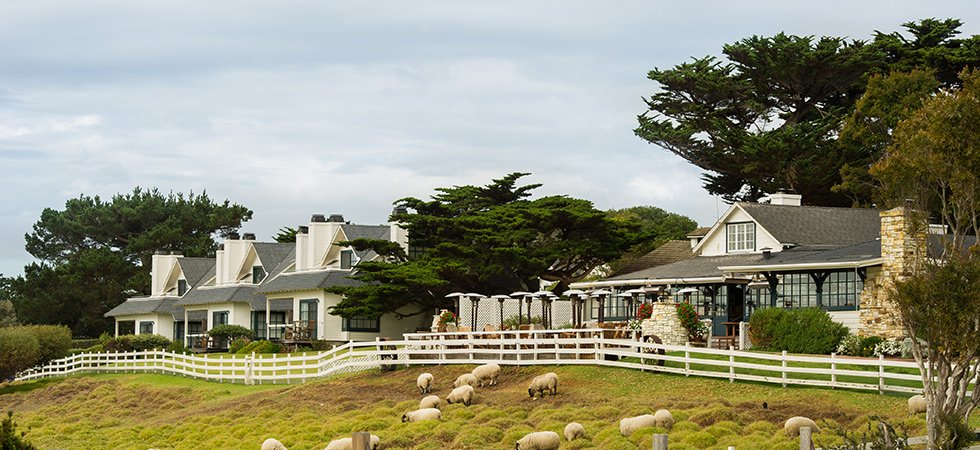 (Photo Courtesy Mission Ranch Hotel and Restaurant)
Clint Eastwood and a group of other investors purchased the Pebble Beach Golf Club just north of Carmel-by-the-Sea; Eastwood still occasionally plays golf in charitable tournaments.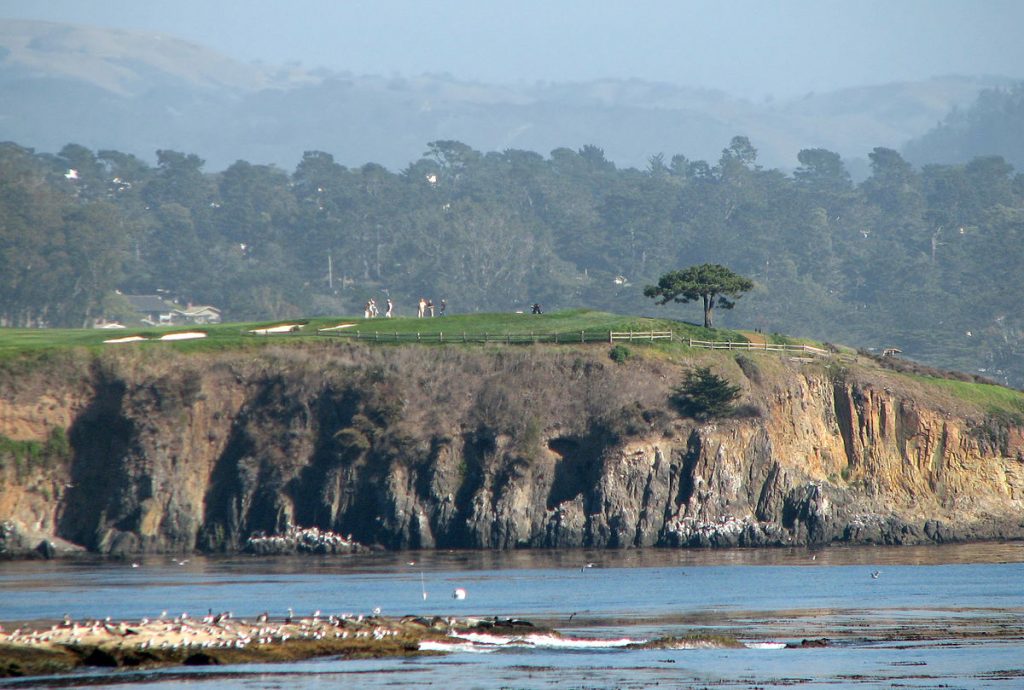 (6th Hole, Pebble Beach Golf Links, 6th Hole 2008 Photo: Bernard Gagnon)
Meanwhile, despite living with Sondra Locke, Clint had two more children as the result of a highly secret affair with stewardess Jacelyn Reeves – son Scott in 1986 and daughter Kathryn  (1988). Both Scott and Kathryn were born in Carmel, but were primarily raised by their mother in Hawaii.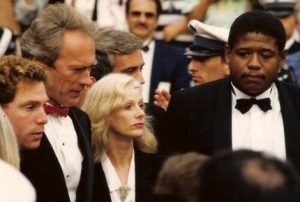 (Bird stars Michael Zelniker and Forest Whitaker flank Clint Eastwood and Sondra Locke, 1988 Cannes Film Festival Photo: Georges Biard)
Long-time jazz fan Clint Eastwood directed and produced the biography Bird (1988), starring Forest Whitaker as the great jazz musician Charlie "Bird" Parker. Michael Zelniker plays the role of jazz trumpeter Red Rodney.
While living with Sondra Locke in 1988 and filming Pink Cadillac, Clint met actress Frances Fisher, and they began dating.
By early 1989, Clint and Sondra had argued and were estranged, although Sondra was hoping they would reconcile. In April 1989 while Locke was away filming a movie, Eastwood changed the locks in their home in Bel-Air. Sondra Locke sued Clint Eastwood for palimony and settled out of court in 1990. She sued him again in 1995, because part of the original settlement had included a development deal for her to direct movies at Warner, and it was not being honored; Eastwood settled with her out of court again.
The 1990s: First Academy Award Nods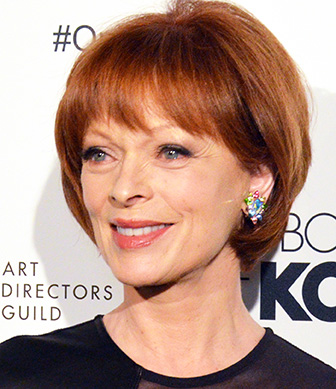 (Frances Fisher 2014 Photo: Mingle MediaTV)
In 1990, a now 60+ Eastwood began living with Frances Fisher (then age 38). Eastwood co-starred in two 1990 films – The Rookie with Charlie Sheen, Raul Julia, Sônia Braga, and Tom Skerritt; and White Hunter Black Heart co-starring Jeff Fahey. Eastwood also directed these two movies, and produced White Hunter Black Heart as well.
New and older Clint Eastwood fans loved his 1992 western movie Unforgiven, co-starring Gene Hackman, Morgan Freeman, Richard Harris, and his girlfriend Frances Fisher. Filmed in Alberta, Canada, Unforgiven also features Canadian actors Saul Rubinek and Jaimz Woolvet.
Clint directed and produced Unforgiven, fittingly receiving his first three nominations – Best Actor, Picture, and Director – fittingly for a western, the category of film that had launched his movie career years earlier. This clip from Unforgiven features Clint Eastwood and Morgan Freeman.
Clint Eastwood won the Best Picture and Best Director Oscars for Unforgiven, a feat he would later repeat with Million Dollar Baby (2004).
The thriller In the Line of Fire (1993) has Clint as Secret Service Agent Frank Horrigan, who is haunted by his past as an agent during the assassination of JFK. Fred Dalton Thompson is White House Chief of Staff, Rene Russo and Dylan McDermott are fellow Agents, and John Malkovich is a deranged assassin. Movie-goers loved In the Line of Fire, and the movie cast & crew received three Oscar nominations, including a Best Supporting Actor nod for Malkovich. Wolfgang Peterson directed In The Line of Fire, one of the very few films of the the last 30 years that Clint Eastwood starred in and didn't also direct or produce. 
Less well-received was the crime drama A Perfect World (1993), which Eastwood produced, directed, and co-starred in with Kevin Costner. However, he also became a father again in 1993, to his daughter with Frances Fisher – Francesca Eastwood. That same year he met news anchorwoman Dina Ruiz, and began to compose songs for some of his movies, beginning with A Perfect World and the piano compositions for In the Line of Fire.
Over the course of the next year Clint and Dina Ruiz met at different events and began dating in 1994, while he was still living with Fisher. Clint became a grandfather for the second time that year when his son Kyle Eastwood had daughter Graylen. Frances Fisher and Clint Eastwood remained on good terms with each other after they split up in early 1995.
Eastwood continued acting in films during this time and one of his most celebrated roles is in the romantic drama The Bridges of Madison County (1995), which he directed, produced, and co-starred in. Clint plays 60+ photographer Robert Kincaid, opposite Meryl Streep (playing a younger housewife). Streep and Eastwood's characters embark on a love affair, and The Bridges of Madison County was a box-office smash, earning Streep an Oscar nod for her performance.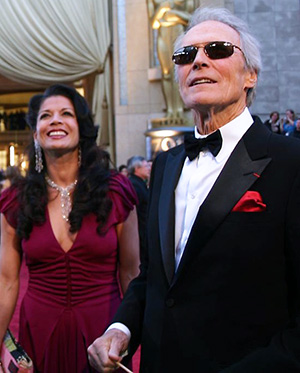 (Clint Eastwood & Dina Ruiz 2007 Photo: U.S. Army.mil)
Senior citizen Clint Eastwood married 35-years-younger Dina Ruiz in March 1996, and their daughter Morgan Eastwood was born in December that same year.
Although Eastwood directed and produced the Savannah, Georgia crime drama Midnight in the Garden of Good and Evil (1997) starring John Cusack, Kevin Spacey, and Jude Law, he didn't appear in the film. He does perform a song in Midnight in the Garden of Good and Evil, as does his daughter, actress Alison Eastwood, who has a supporting role in the movie.
Two other films that Eastwood did direct, produce, and star in as the 1990's came to a close, are the crime dramas True Crime (1999) and Absolute Power (1997). 
Absolute Power (1997), a thriller based on a book by David Baldacci, with a screenplay by William Goldman has Eastwood as plays thief Luther Whitney, and Laura Linney plays his daughter Kate. Gene Hackman, Ed Harris, Scott Glenn, Dennis Haysbert, Judy Davis, Kenneth Welsh, Richard Jenkins, and E. G. Marshall are also in the cast. Eastwood's daughter Kimber Eastwood, whom he didn't publicly acknowledge until the 1990's, had a small role in Absolute Power as a White House tour guide.
True Crime (1999) is based on Andrew Klavan's 1995 novel. Clint Eastwood plays reporter Steve Everett, with Isaiah Washington, LisaGay Hamilton, James Woods, and Denis Leary in supporting roles. True Crime was a rare exception to the box office success of Eastwood's other movies. Both Frances Fisher and their 6-year-old daughter Francesca Eastwood appear in True Crime with Clint. This was Francesca's second movie, as she'd already appeared in the Clint Eastwood-directed drama The Stars Fell on Henrietta (1995) when she was only two, with her mother Frances. In her most recent Clint Eastwood-produced film, Francesca plays a waitress in 2014's Jersey Boys. 
2000s: Quadruple Threat
Although he was appearing less frequently in films by the latter half of the 1990's and the 2000's, most of the movies that Clint Eastwood has starred in during the past 20+ years during his 70s and 80s, have all done well at the box office, thanks to his legion of baby boomer fans. At the same time, the quality and breadth of his film work as a producer and director in his senior years has continued to grow. Since 2000 Clint Eastwood has either produced, directed, acted or composed the score for, 19 movies; and in some films, performed all four of these roles.
Four of Clint Eastwood's 5 Academy Award nominations for Best Picture came for movies he produced as a senior citizen, including his second win in 2004 for the touching boxing drama Million Dollar Baby. Clint's oldest son Kyle Eastwood is a composer and jazz bassist, and he's credited as a songwriter on 3 tunes in the Million Dollar Baby soundtrack. Clint's Unforgiven co-star Morgan Freeman appears in a featured role in his second Clint Eastwood movie.
This clip from Million Dollar Baby features Clint Eastwood and Hilary Swank.
Gran Torino (2008) features Eastwood as a grumpy Korean War Vet whose young neighbor tries to steal his 1972 Gran Torino car, an incident which changes both their attitudes and lives. Eastwood cast a group of mostly inexperienced and unknown Hmong actors in key supporting roles. A huge success at the box office, Gran Torino fared almost as well with movie critics, although it missed out on any Oscar nominations. Gran Torino was a typical film family affair for the Eastwoods: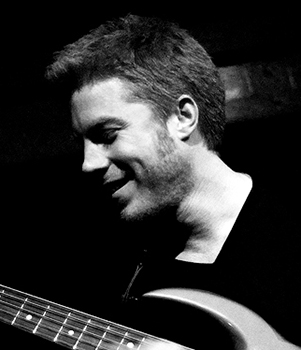 (Kyle Eastwood 2005 Photo: pixgremlin: http://www.aworan.com c/o Pix Gremlin)
Kyle Eastwood co-wrote the Gran Torino theme song with his father, along with Michael Stevens and performer Jamie Cullum. Beginning with a cameo in The Outlaw Josey Wales, Kyle has either written songs, performed in as musician, or acted in – and in some cases, done all three – for these Clint Eastwood-produced movies: Bronco Billy (1980); HonkyTonk Man (1982); The Rookie (1990); Regarding Henry (1991)The Bridges of Madison County (1995); Mystic River (2003); Million Dollar Baby (2004); Flags of Our Fathers (2006); Letters from Iwo Jima (2006); Changeling (2008); Invictus (2009);  J. Edgar (2011); and Jersey Boys (2014).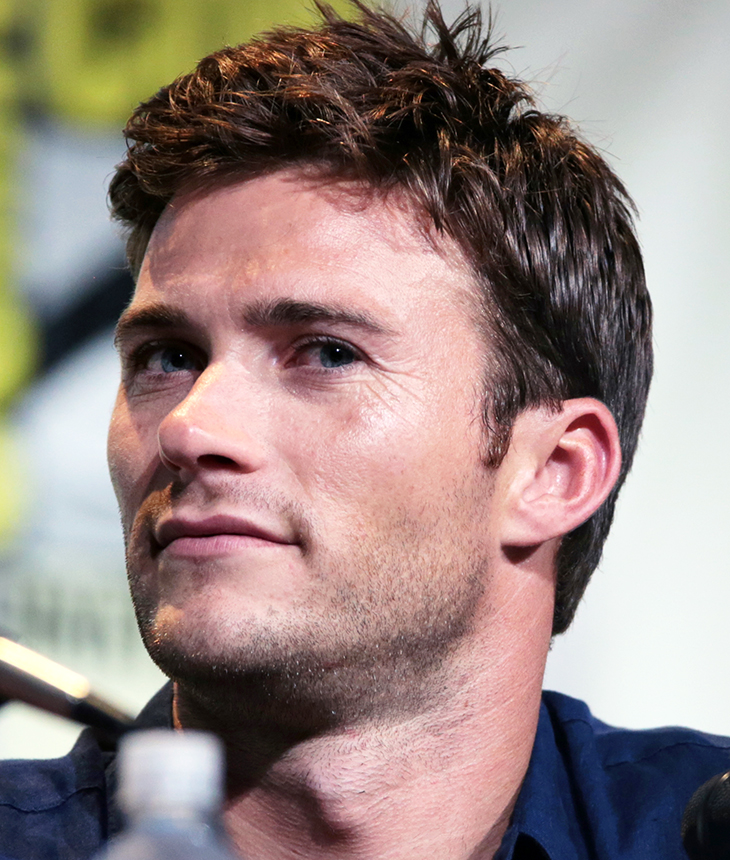 (Scott Eastwood 2016 Photo: Gage Skidmore)
Clint's younger son Scott Eastwood (from his affair with Jacelyn Reeves) plays a punk in Gran Torino. Scott is a model and actor, who bears a powerful resemblance to his father in his younger years. Scott's first film credit was in the Clint Eastwood produced & directed drama Flags of Our Fathers (2006), and his other films for his father include Invictus (2009), and Trouble with the Curve (2012). In his first 6 movies he was credited as Scott Reeves (including Gran Torino), but since 2009 he's gone by Scott Eastwood. Since Scott's role co-starring with Alan Alda in 2015's The Longest Ride, he's achieved heart-throb status. 
Clint Eastwood also starred in, directed, and produced:
Space Cowboys (2000), a thriller with Eastwood as a retired engineer who returns to active service and drags along his old team/codger friends – Tommy Lee Jones, Donald Sutherland, and James Garner. James Cromwelll, Marcia Gay Harden, William Devane, Courtney B. Vance, and Barbara Babcock have supporting roles in Space Cowboys.
Blood Work (2002), a thriller based on the mystery novel of the same name by author Michael Connelly. Clint stars as retired FBI profiler Terry McCaleb on the hunt of serial killer. Wanda De Jesús, Jeff Daniels, and Anjelica Huston co-star, with Paul Rodriguez, Dylan Walsh – and Clint's wife Dina Eastwood in a cameo as a reporter.
Actor Matt Damon starred in two heralded films directed and produced by Clint Eastwood:
Invictus (2009), a South African apartheid/rugby story co-starring Morgan Freeman as Nelson Mandela. This was also the third Eastwood-produced film for Freeman, after Unforgiven and Million Dollar Baby. Clint's son Scott plays a South African Springbok team player in Invictus. Both Damon and Morgan Freeman were nominated for Academy Awards for their performances in Invictus.
Hereafter (2010), a touching dramatic fantasy about death and "afterlife" experiences, co-starring Bryce Dallas Howard,

Cécile De France

, and Jay Mohr. Below, Hereafter stars Matt Damon and Bryce Dallas Howard flank director-producer Clint Eastwood in 2009.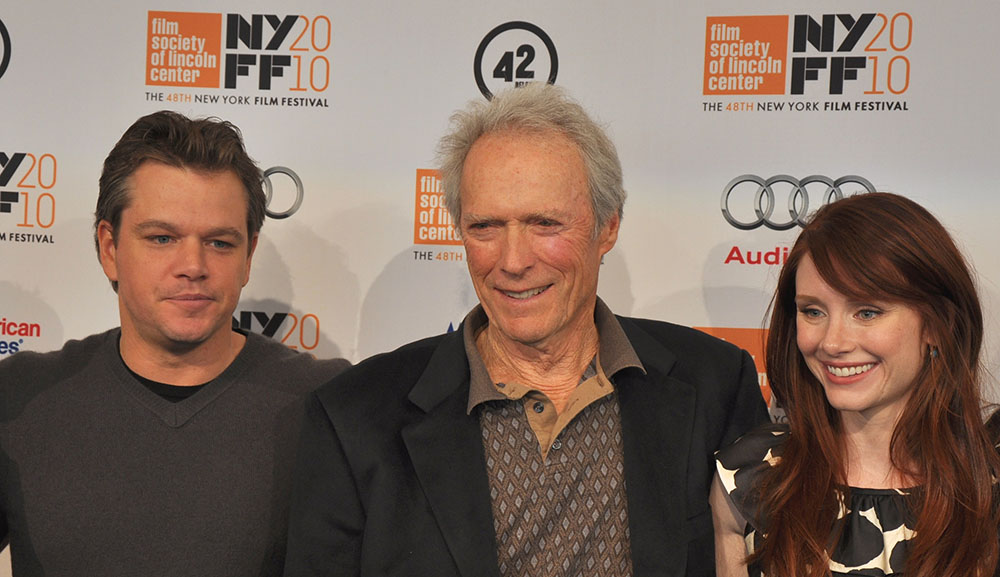 (2009 Photo: Raffi Asdourian)
Biopics, Relationships & Children in the 2010s
Dina and Clint's relationship became strained in 2012 when she filmed the reality TV show Mrs. Eastwood and Company. When she announced their separation in August 2013, Dina indicated the couple had already been separated for some time. Clint Eastwood's divorce from Dina Ruiz was finalized in December 2014.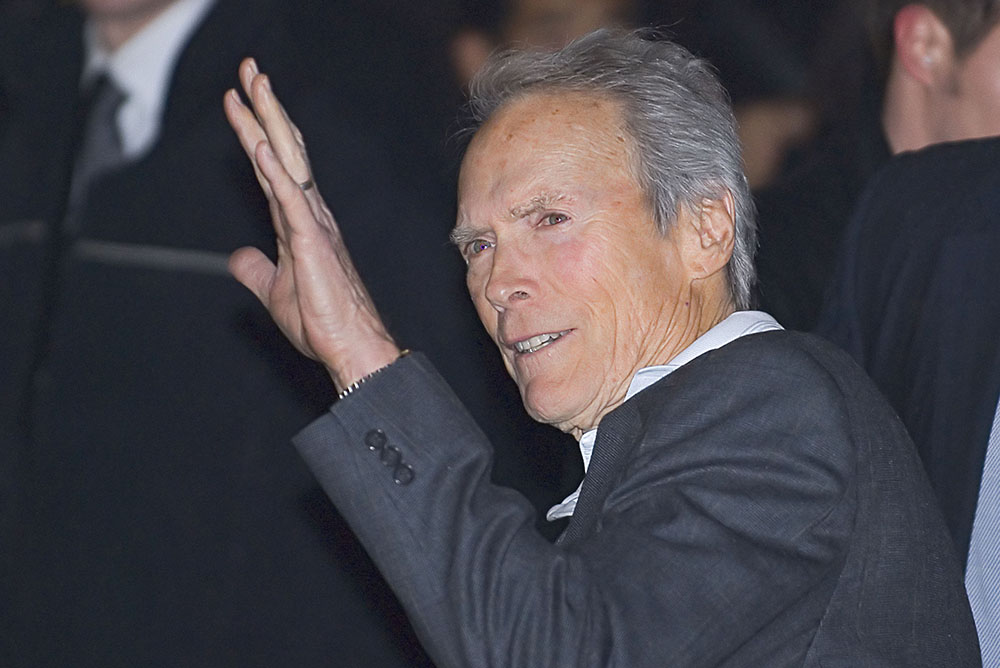 (Clint Eastwood 2007 Photo: Siebbi)
Because of his many fractured romantic relationships, many of which were extra-marital, Clint Eastwood has had varying degrees of involvement in his children's lives – the exact number and names of all of his children has never been confirmed. His professional legacy from acting, directing, producing and composing for movies, and as mayor of Carmel-by-the-Sea, may prove to be matched in the future by the mark his descendants may make in films themselves.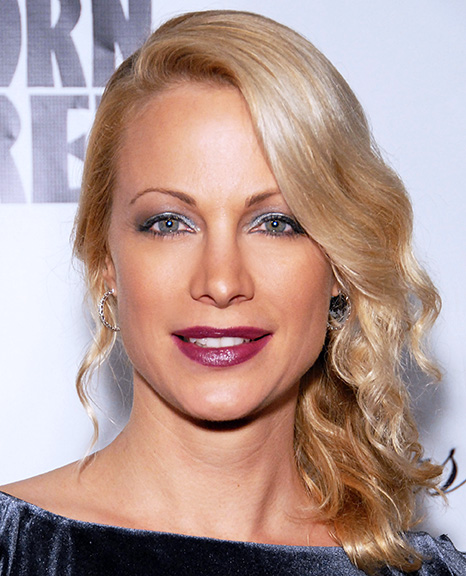 (Alison Eastwood 2012 Photo: © Glenn Francis, www.PacificProDigital.com)
He has introduced each of his children into the film business in one way or another. In addition to Kimber (make-up artist); Kyle (composer, musician, actor); Scott (actor); Francesca & Alison (actresses):
Clint's daughter with Jacelyn Reeves, Kathryn Eastwood (Scott's sister) is a fledgling screenwriter and made her acting debut with a small role in The Jersey Boys (2014), which her father directed and produced.
His youngest child, teenager Morgan Eastwood (from his marriage to Dina Ruiz), has had small roles in a few of Eastwood's film's, including 2004's Million Dollar Baby and 2008's Changeling. 
As he approaches his 90th birthday on May 31, 2020, Clint Eastwood shows no signs of retiring from filmmaking. His movie-making efforts since 2011 have focused on biographical dramatizations based on real events and people, and he's less likely to appear in the movie himself…only fair since he's still also producing and directing these films:
Trouble with the Curve (2012), a sports drama starring Clint Eastwood as aging Atlanta Braves scout Gus Lobel, whose job is on the line. John Goodman plays his pal and boss, Pete Klein; and Amy Adams is his somewhat estranged daughter Mickey. Matthew Lillard, Justin Timberlake, Robert Patrick, Ed Lauter, and Clint's son Scott Eastwood play supporting roles in the movie. Trouble with the Curve was a rare audience and critical miss for a movie with Clint Eastwood in a starring role (although I liked it!).
American Sniper (2014), a biography based on the memoir of real-life sniper Chris Kyle, stars Bradley Cooper as Kyle, with Sienna Miller as Kyle's wife. Eastwood co-produced the film with Cooper and 3 others, and was selected to direct American Sniper when Steven Spielberg dropped out. If you look hard you can find Eastwood in a small cameo in the film. 
A box office smash, American Sniper was also acclaimed by critics and earned 6 Academy Award nominations – Best Picture, Actor, Adapted Screenplay, Film Editing, Sound Mixing, and winning for Best Sound Editing. Christine Sandera (age 50+) accompanied Eastwood (then in his mid-80s) to the 2015 Academy Awards ceremony; they'd begun dating after he met hostess Christine at his Mission Ranch Hotel & Restaurant in Carmel-by-the-Sea, California. 
Sully (2016), starring Tom Hanks as the lauded pilot who landed his commercial airplane full of passengers on the Hudson River in New York, and the investigation that followed. Sully also stars Aaron Eckhart, Laura Linney, Anna DGunn, Mike O'Malley, and Jamey Sheridan, among others. Sully was a smash hit at the box office and won critical acclaim, including another Academy Award nomination for Best Sound Editing.
The 15:17 to Paris (2018) has 3 non-actors in the leading roles of American soldiers who foil a terrorist attack on a train headed to Paris, a big and not-so-successful casting risk taken by Eastwood. Filmed in Atlanta, Georgia and several European cities/countries, including Paris, France; Amsterdam in the Netherlands; Brussels, Belgium; and Italy – Rome, Vatican City, and St. Mark's Square in Venice. Critics mostly panned The 15:17 to Paris, but it did well enough at the box office to more than recoup it's relatively low budget ($30M).
The Mule (2018), a thriller based on a true story, stars Clint Eastwood as a 90 year old Korean War veteran and horticulturist Earl Stone, who turns to driving as a courier to make ends meet. Earl doesn't realize his employer is the Mexican cartel, or that the D.E.A. Agents Colin Bates (Bradley Cooper, in his second Clint Eastwood film) and Treviño (Michael Peña) are watching him. Clint's daughter Alison Eastwood plays his character Earl's onscreen daughter Iris, Dianne Wiest his wife Mary, and Taissa Farmiga (actress Vera Farmiga's look-alike younger sister) as Earl's granddaughter Ginny. The Mule cast includes the familiar faces of actors Laurence Fishburne as a D.E.A. Special Agent, Andy Garcia as cartel boss Laton, Richard Herd, and Megan Leahy, and  Ignacio Serricchio as Earl's cartel handler. The Mule was produced and directed by Clint Eastwood as well, and is the first film he starred in since Gran Torino (2008); his daughter Kimber is credited as a make-up artist.
Richard Jewell (2019), about the security Guard falsely accused by the FBI and pilloried in some newspapers/media, as responsible for the Atlanta Olympics bomb. Eastwood doesn't appear in the film but he produced and directed the movie, which stars Sam Rockwell, Olivia Wilde, Jon Hamm, Kathy Bates, and relatively unknown actor Paul Walter Hauser as Richard Jewell. Although Eastwood's direction and the actor's performances were praised by critics, the film didn't fare as well as the box office. Singer Ben E. King's classic song Stand By Me can be heard on the soundtrack.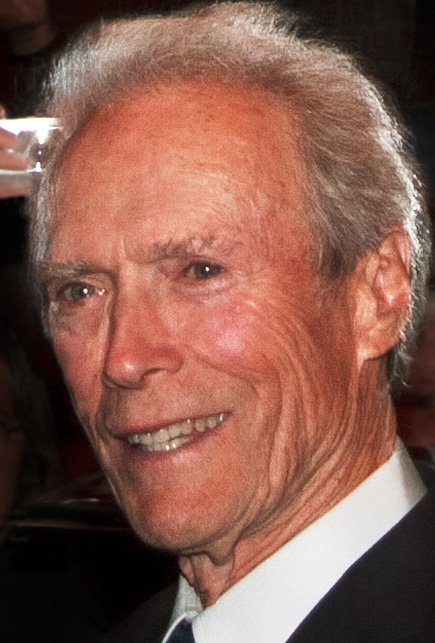 (Clint Eastwood 2010 Toronto International Film Festival Photo: Gordon Correll)
In a 2012 carmelmagazine.com interview Clint Eastwood spoke about his dedication to healthy aging, nutrition and retirement plans:
"I always work hard to keep sharp…I think it's very important, as one ages, to learn new things. That's why I have no ambition to retire."
His senior citizen fitness regimen? According to Clint,
"I like to rotate between cardio and resistance exercises…Lifting weights is important to maintain bone density. Plus it's a great endorphin lift, and it relieves a lot of mental stress as well."
Words to live long by!
Below, a happy, fit and active Clint Eastwood at a Pebble Beach "Celebrity Challenge" golf tournament in February 2015 (age 85).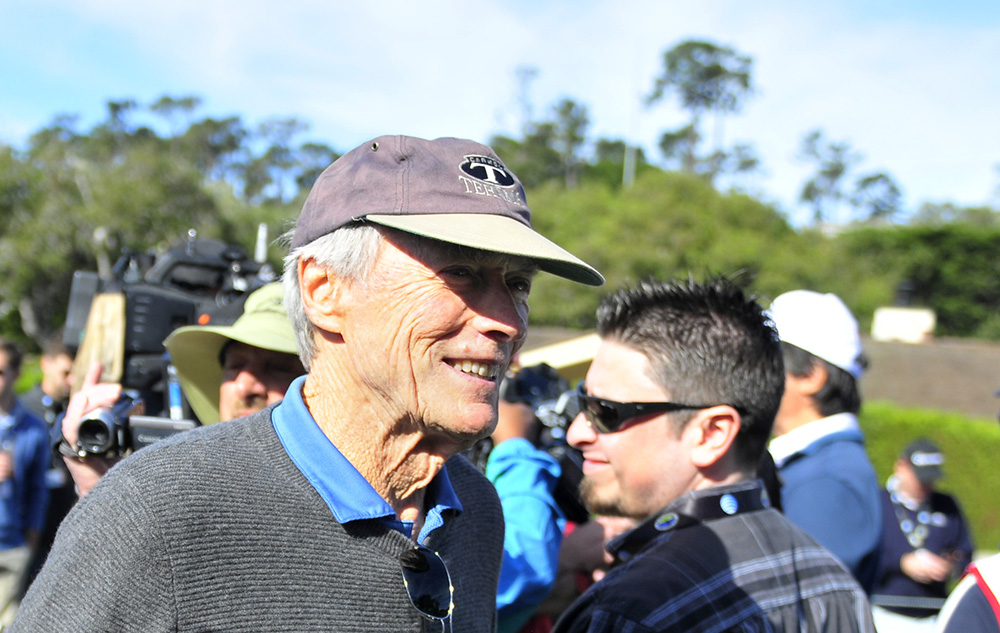 (Clint Eastwood 2015 Photo: Steven L. Shepard, Presidio of Monterey Public Affairs)
Note: This article was first published in 2015 as a five-part series with the title Celebrating Seniors – Clint Eastwood Turns 85. It has been updated with new & additional content.
*Images are believed to be in the public domain, or Creative Commons licensed & sourced via Wikimedia Commons, YouTube, Vimeo, or Flickr, unless otherwise noted*