Fascinating Facts From March 1940
News, Headlines & Entertainment Trivia from March, 1940: Author Richard Llewellyn's book How Green Was My Valley tops the best-seller lists; When You Wish Upon a Star is the #1 hit song, and the RMS Queen Elizabeth sails secretly to New York to evade Nazi U-boats.
How Green Was My Valley is #1 Best-Seller
Author Richard Llewellyn's Welsh mining community family saga How Green Was My Valley (1939) topped the book best-seller lists for most of March 1940, and stayed there through May and into June.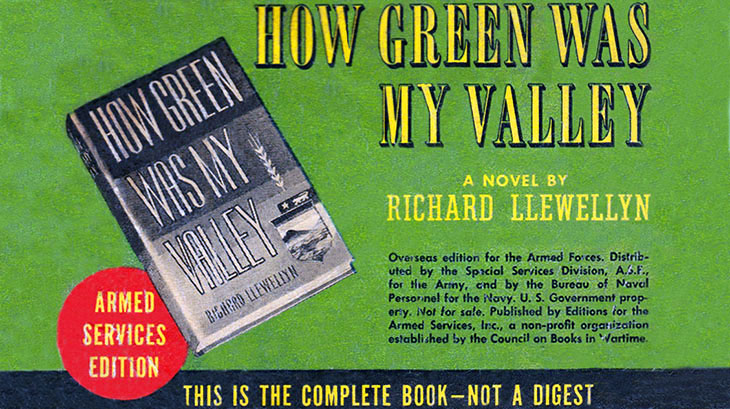 (How Green Was My Valley Armed Services Edition Cover: Whittier)
How Green Was My Valley follows the trials and triumphs of the members of the Morgan family, as told by narrator and a younger son, Huw Morgan. Huw is one of 7 Morgan children; his father and 5 brothers are all miners. Huw is a gifted scholar and dreams of a a life far from the coal mining town town he's growing up in. Over the years, through different mining accidents, Huw loses his oldest brother Ivor, and later his father. 
The book has been adapted several times for the stage, TV, and film. The 1941 How Green Was My Valley movie directed by John Ford stars Roddy McDowall as Huw, Donald Crisp as his father, and Sara Allgood as his mother. Walter Pidgeon, Maureen O'Hara, Anna Lee, John Loder, Barry Fitzgerald, Patric Knowles, Arthur Shields, and Rhys Williams play supporting roles. 
Llewellyn's novel was likely inspired by some time spent in Wales and his Welsh ancestry, but was not, as he claimed at the time, based on his own experience of growing up in Wales. Although his parents were both from there, playwright and novelist Richard Dafydd Vivian Llewellyn Lloyd was born on December 8, 1906, in Middlesex, England.
Varied jobs prior to the onset of World War II included working in hotels (his father's line of work), as a coal miner, and as a writer. He chose the pseudonym of Richard Llewellyn for professional purposes, and found employment as a screenwriter for British films. His early screenplay credits include the crime drama Catch as Catch Can (1937) starring James Mason and Margaret Rutherford; and the mystery comedy Inspector Hornleigh (1939) starring Alastair Sim. His Play Poison Pen: A Play in Three Acts (1938) was adapted into the movie Poison Pen (1939) starring Flora Robson.
During WWII Richard Llewellyn served as a Captain in the Welsh Guards, and published his second novel, None But the Lonely Heart (1943). This was made into a film the following year starring Cary Grant, Ethel Barrymore, June Deprez, Jane Wyatt, Barry Fitzgerald, and Dan Duryea.
After WWII, Llewllyn covered the Nuremberg Trials as a journalist, worked on screenplays and additional dialogue for MGM feature films and other British films, and continued writing novels. Of his 25 published books, 3 were sequels to How Green Was My Valley – Up into the Singing Mountain (1960), Down Where the Moon is Small (1966), and Green, Green My Valley Now (1975). 
Richard Llewellyn died in November 1983 at the age of 76.
When You Wish Upon a Star #1 Song
The recording of When You Wish Upon a Star (1940) by Glenn Miller and Ray Eberle was at the top of the Your Hit Parade song charts in March 1940.
With music by Leigh Harline and lyrics from Ned Washington for the animated Walt Disney classic film Pinocchio (1940), the original When You Wish Upon a Star was sung by Cliff Edwards as Jiminy Cricket in the movie.
When You Wish Upon a Star / Pinocchio won Best Original Song at the 1940 Academy Awards. Thanks to great songs like When You Wish Upon a Star, Pinocchio (Leigh Harline, Paul Smith & Ned Washington) also won the Oscar for Best Original Score against stiff competition from 16 other films, including The Great Dictator (Meredith Wilson), The Letter (Max Steiner), The Mark of Zorro (Alfred Newman), My Favorite Wife (Roy Webb), Rebecca (Franz Waxman), and Waterloo Bridge (Herbert Stothart). Composer Victor Young must have been disappointed; he was nominated for 3 movie scores – Arizona, Dark Command, and North West Mounted Police.
Cliff Edwards recorded the single When You Wish Upon a Star with Horace Heidt in 1940 too, as did big band leader Guy Lombardo with his younger brother Carmen singing, but Glen Miller's version was the most popular of the year.
Disney fans everywhere will recognize the tune from snippets used on their TV series, on cruise ships, and theme parks. 
RMS Queen Elizabeth Sails Secretly to New York
The luxurious Cunard cruise ship RMS Queen Elizabeth (named for the reigning British monarch King George VI's wife) secretly set sail on her maiden voyage from England to New York on March 3, 1940.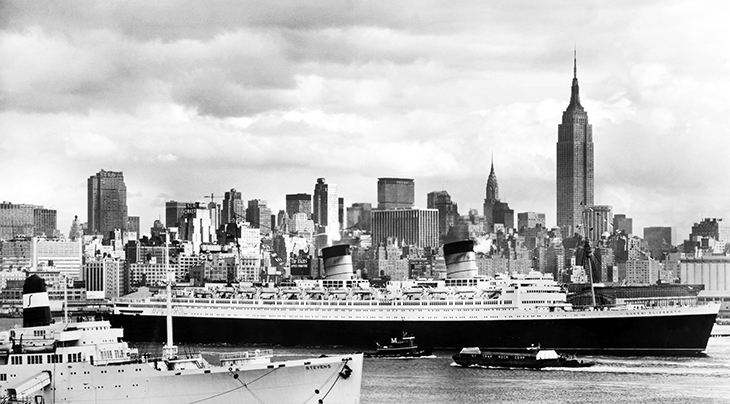 (RMS Queen Elizabeth 1968 Postcard: Louis Gardella)
The RMS Queen Elizabeth had been built in 1938 and was launched by the royal consort Queen Elizabeth (mother of Queen Elizabeth II) in September of that year. She was then sent to Clydebank, Scotland to be fitted out read for her planned maiden voyage as a luxury ocean liner cruising to exotic destinations, in April of 1940.
Due to the outbreak of World War II in Europe, Winston Churchill secretly sent a letter to Cunard early in 1940, ordering that the Queen Elizabeth be removed from Clydebank and kept away from Britain until further notice until protect her from German attacks. 
An public announcement was made that the RMS Queen Elizabeth would make her maiden voyage as a short coastal jaunt from her fitting-out dock in Clydebank, Scotland, to Southampton, in order to complete her fitting out in March of 1940. Parts were shipped to Southampton, where a new dock was prepared for her arrival, and hotel rooms were booked for Cunard employees in town. A crew of 400 Cunard ocean liner personnel were told to pack for a 6-month voyage. 
Just before sailing, the Cunard colors on RMS Queen Elizabeth were painted over in battleship grey. The Queen Elizabeth left Clydebank on the morning of March 3 on course for Southampton. She hadn't gone far from her Clydebank dock when a King's Messenger intercepted the ship. The Captain was presented with sealed orders that contained details of her new destination. After refuelling, the RMS Queen Elizabeth changed course and sailed across the Atlantic instead of to Southampton, maintaining radio silence during the six days it took to reach New York City.
The ruse to protect the ship was successful; German Luftwaffe bombed Southampton on the evening that the RMS Queen Elizabeth had been scheduled to arrive in that port city.
On arrival in New York city, the Queen Elizabeth was docked beside her older sister ship, the RMS Queen Mary, and the SS Normandie, a French ship. Both the Queen Mary and the Normandie had been docked in the harbor since the previous September to keep them safe. The Allied commanders plan was for all three ships – the three largest in the world at the time – to be retrofitted so they could go into war service.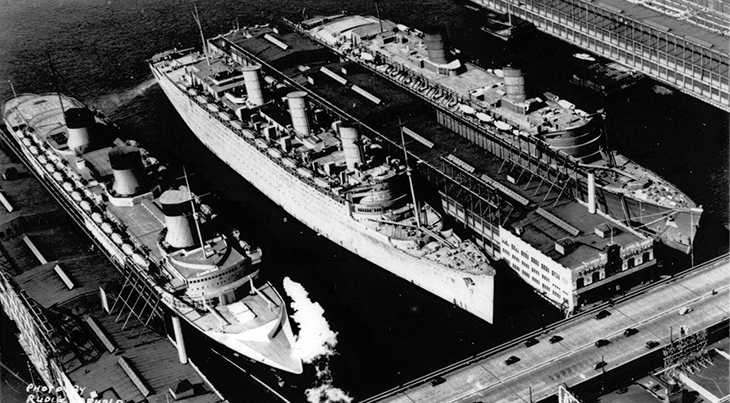 (From Left – SS Normandie, RMS Queen Mary, & RMS Queen Elizabeth, March 1940 Postcard)
The RMS Queen Mary sailed out of New York harbour on March 21, 1940 en route to Sydney, where her conversion to a troopship would take place. Eight months later, in November 1940 the RMS Queen Elizabeth sailed to Singapore for her troopship conversion.
Five days after the attack on Pearl Harbor (December 6 1941), the Normandie was seized by U.S. authorities in New York and was renamed the USS Lafayette. Work on her conversion to a troopship took place right where she was docked in the New York harbor. On February 9th, 1941, a spark from a welding torch ignited some flammable life vests, and with some help from a strong wind, fire swept through the ship. The SS Normandie / USS Lafayette began taking on water and ultimately capsized, sinking to the bottom of the harbor. 
Both the RMS Queen Elizabeth and RMS Queen Mary were outfitted with anti-aircraft guns and served as troop transport ships for the duration of World War II. American actor and movie star James Stewart told Screenland that her returning to the U.S. aboard the RMS Queen Elizabeth when his overseas deployment as a Air Force Squadron Commander ended:
"There were 15,000 of us on it but honestly, it wasn't a bit crowded. I bet they could have put 80,000 men on it….well, 20,000 anyhow."
After the war ended, both ships were refitted for the luxurious passenger ocean liners they were meant to be. For the next 20 years both ships sailed back and forth across the Atlantic on a regular basis, until they were retired – Queen Mary in 1967 and Queen Elizabeth in 1969. Notables that sailed on the RMS Queen Elizabeth between 1947-1949 include movie stars Alida Valli, David Niven, Glynis Johns, Fredric March & wife Florence Eldridge, Lily Pons, Rita Hayworth, Alfred Lunt and Lynn Fontanne, Robert Taylor, and Alan Ladd and his wife Sue Carol. Producers and film company executives J. Arthur Rank, Jack Warner, and producer Hal Wallis with his wife, former silent screen comedy star Louise Fazenda, also sailed on the luxury passenger ship.
Cary Grant commented to Modern Screen in 1947 that a fellow passenger on his trip home to America from a stay in England on the SS Queen Elizabeth had been young Elizabeth Taylor, whom he described as a
 "stunning little 15-year-old…(she) is going to be one of the great glamor girls of the movies". 
Three years later Elizabeth Taylor and her new husband Nicky Hilton  (Conrad Hilton Jr.) sailed on the SS Queen Elizabeth for their 1950 honeymoon tour of Europe.
Hong Kong businessman C.Y. Tung purchased the Queen Elizabeth for $3.5 million in 1970 and insured the ship for $8 million. While sailing to her new intended destination in Hong Kong in 1972 to serve as a university, several fires broke out on the ship. The RMS Queen Elizabeth was completely destroyed and sank in Hong Kong's Victoria Harbour.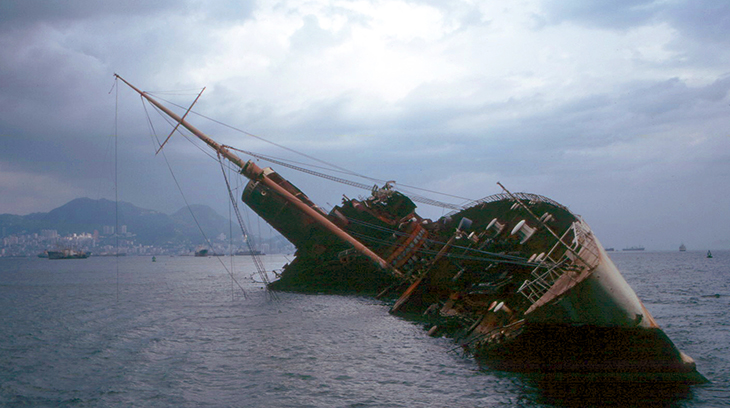 (RMS Queen Elizabeth 1972 Photo: Barry Loigman, M.D.)
The RMS Queen Mary has been moored in Long Beach, California since 1965. For a time it was adjacent to Howard Hughes mighty wooden airplane the Spruce Goose, until the plane was moved to Oregon in 1992. The Queen Mary has been a major tourist attraction since the 1960s; it currently houses restaurants, a hotel, the Jacques Cousteau Living Sea Museum, and an event venue.
*Images are believed to be in the public domain or Creative Commons licensed & sourced via Wikimedia Commons, Vimeo, YouTube, or Flickr, unless otherwise noted*