Folks, Facts & Fun From January 1931
News Headlines, Entertainment & Trivia from January, 1931: "Happy New Year 1931" with actress Anita Page; Oscar-winning classic western movie Cimarron premieres; French singer-actress Lily Pons Metropolitan Opera debut.
Classic Western Movie Cimarron Premieres
Directed by Wesley Ruggles, the Academy Award-winning classic western movie Cimarron premiered on January 26, 1931 in New York City.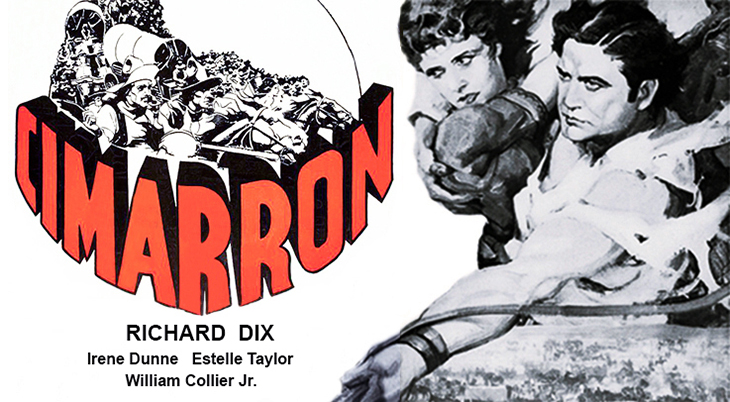 (Irene Dunne & Richard Dix 1931 Cimarron)
Cimarron stars Richard Dix, Irene Dunne, Estelle Taylor, Nance O'Neil, William Collier Jr., Roscoe Ates, and Edna May Oliver. California filming locations for Cimarron during August-November 1930 included Bakersfield, Inglewood, Venice, the Jasmin Quinn Ranch, and the RKO Encino Ranch at Balboa Boulevard & Burbank Boulevard.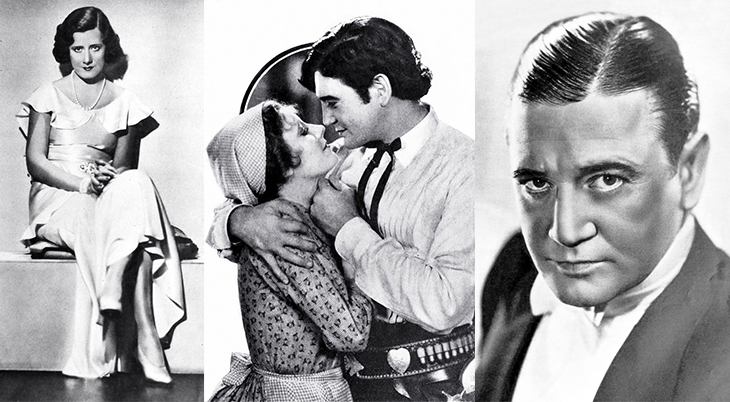 (Irene Dunne 1931 | Dunne & Dix,1931 Cimarron | Richard Dix 1932)
Cimarron takes place during the 1889 Oklahoma land rush, with the leading characters of Sabra and Yancey Cravat (Irene Dunne & Richard Dix) traveling from Kansas to take part in the race.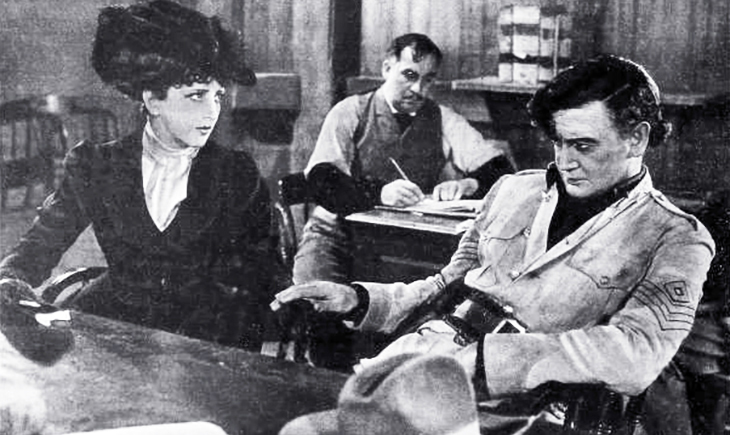 (Estelle Taylor & Richard Dix 1931 Cimarron Photo: Screenland)
Their land claim and hope to establish a ranch is lost when Yancy is outwitted by prostitute Dixie Lee (Estelle Taylor).
Yancey and Sabra move on to the boom town of Osage, where he takes over the weekly Oklahoma Wigwam newspaper. Soon after their son Cimarron is born, a gang threatens the town and Yancy has to face off with The Kid (William Collier Jr.).
When another land rush comes along elsewhere in Oklahoma, Yancey leaves Sabra behind with their son to participate in the race and settle a claim. It's five years before he returns, during which time Sabra runs the newspaper and raises their family. The couple are separated more than once over the years for different reasons.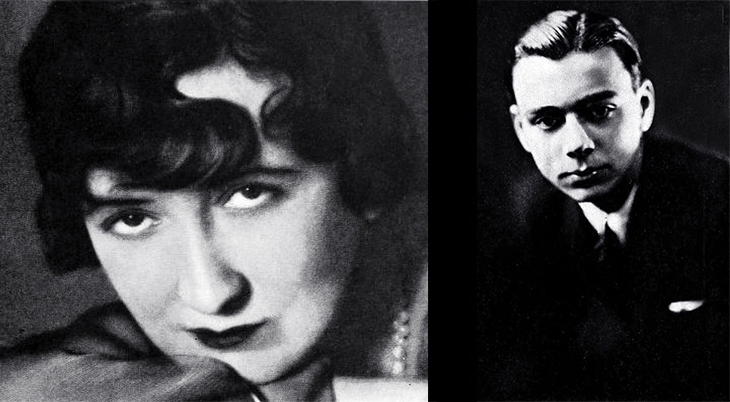 (Nance O'Neil 1931 Photo: Screenland | William Collier Jr. 1920 Photo: Motion Picture Classic)
Other supporting actors of note in Cimarron include former stage and silent film star Nance O'Neil, comedic actor Roscoe Ates, and Edna May Oliver.
Although by today's standards Cimarron is often dismissed for it's portrayals of offensive and often racist stereotypes, norms at the time made it an instant hit with film critics. It was hurt at the box office because it came out during the depths of the Great Depression, but fared better in later re-releases.
Cimarron was nominated for 7 Academy Awards, and won 3 at the Awards ceremony held on November 10, 1931:
Outstanding Production (Best Movie). Other nominees were the films East Lynne, The Front Page, Skippy, and Trader Horn.
Best Adaptation (Best Adapted Screenplay, based on Edna Ferber's novel of the same name), Howard Estabrook. Among the other nominees were Joseph L Mankiewicz and Sam Mintz for Skippy, based on the comic strip by Percy Crosby.
Best Art Direction was won by Cimarron's Max Rée.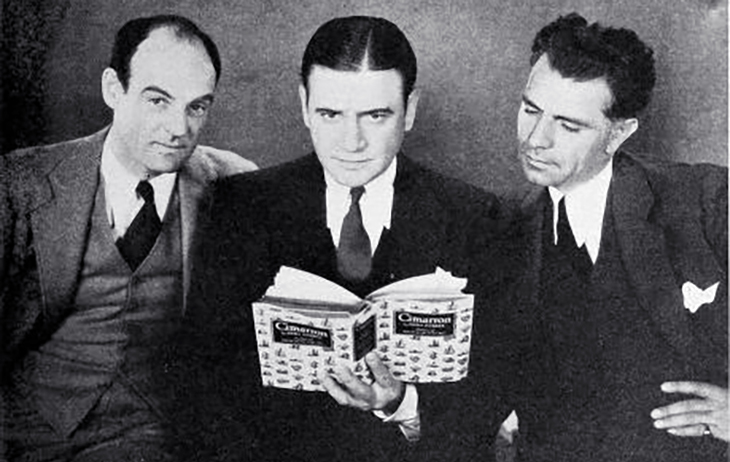 Cimarron's Screenwriter Howard Estabrook, star Richard Dix, and Director Wesley Ruggles in 1931. Co-incidentally, both Richard Dix and Wesley Ruggles would get married in October 1931 – Dix to Winifred Coe, and Ruggles to actress Arline Judge.
Other Oscar nominees from Cimarron:
Best Director (Wesley Ruggles), won by Norman Taurog for Skippy.
Best Actor (Richard Dix), who along with Jackie Cooper, Adolphe Menjou, and Fredric March, lost to Lionel Barrymore (A Free Soul).
Best Actress (Irene Dunne). The winner was Marie Dressler (Min and Bill). Marlene Dietrich, Ann Harding, and Norma Shearer also went home empty-handed.
Best Cinematography (Edward Cronjager), who lost to Floyd Crosby (Tabu). 
Happy New Year 1931
Hollywood / celebrity photographer Clarence Sinclair Bull's "Happy New Year 1931" photo of film star Anita Page.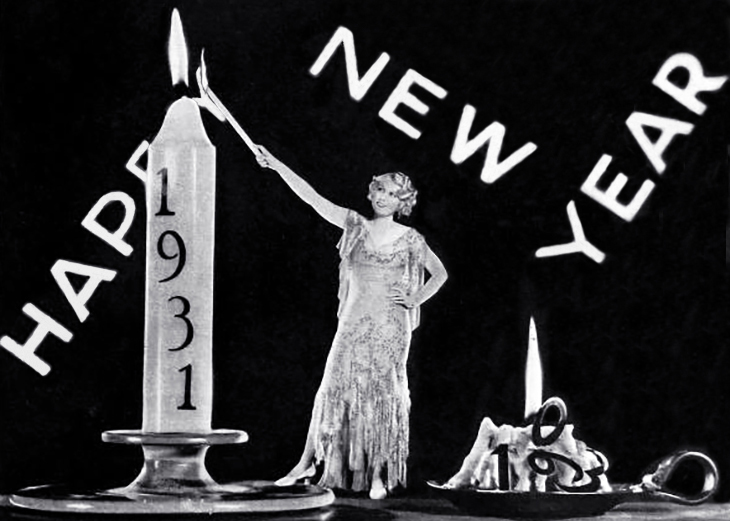 (Anita Page 1931 Photo: C.S. Bull / The New Movie Magazine)
More New Year's Eve nostalgia:
Top New Year's Eve Movies & Clips
Lily Pons Debuts At the Metropolitan Opera
French opera singer Lily Pons crossed the pond to make her triumphant debut at the Metropolitan Opera House in a production of Lucia di Lammermoor on January 3, 1931.  She would become the Met's principal opera star for almost 30 years.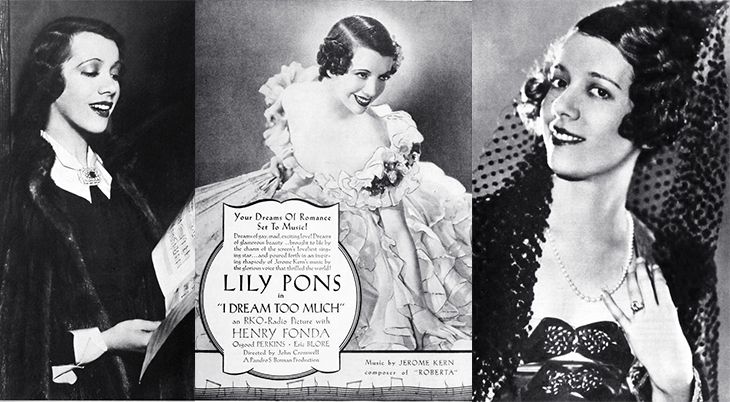 (Lily Pons – That Girl From Paris, 1936; I Dream Too Much, 1935; and in 1931)
Nee Alice Joséphine Pons on April 12, 1898 in, the coloratura soprano singer got her start playing piano and singing for French soldiers during World War I at the Hotel Carlton in Cannes, France. Radio Digest reported that Lily Pons had married Dutch lawyer and newspaper publisher August Mesritz sometime during the 1920s. It was Mesritz that encouraged her to take singing lessons.
Alice Pons had established a successful career on opera stages in France and Belgium by the time she came to the attention of New York Metropolitan Opera manager Giulio Gatti-Casazza in the late 1920s. She was hired on the spot when she auditioned for him to replace opera singer Amelita Galli-Curci, who would be retiring. She returned to France with 3 contracts – a 5-year engagement at the Met, a recording contract with RCA Victor, and for concert performances. 
It was almost a full year after being hired at the Met that Lily Pons became an "overnight" American opera star on January 3, 1931 – acclaimed by audiences and music critics alike.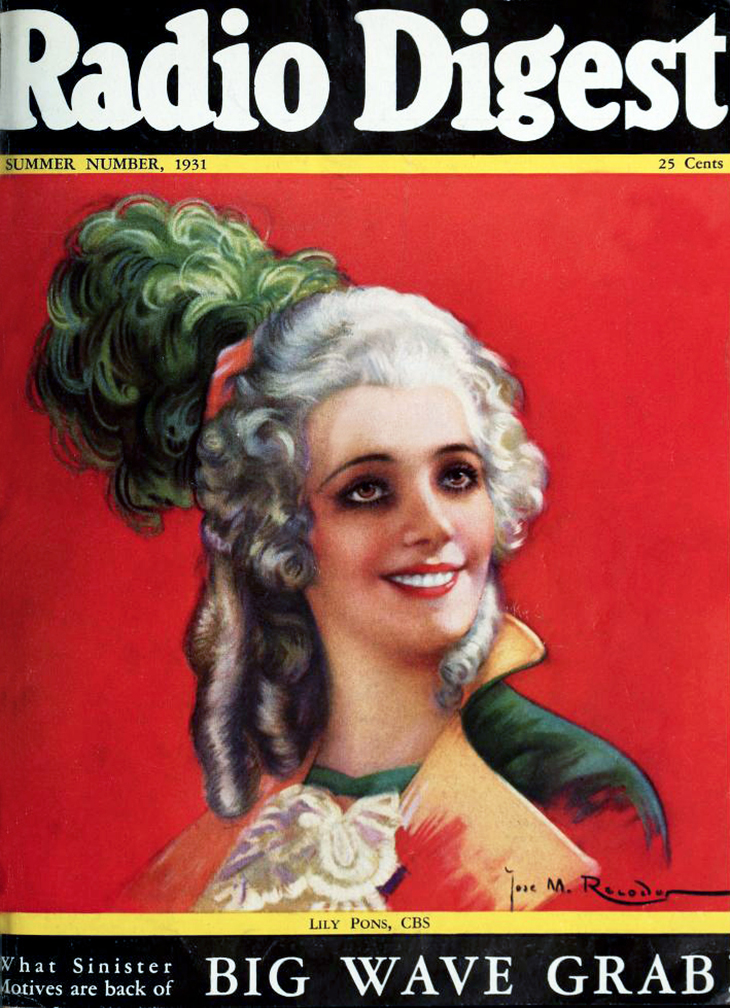 (Lily Pons in 1931 Radio Digest Cover Portrait: José M. Recoder)
During 1931 when she wasn't appearing on stage in New York or South America, she could be heard on radio (CBS and NBC) or Victrola records, and seen in RCA ads and on magazine covers.
Pons and her husband August Mesritz were divorced in 1933. 
Between 1935-1937, Lily Pons starred in 3 musical romantic comedy films for RKO-Radio.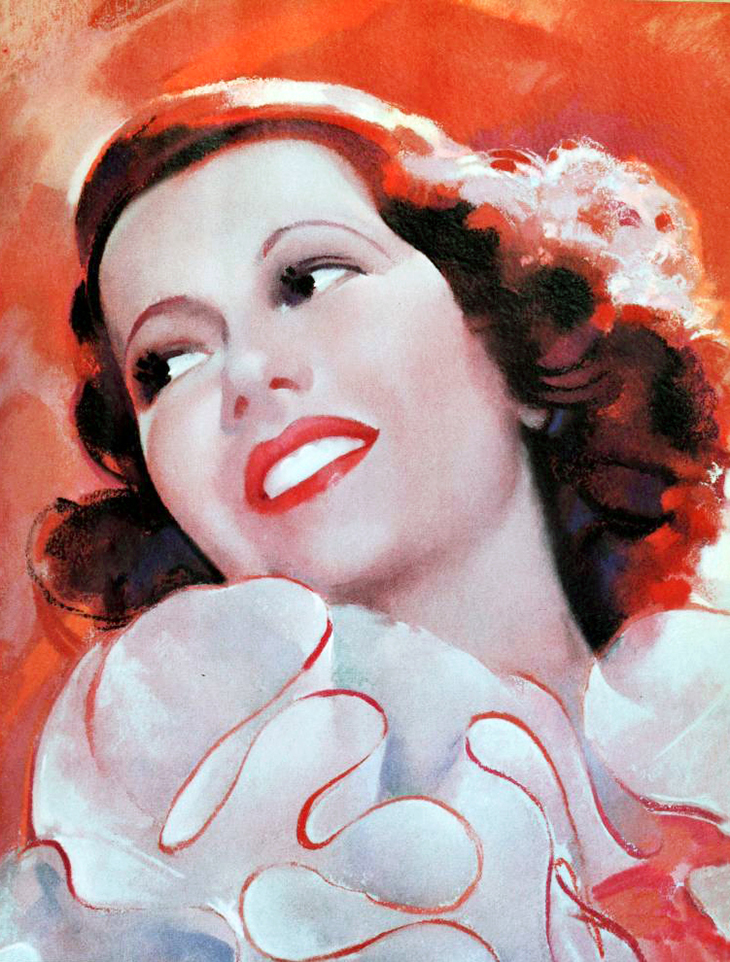 (Lily Pons 1935 I Dream Too Much: The Film Daily)
I Dream Too Much (1935), with Henry Fonda as her leading man. Eric Blore, Lucille Ball, Mischa Auer, and Lucien Littlefield are also in I Dream Too Much, directed by John Cromwell. Music and songs by Jerome Kern.
That Girl from Paris (1936), a remake of Street Girl (1929) based on Jane Murfin's storyline. Her That Girl from Paris co-stars are actors Jack Oakie and Gene Raymond, vying for her on-screen attentions. Mischa Auer and Lucille Ball are again in supporting roles.
Hitting a New High (1937), directed by Raoul Walsh. Jack Oakie is her leading man again, with Eric Blore, John Howard, Edward Everett Horton, and Eduardo Ciannelli  in the cast.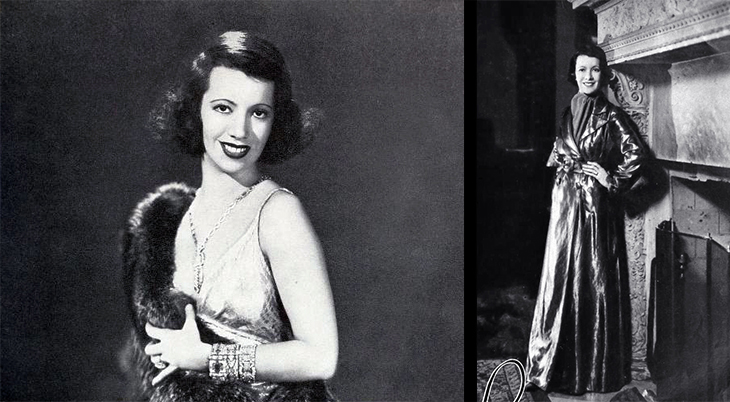 (Lily Pons 1935 Photos: Modern Screen | Radio Mirror)
Lily Pons and Russian-American conductor Andre Kostelanetz were married in 1938. During WWII the couple toured overseas with the USO in 1944-1945 performing for the troops. After their divorced in 1938 Pons never remarried.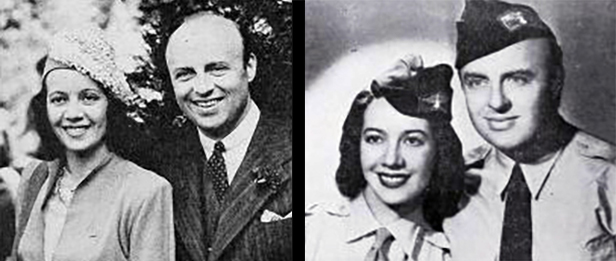 (Lily Pons & Andre Kostelanetz 1938 Wedding: Cinemundial | 1944 Photo: Exhibitor's Journal)
During the 300+ opera performances Lily Pons appeared in at the Metropolitan Opera between 1931-1960, her most frequent role was that of Lucia de Lammermoor – 93 times! She retired from the Met after 1960, but still performed occasionally in concerts and guest roles. Lily Pons died of pancreatic cancer in 1976 at the age of 77. 
More January 1931 Events
Alma Rubens
Silent film actress Alma Rubens is arrested on January 5, 1931 on charges of possession of cocaine and morphine smuggling conspiracy (into Mexico from the U.S.). She claimed a frame-up and while out on bail contracted a cold. Alma Rubens was only 33 years old when she died on January 21, 1931 of bronchitis and lobar pneumonia. 
*Images are believed to be in the public domain or Creative Commons licensed & sourced via Wikimedia Commons, Vimeo, YouTube, or Flickr, unless otherwise noted*