Folks, Facts & Fun From June 1931
News, Headlines, Entertainment and Trivia from June, 1931: Carole Lombard marries William Powell; There Ought To Be a Moonlight Savings Time is the #1 hit song; and Dashiell Hammett's The Glass Key is a bestseller.
Carole Lombard Marries William Powell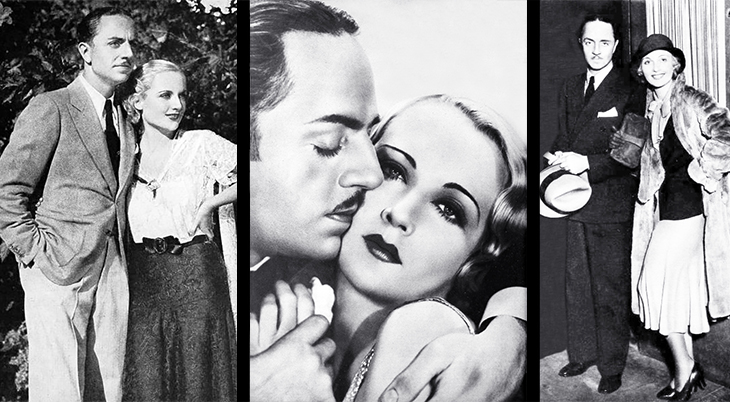 (Carole Lombard & William Powell 1931)
Film star William Powell and actress Carole Lombard (nee Jane Alice Peters) were married on June 26, 1931 at the Beverly Hills home of the bride's mother, Mrs. Elizabeth K. Peters. 

(Horatio Powell & William Powell | Mrs. Elizabeth K. Peters & Carole Lombard 1931)
The Indianapolis Times reported that Horatio Powell, William's father, was his best man, and Carole's father Frederick Peters of Ft. Wayne, Indiana, gave her away at their wedding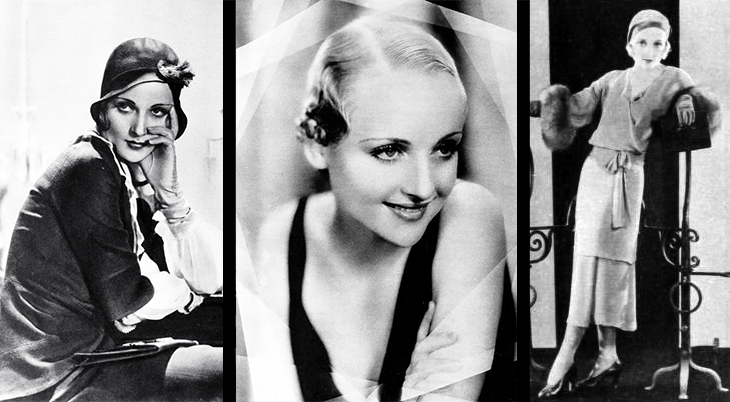 (Carole Lombard 1931)
It was the 22-year-old bride's first marriage, and the second-go-around for the 38-year-old groom William Powell, who after years of separation, had divorced his first wife Eileen Wilson 18 months earlier.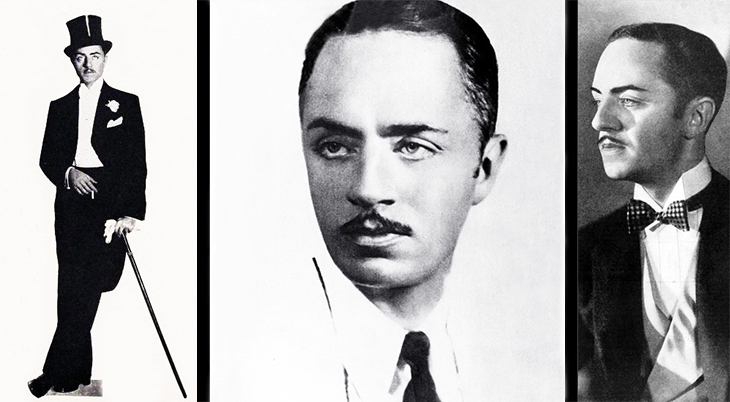 (William Powell 1931)
Their quiet wedding, attended only by relatives, was followed a get-together with friends – The Richard Barthelmess's, Clive Brooks', and Ernest Torrences.
The next day the couple departed on the ocean liner Malolo for a Hawaiian honeymoon. On their return, they moved into a rented house in Beverly Hills.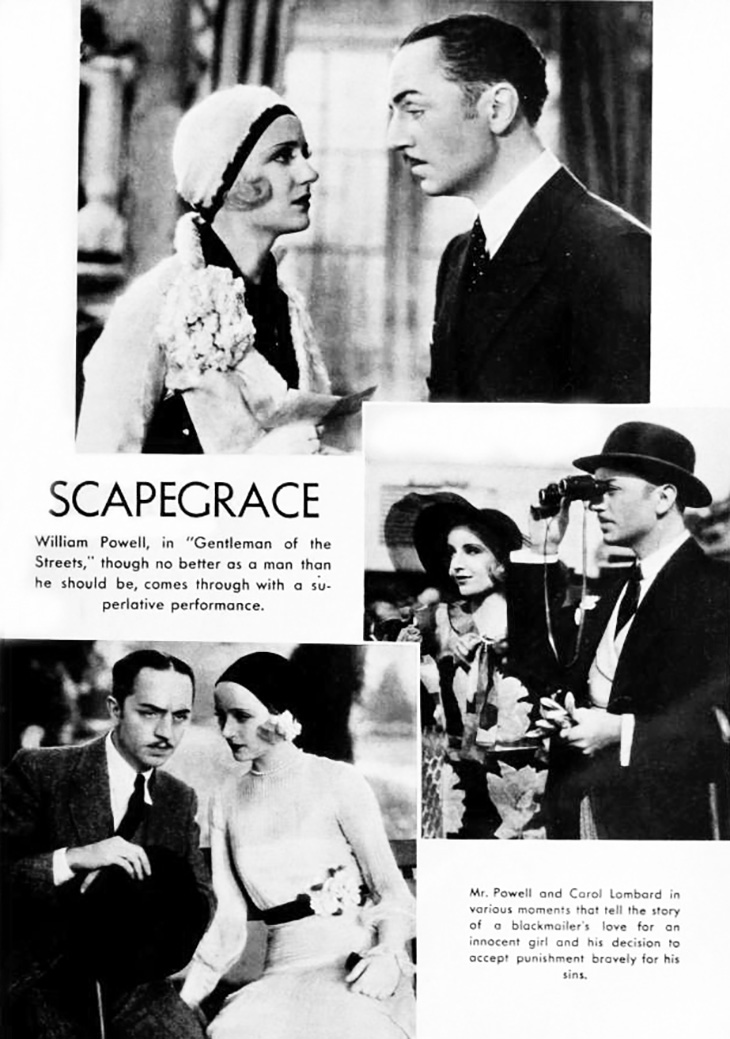 (Carole Lombard & William Powell 1931 Man of the World aka Gentleman of the Streets)
Carole Lombard had met William Powell the previous year when they filmed the movies Man of the World (1931) with Wynne Gibson, Lawrence Gray, and Guy Kibbee; and Ladies' Man (1931), co-starring Kay Francis, Gilbert Emery, and Olive Tell.
(Kay Francis, William Powell & Carole Lombard 1931 Ladies' Man)
By May of 1931, they had been dating for about 8 months. Powell had given Carole a Cadillac for Christmas, and they spoke on the phone three times a day. Lombard told columnist Ruth Biery in Hollywood's Newest Romance (Photoplay, June 1931) that she did not want to get married, adding,
"Bill wants to travel – he wants an interesting, friendly person to travel with. I'm not ready to travel. I have to concentrate on my career. When I can't go – and he wants to go certain places – he can't seem to understand."
For his part, William Powell said,
"She's marvelous! She's the one girl for me. I want to marry her. I'm going to marry her."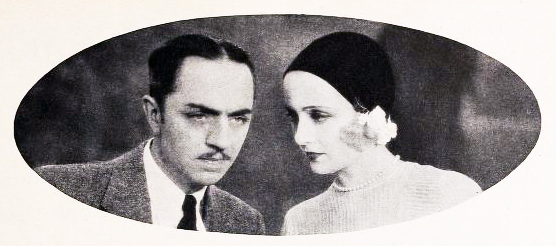 (Carole Lombard & William Powell 1931)
William Powell had been instantly smitten with Carole. The new bride recounted for Motion Picture (December, 1931) that before and during their marriage he wrote her little notes and left them for her to find. 
Competing celebrity weddings that month included Mary Astor's quiet wedding on June 29, 1931 to Dr. Franklyn Thorpe, and Clark Gable's (legal second) marriage to Maria Langham on June 19, 1931. 
William Powell and Carole Lombard were divorced in 1933. She would later marry Clark Gable, in March 1939. Carole Lombard died in a plane crash in January 1942 at the age of 33. After his divorce from Carole Lombard, William Powell had a serious relationship with Jean Harlow. He was grief-stricken when Harlow died in 1937.He married third wife Diana Lewis in 1940, and they were married until his death at the age of 91, in March 1984. 
There Ought To Be A Moonlight Saving Time #1 Hit Song
Big bandleader Guy Lombardo and his Royal Canadians Orchestra had the #1 hit song There Ought To Be a Moonlight Saving Time in May 1931, sung by his brother Carmen Lombardo.
Composed by Irving Kahal and actor-aviator-singer Harry Richman, There Ought To Be a Moonlight Saving Time was recorded by other artists in 1931, including Ruth Etting, Maurice Chevalier, and Annette Hanshaw.
Guy Lombardo (nee Gaetano Alberto Lombardo when he was born on June 19, 1902) had formed His Royal Canadians orchestra in 1924 with his younger brothers Carmen (born July 16, 1903), Lebert (born February 11, 1905), and Victor (born April 10, 1911). The Guy Lombardo Orchestra was known for their live New Year's Eve radio program broadcast and performances of Auld Lang Syne, broadcast from the Roosevelt Hotel (1929-1959) and the Waldorf Astoria Hotel (1960-1976).
Their singer father insisted each son learn to play an instrument – Guy played the violin, Victor and Carmen played saxophone, and Lebert was a mutli-instrumentalist (drums, trumpet and cornet).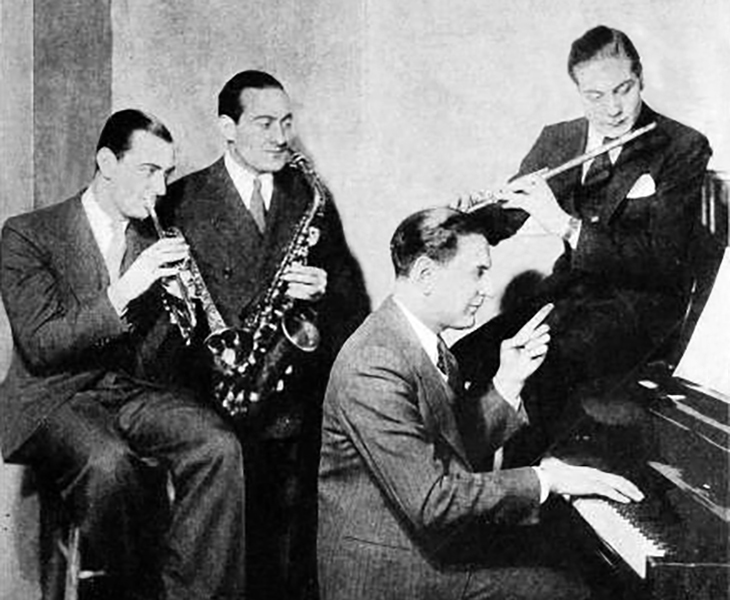 (Lebert, Carmen, Guy, and Victor Lombardo 1931 Photo: What's On The Air)
In addition to being the first featured singer for Guy Lombardo and the Royal Canadians during the 1930s, Carmen Lombardo was a songwriter whose songs were recorded by Bing Crosby and Louis Armstrong. His vocal "tremble" isn't as prominent on There Ought To Be a Moonlight Saving Time, as on some of his other vintage recordings.
Younger sister Rose Marie Lombardo joined the orchestra as a singer from 1941-1948. Guy Lombardo died 1977, Carmen Lombardo in 1971, Lebert in 1993, Victor in 1994, and Rose Marie in 2011.
Bestseller The Glass Key, by Dashiell Hammett
Author Dashiell Hammett's novel The Glass Key was on the Baker and Taylor best-sellers list for June 1931 (Motion Picture Herald Jan 1932)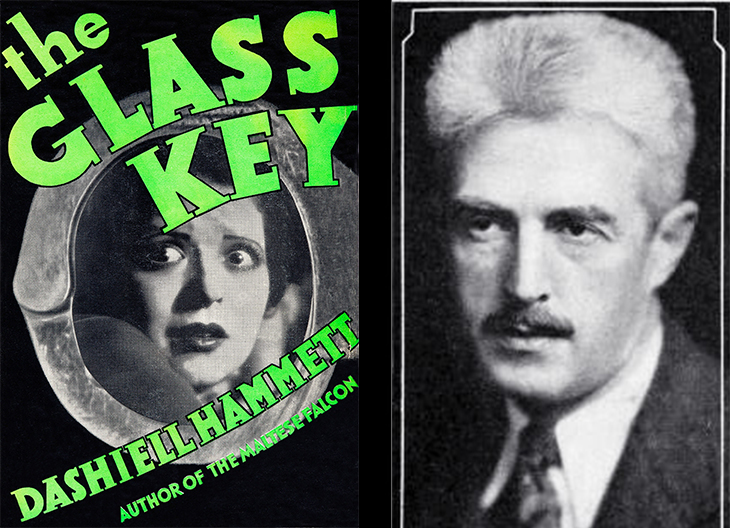 (The Glass Key 1931 First Edition Cover: Knopf | by Dashiell Hammett 1936 Pinchot)
The Glass Key features the character of gambler Ned Beaumont, who finds the body of Taylor Henry, the son of corrupt Senator Ralph Henry, in the street. Ned's best friend Paul Madvig hires Ned to circumvent D.A. Michael Farr's investigation into the crime. Paul Madvig wants to hush up the story because he's in love with Janet Henry (the dead man's sister, daughter of the Senator), and Paul's daughter Opal had been Taylor's girlfriend. 
Suspicion begins to fall on Paul Madvig when a series of letters are sent implicating him. Local crime boss Shad O'Rory gets rid of a witness to Taylor Henry's murder, and offers a bribe to Ned if he'll frame Madvig in the press. When Ned refuses, he's kidnapped and subjected to daily beatings. 
Ned escapes and continues to investigate, uncovering various twists and turns in the case that implicate first one and then another in various crimes. 
The Glass Key in Films, Radio & Television:
The Glass Key storyline inspired director Christy Cabanne's movie Graft (1931), which was originally going to star Gary Cooper.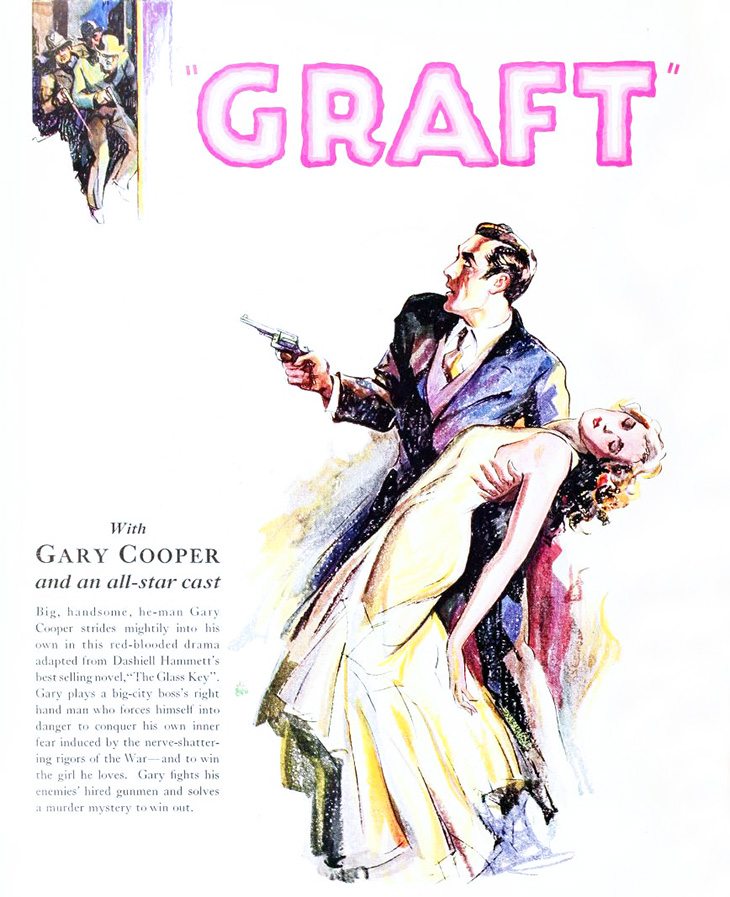 (Graft 1931 Movie Ad: Motion Picture Herald)
The Graft screenplay was written by Barry Barringer, and the 1931 film stars Regis Toomey as a reporter investigating the murder of the District Attorney. Sue Carol, Dorothy Revier, Boris Karloff, and King Baggott also appear in Graft.
Chester Morris was touted to play the lead of "Ed Beaumont" in a film version of The Glass Key in 1932, but when it was finally made into a 1935 movie, George Raft starred as the lead character.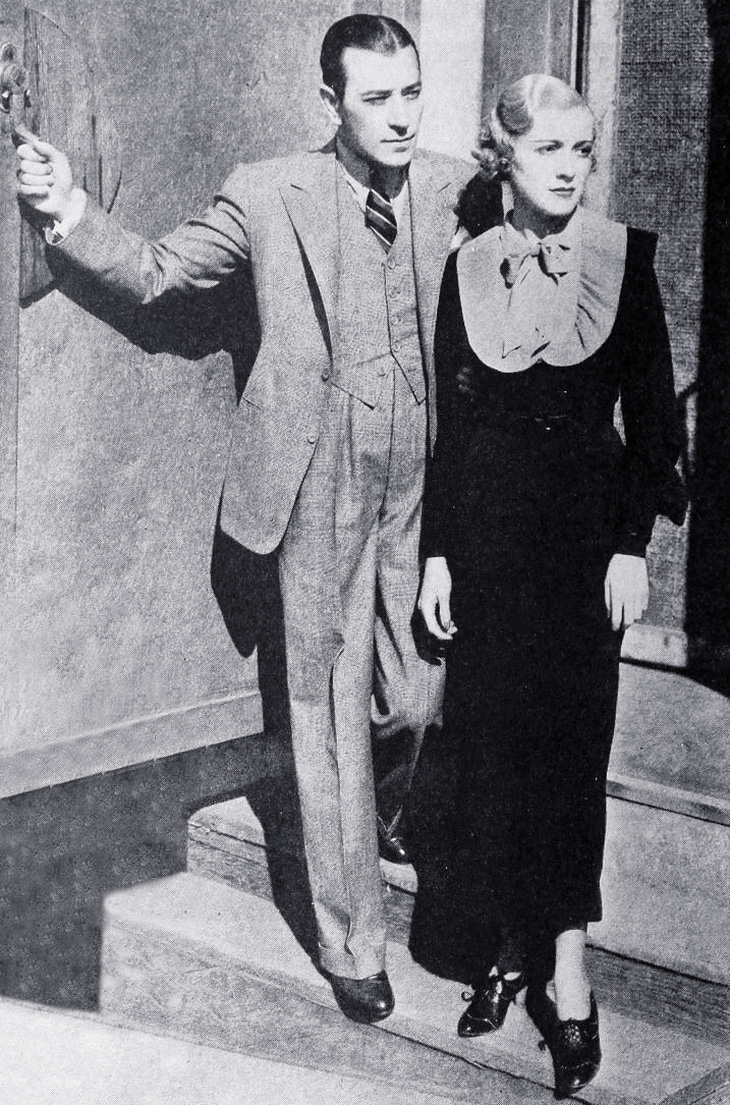 (George Raft & Rosalind Keith 1935 The Glass Key) 
The screenplay adaptation of The Glass Key by Kathryn Scola and Kubec Glasmon (co-writer of The Public Enemy, 1931) was turned into a movie directed by Frank Tuttle. Actors Claire Dodd, Edward Arnold, Rosalind Keith, Charles Richman, Ray Milland, and Guinn 'Big Boy' Williams co-star in the film.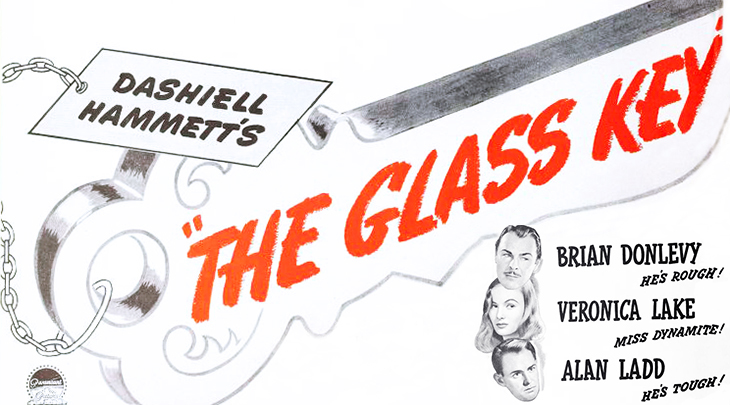 (The Glass Key 1942 Modified Movie Ad)
The star-studded 1942 Paramount remake of The Glass Key has Alan Ladd as Ed Beaumont, with Veronica Lake, Brian Donlevy, Bonita Granville, Richard Denning, Joseph Calleia, William Bendix, Frances Gifford, Moroni Olsen and others in supporting roles.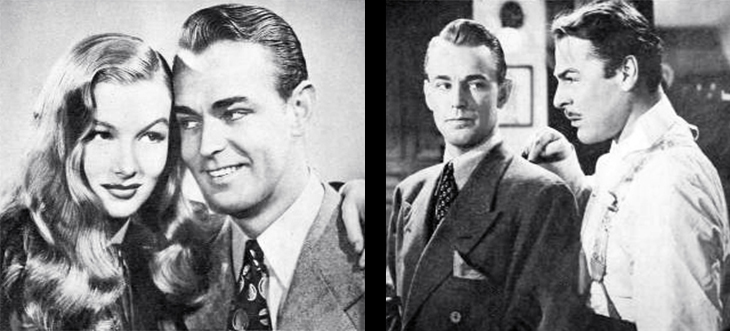 (Alan Ladd, Veronica Lake & Brian Donlevy 1942 The Glass Key)
Orson Welles's radio program The Campbell Playhouse produced a 1939 episode of The Glass Key with Welles as the Madvig character, and Paul Stewart as Ned Beaumont. Among those in the radio cast were Myron McCormick, Ray Collins, and Everett Sloane. Other radio and television adaptations of The Glass Key were presented in the latter half of the 1940s.
Author Dashiell Hammett
Nee Samuel Dashiell Hammett when he was born on May 27, 1894, Hammett was credited with inventing the "hard-boiled detective fiction" genre, and praised for injecting realism into his novels.
From 1915-1922, Hammett had been a Pinkerton detective in San Francisco and Philadelphia, and worked on the Nicky Arnstein case and the defense of Fatty Arbuckle (according to The Sunday Star-News).  It was during this time that he also served in World War I (from 1918-1919) and contracted both the Spanish Flu and tuberculosis. 
He spent much of his WWI service as a patient in the hospital, where he met nurse Josephine Dolan. They were married in July 1921 in San Francisco and had two daughters (Mary Jane and Josephine), before separating in 1926; Hammett's wife had been advised that she and their daughters should live apart from him because of his tuberculosis. This separation eventually foundered the marriage emotionally if not legally; they remained married until divorcing in 1937, the same year he joined the Communist Party. By this time, Hammett had observed heavy-handed strike-breaking activities (unions were considered to be 'Communist' and thus un-American by some) and was becoming increasingly politically active in the arena of civil rights.
Dashiell Hammett had a relationship with writer Nell Martin from 1929-1930, and began a long-term affair with fellow writer Lillian Hellman in 1931 that lasted until his death in 1961 at the age of 66.
This description of the author appeared in Universal Weekly (1936):
"Dashiell Hammett is six feet, three, and weights one hundred and thirty pounds. He has prematurely white hair, a compelling personality…Wounded in the war, and apparently doomed to a life of invalidism, he achieved a recovery through skillful surgery and amazing will power until now he is a crack tennis and pingpong player. While in the hospital, he started writing detective stuff for the pulp magazines, and was an immediate success. Without the intercession of an agent, he sent his first novel, "Red Harvest" [1929], to a publisher, cold, and was amazed to have it accepted immediately."
Hammett embarked on a new career as a published writer in 1922 with his first short story. Throughout the 1920s, he set many of his tales in San Francisco, usually featuring a detective as the main character. He was credited with coining the phrase 'Private Eye'; Will Gould wrote Hollywood columnist Sheila Graham in The Evening Star in (1959), that Dashiell Hammett had once told him that
"'Private Eye' stands for 'Private I' – the 'I' for investigator."
In addition to The Glass Key, Dashiell Hammett's critically acclaimed first novel Red Harvest and his subsequent best-selling books – The Maltese Falcon (1930) and The Thin Man (1934) – were also made into movies and adapted for radio. During the 1930s, Hammett wrote original screenplays for feature films (mostly Thin Man sequels), and short fiction in the 1940s. 
Hammett enlisted in September 1942 during World War II, and contracted emphysema in the Aleutians.
Post WWII, as President of the Civil Rights Congress of New York, Hammett cited three recent cases of police brutality against black men and women in 1946 that were covered up. He hosted a dinner to oust Mississippi's racist Senator Theodore Bilbo, a member of the Ku Klux Klan who defended segregation.
(Dashiell Hammett & Paul Robeson 1946 Oust Bilbo [Greater Omaha Guide] | Charge Police Headlines)
He served a six month contempt of court sentence in 1951, for refusing to provide names to the House Un-American Activities Committee (HUAC) of those who funded the bail bonds posted by the CRC on behalf of 11 Communists. His radio programs were cancelled, and his books blacklisted by Senator Joseph McCarthy.
His U.S. Army service during WWI and WWI, and imprisonment due to the blacklist, effectively ruined Dashiell Hammett's health, career, and finances. He died of lung cancer in 1961.
Other Resources: 
Why I Married Bill Powell, by Carole Lombard (Motion Picture, December 1931)
Dashiell Hammett Ends Sentence for Contempt by the Associated Press – The Evening Star, December 10, 1951
*Images are believed to be in the public domain or Creative Commons licensed & sourced via Wikimedia Commons, Vimeo, YouTube, or Flickr, unless otherwise noted*