June 19th Birthdays
If you were born on June 19th you share a celebrity birthday with these famous people: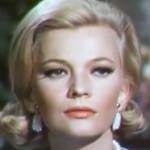 Gena Rowlands is 93 (nee Virginia Cathryn Rowlands)

Emmy Award-winning American actress of TV (Peyton Place; An Early Frost; The Betty Ford Story; 87th Precinct) & films (The Notebook; A Woman Under the Influence; Something to Talk About; Hope Floats; The Skeleton Key) (born June 19, 1930). Married John Cassavetes. (Gena Rowlands 1967 Peyton Place)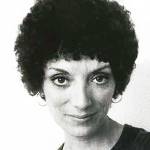 Shirley Muldowney is 83 (nee Shirley Ann Roque; "Cha Cha")
International Motor Sports Hall of Fame septuagenarian "First Lady of Drag Racing", 1st NHRA American female professional racing car driver, winner of 18 NHRA events and NHRA Top Fuel Champion (1977, 1980, 1982), born June 19, 1940. (Shirley Muldowney 1975: AP Wirephoto)
Salman Rushdie is 76 (nee Ahmed Salman Rushdie; ex of Padma Lakshmi)
Booker Prize-winning British Indian short story writer (East, West; The Ground Beneath Her Feet), novelist (Midnight's Children; The Satanic Verses; Shame; Luka and the Fire of Life; Shalimar the Clown), and septuagenarian born June 19, 1947. (Salman Rushdie 2012 Photo: David Shankbone / Parzi)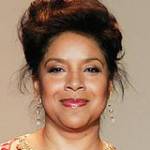 Phylicia Rashad is 75 (nee Phylicia Ayers-Allen; sister of Debbie Allen)
American singer, dancer, & Tony-winning actress of stage, TV (Clair Huxtable on The Cosby Show & A Different World; Ruth Lucas on Cosby; Santa Barbara; Empire; One Life to Live; Psych), and movies (Creed; Frankie & Alice), born June 19, 1948. Ex of Victor Willis. (Phylicia Rashad 2007: The Heart Truth)
Ann Wilson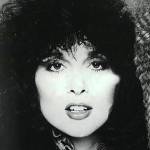 is 73 (sister of Nancy Wilson)
American musician, songwriter, and lead singer for Rock & Roll Hall of Fame band Heart (Barracuda; Magic Man; Alone; Heartless; Crazy on You; Dreamboat Annie; What About Love; Heartless; All I Wanna Do is Make Love To You; Never; These Dreams; Alone), born June 19, 1950. (Ann Wilson 1980 Photo: Epic)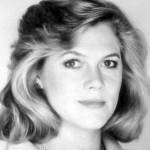 Kathleen Turner is 69 (nee Mary Kathleen Turner)

American actress of TV and movies (Body Heat; Romancing the Stone; Peggy Sue Got Married; The War of the Roses; Prizzi's Honor; V.I. Warshawski; Undercover Blues; The Accidental Tourist; Switching Channels; Moonlight and Valentino), born June 19, 1954. (Kathleen Turner 1987 Julia and Julia Photo)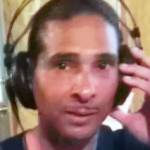 Mark DeBarge is 64 ("Marty")
American musician (flugelhorn; drums), gospel and R&B singer & songwriter solo, and with The DeBarge Family (Stay With Me; All This Love; I Like It; Rhythm of the Night; Who's Holding Donna Now; Time Will Reveal; You Wear It Well), born June 19, 1959. (Mark DeBarge 2013 Photo: Rickcallier)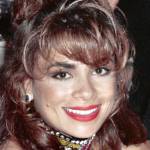 Paula Abdul is 61 (ex of Emilio Estevez)

Grammy Award-winning American dancer, singer (Straight Up; Forever Your Girl; Cold Hearted; Opposites Attract), choreographer, judge & actress of TV (American Idol; So You Think You Can Dance; The X Factor; Entertainment Tonight; Hey Paula), born June 19, 1962. (Paula Abdul 1990 Photo: Alan Light)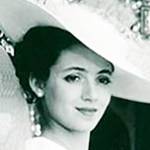 Mia Sara is 56 (nee Mia Sarapochiello; married Brian Henson)
American actress of movies (Legend; Timecop; Ferris Bueller's Day Off; Apprentice to Murder; Shadows in the Storm; A Climate for Killing; A Stranger Among Us; Caroline at Midnight) and TV (Birds of Prey; Queenie), born June 19, 1967. Ex of Jason Connery. (Mia Sara 1989: Capital Cities / ABC Inc.)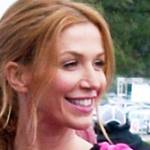 Poppy Montgomery is 51 (nee Poppy Petal E. E. Deveraux Donahue)
Australian-American actress of TV (Agent Samantha Spade on Without a Trace; Det. Carrie Wells on Unforgettable; Relativity; Glory Days; Blonde) and films (Dead Man on Campus; The Other Sister; This Space Between Us; Between), born June 19, 1972. (Poppy Montgomery 2009 Photo: Kristin Dos Santos)
Robin Tunney is 51 (ex of Bob Gosse)
American actress of TV (Teresa Lisbon on The Mentalist; Prison Break; Riders of the Purple Sage; The Fix) and movies (Vertical Limit; My All-American; The Craft; Niagara, Niagara; Empire Records; End of Days; The In-Laws; The Zodiac; Hollywoodland), born June 19, 1972. (Robin Tunney 2016 Photo: Greg2600)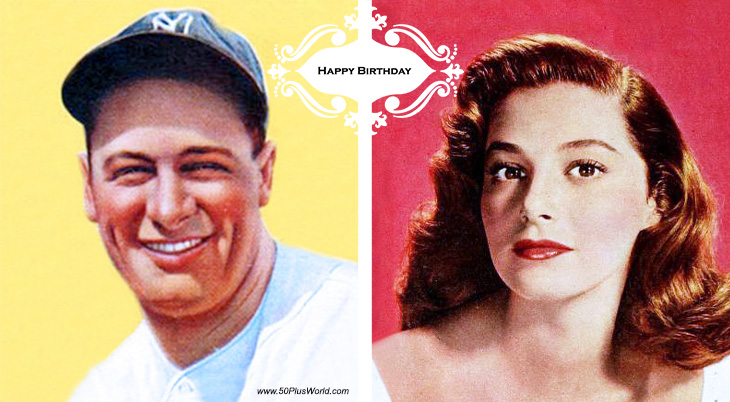 (Lou Gehrig 1934: Goudey | Pier Angeli 1953)
Happy Birthday to everyone celebrating their birthday on June 19th!
Remember These June 19th Famous Birthdays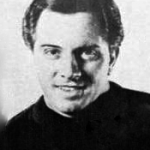 Tommy DeVito

American baritone singer, lead guitarist and founding member of Rock & Roll Hall of Fame vocal group Frankie Valli & The Four Seasons (Big Girl's Don't Cry; Sherry; Walk Like a Man; Working My Way Back to You; Rag Doll) (born June 19, 1928 – died Sept. 21, 2020; age 92). Tommy DeVito had COVID-19 before he died. (Tommy DeVito 1966 Photo: Philips Records)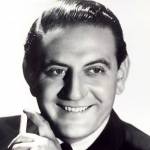 Guy Lombardo (nee Gaetano Alberto Lombardo; "Mr. New Year's Eve")
Canadian-American violinist, Royal Canadians big band orchestra leader (Auld Lang Syne; [There Ought To Be A] Moonlight Savings Time; When You Wish Upon a Star; Enjoy  Yourself), TV host (The Guy Lombardo Show), & U.S. National Champion hydroplane speedboat racer 1946-1949 (born June 19, 1902 – died Nov. 5, 1977; age 75). (Guy Lombardo 1944: Maurice Seymour)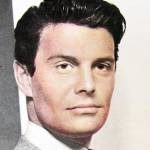 Louis Jourdan (nee Louis Robert Gendre)

French WWII resistance fighter, actor of stage and movies (The Paradine Case; Madame Bovary, Three Coins in the Fountain, Gigi; Can-Can; Made in Paris; Silver Bears; Octopussy; Year of the Comet; Decameron Nights; Julie) and on TV (Paris Precinct) (born June 19, 1921 – died Feb. 14, 2015; age 93). Louis Jourdan's cause of death is unknown. (Louis Jourdan Photo: tiffany terry)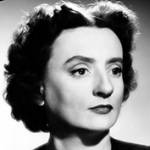 Mildred Natwick (cousin of Grim Natwick)

Emmy & Academy Award-winning actress of stage, TV (The Snoop Sisters) & movies (She Wore a Yellow Ribbon; Cheaper by the Dozen; The Quiet Man; The Trouble With Harry; Tammy and the Bachelor; Barefoot in the Park; The Enchanted Cottage) (born June 19, 1905 – died Oct. 25, 1994; age 89). Mildred Natwick died of cancer. (Mildred Natwick 1953 Photo: BBDO Pic-News)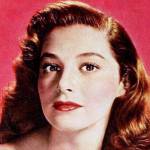 Pier Angeli (nee Anna Maria Pierangeli; sister of Marisa Pavan)
Italian film actress (Teresa; The Story of Three Loves; The Silver Chalice; Flame and the Flesh; Somebody Up There Likes Me; The Angry Silence; Sodom and Gomorrah; The Light Touch; The Devil Makes Three; Sombrero; Merry Andrew; The Vintage), Marisa Pavan sister (born June 19, 1932 – died Sept. 10, 1971; age 39). Ex of Vic Damone. Pier Angeli died of an overdose. {Pier Angeli 1953)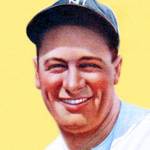 Lou Gehrig (nee Heinrich Ludwig Gehrig; "The Iron Horse")
Baseball Hall of Fame American probaseball player, New York Yankees 7-time MLB All-Star first baseman (1923-1939) & 6X World Series champ (1927, 1928, 1932, 1936-1938), 1934 Triple Crown & AL batting champion, AL MVP (1927 & 1936) (born June 19, 1903 – died June 2, 1941; age 37). Lou Gehrig died of ALS (Lou Gehrig's Disease). (Lou Gehrig 1934: Goudey)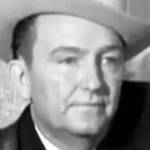 Lester Flatt
Country Music Hall of Fame American bluegrass musician, rhythm guitarist Earl Scruggs, as Flatt and Scruggs / The Foggy Mountain Boys (The Ballad of Jed Clampett; Foggy Mountain Breakdown), and TV host (Flatt and Scruggs Grand Ole Opry) (born June 19, 1914 – died May 11, 1979; age 64). Lester Flatt died of heart failure. (Lester Flatt 1963 The Beverly Hillbillies)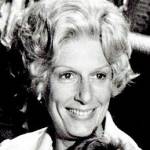 Nancy Marchand
American actress of stage, TV (Mrs. Pynchon on Lou Grant; Vinnie Phillips on Love of Life; Another World; For Richer, for Poorer; Beacon Hill; The Sopranos) & movies (The Hospital; The Bostonians; Sabrina; Dear God) (born June 19, 1928 – died June 18, 2000; age 71). Nancy Marchand died of emphysema and lung cancer. (Nancy Marchand 1977 Lou Grant Photo: CBS)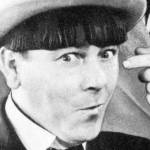 Moe Howard (nee Moses Harry Horwitz; brother of Curly & Shemp Howard)
American comedian, actor of TV (The New 3 Stooges) & movies (Soup to Nuts; Meet the Baron; The Three Stooges in Orbit; The Three Stooges Meet Hercules; Snow White and the Three Stooges; 4 for Texas; Don't Worry, We'll Think of a Title) (born June 19, 1897 – died May 4, 1975; age 77). Moe Howard died of lung cancer. (Moe Howard 1937 Photo: Columbia Pictures / Pillsbury)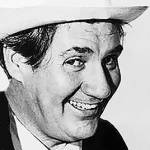 Pat Buttram (nee Maxwell Emmett Buttram; married Sheila Ryan)
American voice and character actor of TV (Mr. Haney on Green Acres & Petticoat Junction; The Gene Autry Show; The Real McCoys) & movies (Back to the Future Part III; The Gatling Gun; The Rescuers; Valley of Fire; Mule Train; Wagon Team; The Fox and the Hound) (born June 19, 1915 – died Jan. 8, 1994; age 78). Cause of death for Pat Buttram was renal failure. (Pat Buttram 1970)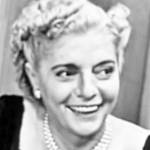 Laura Z. Hobson (nee Laura Kean Zametkin; aka Laura Zametkin Hobson)
American reporter (New York Post), writer (Laura Z: A Life, Years of Fulfillment), novelist (Gentleman's Agreement; The Other Father; The Tenth Month; Consenting Adult; Untold Millions) and International News Service columnist (Assignment America) (born June 19, 1900 – died Feb. 28, 1986; age 85). Laura Hobson died of cancer. (Laura Z. Hobson 1952 I've Got a Secret)
Charles Coburn (married Ivah Wills)
Academy Award-winning American character actor of stage and movies (The More the Merrier; The Captain is a Lady; Bachelor Mother; Florian; The Lady Eve; Three Faces West; The Devil and Miss Jones; Gentlemen Prefer Blondes; John Paul Jones; Lured; A Stranger in My Arms) (born June 19, 1877 – died Aug. 30, 1961; age 84). Charles Coburn died of a heart attack. (Charles Coburn 1949 Impact)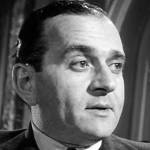 Martin Gabel (married Arlene Francis)
American host & actor of TV (What's My Line?) and movies (Deadline – U.S.A.; Lady in Cement; The Thief; M; Fourteen Hours; Tip on a Dead Jockey; Goodbye Charlie; Marnie; The First Deadly Sin; There Was a Crooked Man; The Front Page) (born June 19, 1912 – died May 22, 1986; age 73). Martin Gabel died of a heart attack. (Martin Gabel 1952 Deadline – U.S.A.)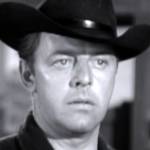 Harry Lauter (nee Herman Arthur Lauter)
American actor of TV (Ranger Clay Morgan on Tales of the Texas Rangers; Days of Our Lives; Death Valley Days) and movies (The Kid From Amarillo; The Cry Baby Killer; Convict Stage; The Steel Fist; Apache Country; Sea Tiger; Yukon Gold; The Crooked Web) (born June 19, 1914 – died Oct. 30, 1990; age 76). Harry Lauter died of a heart attack. (Harry Lauter 1958 Zane Grey Theater)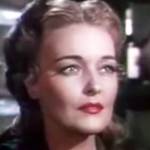 Karin Booth (nee June Francis Hoffman)
American movie actress (The World Was His Jury; The Crooked Sky; Top Gun; Seminole Uprising; Last of the Buccaneers; Badman's Country; Charge of the Lancers; Beloved Infidel; Cripple Creek; The Unfinished Dance; Juke Box Rhythm; Jungle Man-Eaters) (born June 19, 1916 – died July 27, 2003; age 87). Cause of death for Karin Booth is unknown. (Karin Booth 1950 The Cariboo Trail)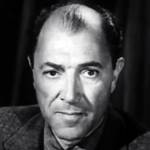 Lester Cole
Blacklisted American movie screenwriter (Born Free; Operation Eichmann; Blood on the Sun; Objective, Burma; Footsteps in the Dark; The House of the Seven Gables; None Shall Escape; Pacific Blackout; Among the Living; The Invisible Man Returns) (born June 19, 1904 – died Aug. 15, 1985; age 81). Lester Cole died of a heart attack. (Lester Cole 1950 The Hollywood Ten)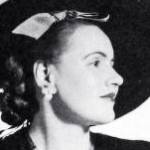 Virginia Payne
Radio Hall of Fame American voice over actress (star of Ma Perkins 1933-1960; Lonely Women; Light of the World 1940-1950, Brighter Day; Today's Children; The Carters of Elm Street), and stage actress (Fade Out – Fade In; Oliver; And Miss Reardon Drinks a Little) (born June 19, 1908 – died Feb. 9, 1977; age 68). Virginia Payne died of cancer. (Virginia Payne 1941 AFRA Antics)
*Images are public domain or Creative Commons licensed & sourced via Wikimedia Commons, Vimeo, or Flickr, unless otherwise noted*