Lassen Peak Volcano Photographer B. F. Loomis
Images of  the volcanic eruptions of Lassen Peak in the Cascade Mountains of California in 1914-1915, were captured in Collier's Magazine and newspapers around the country.
"On May 30, 1914, Lassen Peak awoke from a 27,000-year-long-slumber when it was shaken by a steam explosion. That first explosion created a small crater at the summit of Lassen Peak, and each of more than 180 subsequent steam explosions enlarged it." – 2015 marks the 100th anniversary of the May 22, 1915 explosive volcanic eruption of Lassen Peak in Northern California, by Communications and Publishing, May 21, 2015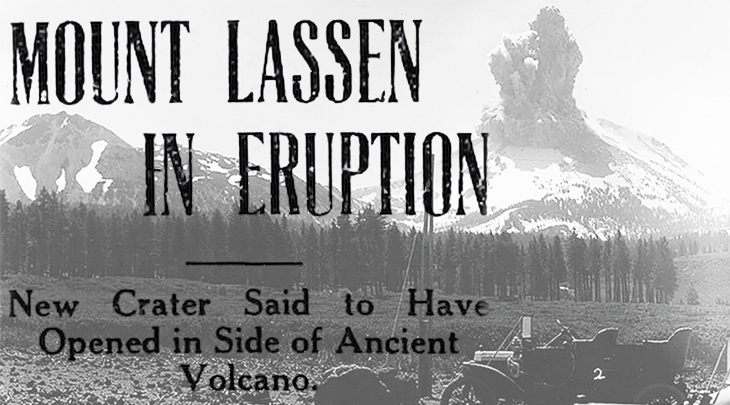 (Lassen Peak Eruption 1914: B. F. Loomis / 1915 Headline Overlay)
Newspaper reports immediately after the first explosion, noted the after-effects:
"A new crater has opened in the side of the mountain, with lateral fissures running in all directions. Ashes cover the ground to a distance of three miles, and large boulders have been ejected from the crater. A cloud of smoke and steam hangs over the mountain. Work of the eruption was conveyed to this city today in an official report from forest rangers. No great damage is probable, as the country in the vicinity of the ancient volcano is sparsely settled. Mount Lassen is 10,437 feet high and of volcanic origin. There is evidence that it was in eruption at a comparative recent period, although antedating the entry of the white man into California." – The Ogden Standard, June 1, 1914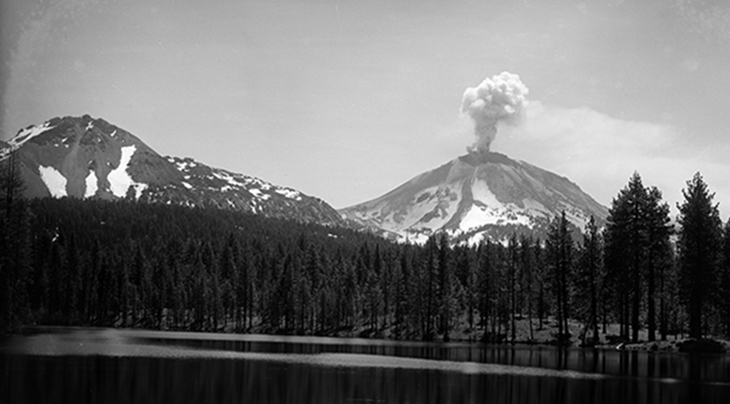 (Chaos Crags & Lassen Peak Eruption from Manzanita Lake 1914: B. F. Loomis)
Photographer Benjamin F. Loomis and his family lived in Shasta County close to the volcano, and he took the above images (sans headline). These and many other photos by him of the volcano, made news around the world. 
Peter Lassen
Danish blacksmith Peter Lassen emigrated to the United States in 1830, at the age of 29. He arrived at Sutter's Fort, California in mid-1840. By 1844 he had established himself in northern California thanks to a 22,000 acre Mexican land grant (Rancho Bosquejo) in Tehama County.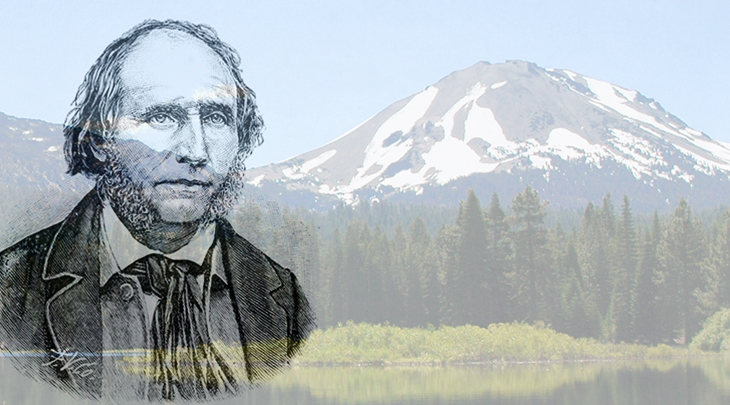 (Peter Lassen 1882 Sketch | Lassen Peak 2011: DimiTalen)
There was unrest and violent conflicts between white settlers and Native Americans in the years leading up to 1959.
"It seems that two men lived in a cabin, some three miles from the mill, who were engaged in making shingles in the Pinery. One of the men went out a little distance from the cabin to a deer-lick to hunt. The remaining one heard the report of a gun…saw a body of 75 Indians running towards his cabin. He fled to procure assistance, and when he returned found his partner horribly mutilated."
Red Bluffs citizens quickly formed a posse and set out for revenge.
"They had encountered about two hundred Indians about four miles above Lassen's cabin, on the immigrant trail, in Mill Creek Canon, where they had a rancheria. The scouting party, fifteen in number made an attack upon them …the Indians stood their ground, and were armed with rifles." – Indian Outbreak in the North, The Nevada Democrat, June 24, 1857
The posse reported some injuries to their number, and claimed "at least fifty Indians were killed and wounded."
Edward Clapper, Peter Lassen and Americus Wyatt went prospecting for silver in 1859 in the Black Rock Mountains. According to survivor Wyatt, both Clapper and Lassen were murdered – shot by an unseen sniper, presumed to have been an Indian.
Lassen's grave is in Susanville in Lassen County, about 70 miles east of Lassen Peak. In addition to Lassen County, Lassen Peak, and Lassen Volcanic National Park, a number of landmarks and institutions in Northern California bear his name.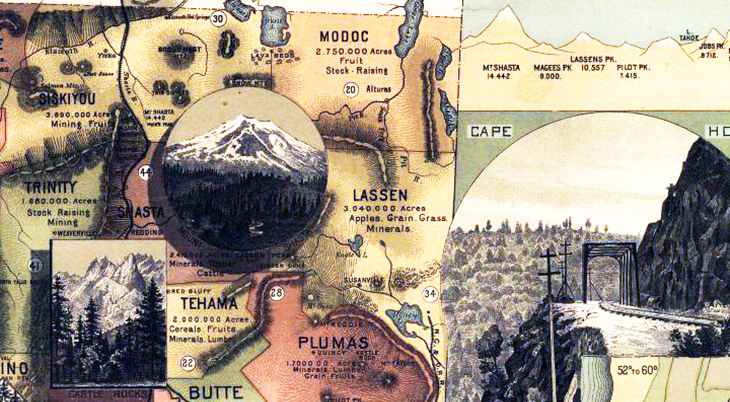 (Unique Map of California 1888 – Shasta & Tehama County: Southern Pacific Railroad Company)
Lassen Peak Volcanic Activity Before 1914
Although some 1914 and 1915 news reports speculated that it had been up to 1,000 years since the last Lassen Peak volcanic explosion, it had been active much more recently than that. However, due to the sparse population, dense forestation, rugged terrain, and unfriendly exchanges with Native Americans of the area, local volcanic activity often went unnoticed by early northern California settlers.
Numerous warnings of renewed volcanic activity in the area around Lassen Peak decades before and after the May 1914 eruption did make news. Nearby Cinder Cone, today a part of Lassen Volcanic National Park, had erupted as recently as 1850, 9 years before prospector Peter Lassen met his demise.
"Indications That Promise a Volcanic Outburst – Lassen's Peak…From its summit forty extinct craters can be counted and twice as many can be found to the north, south and east along the range. Prominent among these is Cinder Cone, about two miles southeast of Lassen's peak…[Cinder Cone] was last in eruption in the Winter of 1850, when it darted flames to an immense height. These flames were visible for several nights in succession from Red Bluff, from Rich Bar, on the north fork of the Feather river, forty miles distant, and also from Angels Camp, 160 miles to the southward….Another eruption, similar to that of 1850, seems imminent in this region. In the last year or two the subterranean disturbances have been steadily increasing magnitude. Now the constant earthquakes have so churned up the springs as to give the water flowing from them the appearance of milk….If there is not seen a grand blow-up somewhere about Lassen's peak ere long, then it is useless to study volcanic indications." – Lassen's Peak, Nevada State Journal, June 28, 1889
In April of 1904, a few days prior to an earthquake that shook the communities of Viola and Fern in Shasta County, the water in a 40′ deep well began bubbling.
"The strange antics of the water in the well at the home of J. B. Rodgers gave rise to the phenomena… Wednesday afternoon Mr. Fitch, a brother-in-law of Mr. Rogers, was sitting on the back porch of the Rogers home reading, when he heard a gurgling sound. He went to the well and removed the cover, when he found the water surging in the well like it does in a boiling kettle. Mrs. Rogers was called to witness the strange scene and remarked that the water appeared like that of a boiling spring. A bucketful of the water was drawn up and it was found to be perfectly clear and as cold as usual…" – Water in Well Boiled As If In a Caldron, Record Searchlight, April 19, 1904
The well water continued to swell and recede, with bubbling and gurgling noises heard coming from it for the next two days. After the earthquake on Saturday, the well noises stopped and the water returned to it's normal calm and cold.
"The Free Press has received word that the earthquake was very severe at Viola and Fern in Eastern Shasta. At Viola the clock in the home of B.F. Loomis was stopped and W.Y. Keeran, who lives east of Deer Flat, was almost thrown from his bed. The shock extended further east than Plateau, and many people in that Country naturally thought Mt. Lassen's head was being blown off." – Water in Well Boiled As If In a Caldron, Record Searchlight, April 19, 1904
Volcano Photographer Benjamin F. Loomis & Family
Benjamin Franklin Lassen was born March 21, 1857 in Illinois.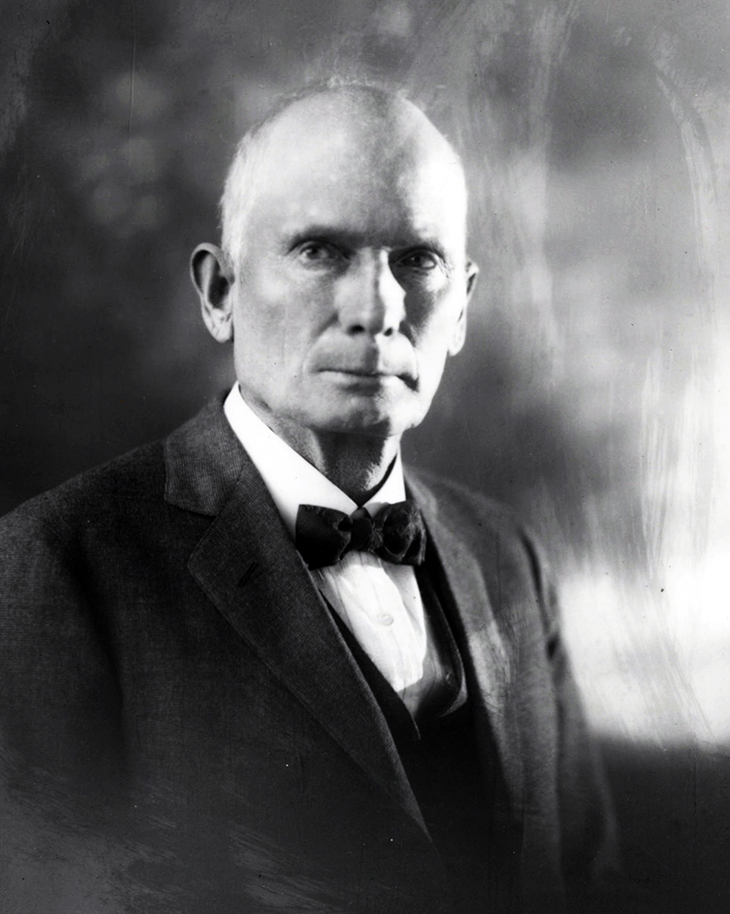 (Benjamin Franklin Loomis c. 1915: Meriam Library / Lassen Volcanic National Park)
As a child B.F. Loomis moved with family (including brother Orin, parents Emily and Addison J. Loomis) to California, where his sister Lucy Ella was born c. 1862. Father and sons were working as farm laborers per the 1870 Census.
Benjamin Loomis built a cabin on the creek above Manzanita Lake (at the foot of Lassen Peak) in 1874, according to his National Park Service biography. He began working as a shakemaker, filed a homestead claim in 1888 in Viola, and eventually opened a store there.
"B.F. Loomis will take his team to the valley to-morrow and then will come back for the winter. He says he has enough goods in his new store to open up quite a respectable shebang in the spring." – Deer Flat Notes, Redding, California Free Press, December 20, 1895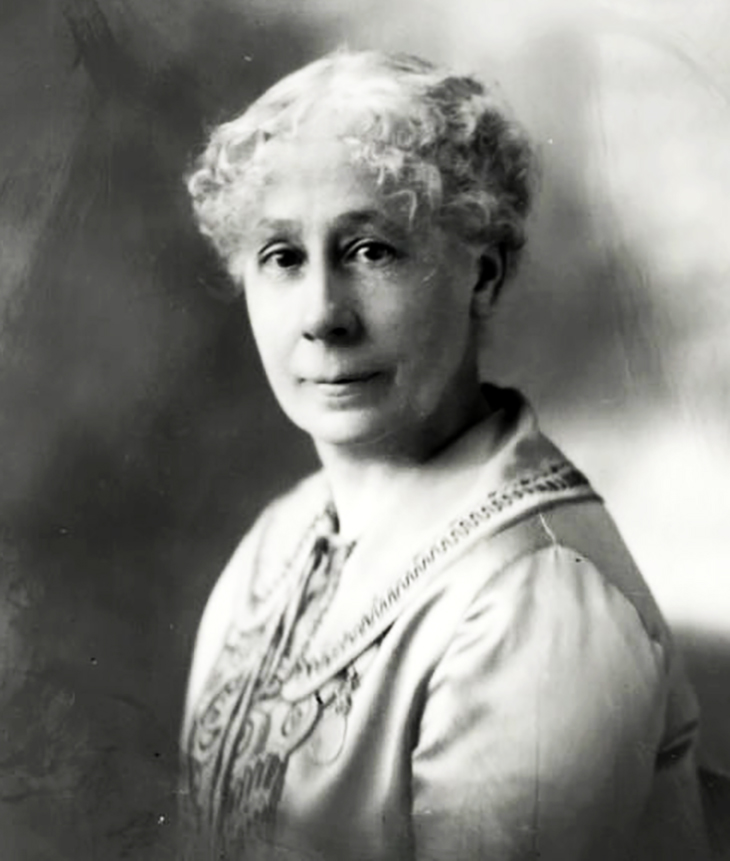 (Estella Loomis c. 1915: B. F. Loomis / Meriam Library / Lassen Volcanic National Park)
While serving on a Redding, California jury trial in 1897, Benjamin met fellow juror L.V. Loomis (Leander Vaness).
Although unrelated, the two men shared common interests of phrenology and astrology. B.F. spent time at L.V.'s home in Manton, where he met L.V.'s daughter Estella.
Benjamin was 39 when he married 27-year-old Estella M. Loomis (born in Iowa to H.V. Loomis) September 1, 1897.
Their wedding party made the local news.
"B.F. Loomis, the most popular merchant of the mountains, surprised his many friends a few weeks ago by bringing home a young and attractive bride. There was a grand ball given in honor of the affair, and many friends of the groom were present. The bride is a stranger in these parts." – The Red Bluff News, October 15, 1897
Estella's parents Louise Morton Loomis and L. V. Loomis had moved from New York to California in 1849; according to his obituary, Estella's father L.V. was a miner '49er. 
"He and his brother Judd, the well known A.J. Loomis of Red Bluff, dealt extensively in cattle in early days, this dealing extending from California to Nevada, Oregon and Utah. In early days he was well-to-do. He dealt largely in mines…The pioneer leaves a widow and four children. His elder son, C.P. Loomis, is superintendent of the Rainbow mine at Rye Valley, Or. His second son, A.W. Loomis, is a farmer near Manton. The oldest daughter, Estella M., married one of the same name, B. F. Loomis, who is operating a sawmill at Viola, while the younger daughter married Fred Wheelock of Ono." –  L. V. Loomis, Forty-Niner, Died Last Sunday Near Manton, Semi-Weekly Searchlight, November 12, 1909
Benjamin bought his first camera in 1898 from Estella's brother Arthur Loomis, and quickly became known for his photography skills.
By the time of the first Lassen Peak eruption in May 1914, Benjamin Loomis was a father – daughter Louisa Mae Loomis was born June 16, 1899 – and a substantial local property owner. In addition to the store, he owned a hotel and the Viola Saw Mill. Loomis had bought 320 acres of land east of Shingletown for $150 in mid-1905, according to the Redding, California Semi-Weekly Weekly Searchlight. He granted the owner of Shingletown's M. B. Vilas Sawmill the right of way through his land.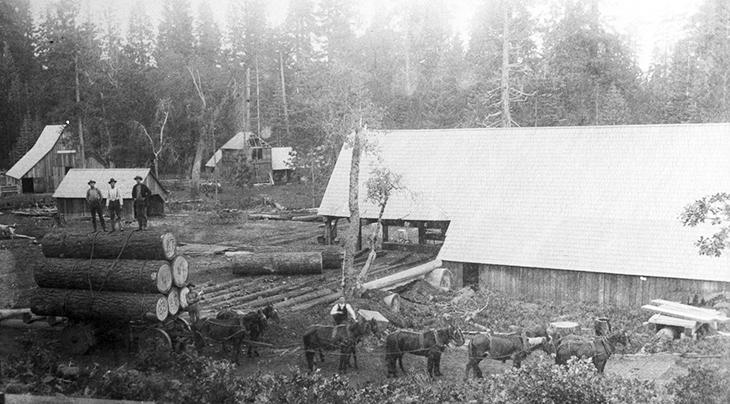 (M.B. Vilas Sawmill c. 1903: Benjamin Franklin Loomis / Meriam Library)
The M.B. Vilas sawmill was sold in March 1906, and new owner Thomas B. Walker acquired the sawmill but did not reopen it. This left the way open for B. F. Loomis to expand his business interests.
"B.F. Loomis is preparing to build a saw mill on his timber land in the Shingletown country. He has quite a tract of good timber and with the present price for lumber he will find a ready and profitable market for his output." – A New Sawmill at Shingletown, Record Searchlight, November 30, 1906. 
The B.F. Loomis sawmill opened in 1907 near where the former M.B. Vilas sawmill had been. 
Development of Lassen Volcanic National Park
Benjamin F. Loomis was perfectly situated (and motivated) to accompany geologists and others on frequent excursions to Lassen Peak in the years before and after the eruptions. He and others campaigned for decades to have the area declared a national park.
His dreams began to come to fruition when President Theodore "Teddy" Roosevelt established Lassen Peak and the Cinder Cone in the Lassen Peak national forest, as national monuments in 1907. Finally, in 1916 it was made into a national park.
"President Wilson has just signed the act of congress creating the Lassen Volcanic National Park in California. The new Park contains 82,880 acres." – Lassen Park Bill Signed, Scott County Kicker, August 19, 1916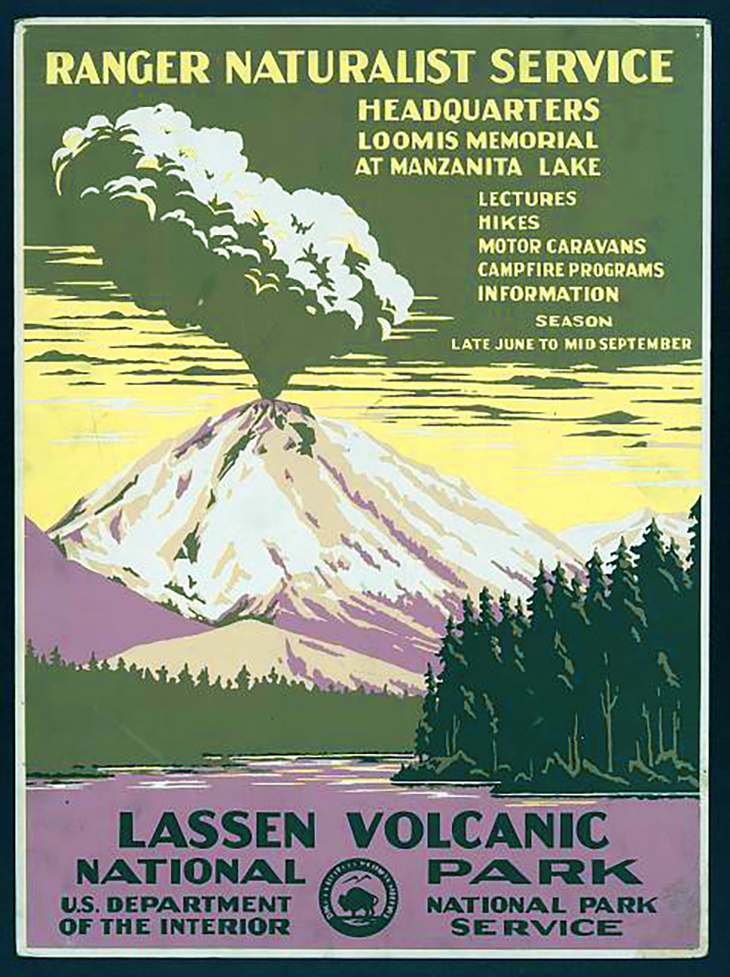 (Lassen Volcano National Park Poster: Chester Don Powell / National Park Service) 
The Loomis family moved 40-some miles west to Anderson, California in time for Louisa to attend high school there in 1916. Tragedy struck in 1920 when Louisa was 20, and fell ill on Christmas day, 1919.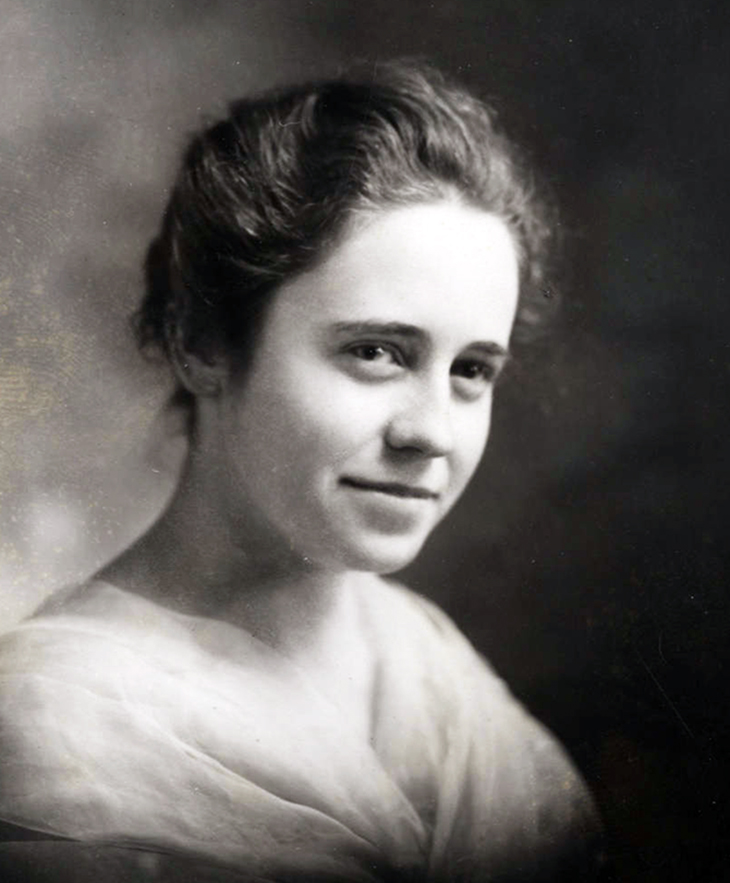 (Louise Mae Loomis c. 1914-1919: Most Likely B. F. Loomis / Meriam Library / Lassen Volcanic National Park)
"In Memory – In the passing of Louisa Mae Loomis at Anderson, late Tuesday evening, January 13, 1920, the community has lost one of its brightest prospects, her parents and her fiancee, their fondest hope. She was the only child of Mr. and Mrs. B. F. Loomis, being born at Viola, June 16, 1889. There, in the shadow of the historic old volcano, Lassen Peak, her entire life was spent, save the last four winters, which were spent in Anderson; at the time of her death being in her senior year of the Anderson Union High School….her future husband, Walter B. Aldridge of Inwood, a girlhood chum and a soldier who had seen service overseas." – Semi-Weekly Searchlight, Redding, California, January 30, 1920
B. F. Loomis published his historic images in Pictorial History of the Lassen Volcano (1926), and later that year he and Estella purchased 40 acres near Manzanita Lake. The Louisa Mae Loomis Memorial Museum was built on the property in 1927.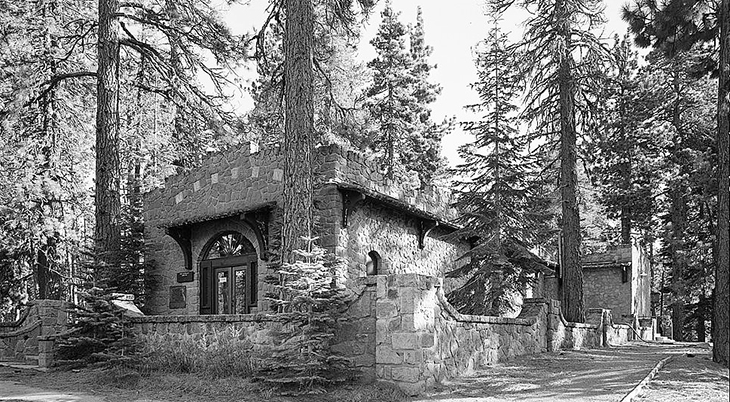 (Louise Mae Loomis Memorial Museum sometime after 1933: Fred English / Lassen Volcanic National Park / LoC )
Estella & B. F. Loomis donated their property and museum to the Lassen Volcanic National Park in 1929, and built a home / art store across from the museum. They spent their summers living at the foot of the mountain and running the store, and winters were spent at their home in Anderson.
Benjamin F. Loomis died of cancer on June 11, 1935 at the age of 78. Memorials at his death called him "The Father of Lassen National Park".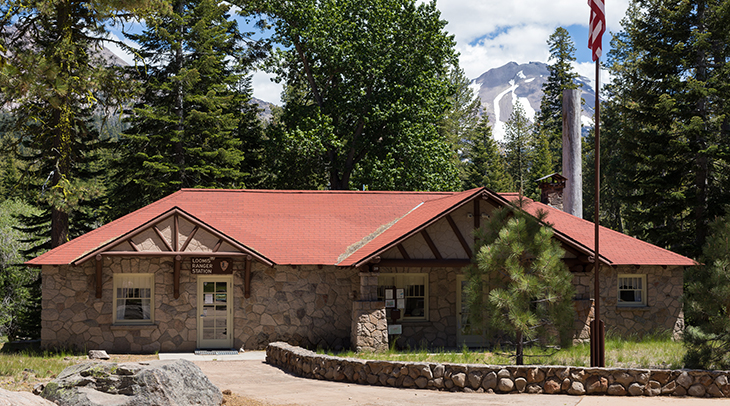 (B. F. Loomis Residence / Art Store, now Loomis Ranger Station 2020: Frank Schulenburg)
When B. F.'s widow Estella Loomis died in 1953, she donated the Loomis Residence and Art Store to the Lassen Volcanic National Park. Today the building serves as the Loomis Ranger Station. One of the mountains west of Lassen Peak is called Loomis Peak.
Lassen Peak's are the most recent volcanic eruptions to have occurred in California. Steam vents were observed as recently as the 1950s, and Lassen Peak is still considered an active volcano as of 2023. With a "Very High" threat level from the California Volcano Observatory, future volcanic eruptions are predicted as an almost certainty. Geothermal activity can be seen throughout the surrounding park, which is a tourist attraction for the adventurous at heart.
*Images are believed to be in the public domain, and/or Creative Commons licensed & sourced via Wikimedia Commons, unless otherwise noted*