Silent Film Stars: Birds of a Feather
They say birds of a feather flock together, and that is essentially the story of Old Hollywood – Mecca for those in the fledgling film industry during the era of silent movies (and still today).
In the very early days of the film industry – before movie production shifted from New York to Hollywood – "King of the Movies" Francis X. Bushman had acquired an aviary at his Bushmanor estate in Maryland. By 1915 it was filled with linnets, finches, Japanese robins, thrushes, and nightingales. When Bushman separated from his first wife Josephine in 1916 and moved into a 10-room Riverside Drive apartment in New York, in addition to Great Dane dogs he had 1500 exotic birds flying loose, and 500 caged finches, living there with him. 
Bird feathers – particularly from ostriches, peacocks, egrets, and other birds with fabulous plumage, were a fashion statement, and a popular accent for hats, fans, and other accessories from the 1700s. The Migratory Bird Treaty Act of 1918 was passed to prevent some of these bird species prized for their plumage, from being driven to extinction. Smaller birds were prized for their sweet songs and were more popular as house pets.  
The Hollywood Canary Craze
Canaries as household pets began over 1000 years ago. 
"Canaries have been men's – and especially women's – pets for several hundred years. They were household pets as early as 100. Our American supply comes mainly from Germany and England, although, during the war, we imported a few from China. From 1905 to 1915, three and one-quarter million canaries were imported into the United States." – Radioed from USDA, Auburn Journal, December 22, 1927 
From the 1910s through the 1920s, birds and canaries in particular, were favorites with feather fanciers in general around the world, and in the fledgling film industry in Hollywood in particular. Director Cecil B. De Mille and actress May Robson all had pet canaries, among others.
Mary Pickford
America's Sweetheart Mary Pickford had quite a bevy of pets, including the usual cats and dogs, and she was often photographed with her furry friends. 

(Mary Pickford & Canary Billie 1916: Pompeian Night Cream Ad)
Slightly more camera-shy was Pickford's pet canary, Billie. This picture of Billie lighting on Mary's outstretched hand took seventy-plus takes over a period of a couple of weeks, before the perfect snap was taken for an art calendar / ad.
"How Billie, Her Pet Canary, Fooled its Mistress – Thousands of moving picture fans have written to little Mary, asking her, 'You have spoken often of your pets…which do you like the best?' 'Wee Billie' came her prompt reply….
The other afternoon, planning to spend several hours at the photographer's, Miss Pickford rushed away from her dressing-room without her customary good-bye to Billie, who hops about on her dressing-table, almost as important as her powder puff. It was hurry into her hat and coat, peek around the room to make sure that all the costumers were packed into the suitcases, then whisk into the elevator.
Reaching the street, she heard a long, familiar 'Pee-eep'.
In surprise she cried, 'Why, Billie, where are you?'
'Peep, peep' came the answer just above her head, and as her fingers sidled over the roses in her hat, they closed over the soft little feathers of Billie." – Mary Pickford's Favorite Picture, by W.W. Wheeler, The Times, June 27, 1916
Aimee Semple McPherson
Although not generally considered a "Hollywood" movie star, evangelist Aimee Semple McPherson could be considered one of the best actresses of the 1920s.
When she first moved to Los Angeles c. 1922, she owned a car and camping gear.
Four years later Aimee and her mother were wealthy landowners with many properties in the area, thanks to the gullible who flocked to her revival meetings and forked over their hard-earned cash.
"L.A. McPherson-Kennedy Holdings Worth 628.390 – Coming to Los Angeles with her mother [Mrs. Minnie Kennedy], her daughter, Roberta Semple, and her son, Rolph, Mrs. McPherson dreamed of a bungalow, her daughter of a pet canary, and her son of rose bushes. Mrs. Kennedy did not dream; she had lived long. Bungalow, roses and canary came with the first revival meeting. That was the beginning." – Los Angeles Evening Express, September 22, 1926
Betty Compson
Compson was a big bird fan, particularly of canaries, which she also bred.
"Betty Compson's two canaries, Joselyn and Paulette, are the mothers of eight new birdlets, born last week." – Plays, Pictures and Players, Los Angeles Evening Express, April 14, 1922
"Camera! Camera! – Betty Compson has 75 pet birds. Most of them are canaries." – by James W. Dean, St. Joseph Gazette, November 1, 1921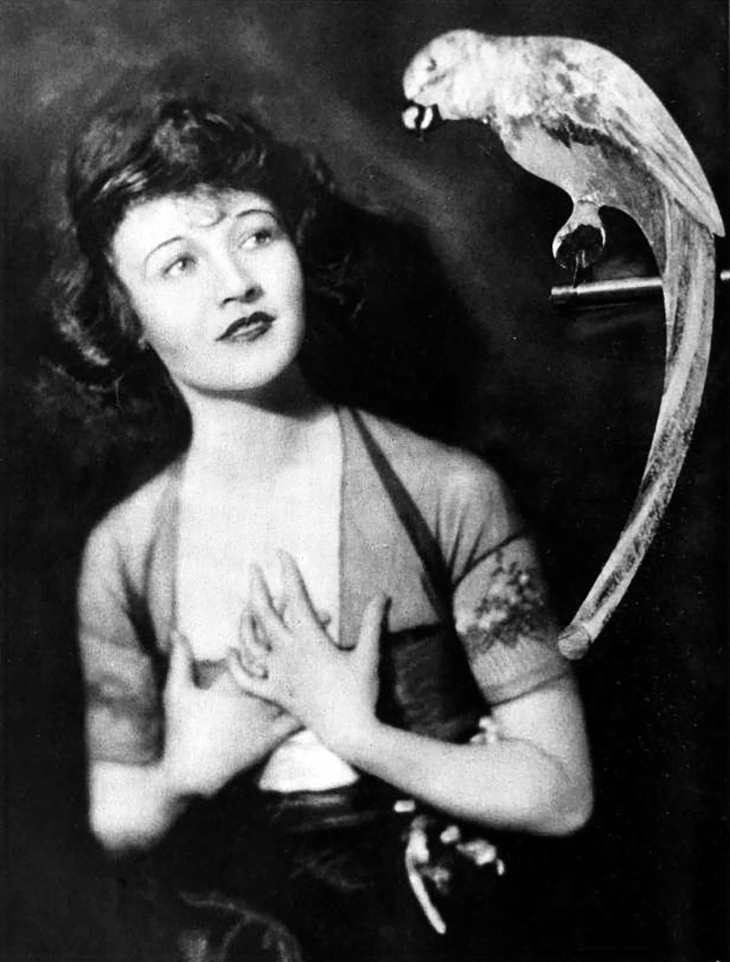 (Betty Compson & Parrot 1924: Alfred Cheney Johnston)
One of Betty Compson's own canaries may have been used in The Rustle of Silk (1923), starring Compson, Conway Tearle, Anna Q. Nilsson, and Anne Shirley (in an early movie role, age 6-ish). A giant aviary was built around a set in order to film scenes with it.
"In one of the scenes of the new Paramount picture produced by Herbert Brenon, 'The Rustle of Silk,' Betty Compson releases a canary bird. It looks simple, but in order to do it successfully an entire set at the West Coast studio had to be enclosed in cheese cloth. It wasn't because they were afraid of losing the bird so much as because it was necessary to repeat the scene two or three times and the same bird had to be on hand." – Paramount Paragraphs, News-Democrat, May 20, 1923
Peacock Princesses Louise Glaum & Virginia Pearson
I'm guessing both of these actresses were participating in staged photo opps with the same peacock in 1918 – but you be the judge. 
Virginia Pearson
The November 1918 edition of Motion Picture Magazine featured the article "Psychic Virginia Pearson" by Gladys Hall. The writer quoted Pearson as claiming to have visions, and a spiritual advisor that was 800 years old. The role the peacock played in her visions – or her life – was not explained by the actress or the author.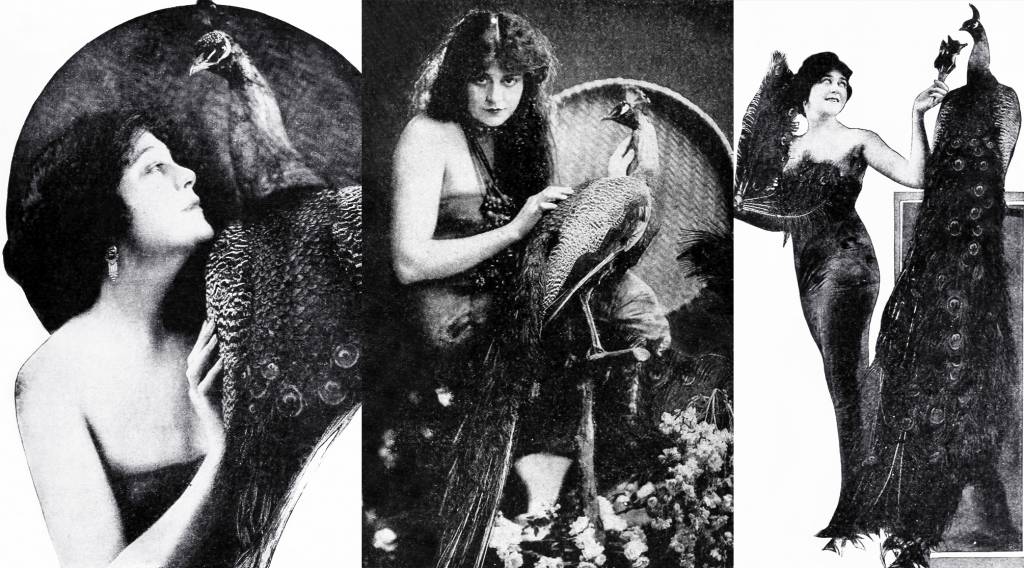 (Virginia Pearson and Peacock 1918 Photos: Underwood & Underwood) 
Post WWI, a similar photo of Virginia Pearson – by the same photographers – appeared in a January 1919 Imperial Valley Press article, "Exit the Peacock-Woman":
"Fashionable toilets have given place to uniforms – with a saving of time and money and a conservation of charm which surprised ladies who believed beauty lay only in fine feathers and rainbow hues. Having been admired for her usefulness the former peacock-woman will shun the well-worn charms of ornament only. She's gone! Strutting and spreading is a hopeless faux pas in a busy world! The peacock-woman still has her place as a professional charmer. To dress beautifully and pose as a stage picture is good and legitimate business – but only so shall we see the peacock-woman in future – a decoration and a specimen of a type that is dead!. The Professional Peacock Woman, Posed Especially by Miss Virginia Pearson, Actress."
Louise Glaum
Silent movie star Louise Glaum – a famous film "vamp" of her day – supposedly was called the Lady of the Peacocks. She was also occasionally dubbed The Tiger Woman, or The Spider Woman (Louise Glaum as "The Wolf Woman, From the Bygone). All, of course, alluding to elaborate costumes and movie roles.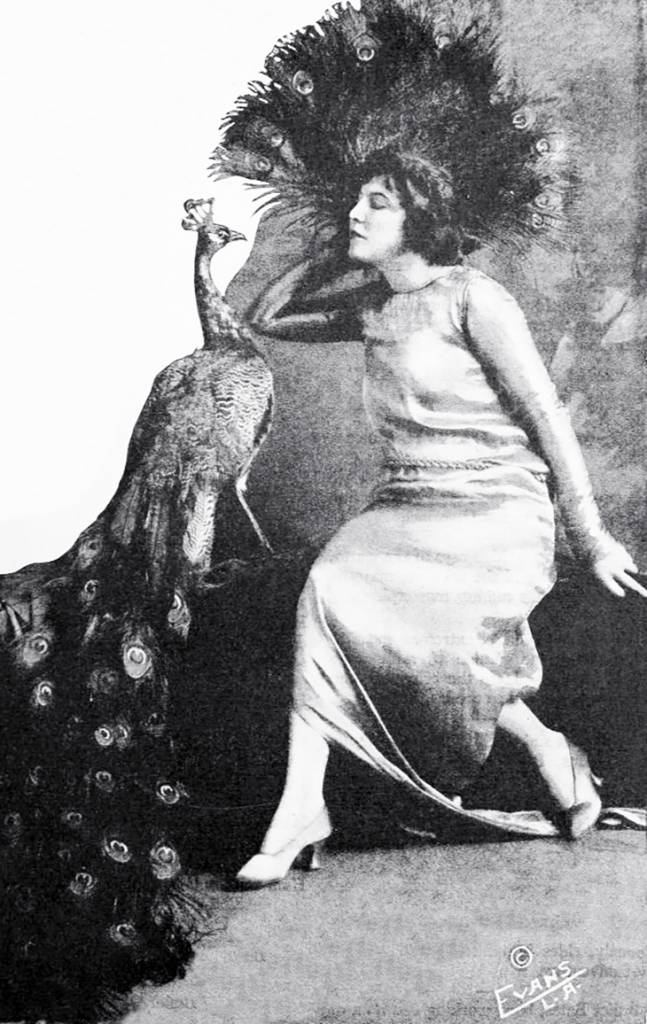 (Louise Glaum & Peacock 1918: Picture-Play Magazine)
"Miss Glaum, reigning queen of a movie-going public…'The Lady of the Peacocks', as she is sometimes called, wears a headdress of the gorgeous plumage, and is never without some peacock talisman to bring luck" – Picture-Play Magazine, August 1918
Posing With Parrots
Talking pet parrots were possibly even more popular with Hollywood actors and actresses, than the tiny songbirds.
Marion Davies acquired a parrot in 1922 – possibly a gift from her lover William Randolph Hearst, a huge pet lover himself.
"While heretofore she has been one of the very few actresses who has not had a pet of some kind Marion Davies has at last succumbed and is now the proud possessor of both a monkey and a parrot." – Daily Squint at Movie Stars, Star-Gazette, October 21, 1922.
Theodore Roberts
Silent film character actor Theodore Roberts (born October 8, 1861) and his wife were real pet lovers. In 1918, they had at their home 2 cats, 11 dogs / puppies, a red and green talking parrot (below), and assorted other birds and fish.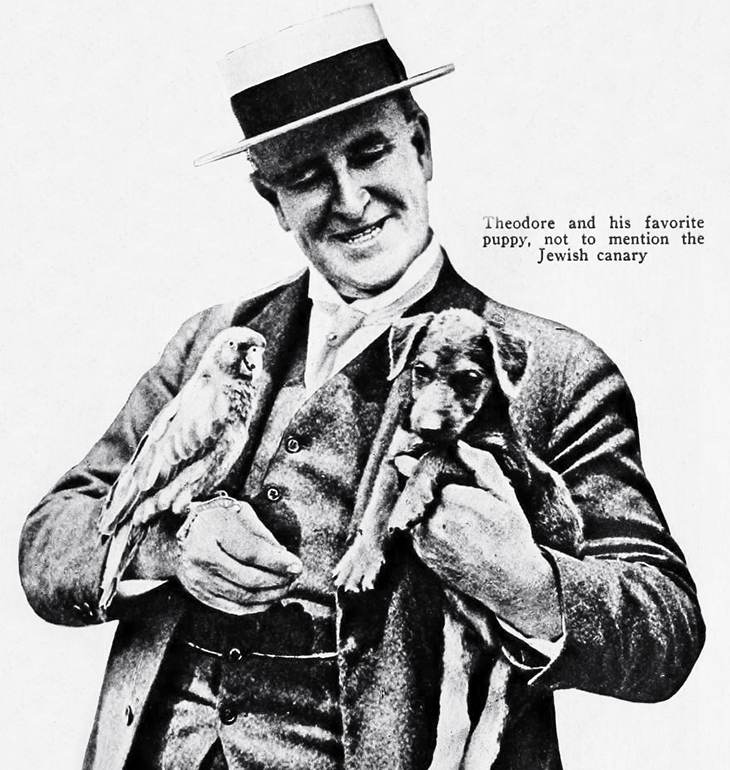 (Theodore Roberts 'Chimmie Fadden' parrot & puppy 1918 Motion Picture Magazine)
"I have the most wonderful pigeons in the back garden…Each one is as big as a large chicken – wonderful! And we have an aviary, and some golden sardines are bubbling up that aquarium." – Theodore Roberts interview by Fritzi Remont, When a Menage Becomes a Menagerie, Motion Picture Magazine, November 1918
By 1922 the Roberts menagerie had expanded to include a wild goat and more:
"Theodore Roberts Adds Goat to His Menagerie – …Now it is associating in perfect friendliness with the Airedale dogs, the three wire-haired terriers, the Siamese sacred cat, the two tame seagulls and the hundred or more pigeons which  make up Roberts's Hollywood zoo. 'I had a parrot.' said Mr. Roberts, with a plaintive note in his voice, 'but it had been so well brought up that it said 'please' and 'thank you,' and never uttered a good ole piratical cuss word once. I got tired of its politeness and when it started chewing the wallpaper off the living-room walls, we decided to dispense with Polly." – The Wichita Eagle, September 3, 1922
Marjorie Daw & Elsie Ferguson
Actresses Marjorie Daw and Elsie Ferguson each posed (separately) for film fan magazines with what was dubbed a parrot, in 1920.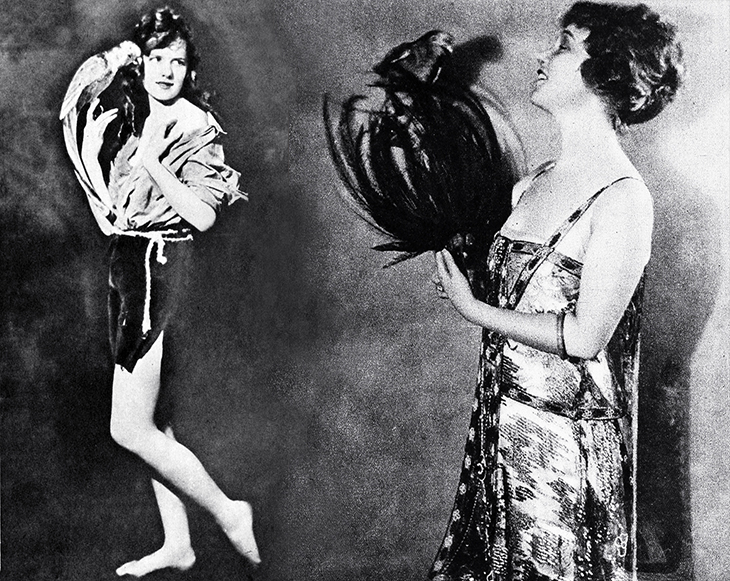 (Marjorie Daw 1920: Alfred Cheney Johnston | Elsie Ferguson 1920)
No mention was made of either Marjorie Daw or Elsie Ferguson being bird lovers, so presumably they were just parrot posers.
John Gilbert
The pet parrot that silent movie leading man John Gilbert (born July 10, 1897 – died January 9, 1936) is admiring in this photo, was more than a live stage prop.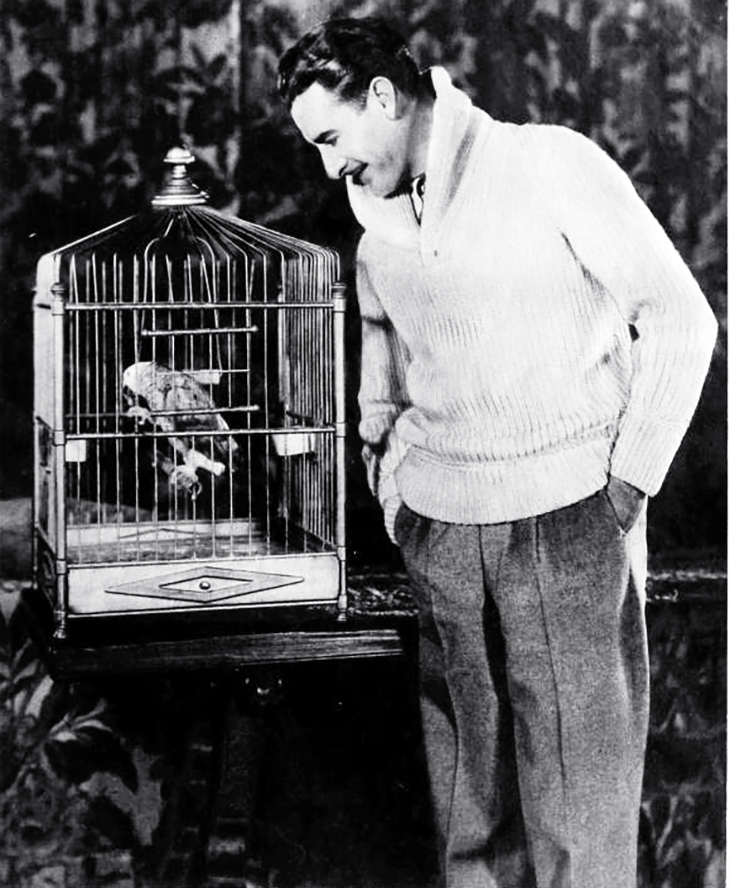 (John Gilbert  & Pet Parrot 1929: Ruth Harriet Louise)
"He's a gifted little parrot. And John has taught him to say, 'Colossal!' at five-second intervals." – Only a Bird in a Gilbert Cage, Motion Picture, 1929
During the 1920s, John Gilbert had numerous relationships with silent movie stars – affairs with Laurette Taylor; Lila Lee, Barbara La Marr, and Bebe Daniels; a broken engagement to his co-star Greta Garbo in 1926; and marriages (and later divorces) to Leatrice Joy and Ina Claire. While Barbara La Marr may have just posed with a bird, both Gilbert and Claire were bird fanciers, with Ina Claire keeping her own pet canary. 
Pet Ostriches
Olive Thomas
Ostrich farms had existed in California since the mid-1880s. Ostrich plumes were in high demand world-wide for use in women's fashions, particularly accessories such as fans and hats.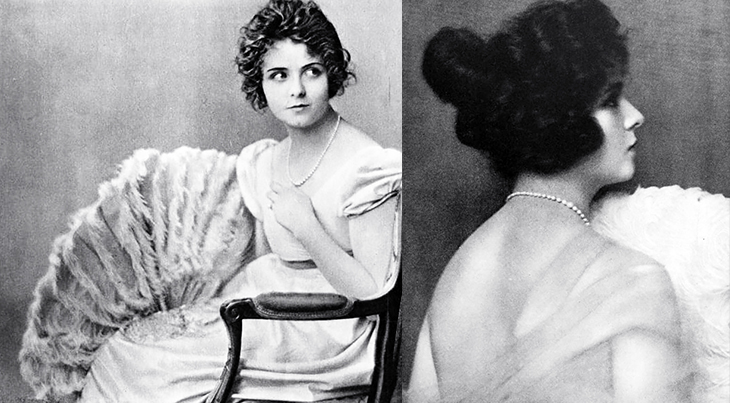 (Olive Thomas With Ostrich Plume Fan 1918)
By 1918, bird plumes were starting to go out of fashion, but ostrich meat was being touted as an affordable alternative to beef. Some of the ostrich farms – notably Cawston Ostrich Farm in California – even had tame ostriches trained to drive or ride.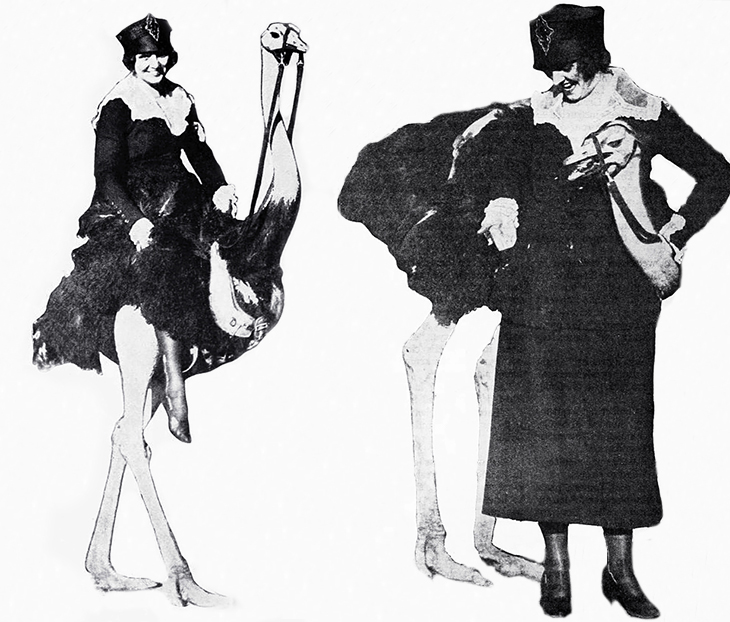 (Olive Thomas and Ostrich 1917: Picture-Play Magazine)
Hollywood stars including Margarita Fischer and former Ziegfeld Follies actress Olive Thomas, trekked out to the Cawston and other ostrich ranches to have their pictures taken petting, driving, or riding the huge birds. 
Silent movie actresses Jackie Saunders (Balboa Film) owned her own ostrich ranch when she took over a mortgage in 1917; Mae Murray had her own pet ostrich; and comedienne/ actress Billie Rhodes also owned an ostrich farm near San Bernardino, California. Rhodes sold her farm (with 1200 ostriches!) in 1918 to a meat canning company.
"The Rhodes ostrich farm sear San Bernardino has been more or less of a white elephant on its owner's hands, and Miss Rhodes has maintained the expensive establishment rather for sentimental than business reasons" – They Say These Are True – And Maybe They Are – Here You'll Find 'Em – Tales of Screen Folk, Oakland Tribune, July 7, 1918
Other Birds of a Hollywood Feather
Priscilla Dean
Unlike many of the silent movie actresses that posed for pictures with birds, Priscilla Dean's birds were pets, not models. Here with a variety of her feathered friends. Fittingly, she starred in several Bluebird studios films.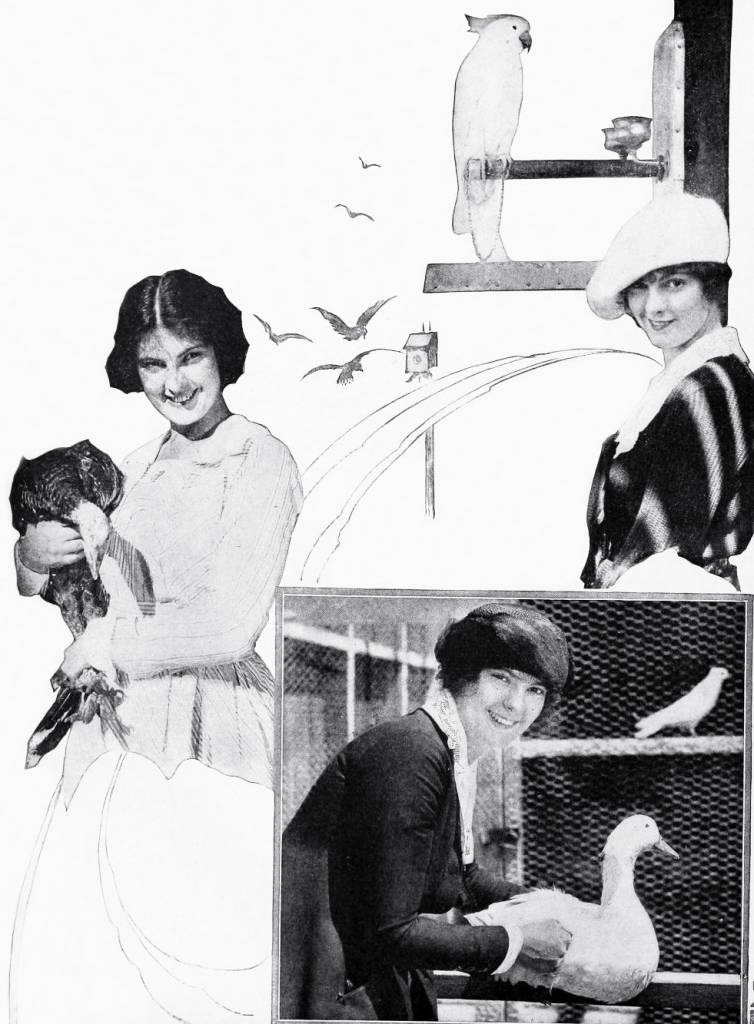 (Priscilla Dean & birds 1920 Mar Motion Picture Classic)
Pauline Frederick & Barbara La Marr
Hollywood celebrity photographer Melbourne Spurr took photos of silent movie stars Pauline Frederick and Barbara La Marr with birds.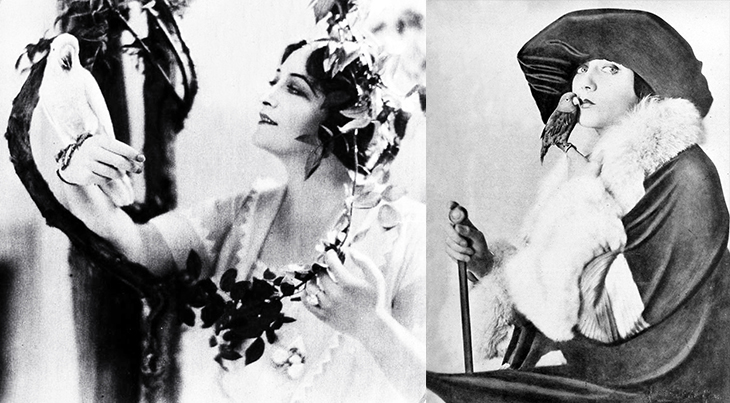 (Pauline Frederick 1922 & Barbara La Marr 1924: Melbourne Spurr) 
The birds were unidentified – presumably used for decorative purposes rather than pets of the actresses.
Eleanor Boardman
Barbara La Marr's little bird (above) looks a lot like the one Eleanor Boardman (another silent film actress) is holding, below.
(Eleanor Boardman & Green Bird 1926: Marland Stone)
Lilian Harvey
(Lilian Harvey and Barn Owl "Max" 1919 Film-Magazin) 
British-born German actress Lilian Harvey (born January 19, 1906 in London) moved with her German father & English mother to Berlin just before WWI began.
She worked in theatre before becoming a silent film actress in Germany beginning in 1925, frequently co-starring with Willy Fritsch.
She came to Hollywood in the early 1930s to make movies.
Long before she achieved any movie fame herself, beautiful Lilian Harvey posed for this German movie fan magazine photo with "Max" the barn owl, perched on her shoulder in 1919. 
In memory of my friend Anna Klich, who was an animal wrangler and bird trainer extraordinaire for the film industry, working on location in Canada and the U.S. Anna was an expert with raptors (hawks, eagles, falcons & owls), crows, dogs, reindeer, and other animals for commercials, TV (Hannibal), and movies. I like to think Anna would have enjoyed this glimpse into Old Hollywood movie stars, and the birds that made their way into their homes, magazine photos, and movies. I hope you have too.
Interested in more bird lore? Check out these related articles:
Heroic Pigeon Patrols of WWI & WWII
Attract Hummingbirds in Summer: Top 5 Plants
3 Ways to Attract Birds to Gardens & Yards
*Source images are believed to be in the public domain, and have been modified for use in this article*