A Look Inside Jazz Age SHADOWLAND
Billed as "The Handsomest Magazine in the World" when it debuted in September 1919, browsing though an edition of SHADOWLAND is like taking a journey back to a unique time in history. As countries emerged from WWI, Prohibition was beginning, and the Arts & Entertainment of the Roaring Twenties was transforming the world.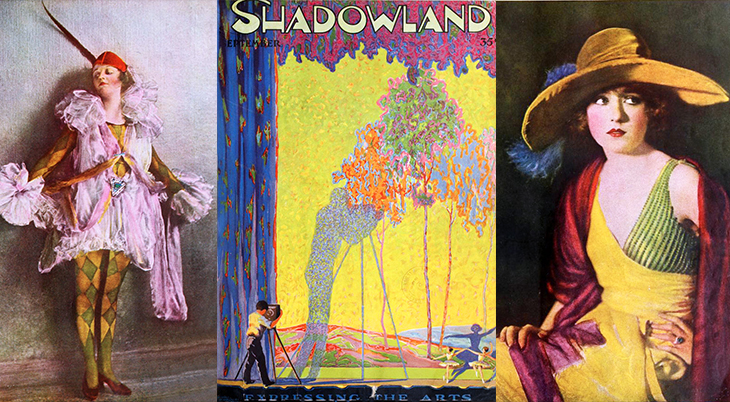 (SHADOWLAND September 1919 – Yvonne Shelton, Mollie King Portraits & Cover Montage)
Pioneering fan magazine (The Motion Picture Magazine / Motion Picture Classic) publisher Eugene V. Brewster was an arts enthusiast and creative soul himself. His keen eye for all things beautiful, connections to early filmmakers, writing and editorial skills, and business acumen, made SHADOWLAND possible.
SHADOWLAND's Art Director A.M. Hopfmuller painted the stunning Art Deco watercolours on the covers of SHADOWLAND each month. Hopfmuller also served as art director for Motion Picture Classic and The Motion Picture Magazine, but beyond that, little information is available about this elusive artist. 
A peek inside the first issue of SHADOWLAND will show you "Letters of Welcome", from movie legends such as Thomas H. Ince, Lewis J. Selznick, Mary Pickford, Jesse L. Lasky, Adolph Zukor, Charles Chaplin, Mack Sennett, Cecil B. De Mille, Douglas Fairbanks, Norma Talmadge, and Theda Bara. In his letter, filmmaker Samuel Goldwyn explains why SHADOWLAND was revolutionary:
"I remember the wood-cuts and black-and-white of the original numbers of "The Motion Picture Magazine" very well. As the business was refined there arose naturally the demand that the cruder publicity which was being given to the movies also be refined. The outcome of this was "The Classic" which photogravures, etc. And now even the modern form of that is to be surpassed and SHADOWLAND is to give us, in addition, color."
And what glorious color pictures it had – at a time when movies and most magazines, were still in black and white. Although SHADOWLAND wasn't the first magazine to use color on the cover and in the occasional advertisement or color portrait, the extent to which the magazine featured color reproductions of paintings and portraits, was impressive.
Silent Movies, Stars & Filmmakers 
Inside the magazine, SHADOWLAND featured silent movie stars and filmmakers from the major film studios of the day – Vitagraph, Paramount Pictures, American, Famous Players-Lasky, Lubin, Essanay, Goldwyn Pictures, Edison, Kalem, Universal, Pathé Frères, and others. Articles and interviews by staff writers were supplemented by articles written by the actors and filmmakers themselves.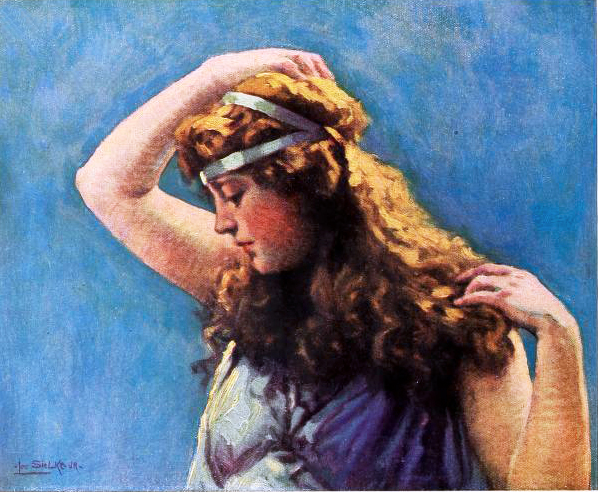 (Marion Davies Painting: Leo Sielke Jr. | Photo by Arnold Genthe)
Ruth Roland: Wild Thrills I Have Met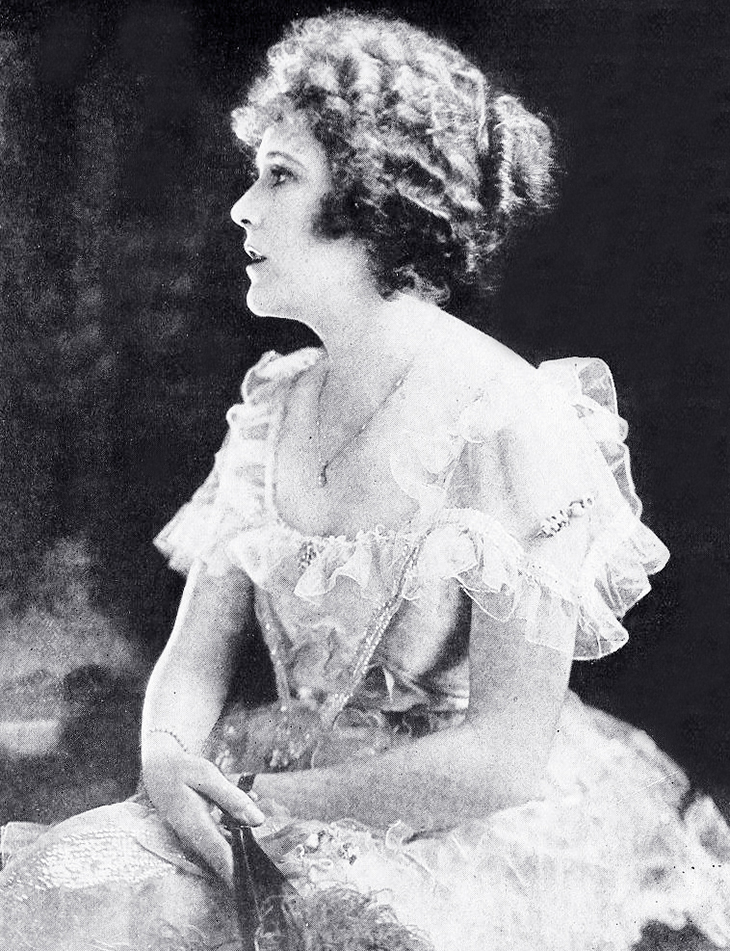 The first issue of SHADOWLAND featured an article by actress Ruth Roland, who appeared in 225+ silent movies between 1908-1927 (and a couple of "talkies" after that). As a frequent star in "thrillers" (westerns) during the wild early days of movie-making when actors did a lot of their own stunts, Ruth Roland knew what she was talking about:
"I have decided that there are just two things that really worry me. They're stage-coaches and wild horses that like to topple over backwards.
Anyone can guess why I don't care particularly about the horses (she was an accomplished rider), but a word or two anent stage-coaches is necessary. Scenario writers aren't satisfied to have stage-coaches move in a stately fashion through their scripts.
A stage-coach immediately suggests a runaway down a mountain side, with high rocks on the right and a precipice on the left.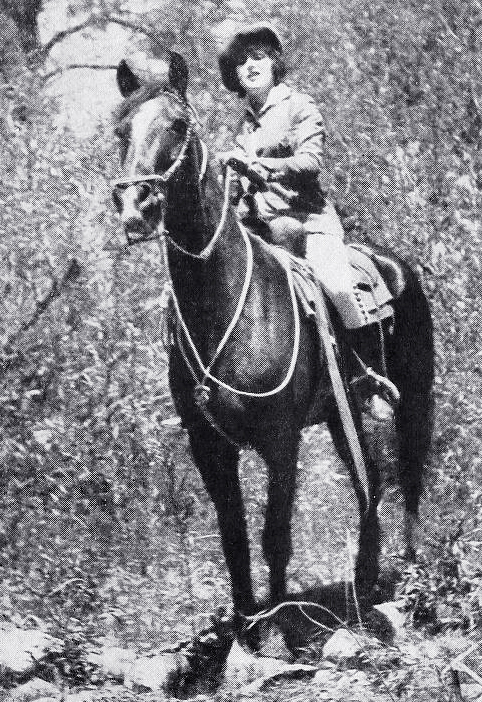 I don't know why they have this effect, but it's true. Even so, I wouldn't worry about the dangerous trail down the mountains if stage-coaches weren't so rickety and there wasn't the ever present danger that one of the horses might trip, might get tangled in the harness and might drag all the other horses out of the trail to oblivion.
Something like this happened during the making of Hands Up. One of the horses fell and was trampled to death, the stage-coach began to totter in every direction and I jumped. Luckily I escaped uninjured, but we had to make the scene over, with a new horse added to our team.
And speaking of horses, I rode one blindfolded with no bridle or saddle in a scene of Hands Up. I carried a hairpin hidden in my hand to job the animal into action.
But Mr. Horse needed no jogging. He ran down the mountain and headed for a drop of some 150 feet. All the players shouted to me and, blindfolded and all, I dropped off. But I didn't escape. The horse kicked me and badly tore the ligaments of one of my legs. I was laid up for five weeks."
Hands Up (1918) was a 15-episode lost silent movie which featured Ruth Roland as an intrepid newspaperwoman. Each episode had titles like "The Runaway Bride", "Flames of Vengeance", "Tossed Into the Torrent", "A Leap Through Space", etc. The movie was distributed by Pathé Exchange in the US. The afore-mentioned scenario (screenplay) was by Jack Cunningham, who wrote for 130+ movies, mostly between 1913-1939.
Live Performing Arts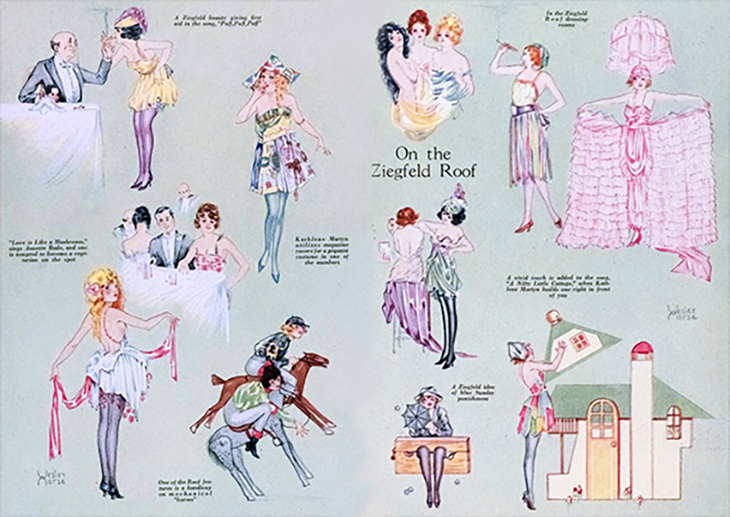 (On the Ziegfeld Roof Watercolor by Wesley Morse 1921 Shadowland)
SHADOWLAND covered the gamut of stage experiences found in New York's live entertainment scene, from major theatres to rooftop venues. Dance – from ballet to burlesque; theatre – from Broadway to vaudeville; and music – from opera to cabaret. There's a good chance that a performer that walked, talked, or sang on a stage – or rooftop – in New York City between 1919-1923, would have their name mentioned or their picture found, in SHADOWLAND. 
Louise Raymond's article Prohibition and the Cabaret in that first edition of SHADOWLAND, explored the world of Broadway and the Great White Way. Theatre, hotel, and club-owners on the cusp of prohibition worried over the effects it would have on their business.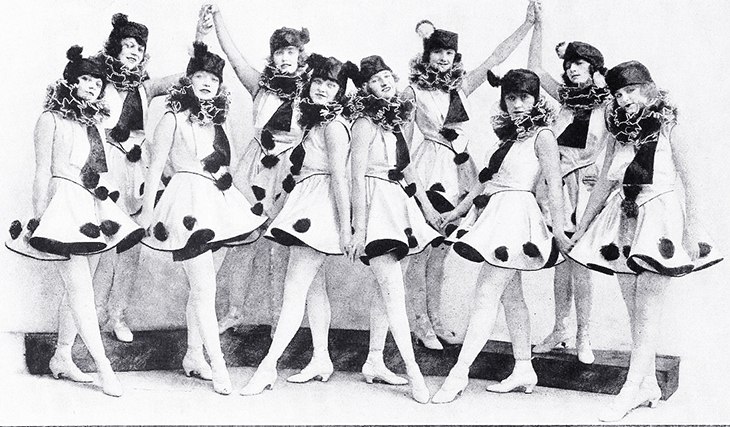 (Strand Theatre Roof Cabaret 1919 Photo: SHADOWLAND)
"Most of the cabarets will make, it is safe to say, a brave fight for existence with the aid of soft drinks. But the snap of the fingers will be gone, the jazz spirit will be missing. Without them no cabaret can hope to live."
Siblings and dance partners Adele Astaire and her younger brother (by 3 years) Fred Astaire were described in the March 1923 edition of SHADOWLAND:
"They perform almost unbelievable feats of pedal dexterity as they twist and turn and flit across the stage like sprites. At present they are among the chief attractions of the Bunch and Judy."
(Fred Astaire & Adele Astaire 1923 Photo: White Studio | SHADOWLAND)
Although the duo were popular dancers together on Broadway and London's West End beginning in 1917 and later in London's West End during the 1920s, Adele Astaire never did dance in the movies (not even with her brother Fred). She married Lord Charles Arthur Francis Cavendish (2nd son of the Duke of Devonshire) and retired. 
Setting aside the popularity of "low brow" jazz, classical music and opera were the preferred forms of musical expression. The Metropolitan Opera House in New York City was home to some of the greatest opera singers and performers of the time.
Below, caricaturist Wynn Holcomb captured some of the personalities of The Met in early 1920 for SHADOWLAND. Left side, clockwise from top left are opera singers Antonio Scotti, Geraldine Farrar, The Met Director Giulio Gatti-Casazza, and singers Enrico Caruso and Andres de Segurola,. Right side, from left (seated) publicity representative William Gerard, Enrico Caruso (standing), and director Giulio Gatti-Casazza (standing).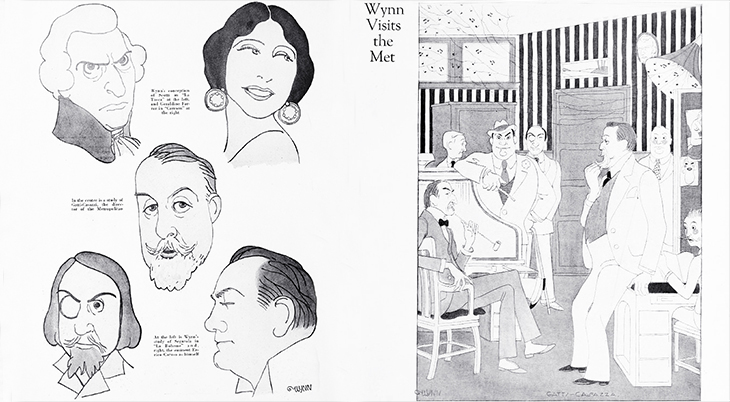 (Wynn Visits the Met Caricatures by Wynn Holcomb)
Photography and Portraits
In addition to the colorful Art Deco covers, one of the elements which differentiated SHADOWLAND from other fan magazines were the color portraits of silent film stars found inside.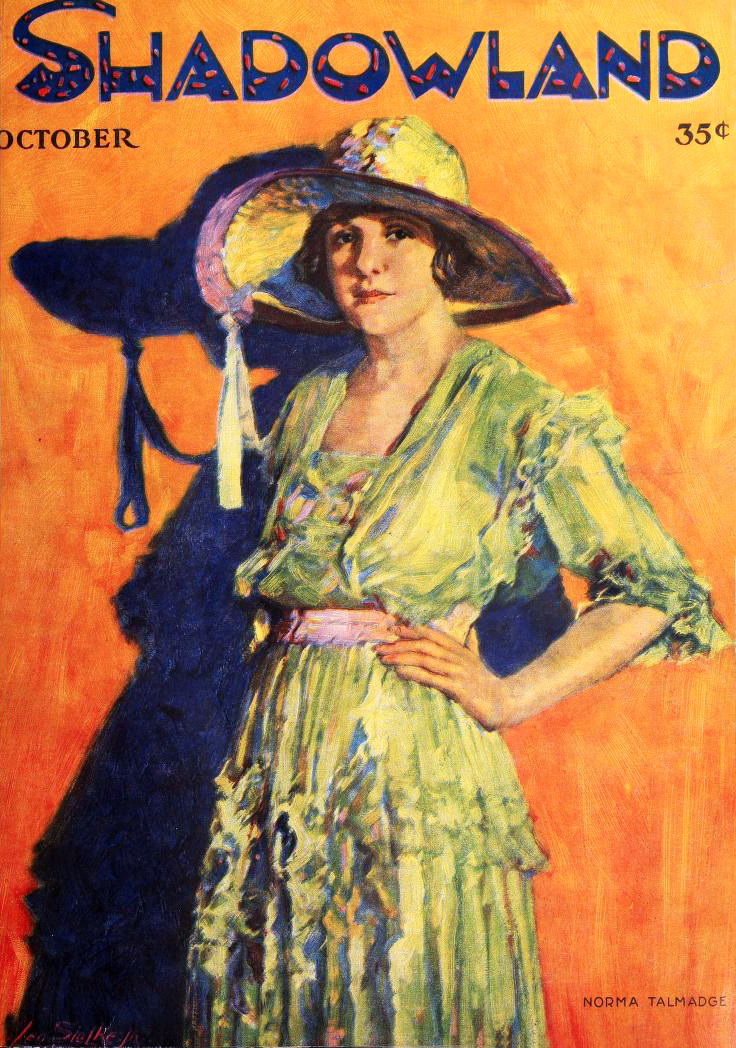 (Norma Talmadge 1919 Portrait: Shadowland Cover)
In a rare exception to the Art Deco covers by A.M. Hopfmuller, the October 1919 cover of SHADOWLAND featured a portrait of silent movie star Norma Talmadge, painted by Leo Sielke Jr. (1880-1930).
Sielke was listed as a Staff Artist for Motion Picture Magazine, and he painted the majority of color portraits found inside SHADOWLAND. Sielke Jr.'s namesake father founded the New York-based interior design company Leo Sielke & Son in 1903, in which Leo Jr. worked for a while before focusing on portraits and moving to California. 
The early SHADOWLAND portraits were usually based on photographs taken by talented staff photographers Alfred Cheney Johnston, or Abbe.
Although most of the black and white photographs found inside SHADOWLAND were credited to the photographer, many were not, leaving the question of who took the photo a mystery.
Because of the magazine's positioning as "expressing the arts" vs being a fan magazine, more risque photographs, sometimes with partial and in at least one case complete nudity, were published in SHADOWLAND. Brewster's other publications (Motion Picture Classic and The Motion Picture Magazine) were more sedate.
Interior Design, Landscaping, & Architecture
George B. Case's The House and Home Doctor, in the September 1919 edition of SHADOWLAND featured the interior decorating and exterior landscaping of silent film director Thomas Ince's California home and estate.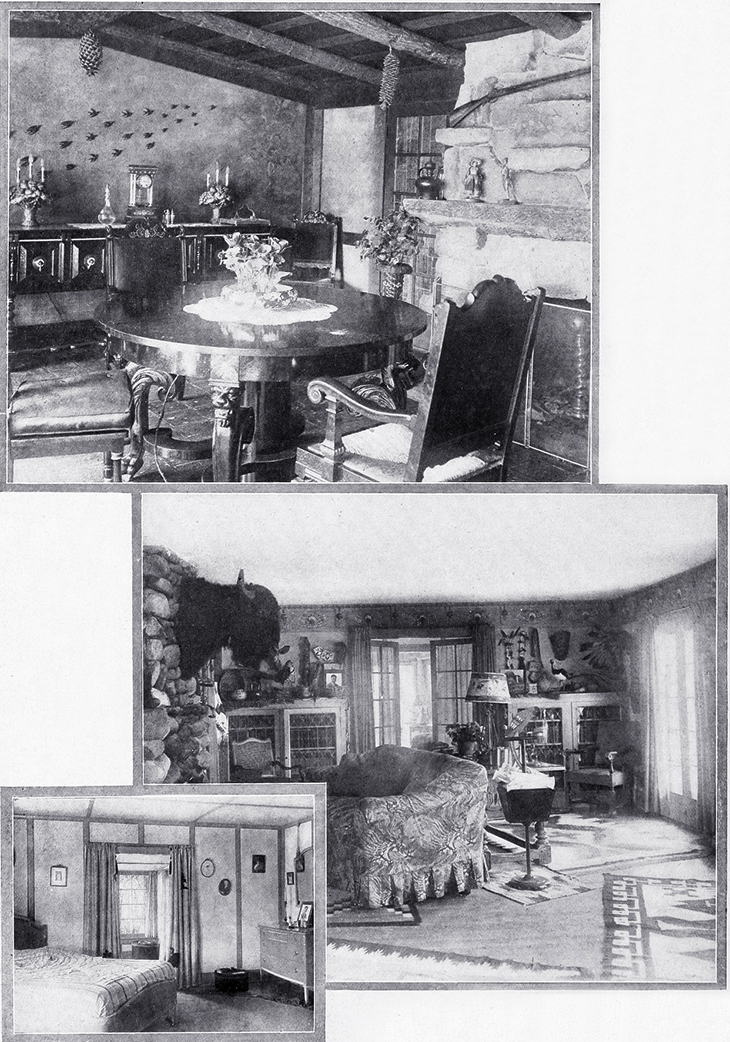 Case made his case for the benefits of interior design "for those who want to bring art and good taste to their homes, as well as comfort and luxury" without ever using the word, occasionally making some pretty strong (and a bit funny, today) claims:
Chaotic homes cause indigestion, bad temper, fevers and death.
It is a fact that energetic, forceful and combative dispositioned people are antagonized by such colors as reds, pinks, and blue.
There are recorded cases of sickness where patients were unable to respond to either treatment or their own natural vitality until removed from rooms that had strong colors to one of soft neutral tones, where immediately they became restful, temperature decreased and convalescence was rapid.
Fine Arts – Paintings, Water Colors, & Illustrations
Artist and illustrator Wynn Holcomb contributed many caricature features to SHADOWLAND. Other artists whose works were featured more than once in the magazine include Guy Rowe / Giro, Albert Vargas, "Ashcan School" artist Glenn O. Coleman, and Wesley Morse, among others. Featured artists weren't limited to the New York arts scene, but because publisher Eugene V. Brewster lived on Long Island and was a painter himself, SHADOWLAND frequently showcased the works of New York-based artists..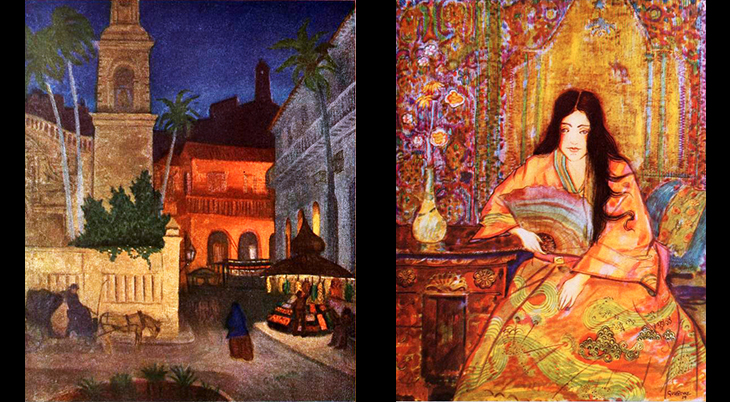 ("Old Church" 1923 Glenn O. Coleman | "Contemplation" 1923 Guy Rowe / Giro) 
An occasional article credited to "The Painter" also appeared in the magazine, presumably from one of the staff. As there were several artists / painters associated with the magazine, this could have been art director A.M. Hopfmuller, Leo Sielke Jr., or most likely the editor himself, Eugene V. Brewster.
Fashion
Fashion was a regular feature, with articles specifically about that, as well as ads and celebrity portraits showing the newest styles. One of the regular fashion columns What Every Woman Should Know, was credited to The Rambler, again presumably one of the SHADOWLAND staff.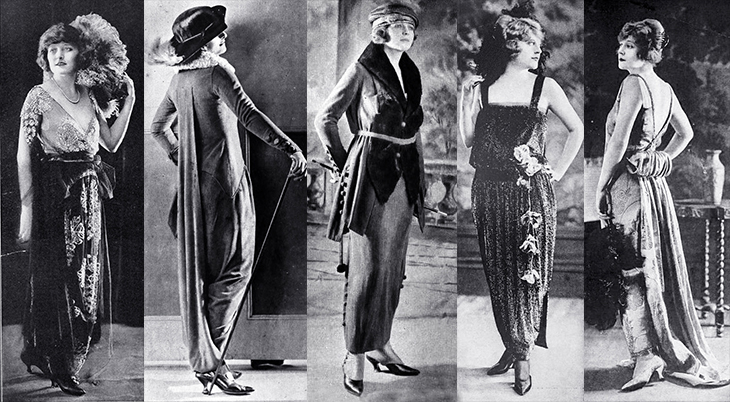 (1919 Fashions Seen in Shadowland)
Celebrity Interviews & Feature Articles
Readers could find diverse articles and interviews, from theatre impresario Florenz Ziegfeld, architect Herman Rosse, opera singer Enrico Caruso, filmmakers such as D.W. Griffith, and other greats from almost any form of art you can think of.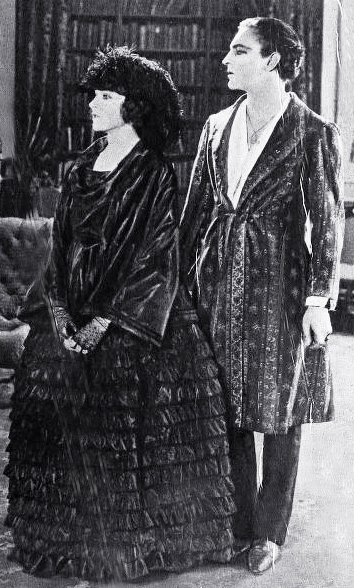 Usually a few stories based on the current crop of silent films, including movie stills, were published in every edition of SHADOWLAND. 
Some sample article titles give you an idea of the concerns and diversity of this early era in the Jazz Age.
Dr. Jekyll and Mr. Hyde (fictionalized from the 1920 Paramount-Jack Barrymore Photoplay, starring John Barrymore and Martha Mansfield)
Applying the New Stage Art to Motion Pictures
My Greenwich Village
(New York) Society at the Beach
The Albin Marbles
Peaks Among Books
Evolution of Jazz
The Art of the Silversmith
Interviews with stage and film actresses Estelle Winwood and Doris Kenyon, and author Mary Roberts Rinehart ("The American Agatha Christie"), could be read in the January 1920 edition alone. 
Poetry and Prose
The first edition of SHADOWLAND included a poem from Edwin Markham, described as "the greatest living poet", as well as Vaia Macbeth Jones' poem SHADOWLAND.
Poetry could be found scattered throughout SHADOWLAND, as could other brief snippets of musings. A semi-regular series was The Court of the Sage, filled with philosophical / satirical paragraphs and what passed for witty answers in response to real or fictitious questions from readers, ie:
"You are wrong, T.J.B., about Solomon's wisdom. Undoubtedly the reason that Solomon was so wise was that he had 700 wives to consult, whilst I have none."
"It is all right to strike while the iron is hot; the thing is to get it hot."
As with some of the poetry and brief snippets of wit/philosophy, this series did not credit any author. Some of the poetry was simply attributed to "The Dreamer" or "The Drifter" etc….It's my belief that much of the un-credited snippets, articles, and poems attributed in this way, came from the highly creative mind of SHADOWLAND's publisher and editor, Eugene V. Brewster. 
In addition to book reviews, interviews of and/or featured articles by emerging and established poets, playwrights, and authors included the likes of F. Scott Fitzgerald, A. A. Milne,  William Butler Yeats, Hugh Walpole, Aldous Huxley, Stephen Leacock, Sinclair Lewis, Carl Sandburg, Ezra Pound, Eugene O'Neill, H.L. Mencken, W. Somerset Maugham, H.G. Wells, and George Bernard Shaw. 
SHADOWLAND really did offer a little something for everyone during the Jazz Age. In 1923, the magazine described as "too good to last", didn't. It was folded into Eugene V. Brewster's other movie fan magazine, Motion Picture Classic.
*Images are believed to be in the public domain, used by permission, or Creative Commons licensed & sourced via Wikimedia Commons, Vimeo, YouTube, or Flickr, unless otherwise noted*