March 23rd Birthdays
If you were born on March 23rd you share a celebrity birthday with these famous people: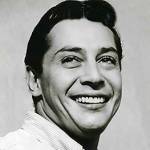 Mark Rydell (nee Mortimer H. Rydell; ex of Joanne Linville)
American TV & movie producer, director (On Golden Pond; The Cowboys; Cinderella Liberty; The Rose; The River; For The Boys; Even Money; Ben Casey; Gunsmoke), and actor (Jeff Baker on As the World Turns; Havana; The Long Goodbye; The Edge of Night), born March 23, 1928. (Mark Rydell 1962 Photo)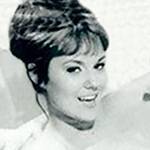 Barbara Rhoades (married Bernard Orenstein)
American actress of TV (Jessica Gardner on Generations; Busting Loose; The Blue Knight; Soap; McMillan & Wife; Mannix; Ironside; Columbo; The Odd Couple) & films (The Shakiest Gun in the West; The Goodbye Girl; The Choirboys), born March 23, 1946. (Barbara Rhoades 1967 Photo: UPI Telephoto)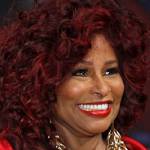 Chaka Khan (nee Yvette Marie Stevens; "Queen of Funk")

Grammy Award-winning American singer (I'm Every Woman; I Feel For You) with Rufus (Tell Me Something Good; You Got the Love; Sweet Thing; At Midnight [My Love Will Lift You Up]; Do You Love What You Feel), born March 23, 1953. (Chaka Khan 2012 Photo: Dan&Corina Lecca | The Heart Truth)
Amanda Plummer (child of Christopher Plummer & Tammy Grimes)
Tony & Emmy-winning American-Canadian actress of Broadway, TV (L. A. Law; The Outer Limits) & movies (Pulp Fiction; American Perfekt; Cattle Annie and Little Britches; So I Married An Axe Murderer; Needful Things; Freejack; The Hunger Games), born March 23, 1957. (Amanda Plummer 1987: CBS)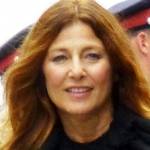 Catherine Keener (ex of Dermot Mulroney)

American actress of movies (The 40-Year-Old Virgin; Lovely & Amazing; Walking and Talking; Friends With Money; Into the Wild; Death to Smoochy; Capote; Enough Said; 8MM; Elephant Song) and TV (Show Me a Hero; Ohara; Knightwatch), born March 23, 1959. (Catherine Keener 2014 Photo: GabboT)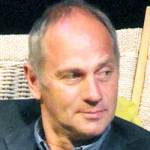 Steve Redgrave (nee Steven Geoffrey Redgrave)
Retired English 5-time Olympic gold medal-winning rower (1984 Los Angeles coxed four; 1988 Seoul, 1992 Barcelona, & 1996 Atlanta coxless pair; 2000 Sydney coxless four), 9-time World Champion between 1986-1999, born March 23, 1962. (Steve Redgrave 2011 Photo: Phil Guest)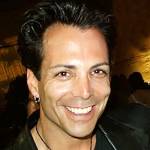 Richard Grieco 
American former fashion model, actor of TV (Dennis Booker on 21 Jump Street & Booker; Marker; Veronica Mars) and movies (If Looks Could Kill; Mobsters; Against the Law; Forget About It; The Gardener; Dead Easy; A House is Not a Home), born March 23, 1965. (Richard Grieco 2006 Photo: Angel Schatz)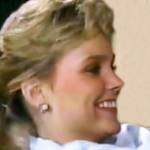 Sandra Dee Robinson (nee Sandra Ferguson; aka Sandra Reinhardt)
American actress of movies (The Man in the Silo), TV (Amanda Cory Fowler on Another World; Jade Sheridan on Sunset Beach; The Bay; Renegade; The Bold and the Beautiful; General Hospital; Days of Our Lives), & media trainer, born March 23, 1967. Married Allen Robinson. (Sandra Ferguson 1988: NBC)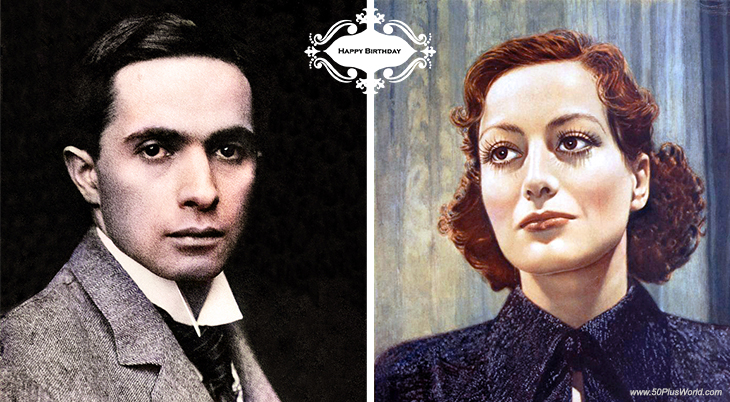 (J. C. Leyendecker c. 1895 [colorized] | Joan Crawford: Stars and Films of 1937)
Happy Birthday to everyone celebrating their birthday on March 23rd!
Remember These March 23rd Famous Birthdays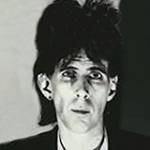 Ric Ocasek (nee Richard Theodore Otcasek; married Pauline Porizkova)
American singer-songwriter solo (Emotion in Motion), and founding member of The Cars (Just What I Needed; My Best Friends Girl; Good Times Roll; Shake It Up; Let's Go; You Might Think; Drive; Magic; Tonight She Comes; You Are the Girl; Emotion in Motion; You're All I've Got Tonight) (born Mar. 23, 1949 – died Sept. 15, 2019; age 75). (Ric Ocasek 1984 Photo: George Holz / Elektra)
Joan Crawford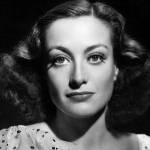 (nee Lucille Fay LeSueur; married Alfred Steele)
Oscar-winning American actress (Mildred Pierce; Our Dancing Daughters; Love on the Run; Above Suspicion; Whatever Happened to Baby Jane?; Possessed; Our Modern Maidens; I Saw What You Did; Grand Hotel; Dancing Lady; Humoresque) (born Mar. 23, 1904 – died May 10, 1977; age 73). Ex of Douglas Fairbanks Jr., Franchot Tone, Phillip Terry. (Joan Crawford 1936: George Hurrell)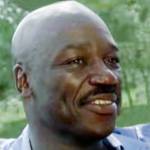 Tony Burton (nee Anthony Mabron Burton)

American heavyweight boxer, actor of TV (Frank's Place) & movies (Rocky; Rocky II; Rocky V, Rocky Balboa; The Shining; Armed and Dangerous; Assault on Precinct 13; The Shining; Rocky Balboa) (born Mar. 23, 1937 – died Feb. 25, 2016; age 78). Tony Burton died from pneumonia complications. (Tony Burton 1976 The Bingo Long Travelling All Stars & Motor Kings)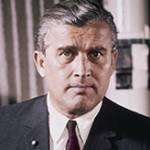 Werner Von Braun (nee Wernher Maximilian, Freiherr von Braun)

German-American aerospace engineer, pioneering rocket technology inventor, developer of the V-2 rocket for WWII Nazi Germany, and the Saturn V for the U.S. post-WWII, NASA Marshall Space Flight Center director (born Mar. 23, 1912 – died June 16, 1977; age 65). Cause of death for Werner Von Braun was pancreatic cancer. (Werner Von Braun 1964 Photo: NASA)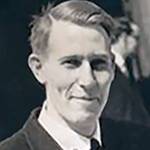 Roger Bannister (aka Sir Roger Gilbert Bannister)
English doctor, neurologist, author and medical researcher (the autonomic nervous system), 1952 Helsinki Olympics middle-distance athlete, the first human to run the mile in under 4 minutes (1954), (born Mar. 23, 1929 – died Mar. 3, 2018; age 88). Roger Bannister had Parkinson's Disease before he died. (Roger Bannister 1957 Photo: AP Wirephoto)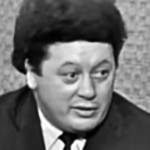 Marty Allen (nee Morton David Alpern)
American comedian, host & actor (solo & with comedy partner Steve Rossi), of stage, TV (Hollywood Squares) and movies (A Whale of a Tale; The Last of the Secret Agents?; Allen and Rossi Meet Dracula and Frankenstein) (born Mar. 23, 1922 – died Feb. 12, 2018; age 95). Marty Allen died of pneumonia complications. (Marty Allen 1964 What's My Line)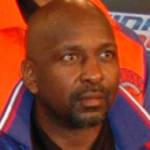 Moses Malone
Naismith Memorial Basketball Hall of Fame American ABA & NBA basketball player (Houston Rockets; Philadelphia 76ers; Atlanta Hawks), 1983 NBA Finals MVP & Champion (born Mar. 23, 1955 – died Sept. 13, 2015; age 60). Moses Malone died of hypertensive and atherosclerotic heart disease. (Moses Malone 2005 Photo: Cpl. Lameen Witter / U.S. Marine Corps.)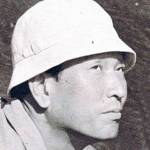 Akira Kurosawa
Academy Award Lifetime Achievement Award-winner, Japanese TV & movie director, producer, and screenwriter (Tora! Tora! Tora!; Rashomon; Seven Samurai; Drunken Angel; The Quiet Duel; Stray Dog; Beyond Love and Hate; High and Low) (born Mar. 23, 1910 – died Sept. 6, 1998, 1998; age 88). Cause of death for Akira Kurosawa was a stroke. (Akira Kurosawa 1953 Photo)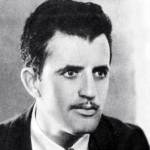 Cedric Gibbons (nee Austin Cedric Gibbons; married Hazel Brooks)
Oscar-winning Irish-American film set director (The Bridge of San Luis Rey; The Merry Widow; Pride and Prejudice; Blossoms in the Dust; Gaslight; The Yearling; Little Women; An American in Paris; The Bad and the Beautiful; Somebody Up There Likes Me; National Velvet; The Great Ziegfeld) (born  Mar. 23, 1890 – died July 26, 1960; age 70). Ex of Dolores Del Rio. (Cedric Gibbons 1931: MGM)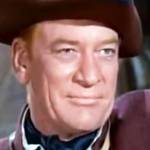 Kenneth Tobey (married June Hutton)
American actor of TV (Chuck Martin on Whirlybirds; Our Private World; Gunsmoke; Lassie; The Virginian; Perry Mason; I Spy; Barnaby Jones; Emergency!; The Streets of San Francisco; The Rookies; Mannix; Adam-12) and movies (The Thing From Another World; Angel Face; Fighter Attack) (born Mar. 23, 1917 – died Dec. 22, 2002; age 85). (Kenneth Tobey 1967 Daniel Boone)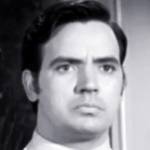 Alan Wells (nee George Alan Wells; ex of Barbara Lang, Claudia Barrett)
American actor of TV (The Life and Legend of Wyatt Earp; The Lone Ranger; Wanted: Dead or Alive; Stagecoach West; 26 Men; Zane Grey Theater; Richard Diamond, Private Detective; Highway Patrol; Trackdown) and movies (Air Strike; Beachhead), & The Classic Cat strip club owner. (born Mar. 23, 1926 – died June 14, 2008; age 82). (Alan Wells 1956 The Count of Monte Cristo)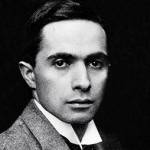 J.C. Leyendecker (nee Joseph Christian Leyendecker)
German-American illustrator of book covers, posters (U.S. military), commercial advertising (Arrow Collar Man; Kellogg's Kids; B. Kuppenheimer & Co), & 400+ magazine covers (Saturday Evening Post – New Year's Baby; Maclean's Christmas) (born Mar. 23, 1874 – died July 25, 1951; age 77). Brother of Frank James Leyendecker. (J.C. Leyendecker c. 1895)
*Images are public domain or Creative Commons licensed & sourced via Wikimedia Commons, Vimeo, or Flickr, unless otherwise noted*