This Was Nifty in March 1950
News Headlines & Entertainment Trivia from March, 1950
House by the River Movie Release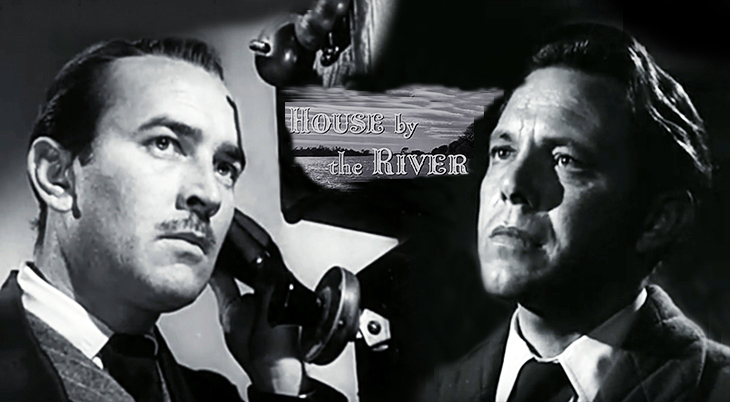 (Lee Bowman & Louis Hayward 1950 House by the River)
The film-noir crime movie House by the River was released in the U.S. on March 25th, 1950. Directed by Fritz Lang, film critics at the time were lukewarm towards The House by the River. I watched it recently and found several elements strongly reminiscent of Alfred Hitchcock's suspense films (but not quite achieving those heights). There's never really any doubt as to how this plot will unfold, but it's still an enjoyable watch that holds up 70 years later, which is an achievement on it's own.
Victorian-era novelist Stephen Byrne (Louis Hayward) copes with publishing rejections by drinking heavily; one day while his wife Marjorie (Jane Wyatt) is out of the house, he makes overtures to their maid Emily Gaunt (Dorothy Patrick) and accidentally kills Emily. Stephen enlists his horrified brother John (Lee Bowman) to help him dispose of the body, which they wrap in a wood sack and drop in the middle of the river behind Stephen's house. 
There's an interesting scene where Dorothy Patrick is shown only in the mirror, dolling herself up. She comes down the stairs in a split dressing gown, with a close-up of her legs; later in the film Marjorie does the same thing and it's shot from the same angle.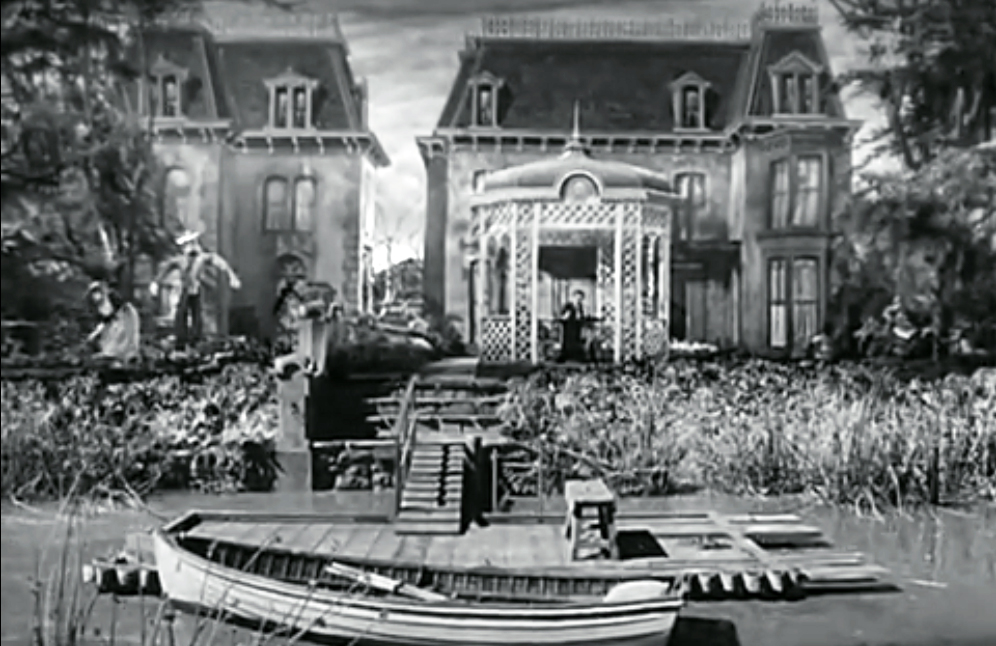 (1950 House by the River)
Atmosphere abounds with suitably creepy-looking houses set on the river. 
Other supporting character actors in House by the River include Ann Shoemaker as family friend and neighbor Mrs. Ambrose; Kathleen Freeman as a party guest, Peter Brocco as the coroner, and Will Wright as Inspector Sarten. 
Jody Gilbert is convincing as John's gossipy, malicious housekeeper Flora Bantam.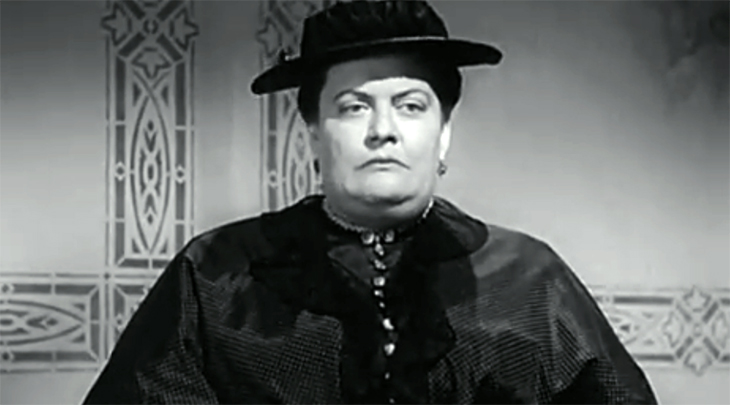 (Jody Gilbert as Flora Bantam in House by the River, 1950)
Born on March 18, 1916, Gilbert acted on stage and radio, and her film career began in the late 1930s. She was usually relegated to un-credited, smaller character roles in movies. After appearing in House by the River, Jody Gilbert's next and final notable film came 20 years later, in the horror flick Willard (1971). During the interval, Gilbert appeared on popular television series in guest-starring roles or character roles, such as Police Woman, Here's Lucy, and Batman. She died at the age of 62 in 1979 after an automobile accident. 
Silly Putty Introduced at International Toy Fair
Invented during WWII in a synthetic-rubber laboratory by a General Electric engineer from Scotland (James Wright), the company searched for years to find a practical use for this new polymerized, bouncy product made of boric acid and silicone oil.
Toy store owner Ruth Fallgatter worked with marketing consultant Peter Hodgson to offer the "bouncing putty" product in her 1949 store catalog. Despite some initial sales success, Fallgatter didn't pursue marketing the product.
Peter Hodgson scented success and borrowed money to come up with unique packaging (a plastic egg) and a new name – Silly Putty! Silly Putty debuted in March, 1950 at the New York International Toy Fair, according to the current brand owner of Silly Putty – Crayola.
Silly Putty has been sold worldwide since the 1960s. Although marketed primarily as a toy, it's squishy properties have been promoted as a mental and physical therapy device, and it's adhesive ability for removing substances (ie. ink from newspapers; dog hair; etc.) and / or securing objects around the home. Apollo astronauts used Silly Putty to secure their tools in zero gravity. 
Crayola acquired the rights to Silly Putty when Peter Hodgson died in 1976. 
FBI Ten Most Wanted List Is Announced
On March 14th, 1950, the FBI announced the official launch of the FBI Ten Most Wanted Fugitives list. An outcome of a conversation between Federal Bureau of Investigation director J. Edgar Hoover and International News Service editor-in-chief William Kinsey Hutchinson that had resulted in an article that received positive attention, the Ten Most Wanted list was designed to help the FBI capture elusive and dangerous criminals. 
Still in place today, the FBI's Ten Most Wanted Fugitives list has profiled over 520 fugitives in the past seventy years, only 10 of whom have been women. Criminals are only removed from the list if they are captured, die, or are deemed to no longer be dangerous to society. The list has helped the FBI achieve a 93% closure rate in capturing dangerous fugitives, with 30% of those captured thanks to public awareness created by the list.
So popular and well-known is the Ten Most Wanted list that it was featured heavily each week in The F.B.I., a long-running television series starring Efrem Zimbalist Jr.
*Images are believed to be in the public domain and/or Creative Commons licensed & sourced via Wikimedia Commons or Flickr, unless otherwise noted*