June 1947 Headlines
News Headlines & Baby Boomer Entertainment Trivia From June, 1947: The Diary of Anne Frank is Published, Classic Movie Release – The Ghost and Mrs. Muir; Pan American Airlines Offers The 1st Worldwide Passenger Flights
The Diary of Anne Frank is Published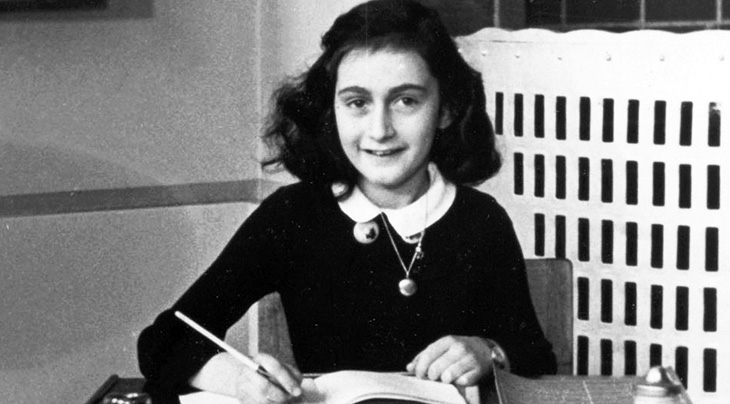 (Anne Frank c. 1940 Montessori School Photo: Collectie Anne Frank Stichting Amsterdam)
On June 25, 1947, German-Dutch Jewish schoolgirl Anne Frank's memoir The Diary of a Young Girl was first published in the Netherlands as Het Achterhuis: Dagboekbrieven 14 juni 1942 – 1 augustus 1944 (The Annex: Diary Notes from 14 June 1942 – 1 August 1944).
Anneliese Marie Frank was born on June 12, 1929 in Frankfurt, Germany, the youngest daughter of parents Otto and Edith (nee Hollander) Frank. Anne's sister Margot was 3 years older, born in 1926. 
Anne Frank's diary entries begin on her 13th birthday (June 14, 1942), when she received the diary as a present, and end on August 1st 1944 when she was 15 – three days before day the Gestapo raided the Amsterdam building they were hiding in. Her diary – left behind in the annex when they were arrested – chronicles the experiences, relationships, and thoughts of a young teenage Anne, her family and the other Jewish people they shared their annex hiding space with during World War II.
While writing her diary, Anne had come to realize that she wanted to be a journalist, and wondered if she had sufficient talent for the task.
"I want to be useful or bring enjoyment to all people, even those I've never met. I want to go on living even after my death! And that's why I'm so grateful to God for having given me this gift, which I can use to develop myself and to express all that's inside me!…Will I ever be able to write something great, will I ever become a journalist or a writer?"
The 8 people that had hidden in the annex together were sent to the Auschwitz concentration camp  – Anne, her older sister Margot, and her parents Otto and Edith; Otto's employee Hermann van Pells, his wife Auguste, and son Peter; and a family friend, dentist Fritz Pfeffer.
Out of the 1019 prisoners deported to the German Auschwitz camp in German-occupied Poland that day, 549 were instantly killed (eveyone under the age of 15 or deemed unfit to work). The Franks, the van Pells, and Fritz Pfeffer's lives were spared.
Anne, Margot and their mother Edith Frank were together during their time in Auschwitz; however, because women were separated from the men in the camps, Anne never saw her father Otto again, and assumed he was dead.
In the fall of 1944 Margot and Anne Frank, and Auguste van Pels, were transferred from Auschwitz to the Bergen-Belsen concentration camp in northern Germany. Anne and Margot were emaciated and weakened by illness (scabies). Edith Frank was left in Auschwitz and died of starvation in early January 1945. Auguste was transferred to the Theresienstadt ghetto concentration camp in April 1945, and either died en route (one eyewitness account said the Nazis threw her onto the train tracks), or in the camp before it was liberated in May 1945.
Around February 1945, 15-year-old Anne Frank and her 19-year-old sister Margot died within days of each other during a typhus epidemic that swept through their camp. Two months later British soldiers liberated the prisoners at the Bergen-Belsen concentration camp and it was burned to prevent the spread of typhus. 
Fritz Pfeffer died while being held in the Neuengamme concentration camp in northern Germany. Herman van Pels died in Auschwitz in October 1944. Herman's son Peter was sent on the forced death march out of Auschwitz to the Mauthausen Concentration Camp in January 1945; he was 18 years old when he died there in May 1945, 5 days after Mauthausen was liberated. 
Otto Frank had remained in Auschwitz for the remainder of the war and survived the camp. His secretary Miep Gies and her husband Jan, who had helped the Franks and others to hide in the annex, gave him Anne's diary which she had recovered, as well as other notebooks and loose sheets of paper that Anne had written on. Otto Frank was able to get the diary published in Dutch, in June 1947. I
In the months and years since Anne Frank's diary was first published, it has since been reproduced in more than 70 languages in countries around the world, and inspired several movies and plays. The Diary of Anne Frank (1959) starring Millie Perkins as Anne, with Shelley Winters, Joseph Schildkraut, Richard Beymer, and Diane Baker, was nominated for 8 Academy Awards, winning 3 – Best Supporting Actress (Shelley Winters), Best Art Direction, and Best Cinematography.
In the years decades after the book was published, Otto Frank was successful in thwarting the attempts of Holocaust deniers to discredit the diary as the work of his daughter Anne.
Anne Frank achieved her goal of writing something great, and being useful even to people she never met. 
The Ghost and Mrs. Muir U.S. Film Release
The Ghost and Mrs. Muir was released in the United States on June 20, 1947.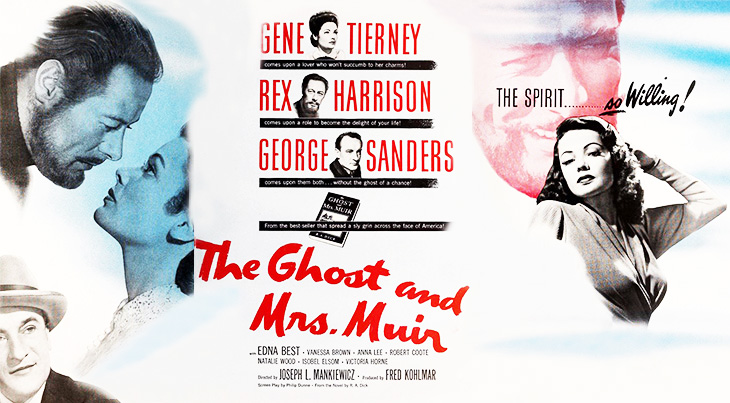 Directed by Joseph L. Mankiewicz and based on the 1945 novel of the same name by R.A. Dick (a pseudonym for Josephine Leslie), The Ghost and Mrs. Muir stars Gene Tierney, Rex Harrison, and George Sanders.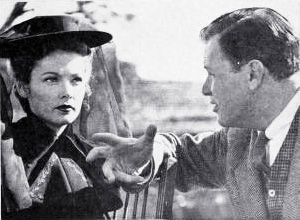 (Gene Tierney & Joseph L. Mankiewicz 1947 on the set of The Ghost and Mrs. Muir) 
The movie was well received by critics and audiences when it was released in 1947, and cinematographer Charles Lang was nominated for an Academy Award for his work on the film. More recently, The Ghost and Mrs. Muir movie was been recognized by the American Film Institute on several "100 Years" best of lists.
This trailer for The Ghost and Mrs. Muir features Gene Tierney, Rex Harrison, George Sanders, 
Judging by the fashions worn at the beginning of the film, it's around 1900, and widowed Lucy Muir (Gene Tierney) is desperate to escape her annoying in-laws. She rents quaint Gull Cottage by the sea from estate agent Mr. Coombes (Robert Coote), despite rumors of a ghost who haunts the place because he committed suicide.
Lucy moves in with her daughter Anna (Natalie Wood as the child Anna, and Vanessa Brown as the adult Anna) and housekeeper Martha Huggins (Edna Best), and soon discovers there's already an inhabitant.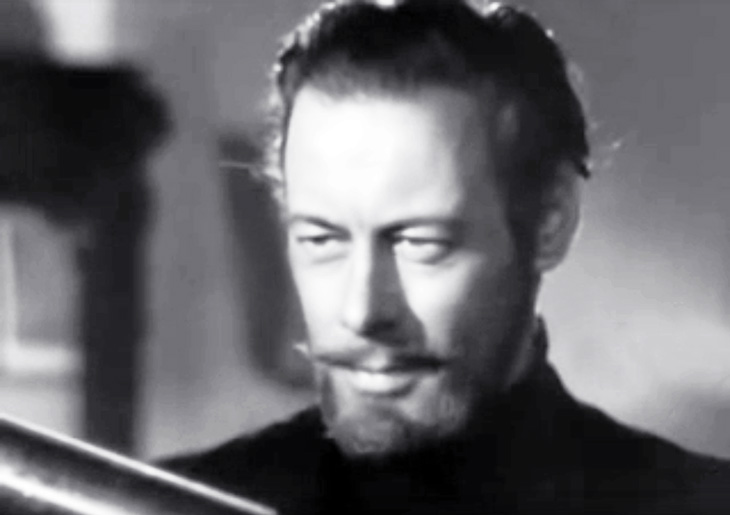 (Rex Harrison as Captain Daniel Gregg 1947 The Ghost and Mrs. Muir Trailer)
The ghost of Captain Daniel Gregg (Rex Harrison) has no intention of leaving the premises – and is indignantly explains that it was just a blasted accident that caused his death, not suicide. Lucy and the Captain strike a bargain so that they can all remain in Gull Cottage.
(Gene Tierney and Rex Harrison 1947 The Ghost and Mrs. Muir Trailer)
Lucy's mother-in-law Angelica Muir (Isabel Elsom) and sister-in-law Eva Muir (Victoria Horne) arrive to tell her that her gold mine investments have dried up and she'll have to move back in with them. Captain Gregg persuades Lucy to write his memoirs, and the book becomes a best-seller, as he was confident it would. Captain Gregg doesn't seem to like any of the men that court Lucy, especially charming Miles Fairley (George Sanders). Fairley seems poised to disrupt the applecart at Gull Cottage, until Lucy meets his wife (Anna Lee).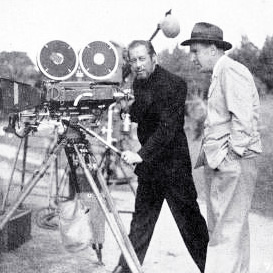 (Charles Lane & Rex Harrison 1947 Photo: American Cinematographer)
Although both the book and the film are set in England (London and the fictitious village of Whitecliff-by-the-Sea), The Ghost and Mrs. Muir was filmed at various scenic locations along the California coastline: Pebble Beach, Carmel-by-the-Sea, Monterey Peninsula's 17-Mile-Drive, and Abalone Cove Shoreline Park in Palos Verdes.
The book and movie inspired the 1968-1970 TV series The Ghost and Mrs. Muir, starring Hope Lange as Mrs. Muir and Edward Mulhare as Captain Gregg.
Charles Nelson Riley plays the estate agent, and Reta Shaw is the housekeeper Martha.
Although The Ghost and Mrs. Muir is more romantic and suspenseful than scary, I've included it on my list of Best Classic Scary & Funny Ghost Films.
Pan American Airways Offers 1st Around The World Passenger Flights
Pan American World Airways became the first airline carrier to offer worldwide passenger airline flights in June 1947.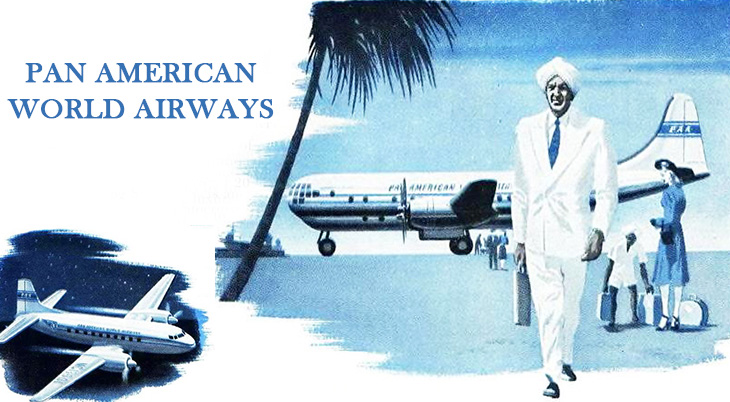 (Pan American Airways 1947 Ad Composite)
Pan American Airways was founded in 1927, ostensibly to act as a mail delivery carrier to Cuba for the U.S. Government. Pan Am soon had a monopoly on flights between the U.S.A. Latin America,. By the early 1930s Pan Am had expanded to include South American destination, using a fleet of "Clipper" flying boats. In 1937 Pan Am also flew to Canada, Ireland, and started flight service to Hong Kong and Auckland. 
World War II saw the Pan Am "Clipper" flying boats in military service. After the war, Pan Am saw increasing competition for international flight routes, and in June 1947 began offering the first scheduled around-the-world airline flights.The company name was officially incorporated as Pan American World Airways Inc. in 1950. Pan Am established several passenger flight "firsts" before it began to run into financial troubles in the 1970s; the company declared bankruptcy in 1991 and it's remaining profitable assets were sold to Delta Airlines.
*Images are believed to be in the public domain and/or Creative Commons licensed (Flickr, YouTube, Wikimedia, Vimeo) or used by permission, unless otherwise noted*